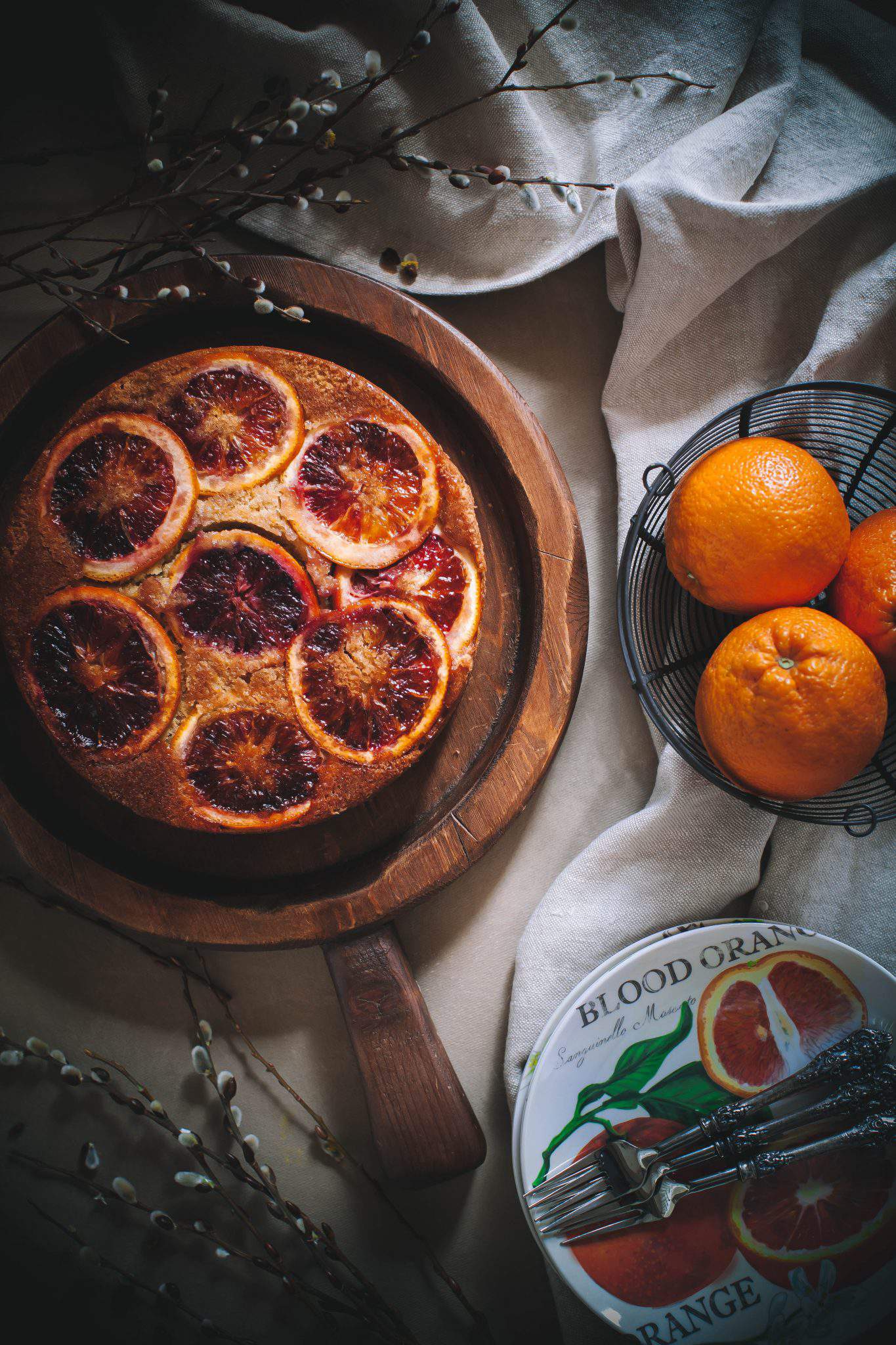 As I write this post, we're less than a day away from the official start of Spring (March 20th) … and in my neck of the woods, I'm two days away from another day of snow in the forecast.
Will winter ever end?
While this never-ending cold season may be nothing to laugh about… this recipe will definitely put a smile on your face.
This Blood Orange Upside Down cake is a case in point.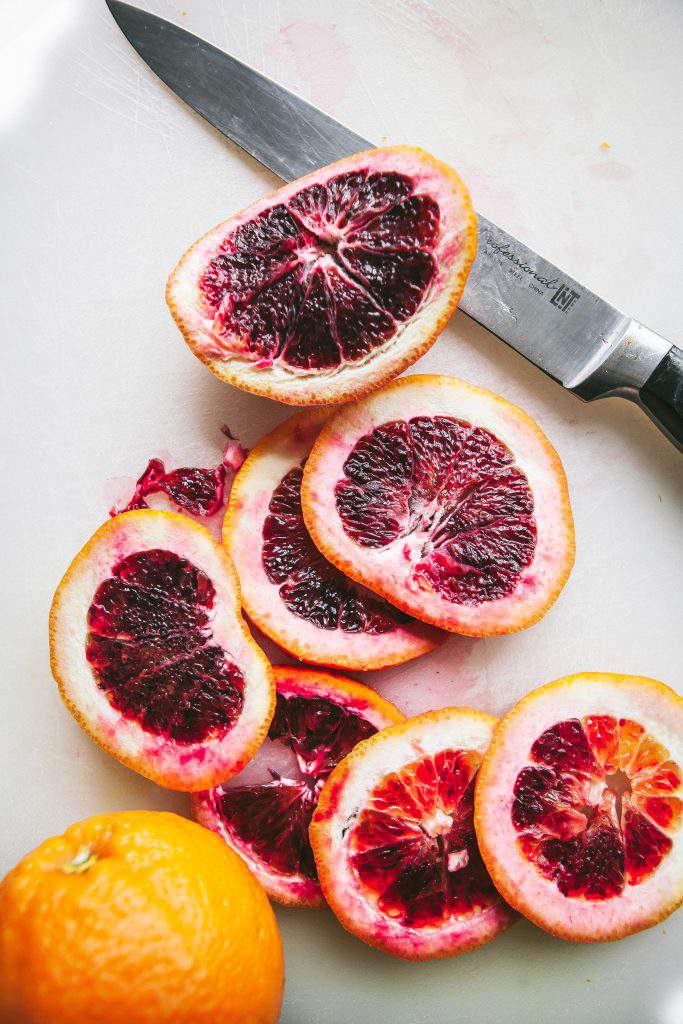 These blood oranges are at the heart of this thick-textured cake.
I've never used this type of orange before, even though I've seen it in many other desserts and drinks around the blogasphere.
They're not as sweet as naval oranges (among my favorite fruit) and the juice has a slightly tangy flavor compared to regular oranges.
The deep red coloring is what really catches my eye and I've gotta say… I'm a little smitten with the hue.
You'll find the full recipe below.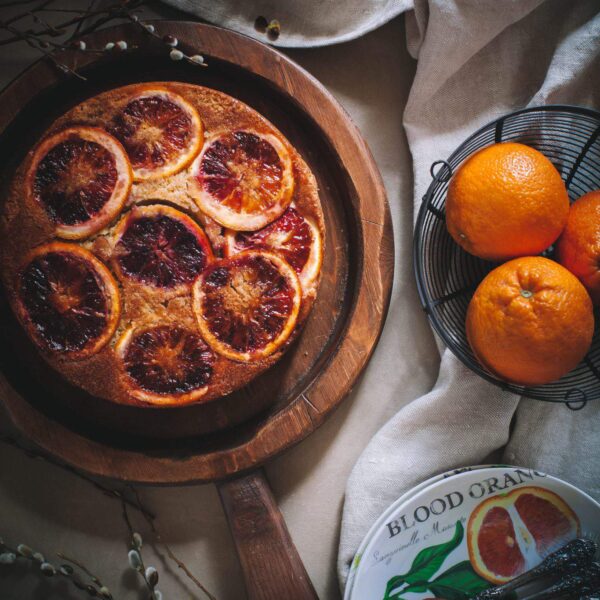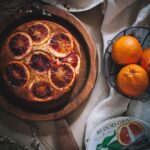 Blood Orange-Upside Down Cake
Blood oranges steal the show in this twist on a traditional upside down cake. Easy to make, beautiful to serve.
Course: Dessert
Servings: 6 -8
Ingredients
1/4 cup raw sugar
2 blood oranges
2-/1/2 cups all-purpose flour
1/2- cup granulated sugar
1 teaspoon baking soda
3/4 teaspoon salt
2 large eggs
1 large egg yolk
1-1/2 cups buttermilk
1/-1/2 sticks unsalted butter melted
1 teaspoon finely grated blood orange zest
2 tablespoons blood orange juice
Cooking spray
Instructions
Preheat oven to 350-degrees.

Spray 10" cake pan with cooking spray.

Sprinkle raw sugar evenly and thoroughly inside pan.

Slice blood oranges into thin slices.

Place across the bottom of the cake pan.

Whisk flour, granulated sugar, baking powder, baking soda and and salt in a large bowl.

Add eggs, egg yolk, buttermilk, melted butter and blood orange zest and blood orange juice.

Mix thoroughly but don't over-mix.

Pour batter over the oranges.

Bake for 40 minutes, until golden brown.

Allow cake to cool in pan for @5 minutes.

Carefully invert pan and release cake from pan.

Serve caked with blood oranges slices topside.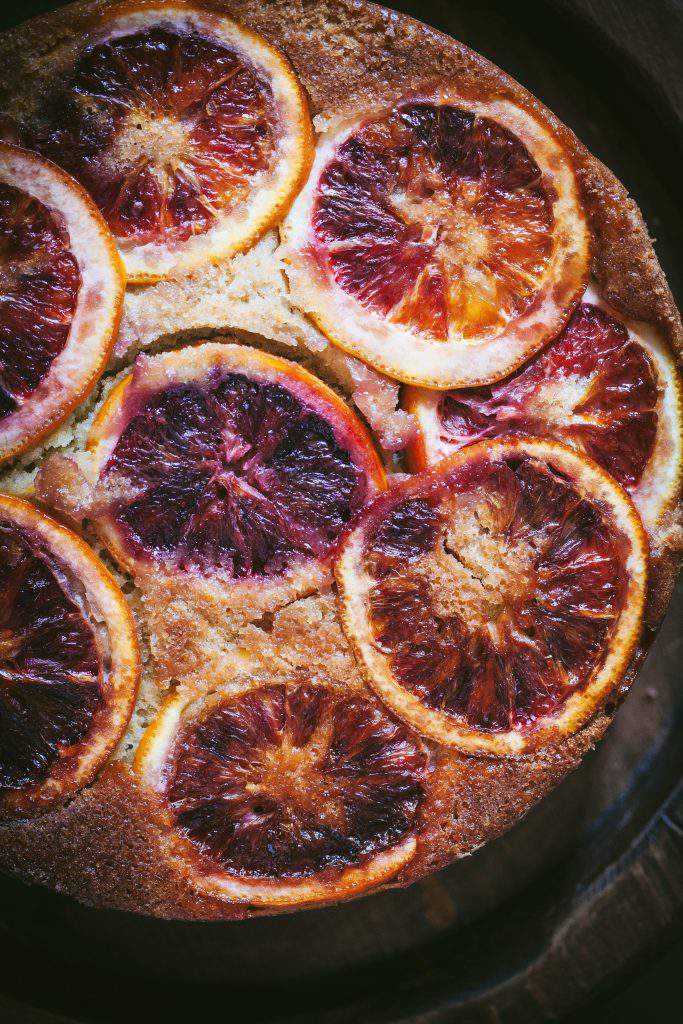 As promised, I'm trying to include more videos for you to see how easy some of these recipes can be.
It's been fun to add this new element to my blog posts on food.
I'm still using my IPhone to shoot these video-shorts and I use a phone app called IMovie to edit them.
It's actually pretty cool to shoot the video and edit right on the phone from anywhere.
OK, what do you think of that video?
I'm still practicing… but I'm getting there.
Meanwhile, cheers to the impending arrival of Spring (but not the likely snowfall).
I hope it will be warmer in your neck of the woods.
Thanks for stopping by.
See you back here next time. ♥