Finally, we're just weeks away from a brand new season… and it's one of my favorite times of the year.
I can't wait for Spring (official arrival on March 20th) and the warmer temps and colors of nature that will finally emerge from hibernation.
It feels like it's been a really long winter and this Roasted Red Pepper and Goat Cheese Tart reminds me every bit of the warmer temperatures ahead.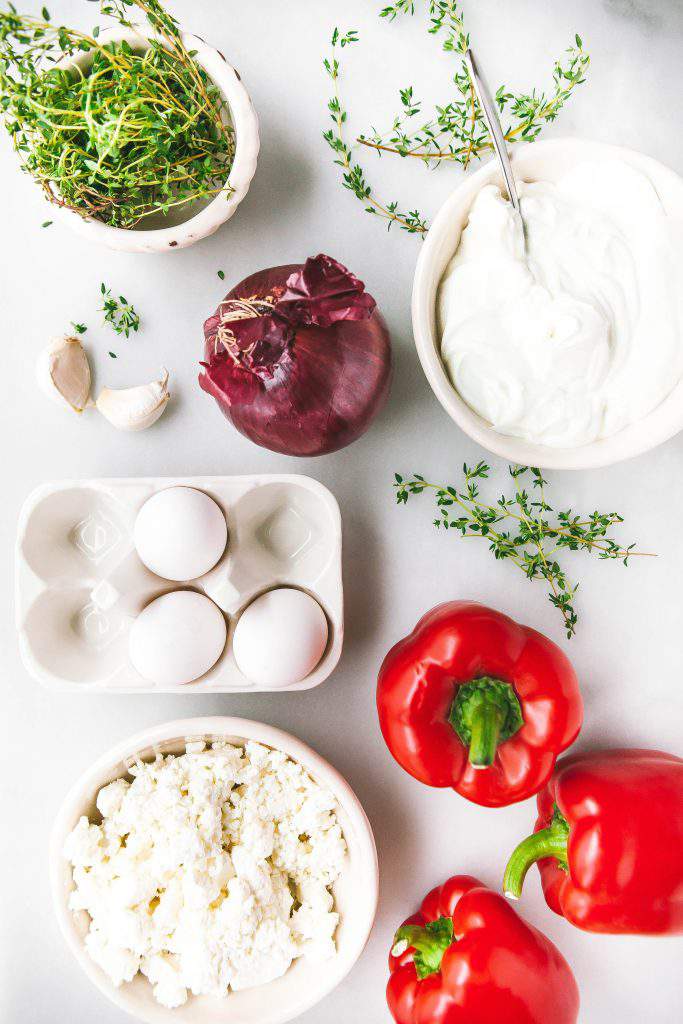 This tart is so colorful and vibrant thanks to the mix of fresh ingredients that make for a delicious combination.
Don't try to remember all the ingredients from this photo.
Scroll down in this post for a printable version of the full recipe and instructions.
I put all my ingredients into a fluted tart tin with a removable bottom in order to achieve that fun, scalloped edge around the pastry edge.
However, you could also make this in any pie dish that you have on hand.
Whatever you bake it in, it's gonna be delicious.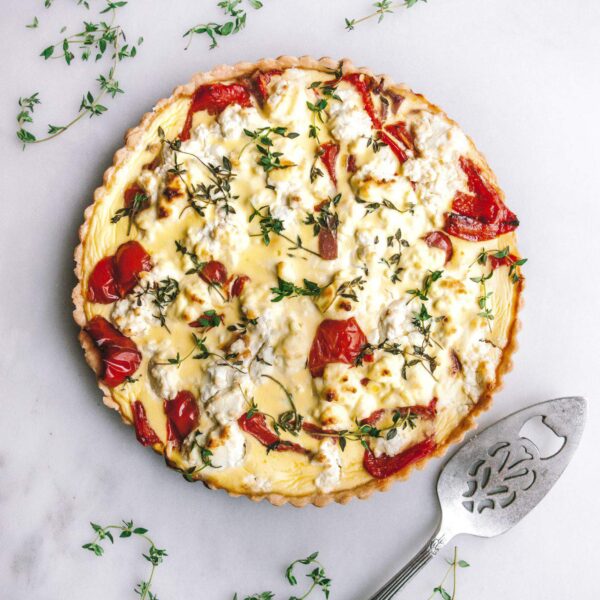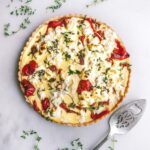 Roasted Red Pepper and Goat Cheese Tart
Ingredients
3 red bell pepper
1 garlic clove
4 tablespoons olive oil
1 red onion thinly sliced
1 flaky pastry shell I used King Arthur Flour Perfect Pastry Blend. Use your favorite recipe or shell
5 ounces crumbled goat cheese
2 teaspoons fresh thyme chopped (and a little extra to garnish the baked tart)
3 eggs
3/4 cup plain Greek yogurt
1-1/4 teaspoon salt
1-1/4 teaspoon pepper
Instructions
Preheat oven to 350 degrees.

Prepare the pastry shell in tart pan. I used a 10" pan.

Use a fork to punch multiple holes into the bottom of the crust.

Bake the shell until lightly golden. Then, remove from oven and set aside.

Cut the bell peppers into small, bite-size squares.

Roast peppers in roasting pan with 2 tablespoons of oil and chopped garlic clove.

Bake in a 350-degree oven for 30 minutes until soft and slightly browned.

Add remaining oil to saucepan and saute the sliced onion until soft.

Spread the onions evenly across the baked pastry shell.

Add the roasted peppers right on top of the onions spreading them evenly.

Put the tart on a baking sheet in case it leaks a bit.

Mix eggs and yogurt together (add salt and pepper) and then carefully pour the mixture over the tart.

Sprinkle the goat cheese on top.

Add chopped thyme.

Bake the tart for 30-40 minutes or until edges are lightly browned.

Add longer twigs of thyme to garnish.

Slice, serve and enjoy!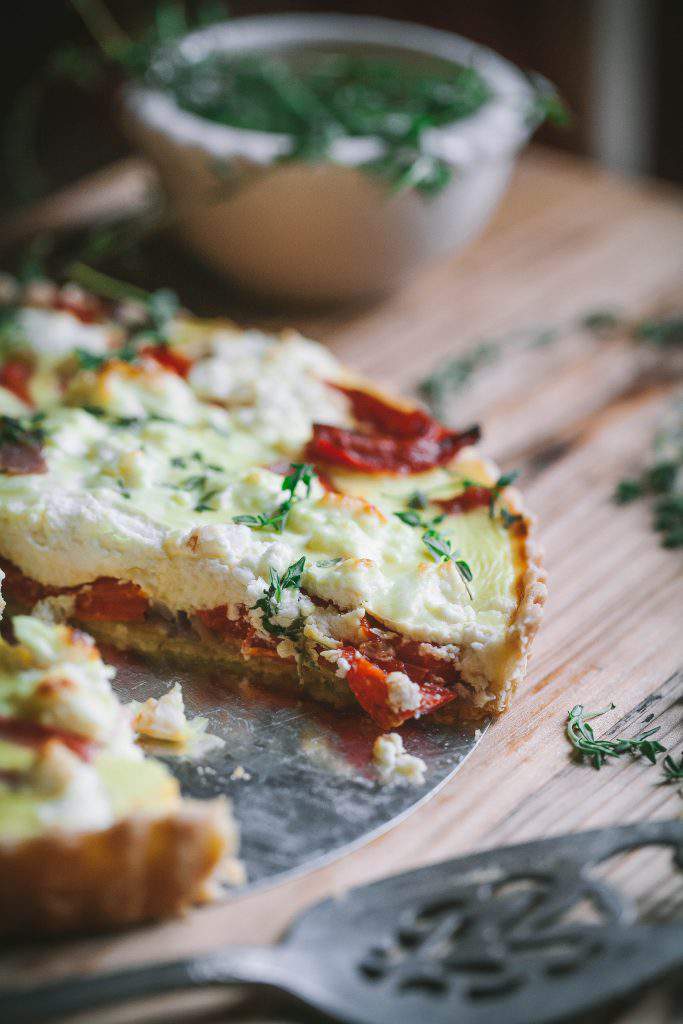 This tart bakes up very much like a quiche and despite the inclusion of eggs, it doesn't have much of an "overly-eggy" taste to me.
You could probably serve this for just about any meal.
It's a very light dish, not heavy at all and I think this would be great for not only dinner but also for a ladies' luncheon or even an Easter brunch.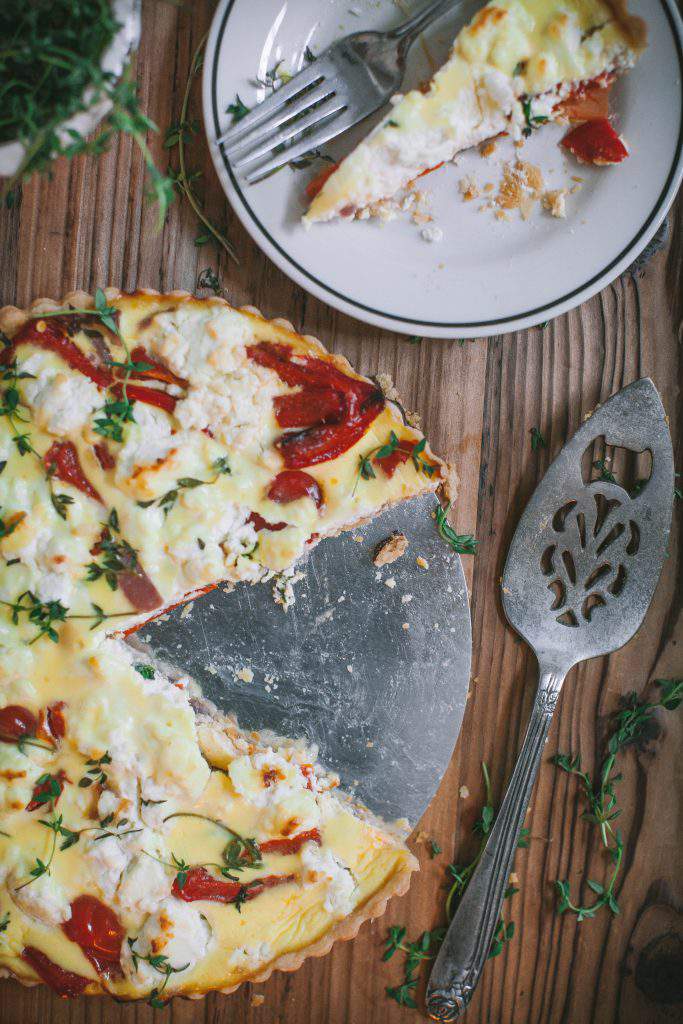 When I first made this tart, the first thing my husband, Boris asked me if it had meat in it.
It doesn't. But that's actually one of the things I love about it.
This roasted red pepper and goat cheese tart is light and flavorful and while you could add some chopped meat to it if you like…. I don't think it needs it at all.
Actually, I like the idea of adding meatless meals to the rotation.
As you can see, the colors in this tart just pop off the screen.
The roasted peppers are a beautiful contrast with the egg and yogurt filling and the thyme which is used inside the dish in addition to being used as a garnish topping… helps to finish off the presentation.
It's a beautiful dish, isn't it?
Meanwhile, as I mentioned earlier this year, I'm going to try to include more videos of my various recipes and projects on this blog.
That way, you'll get an even better idea of how my efforts are constructed from start to finish.
With that in mind, I hope you enjoy the above look at how this tart came together from scratch.
Don't you just love food in motion?
Happy roasted red pepper and goat cheese tart baking.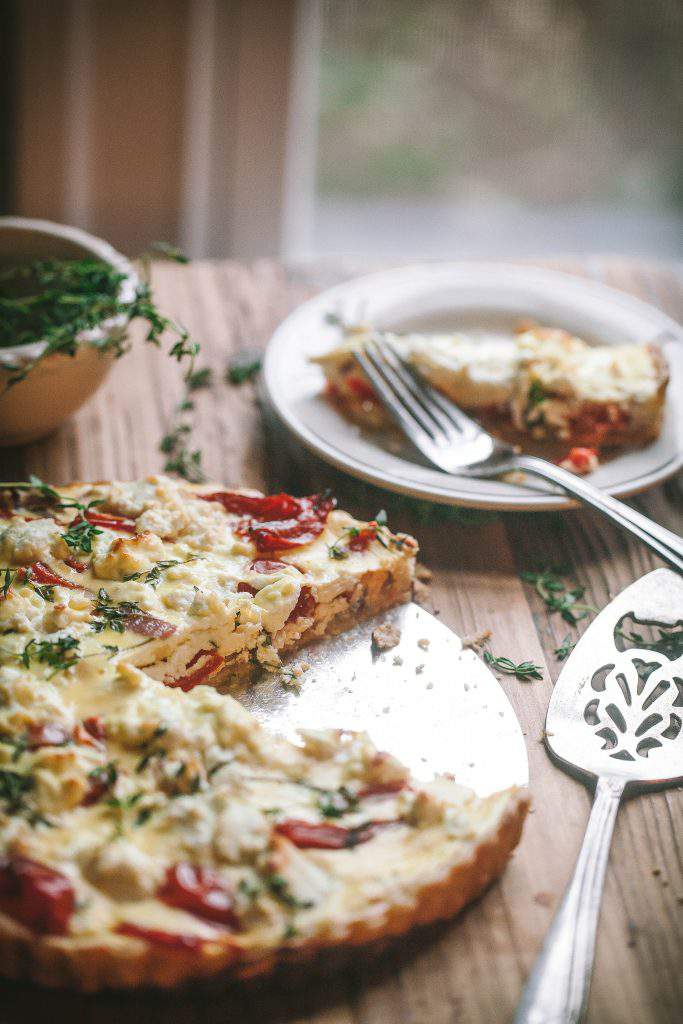 Thanks for stopping by.
See you back here next time. ♥