No doubt you've heard "an apple a day, keeps the doctor away".  Well, no one ever said you always have to eat them raw, right?
While I don't advise you eat this dish of apples every day, when it comes to tasty desserts, this may very well be just what the doctor ordered.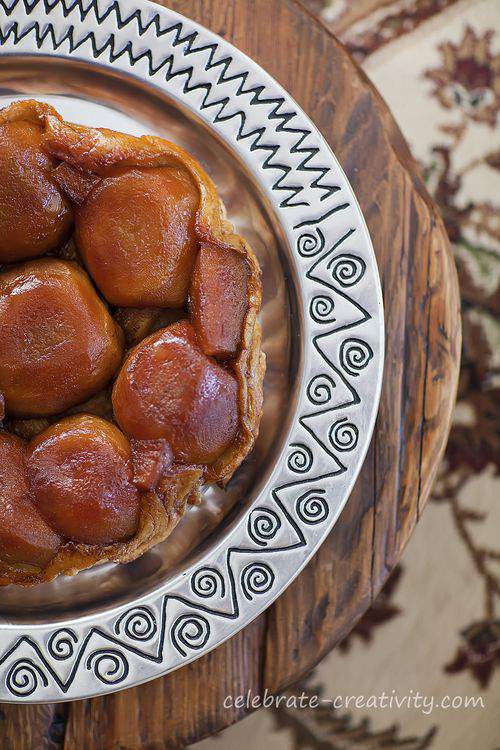 You'll only need a handful of ingredients for this recipe including apples, caster sugar (very fine), flaky sea salt, vanilla, butter, water and and butter puff pastry.
For a PDF containing the complete recipe download CARAMEL TARTE TATIN RECIPE.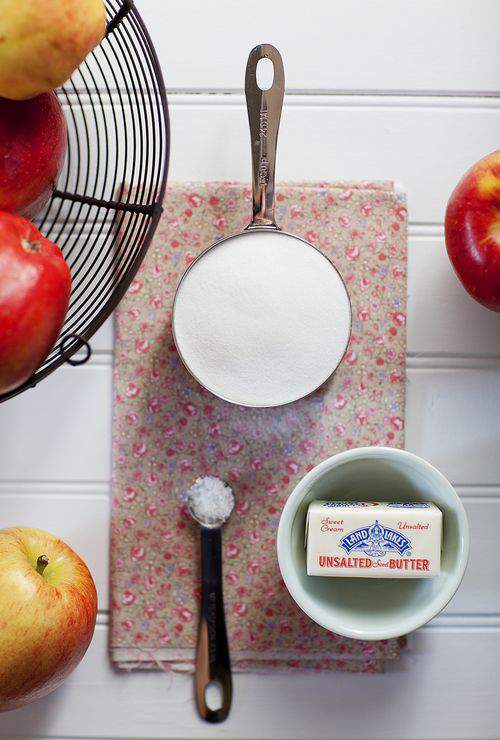 Peel the apples.
Then core them.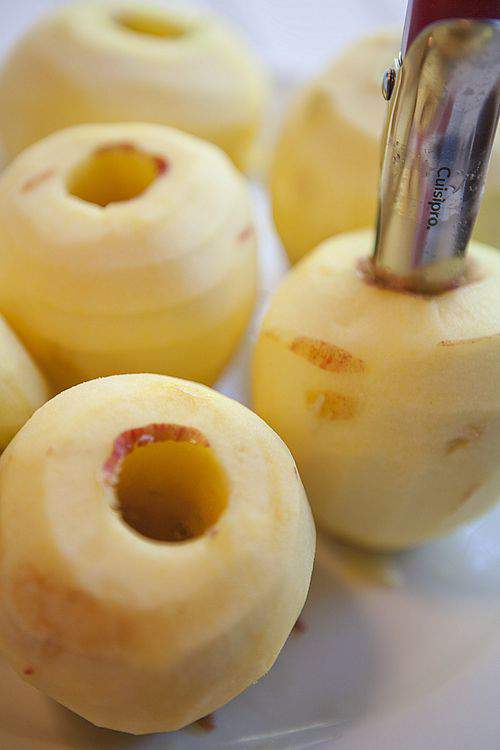 Slice each apple in half.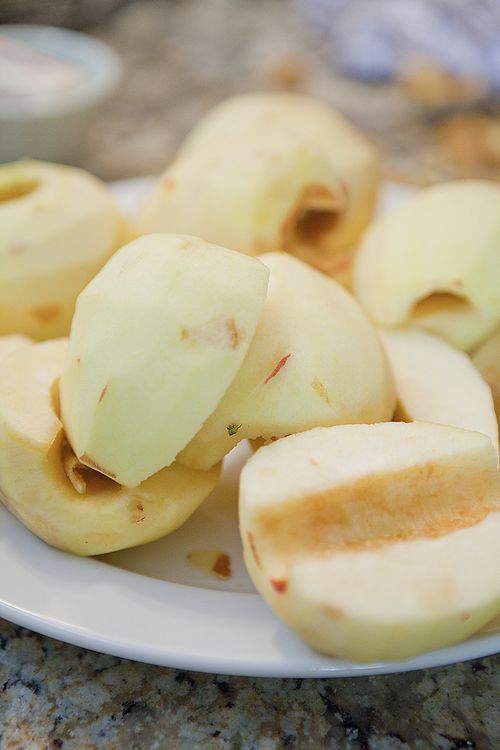 Check this PDF recipe download for the exact measurements of ingredients.
Heat the sugar and water slowly while constantly stirring.
The mixture will soon begin to bubble.  It's think it's pretty cool to watch plain old sugar and water slowly transformed into delicious caramel.
Don't look away from stirring because the caramelization process can begin in the blink of an eye and if you're not careful, the caramel can burn easily and quickly.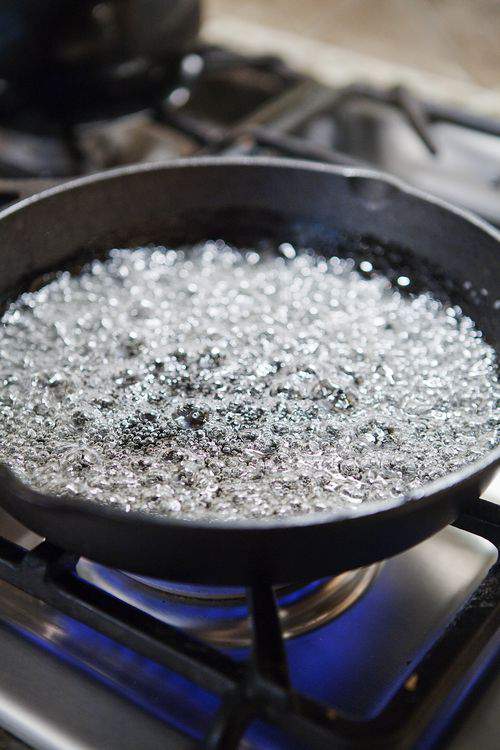 Here's what the mixture will begin to look like.
As soon as it turns golden brown, remove from the heat right away and add the butter.
Stir melted butter to mix thoroughly with caramel and add flaky salt.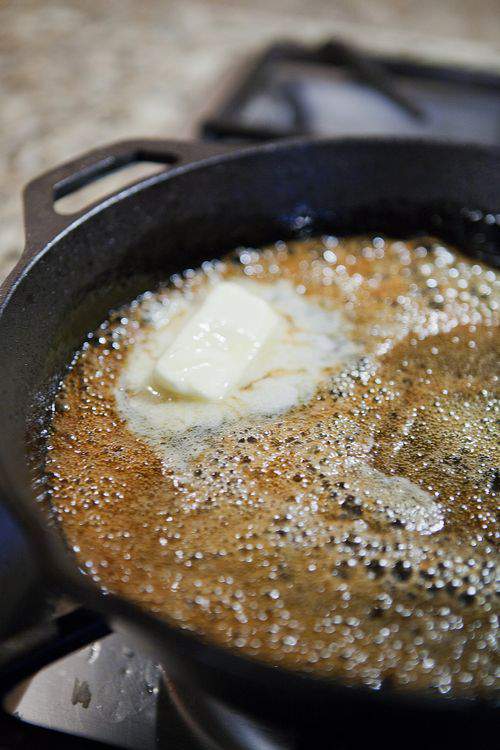 The little bit of salt addition gives this mixture the most wonderful combination of salty and sweet. 
You may find yourself licking the spoon when you're done stirring.
WARNING: I was unexpectedly reminded to never use a plastic spoon to stir hot sugar and caramel.  Don't let this happen to you. 
Not only did I lose a good spoon, I had to toss the current batch of caramel and start all over.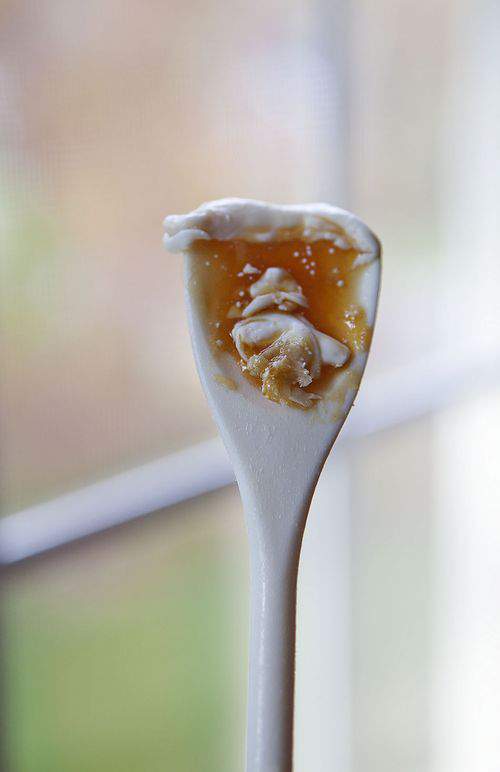 OK, let's get back to what's on the skillet. 
Now place sliced apples halves (open side facing up) in the pan. 
If you have any apples left over, you can slice them and place them in any open areas in the arrangement.
Place the skillet back on the heat for another 5-6 minutes.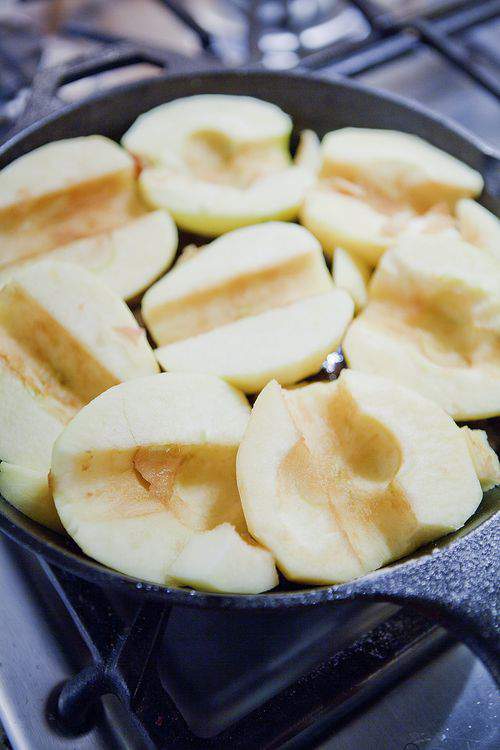 Remove cooked apples from the heat and allow to cool completely.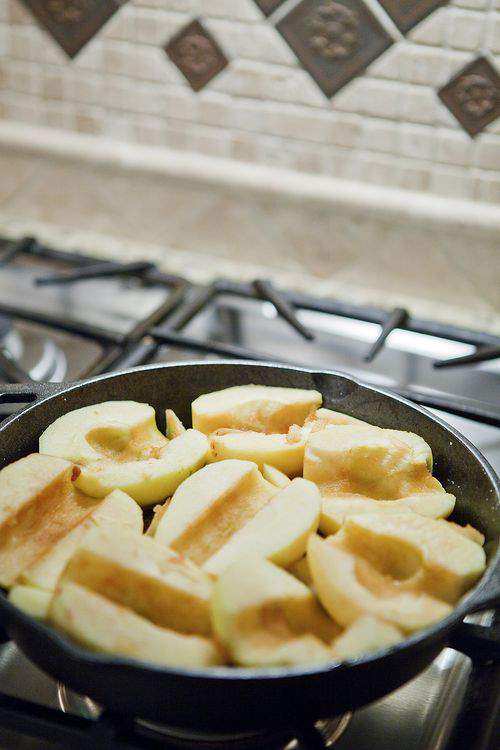 I've made this recipe several times using a few different types of puff pastry.
The first time I used the puff pastry in the photo below which works fine.  I've also used frozen pastry that was packed in large, block form (I don't remember the brand name) which worked nicely too. 
Roll the pastry puff dough large enough to fit over the skillet. 
Trim excess pastry puff and tuck the edges down inside the skillet around the apples for a snug fit.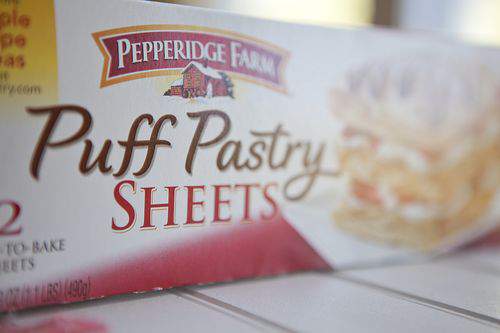 Bake for @35 minutes or until golden brown.
Here's what the dessert looks like this right out of the oven. 
I think it actually looks good enough to serve just like this and I you certainly could serve it puff-pastry-side-up if you like.
However, you get a much more dramatic presentation if you flip the contents of this dish.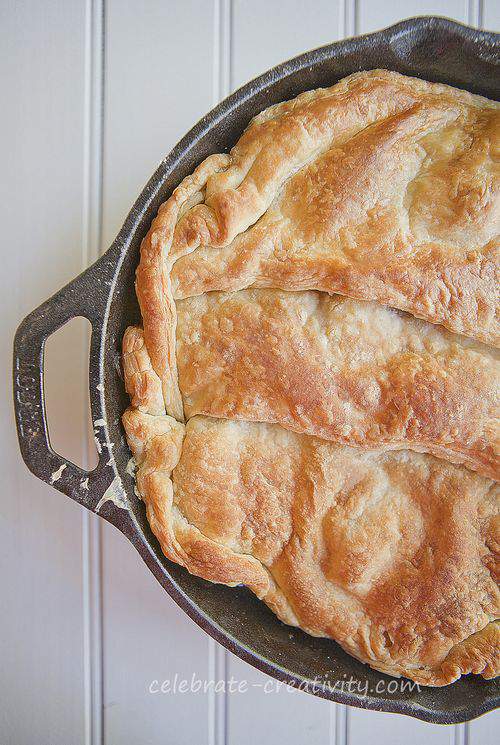 Before flipping the contents, carefully drain excess juice/caramel from the skillet and then gently turn the apple tartin upside down onto a serving plater.
TIP: The excess juice can be reheated until it turns thick and slightly caramelized and then poured back over the finished dish.
These sweet, caramelized apples in a this bed of pastry puff are just waiting to be eaten.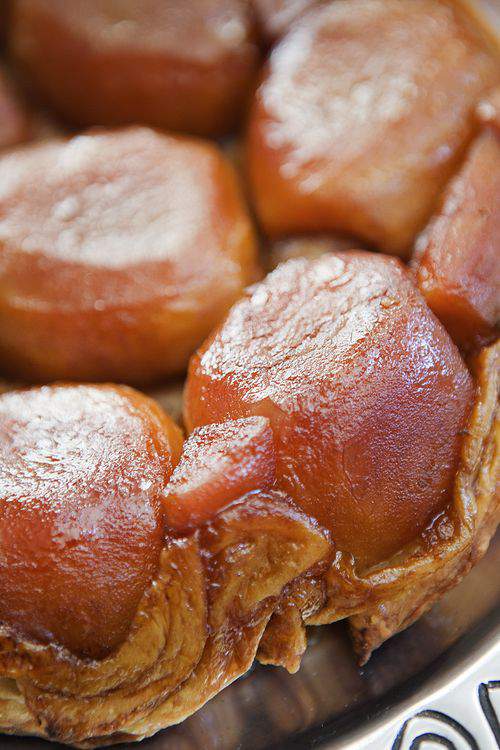 This is another one of those recipes that takes almost no time at all to prepare from start to finish.
The entire recipe took me less than an hour to make and that includes baking time.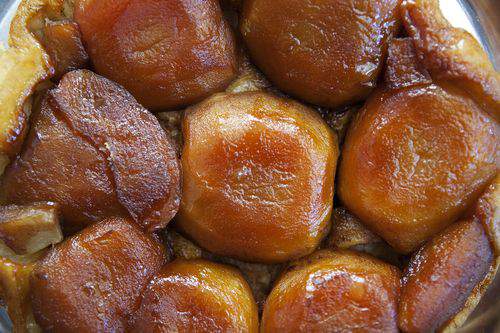 I have to admit when I first saw my finished dish, these caramel-colored apples looked a bit more like sweet potatos.
However, take one bite and there's no mistake that delicious apples are at the heart of this pretty dessert.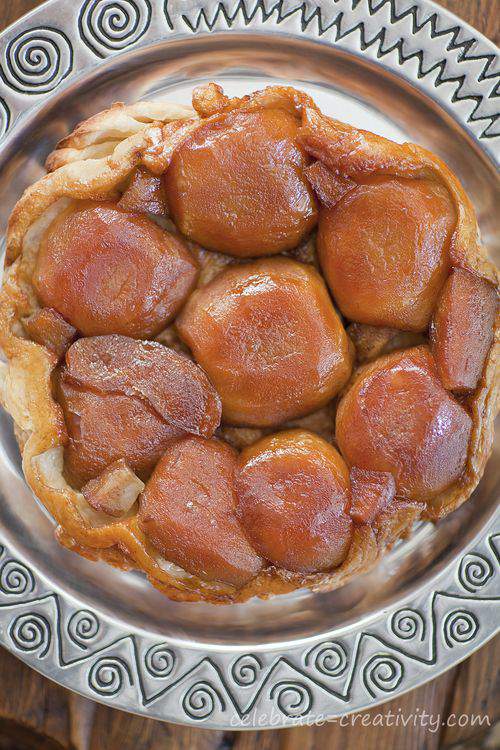 Add a dollop of whipped cream to beautifully top off this easy dish and your guests will definitely dig right in.
Come to think of it, you will too. 
LINKS TO THIS POST:
COMING UP ON MONDAY
Coming up next week, I'm introducing a brand new, blog column and I think you're going to really enjoy it.
The wealth of inspiration produced by the blogging community is truly amazing.  Of course, you already know that.
Well, coming up on Monday (10/22), I'll take a closer look at a handful of some of the awesome projects and ideas I've recently discovered from fellow bloggers as I've hopped around blog-land the last few weeks.
I hope you pop by this blog again for the first installment of my new regular blog column, "AROUND TOWN".
See you then. ♥