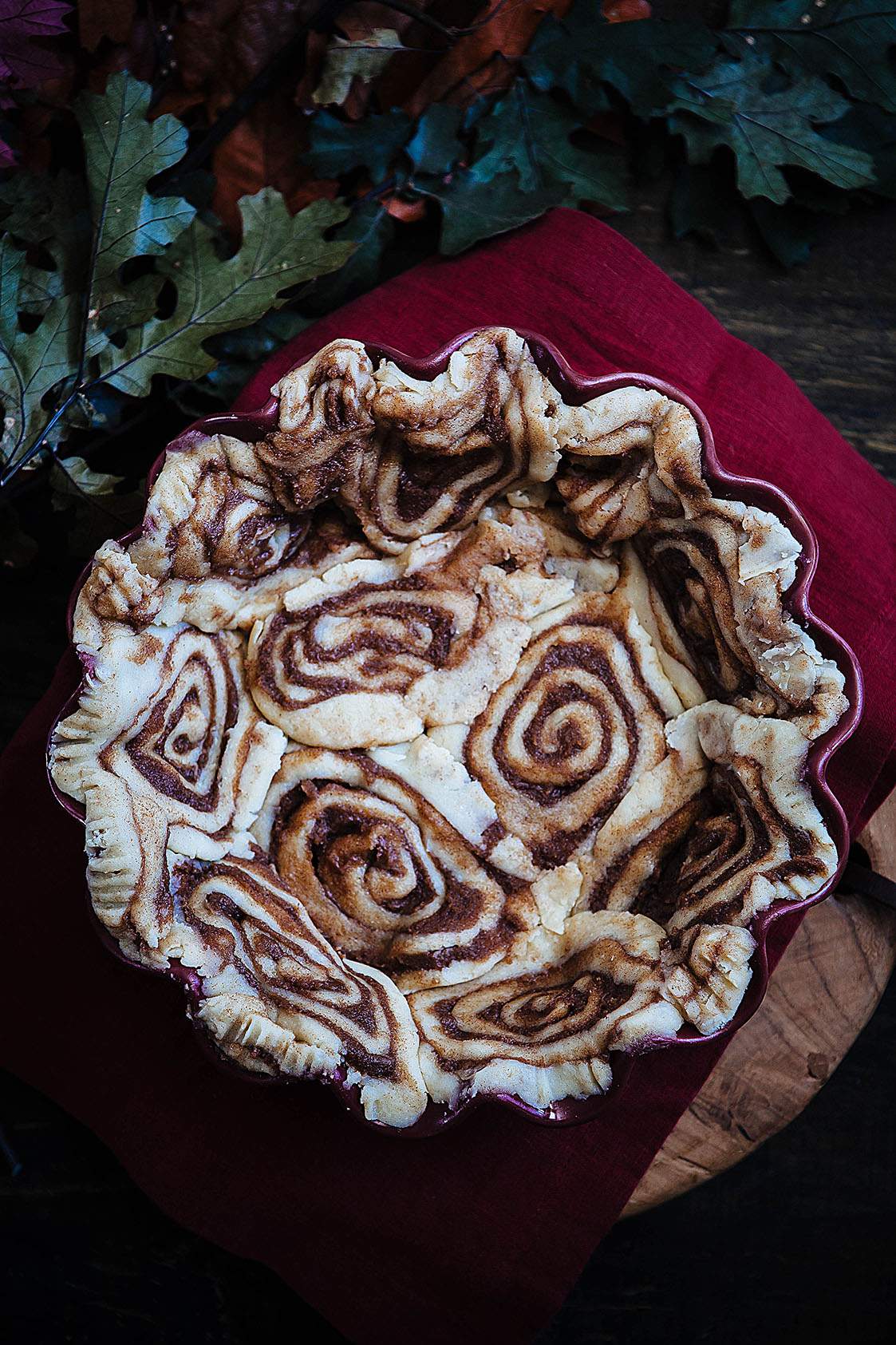 If you love cinnamon rolls… and I'm betting you do, I think you're going to enjoy this recipe.
Cinnamon roll pie crust is actually pretty ingenious and it's also oh-so easy to make.
Want to make the pie lovers in your life gasp?
Serve this and they will.
Yeah, it tastes just like it looks.
Cinnabons have nothing on this beauty.
This crust is actually made of cinnamon rolls that have been molded into the pan.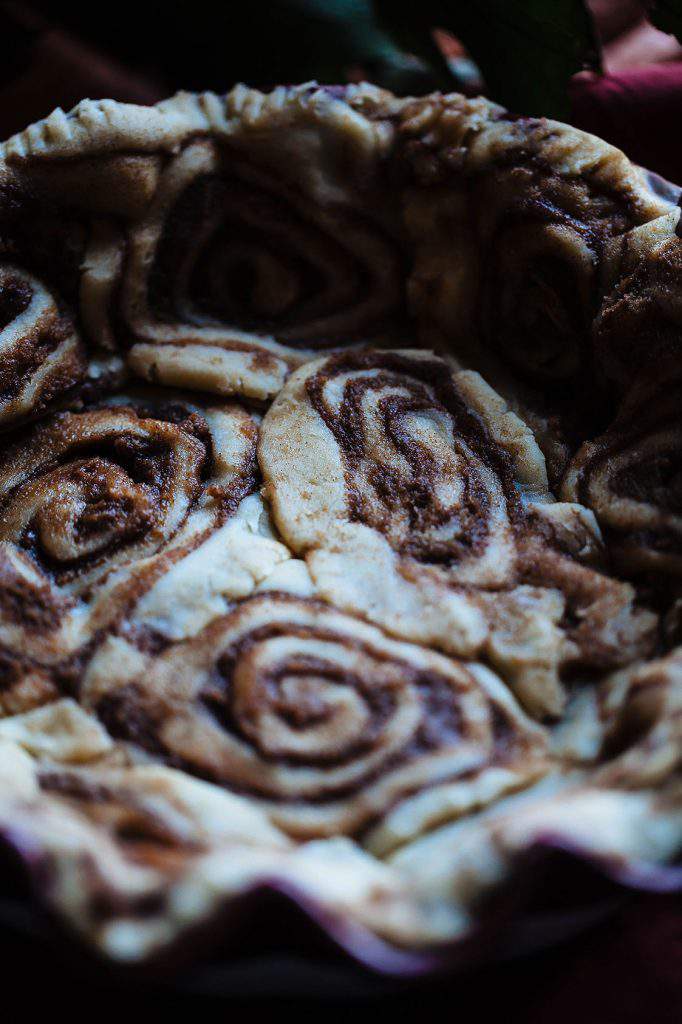 Look at all that deliciousness.
And this hasn't even been baked yet.
Scroll down below to see a video featuring my simple step by step.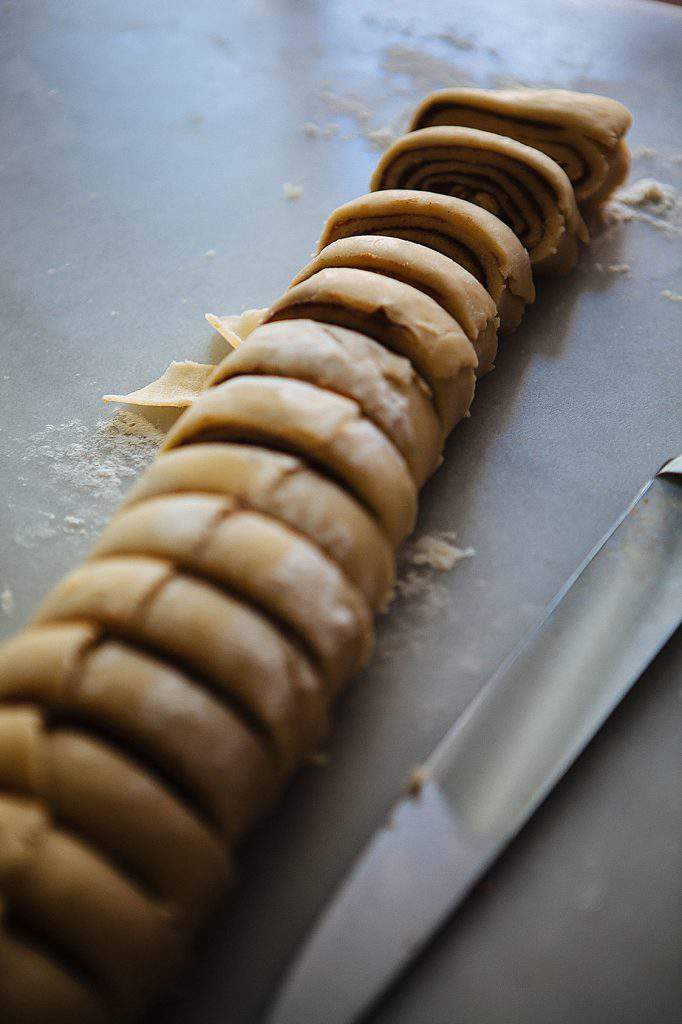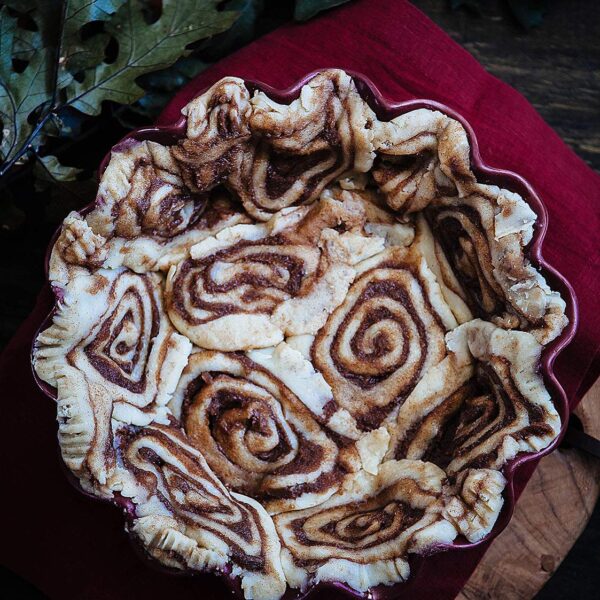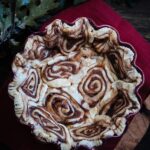 Cinnamon Roll Apple Pie (Crust)
Ingredients
Favorite pie dough enough for two 9 inch crusts
1 cup butter
1 cup brown sugar
4 tablespoons cinnamon
2 teaspoons vanilla
Apple pie filling
Whipped cream optional
Instructions
Prepare favorite pie crust dough. Cut in half to create two discs. Refrigerate for 30 minutes.

Lightly flour surface and roll first dough disc into a large rectangle.

Mix butter, brown sugar, cinnamon and vanilla until well-combined.

Spread mixture over rectangular dough.

Gently roll the edge of the doll and keep rolling until a log is formed.

Slice the log into 1/4-inch pieces.

Repeat the same steps with the second disc of refrigerated dough.

Lightly flour rolling pin and use the pin to flatten the cinnamon roll cuts.

Firmly press the flattened cuts into a pie pan to create swirled crust.

Add apple filling to the crust.

Use remaining, flattened cinnamon rolls to cover the filling.

Gently pierce the top crust layer with a fork to vent the steam.

Bake at 350 for about 35-minutes or until browned.

Serve with a dollop of whipped cream.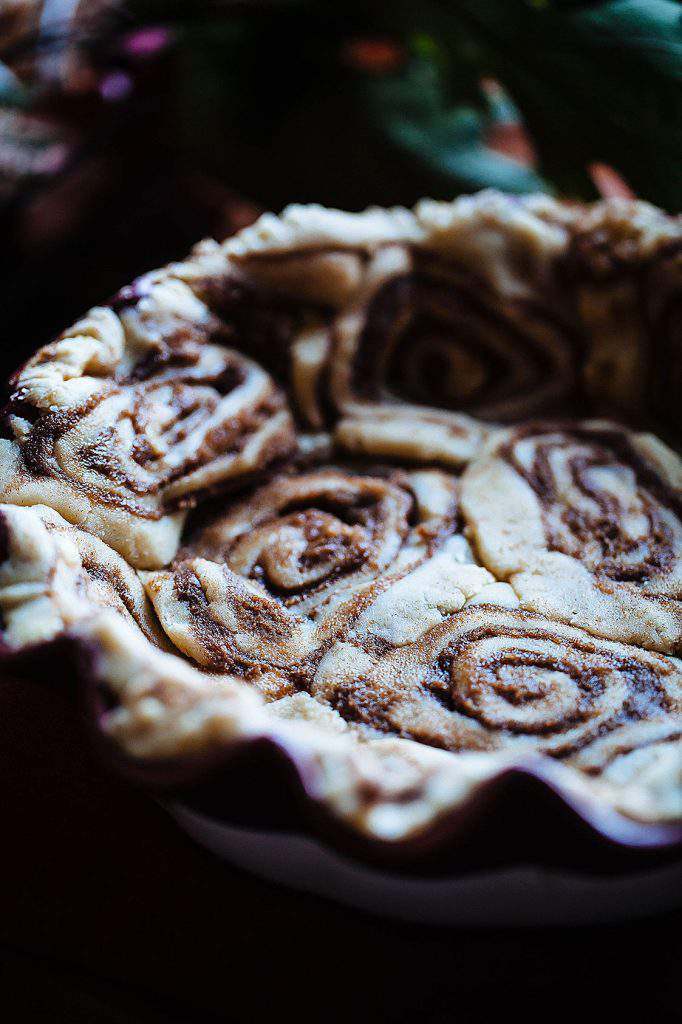 Now that the lower crust has been formed,  all you have to do is add your favorite filling and top it with a second dough made of cinnamon rolls.
That topping crust can be a traditional plain doubh or you can step the entire pie up a notch and top it with a similar cinnamon roll dough.
To create cinnamon roll topper, just arrange the sliced dough rolls closely together on a pastry board and use a rolling pin to gently flatten the dough so that the rolls press into each other.
Carefully lift and drape over the filled pie and bake.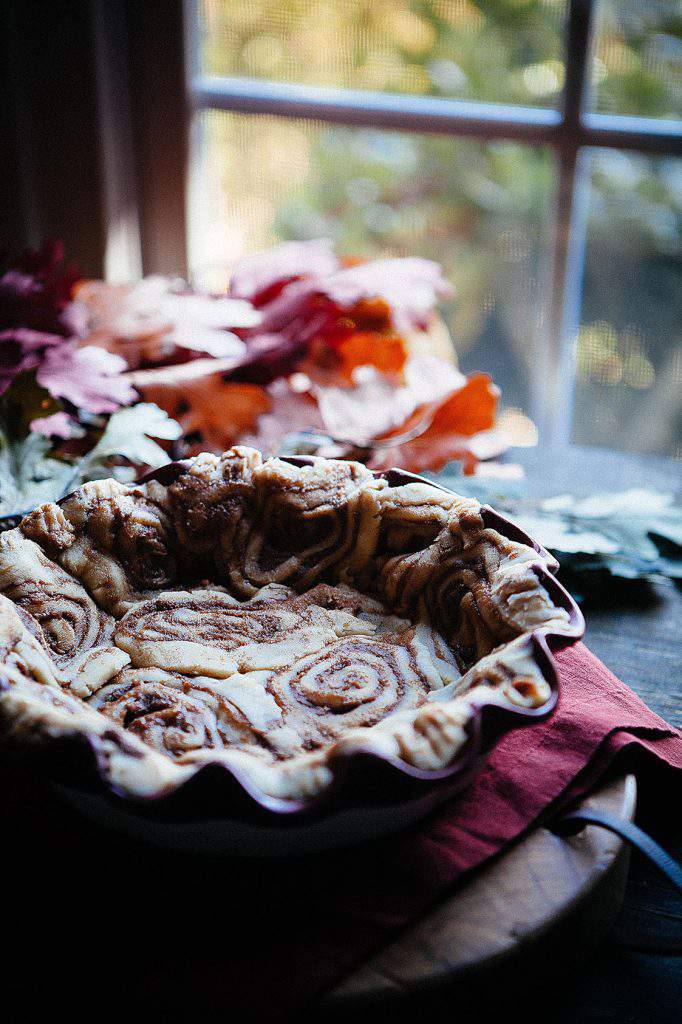 When my mom (AKA Nana Banana) first saw these pictures she said "hey, it's missing something."
True, it is missing the filling.
Just so you know, I left my apple pie filling out of these shots because I wanted to show off the mouth-watering swirls.
By the way, you could also roll out a dough roll and fill a set of cupcake tins for mini cinnamon roll crusts.
That would also bowl over dessert lovers.
Happy Fall baking.
Thanks for stopping by.
See  you back here next time. ♥