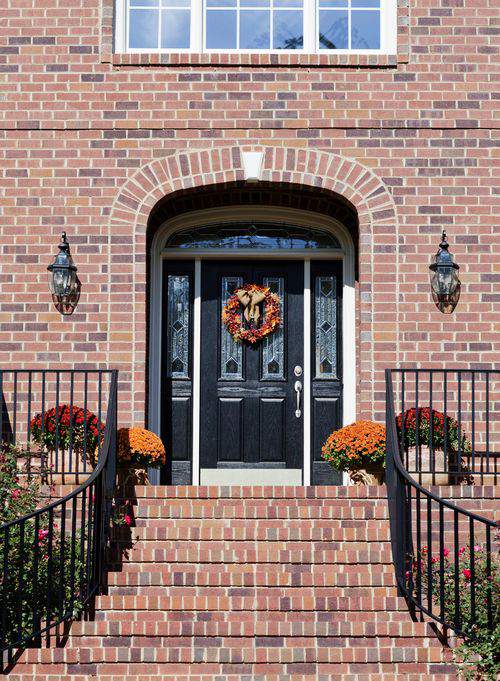 Drive through any neighborhood this time of year and you'll likely see the signs of the Autumn season written all over assorted front doors.
I love Fall, front door decor with it's colorful, vibrant mix of browns, reds and various orange hues.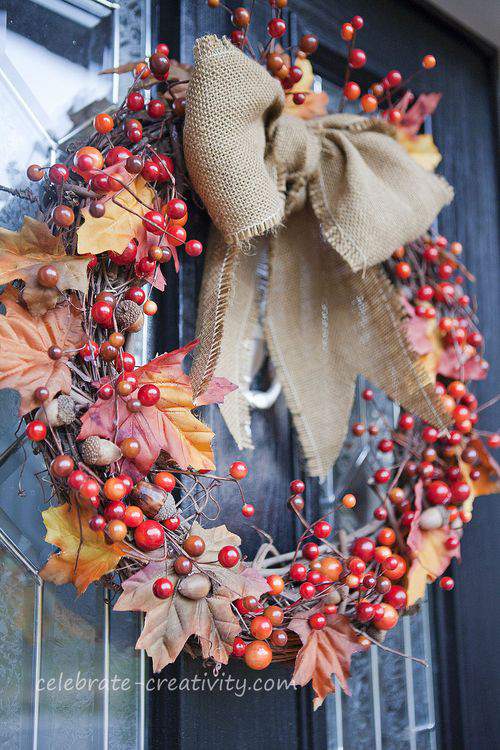 This year I decided to make my own Fall front door wreath which turned out to be super simple and inexpensive too.  Grab a wreath form ($4.00), a few strands of garland berries ($9.00 for 3), artificial leaves ($6.00) and a small amount of burlap (I already had this olive colored burlap in my fabric stash).
You'll also need a hot glue gun.
Remember all those acorns I used for my soft acorn project from a few weeks ago?
They'll work great on a wreath like this.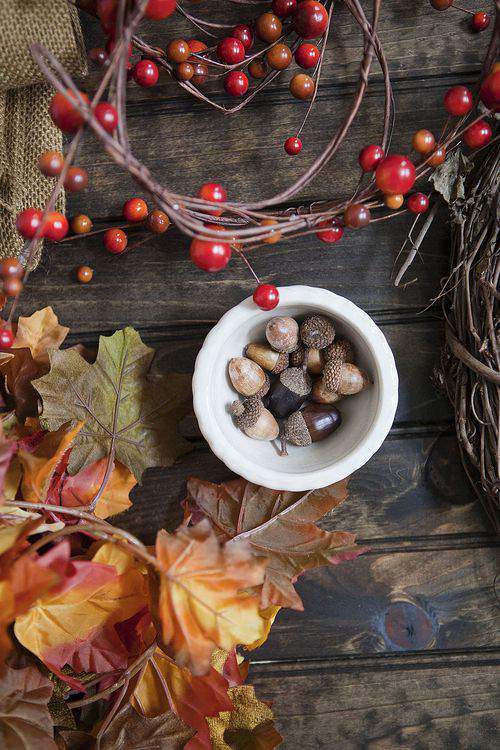 These berries are really versatile and can be used on a variety of projects.
I use them on my Christmas tree in garland-form every year.
Meanwhile, use a pair of wire cutters to clip the berries on their stems from the garland.
Hot glue the berry stems directly onto the wreath form.
Make sure you space and arrange the stems so the various colors are spread evenly throughout the wreath.
Next, adhere the artificial leaves to the wreath.  I think the leaves look best when placed under the berries.
REMINDER: Unplug your hot glue gun when not in use and never leave an active hot glue gun unattended, especially if you have small children nearby.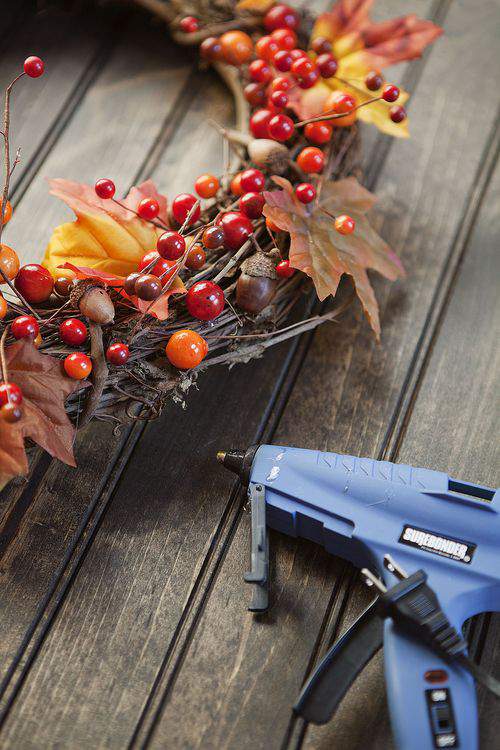 Look how great these acorns look mixed in with all the berries and leaves.
Acorn caps have a tendency to separate from the rest of the acorn so make sure you apply hot glue to the body and the cap when adhering the acorn to the wreath.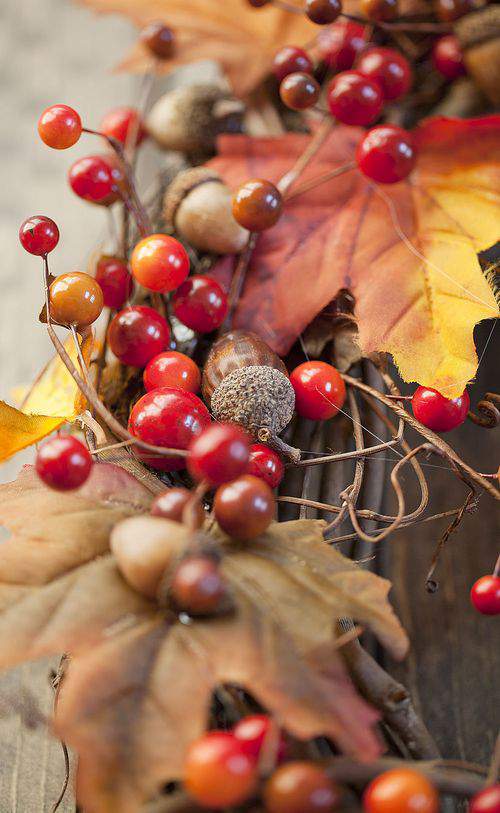 Many craft stores sell wide-width, burlap ribbon this time of year but it sells out pretty quickly.
Not to worry, it's easy a bow with a yard of inexpensive burlap.
Simply cut a 6-7-inch strip of burlap the lenth of the yardage and machine stitch along the edge on both sides to prevent fraying.
Tie the burlap strip in a bow for a pretty, rustic addition to the wreath.
Hot glue the bow to the top of the wreath.
Bend a few of the berries to cover the attachment for a more natural, free-flowing presentation.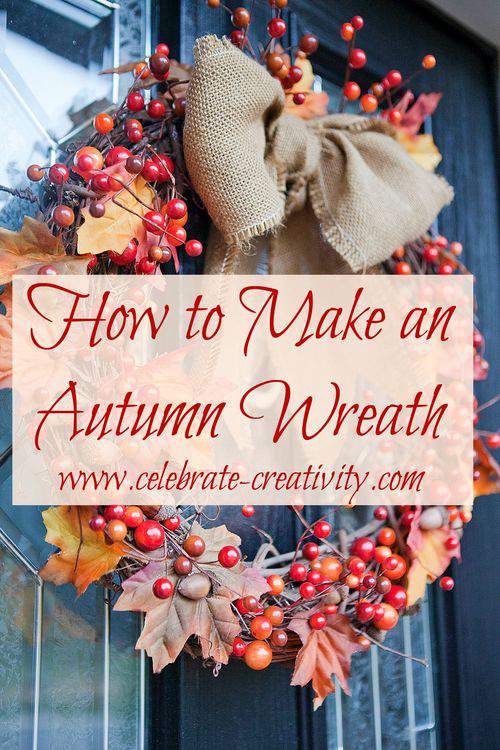 I also decided to add some Mums to this front door arrangement.
Rather than display the Mums on my front step in their original container, I wanted to continue with the rustic, burlap theme established by the burlap bow.
Cut a square width of burlap the size of your pot and fold the edges down into the container.
Simply tuck the edges into the container all the way around.
Jute or rope can be used to add a little extra security to the folded burlap and it also adds a nice decorative touch.
NOTE: This rope was leftover from my earlier Pottery Barn-inspired Beachcomber basket project.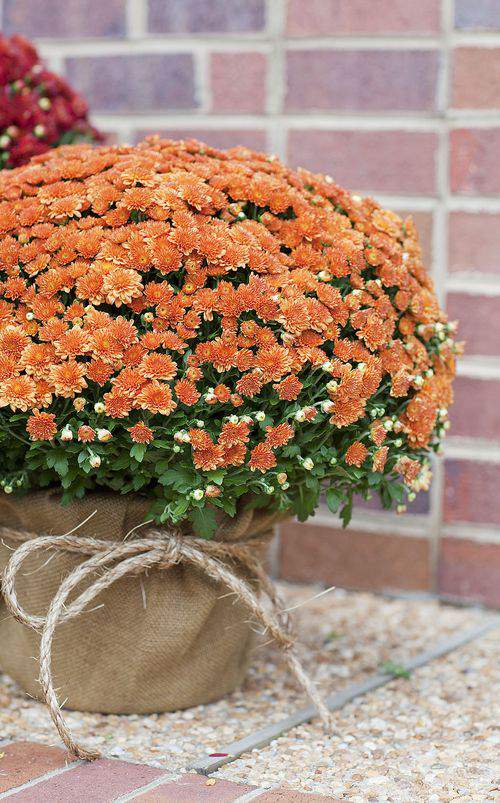 My kids plan to carve their pumpkins this week and when they wrap that effort up, I'll stair-step the pumpkins on the front steps.
I think that will finish off this Fall, front door decor nicely.
If I had purchased this wreath pre-made, I'm sure it would have cost me much more than the $20 I spent to make it myself.
I not only saved a few dollars, I now (and more importantly) also have the satisfaction of saying "hey, I made that myself".
That's always a good feeling.
So, what kind of decorations are part of your front door decor this Fall?  Did you make your own wreath?
If not, I hope you're inspired to give it a try.
See you then.  ♥
I'm linking this fall wreath project to the following: