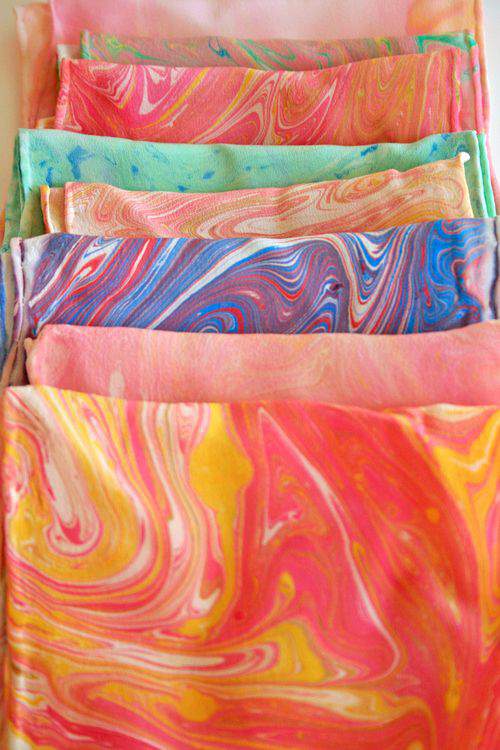 How many times have you admired beautiful marbled silk scarves at some high end retail store?
Did you know you can make them yourself?  Throughout this post, I'll show you how easy it is to turn a plain white silk scarf into a work of colorful art.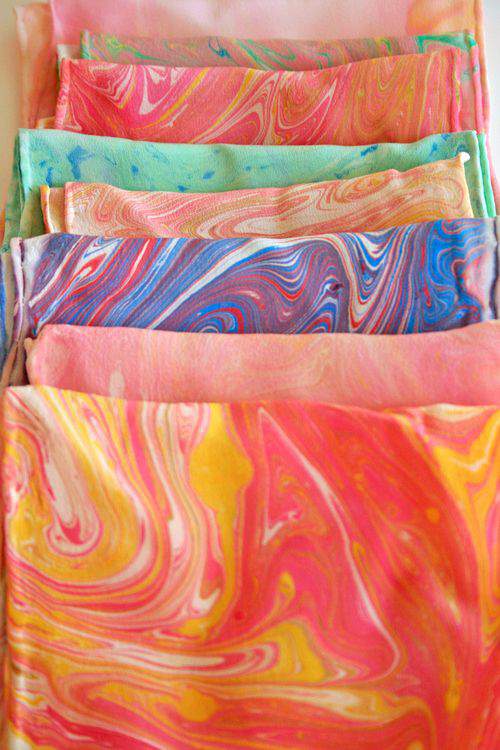 You can find marbling kits at most crafts stores.  The kit includes required chemicals used to treat the water used for this technique, as well as assorted marbling paints.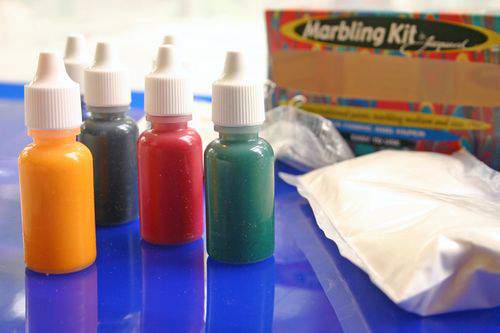 Plain, ivory colored silk scarves were used for this project but as you'll see further down in this post, you can use other types of material just as easily.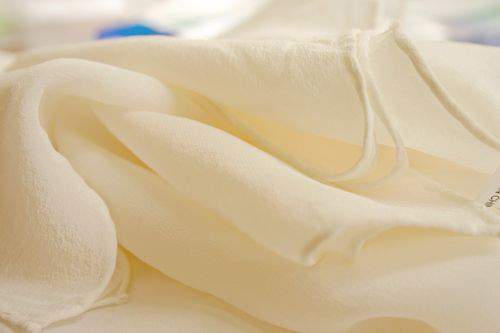 You'll also need a few simple items that can be found around the house.  
Different combs and a cuticle stick are just a few of the things that  can be used as tools to create the veins in the marbling.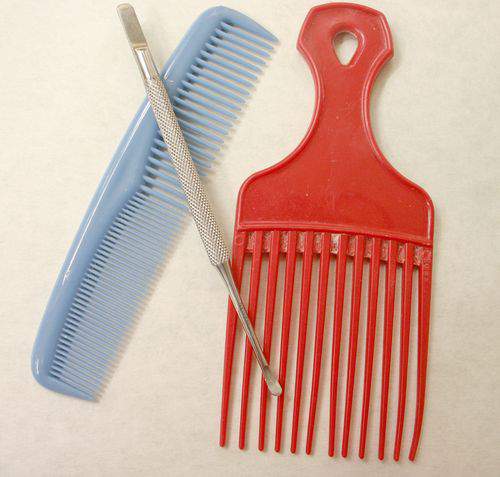 My friend Laurie Pyszkowski headed up this marbling project in her home studio which has the perfect amount of natural light streaming through the windows for great shots. 
Laurie is a talented and successful painter who specializes in one-of-a-kind, hand-painted silk scarves.  Her scarves feature lovely, intricately designed original artwork. 
Click here to visit Laurie's blog and here to browse her Etsy shop.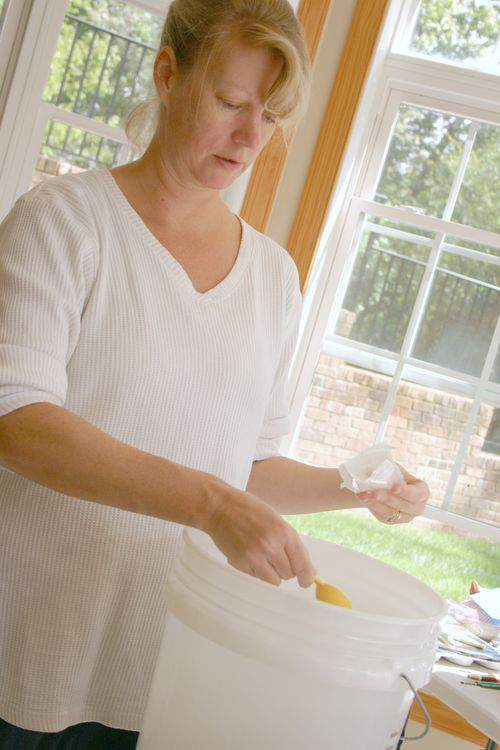 The combination of water and a marbling chemical creates the solution which will ultimately allow the paint to sit on the solution surface before being transferred to a select piece of fabric.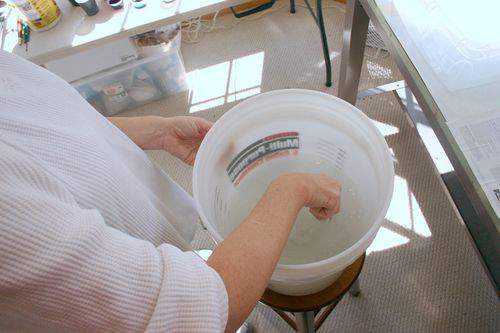 Allow the solution to sit for about 45-minutes and then pour into a large plastic bin.
The solution will turn into a light gel so that the marbling effect can take place.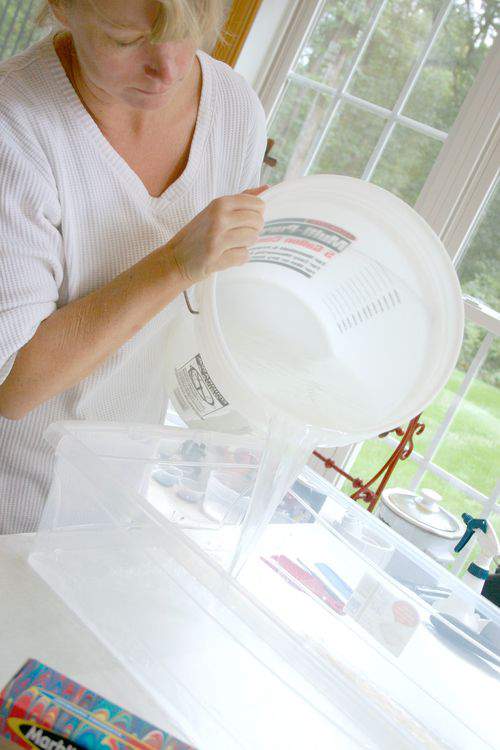 Once the solution is in the bin, tap off any air bubbles using newspaper or butcher's block paper.  Then, begin adding the paint in small drops at a time.
The paint droplets react to the chemical in the water and that causes the paint to slowly expand across the surface of the solution.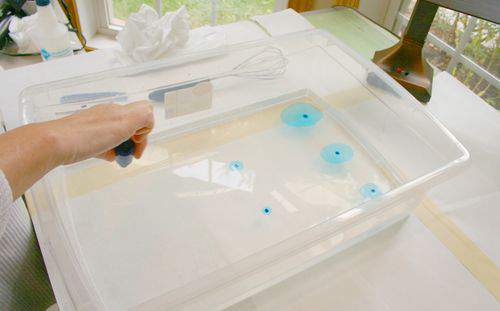 Add more paint colors as desired.  The more colors added, the more marbled veins can be created on the surface.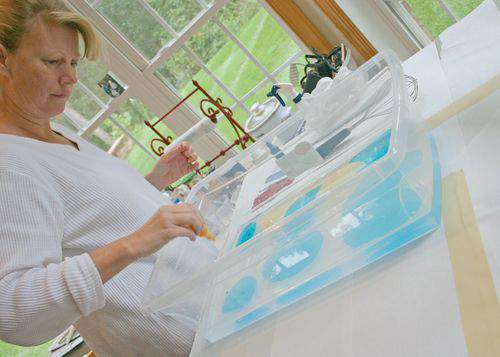 Here's a closer look at how two of the colors expanded and began to blend into one another.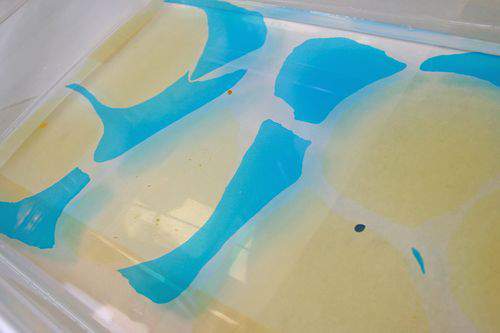 Now comes the really fun part.  Use one of the household tools to gently scrape across the surface, dipping the comb barely below the surface of the solution. 
Because the solution is the consistency of a light jelly, the paint is basically stuck in place.  The scraping effect pulls the colors together in a way that gives it a marbled appearance.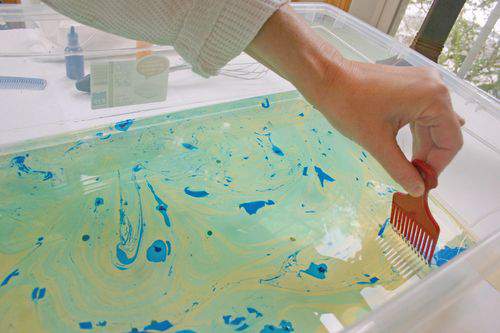 Once the marbling is created on the surface of the gel, it's time to transfer it to the silk scarf.
Gently lay the scarf down, over the design that has been created.  Whatever pattern is created in the gel is the pattern that will transfer to the fabric.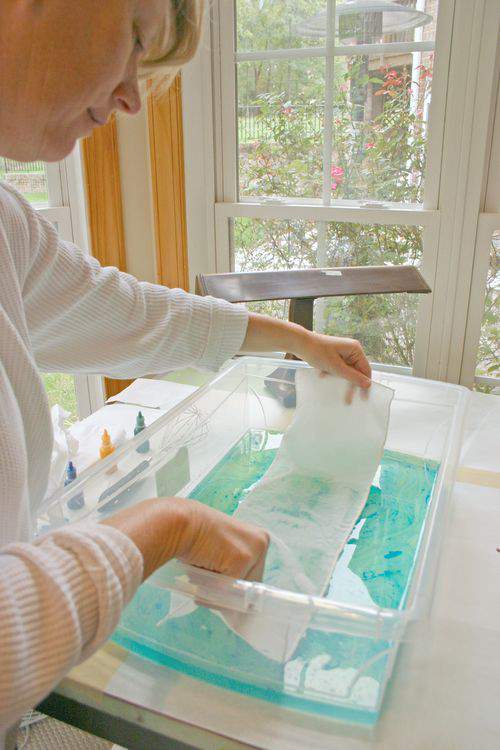 Gently lift the scarf from the solution after all areas have been covered.
One thing to keep in mind is that you must have a long enough bin to accommodate the length of whatever fabric you're marbling.  You can't shift the fabric or slide it around in the solution.  You must lay the fabric flat on top of the solution and wherever you lay it ,that's where it stays to absorb the marble pattern.
This bin wasn't quite long enough for this scarf, which is why the ends here did not recieve any marbling design. If this happens you can always trim the un-colored section, turn over @quarter inch, press and topstitch for a new scarf end. 
Note: The scarves used in this post are pretty short, they're the type of scarf you would use to tie your hair in a pony, or tie in a bow on a purse strap.  If you're going to marble a longer scarf, you'll definitely need an equally long bin for the solution.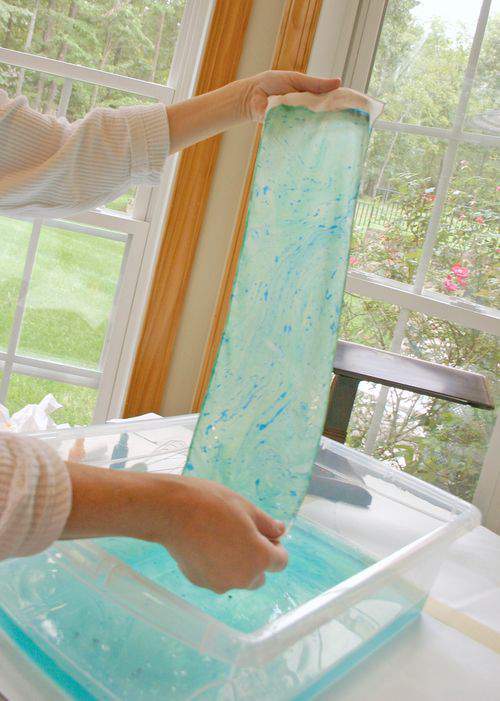 After the solution has been applied to the scarf, wash gently but thoroughly under cool water.  Then, hang to dry.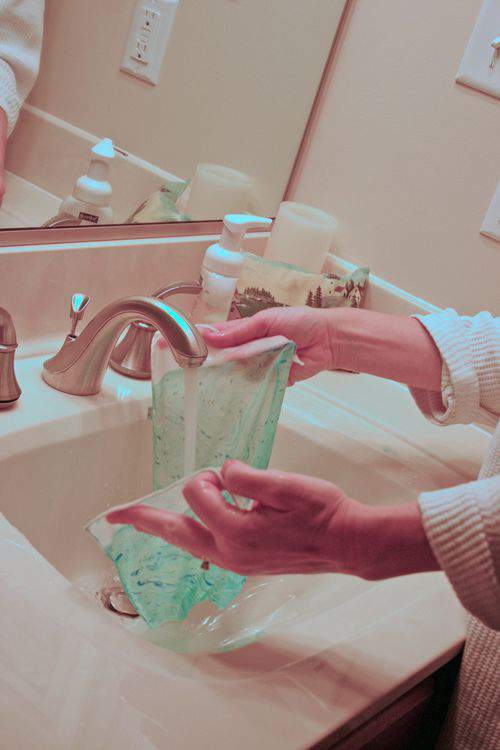 Here's a look at another design under construction.  I love how these pinks and greens flowed together.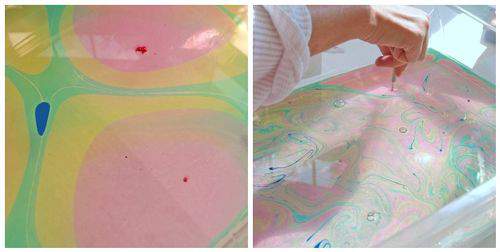 Once you get started this is a pretty easy technique.  Take your time and make sure you thoroughly read all instructions before staring and you'll have wonderful marbled designs in no time at all.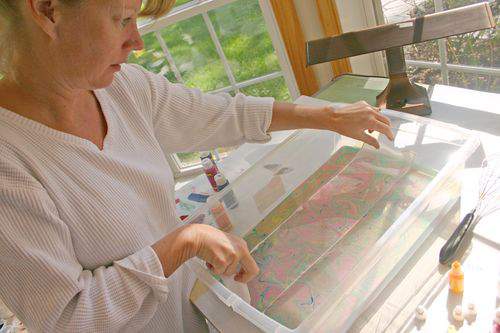 Take a look at how pretty these finished scarves look hanging to dry.  Don't those swirls look fantastic?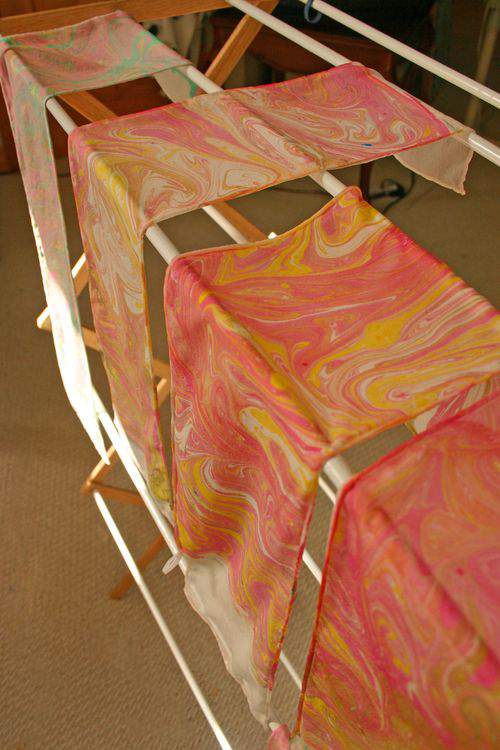 Here's a close-up look at some of the pretty marbling.  
It's really fun to experiment with different paint color combinations.  You're never quite sure what design will be created until you actually create it on the surface of the marbling solution.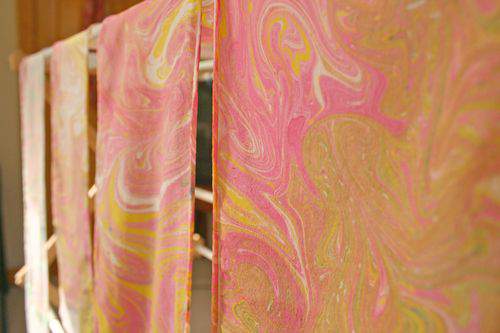 As I mentioned earlier, this technique can be applied to many different fabrics. 
Here's how Laurie's marbled effect looks on plain white twill ribbon strips that she cut.
I think you can see the possibilities for your own fabric projects and exclusive designs.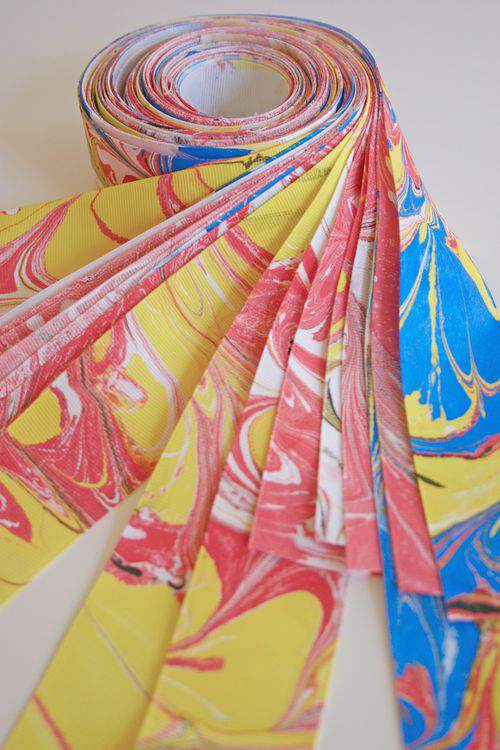 Huge thanks to Laurie Pyszkowski for spearheading this 1/2 day project.  This was really a very fun process for me to photograph and I'll definitely try marbling a few things myself.
I hope you pop by Laurie's blog, Painting on Silk to say hello or visit her Etsy shop for a closer look at her beautiful, hand-painted silk scarves.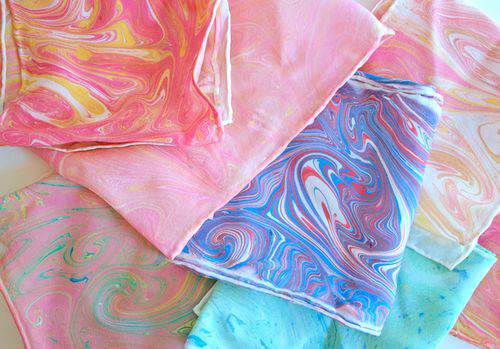 From time to time, I'll introduce you to other multi-talented, creative friends and share their how-to projects on this blog for you to enjoy and try for yourself.
Meanwhile, it's that time of year to start thinking about handmade holidays.  As you think about unique gift items this season, consider creating your own marvelous marbling.♥