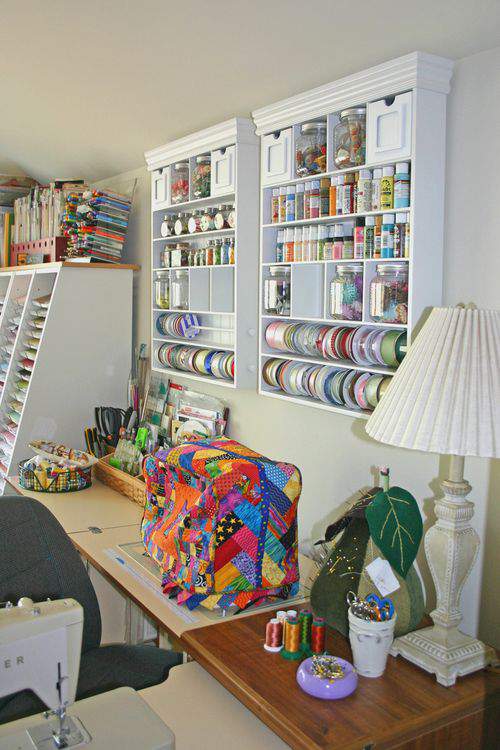 Among the many things that crafters share, is a love of STUFF.
Whether it's paint, fabric, scrapbook paper, stickers, glitter or all of the above and more, crafters tend to collect a lot of supplies over the years (and I've been collecting for many years).
Of course, one of the challenges of using various supplies is finding ways to efficiently and effectively store them.
With that in mind, I thought I'd devote today's post to sharing a few favorite ways I store my stash.

I'm the kind of person who is drawn to color and I love to be surrounded by the wonderful colors found in supplies.  That's why I keep my most vivid, colorful products out in the open and in plain view because it's often a source of inspiration for creativity.
These wall units create such a fun splash of color when mounted side by side like this.
I found these wall units at Michael's crafts store and they're a great item to use up that 40% off coupon.  I suggest you use toggle bolts when mounting for additional support.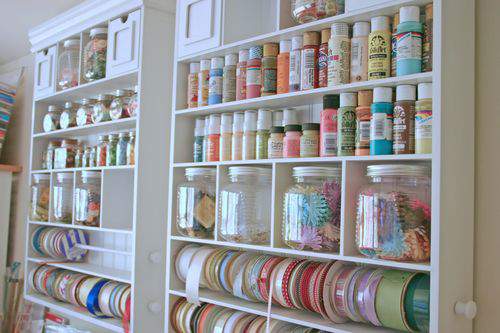 Several years ago, when a few local scrapbook stores announced they were closing, owners put FOR SALE signs on all their fixtures.  It's always a huge loss to crafters (and the entire community) when a local scrapbook store closes its doors for good.  That's why it's so important to support your local shops as much as you can.  It's the only way they can stay open.
Anyway, this paper storage unit was one of several commercial fixtures I picked up at the everything-must-go-sale. 
With 120 paper slots, it really provides attractive and highly functional storage capacity.

Here's another bargain from one of the store closings.
This swivel is another one of my favorite storage units because with four individual sides, it stores a ton of stuff.

While commerical fixtures are great to have, even simple storage ideas can be functional and at the same time, add character to a crafts space.
I've always loved this vintage looking, textured vase that I found at a garden shop.  I use it to store my stencilling and stippling brushes.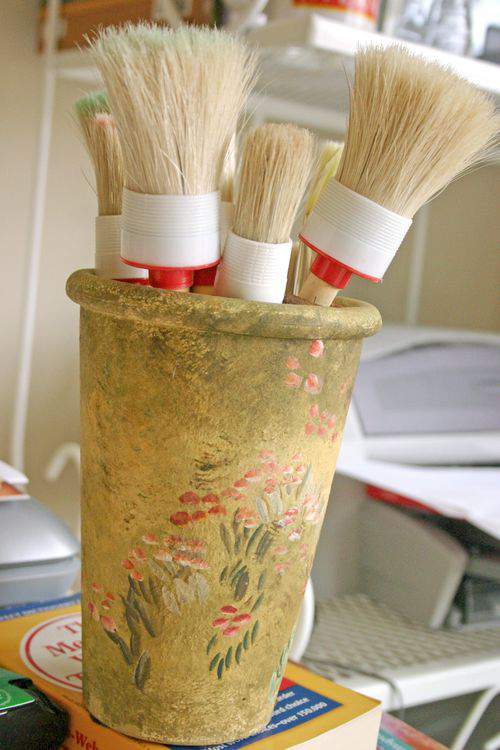 Even everyday kitchen items can go a long way toward helping to organize supplies.
Perhaps you already have one of these tiered fruit bins. They're great for fruit but they're just as ideal to store frequently used rubber stamps.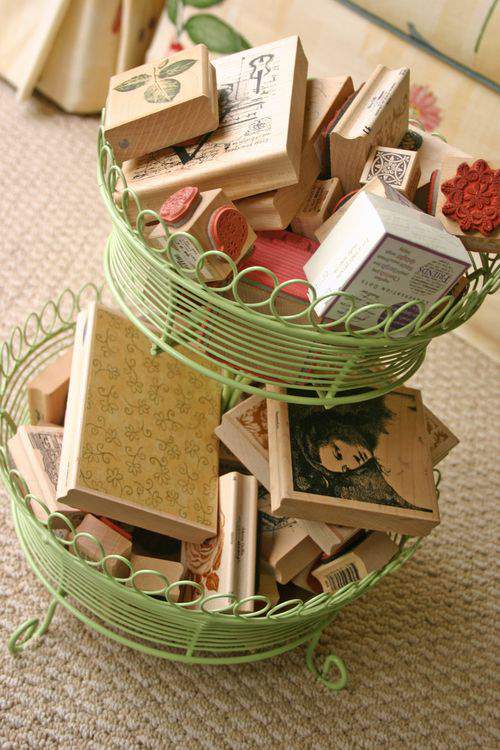 I love pretty boxes and I found this matching trio at Target.
They're ideal for storing small, loose supplies like buttons, clips and paper flowers and they stack nicely for a streamlined and space saving presentation.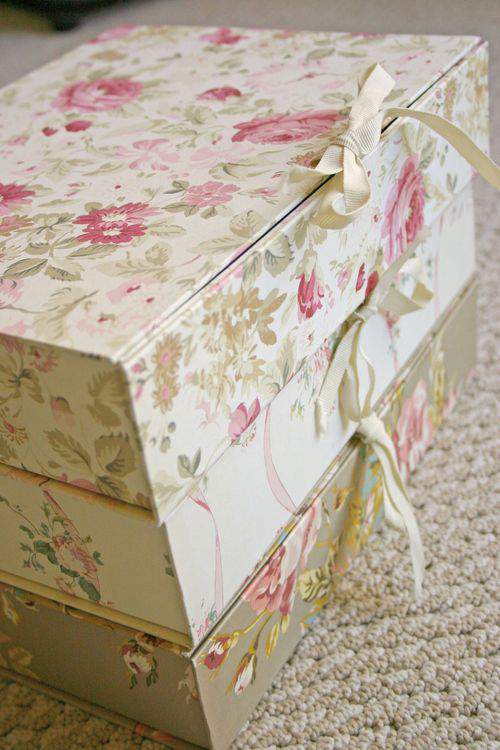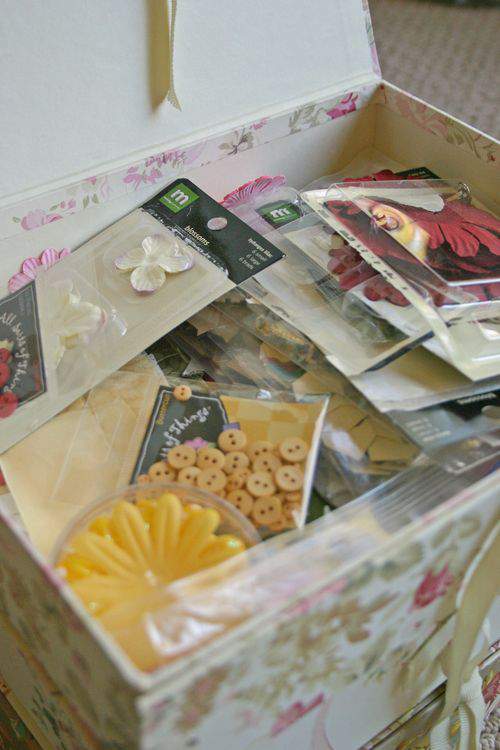 I use this extra wide basket to house sewing supplies, scissors and other loose crafting items and papers.
With ten individual compartments, it stores a boat load of odds and ends and keeps various tools within easy reach when I'm sewing.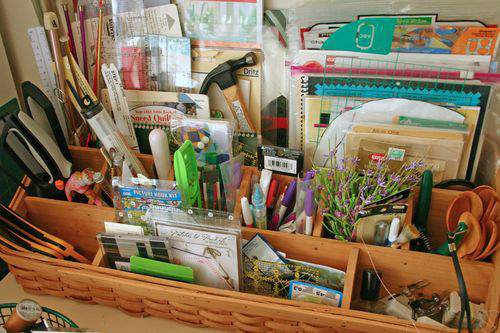 Speaking of sewing, if you sew then you probably have loads of thread spools.  I do a lot of machine embroidery which requires multiple, subtle shades of threads and this thread board is a perfect, easy-to-make storage solution.
Click here to see my earlier post on how to make this thread board for yourself.  It's a super simple weekend project.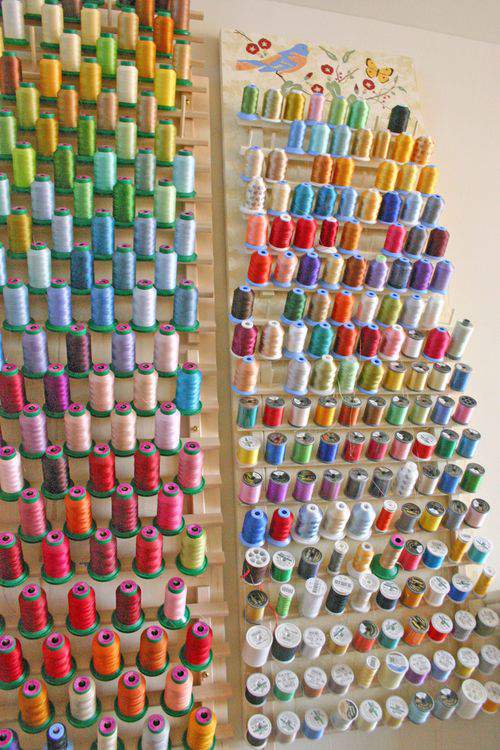 Here's another major purchase from a store closing.  Great deal but so sad that so many shops have gone out of business over the last few years.
At one time this beautiful armoire was filled with designer scrapbooking products.
I recall being really torn about buying this great piece of furniture as the store owner (and my friend) was suffering such a tough business hit.
I felt it just seemed wrong to benefit from her misfortune.  The owner told me she wanted me to buy the armoire and was glad I wanted it.  She added that even though she was giving up her store, she was comforted knowing that this piece would be in good hands and well used and well cared for.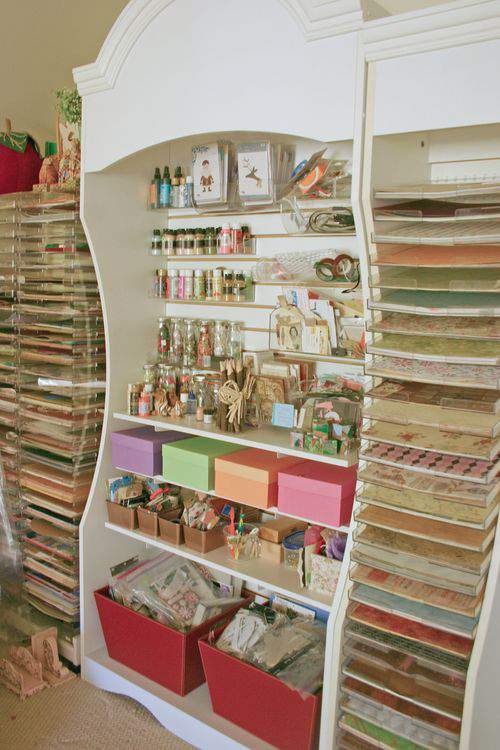 I ended up installing several shelf brackets mid-way on the back of the armoire so that I could add these three shelves to make it even more functional for me.
By the way, three-dollar photo boxes are also a good way to store small items and keep them organized and colorfully hidden away.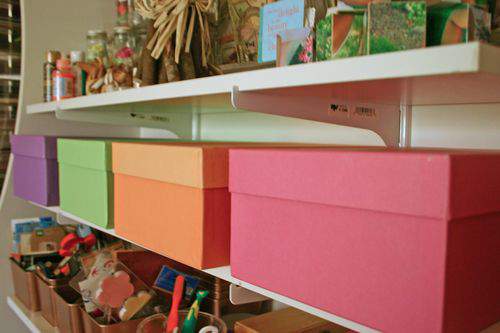 Whether you find deals on commerical storage fixtures or re-purpose everyday household items (like the glass cookie jars in the photo below) the most important thing is that you actually use your supplies in new and creative ways that make you happy and enhance the lives of those you touch.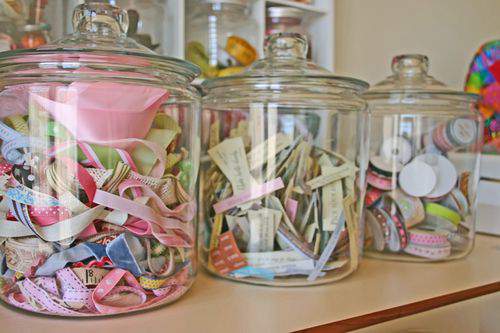 I think when it comes to housing supplies you always have to keep your eyes open because you never know when that next great stash storage idea will come your way.
Crafters love storage solutions, so feel free to share your favorite storage tip too. ♥