Anyone who has a fabric addiction probably has a thing for colorful spools of thread too. I mean you have to have lots of thread to sew all that fabric you've been collecting for years, right?
I used to keep my sewing and embroidery threads in a big, boring cardboard box. It was never the most effective storage idea.
The cardboard box was not only unattractive, it was difficult to get my hands on exactly what I needed when I needed it. I also had a hard time keeping track with what colors I already owned because I could never really see what I had on hand. How many times have you purchased a spool of thread only to find out later that you already had it in your stash?
I finally solved the problem with what I think is the perfect thread storage solution. Take a look below at my thread board project which may also work for you.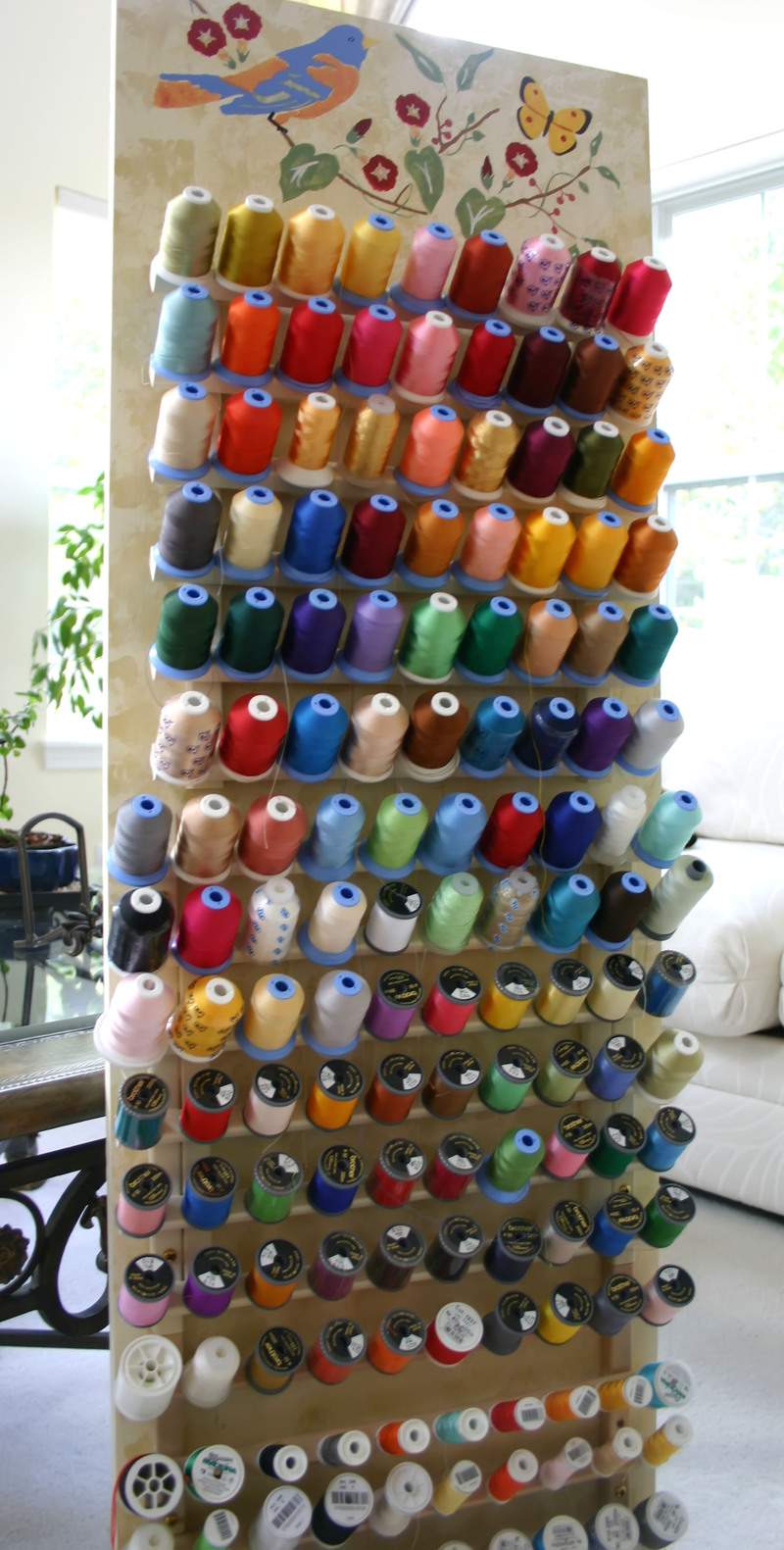 This is a really easy project to make. Start with several inexpensive wooden spool holders like the picture below. These spool holders are available at just about any fabric store in the storage section.
You'll also need a large pre-cut wooden board that you can pick up at any hardware or lumber store. Collect wood screws, picture wire, a heavy duty picture hook, optional paint and stencils and you're ready to get started.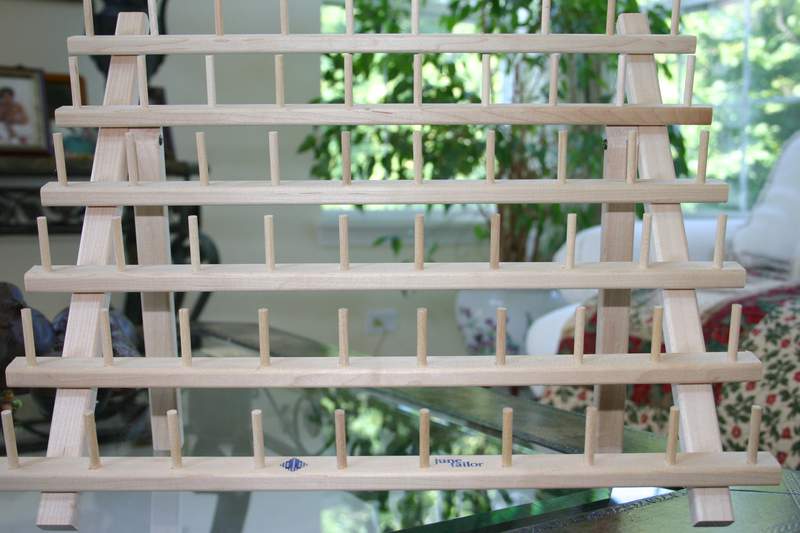 Simply screw the wooden thread holders into the board. The number of thread holders you'll need depends on the size of the board you have selected. I used three thread holders for this project to cover the length of the board. The wooden boards come in various pre-cut sizes but you can also have a board custom cut at your local hardware/lumber store, generally at no charge for a project this small.
The pre-cut board I used for this project has a 1-inch depth, 16-inch width X 48 inch length. You may want to take your thread holder with you to the lumber store to insure you get the exact size board and wood screws you'll need.
Center each thread holder before screwing it into the board. Insert one screw into the middle of the frame on both sides of each thread holder. Make sure your screws are long enough to go through the thread holder frame and about half way through your wood board. Be careful not to use screws that are so long they'll poke through the back of the wood board. I used 3/4-inch wood screws. Line up each thread holder foot-to-foot for a continuous seamless appearance.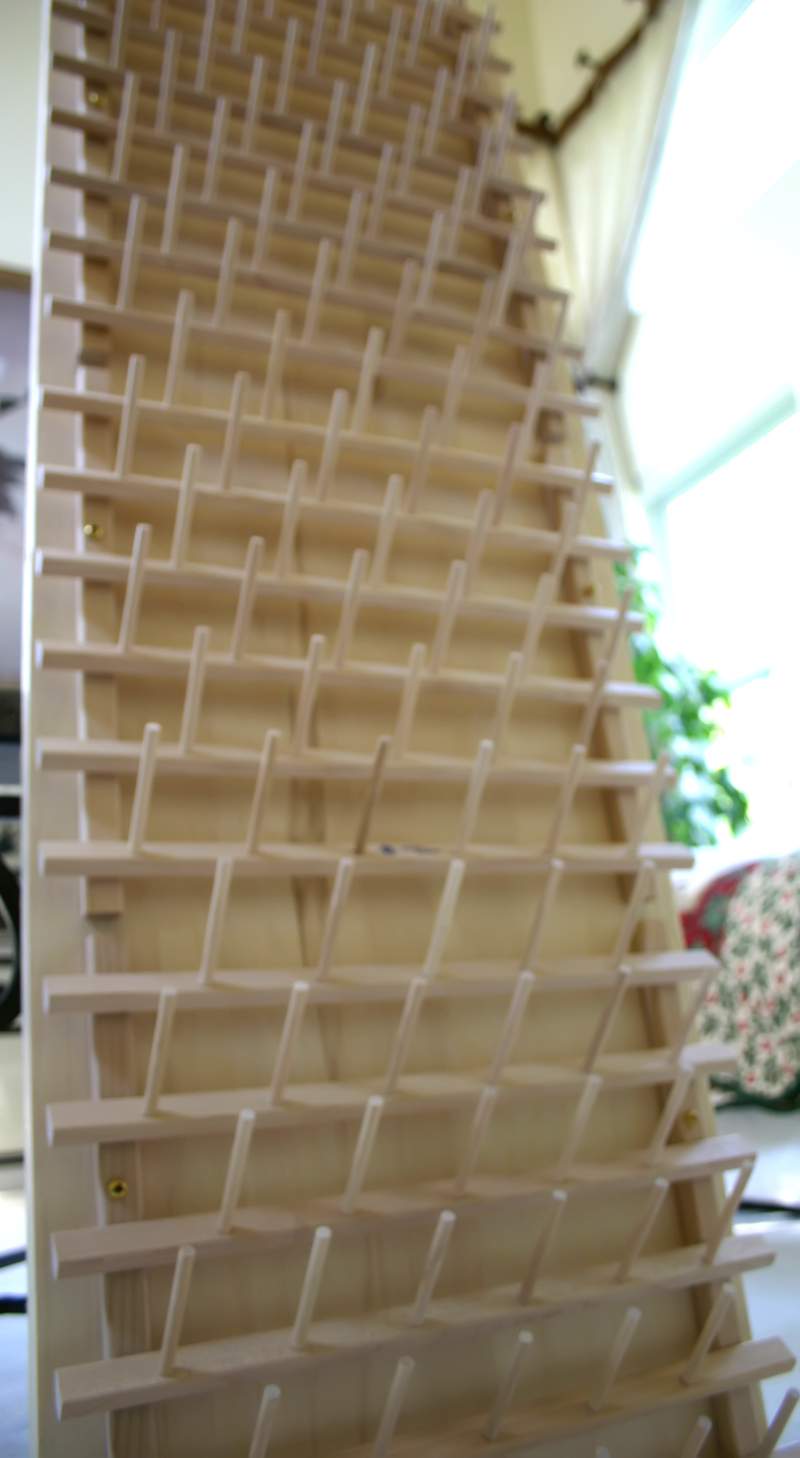 After you've screwed all the thread holders in place, paint the entire board. Using leftover paint from the designated wall will help the board blend into the room's decor. I also added a subtle texture to my board by sponging a tan color lightly over random areas of the painted board. Because this is a fairly large painting surface, you'll definitely want to make sure your workspace is well ventilated. 
To add a decorative element to the board, I lined up the thread holders in a way that left about 7-inches of free space at the top for some stenciling. I think the little bluebird, vine and butterfly motif add a nice finishing touch to the project. You can find this stencil at Designer Stencils in the birds and butterflies collection.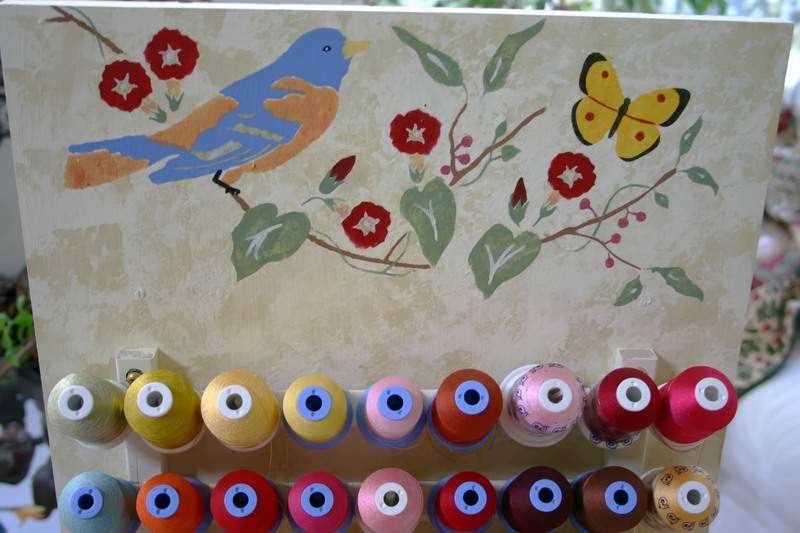 Finally, install heavy weight picture wire on the back of your board, and hang on the wall using a heavy weight picture hook.
If you don't want to mount the thread board to the wall, simply prop it up against the wall. That's what I do with this second thread board that I made. One day I'll get around to painting and mounting that one too.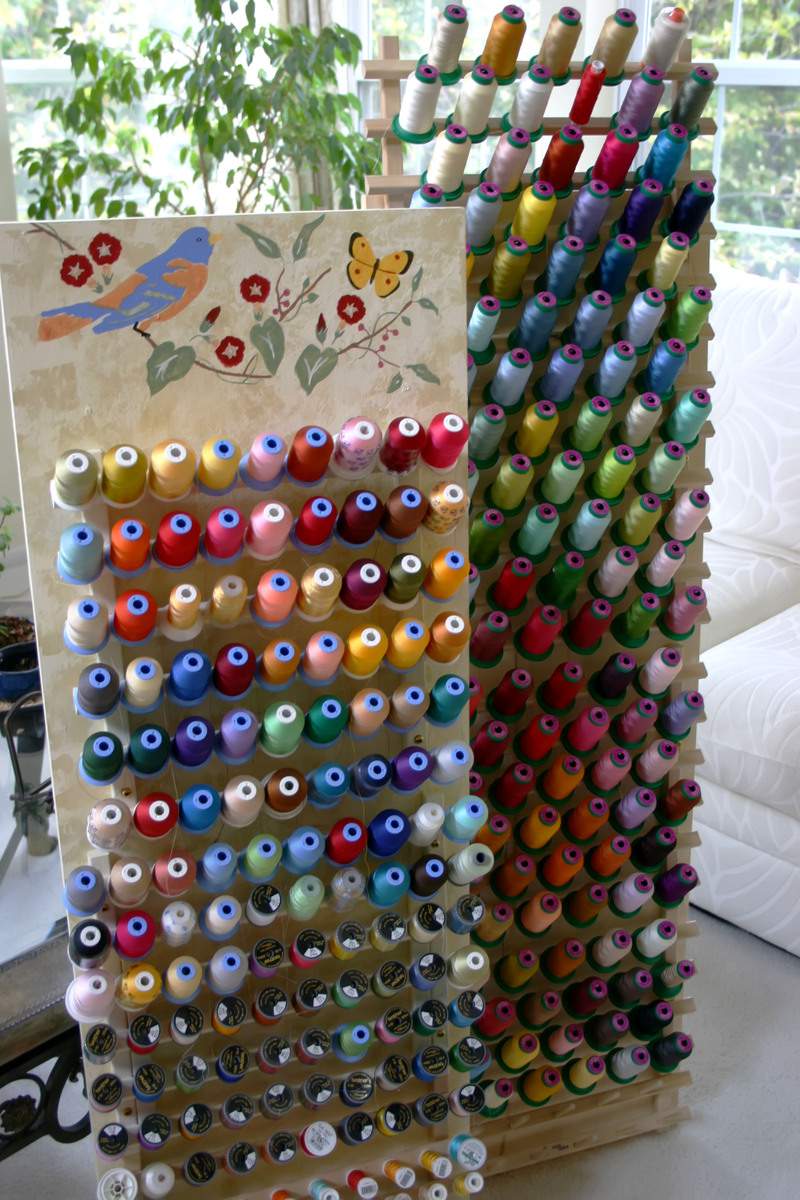 This is a great use for an empty wall and because it's a vertical storage solution, it won't cut into valuable floor space.
Even if you decide to simply prop it against the wall, it still takes up a minimum of space. It's fast and easy to construct and does not require any carpentry skills whatsoever.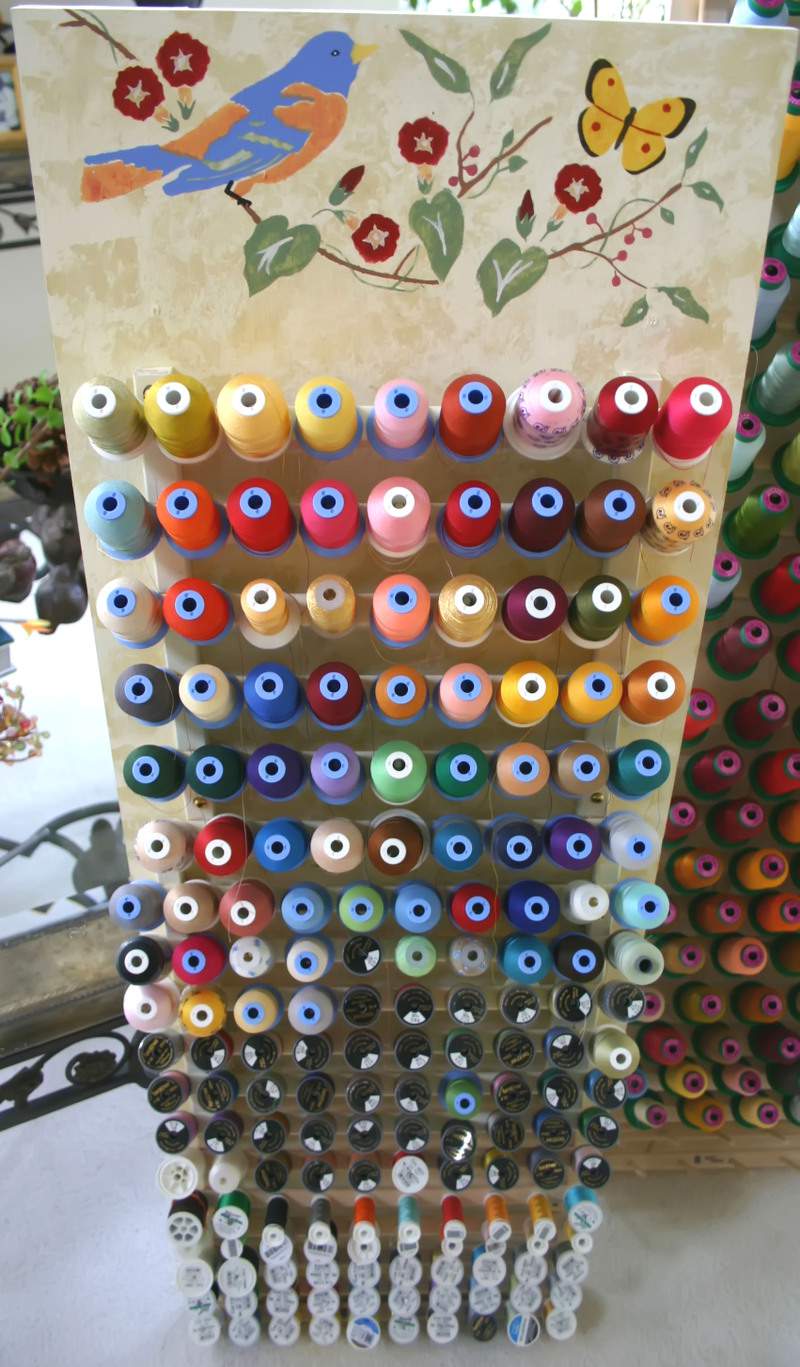 This has been a wonderful solution for me because now all of my sewing and embroidery threads are fully visible at a glance and easily accessible.
It's great to finally be able to kiss that awful cardboard box goodbye and good riddance. ♥