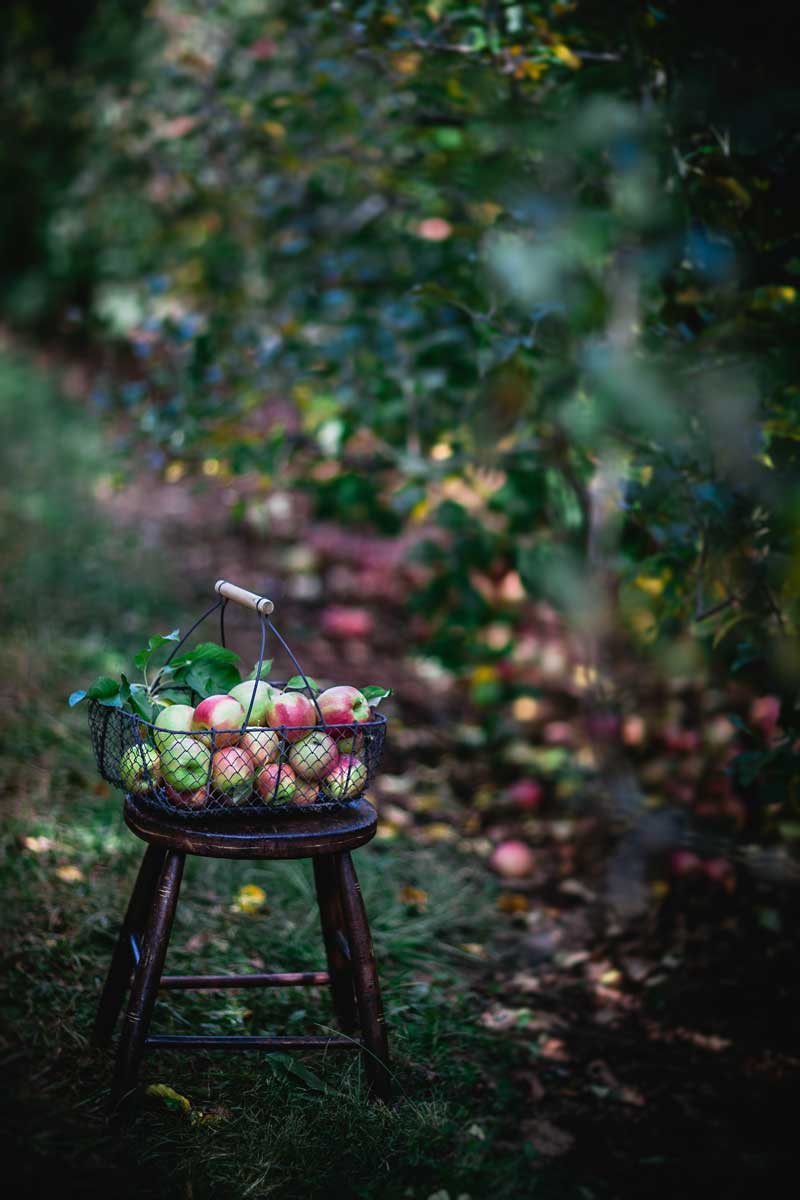 This calendar year is flying, isn't it?
Thanksgiving is literally, right around the corner and with that big day in mind, I want to share an amazing apple pie with you.
But before I get to the recipe, allow me to share a recent experience.
Last week, I was talking to a friend about the relentless news cycle filled with angry politics, senseless violence and such widespread suffering.
It was starting to overwhelm my senses, impacting my nerves and my sleep.
I felt like I needed more air. Fresh air.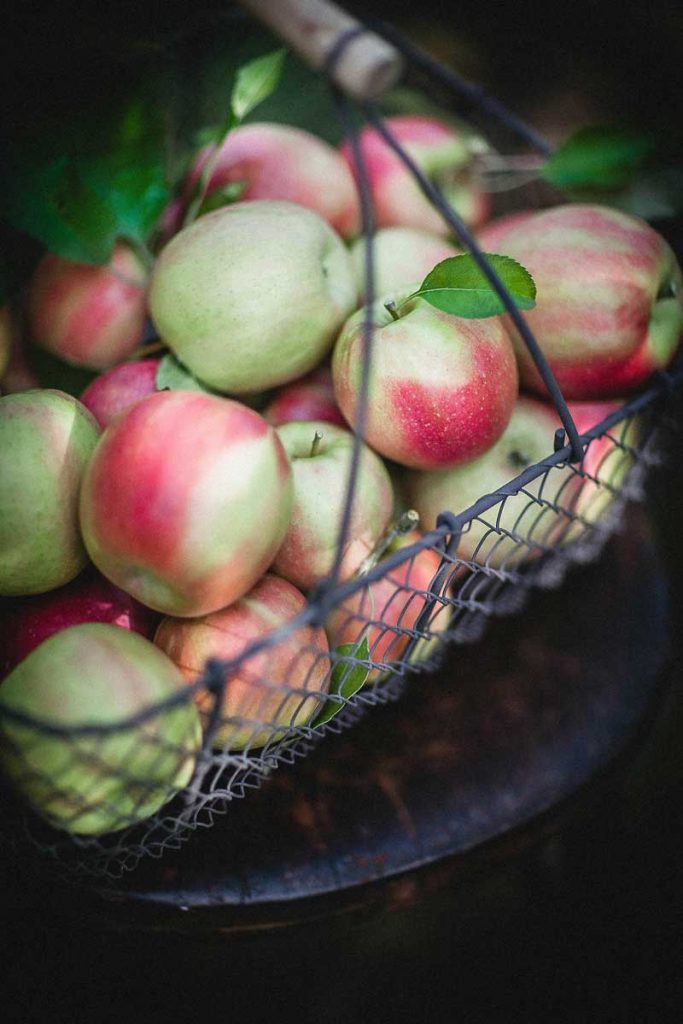 Last week, I grabbed my camera gear, a wire basket and my new milking stool and hopped in my car for a short, unplanned road trip.
I drove more than an hour to go pick some apples, snap some photos… and get that fresh air I desperately wanted (needed).
The orchard has hundreds of acres and is spread out over a mountain with rolling hills and valleys.
It's pretty late in the season so, I had to walk further and further downhill to get to the "Pink Lady" apples available for November picking.
I also had to walk further to get to more of the untouched apple trees with plentiful, low-hanging fruit.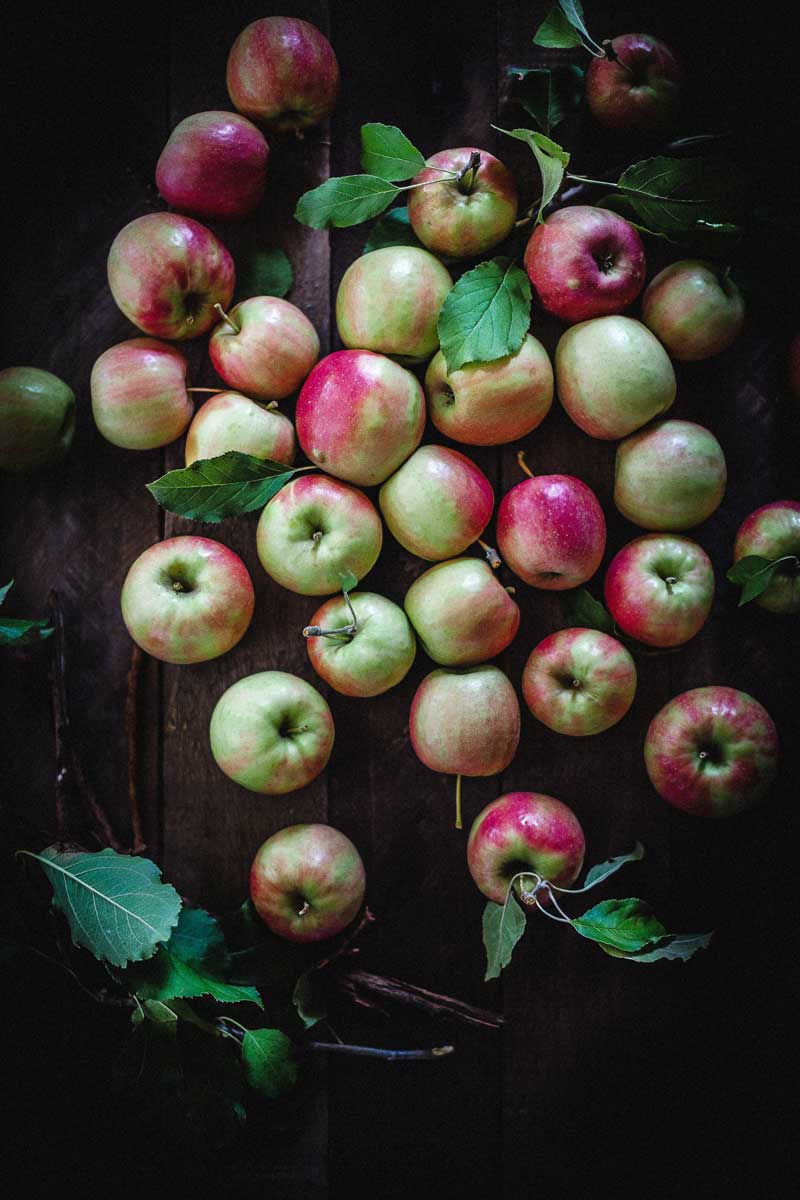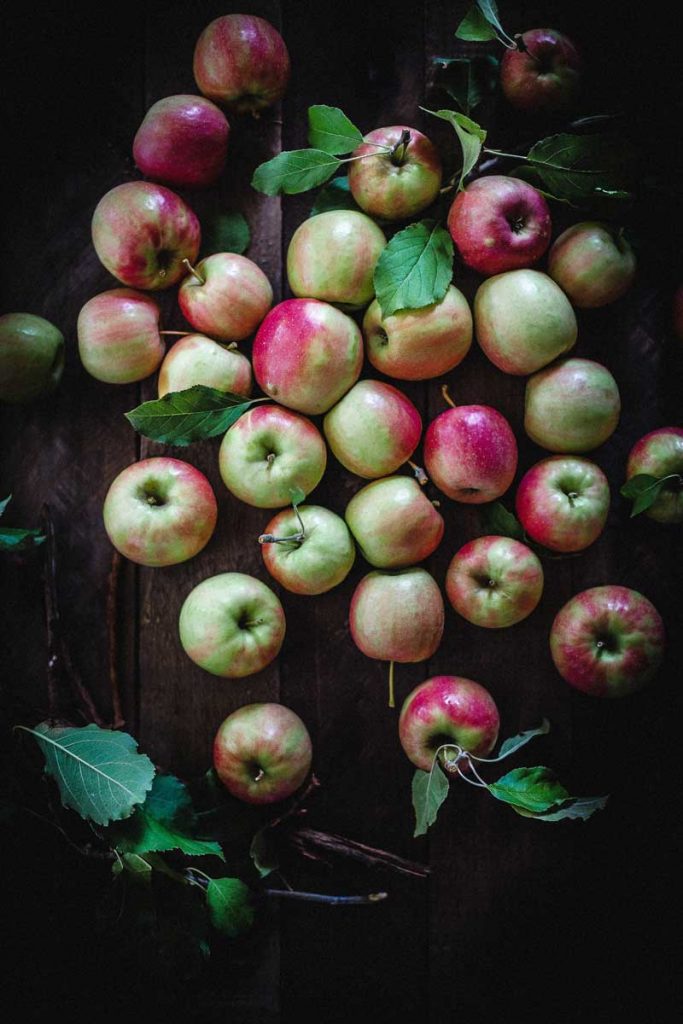 I just kept walking, slightly aware that my gear was getting a little heavier but somewhat oblivious to the increasing downhill distance I was covering.
When I got to several good rows of apples, I set up my tripod and camera and snapped away.
The air was really cool and crisp and the midday sun was blocked by clouds which provided the perfect overcast lighting.
After a few hours, I collected my gear along with about 8 pounds of apples and stepped out onto the main path to head back.
All I saw was a steep incline ahead of me. Ugh.
There's a big difference between walking downhill with gear and walking uphill with gear… and a bag of heavy apples.
That milking stool came in handy quite a few times on the trek back up.
When I finally got back to my car I was exhausted but also surprisingly refreshed at the same time.
I drove back home smiling, with car windows down, radio blaring… and no news stations on.
It was a great way to spend the day.
It's amazing what a little fresh mountain air can do…. and a basket of apples.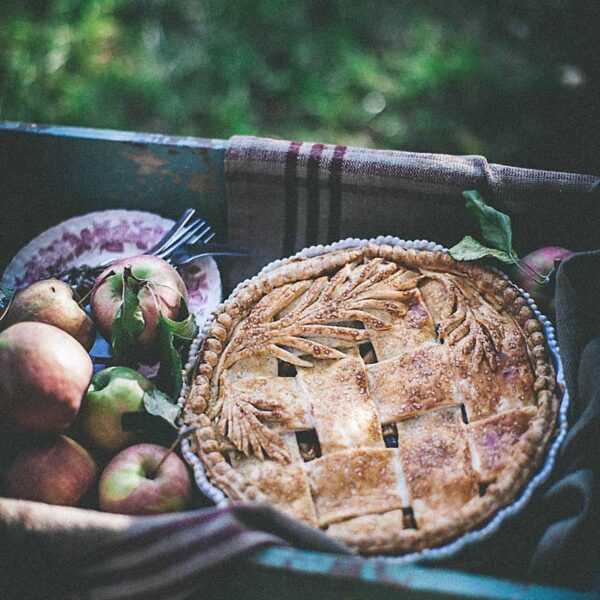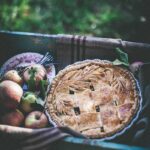 Pink Lady Apple Pie
Freshly picked Pink Lady apples are at the heart of this delicious dessert. You'll definitely impress your guests with this sweet pie filling and light crispy crust. Wide, 2-inch lattice strips and decorative feathers add a lovely finishing touch.
Course: Dessert
Cuisine: American
Servings: 8
Ingredients
2 cups all-purpose flour
1/3 cup icing sugar
145 grams unsalted butter, cubed
4 tablespoon ice water
8 peeled, cored Pink Lady Apples
3/4 cup light brown sugar
1 teaspoon cinnamon
2 tablespoons corn starch as a thickening agent
1/4 cup juice from lemon
1/2 teaspoon salt
1 egg, beaten
2 tablespoon granulated sugar
Instructions
Add flour, sugar and butter to food processor and pulse until breadcrumb texture. Slowly add ice water until dough develops into smooth ball.

2. Cut in half and wrap each section in plastic wrap and shape into ovals. Refrigerate for 30 minutes.For blind baking. roll half dough on lightly floured surface.

3. Place in pie pan, cover in foil and add baking weights (or rice). Bake in 370 degree oven for 15 minutes. Remove from oven, remove foil and weights and allow to cool.

4. Prepare filling by thoroughly mixing chopped apples, brown sugar, cinnamon, lemon corn starch and salt and place in pie dish.

5. Roll remaining dough on lightly-floured surface. Cut dough into 2-inch strips and weave top pie crust.

6, Beat one egg and brush over raw pie crust. Sprinkle with granulated or Demerara sugar.

7. Bake in 350 degree oven for 40 minutes or until golden brown.

8. Serve with vanilla bean ice cream or dollop of whipped cream
I have a little confession to make. Over the years, I've often made apple pie using canned apple pie filling.
There, I said it.
However, after making this pie with freshly-picked pink lady apples, I've had a change of heart.
I think I may never use canned apple pie filling again.
Canned filling may be more convenient but there's no comparison when it comes to the rich, flavor of fresh apples.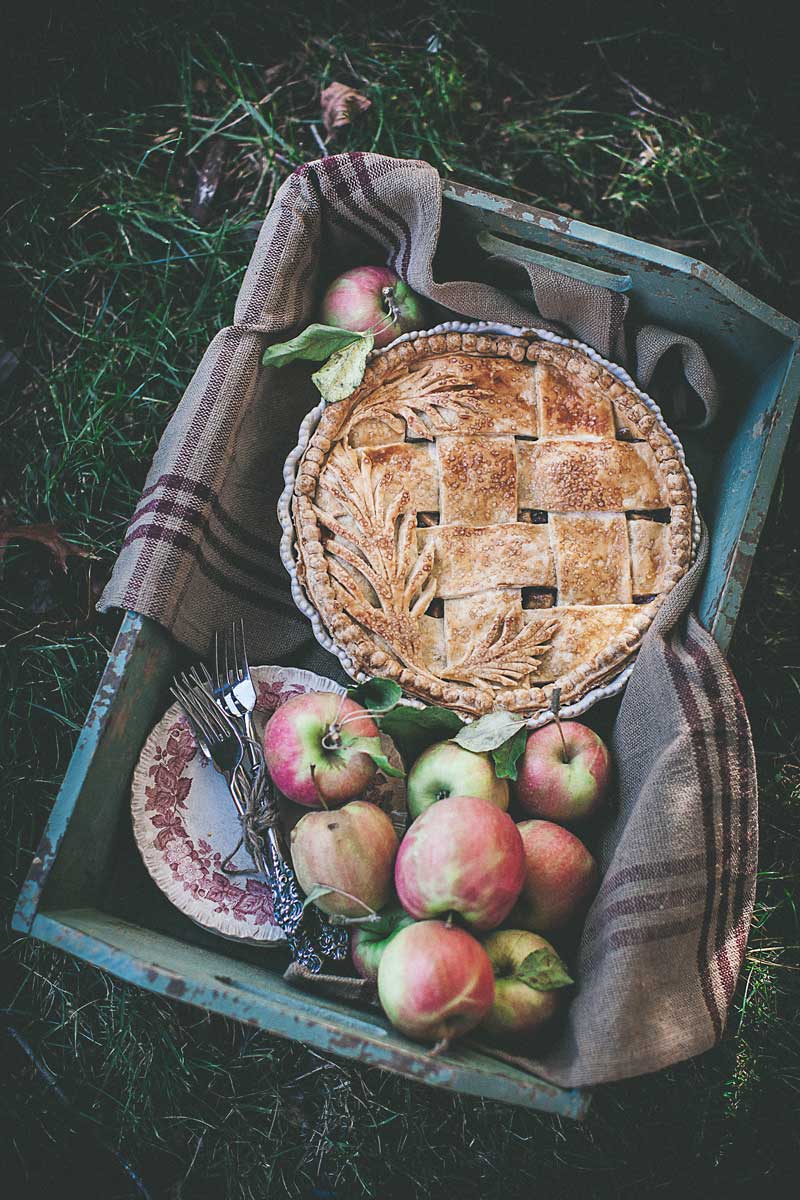 I love the look of a wide pie lattice and these strips are a full 2-inches wide.
Also, I'm not sure I could even make a pie now without adding some sort of decorative element.
If you want to see more about creating these dough cut-work feathers, you can check out my previous feathered pie post HERE.
Happy baking. I'd love to know how your holiday pies turn out.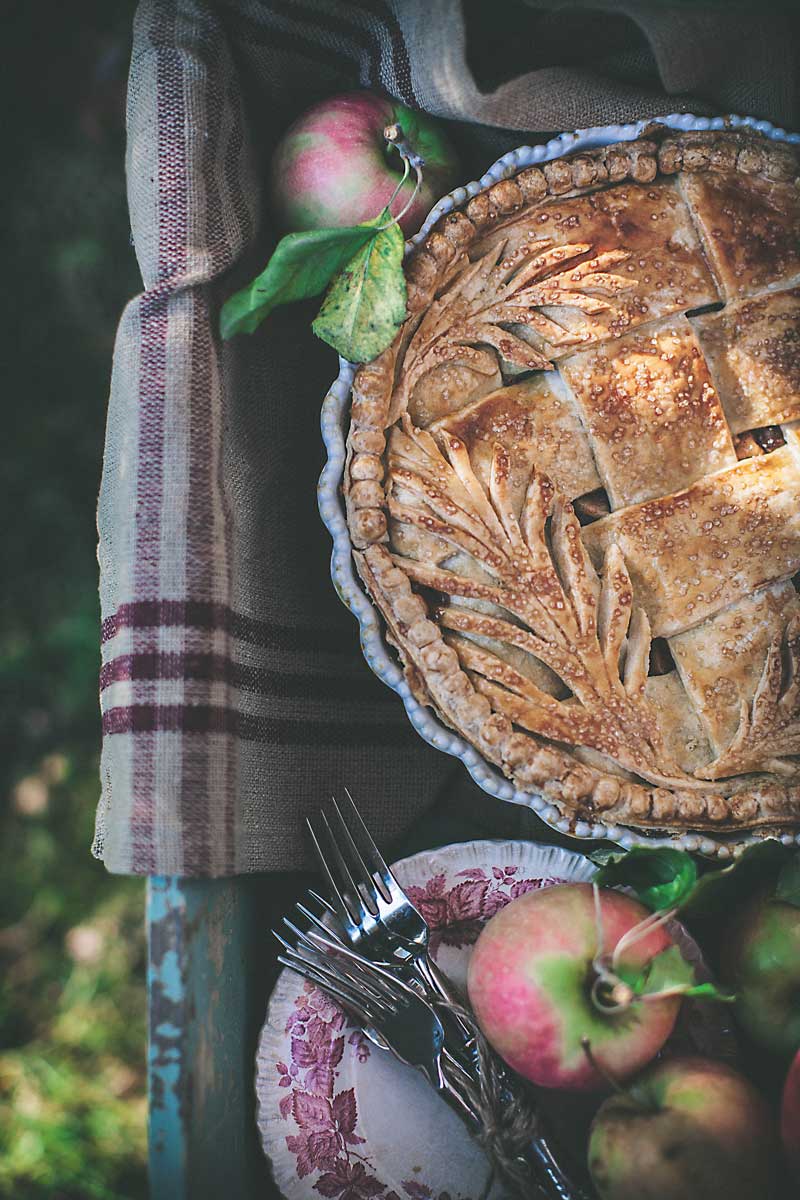 Thanks for stopping by.
Happy Thanksgiving holiday.
See you back here next time.♥