Sometimes a room can sit for years before you figure out how to put it to perfect use.
That's what happened to this small loft space which until now never got its just due or desserts.
Throughout this post, I'll share my small space makeover that transformed this area from under-used and drab to cheerful and summery fab.
This space sits right below my attic work space and despite having a wonderful wall of built-in bookcases, this area was just not used for very much.
My kids would sit in here every now and then but for the most part it was unfortunately an abandoned space.
That all changed last year after a visit to a women's clothing store… yes a clothing store.
Allow me to explain.
Believe it or not the Coldwater Creek women's clothing store is at the heart of my loft space makeover.
The brick and mortar Coldwater Creek stores closed in my area last year and all the furniture and fixtures were sold at rock-bottom prices.
Regular readers may remember my penchant for grabbing great fixtures from store closeouts. You can see an extraordinary example HERE.
Well, I picked up this large (and extremely heavy) display table that I thought I could use as a craft table in my attic work space which is located just a few steps above this loft space.
Great table.  Heavy, durable and solid.  The legs were not removable but I figured that would not be a problem.
However, that turned out to be a major issue because the table was too large to fit through the attic door.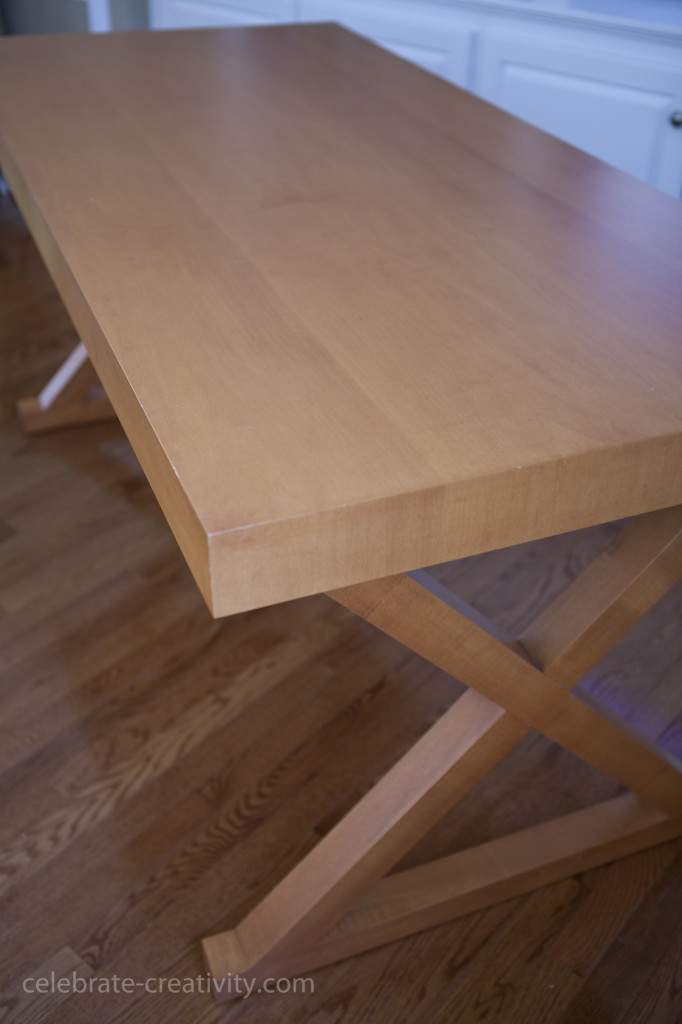 So, I temporarily pushed the table against the blank wall in the loft until I could figure out what to do with it.  That's when the light bulb moment happened.
Why not just leave the desk here in the loft and turn this under-used area into a small office space?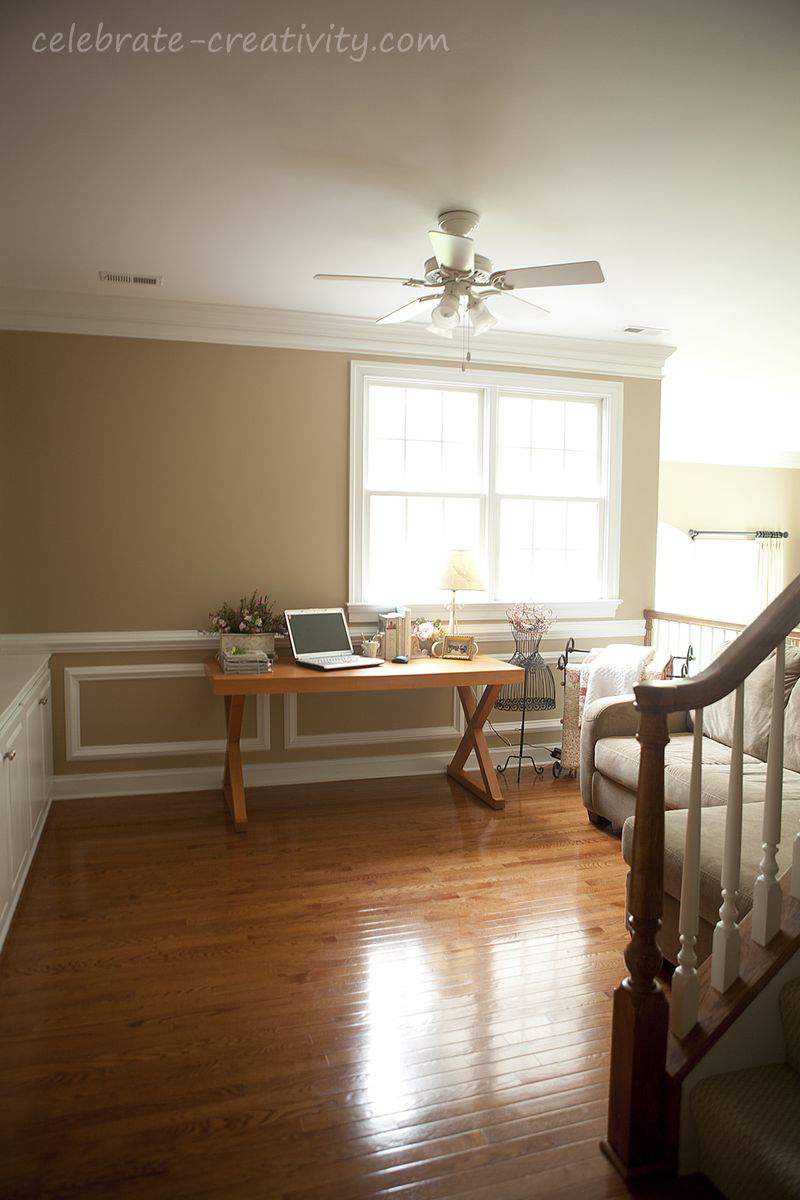 The room evolution snowballed from there.
I started with the window treatments and decided to make some panels myself after finding this pretty yellow and white garden trellis fabric.
You can see my easy tutorial on making window panels in a previous post HERE.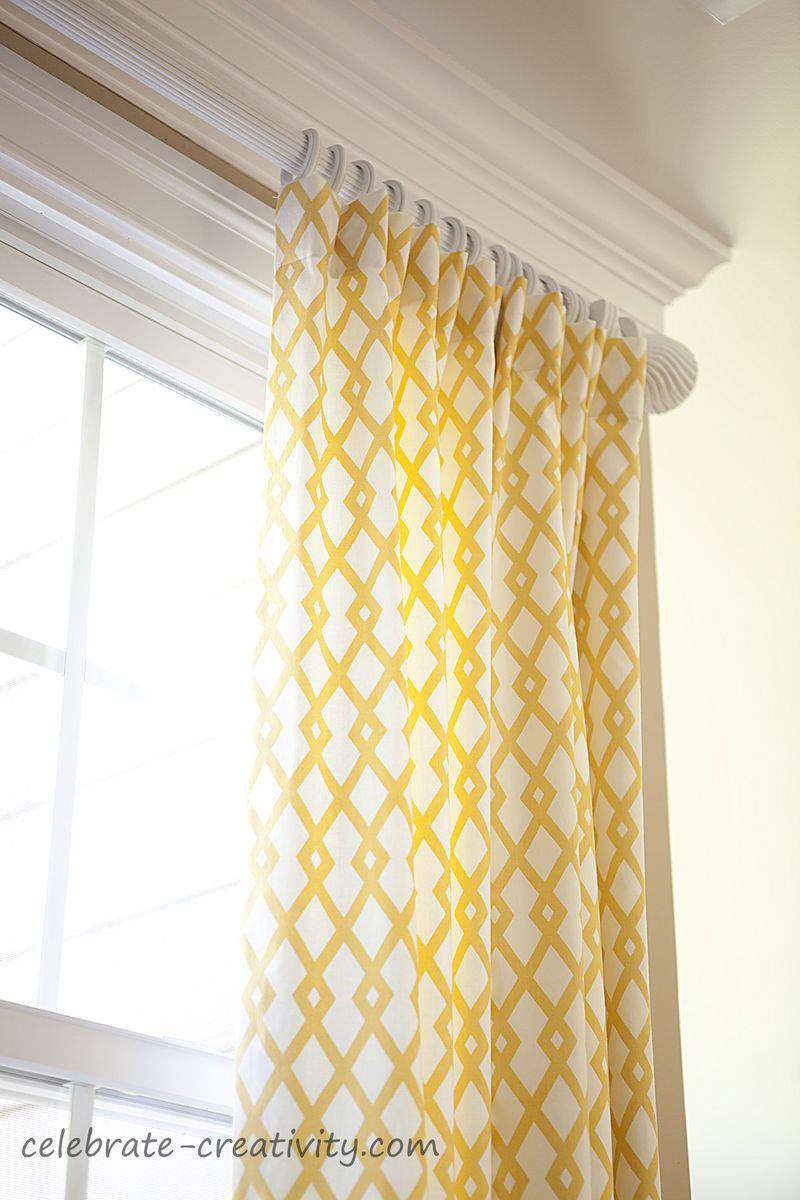 Need some art for the wall?  Consider a tea towel.
If you have a favorite tea-towel, this is a fun way to re-purpose it.
You can revisit my previous post on how to frame a favorite tea towel HERE.
An old wrought-iron bench got a bit of a face lift with a fresh cushion too.
I used an extra firm foam form and covered it with cotton batting before making the cushion with crisp white piping.
This is the first time I ever covered a cushion this size and while I did struggle with the corners, I may be the only one to notice the imperfections.
It's a super comfortable seat now and as you can see I'm not the only fan.
Actually, this little cutie is a faux-feline… but since we don't have any pets, sometimes I treat her like she's real.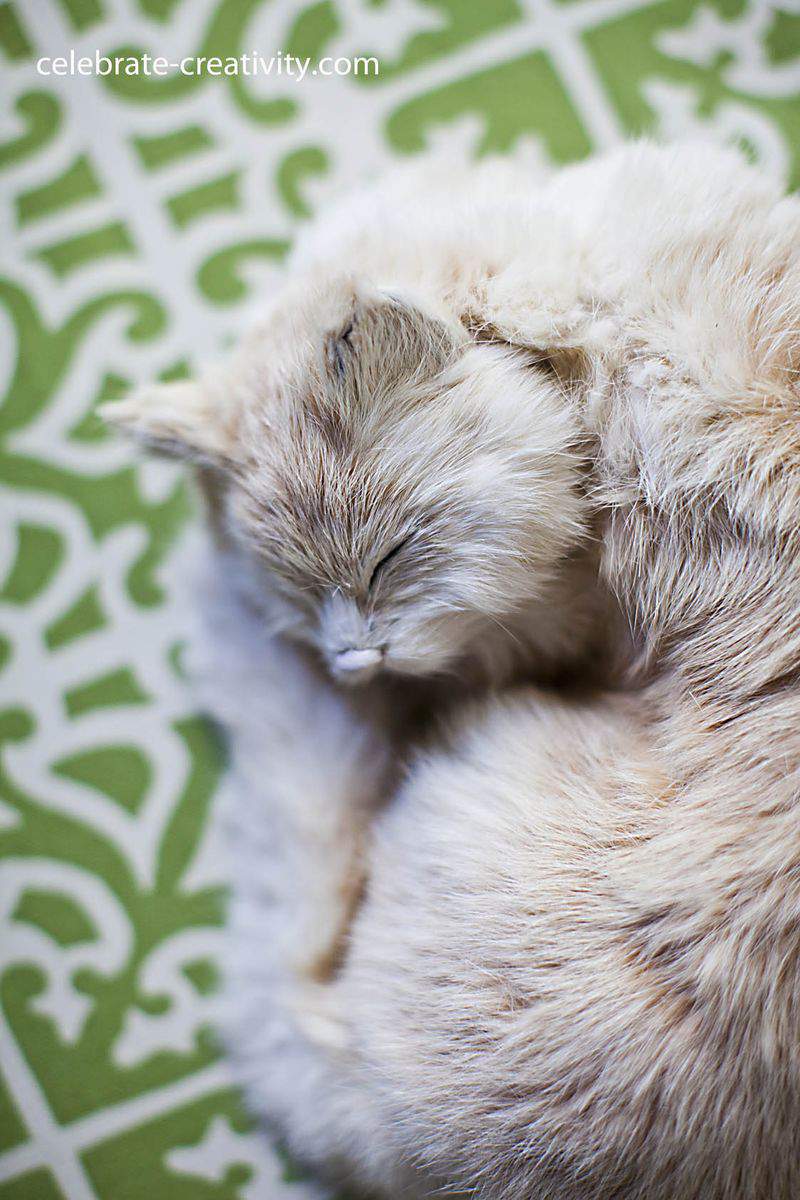 This Log Cabin quilt coordinates nicely so, I relocated it to this space.
I've written a lot about Log Cabin quilts which are among the easiest designs to sew.  You can revisit a few of my Log Cabin quilt posts HERE, HERE, HERE, and HERE.
If you ever have any trouble finding a lampshade to suit your décor, consider customizing your own shade.
You can see how to use your own fabric to cover a barrel shaped shade in my previous tutorial HERE.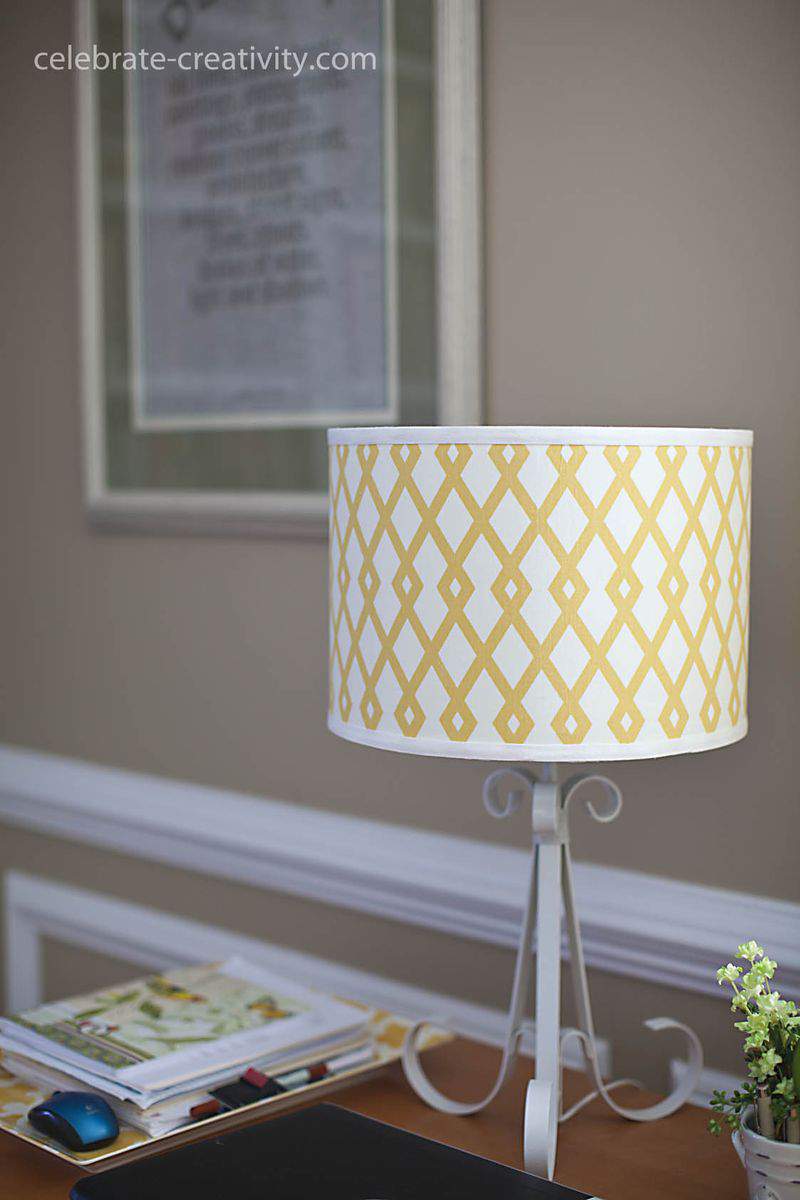 Forsythia branches always remind me of my grandmother's home in the summer.
A bank of these gorgeous bushes used to grow along the front entrance to her property and whenever they bloomed we knew for sure that winter was finally over.
A few other desk details help add interest and more color to the overall space.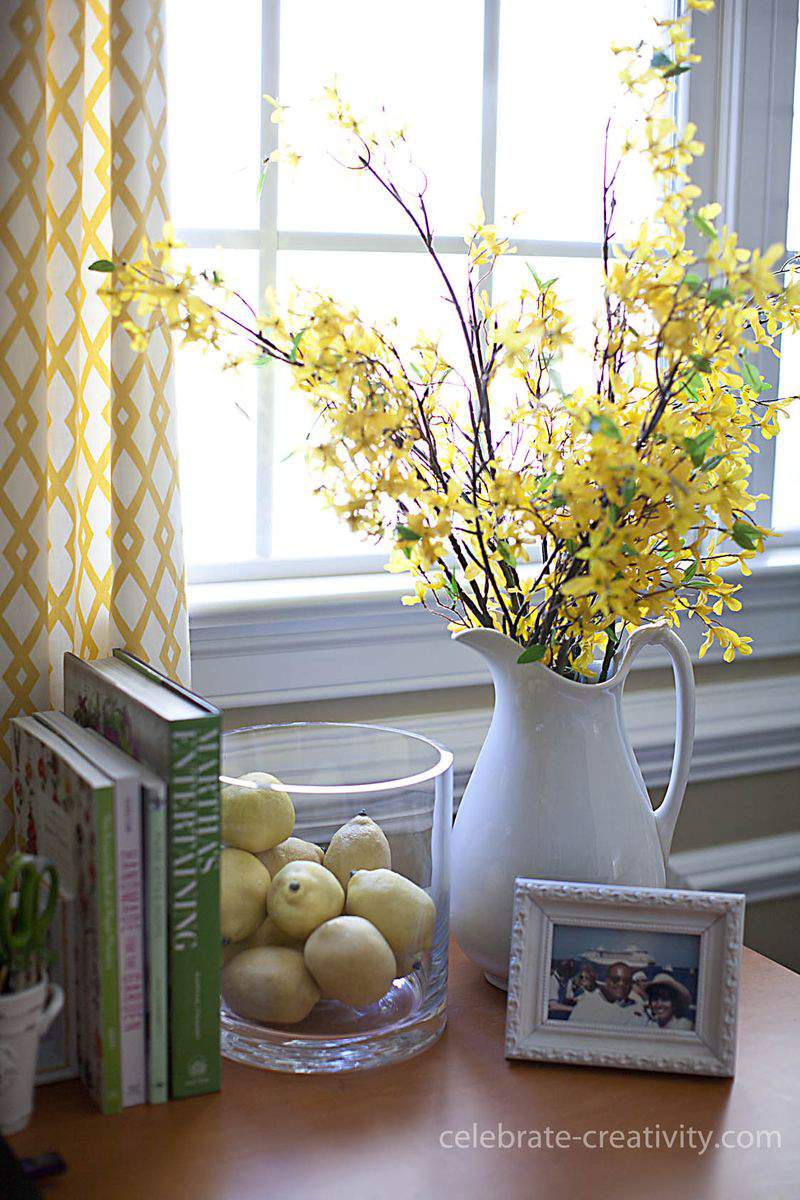 Introduce a few complementary throw pillows into the mix for good measure (and added color) and this space is just about complete.
If you'd like to see how to make your own throw pillows, you can see a couple of my tutorials HERE and HERE.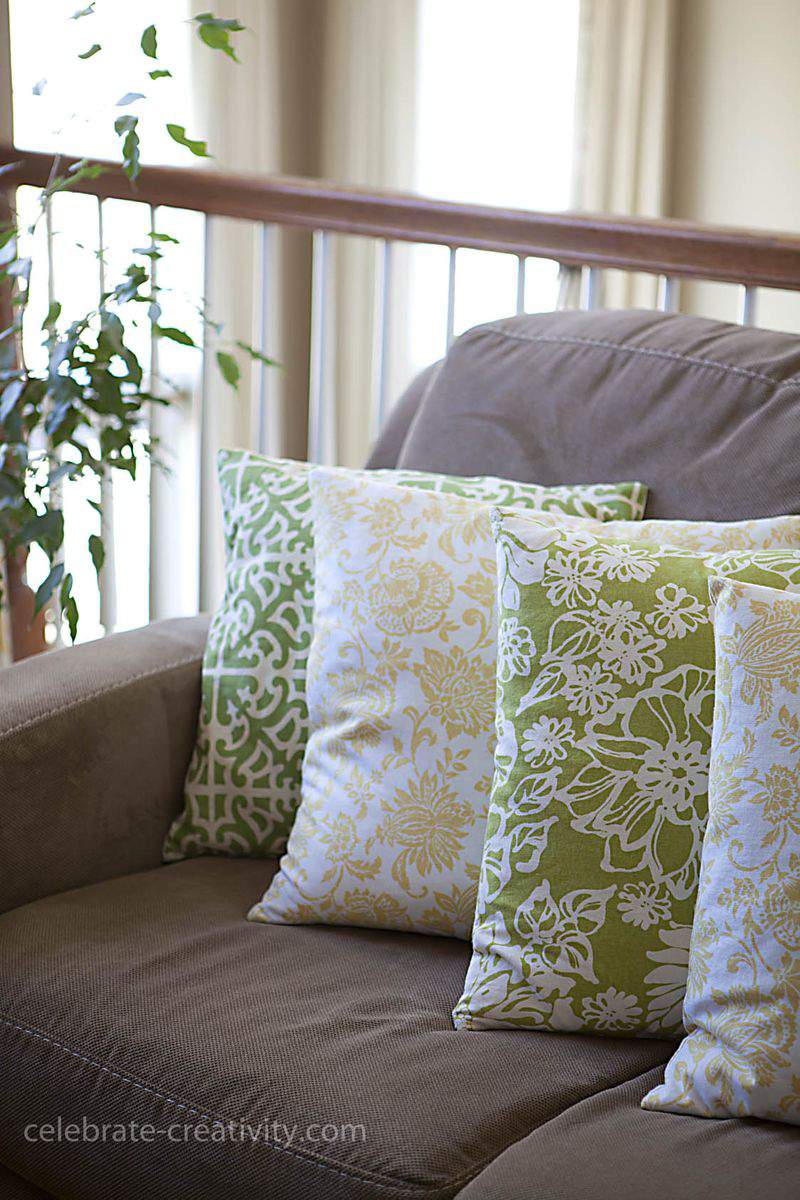 OK, ready for the big reveal?
Before I show you what the room looks like now with all my little enhancements, take one more good look at what the space looked like before.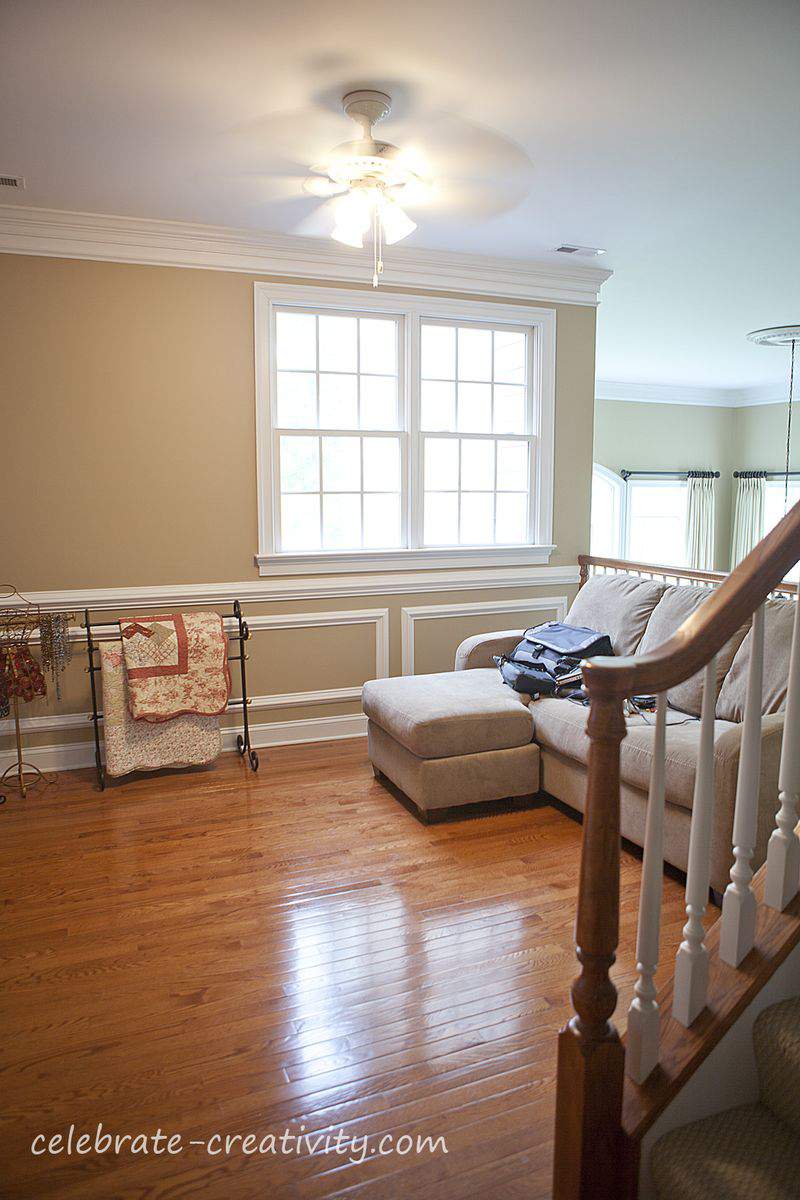 Here's the after. Big difference, huh?
I think it's pretty amazing and to think it all started out with that desk.
I'm so glad it didn't fit through the attic door.
NOTE: In case you're wondering the chaise lounge portion of this sofa can fit on either side of the furniture.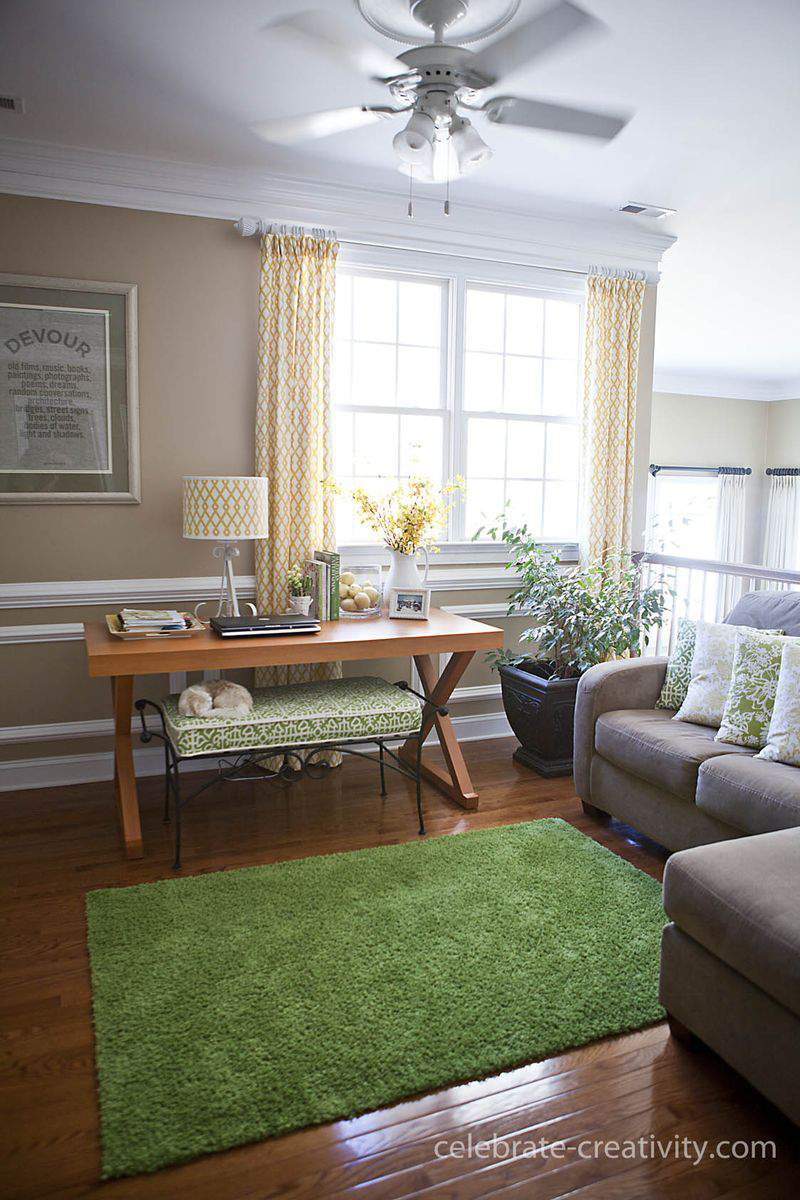 This space not only looks better it's also much more functional.  This room now gets used, a lot.
It an accidental mini office that I've claimed as my own, (even though everyone in the house sometimes invades it).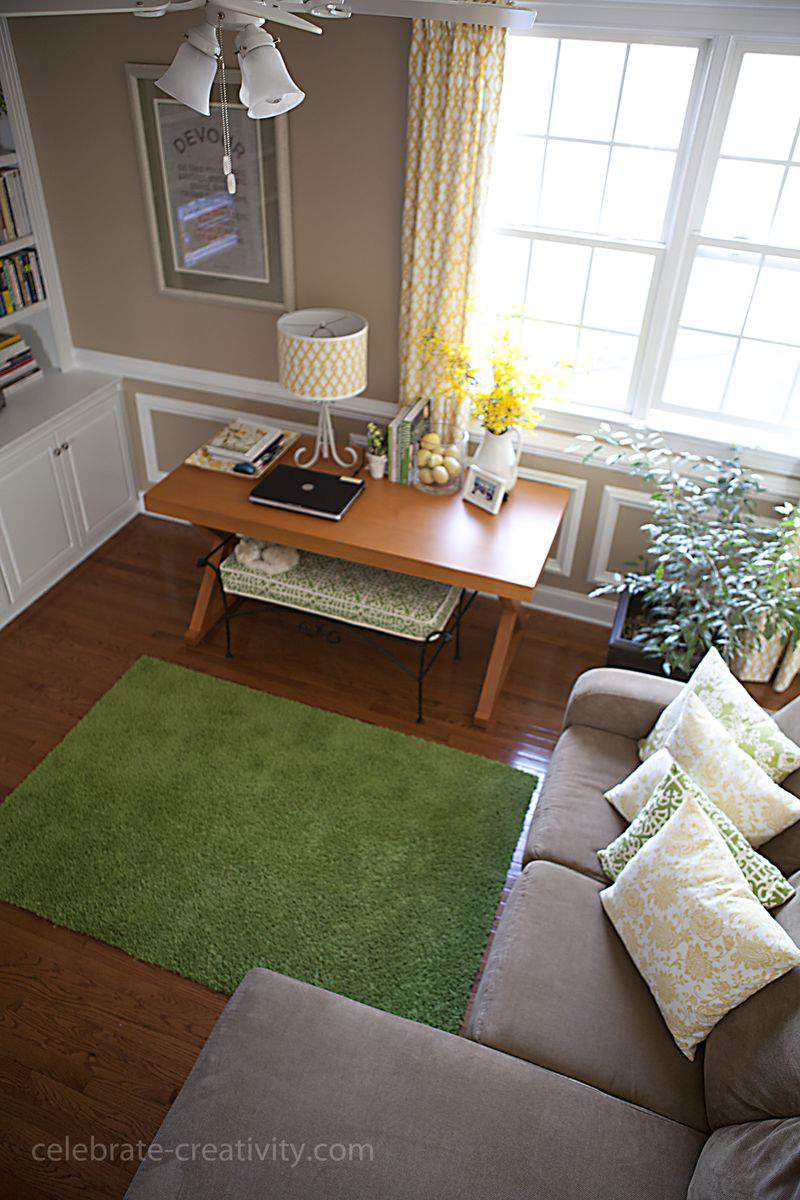 I'm considering whether or not to paint the desk white so that it matches the decorative bookcases, chair railing and shadow boxes.
I'm a little nervous about tackling that.
What do you think. Leave it as-is or paint it glossy white?
While the final desk color is still uncertain, what is abundantly clear is that this new space is a more pleasant place to sit, write and relax.
After all these years, this loft space is finally getting the workout it needed and has always deserved. ♥