H
ave you always wanted to make a quilt but never thought you could?  If you answered yes to that question, then the Log Cabin quilt would be a perfect weekend project for you.
Regular readers of my blog may already be familiar with this fun-to-make quilt pattern that is known for it's simplicity and seemingly endless design possibilities.

This particular Log Cabin quilt is one that my twin sister, Paula has been trying to talk me out of for years, but I can't bear to part with it.
Even though the brown and blue color scheme is a bit darker than I generally go for, I love the fabric combinations which make for a beautiful finished project.
Sorry Paula, you can't have it yet.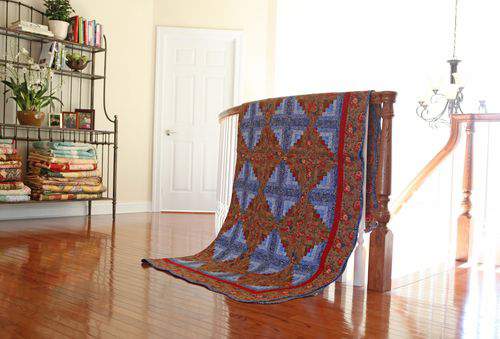 Quilting expert/author, Eleanor Burns has a good Log Cabin instruction book as part of her Quilt in a Day series.
This is a great book that walks you through every step of the Log Cabin construction and layout process.
Log Cabin quilts are made up of multiple, identical blocks.  The quilt design depends entirely on how all of the blocks are ultimately arranged.  The size is determined by the number of blocks you use.
Here's a look at one of my other Log Cabin quilts.  The block arrangement in this case is called a Barn Raising.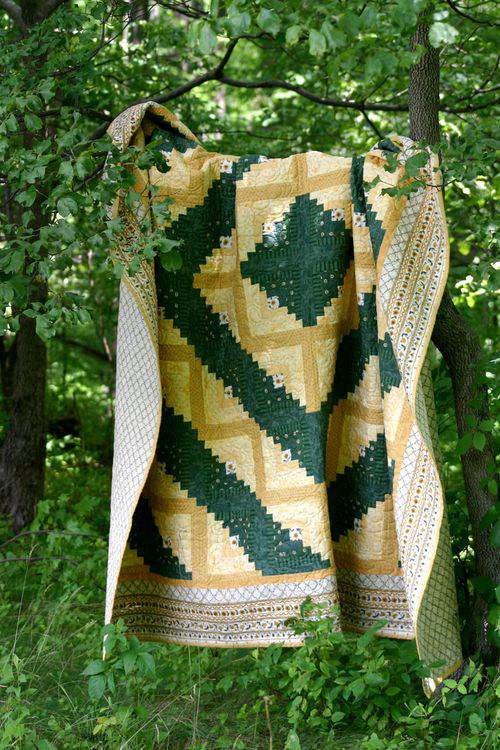 In yet another nod to photographing quilts in trees, here's a look another one of my Log Cabin quilts.
This pattern is called Zig-Zag, for obvious reasons.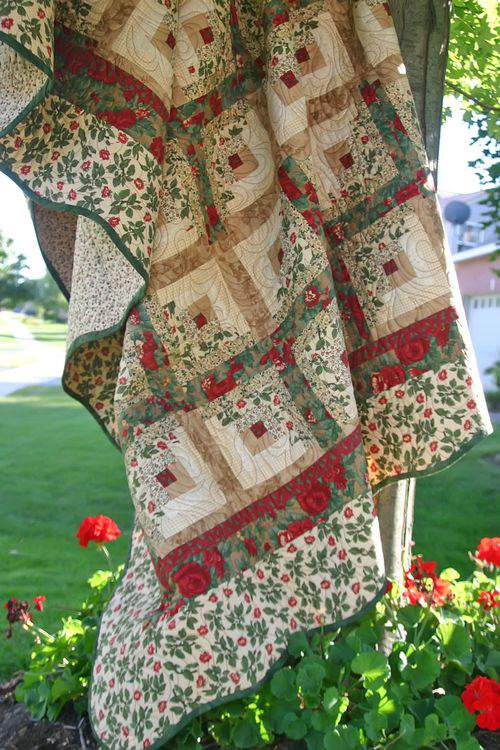 Here is a closer look at the block arrangement for this quilt.  Notice how the floral portion of each block creates a large zig-zag design across the entire quilt.
Playing around with the block arrangement and creating different patterns is part of the fun of making a Log Cabin quilt.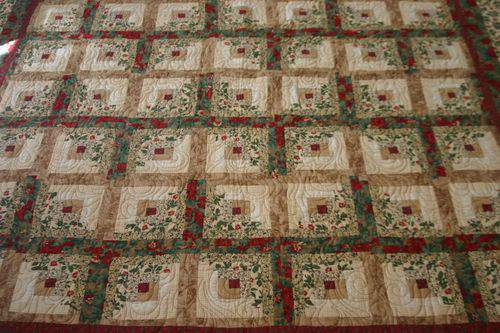 There are dozens of options for block arrangement.
These diagrams are just some of the many design possibilities outlined in the Eleanor Burns book I mentioned earlier in this post.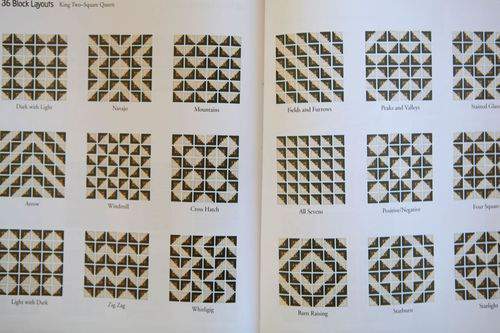 When creating a Log Cabin quilt, each square begins with a tiny center called the "heart".  The fabric strips are then sewn around the heart  with alternating shades of light and dark fabrics on either side of the center "heart".
In this case, my "dark" fabric choices are the various brown fabrics and my "lights" are represented with various shades of blue fabric.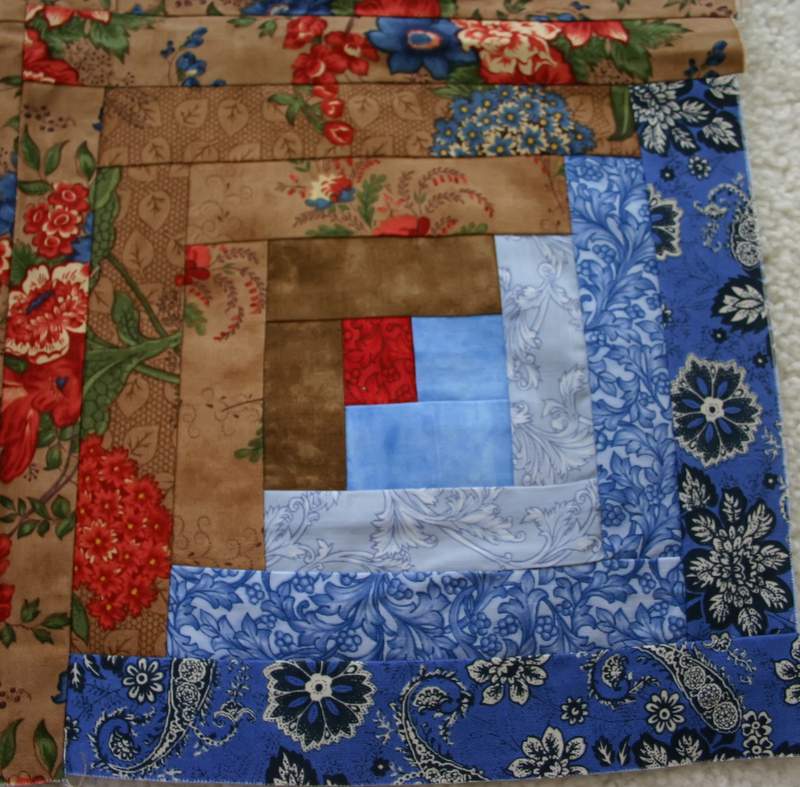 Once you complete the squares, simply arrange them to create the desired overall pattern.
I decided to create a design using four blocks to create a larger block which you can see in the photo below.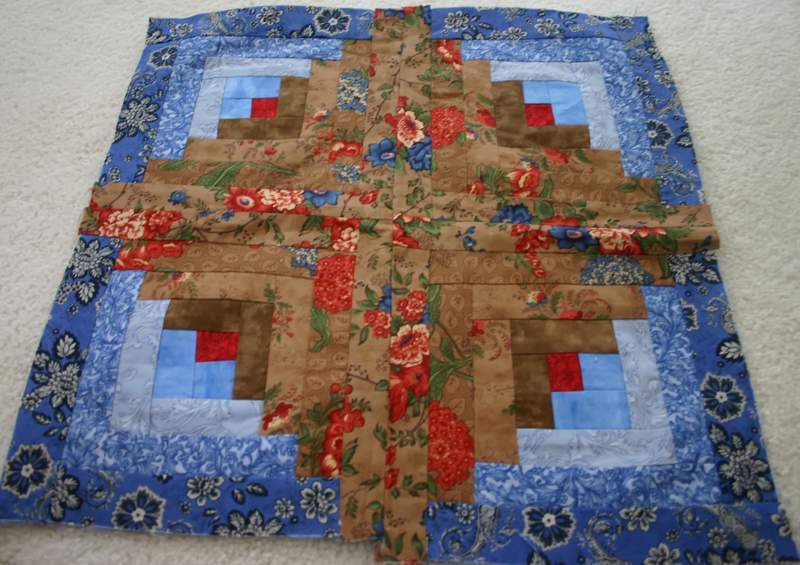 After creating the desired number of large blocks, simply sew them together to create the quilt top.
An entirely different look can be created by simply re-arranging the blocks. That's one of the fantastic things about the Log Cabin pattern and it's why I turn to this particular pattern time and time again.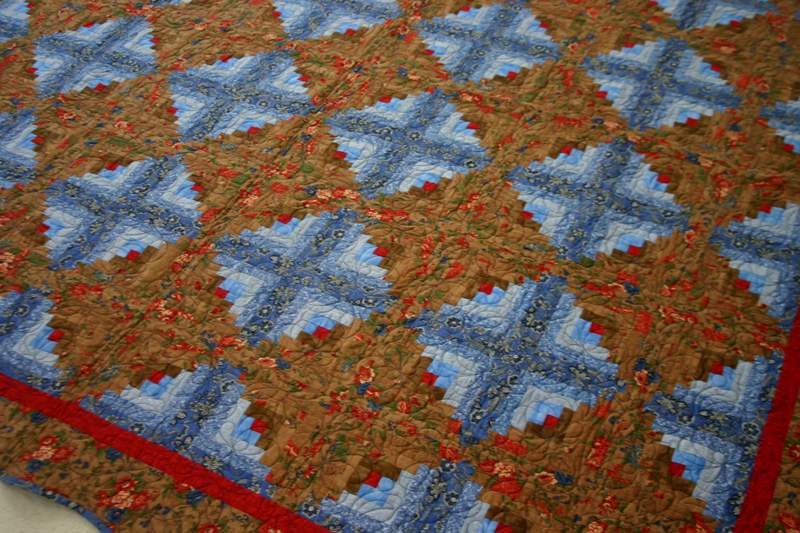 After sewing all the blocks together, I added a 1-inch red border and then a  1-1/2 inch border.
The border is cut from the same red fabric that makes up the tiny center of each smaller block.  I think it's a good idea to pull border fabrics from an existing fabric found in the quilt to maintain a coordinated look within the overall quilt.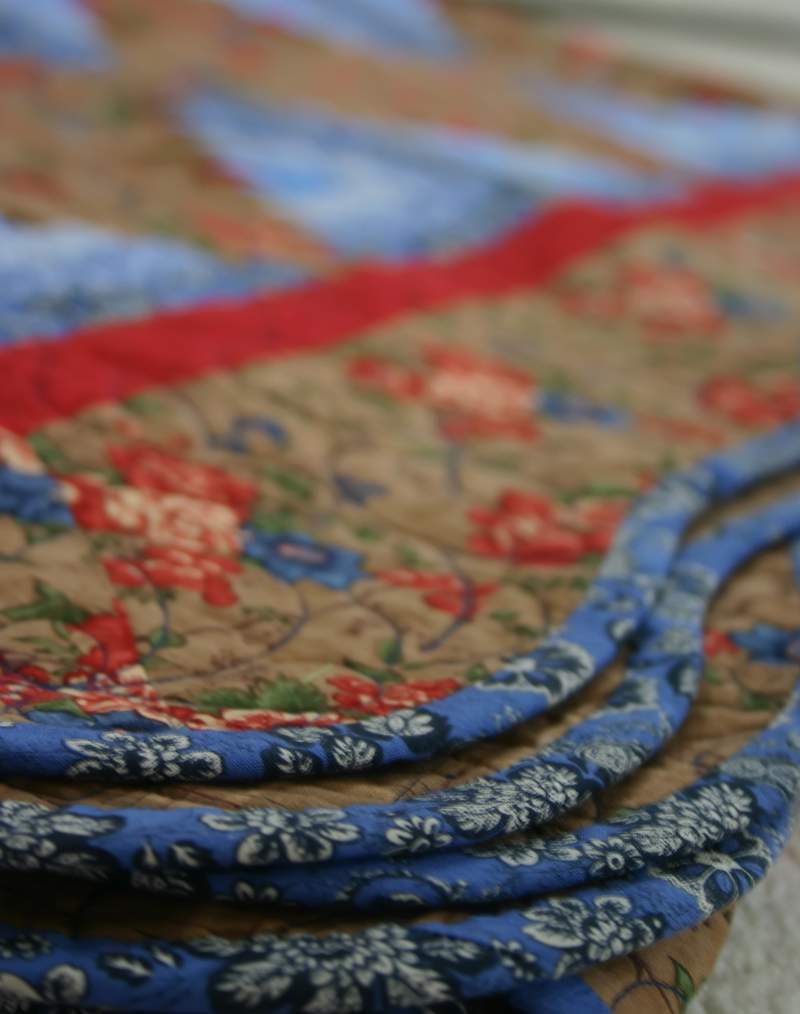 If you look closely at the picture below, you can see the beautiful blue stitches throughout the quilt top.
I love how decorative stitching transforms the entire project.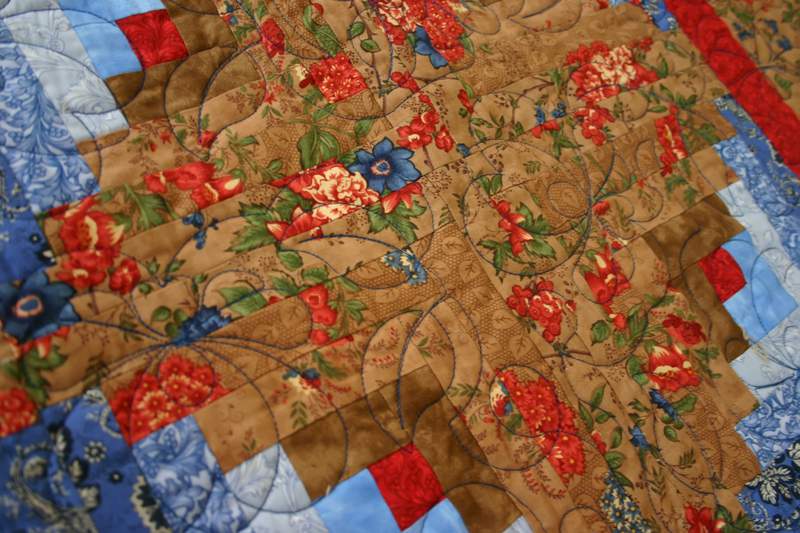 If you choose a lighter-colored fabric for the backing you'll be able to see the intricate stitch design even better.  You don't want to select a backing fabric that is so busy that decorative stitches would be lost.
The plaid fabric I used is pretty subtle so the stitching is easily visible.
Here's a closer look at the decorative stitching in the photo below.
Note: The term quilting refers to the process of combining the three layers (top, middle, back) of the quilt using a decorative stitch either by hand or machine.  In the interest of full disclosure, my friend who owns a computerized, long-arm quilting machine does all my elaborate stitch work.
Technically, that makes me a "topper" more than a "quilter".  Tops are easy to create and a Log Cabin top can be completed in a weekend.  If you don't have the patience to do the the actual quilting yourself, you can ask your local quilt shop for the names of good quilters in your area who can do the time-consuming stitch work for you.
I detailed my quilting process in an earlier post entitled From Start to Finish which you can read if you click here.
Even though the three coordinated brown-print fabrics are all completely different, they're close enough in appearance to make their combination with each other look blended, almost as if they were one fabric.
While, these particular fabric selections were all from the same manufacturer's line, the blending technique can also be achieved using a variety of fabrics and squares from multiple lines.
So-called Blended Quilts are an art form too and there are some wonderful examples of this technique in several available books.
If you're interested in seeing some distinctly, blended techniques and projects you may enjoy Blended Quilts by Sharon Evans Yenter along with a few other titles by the same author.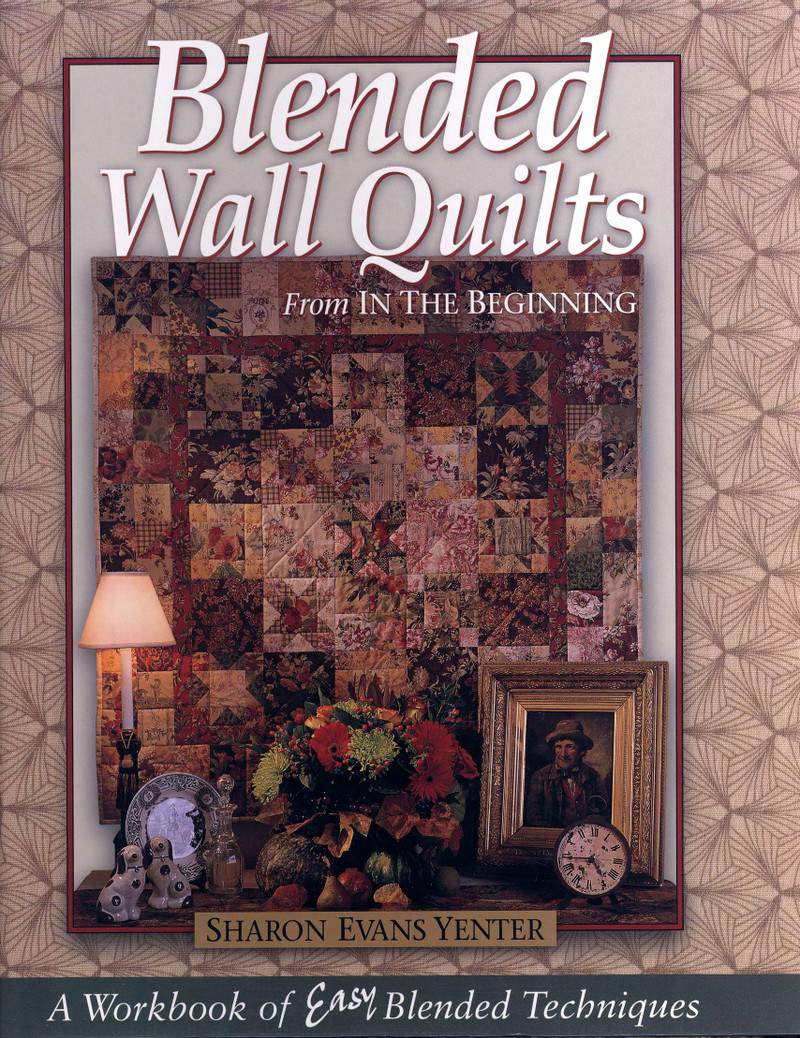 Meanwhile, when it comes to making the binding, I generally use a fabric that can be found within the overall quilt.
I think that duplicating fabric elements like this helps to connect the individual pieces of the quilt in ways other than just the just stitching. It all adds up to a more pleasant continuity in the finished project.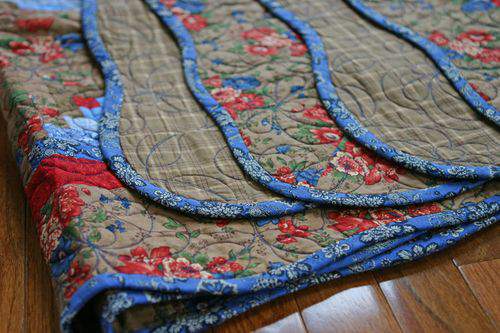 Regular readers of this blog already know how much I prefer a scalloped edge on a quilt versus a straight edge.
Scalloping really softens the edge of a quilt and gives the overall appearance a more delicate presentation.  I think it's very appealing and is easier than you may think.  Give it a try.
You can scroll through some of my other scalloped-edged quilts if you click here.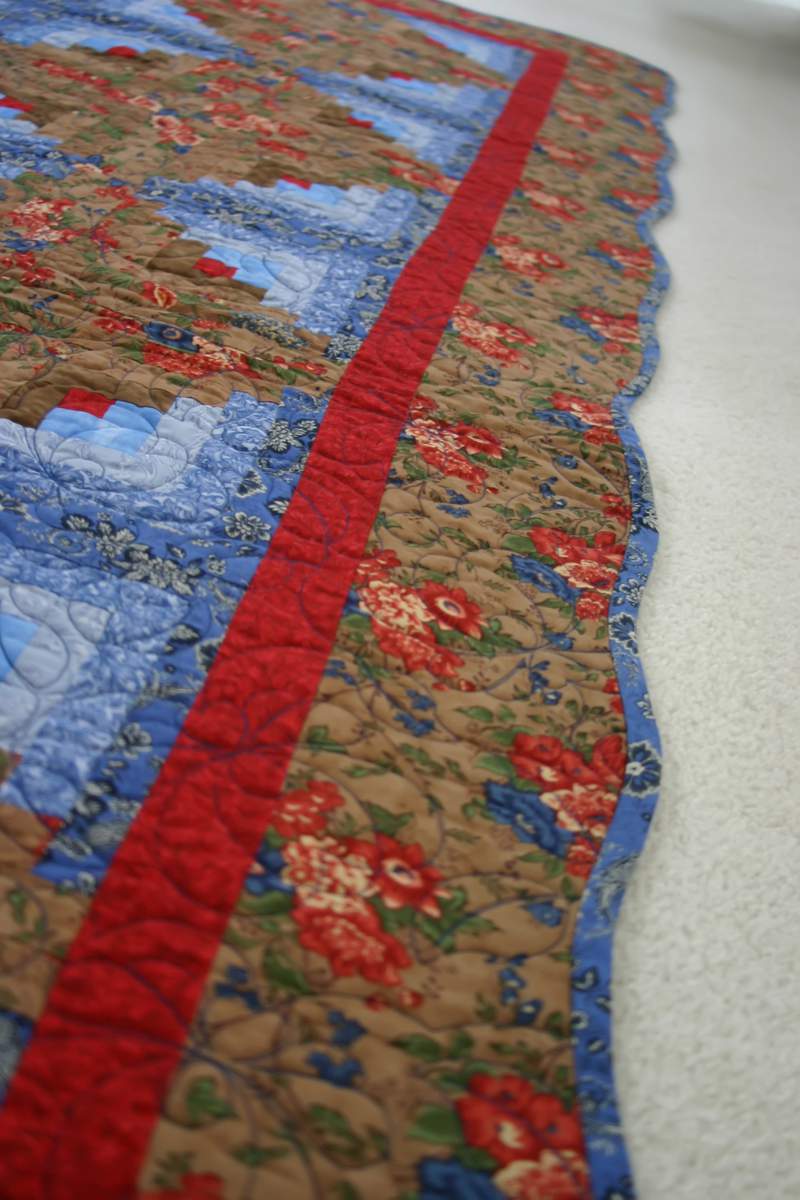 The Log Cabin quilt still remains one of my favorite quilt patterns.  It's perfect for beginners and once the blocks are completed it's quite fun to play around with various arrangements before settling on a final formation.
You can see my other Log Cabin quilts in greater detail from previous posts if you click here and here.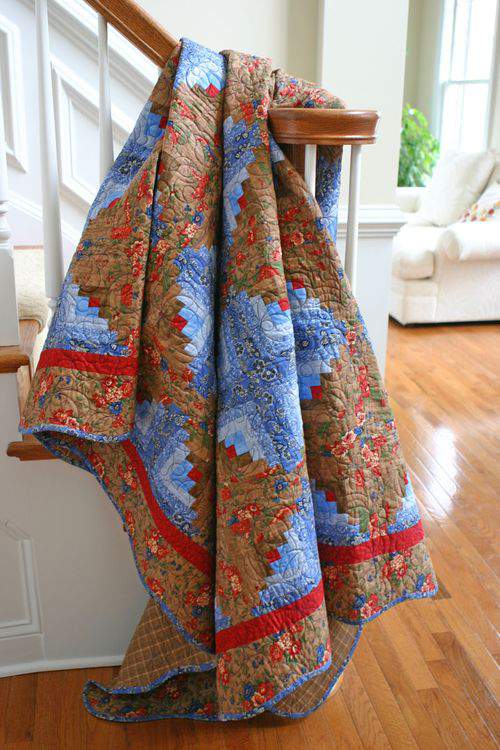 If you're a seasoned quilter, you probably have your share of Log Cabin quilts in your collection.  If you're just starting out, trust me when I say you won't be able to stop at making just one Log Cabin quilt.
Before you know it, you'll have Log Cabin Fever and in this case, that's a good thing. ♥