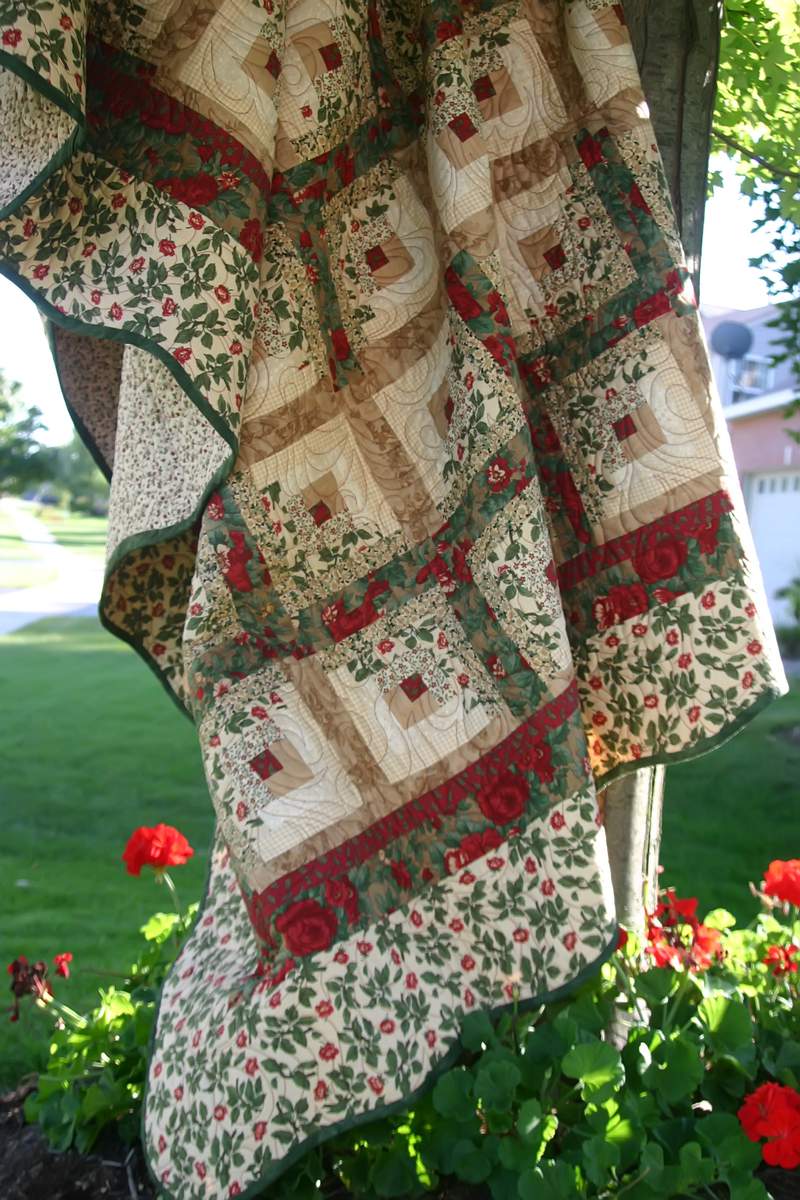 You can't live in this Log Cabin, but you can certainly curl up in it. If you've never tried your hand at making a quilt, this is the perfect project for you. Log Cabin quilts are among the easiest to construct, and they're also a lot of fun.
I just love the fall colors and the beautiful pattern that runs through one end of the quilt to the other. This has always been one of my favorite quilt projects and if you browse through the pictures below, perhaps you'll be inspired to try your hand at making one too.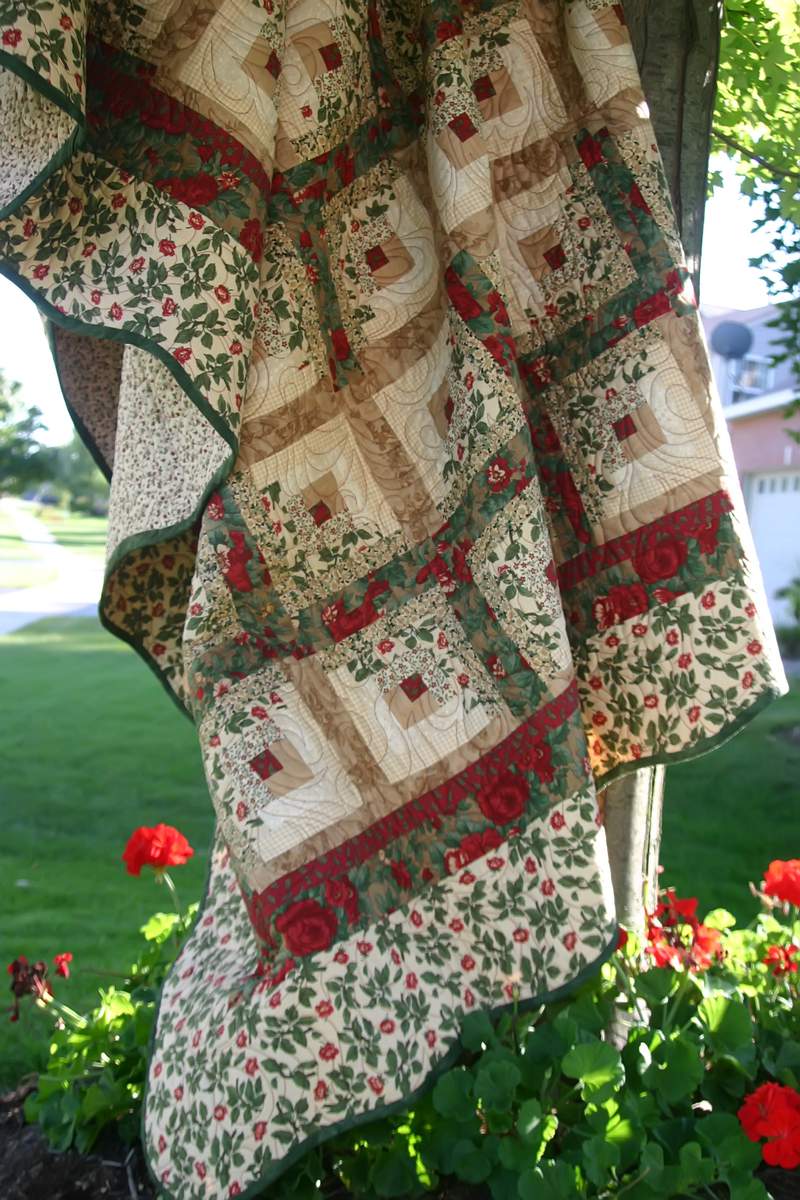 The Log Cabin quilt starts with one block that is duplicated dozens of times over. The beauty and the fun of this quilt, is the ability to create different overall patterns in the finished quilt, by simply shifting the arrangement of those identical blocks. The block, like the one below, is made up of a series of 1 1/4-inch "dark" fabric strips and "light" fabric strips that are sewn alternately around a small square center or heart.
For this block I used eight main fabrics selections- four florals and four fabrics in the tan/brown family.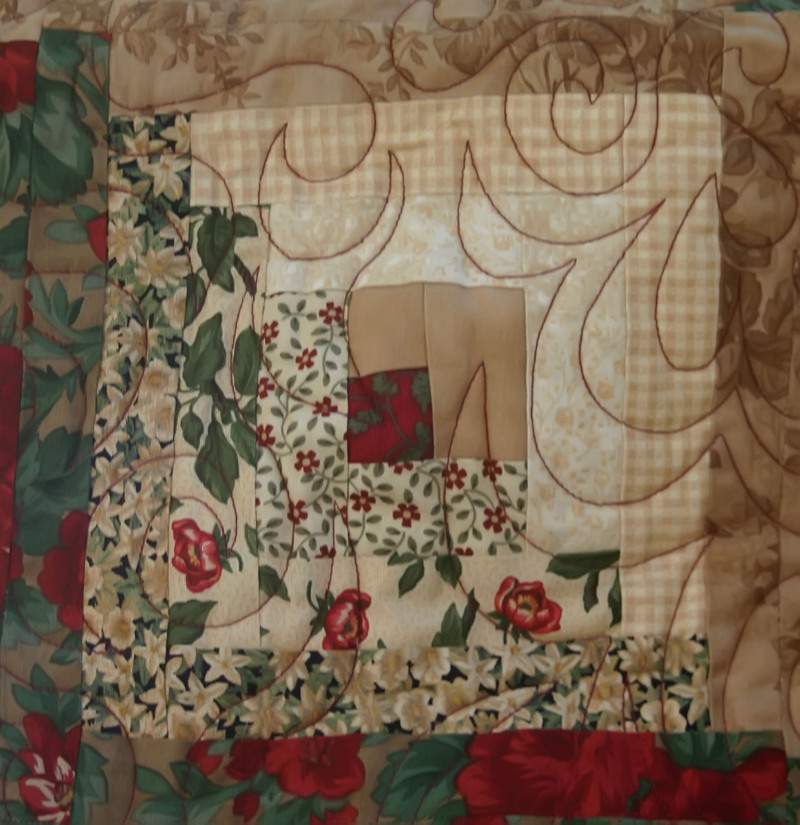 Even though the above block is shown quilted, I think you can still clearly make out my four floral fabrics to the lower left of the quilt heart. These make up my necessary "darks". The four beige fabric stips to the upper right of the heart make up my required "lights".
I arranged 56-identical blocks in a zig-zag pattern, using the diagram below as my guide. From this diagram you can see how the dark edges, and the light edges of the blocks are lined up to give you that zig-zag appearance. If you were to move the blocks around, you'd get a totally different look.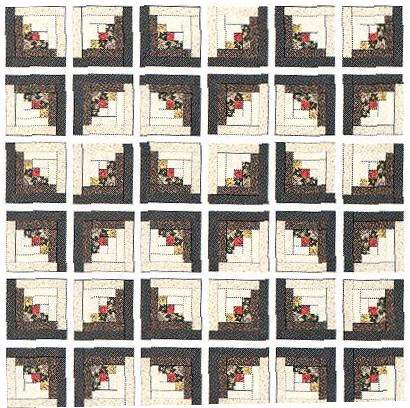 One of the best Log Cabin books I've found is by well-known quilting expert Eleanor Burns who is known for her Quilt in a Day series of quilt books and patterns. Her book featuring the Log Cabin pattern is filled with step-by-step instructions that are easy to understand. There are also loads of pictures of beautiful finished quilts and layout diagrams to help you arrange your Log Cabin blocks into a pattern that suits you.   
Of course, the more blocks you use the larger your project will become. The size and number of your individual fabric strips also impacts the size of your quilt. After sewing my 56-blocks together I added two different border-fabrics to make the quilt even larger.
This Log Cabin measures approximately 74 X 84 inches, which makes it slightly larger than a standard queen size but smaller than a standard king size.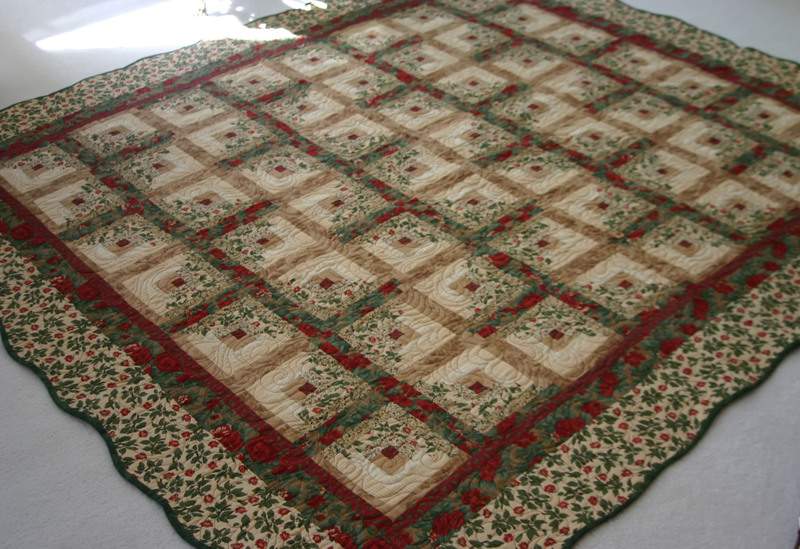 Experimenting with the Log Cabin blocks is a lot of fun. It's amazing to see the variety of appearances that can be created by just moving the blocks around in different positions.
Take a look at the photo below and you can see how the floral zig-zags run through the project.
There are also several ways to finish-off your quilt. Most quilts have a basic straight edge along the bottom which leaves the overall quilt in a large square. In this case, I decided to scallop the edge to give the project a little more whimsy.
Scalloping the border and sewing the binding onto a curved edge does take a little extra time and effort but I think the enhanced result is well worth the extra labor. 
I also love how a beautiful quilt can warm up any room and I've incorporated several of my quilt projects into my home decor.
I'll share some of my other quilts later in a different post.
My family members tease me all the time, because I never really want anyone to actually use any of my quilts. I think of them more as fashion than function, if you know what I mean.
However, I do make exceptions for the furry feline below. Allow me to introduce Clarice, who loves to curl up and sleep on my quilt projects. She's such a quiet, sweet kitty. 
Come to think of it… this cat is always sleeping!
That's because she's actually a furry faux feline.  I picked her up at a local gift shoppe to console my kids who badly want a pet but can't have one because my husband, Boris, is allergic to dogs and cats. 
For now Clarice fits the bill. She's adorable, never any trouble at all… and her litter box is always clean.  MEOW!