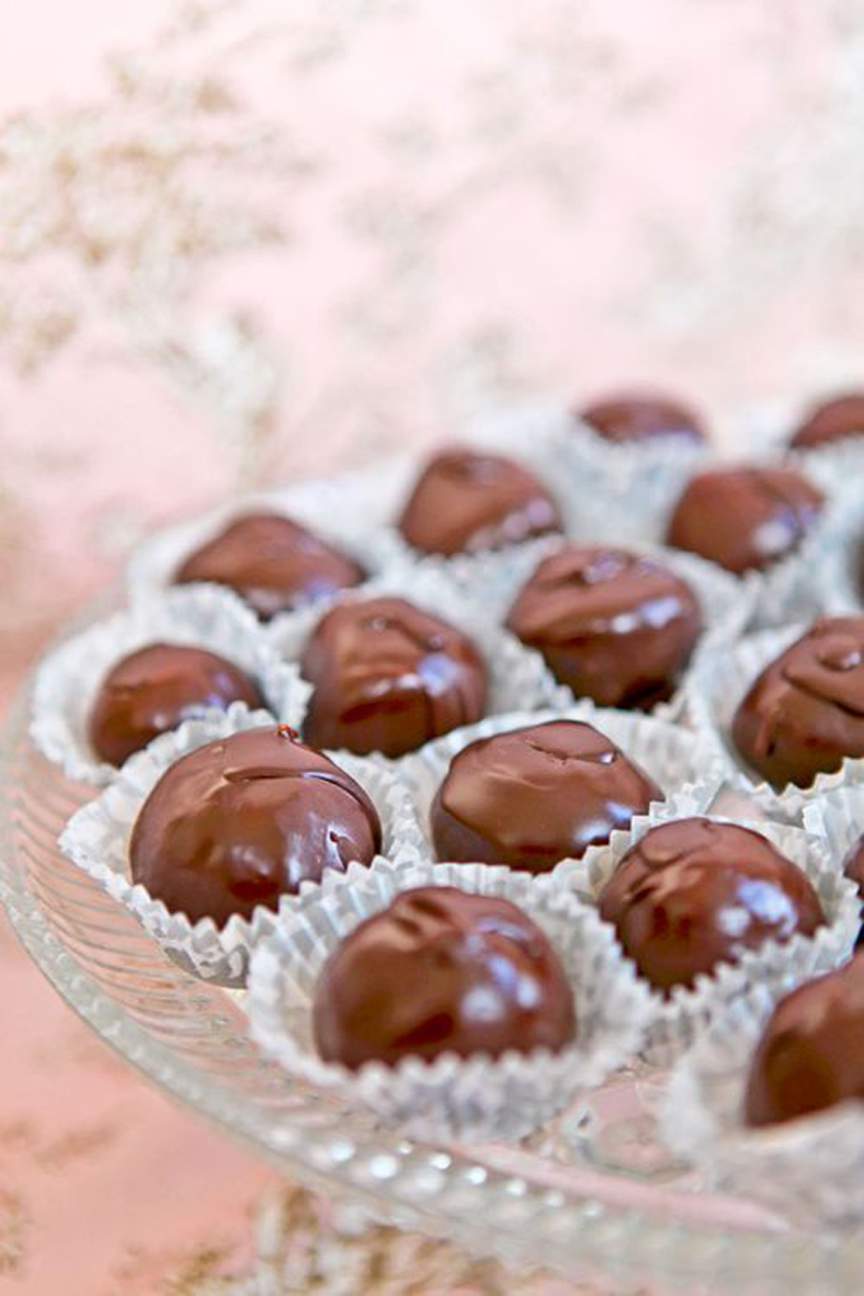 Valentine's Day is right around the corner and this year instead of buying chocolates for friends and loved ones, you may want to consider making your own.
Throughout this post, I'm In the Kitchen with Nana better known around these parts as Nana Banana (my mom).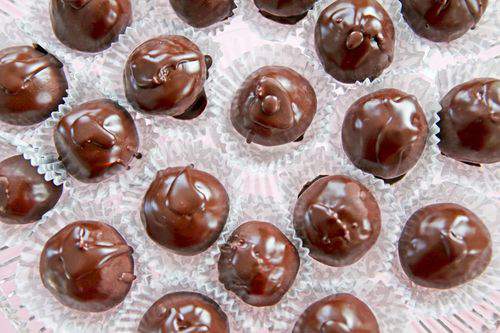 These delicious looking chocolates are called Martha Washingtons, a classic recipe that has been around for years.
I got my first taste of Martha Washingtons thanks to my late grandmother who used to make them every year for everyone in the family.
I love great packaging and these candies look fantastic when packed up for gift giving.
I'll show you how I boxed everything up for a wonderful presentation, further down in this post.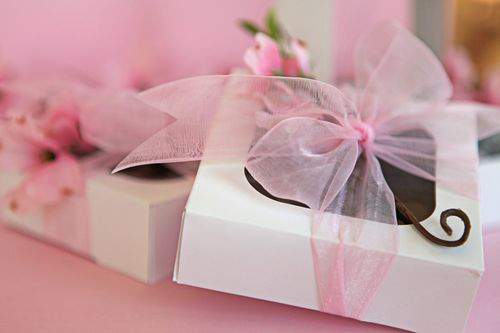 Since this is a recipe my grandmother often used, I thought it would be fun to enlist the help of another family member to help out.
Many of you may recall meeting my mom, Elaine in previous posts.  She won't mind if you call her by her nickname, Nana Banana.
Nana Banana will walk you through this candy making tutorial which also includes a wee musical twist a little further down in this post.
Let's start with the ingredients.  You'll need 2 cups of flaked coconut, 3 cups chopped pecans, 2 boxes confectioners sugar, 1 can sweetened condensed milk, 1 stick melted butter, 1 bag semi-sweet chocolate chips for dipping and mini-candy papers.
You'll also need some food grade paraffin wax (optional) which I'll explain in greater detail in just a bit.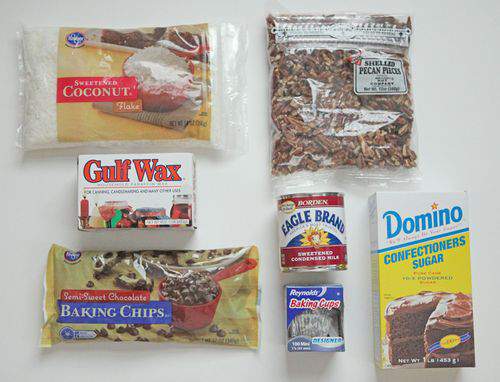 The pecans need to be finely chopped and a food processor works great for getting the nuts into the perfect size for this recipe.
This also was a good a chance to finally put my food processor to work since I don't use it very often.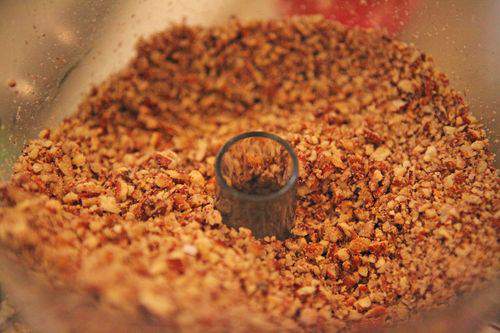 Mix the sugar, coconut, condensed milk and butter together.  Add the pecans and mix thoroughly.
I don't know about you but I can never resist tasting a little dip of sweetened condensed milk whenever there's an open can in front of me.  It's oh-so sweet and delish.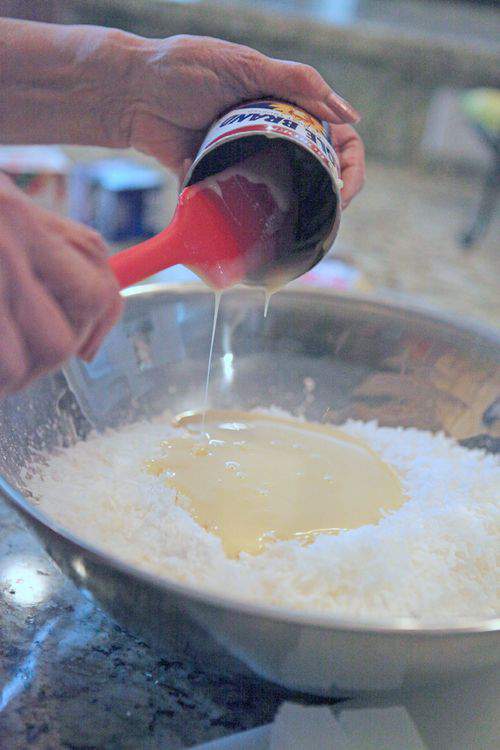 The mixture is pretty tough to handle at this point and it's best to use your own hand strength to mix as opposed to a wooden spoon.
Your wrists will definitely get a good workout.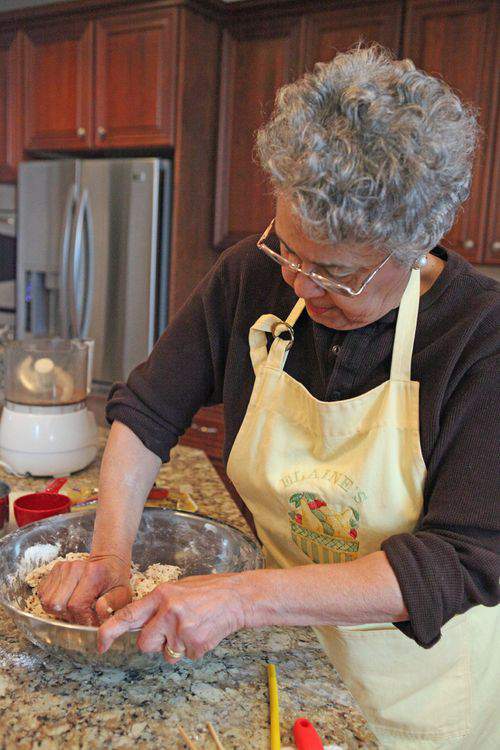 Next step is to shape the dough into small balls.
This will take a little bit of time because the mixture yields 85-90 balls depending on the size of each one.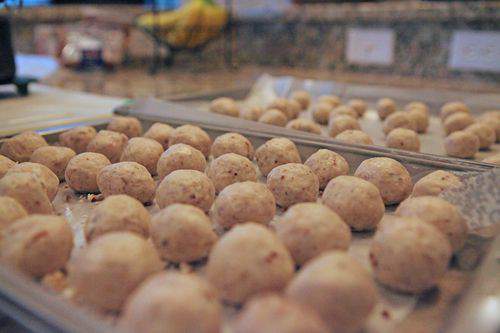 It's very important to knead the dough thoroughly in your hands as you create each ball.  The heat from your hand helps to soften the dough and pressure helps to eliminate the air so the the balls can be properly formed.
It's important to keep kneading each ball in your hand until the ball forms firmly without crumbling.
Again, this does take a bit of time but a little singing may help pass the time.
You may want to briefly refrigerate the balls to harden them up a tad before dipping in chocolate.
I'll have to admit this next ingredient surprised me but it's in every Martha Washington recipe I was able to find on-line.
The recipe suggests using a half a block of food-grade paraffin wax (not candle wax).
Food grade paraffin is often used in candy making as it helps to hold the chocolate together.  It also gives the chocolate a shiny appearance.
NOTE:  I seriously wondered about the use of a wax product in candy preparation (because it does seem counter-intuitive) so I looked for more information about it on-line.  The consensus seems to be that as long as food grade wax is used and because it's a substance that is not absorbed by the body, there are no health risks. 
My grandmother always included the paraffin in her chocolate candies and I know others who also use food grade wax in their candy making. 
However, if you're concerned about using this particular ingredient, I suggest you skip it altogether.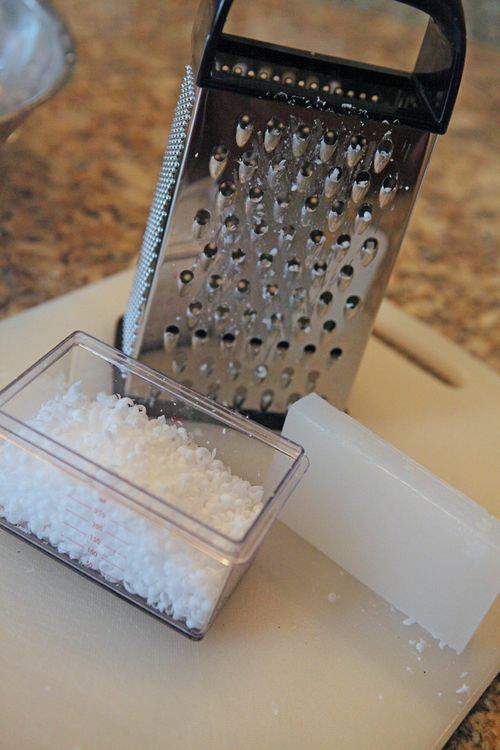 Shaving the paraffin with a grater certainly makes it look like you're using far more wax than you actually are using.
Add the shavings to the melted chocolate and return the pan to the stove.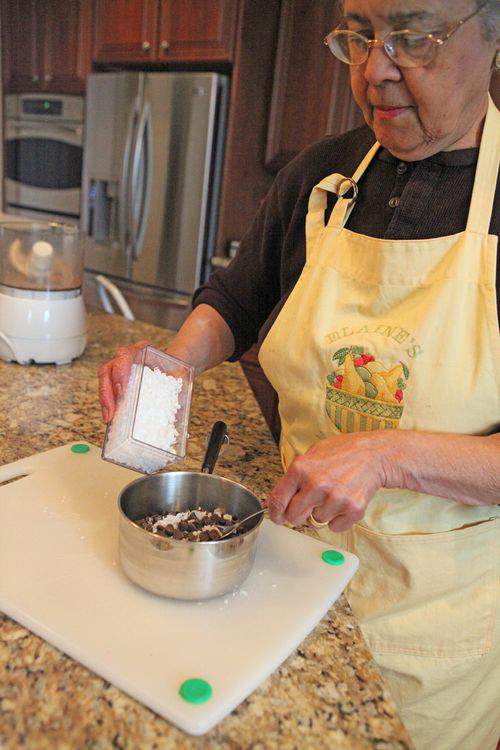 Stir slowly over low heat until all wax shavings are melted.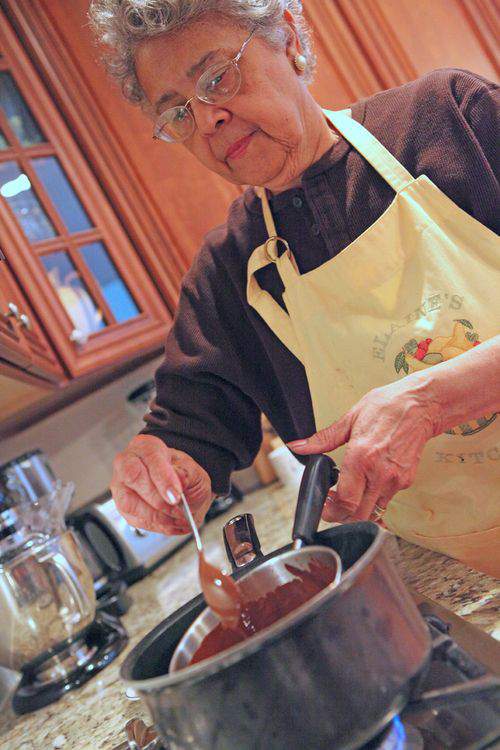 Run the spoon against the side of the pan and across the bottom of the pan to make sure all ingredients have melted completely.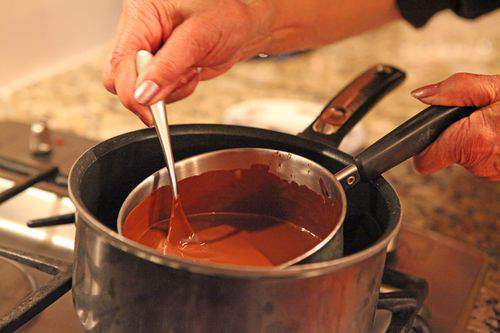 Mom used some wooden skewers to dip the candy balls into the hot chocolate.
Make sure you use the thinest wood skewers you can to prevent leaving super large holes in the chocolate balls.
There will still be a hole regardless of what size skewer you use.  Don't worry, it's an easy fix.
Simply drop a small amount of melted chocolate into the hole and it will fill in quite nicely.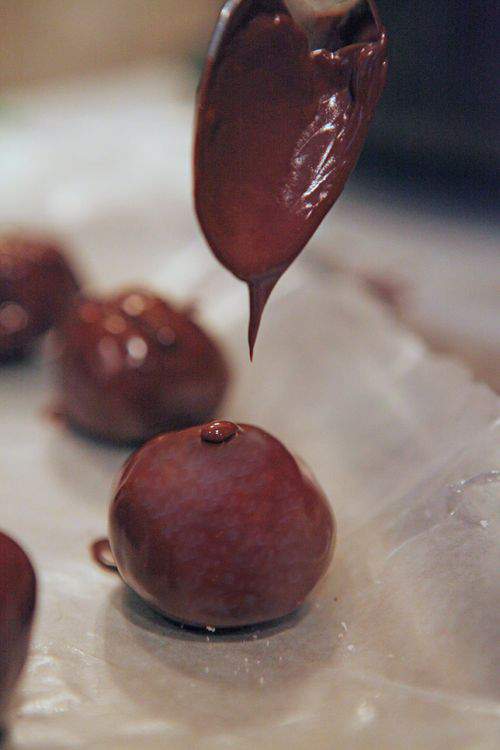 Set candy balls aside for a few hours to completely harden.
You don't have to refrigerate them but you should store the candy in a cool area before packaging.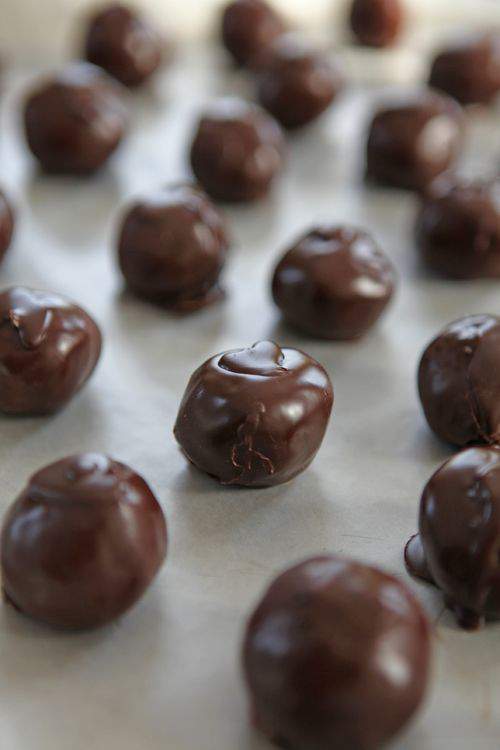 Meanwhile, once the chocolate balls have completely hardened, drop them into the little paper candy cups for serving.
They look great on a dessert tray or even a cake stand.
TASTY TIP: You could also add a little extra touch by melting white chocolate and drizzling thin lines of it over the balls. 
Meanwhile, thanks Mom, these taste just like the ones Grandma used to make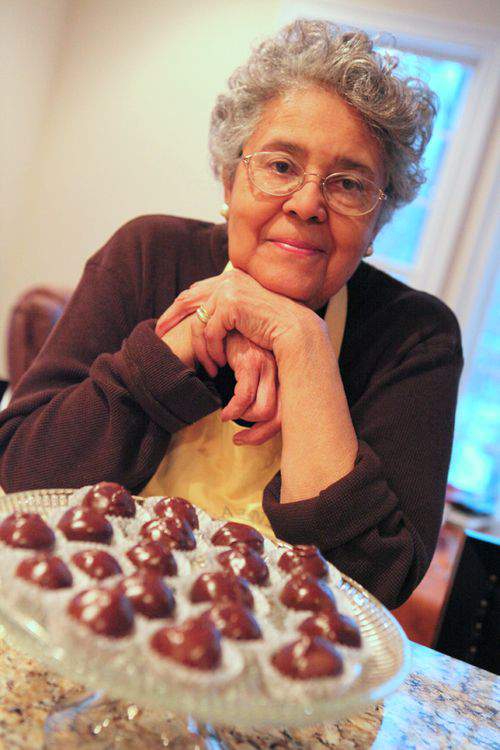 If you're making these chocolates for a Valentine's gift, it's easy to package them up for a very pretty presentation.
You only need a few simple craft store supplies including (1) a few stems of artificial cherry blossoms (or your favorite bloom), (2) candy boxes and (3) ribbon.
Note: Click here to visit my Heart-Shaped Goodness blog post from last year for more Valentine's Day-inspired goodies.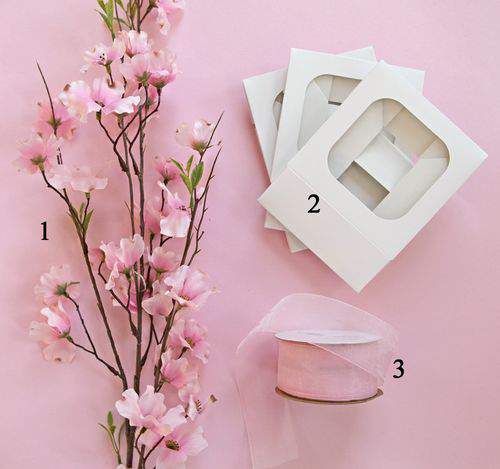 Place a small piece of wax paper or parchment paper on the bottom of the candy box, fill the box with the sweet goodies and then wrap with ribbon and tie in a bow.
Add a stem of the artificial flower and you have a great looking gift for someone special.
QUICK TIPS: Use a pair of pliers to carefully twist the end of the artificial branch so that the sharp end of the wire is not exposed.  Also, consider including a copy of this candy recipe with your chocolate-filled gift box so the recipient can make their own sweet treats too. 
I think these chocolate balls are beautiful when packaged neatly like this with just the right dash of pink.  This is a gift anyone would be happy to receive this Valentine's Day.
Of course, when you're in the kitchen with Nana, these sweet treats are even more yummy. ♥