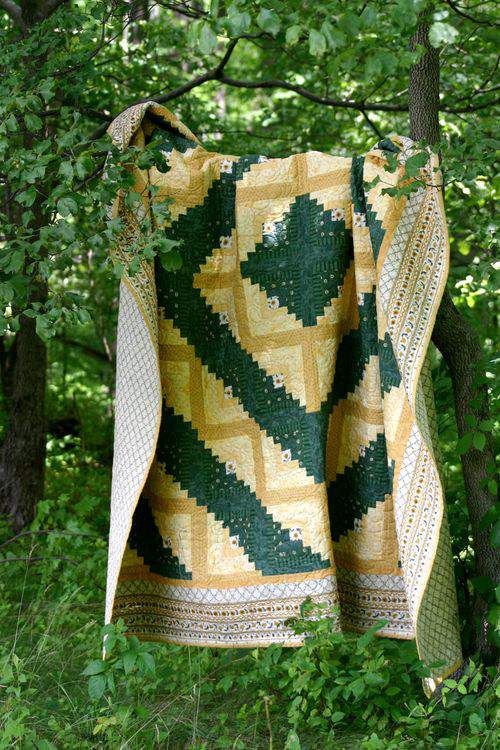 If only quilts really did grow on trees. What a wonderful world that would be.
Yellow and green are my favorite colors and since this quilt uses shades of both, that makes this one of my favorite creations.
This is called a Log Cabin quilt but this particular pattern with its appearance of large squares inside of larger squares, is called the Barn Raising.
One of the amazing things about the Log Cabin quilt is that you can achieve a variety of designs depending on how you arrange the blocks.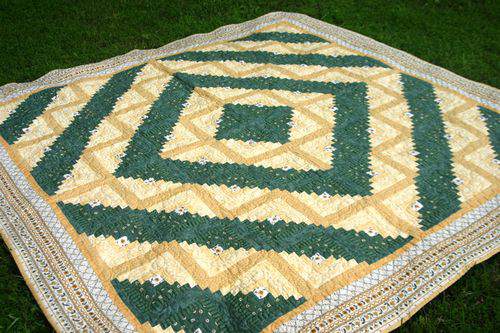 I'll tell you more about this Log Cabin quilt in just a bit, but I wanted to first share something about where all the photos in this post were taken.
The photo below is a shot of the Maryland-area farm were I grew up. This 144-acre farm has been in my family now for five generations. Except for the four years we lived overseas when my dad was in the Peace Corps, this has always been home base.
I may have learned to love the big city but deep down I'm a country girl at heart.
This is also where my mom enjoys maintaining a small but diverse vegetable garden.
You may remember meeting Nana Banana earlier this year when she modeled an apron for me for another blog post.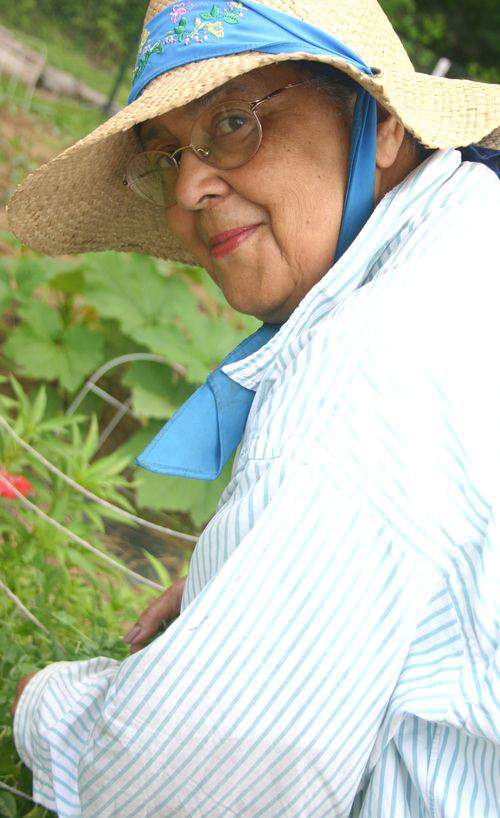 Nana Banana produces a bumper crop of delicious veggies every year including beans, tomatoes, lettuce, corn and beautiful squash just to name a few savory selections.
Mom often says she thinks people should know how to grow their own food and she finds great pleasure in working the earth to produce her own healthy and hearty produce.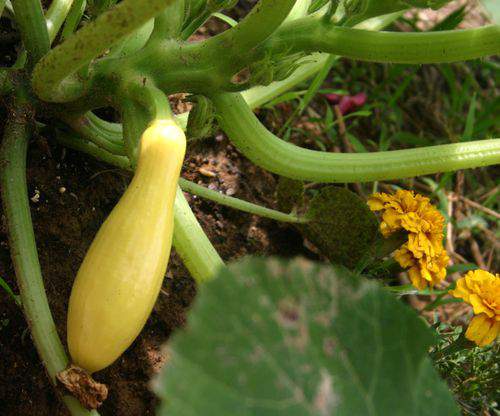 During our recent visit to the family farm Cameron and Jordy got a chance to collect some of the ripe vegetables.
I love to see my kids get their hands dirty with new experiences like this. Next, I'll have to introduce them to some of the trees I used to climb when I was their age.
I couldn't resist including this photo from Nana's garden. This is an interesting take on a scarecrow, wouldn't you say? Gotta love those lashes.
My mom says while her improvised creation may work scaring off the birds, unfortunately it has little/no effect on voles, groundhogs and other small pests that sometimes steal her garden goodies.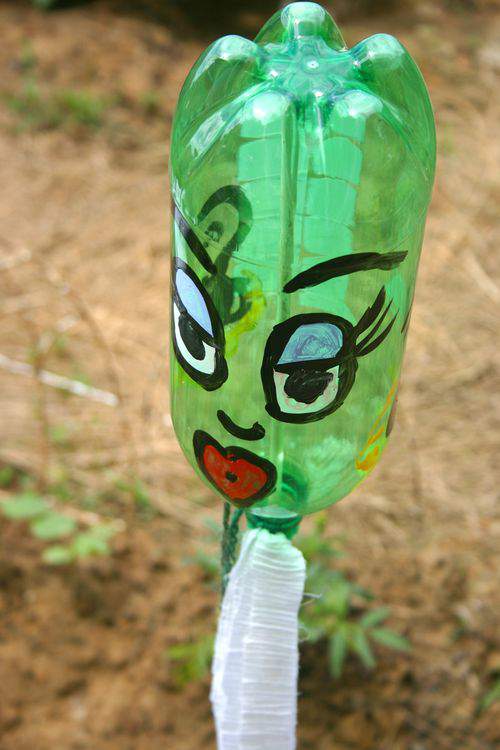 Jordy focused most of his attention on the peas which is ironic since you can't even get him to taste a pea.
In this photo I think you can almost hear Jordy saying "ooh, look what I found". He was quite earnest in his vegetable picking and pretty proud of his haul too.
While Cameron and Jordy packed their baskets with veggies on one end of the farm, I went in search of some backdrops to snap a few photos of my quilt.
I made thisLog Cabin years ago when I first started learning about quilting. While the fabrics used are French-Country inspired, the colors have always reminded me of Nana's country vegetable garden with all the various shades of green and pretty squash-colored yellows.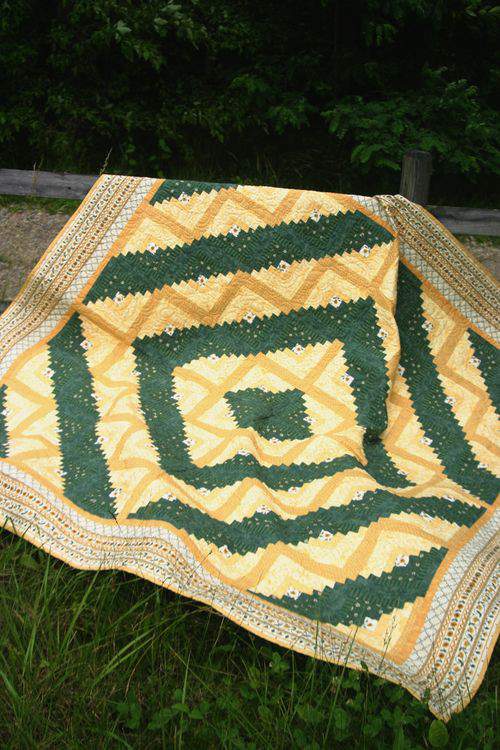 If you've never made aLog Cabin quilt, I think this pattern is among the easiest.
Log Cabins are made up of dozens of identical blocks. You can achieve an almost endless choice of patterns by simply re-arranging the blocks which feature a collection of light-colored fabrics on one end and darker fabrics on the other.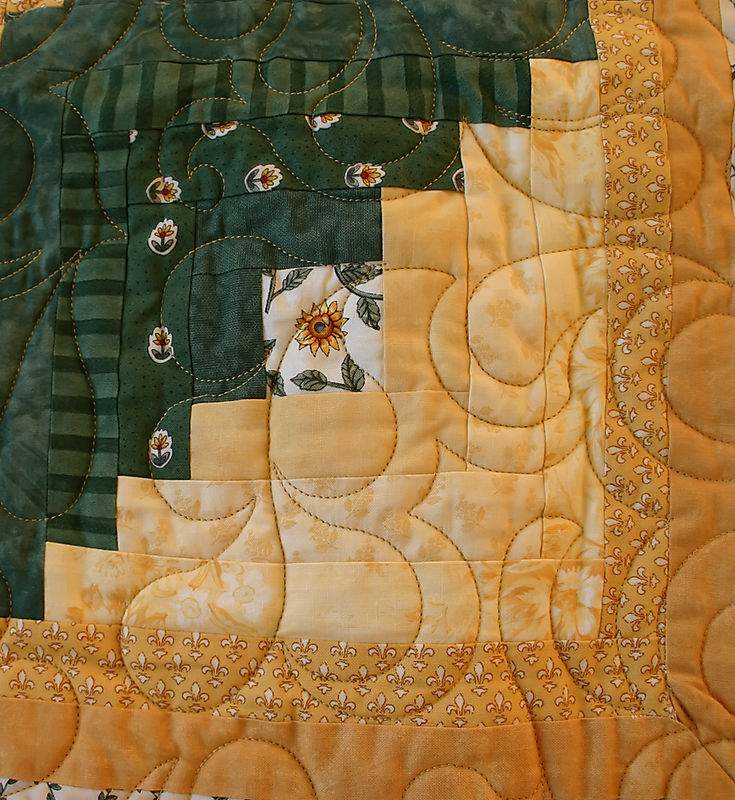 Here's a sample sketch of the Barn Raising pattern. You can see how moving these identical blocks around could create a completely different design. That versatility is at the heart and beauty of the Log Cabin design.
You can see another one of my Log Cabin quilts in a zig-zag design if you click here.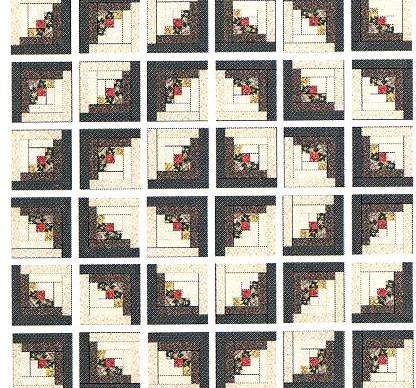 The backing fabric can also be found as one of the quilt top borders. I use this technique all the time as a way of helping to tie all the fabrics in the quilt together.
I think it gives the quilt an all-around coordinated look.
This is also the only quilt that I've ever made with a straight edge binding. You may know by now that I have a penchant for scalloped edges. However, in this case, I think the straight edge is perfect here given the busy designs in this particular fabric.
For the record, I think a straight edge binding (especially around the corners) is much harder to make than a scalloped one.
There are actually three borders on this quilt and I decided to miter each corner for a more seamless integration of the lines in the fabric.
If you're working with more than one border fabric, it's a good idea to sew all your borders together first and then line up the design for mitering. That way you only have to miter each corner once.
This mitering did take some extra effort and practice but I really like how it blended each corner together for near-perfect points.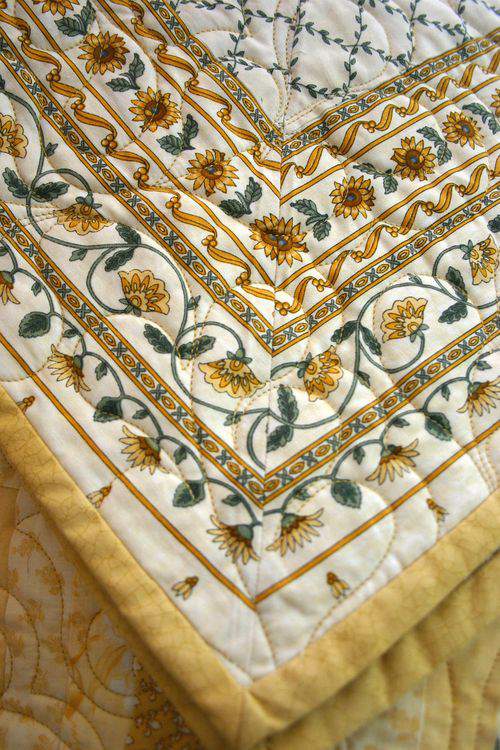 I think it's time now to check in with my little vegetable gardeners. Looks like a pretty good crop so far.
I'd say these two are pretty pleased with their pickin's. They really loved filling their wicker baskets with all the raw, natural food.
I love that Cameron and Jordan get an occasional taste of country life like this. I think it's good for them to escape to the great rural outdoors from time to time.
Meanwhile, I'm glad I thought to bring my Log Cabin quilt along for this ride to the country.
I'm always on the lookout for interesting ways to not only practice my photography skills but also showcase my projects for this blog in more appealing and creative ways.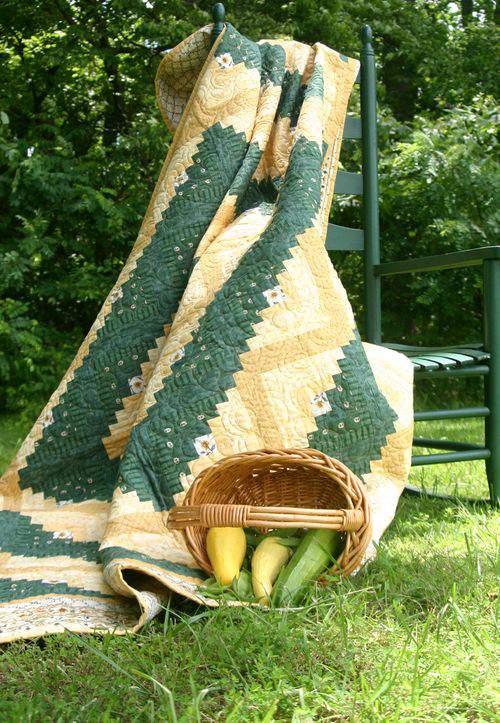 There's nothing like a trip to the country. It's wonderful to be able to walk the farm and find old, familiar sights as well as a few new ones here and there.
I feel really fortunate to have the opportunity to share this natural environment with its crisp, clean air and wide-open green space with Cameron and Jordy. This was definitely a great way to spend a lazy Sunday.
Here's to quilts, gardens and day in the country.