I may have mentioned before that I'm not a fantastic cook.  My husband and kids would likely second that, but at least I'm earnest. 
While I'm still learning and practicing my cooking skills, I've also been trying to get my kids more involved in preparing meals and experimenting in the kitchen along with me.
With that in mind, it occurred to me that attire could possibly inspire.

In an effort to encourage Cameron's burgeoning interest in cooking and baking, I made her this cute chef's hat.  I've almost finished one for Jordy too.
I thought looking the part would give the kids a pinch and a dash more inspiration when they're having fun in the kitchen.
A chef's hat is a super simple project and while there are any number of ways to make one, I'll walk you through my easy technique.
You'll need @3/4-yard of fabric, velcro and optional fusible interfacing.  First step is to make the following fabric cuts;  a 20 inch X 7 inch rectangle for the hat band and a 9 inch X 1-1/2 inch strip for facing. 
Also cut a fabric circle with a 22-inch diameter. 
Mark a 5-inch line from the edge of the fabric circle.  Cut the line as shown in the photo below.
Please pardon the uncustomary wordiness in some of these instructions.  I departed from my usual brevity to make sure I cover every step as clearly as possible.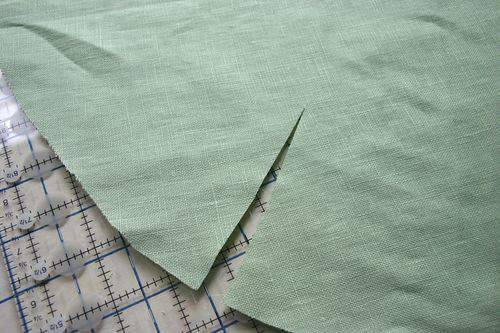 Grab the 9 inch X 1-1/2 inch fabric strip which will serve as a mini binding to be placed around the slit that was just cut in the fabric circle.  Turn the strip by 1/4-inch and iron. 
Note: Some of the colors look a shade different from photo to photo due to inconsistent lighting conditions in-house.  All pieces shown are cut from the same fabric selection.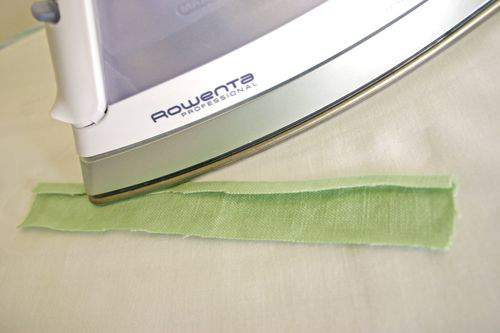 Pin the 9 inch X 1-1/2 inch facing strip along the entire slit, pin in place and then stitch using a 1/2 seam allowance.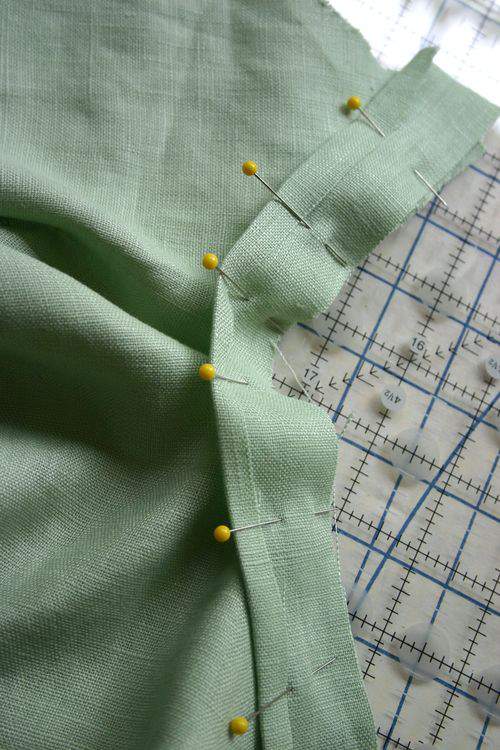 After attaching the facing strip to the slit, turn the finished edge toward unfinished side, iron and then top stitch to secure.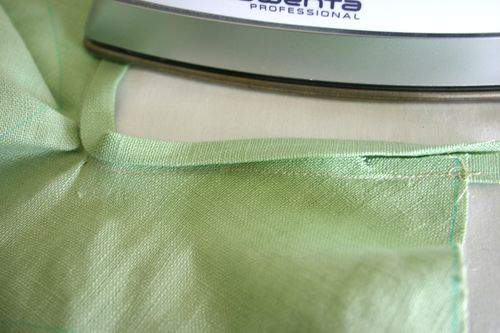 To make the hat band, first adhere fusible interfacing (or baste stitch another cut of matching 20 inch X 7 inch fabric) to the wrong side of this band. 
Heavier canvas-like fabric may not need interfacing but if you're using a lightweight fabric the extra stiffness gives the band a bit more support.
After applying the interfacing, turn one long edge over about 1/4-inch and iron.  Top-stitch the edge.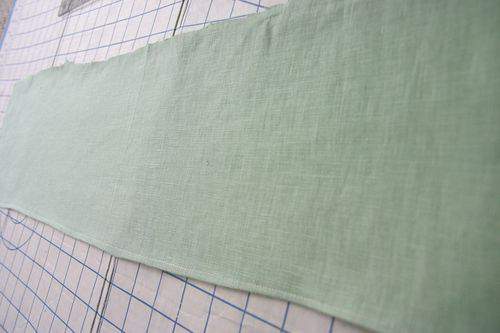 The gathering process is one of my least favorite aspects of any project because all too often my threads break and I have to start over. 
Because of the large distance of required gathering on this project, be extra careful pulling your gathered threads. 
You may also want to consider stitching a series of gathered sets around the fabric circle to minimize the possibility of thread breaks. 
After gathering, pin the hat band (right sides together) to the hat.  Line up the each end with @1/2 clearance on each end.  Slide the gathers and ease to fit, pinning as you go.
You can adjust the size of the hat by simply changing the length of the band.
Stitch the band to the hat.  Fold the band in half toward the outside (rights sides together) and stitch each end from top to bottom using 1/4 inch seam allowance.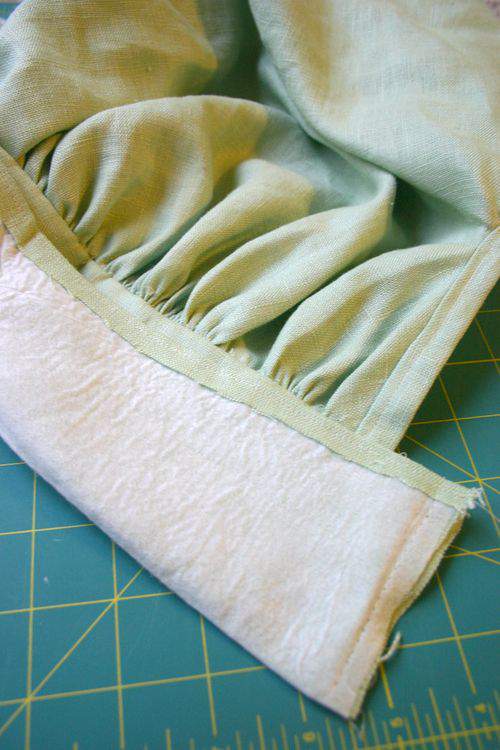 Then turn the band inside-out and fold in half toward the inside (wrong sides together) of the hat and iron.
Remember that slit I cut earlier?  Here's a closeup look at the finished slit as it relates to the hat band. 
I think this technique makes a nice and clean finished edge that not only makes the hat more adjustable, but also gives it a more professional appearance.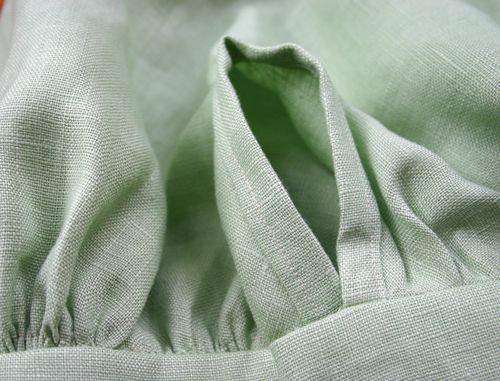 Finally, add some velcro to each end of the hat band.  Some velcro brands have adhesive on the back but I think it's better to actually stitch the velcro to the hat for a more secure hold. 
Learn from my mistake tip:  Do not stitch through velcro with adhesive-backing.  The adhesive will immediately gum up any needle and if you're using a sewing machine, the needle could carry adhesive down into the machine's internal parts which could cause serious damage to your machine.  If you're going to stitch the velcro on, use a brand without an adhesive-backing.
When you stitch the velcro, do not stitch through the entire band. Stitch the velcro to the inside of the band before securing the open edge of the band to the inside.  That way, the velcro stitching is not visible from the outside of the hat.  Once the velcro is attached, slipstitch the inside edge of the band to the hat to secure.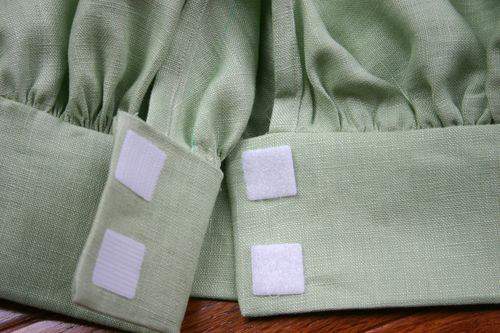 Meanwhile, no chef's hat would be complete without an apron.  A nice coordinated-looking ensemble is created by using some of the same hat fabric for the apron ties and waistband.
I used fabric designer Amy Butler's Domestic Goddess pattern for this apron which is as easy to make as it is beautiful.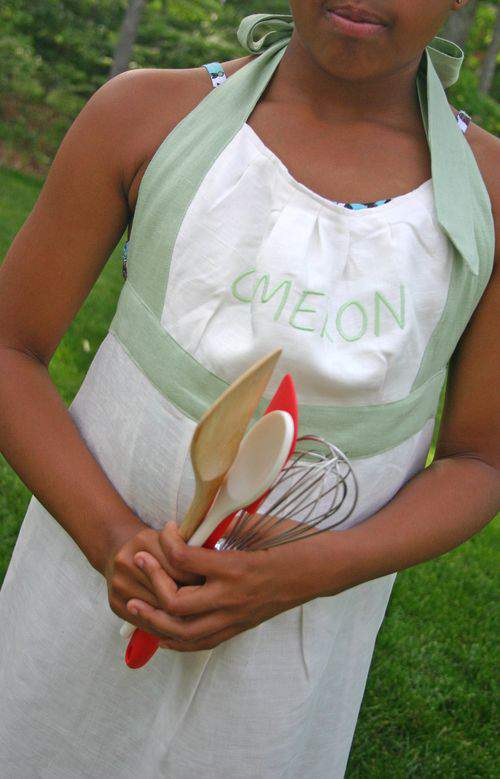 I always think it's nice to personalize homemade projects when possible.  A little embroidery on the bodice goes a long way to make this garment that much more special for Cameron.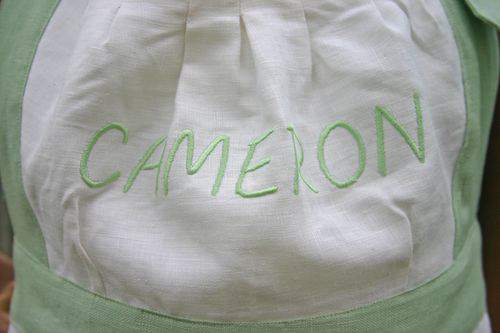 This Amy Butler apron is definitely one of my favorite designs and I've used it several times to create a nice collection. 
Even though the same pattern was used multiple times, I think each apron still has its own personality thanks to the varied fabrics.
This Domestic Goddess pattern has simple, easy-to-understand instructions and the result is quick, elegant and oh-so feminine. 
Trust me, you won't be able to resist creating your own assortment.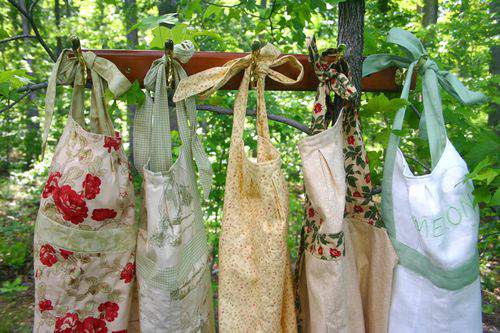 Getting back to Cameron's ensemble, I think her hat and apron set looks just as adorable from the back as it does the front.  I love this linen-lookalike fabric which is so crisp when ironed.
Since this particular fabric is more on the lightweight side, I used some heavy-duty starch on the chef hat to give it more poof.
I must admit that after I finished this ensemble, I initially thought it was almost too pretty for Cameron to actually use in the kitchen.  
I thought it might be a bit painful to see food ingredients and fingerprints all over the front. 
However, since I did make this apron/hat set for Cameron to wear as she practices her culinary skills my reluctance was fleeting.  I think it will be fine.  Besides, everything here is completely washable and easy enough to duplicate if necessary. 
Still, I may try to steer her away from recipes that contain grape juice or tomato sauce.
Want to guarantee a smile on a loved ones face?  Try making a chef's hat and matching apron as a gift and you won't have any problem getting a smile as big as the great outdoors.
I think you can see Cameron is quite ready to whip up something in the kitchen right now.   
I look forward to the day when this budding young chef will be able to teach me a few things in the kitchen. 
Until then, hat's off to the (little) chef.