Between Memorial Day (which we just celebrated a few weeks ago) and the 4th of July holiday a mere two weeks away… there's another upcoming patriotic observance that may have slipped your memory.
Flag Day will be celebrated tomorrow (June 14) and marks the adoption of our U.S. flag in this country.
With that in mind (and because I just can't have too many of these), I created a patriotic apron to mark the occasion.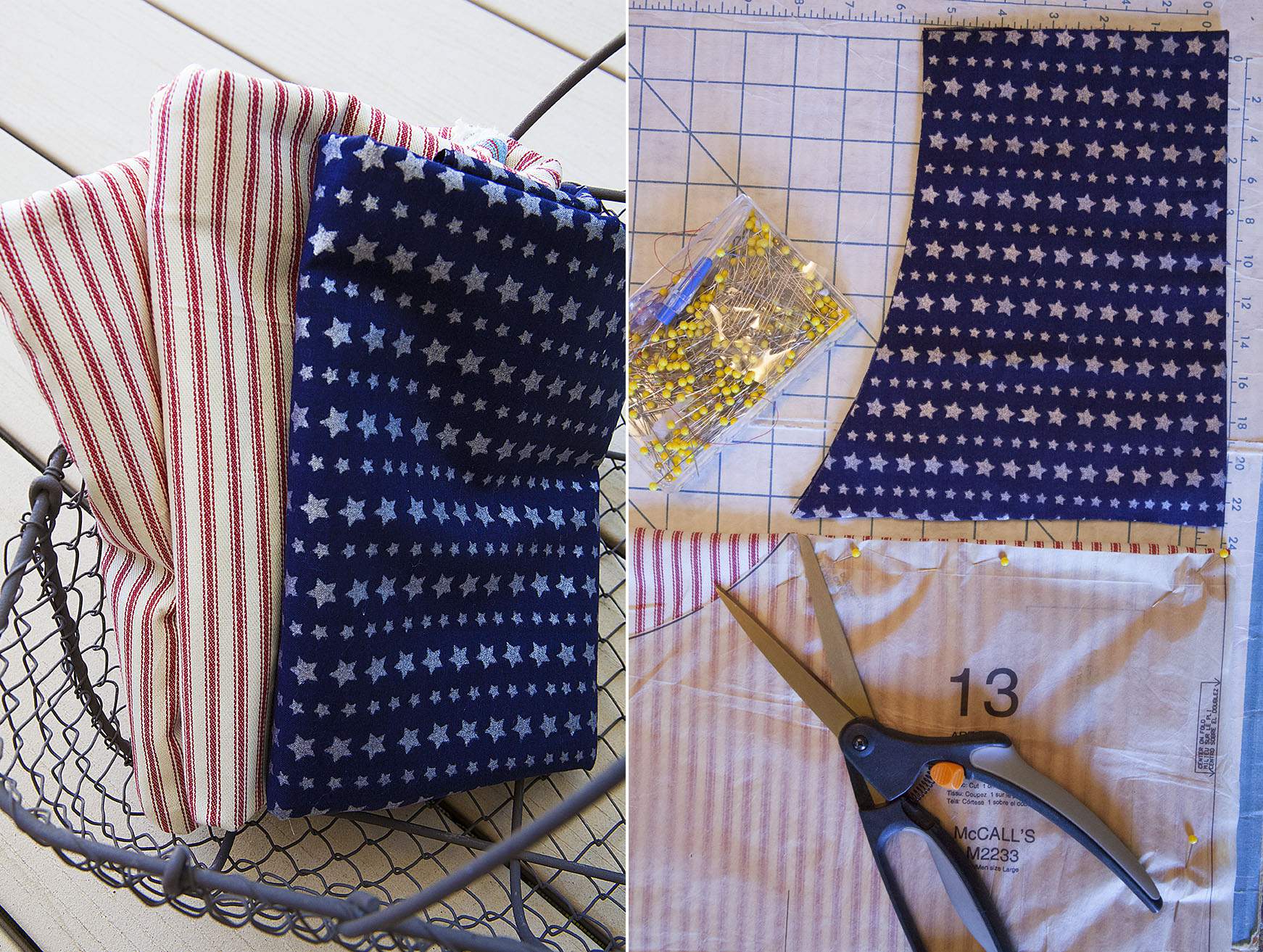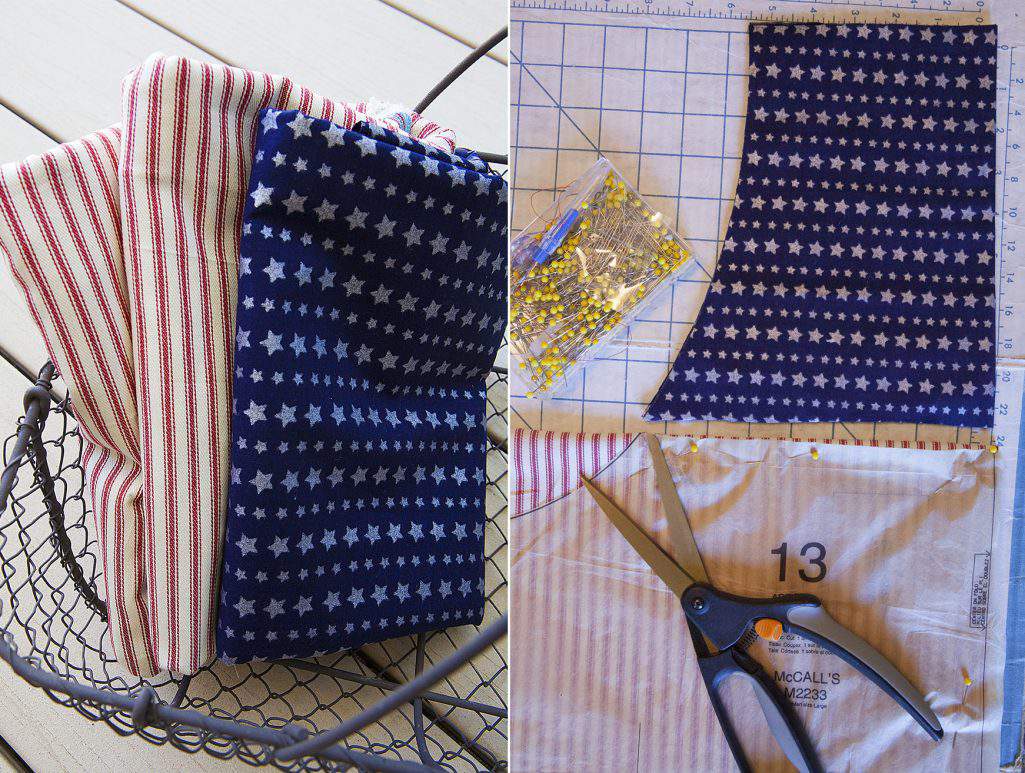 The striped fabric I used is called ticking and is a wonderfully versatile textile that I've used for many different projects including my popular handcrafted holiday cookie sacks which you can see HERE and HERE.
Add to that, this cute all-over navy stars fabric which made for a great combo for a tribute to Old Glory.
By the way, this apron took me about 3 hours to make and with the fabric on sale… it cost me under $8.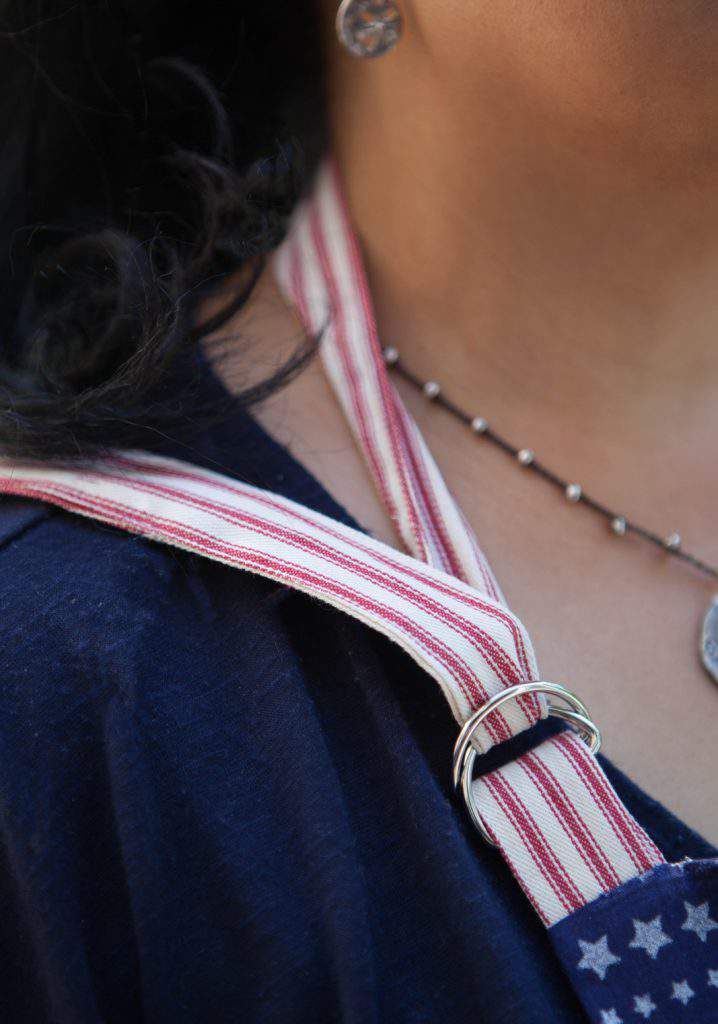 Over the years, as I've devoted more and more attention to expanded topics and categories on this blog, I haven't gotten in front of my sewing machine as much as I'd like to.
Despite my many interests, sewing really is my first love and it's so rewarding when I'm able to whip out something like this… just for the fun of it.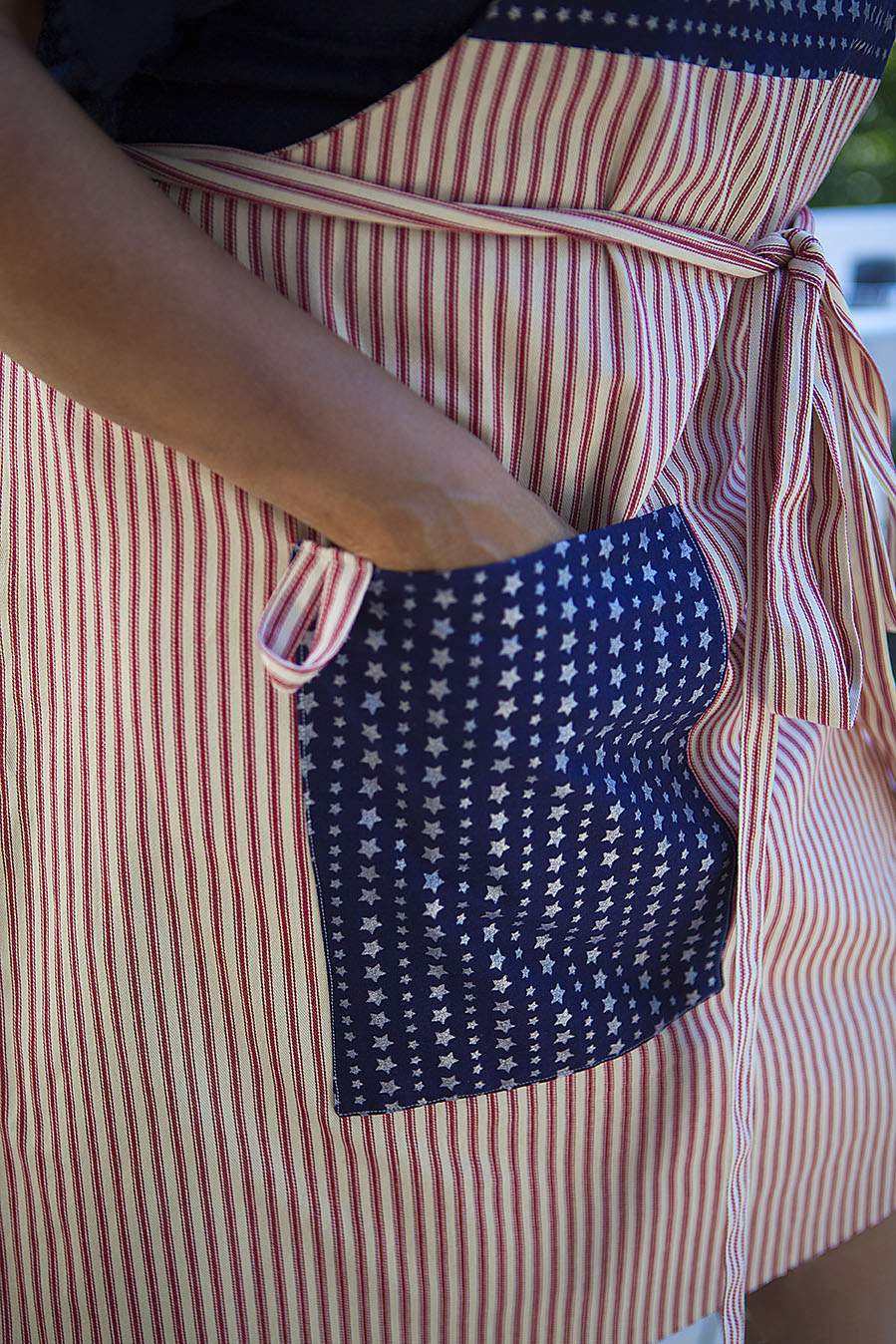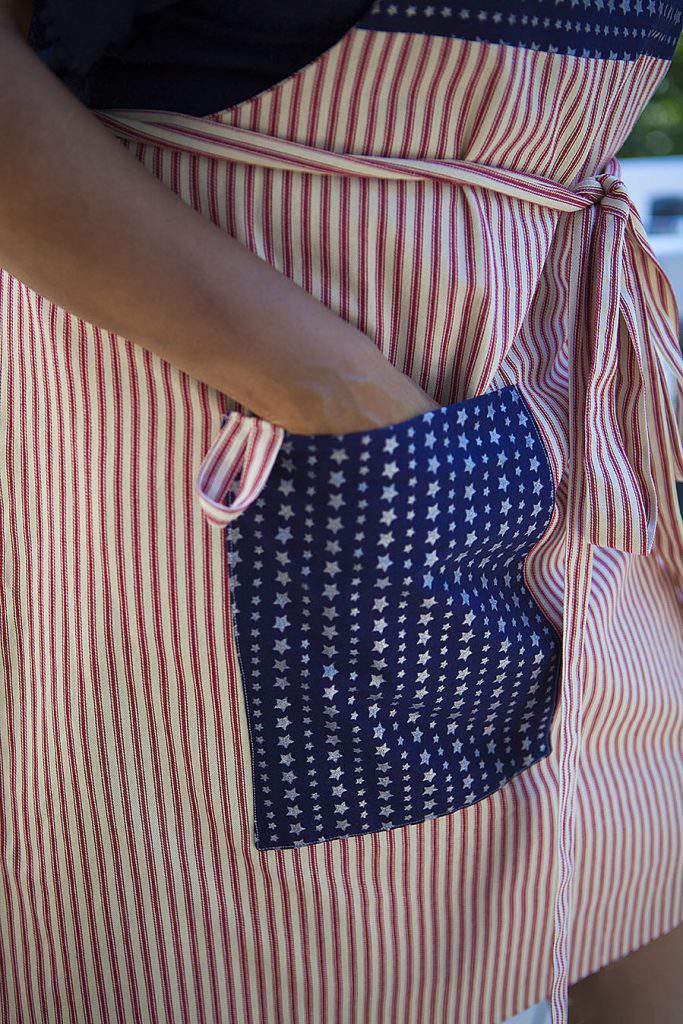 The addition of this pocket was a bit of an after-thought but I'm glad I added it.
Notice the bodice of the apron features horizontal stars and the pocket fabric is positioned vertically. That's great contrast.
My little loop has the dual purpose of not only adding visual interest but also as a utensil holder.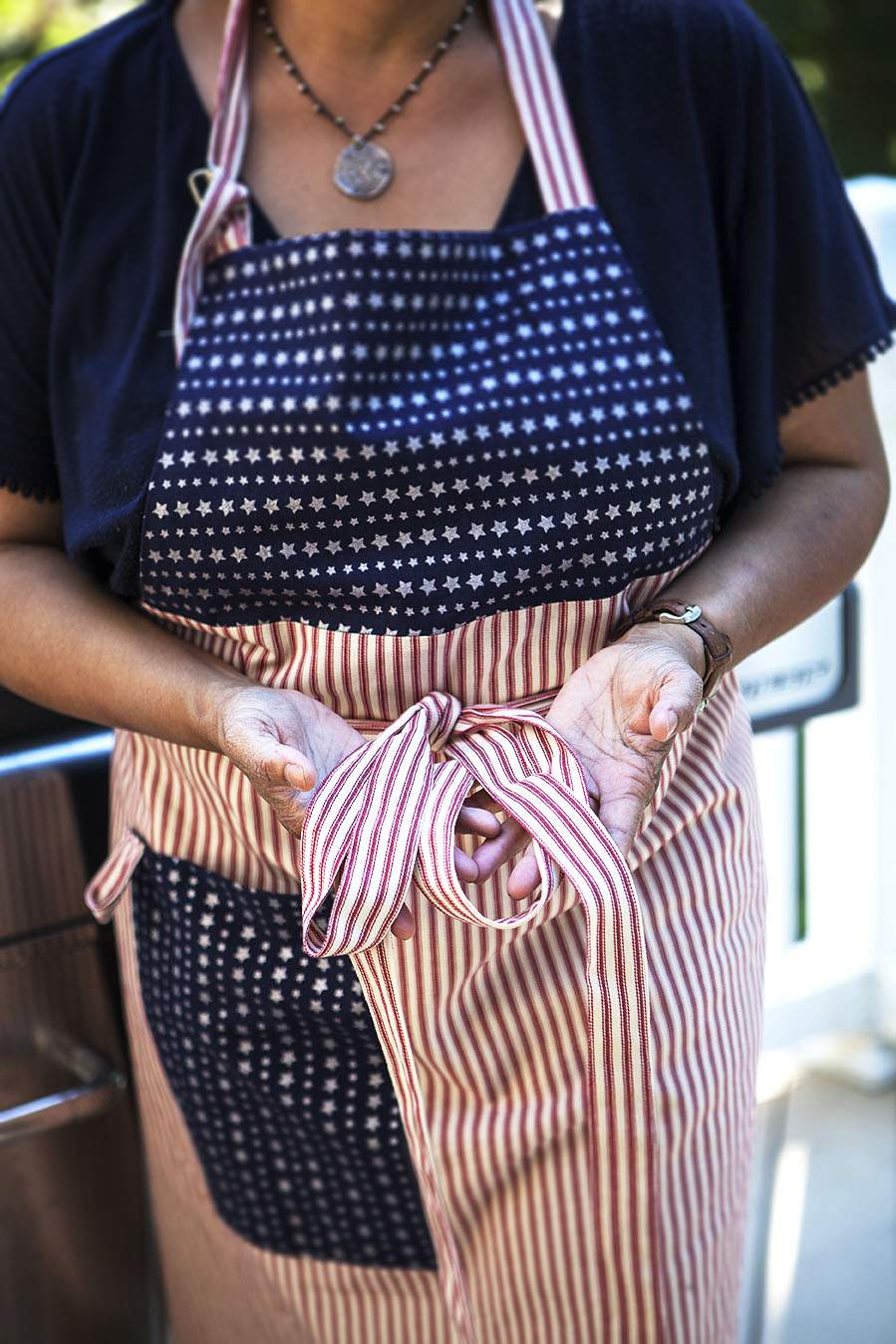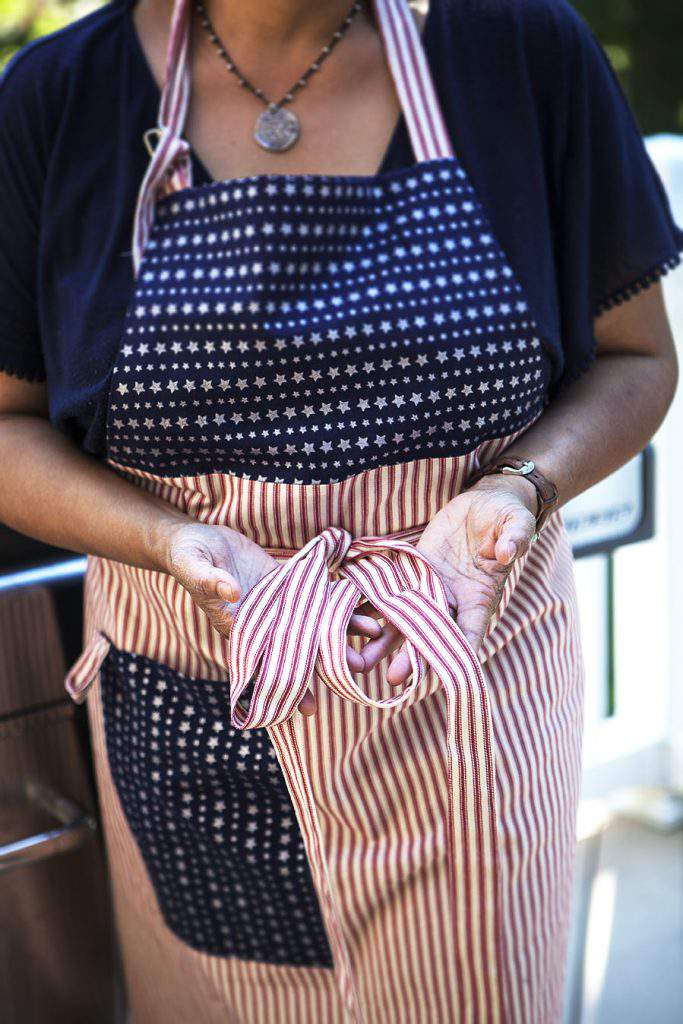 When it comes to apron ties, I love them extra long.
That way they can wrap around the back and extend around the front for tying with a long bow and long tails down the center of the apron.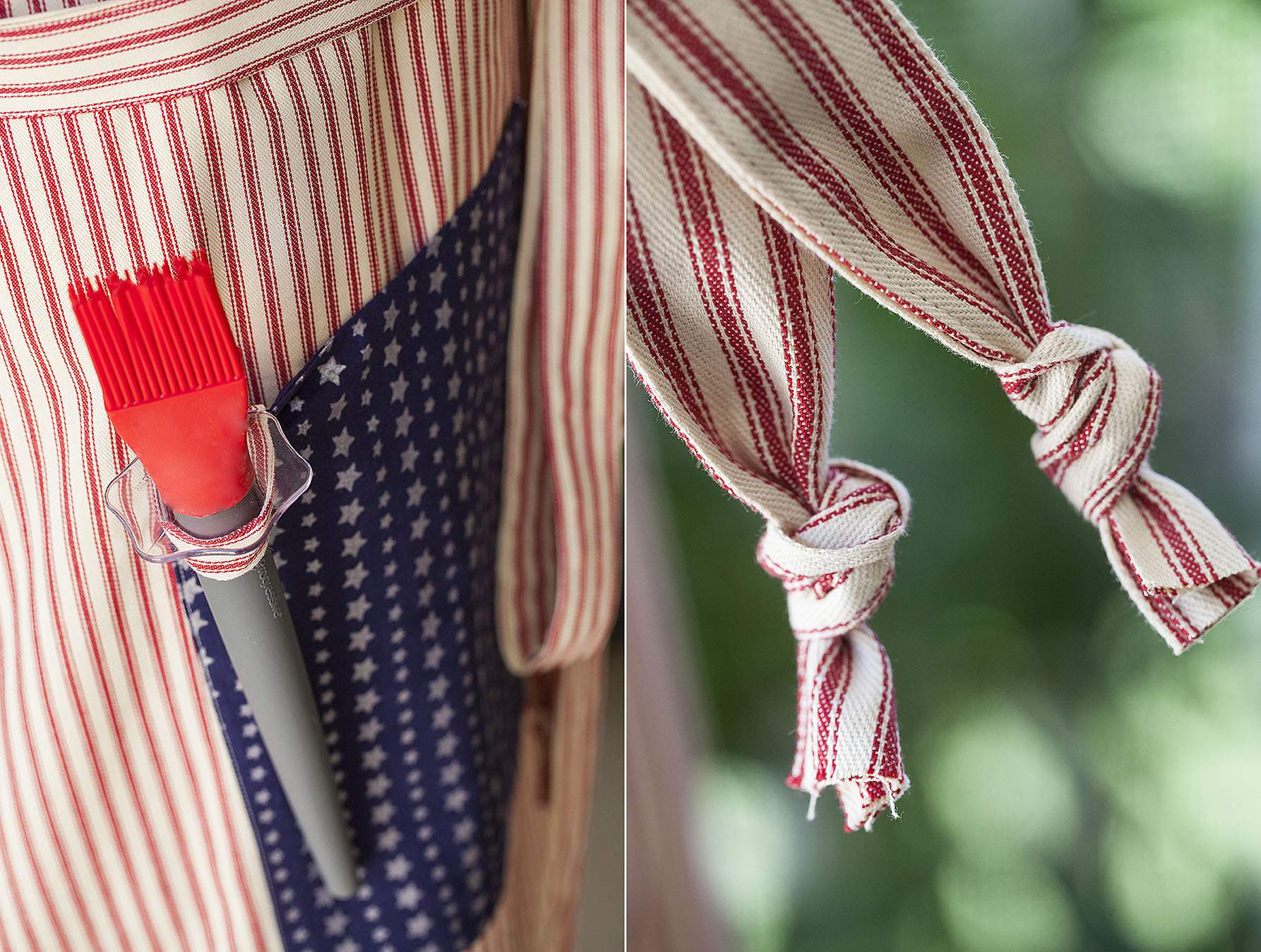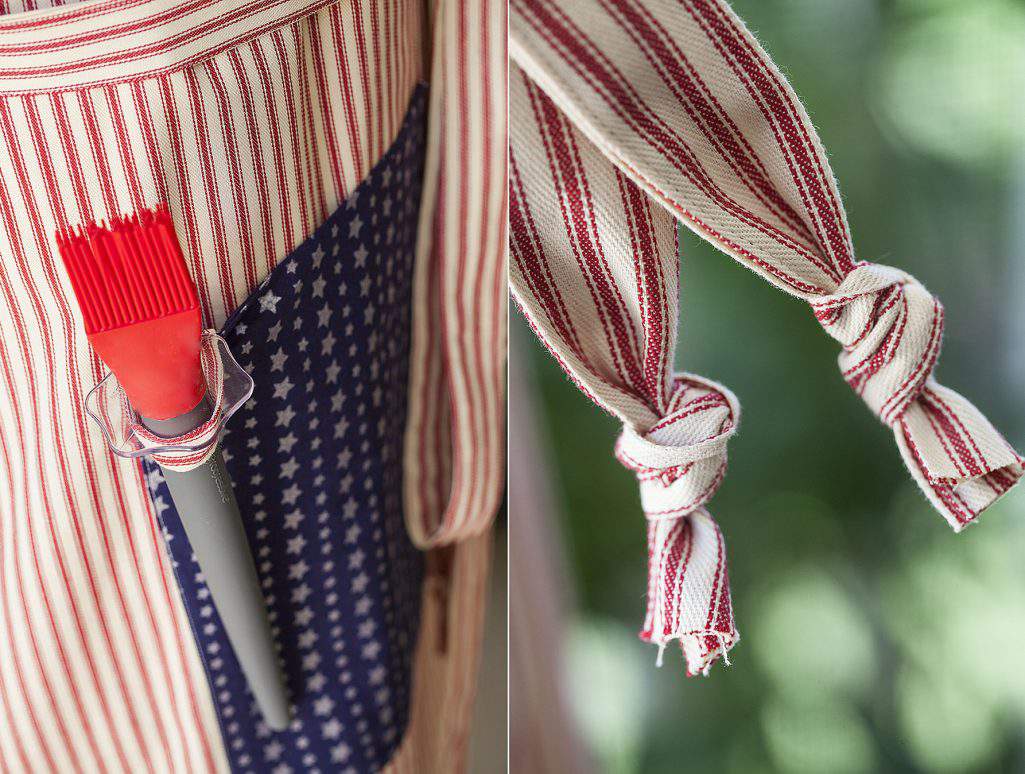 Here's a closer look at that utensil holder.
Imagine a wooden spoon or some other favorite kitchen tool sitting snugly in that loop.
Another way I added interest to this simple apron project is to tie the apron strings in knots on the end.
It's little details like this that add up.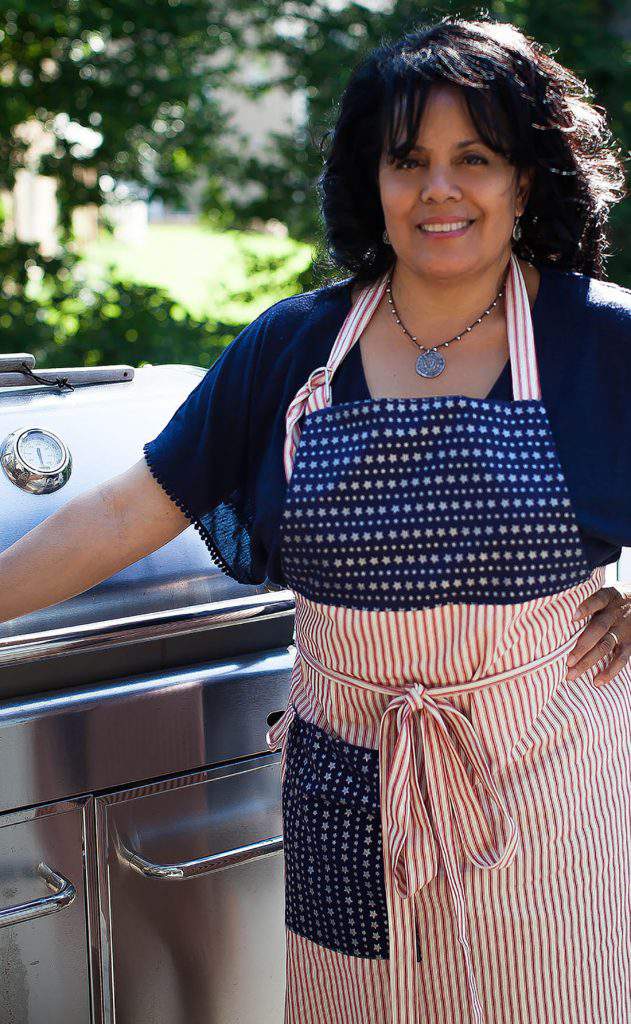 While Stars and Stripes take center stage in this post, I've gotta give a shout-out to my son and trusty photography assistant, Jordy.
Jordy has been my sidekick for a long time… tagging along to help me prepare and shoot content for this blog over the years.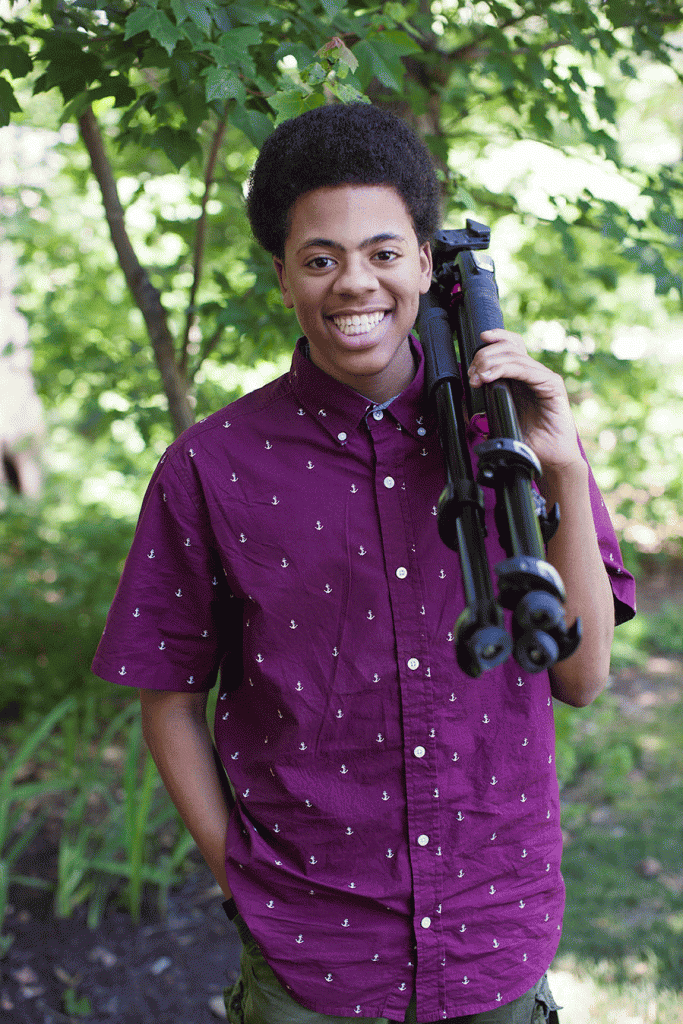 He's a long, lanky teenager who is still growing into his feet… and you can see him as my little helper HERE  in his earlier days.
Jordy is like my own personal key grip.  He takes on a lot of roles for me including (but not limited to) holding reflectors and boards, balancing trays and dishes, helping to haul and set up equipment and pitching in with styling, presentation and of course… shooting.
He's becoming quite the photographer himself and he's been a valuable contributor, especially as I've recently made a concerted effort to include more pictures of my face on this blog… instead of just my hands.
I told him I'd give him credit for most of the photos in this post.  Thanks Jordy!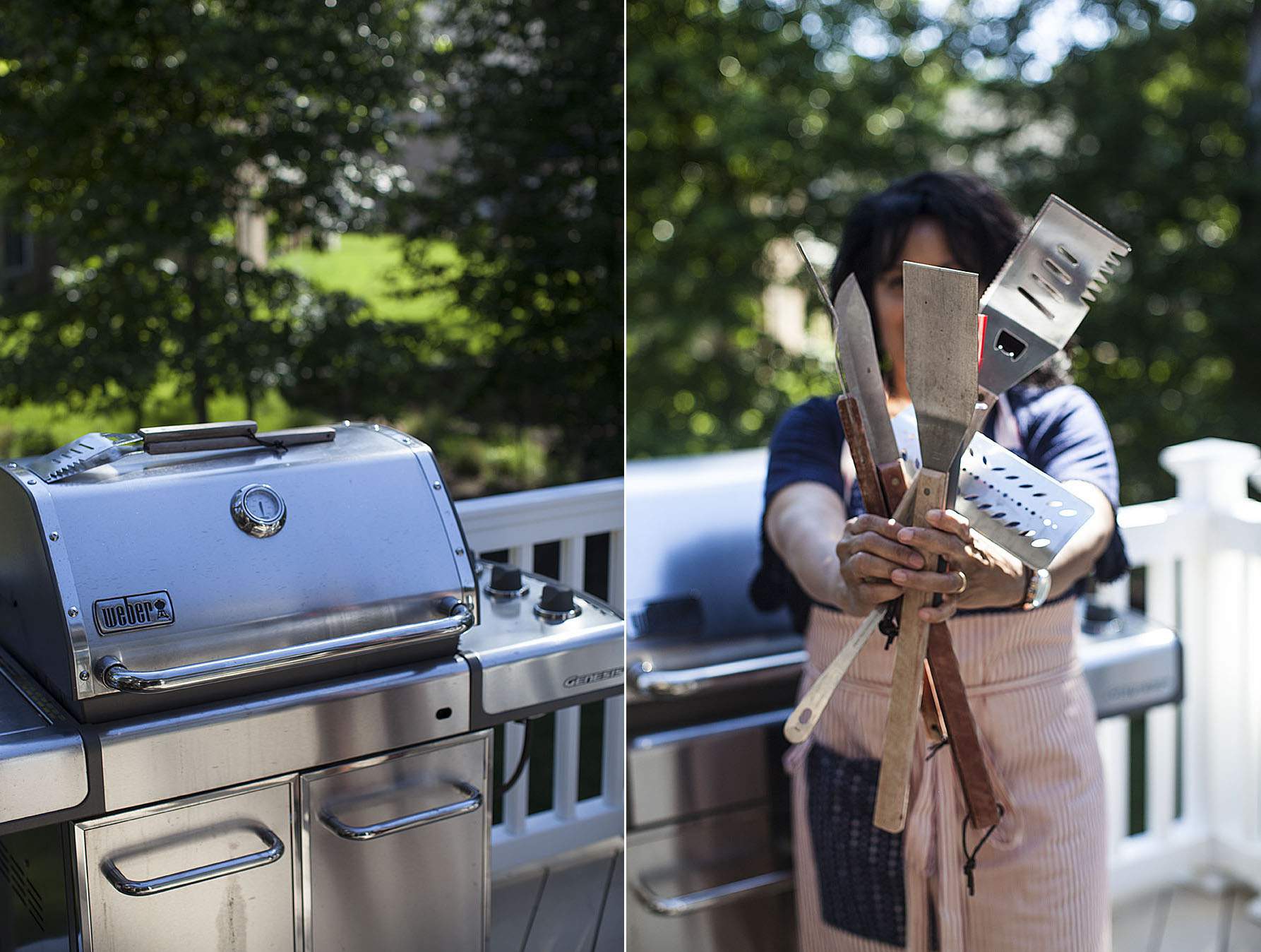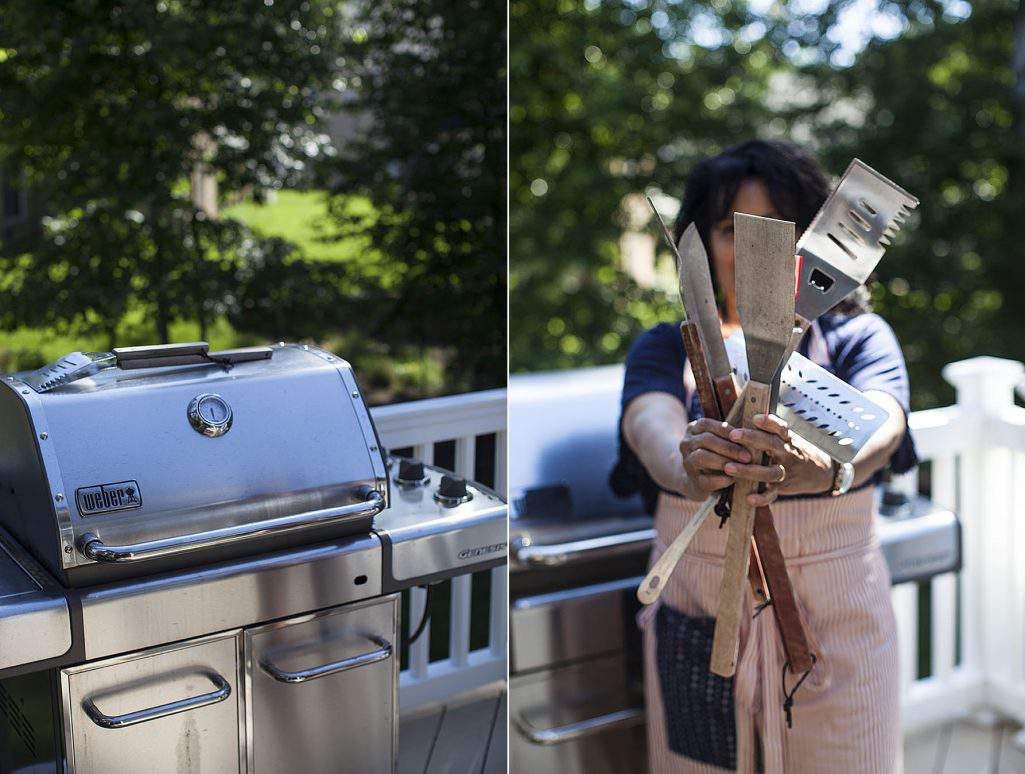 Meanwhile, now that I've got a spanking new apron…. I'm ready to put it to good use.
My husband, Boris is the grill master in the house but he's about to get some serious competition as I spread my grilling wings this summer.
I've got the garb… I've got the grilling tools… now bring on the meat and the heat.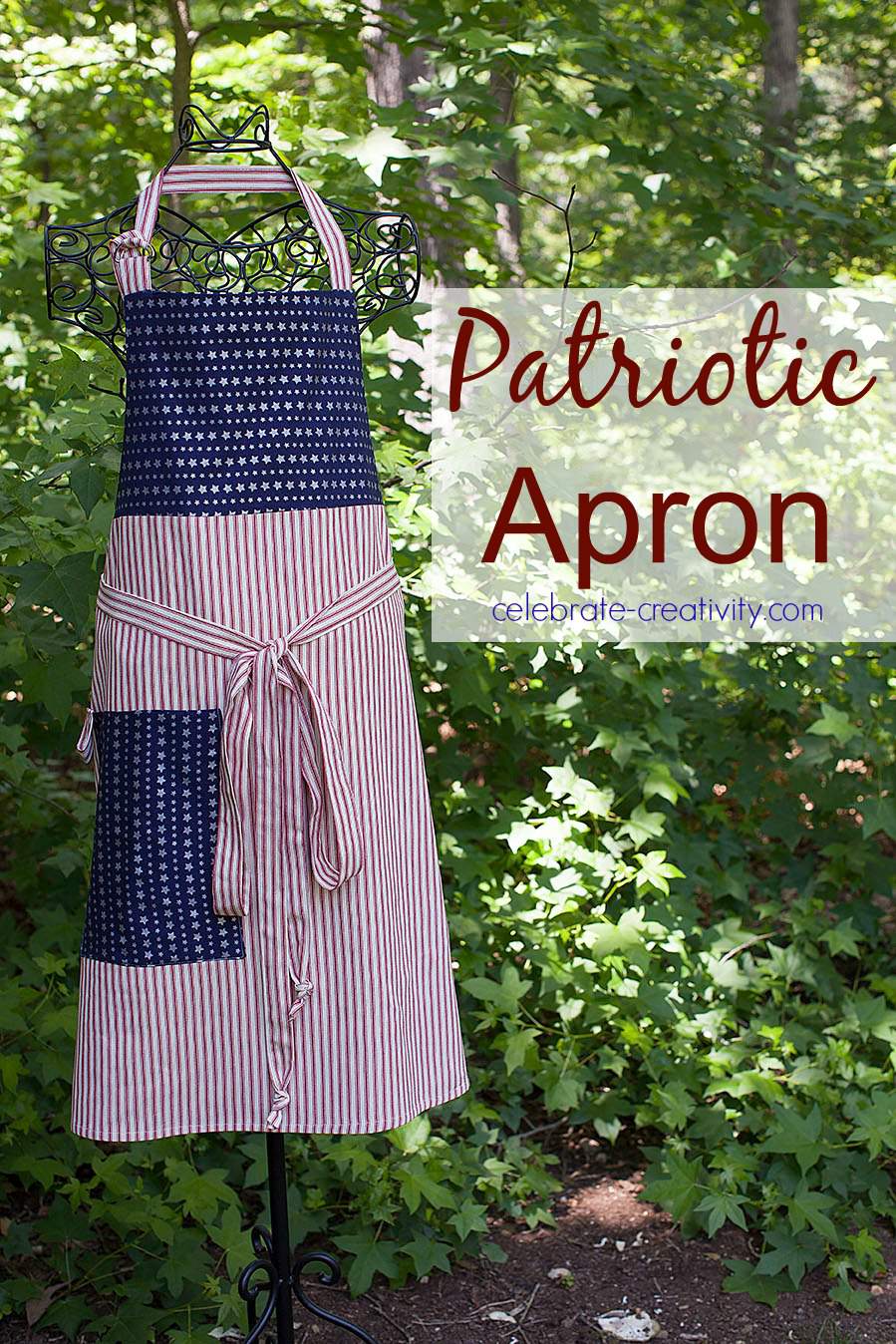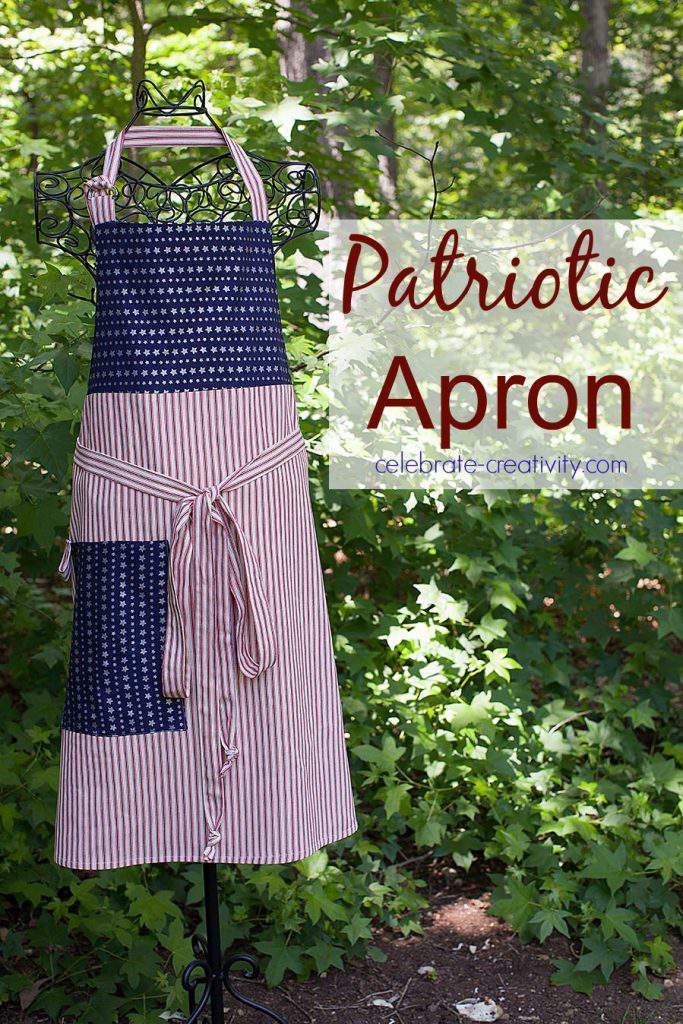 Thanks for stopping by.
See  you back here next time. ♥