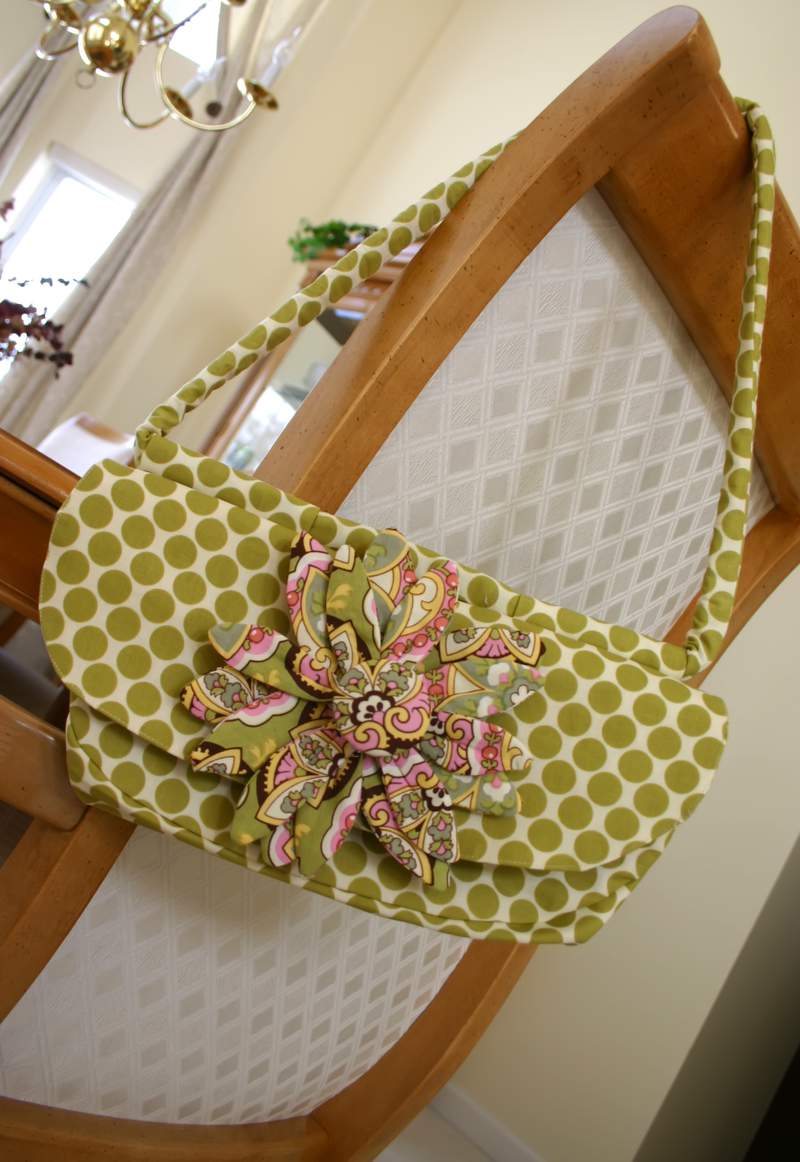 I'm still not sure what happened to my original February 28, 2008 post entitled Velma Loves Zinnias.  It disappeared completely from my system Thursday night along with all the dozens of wonderful and thoughtful comments about this project.
I think this mystery raises blog-backup, access-protection as well as accidental blogger error issues that I will investigate further.
Anyway, I'm re-posting this entry because I want everyone to still have the project information if they decide to try to make this handbag themselves.
I'd also like to add that there is no way I would have been able to easily re-create the original text in this post without the kind and generous help of Sara.   She sent me a copy of the Velma Loves Zinnia post that was in her bloglines file and she spent the time to walk me through a few other helpful tips too.  Thanks Sara, you're a lifesaver!
Now, on to Velma Loves Zinnias-again.
I'm definitely ready to think about warmer days and my latest sewing project certainly fits the bill. 
Considering that we've had more than 24-inches of snow here in the last 4 weeks (not including drifts) this little bag with it's pretty greens makes me think of a warm Spring day and that's exactly what I need.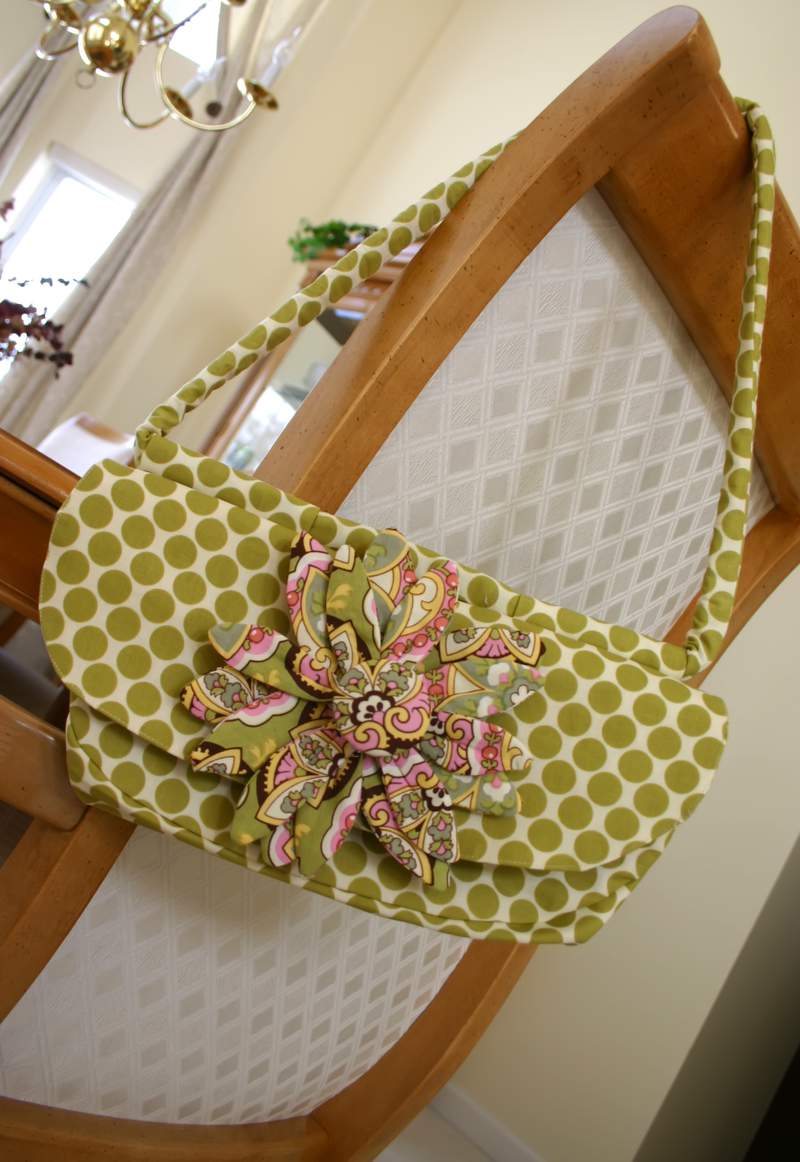 Velma is the name of the pattern for this cute little bag.  This is another design by the fabulous Amy Butler.  The bag has instructions for a long strap like the one I made and also a short strap that is featured on the pattern cover photo.
I opted for the long strap for this one, but I plan to try the short strap on my next one.  Yes, considering how easy this bag was to make, I will be making several more as gifts.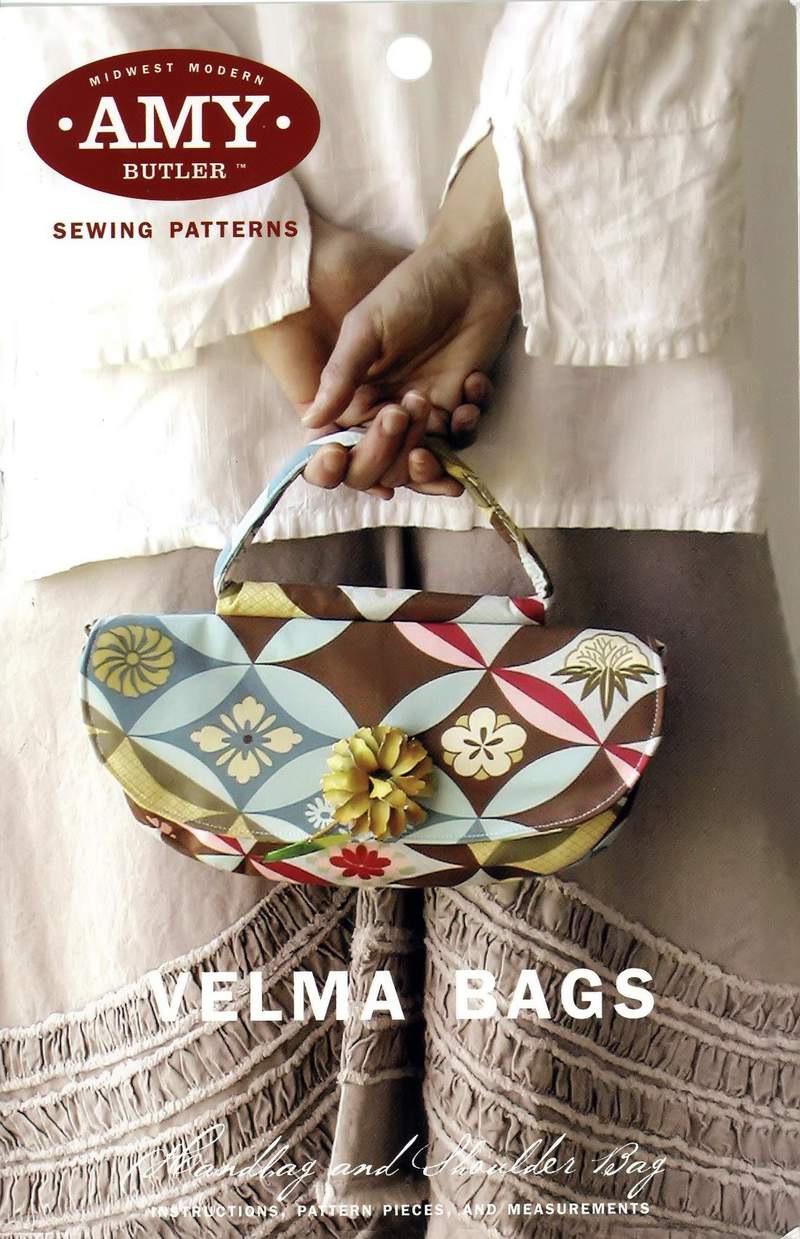 The gorgeous fabric is also from Amy Butler.  It's from her LOTUS collection.  I loved this green polka-dot print so much that I bought an extra 2-yards.  At this point I'm not sure what else I'll make with it, but you know I'll think of something.  Stay tuned.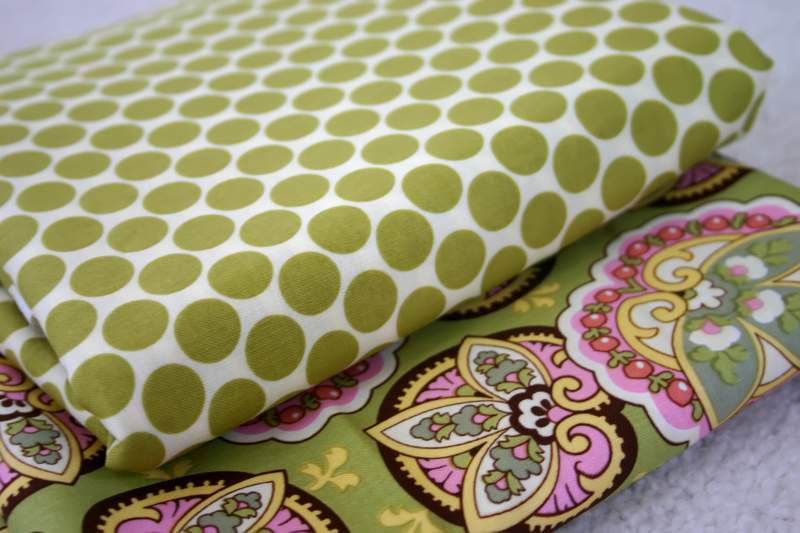 This was one of the easiest and fastest sewing projects I've ever made.  It took me less than a day to complete.  The directions were quite thorough with clear-cut instructions for every step.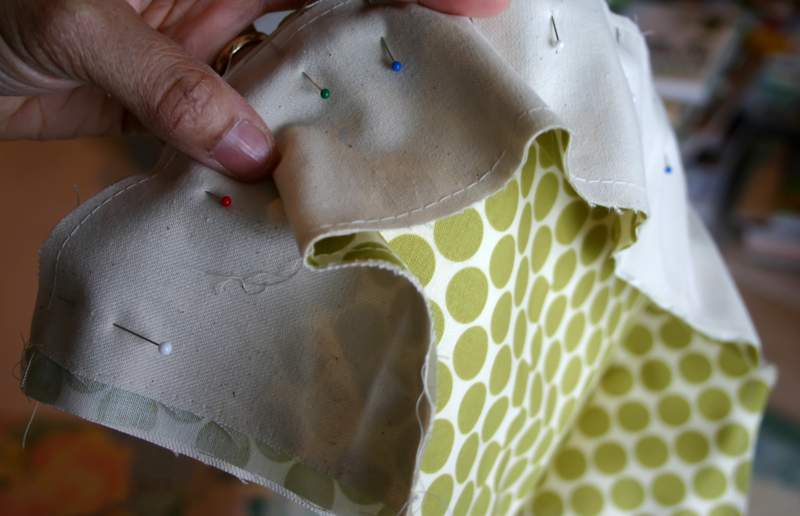 It's always fun to see a project taking shape.  This is what the bag looks like just before I added the lining.  Almost done now.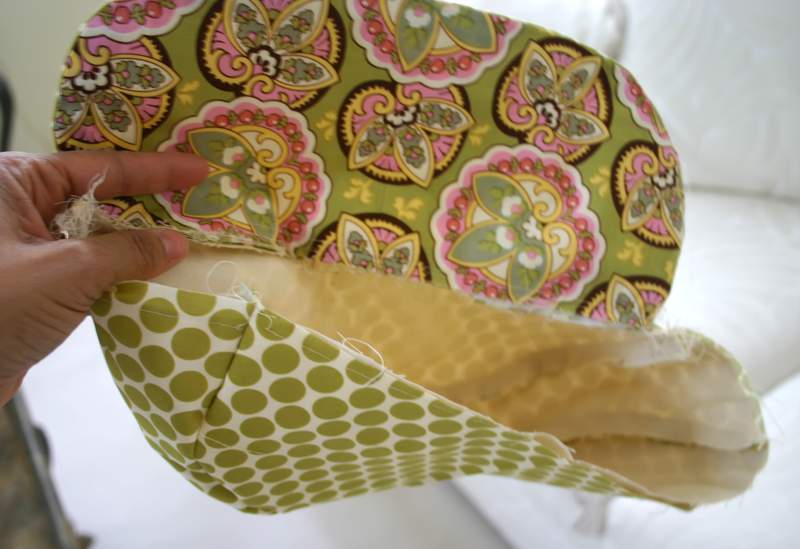 The inside pocket is a perfect spot to add a little extra touch.  Before attaching the pocket to the back of the lining I machine embroidered my initials onto the fabric.  I love this kind of personalized detail.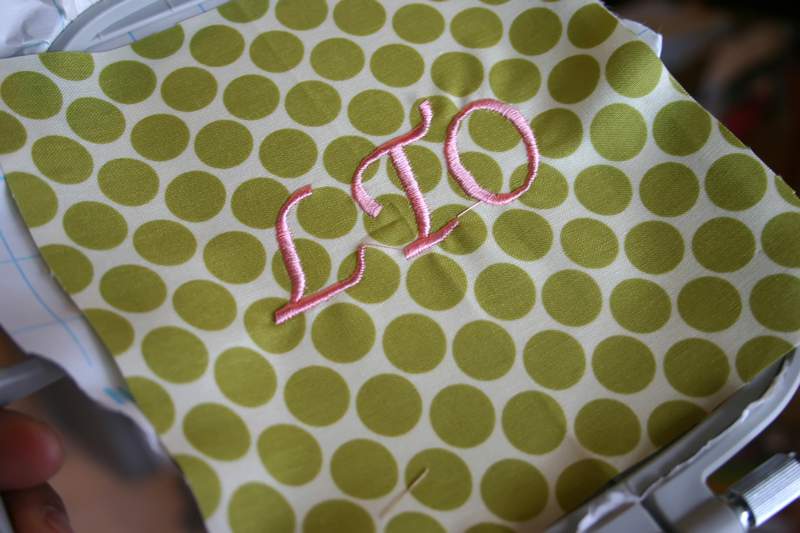 The inside pocket measures 5 1/2 X 2 3/4-inches when finished, so there isn't a ton of room for your stash.  However, it is perfect for small items like business cards, perhaps some makeup or a little pink IPOD.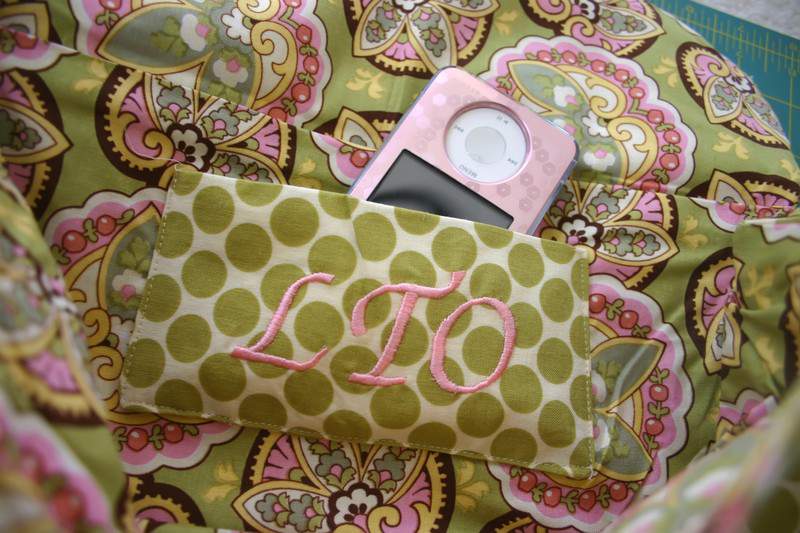 Here's a wider view of the inside of the bag.  The creases on either side of the bag were achieved by simply steam ironing the folds into the fabric. 
Don't you just love this combination of fabrics?  It just makes me smile.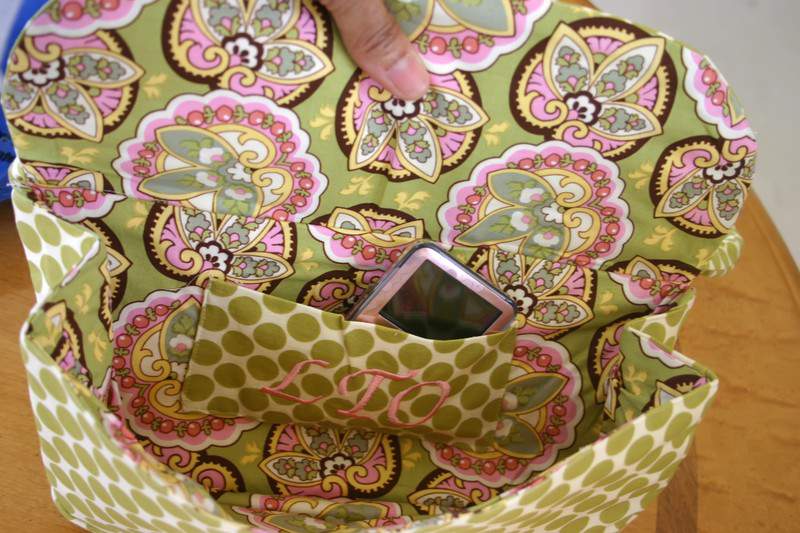 While you could add any embellishment to the front of the finished bag, I decided to borrow some more inspiration from another Amy Butler pattern to make the pretty flower broach in the photo below.
The layered flower was inspired by Amy Butler's Zinnia pillow which can be found in her Midwest Mod pillow pattern.  Can you tell I'm a big Amy Butler fan?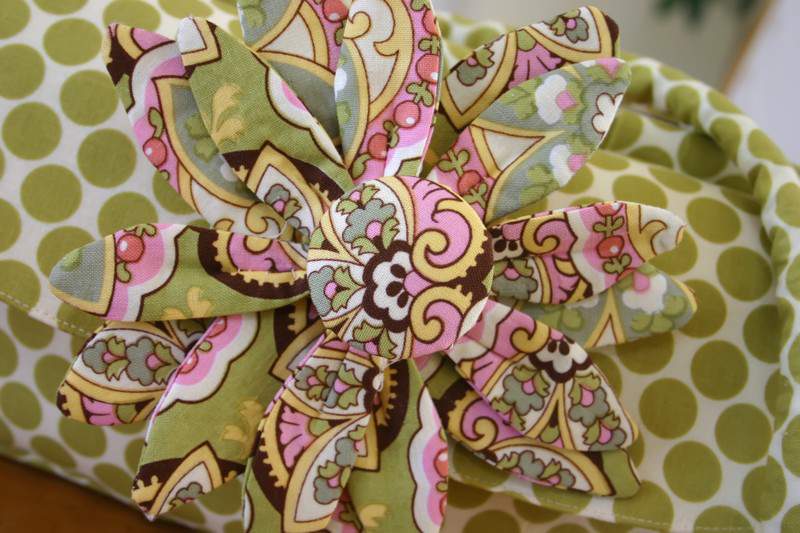 In addition to the Zinnia pattern, the Midwest Mod pattern package contains two other fun pillow designs. 
I'm actually in the process of making two of these Zinnia pillows which I'll share later in an upcoming post.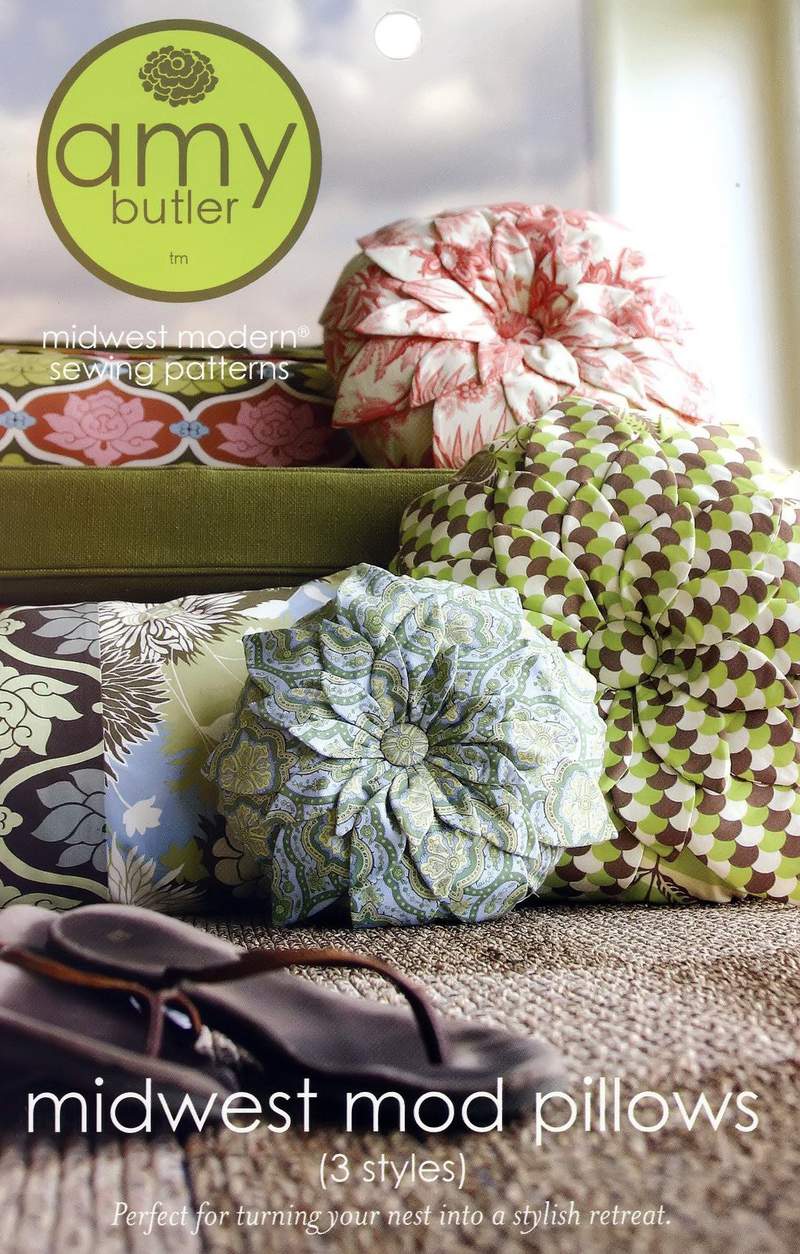 To make the flower, I reduced the original pattern size.  Each petal requires two fabric pieces as well as a cut of interfacing.  Just stitch around the petal shape and then turn inside out.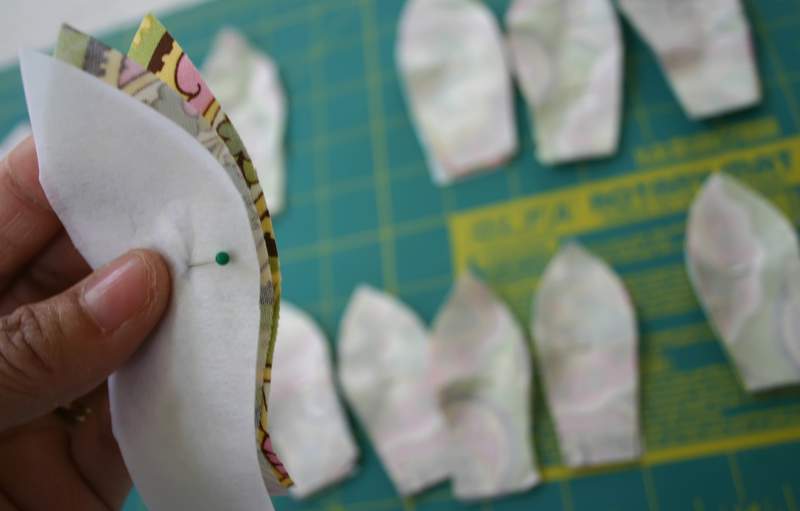 Once the petal is turned inside-out, fold the petal in half and stitch a small 1/8-inch seam from the bottom of the petal to about 1/2 inch to achieve a nice little crease in the petal.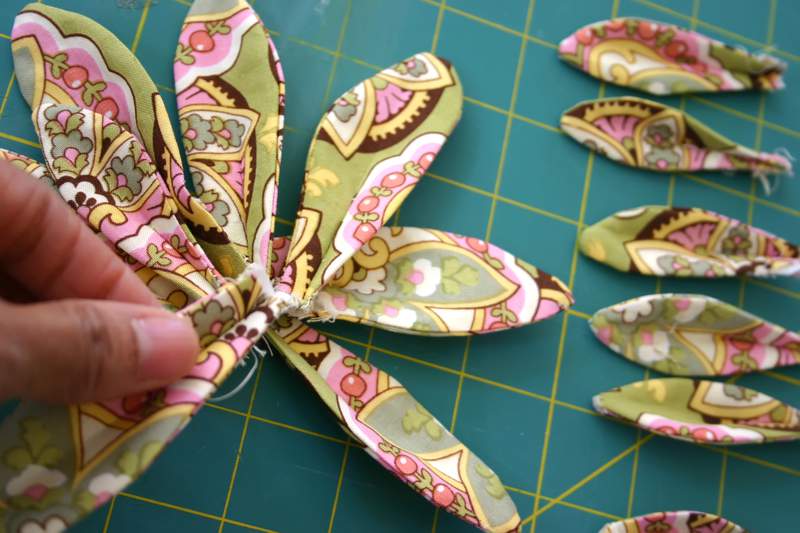 Once you complete all your petals, simply arrange the large petals in a circle and hand stitch them together.  There are two sizes of petals used to create the Zinnia.   
First, the large petals are stitched together securely.  Then the smaller petals are placed in front and hand-stitched directly onto the larger petals.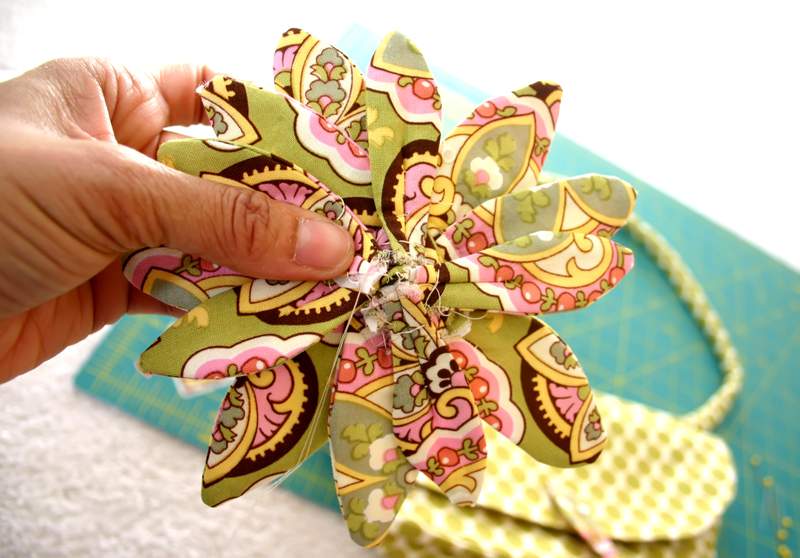 Top off the flower with a self covering button.  Of course you could also use a large button of choice but I just love the look of covered buttons.  They're also really easy to construct.
Just for fun I thought it would be great to see how a different embellishment would look on the outside flap.  This demonstrates just how versatile this little bag can be when you can switch up these kinds of details.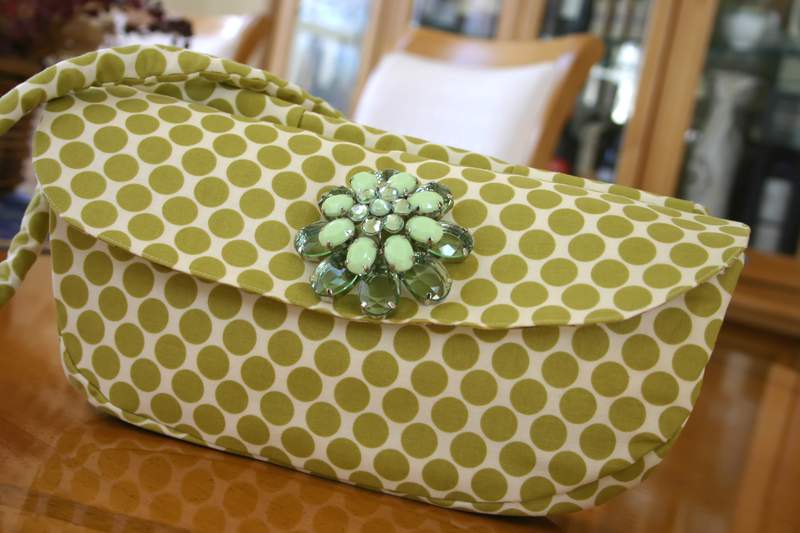 I bought this broach years ago and I generally wear it on the lapel of a green wool coat.  Well, now that winter is winding down a bit, it's nice to see this costume jewelry put to other use.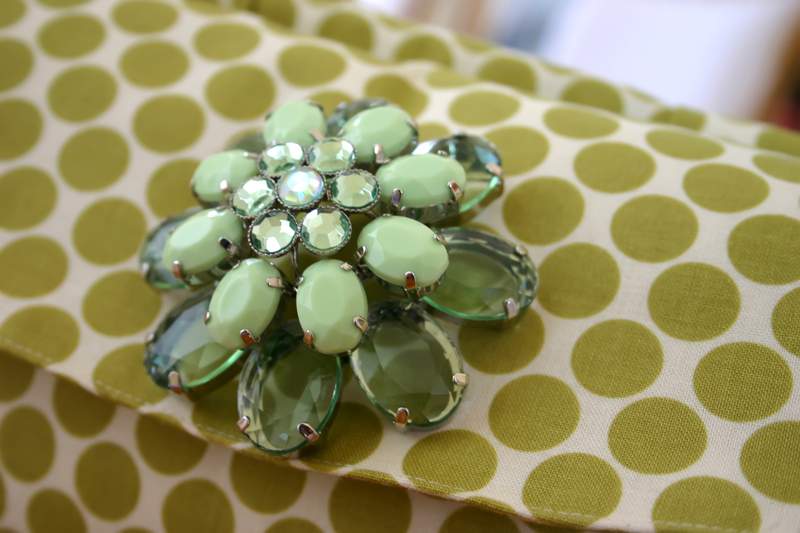 Here are a couple of other views of the bag with the Zinnia flower.  I think the bag is adorable from any angle including the side and the back as you can see in the photos below.
Don't forget you can always click any picture within this post for a larger view of the image.
I should also mention that I entered this bag in the Amy Butler Sew Inspiring Contest  sponsored by Craftzine which is the on-line extention of Craft magazine.  Wish me luck because the competition will be tough.  There were so many beautiful and inspiring bags entered.   
If you're interested in seeing the other wonderfully creative projects entered for this contest you can see them all on Flickr if you click here.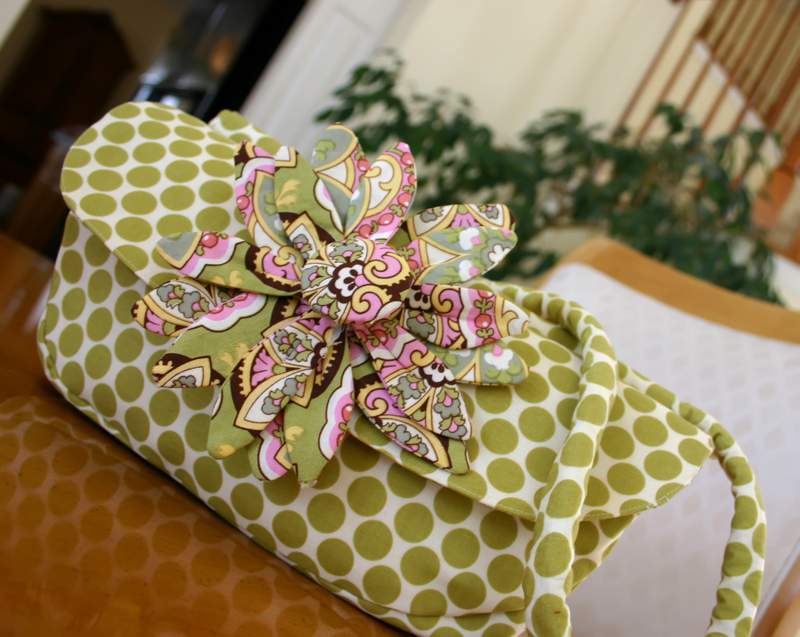 Meanwhile, when it comes to beautiful fabric and patterns, I can't say enough about Amy Butler designs which are always a visual and creative feast for the eyes. 
The Velma bag and the Zinnia pillows are very easy and just wonderful projects all the way around.
It's no wonder that Velma loves Zinnias.