Even though Valentine's Day has come and gone, chocolate lovers everywhere are likely still enjoying their sweet treats.  Yes when it comes to love, I add chocolate to the mix.
Hey, the French say it's good for your heart, right?

While on the subject of hearts, I thought it would be nice to share a few scrapbooking projects that are close to mine.
This is indeed the best of times, which is the title of the layout below.  I love these pictures of Cameron and Jordy, which were snapped right after one of Cameron's ballet recitals.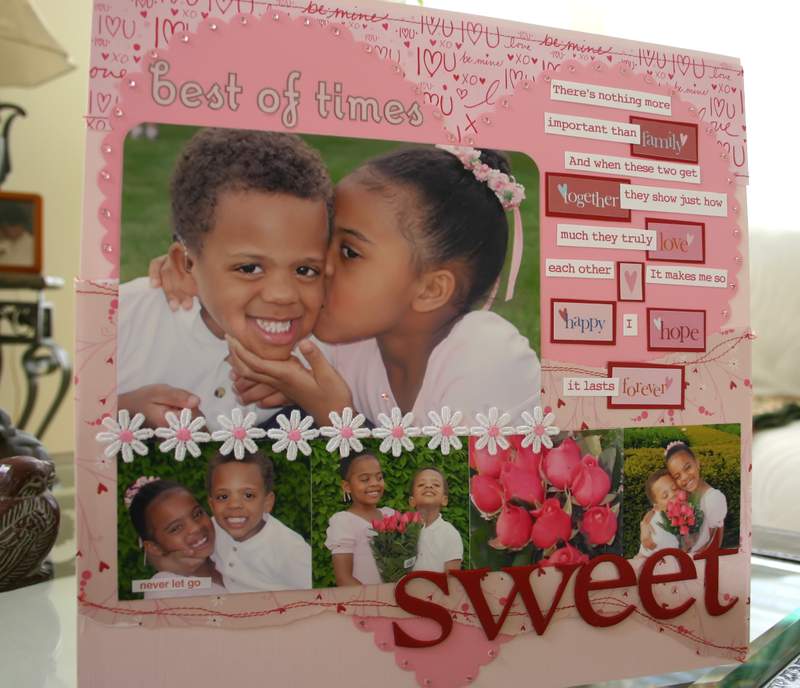 The driving force behind this layout was the adorable main picture of Cameron planting a big kiss on Jordy's cheek-and Jordy actually looking like he didn't mind.  Rare occasion.
These are some of my favorite pictures of these two cutie-pies and it was great to see this layout in the pages of in 601 Great Scrapbook Ideas published by Memory Makers Books.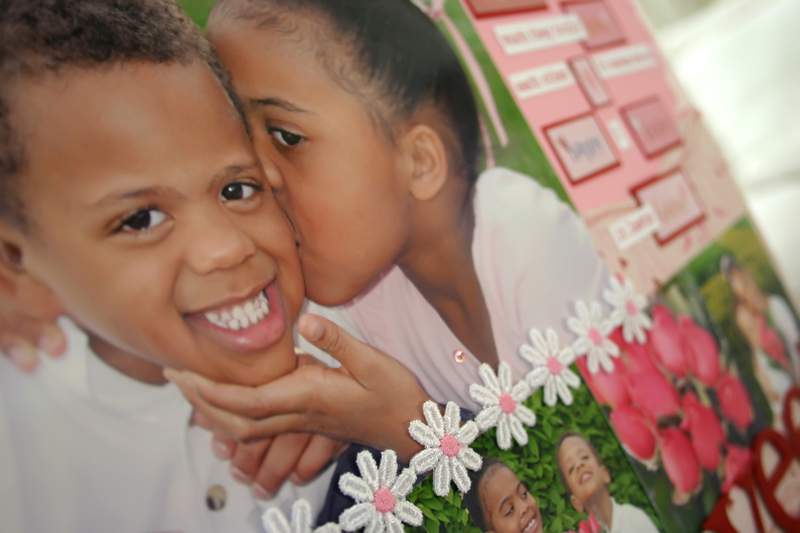 Rather than printing a typical journaling block, I combined some computer printed sentences with pre-printed sticker words.  I simply mounted each sticker onto a tiny red mat to make the world stand out even more against the surrounding sentences. 
I also try to incorporate some sewing machine stitching somewhere on every layout if I can.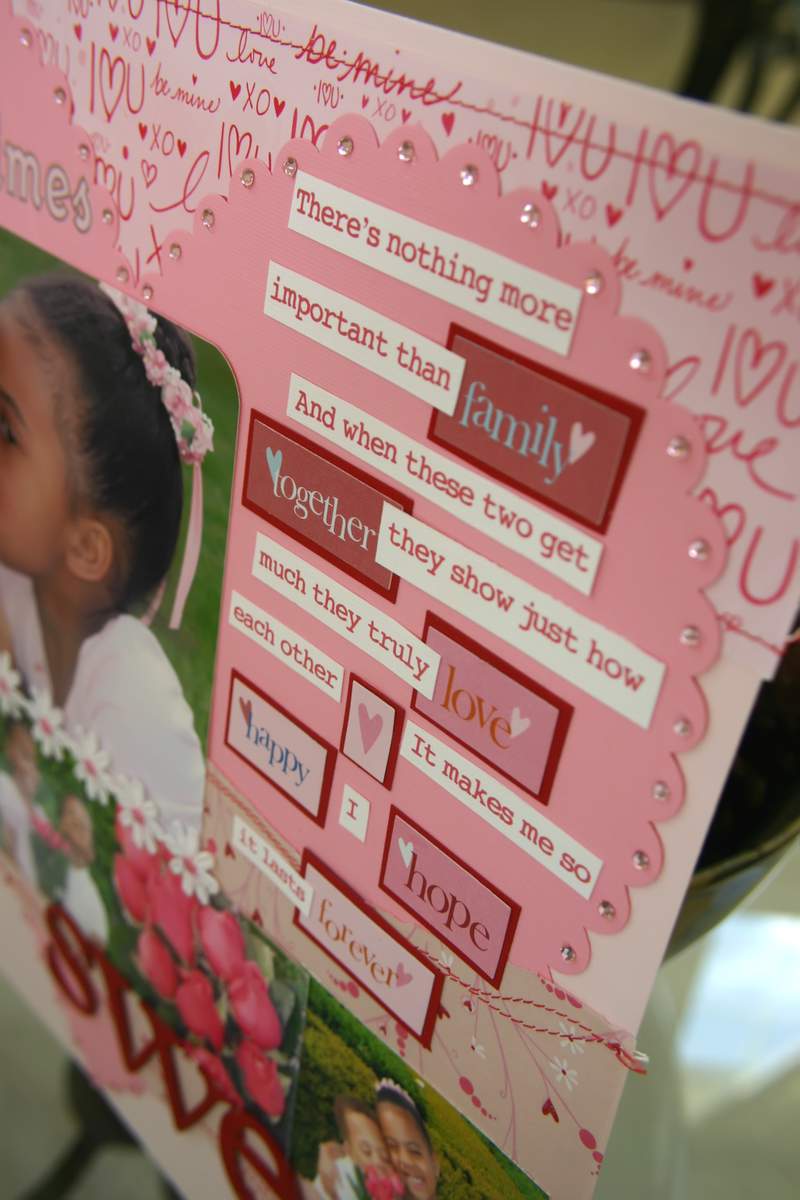 Cameron and Jordy are just like any other brother and sister.  They get into their little scrapes with each other, but they also adore each other as these pictures demonstrate. 
Of course when they're sweet like this, that makes mom very happy.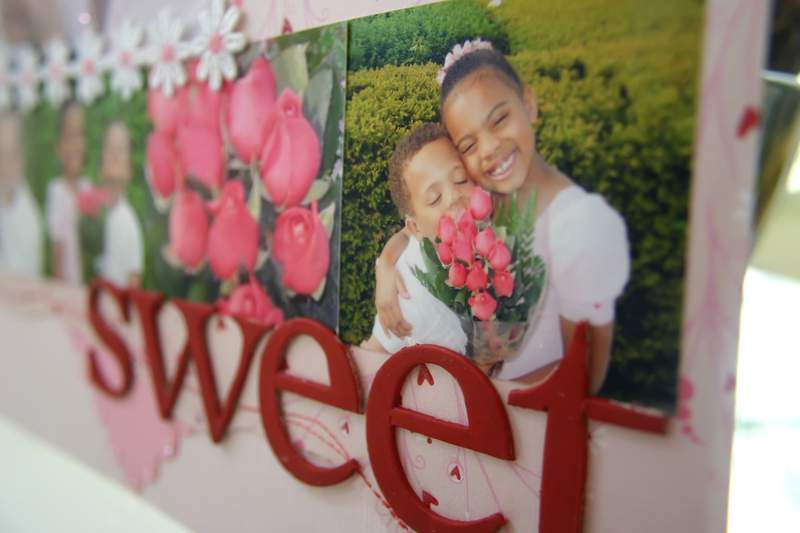 While on the subject of siblings, take a look at the page below featuring another pair of siblings-my mom and her sister.  This scrapbook layout also appears in the 601 Great Scrapbooking Ideas publication.
In the "now" photo, my mom is on the right.  In the "then" photo, she's on the left.
I think the 1941 black & white photo of the two of them as young girls is simply priceless.  I have a twin sister and I can definitely attest to the special relationship that sisters share.
You can probably tell from my scrapbook pages that I love to use lots of embellishments.  I think the trick is to make them all work together without making the page look too heavy, crowded or overdone.
Rubons are another favorite supply.  They're really easy to use and there are thousands of rubon choices on the market.   I think that these phrase-rubons add a perfectly elegant touch to the layout .
Once again, you'll find a little chipboard somewhere on most of my pages.  In this case I painted a chipboard scroll as well as chipboard letters to spell out the title Sisters to match the red in the pretty patterned paper selection.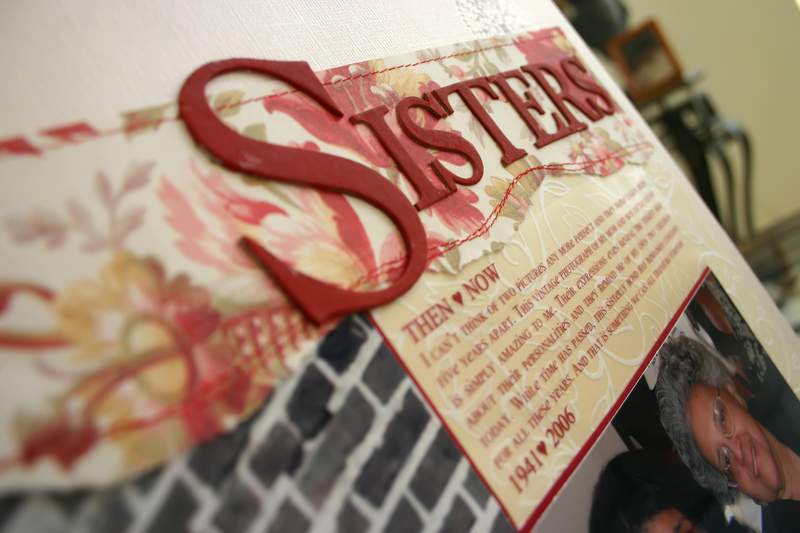 My mom and my aunt were both thrilled with how this page turned out.  I think both photos in this layout are just perfect and so sweet.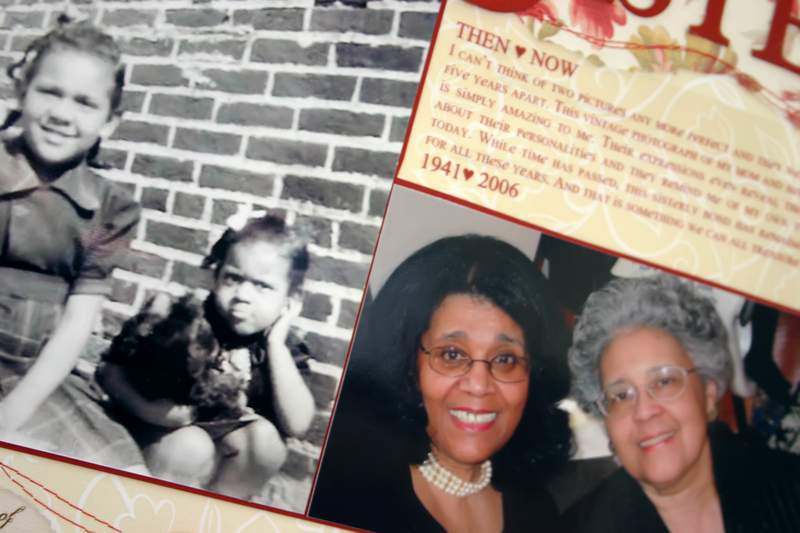 Did I say sweet?  OK, now I'm ready for that piece of chocolate pictured at the beginning of this post. 
Sorry I don't have enough to pass around this time, so the least I can do is share this delicious page below which features lots and lots of sweet goodies.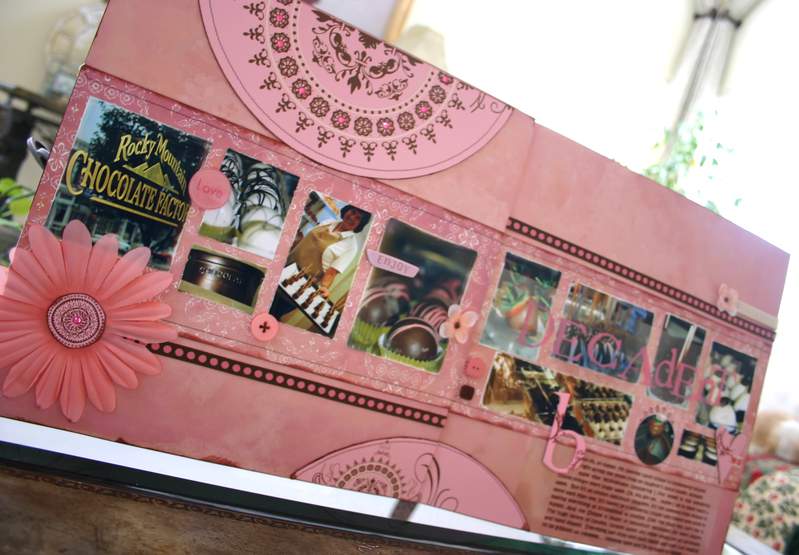 This 2-page layout features photos I snapped from my favorite candy shoppe.  I highly recommend a stop at the Rocky Mountain Chocolate Factory if you're ever in downtown Libertyville, Illinois.
The shoppe is also conveniently located right across the street from my daughter's dance studio, so I think you know what that means.  The owner was nice enough to let me snap a few photos so I could create this scrapbook page.
With hundreds of selections of the finest handmade confections, this local shoppe is always a feast for the eyes and… um… the taste buds and tummy too.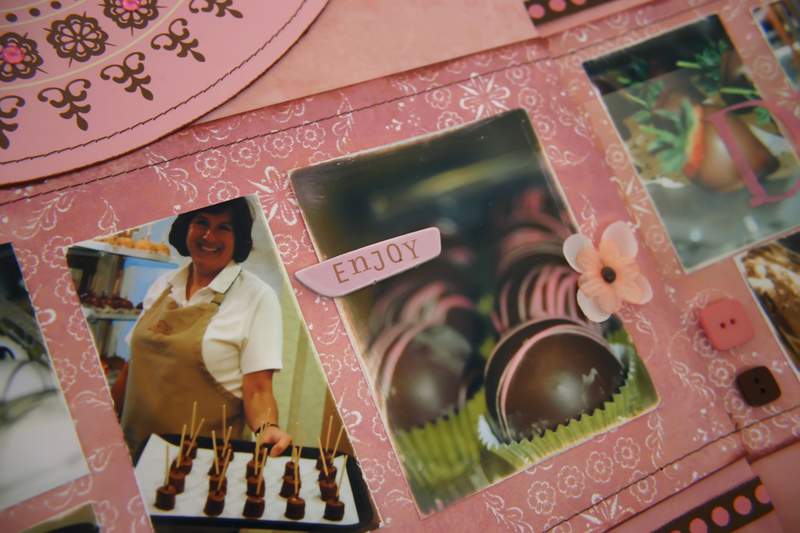 I call this layout Decadent because the delicious choice of sweets in this shoppe are just that.  The title for this page was really simple to create too.  All you need are some foam letter stamps, acrylic paint and a fast drying ink-jet transparency.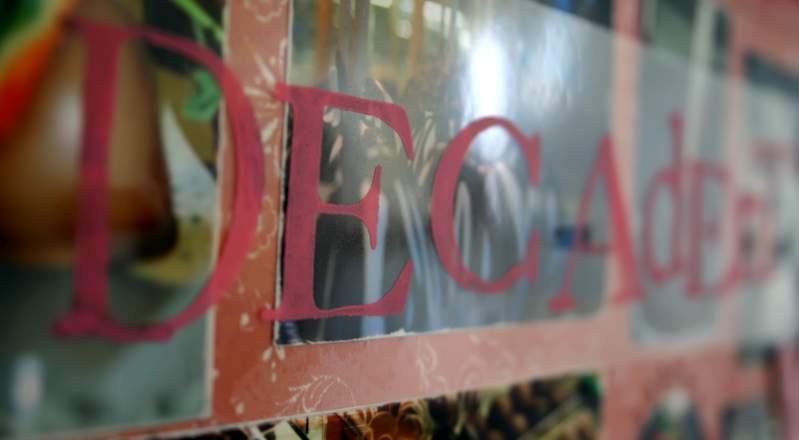 Simply apply the paint to the foam stamp, and spell out your word onto the transparency.  Allow to dry completely.  Trim excess transparency from around the word and apply the title over your layout using very thin strips of double sided tape.
Thanks to the transparency, your photos will show through and the word will appear to be spelled right over the pictures.  I think using this effect is also safer than stamping directly onto your photos.  If you make a mistake it's so much easier to re-stamp a transparency than it is to re-print all the photographs.
For another example of this transparency title technique click here.
When it comes to that trusty chipboard there are also many ways to dress up this staple of a supply too.  For the lead letter in my journalizing below, I painted the chipboard "b" pink and then applied a tiny piece of the rubber stamp image onto the letter in two areas.  I think this is a great little extra detail.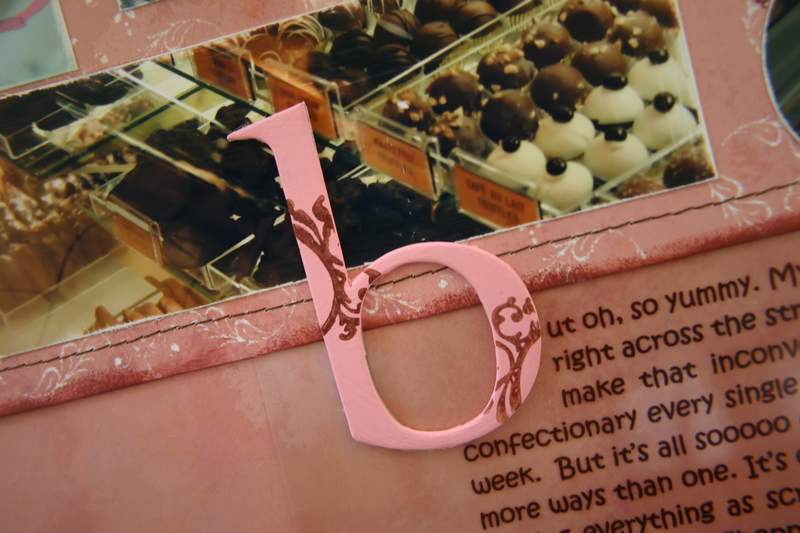 Meanwhile, a great alternative to the standard-size scrapbook page can come in the form of a mini-book.  I decorated the mini-book in the photo below with pictures taken on my wedding day.
This particular book measures about 7" X 4 1/2", but don't be fooled by the small size.  You can still fit a ton of photos and embellishments in these little books and they can be just as illustrative of a special day or event as the larger scrapbook albums.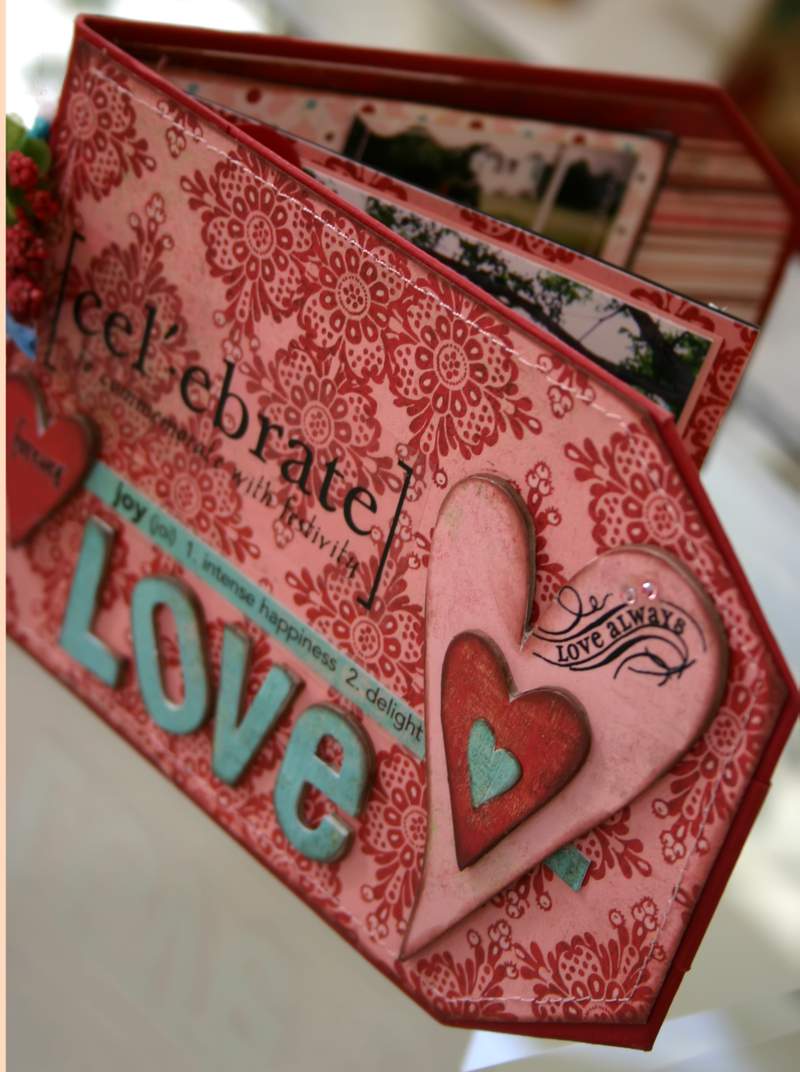 For one of the side-by-side pages, I decided to keep it pretty simple.  After covering the page with patterned paper, I machine stitched around a pre-printed "cherish" definition which was on a piece of vellum.  Then, I simply mounted the vellum phrase onto a piece of pink cardstock and added a heart-shaped die cut.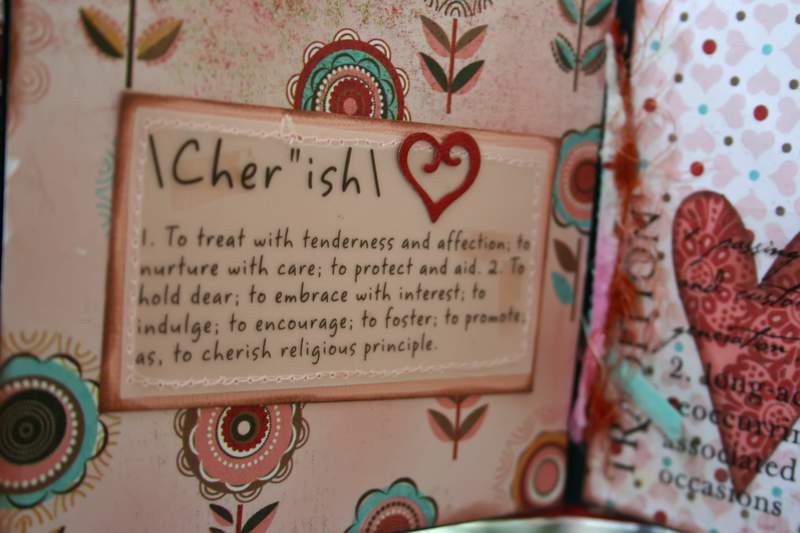 This was  a really fun project to create, mostly because it took very little time at all to complete.  For those days you don't feel like spending hours and hours on a page, this may be the perfect project.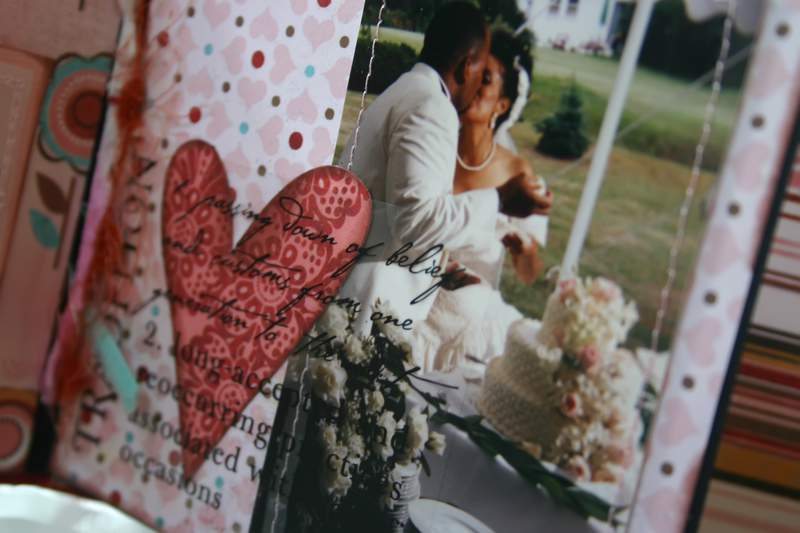 Taking a closer look at the outside of the mini-book, you can see once again that chipboard is a great accent.  In the photos below I used several layers of self-covered chipboard hearts as well as chipboard letters to spell out the sentiment of the day.
This mini-book project was featured in the book Ask the Masters-Making the Most of Your Scrapbooking Supplies published by Memory Makers books.
As you can see, sweet things come in all shapes, sizes, projects and for that matter… taste buds.  Now that has me thinking of chocolate again.
True chocolate lovers always know how to bring the conversation back to chocolate, don't they?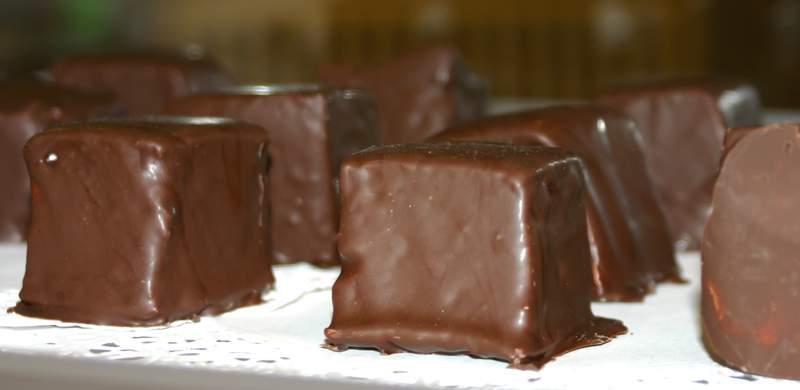 Like I said, love is in the air and that's always delicious.