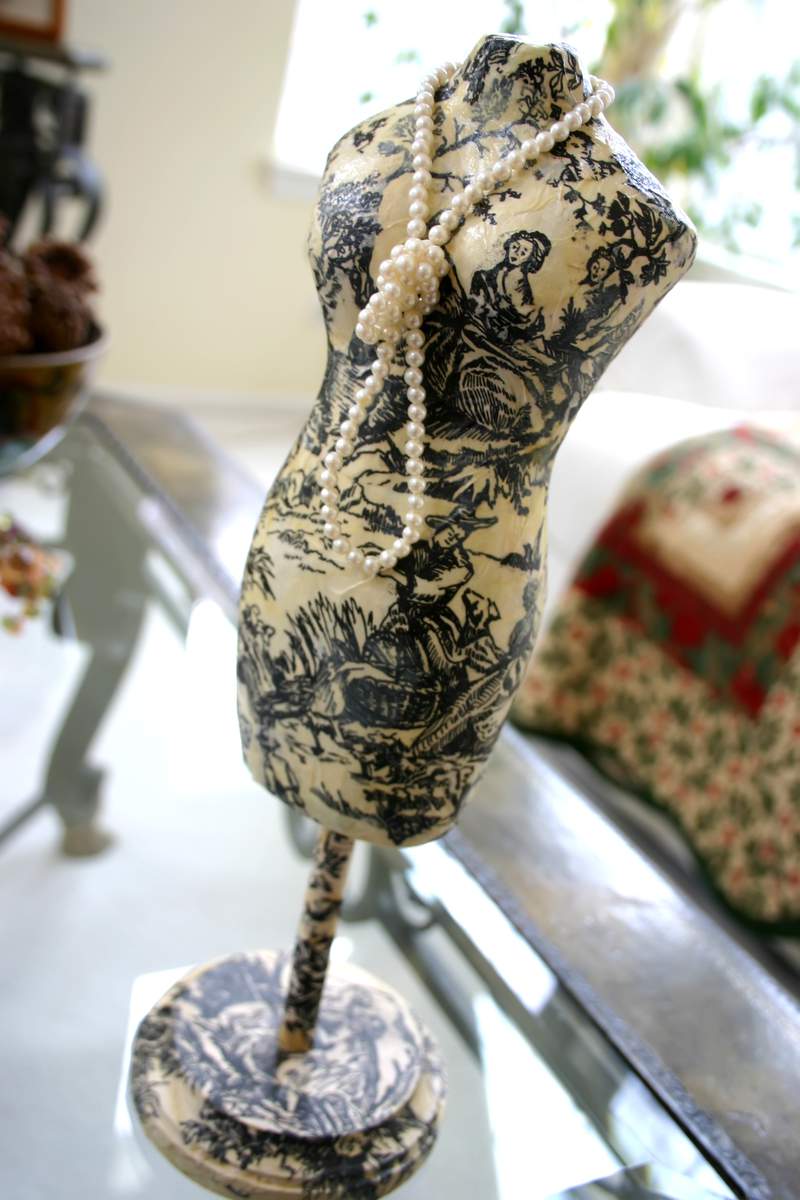 We've all heard the saying waste not want not, right?  Well, that's a popular saying that takes on new meaning with this next project.  I made this little dressform on a bit of a whim. 
I was surprisingly inspired by an everyday item that might have otherwise been tossed in the waste basket. 
It's always a treat to turn trash into a small treasure.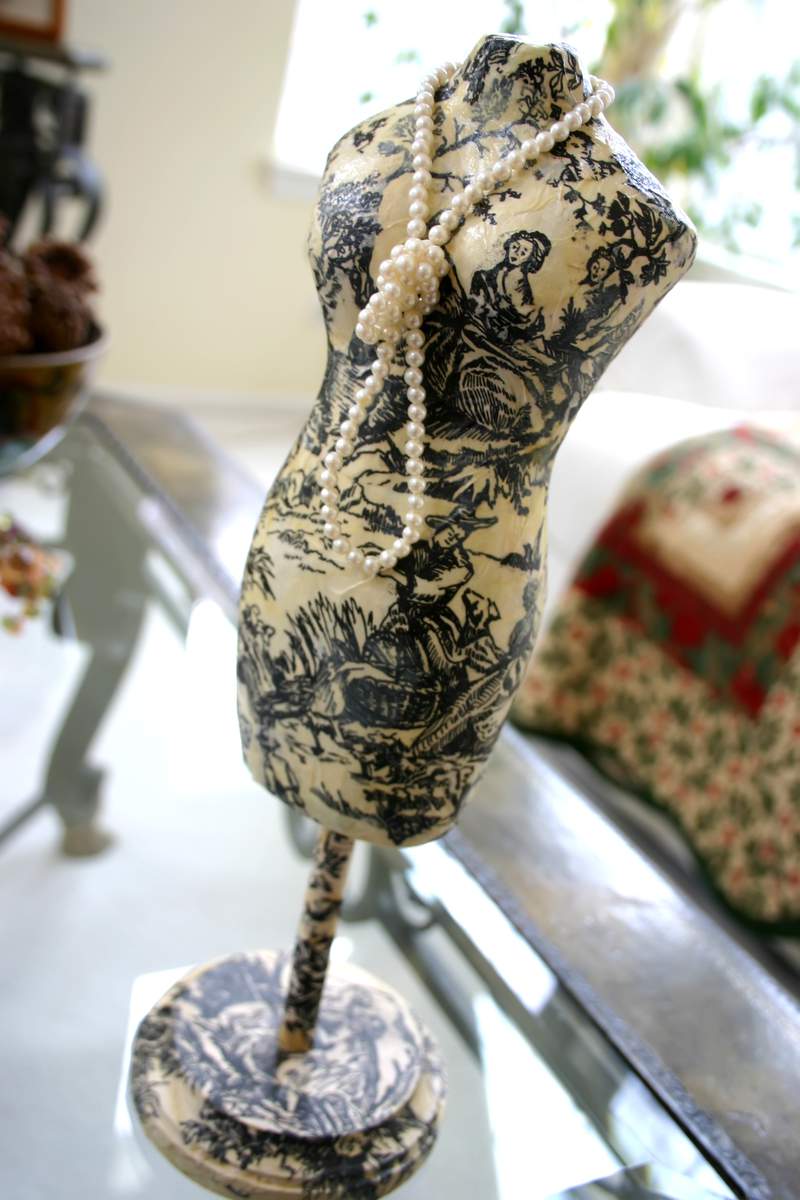 Allow me to back up a bit and start from the beginning.  This project was set into motion after my good friend Beena gave me these four pretty little vintage-looking jars in the photo below. 
Beena is also a scrapping buddy who knows I love to store my craft supplies in unusual containers.  These jars are simply perfect.  I love them and already have one of them filled with colorful crafting buttons.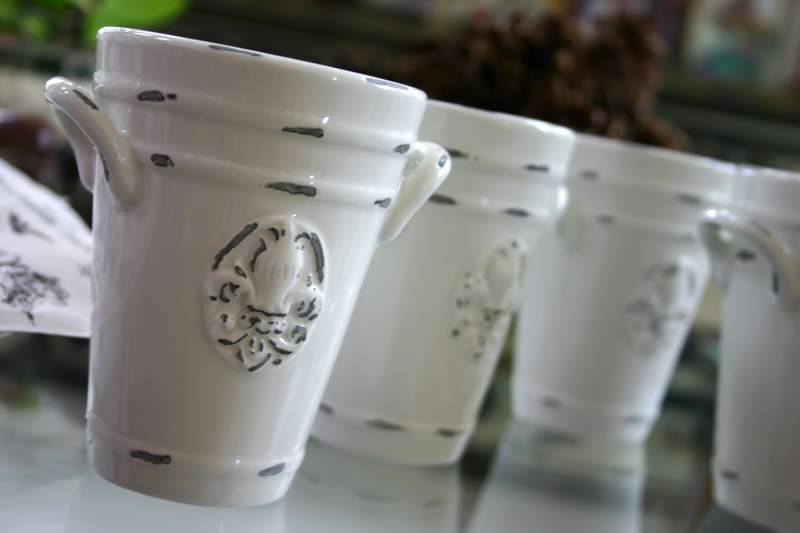 Anyway, the beautiful jars were wrapped in this equally pretty tissue paper.   Of course, because I love all things toile, I simply could not bring it upon myself to throw away the pretty black and white print or the complementary checkered tissue.  I was sure I could come up with something to do with it. 
See how a crafter's mind works? 
This is another really easy project that will take you almost no time at all to complete.  You only need a few other supplies including some decoupage finish, a few wooden dowels, a wooden base and paper mache' dressforms. 
In addition to the supplies (which can be picked up at any craft store), you'll need a craft drill with a bit the size of the wooden dowel.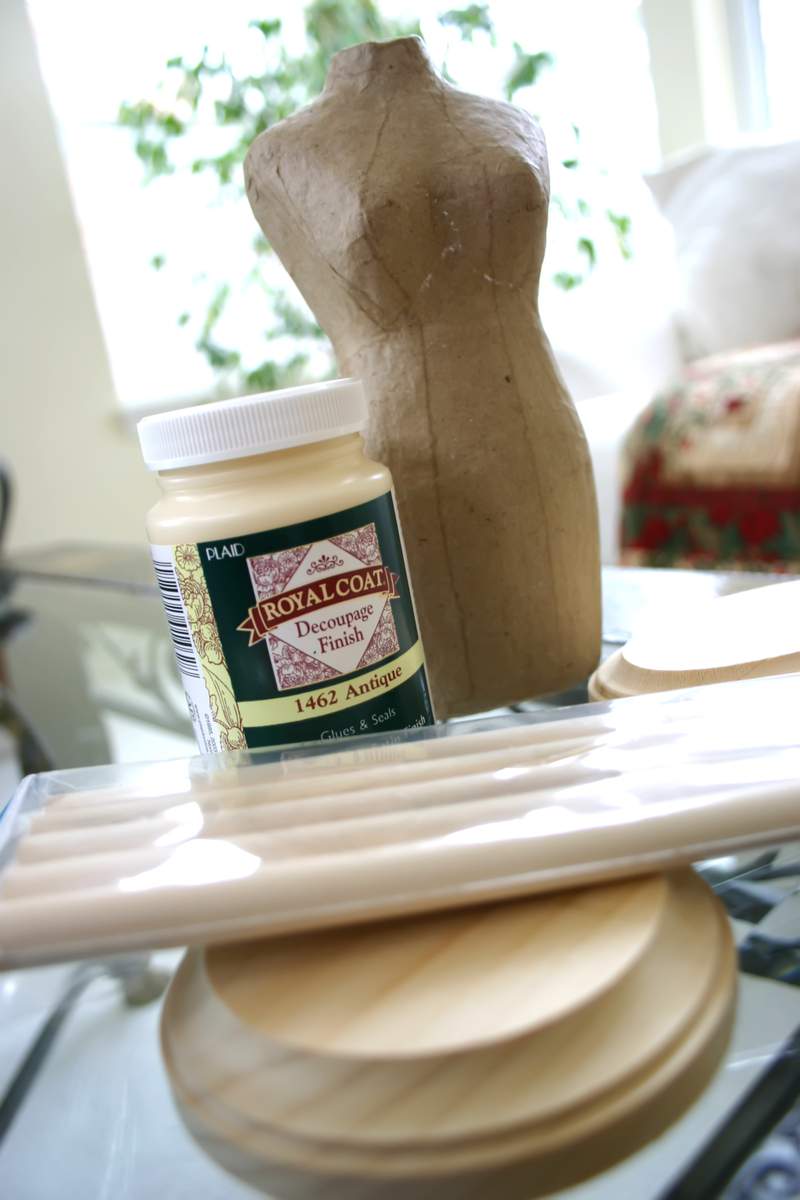 Painting the paper mache' dress form is entirely optional.  However, I decided to cover it with ivory acrylic paint because I wasn't quite sure how transparent the tissue paper might become once it came in contact with the decoupage finish.  Better safe than sorry.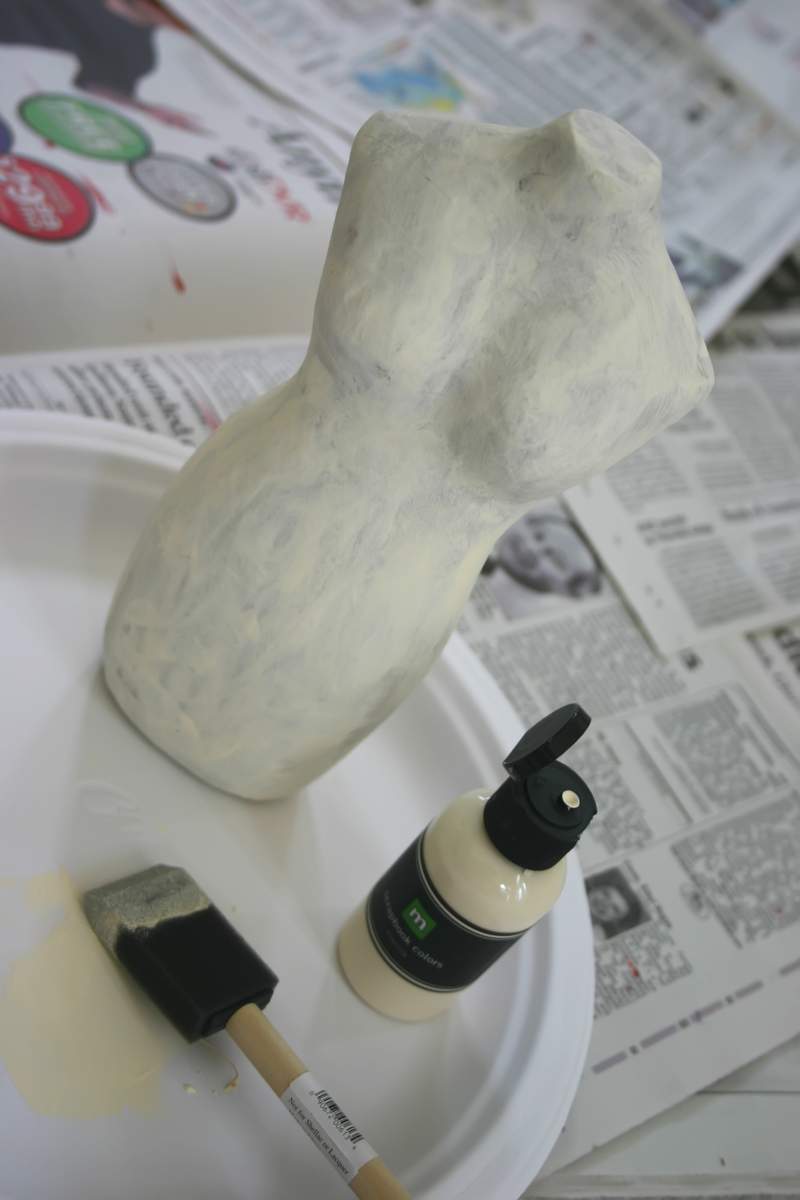 Next step is to apply small torn pieces of the tissue paper all over the dressform.  This toile pattern was so easy to work with and I didn't have to be precise about paper placement.  It all just blended together really well.  That's the beauty of toile.
Using smaller pieces of tissue around the curved areas of the dressform will help the paper lay flat.  However, you may need to smooth the paper down with your finger to ensure there are no wrinkles in the application.
Apply the same technique to cover your wooden dowel as well as the platform base.  If the base has ridges, you may need to set aside your foam brush and use your fingers to smooth the paper and decoupage finish on.  This way you can make sure that the ridges actually show through the paper neatly.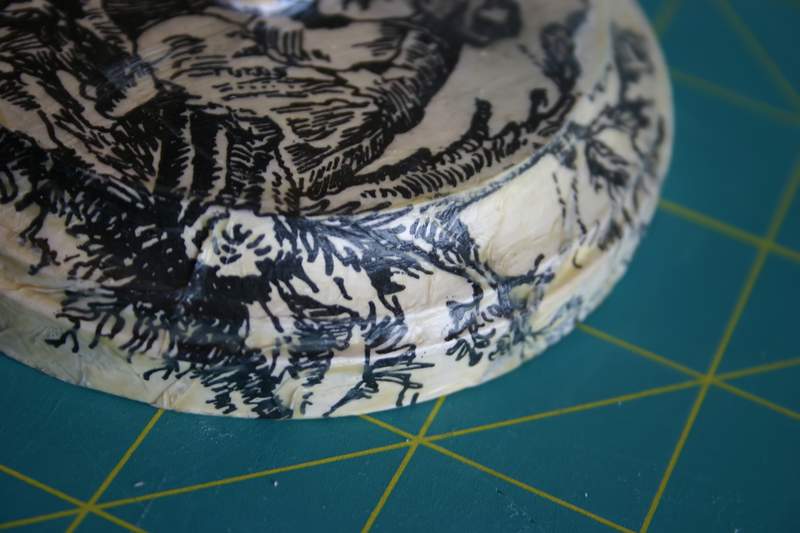 Use your drill to put a hole into the bottom center of the dressform.  Make sure the bit size is correct size.   If you're not sure, it's better to start off with a drill hole that's too small at first than a hole too large.  You just want to make sure the hole is not too large for the dowel to have a nice snug fit.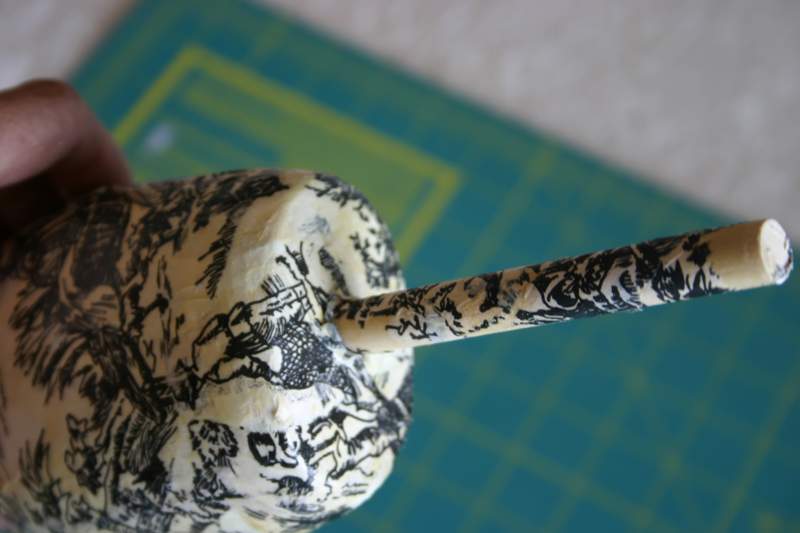 Drill the same size hole in the center of your platform base.  Even with a snug dowel-fit, you should also apply a small amount of wood glue inside of the dressform hole, as well as on the tip of the other end of the dowel to help the dowel stay in place longterm.
Every pretty girl needs a string of pearls and this lovely lady is no different when it comes to getting a stand of her own.  I think the jewelry adds the perfect finishing touch.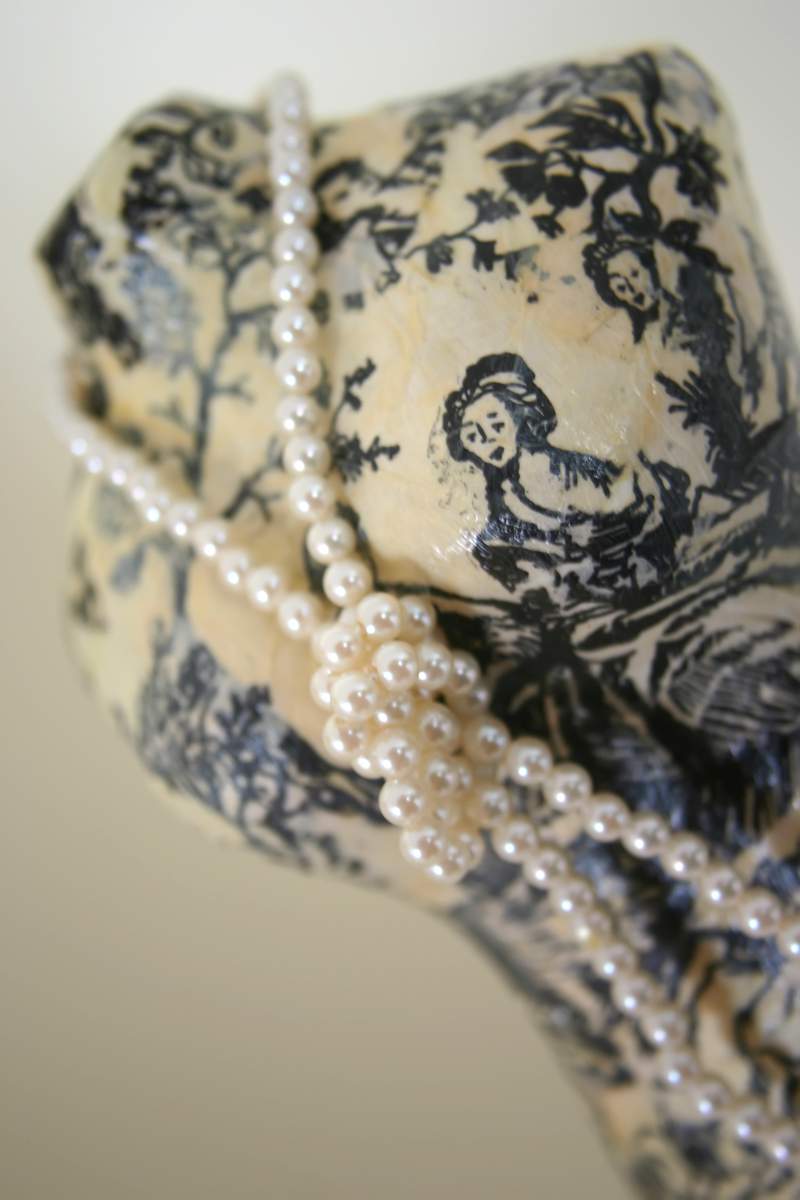 I'm pleased with the way this turned out, especially considering it was a spur-of-the moment project.  I'm sure my friend Beena, had no idea when she handed me the pretty ceramic jars that she was actually giving me more gifts than one.  Thanks Beena!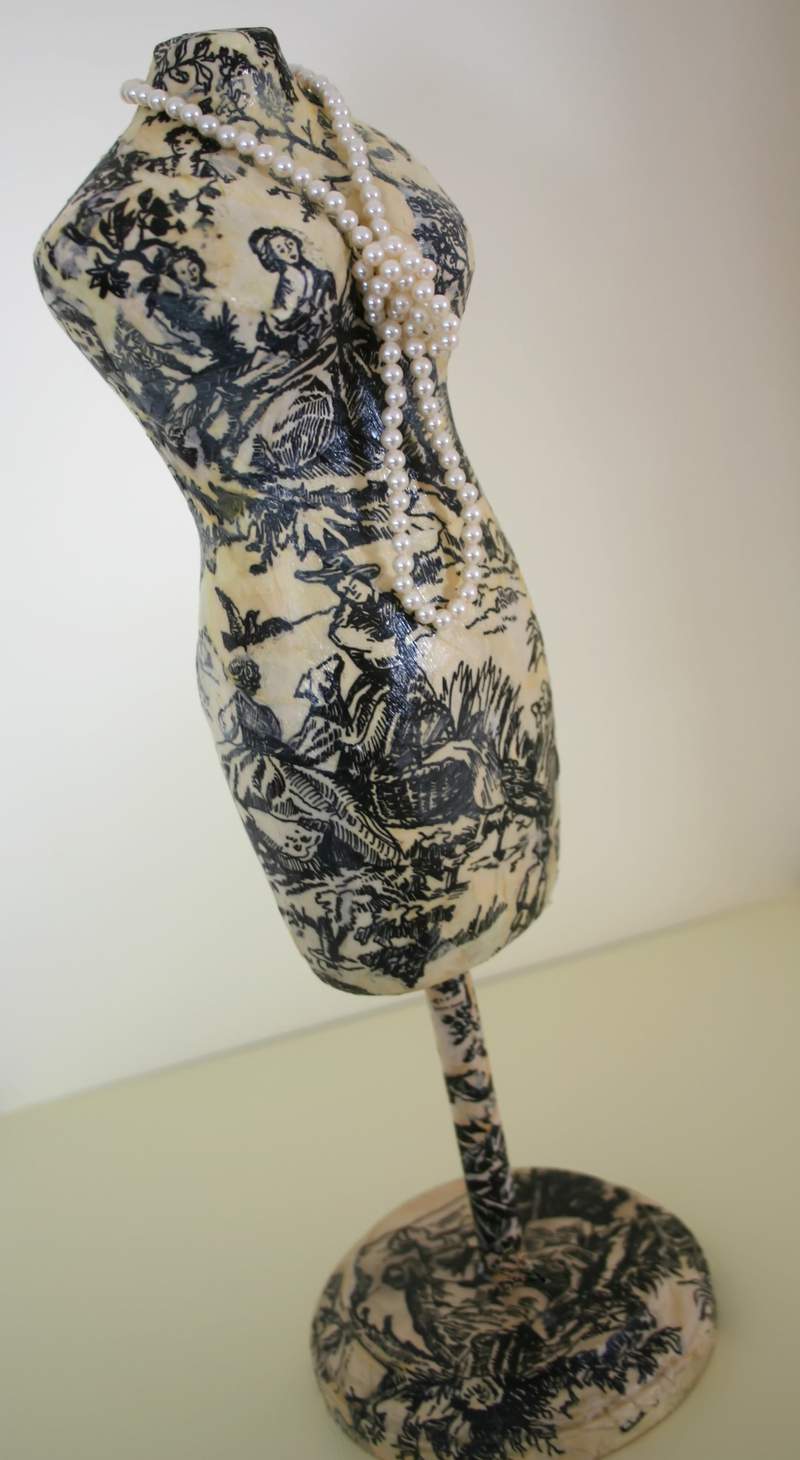 Meanwhile, the next time you get ready to toss out that pretty printed tissue paper, you may want to think twice and consider the possibilities.  Remember, waste not want not.