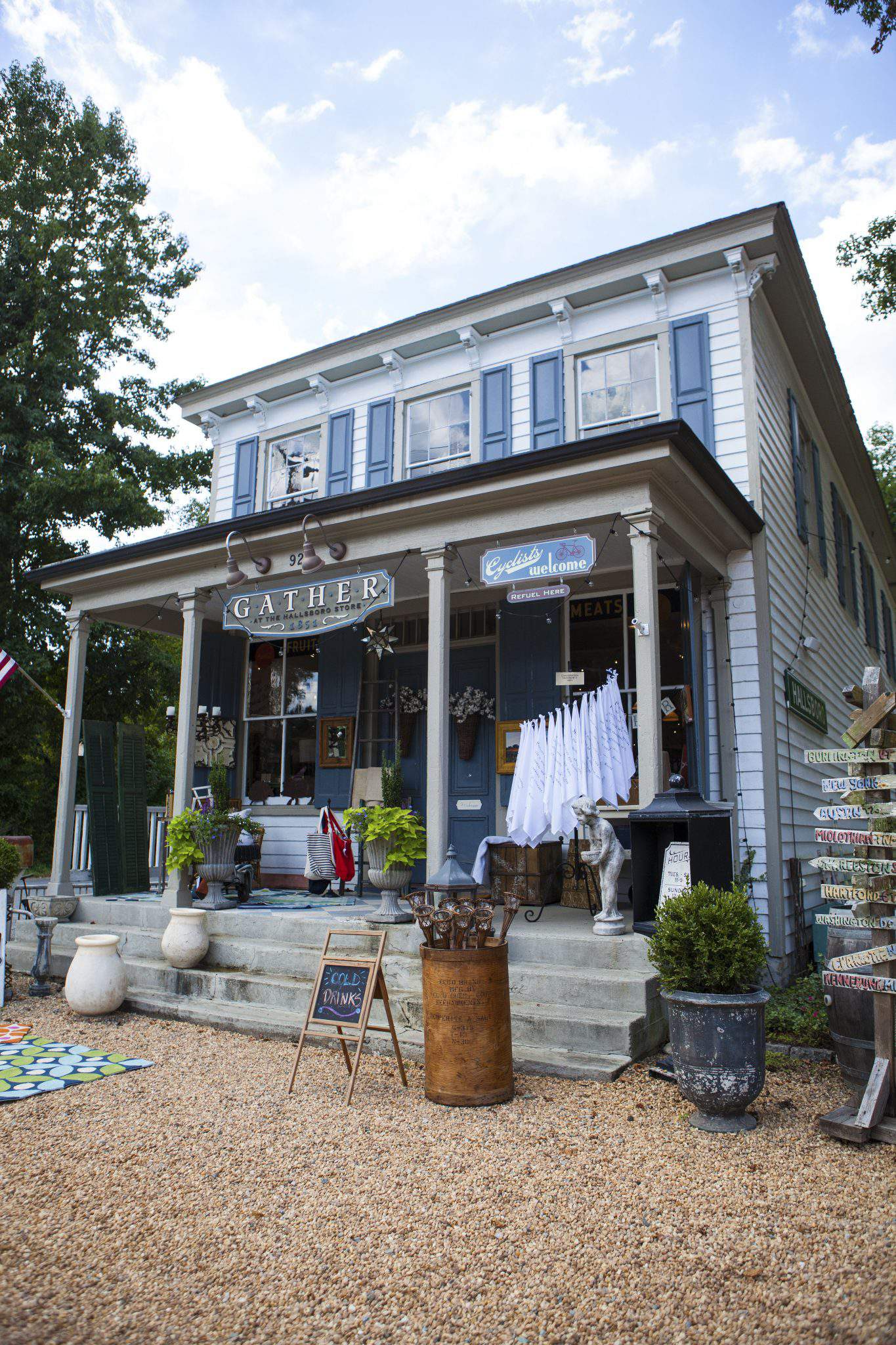 I'm a hunter and gatherer.  That's a fun way of saying I'm an avid browser of flea markets, country stores and thrift shops.
I'm always on the lookout for lovely little finds.  Maybe you are too.
Whenever I come across a shop off-the-beaten path and tucked away on a country back road… well, I just have to stop and look around.
My latest stop at this rustic shop, inspired my tea towel transformations and this post.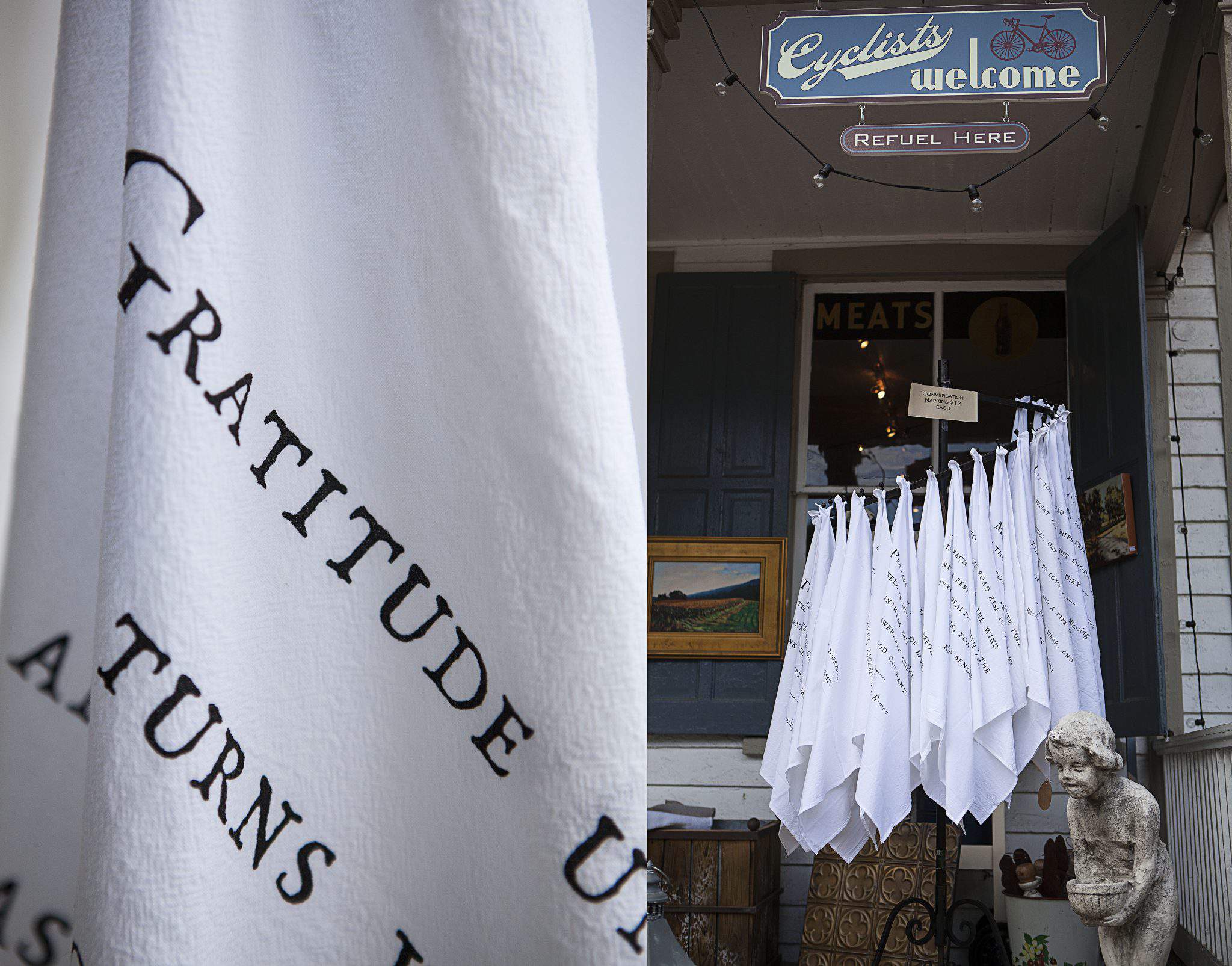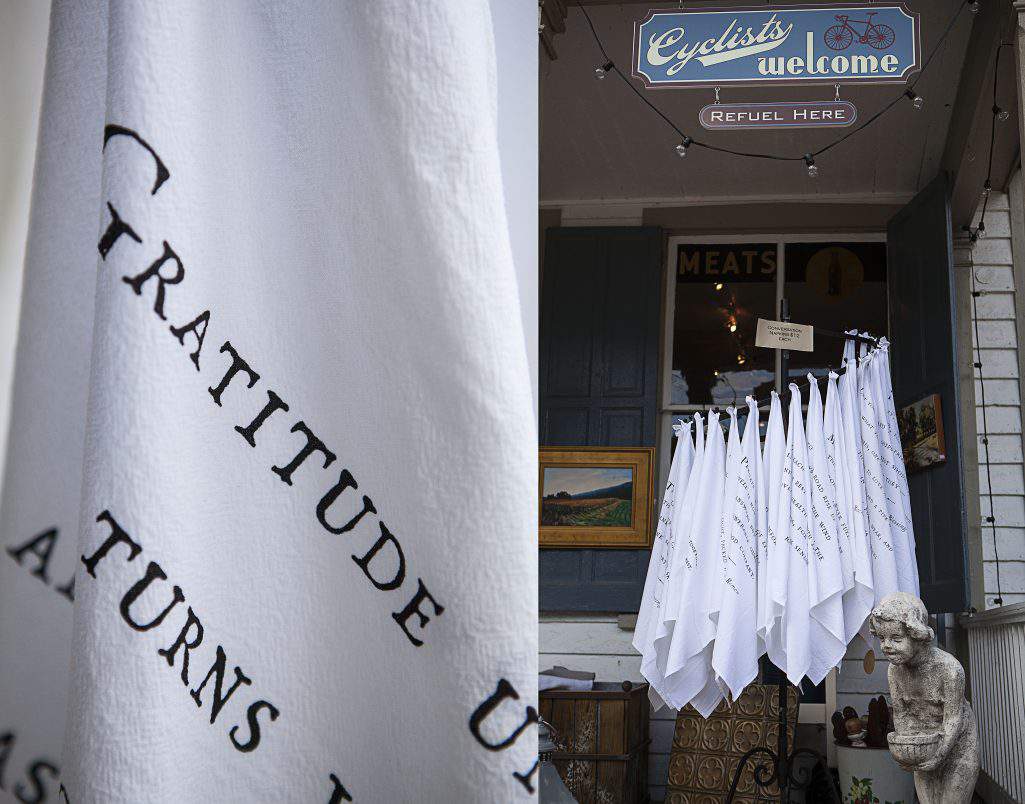 I've written about Gather before and you can see more of this lovely country boutique and read my interview with the owner in an earlier post HERE.
During my last visit to this shop, one of the first things I spotted were these cotton tea-towels on the porch.
There's just something about crisp, white linens and cottons that get me all goose-pimply with glee.
These tea towels had a little something extra too. Each one features a simple, elegant,  thought-provoking quote.
Some of the familiar phrases and quotes come from notables like Earnest Hemingway, Buddha and John F. Kennedy just to name a few.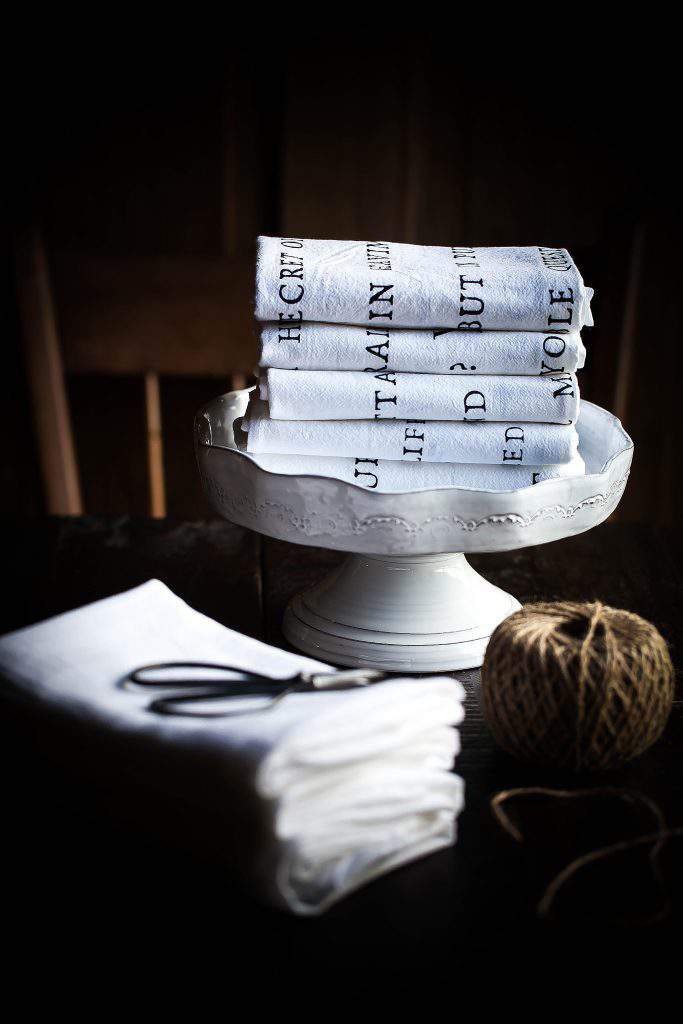 I couldn't resist buying more than one (and they match the plain white flour sack cloths already  in my stash).
When I got home, I started thinking about the best way to put my new tea towels to good use.
As you'll see throughout this post, several fun ideas came to mind.
Tea towels can be so versatile, as you'll see throughout this post.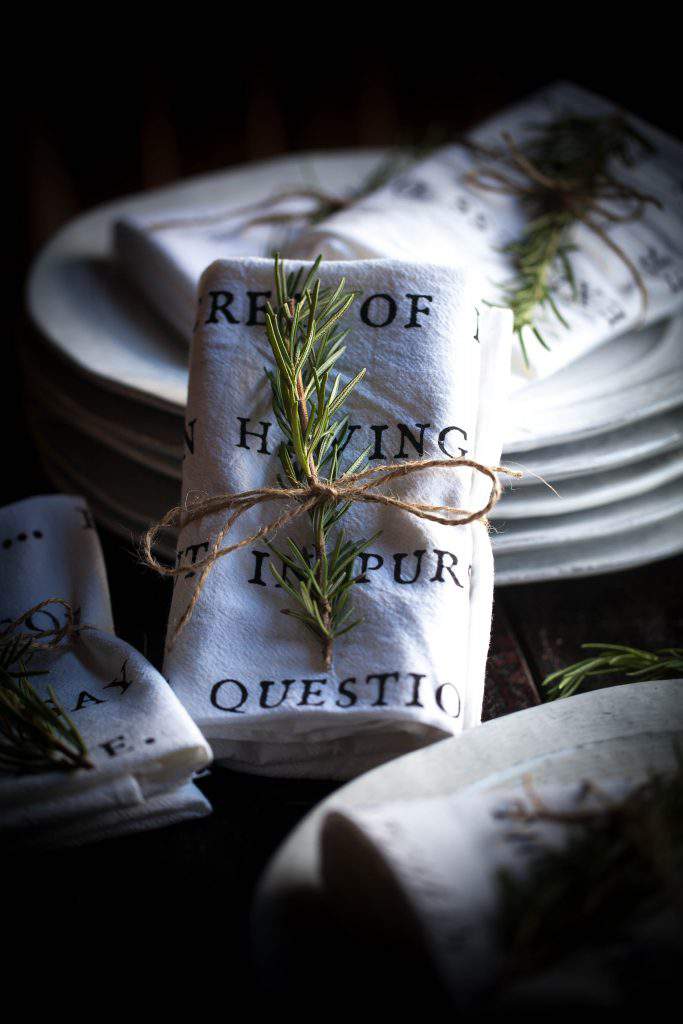 I think they would make gorgeous napkins… although, I'm not sure I really want anyone wiping lasagna off their hands with these pretty towels.
They still look great when folded, wrapped in jute with a twig of rosemary.
How awesome would these look on each plate at a dinner party?
If you're feeling especially generous, these would make great dinner guest parting gifts too.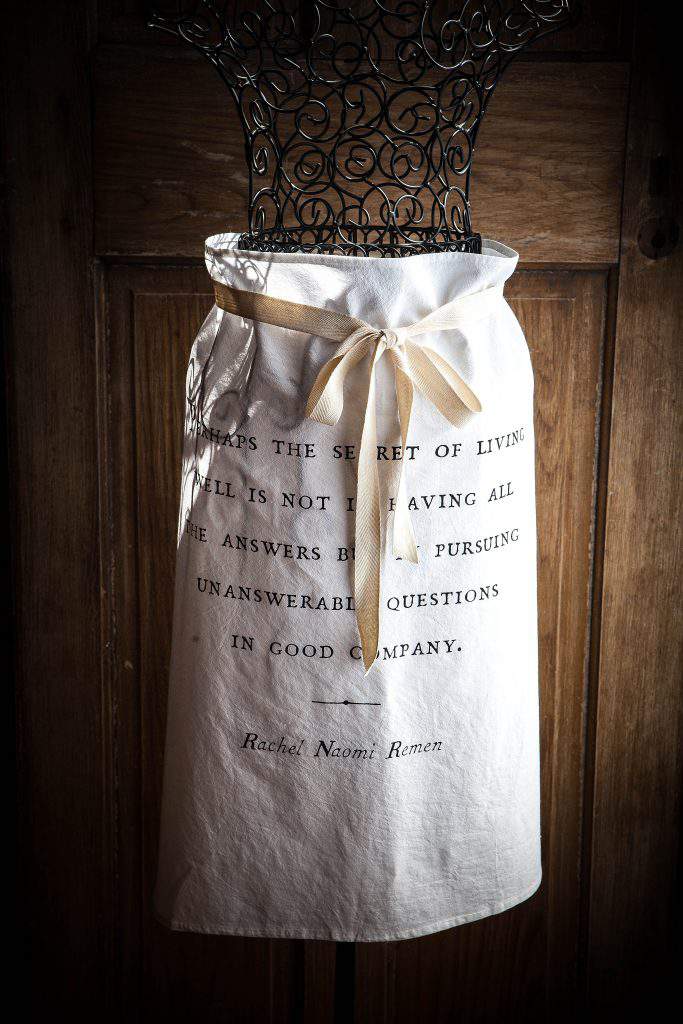 Now, this is another tea towel transformation that doesn't get any easier.
I had some twill ribbon on hand and I just machine-stitched a strip to each upper corner of the towel.
Voila. Instant apron.
Don't you just love the simplicity of this?  Me too.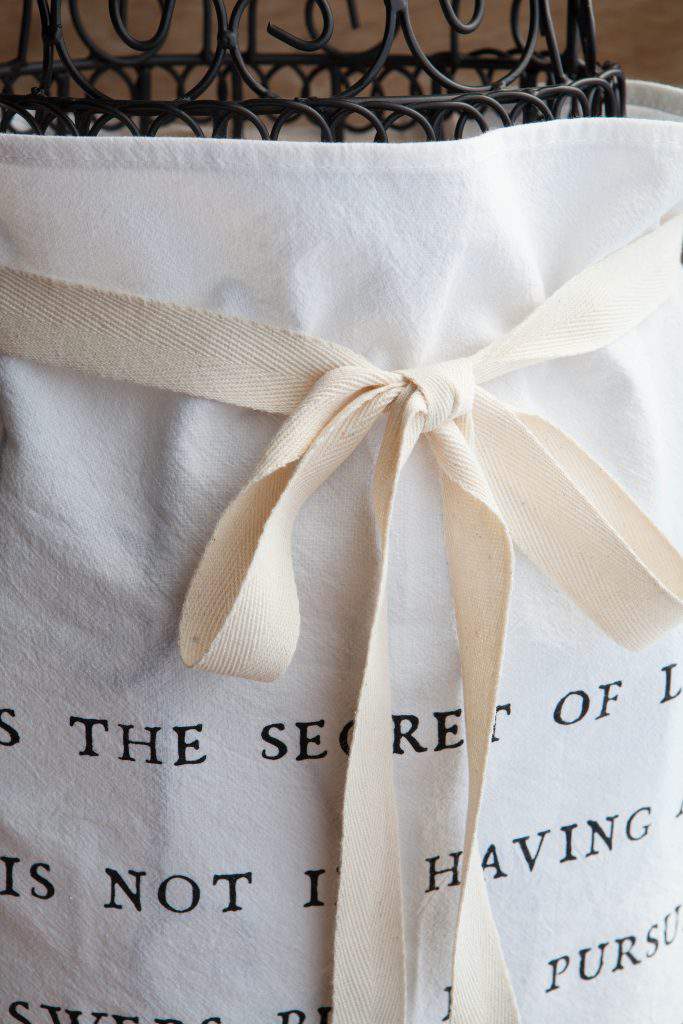 Of course, you can always use pretty tea towels the way they were meant to be used.  Although, I rarely use pretty towels like this for drying dishes.
I definitely have a thing for finding new, inspired uses for them.
Oh, if you missed my previous post on framing a favorite tea towel, you can check it out HERE.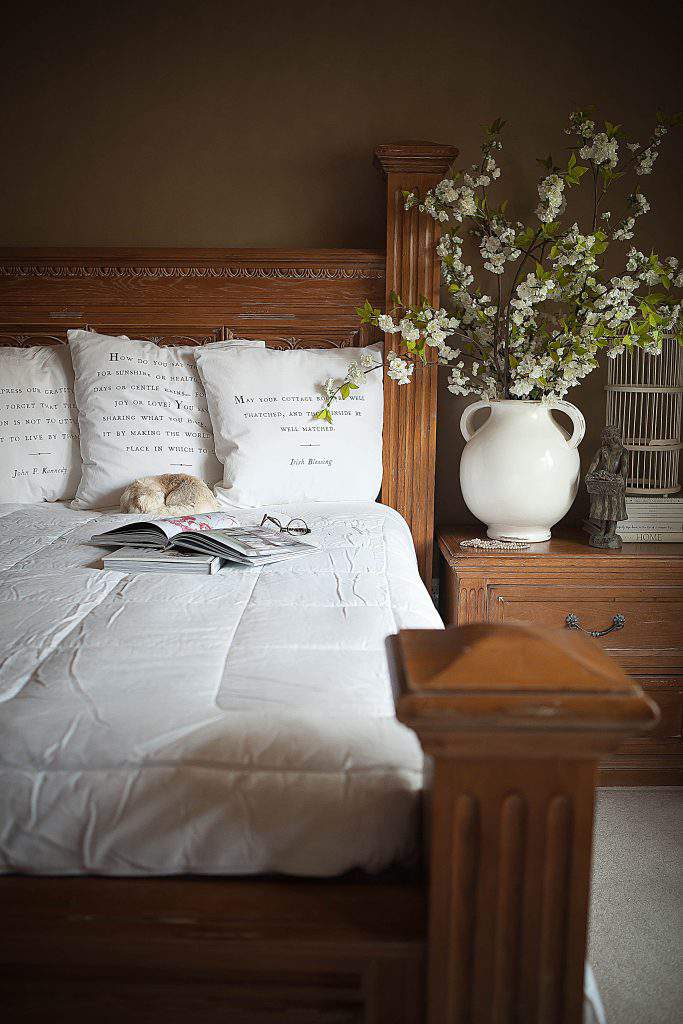 Another way to use tea towels is to turn them into throw pillows.
Since the towels are a little oversize, they make for equally gorgeous, oversize pillows.
Very casual and comfortable looking.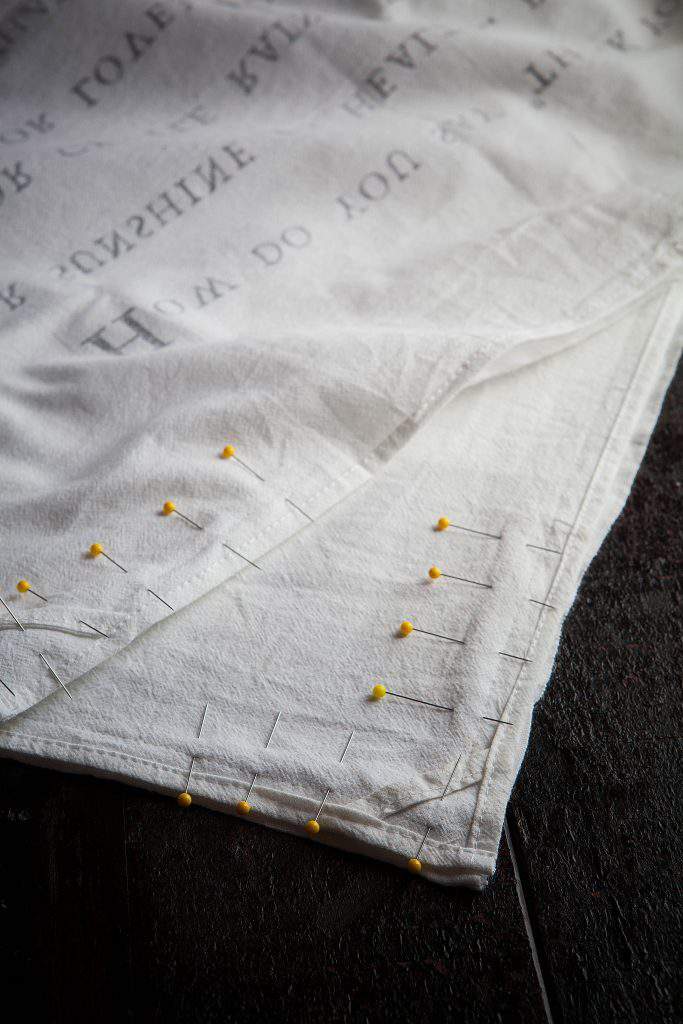 I didn't even have to buy any new fabric for a pillow backing.
This was a nice way to use a few of those plain, white flour sack cloths.
Pin right sides together and stitch all the way around the tea towel to form a pillowcase.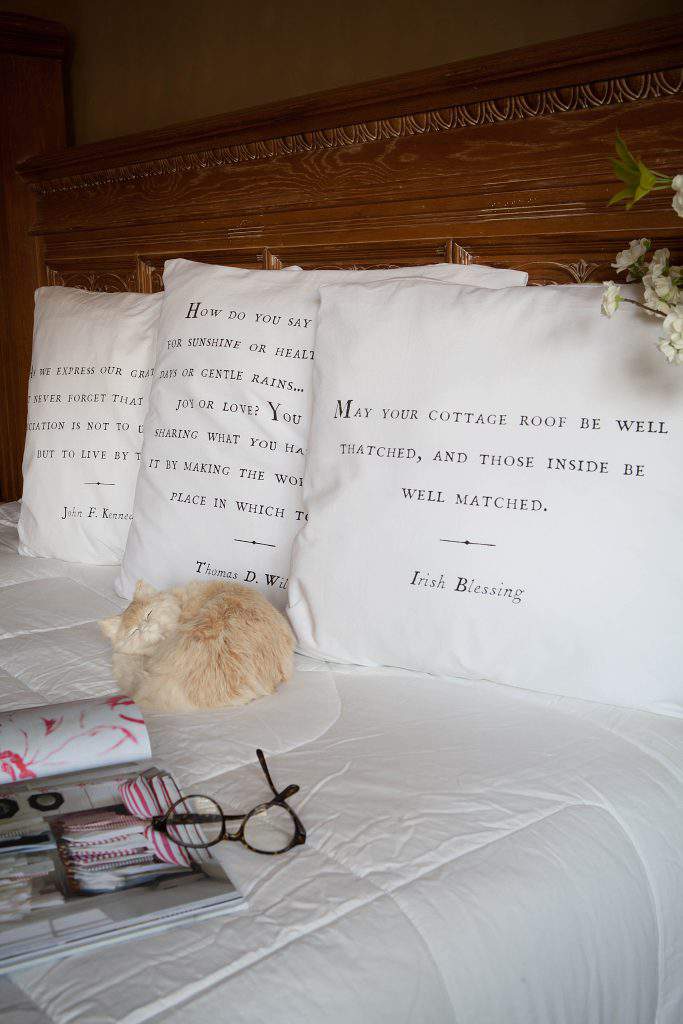 Leave a small opening in the bottom of the pillowcase.
Insert pillow-form and close the opening with a slip-stitch by hand.
Always close handmade pillowcases along the bottom of the pillow.
That way, when the pillow sits upright, the hand stitching will always be concealed.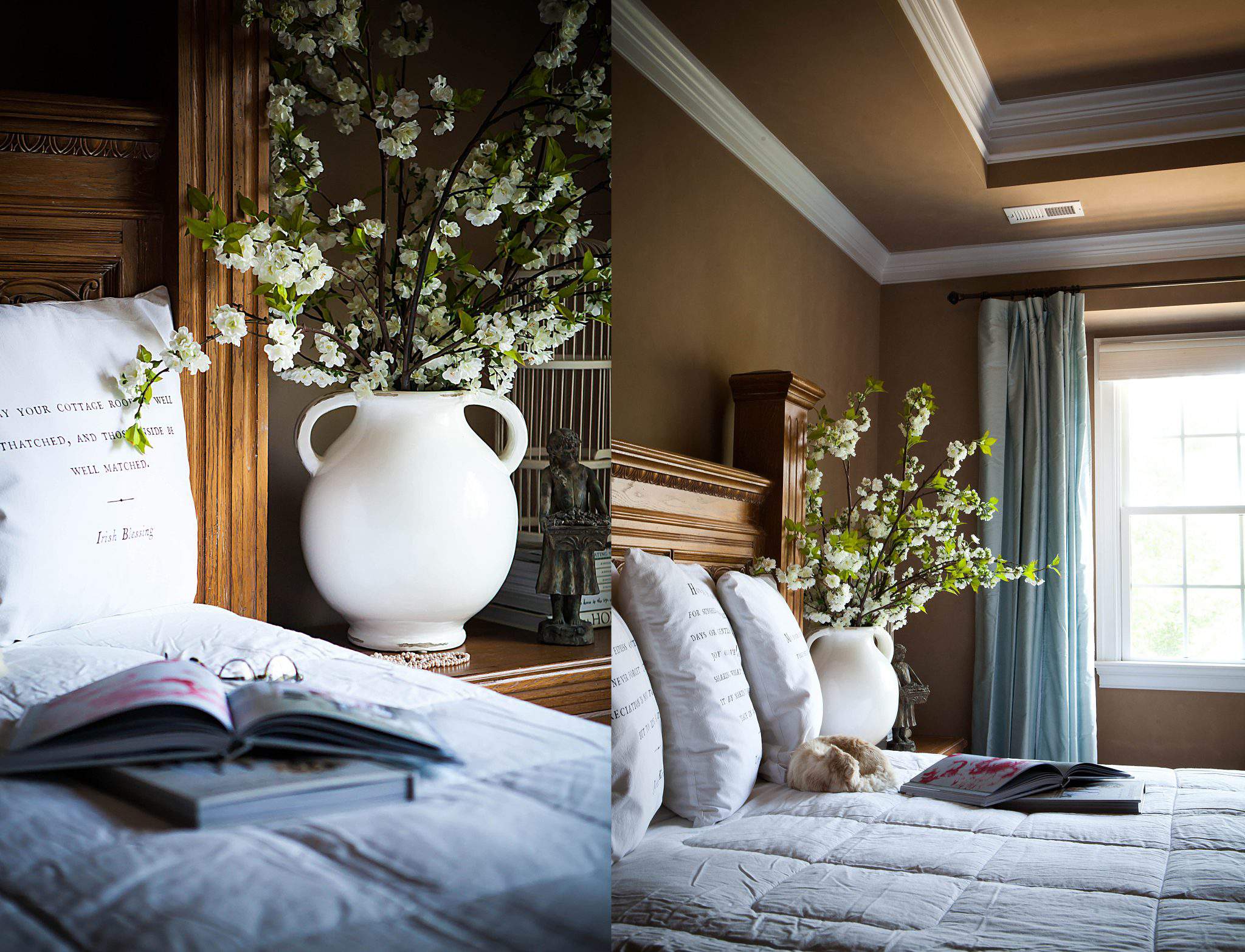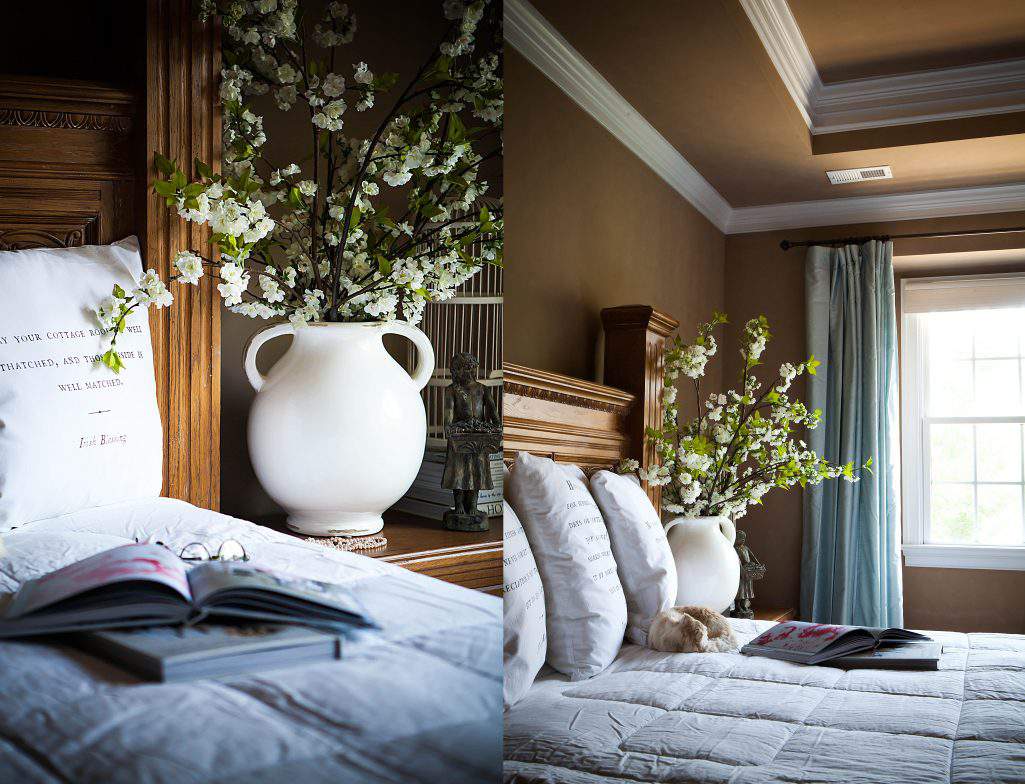 I typically have slightly darker bedding in this room which tends to make the space a little on the dark side.
However, the introduction of these white pillows and a white comforter really brighten up the room more than I initially imagined.
Just gotta keep the kids from dive-bombing the bed if I want to keep all this fresh, white bedding clean.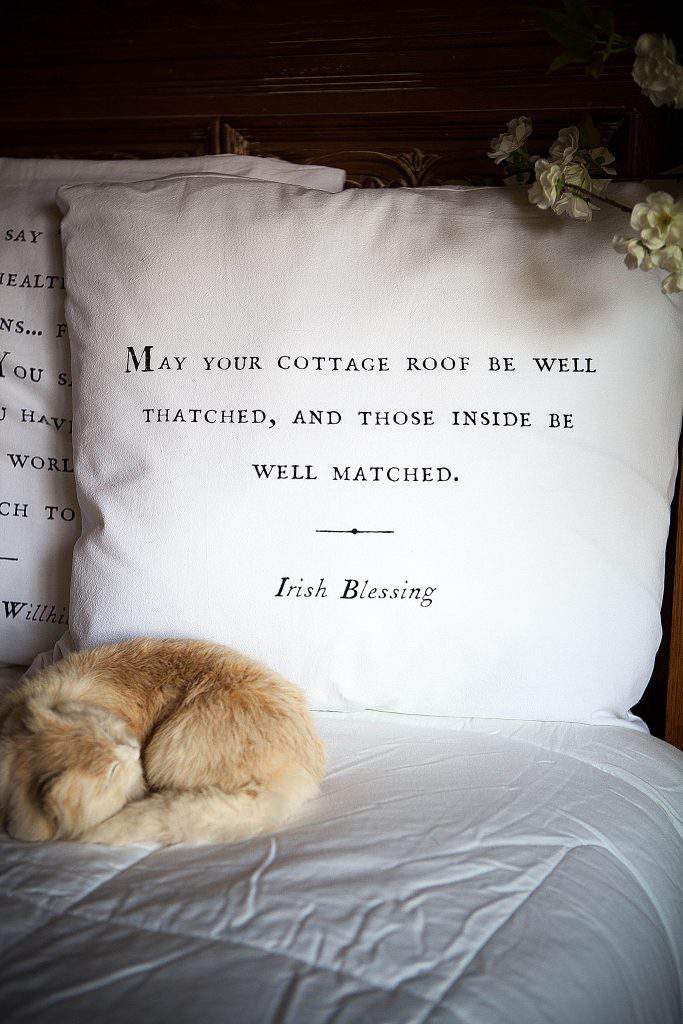 Are you wondering how my sweet kitty can be such a sound sleeper?
That's because Clarice the cat is a faux feline.
Fooled you, didn't she?
I don't think my kids have ever fully forgiven me for not welcoming a real cat (or dog for that matter) into the house.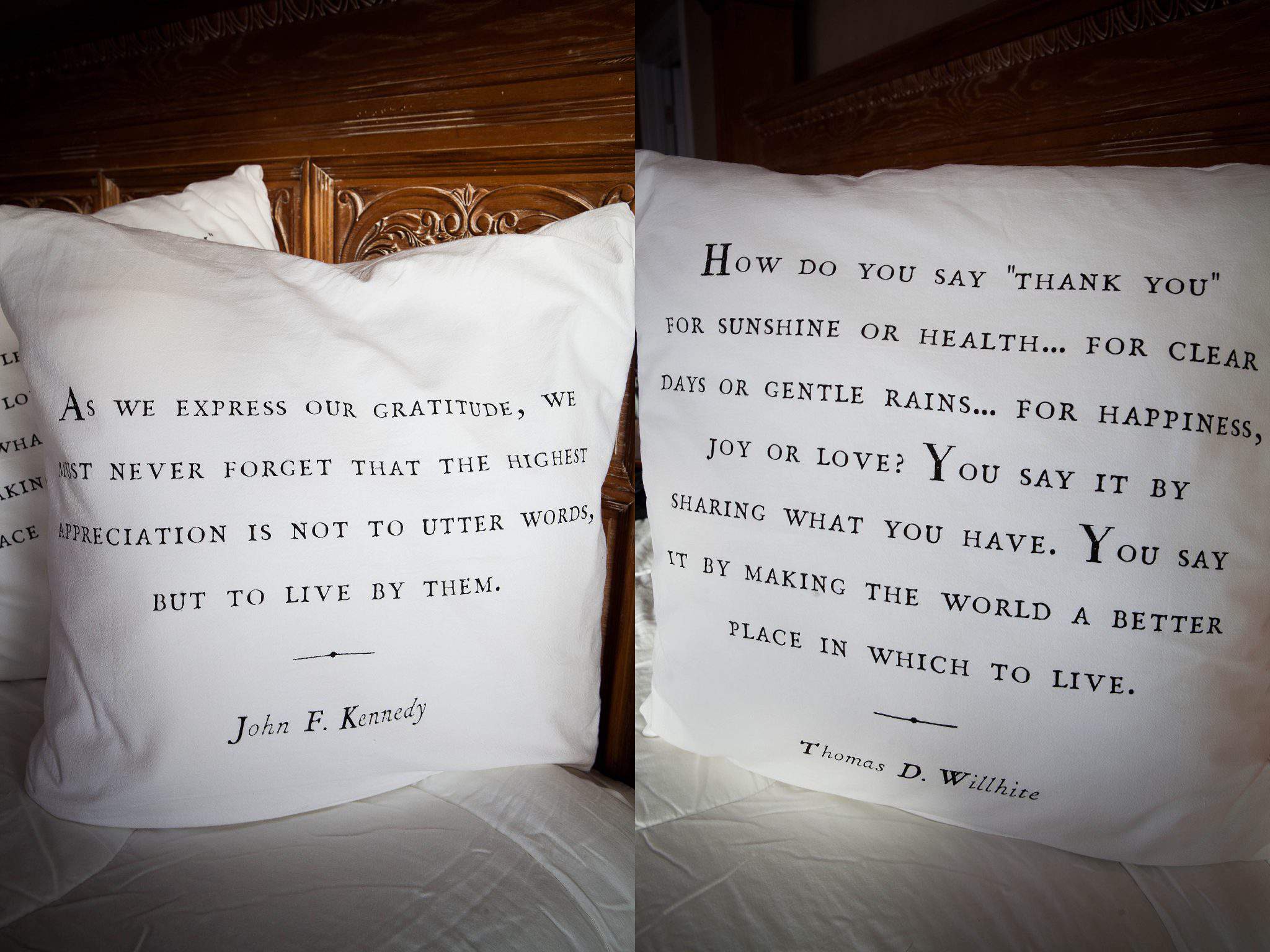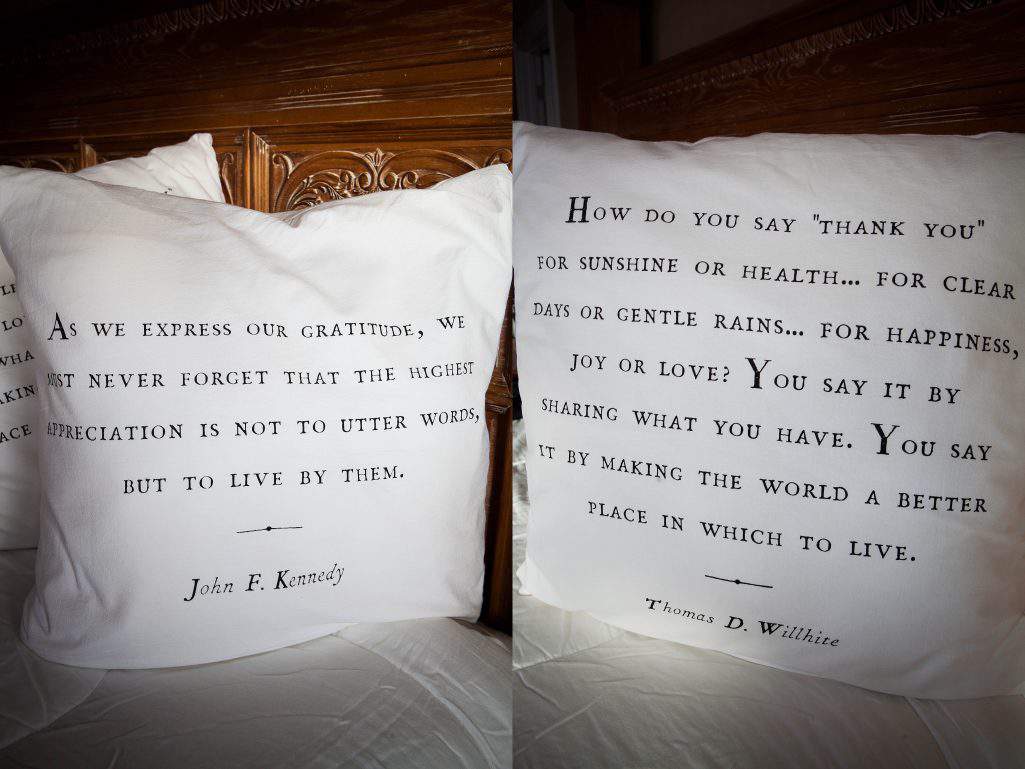 Here's a closer look at the full quotes for the other two pillows I made.
I think it's a nice change in this bedroom and I'm smitten with the trio of pillows stacked together against the headboard.
It's all so crisp, sweet and simple.
Such inspiring words to live by.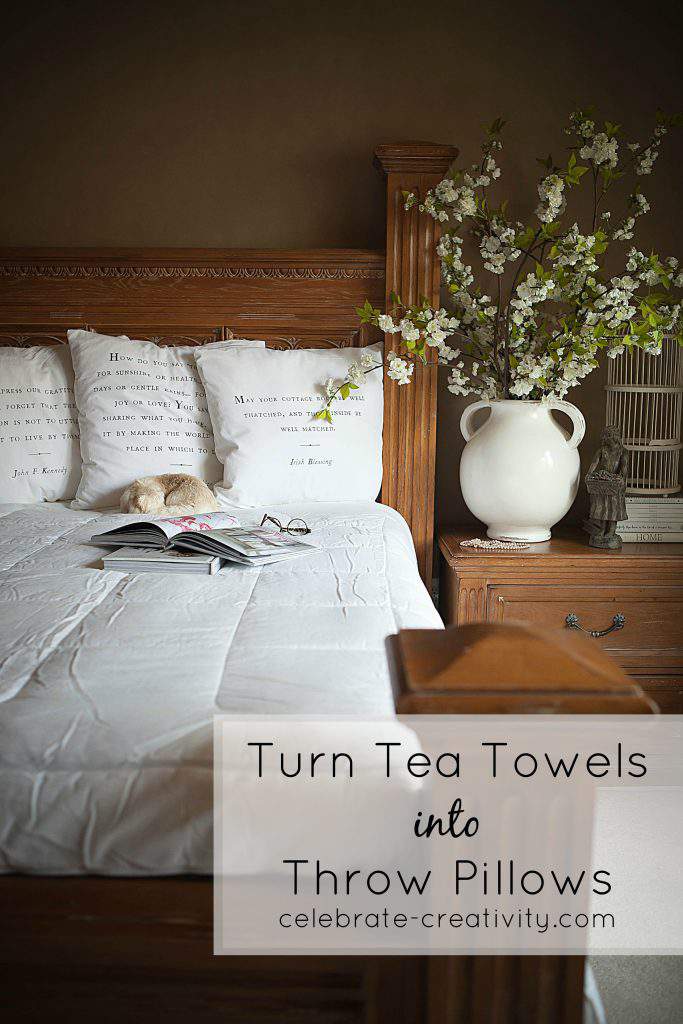 Thanks for stopping by.
See  you back here next time. ♥
I'm linking this Tea Towel Transformation post to the following: