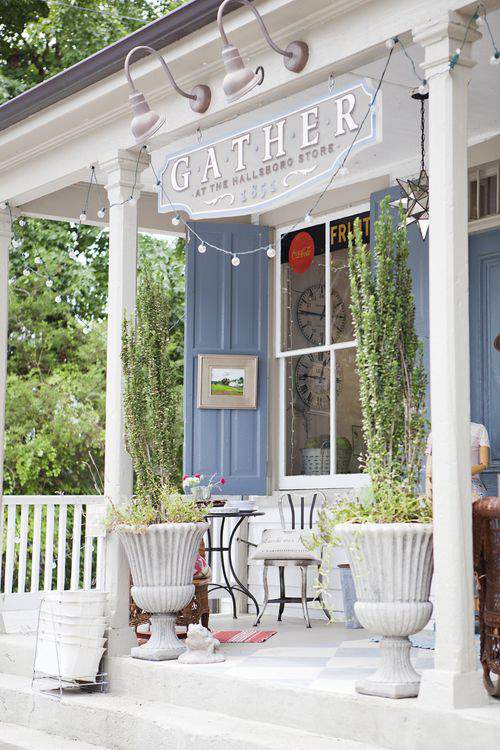 W hen you think of the word "gather" there are perhaps many things that come to mind that relate to collecting, finding and/or scooping up.
However, if you ever find yourself in Midlothian, Virginia (near Richmond) the word GATHER is most often associated with one of the area's most charming, vintage shops.
Throughout this post, I'll share more of this lovely store in the latest edition of my regular column, Shop Hop.

Today, I'm taking you on a visual tour of GATHER and later in this post,  I'll also introduce you to the proprietor who sat with me for a little Q & A.
By the way, this post marks the first edition of my new regular, blog column called SHOP HOP which will feature unique stores, flea markets and other delightfully-unexpected gems that I come across in my travels.
GATHER is a treat for the eyes before you ever walk into the store.
Step up on the front porch for a look at casually-styled vignettes that evoke the simplicity and comfort of a Southern lifestyle with hints of modern, European influence.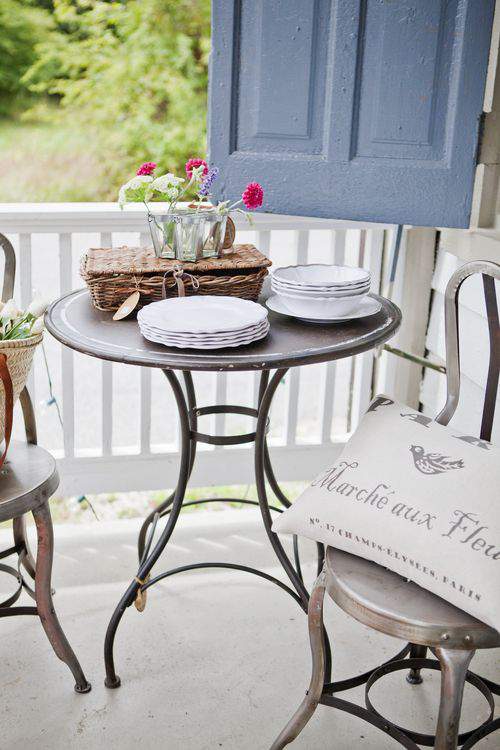 Rustic features help frame the building's exterior adding interest and personality (not to mention great photo opportunities for amatuer photographers like me).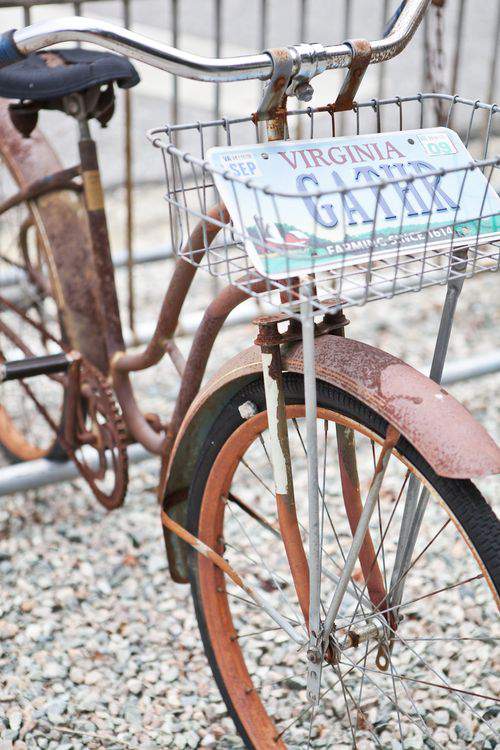 This weather-worn sign post is planted near the front steps and points the way to multiple destinations in its own old-fashioned way.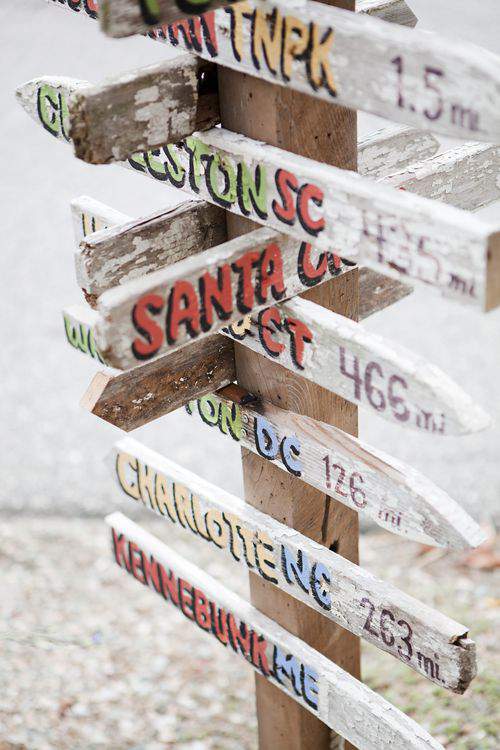 As soon as you step inside the store, you're greeted with an explosion of colors that beckon you to come take a closer look.
The owner, Melissa Carr (you'll meet her further down in this post) has as much an eye for stage setting as she does for finding interesting and appealing merchandise and antique furnishings.
In this area of the store, your nose will definitely point the way ahead.
If you have an affinity for soft smelling soaps and other sweet scents, you won't be disappointed.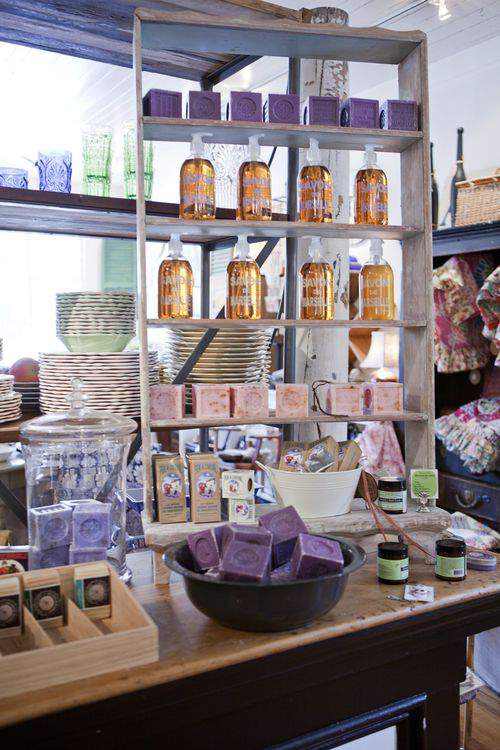 I'm a sucker for beautiful displays and these apothecary jars nicely showcase the goods inside.
Here's a view of the back of GATHER looking out toward the front of the shop.
Beautiful, isn't it?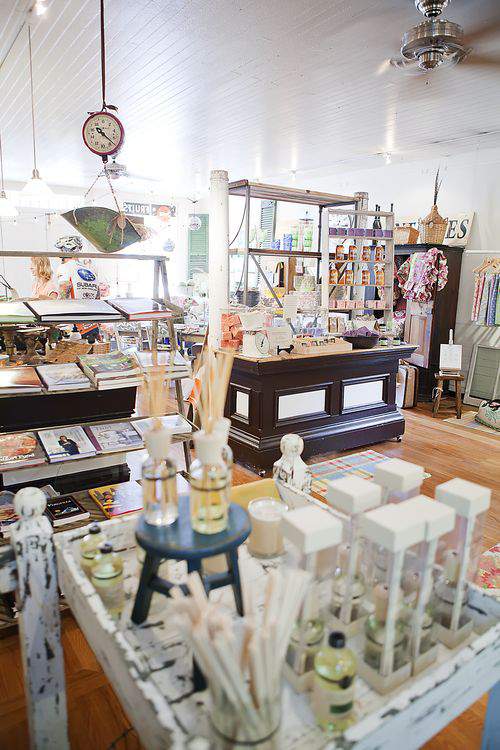 Check out these oversize pillows. The fabrics are gorgeous with great color and texture.
I think I want one of each.
If you love vintage posters, you'll find plenty to choose from.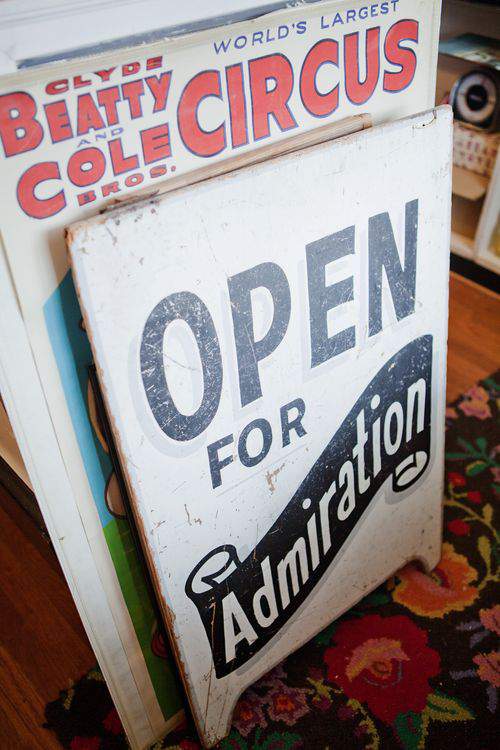 There's quirky and quaint for sale here and I think that makes the browsing that much more enjoyable with something different at every turn.
Personally, I'm always on the lookout for the unusual.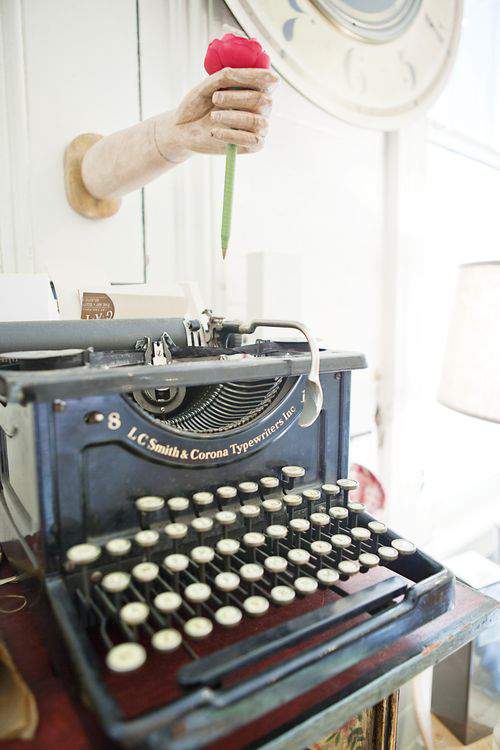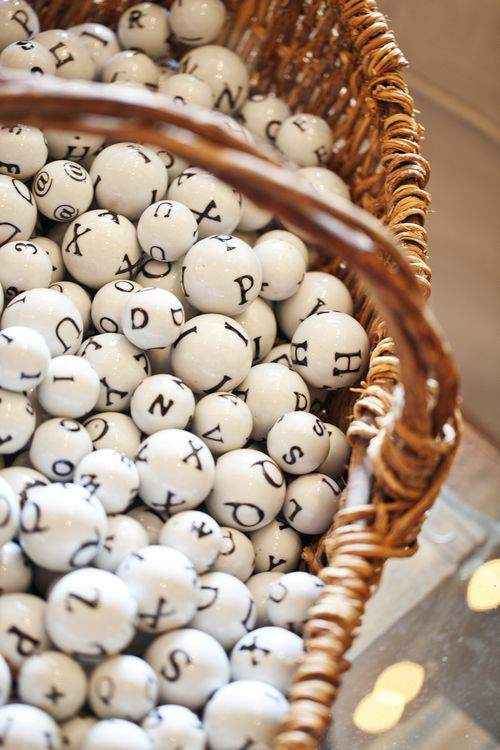 While the owner opened GATHER five years ago, the building this shop is housed in was built way back in 1850.
Today, the building is designated an historic landmark which adds all the more to the current store's authentic, vintage-inspired charm.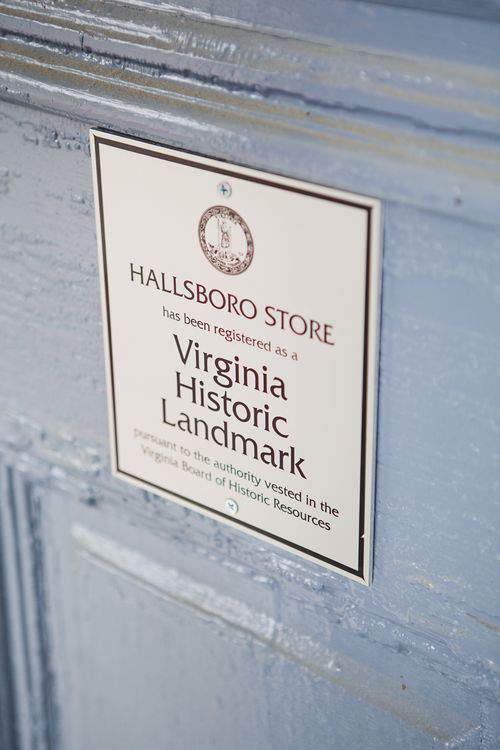 You'll find a mix of old and new here that all work together in their presentation to create a cornicopia of choices from assorted handcrafted candles…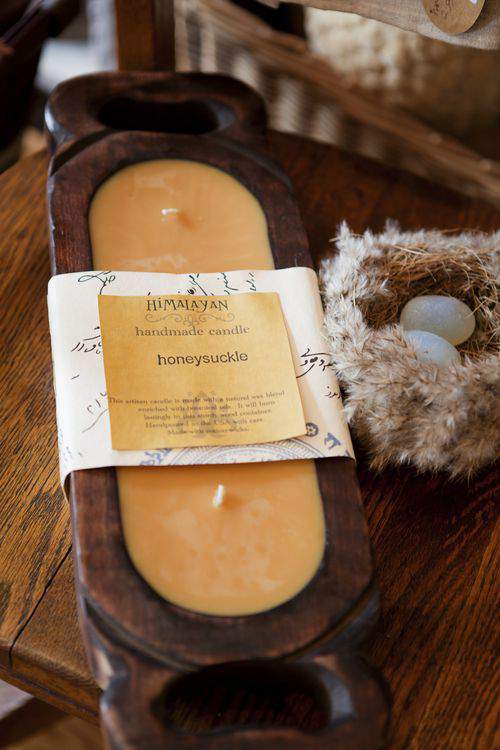 to retro-inspired, needlepoint belts…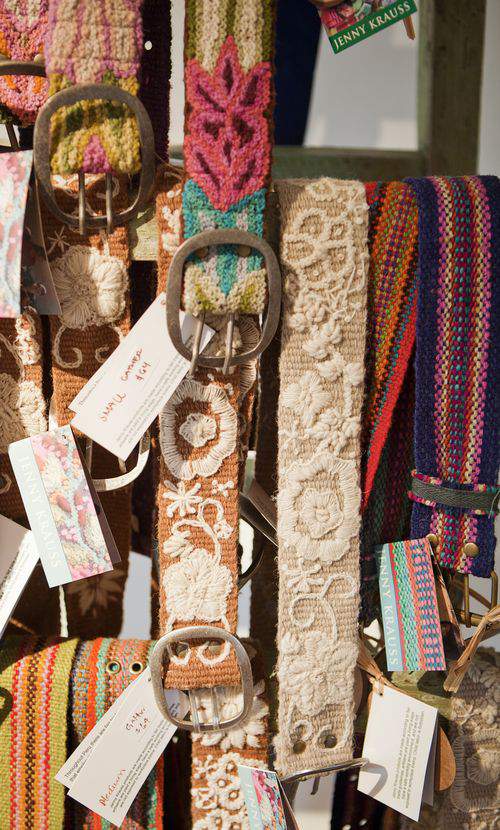 … to bright, floral sundresses that hang near the window adding a splash of late-Summer color to that corner of the store.
There's something to please any taste.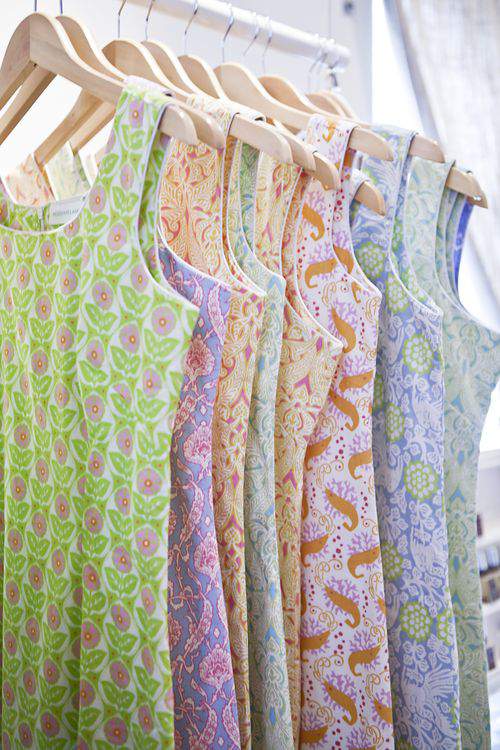 I spotted a couple of dozen things I'd love to have in my own collection.
How cute are these?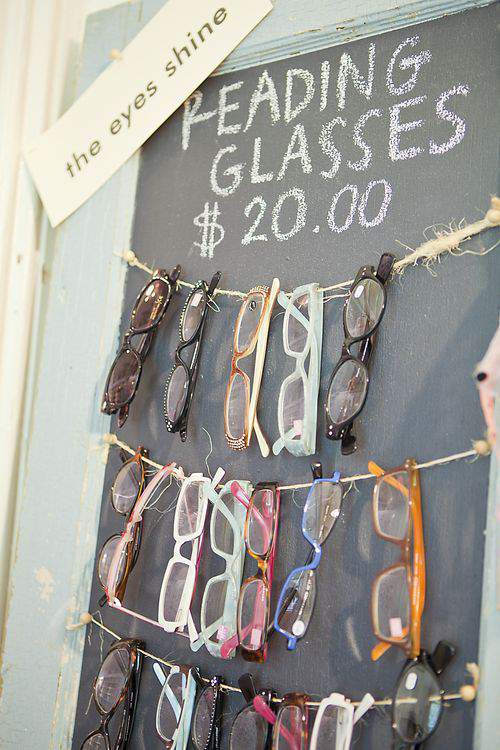 I'm always looking for ways to use interesting elements and items to enhance my photo styling efforts and stores like this are a great place to find great props.
I'll have to put some thought into how I could use wooden shoe forms in an upcoming photo shoot.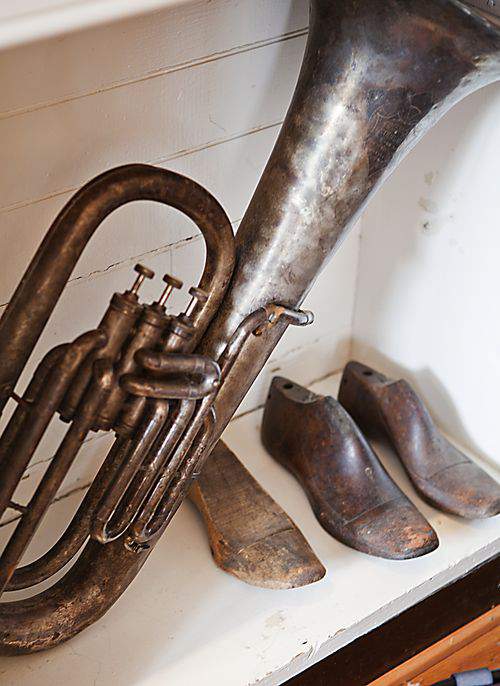 I've seen stacked suitcases like this used as decorative features in a number of home decor magazines and they look great when used in just the right room.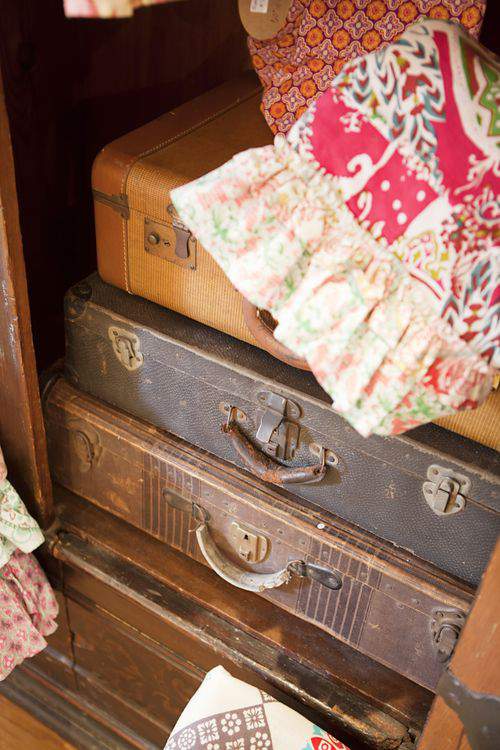 Actually, painting has always been owner, Melissa Carr's first love and her colorful artwork is sprinkled throughout the shop for sale (and admiration).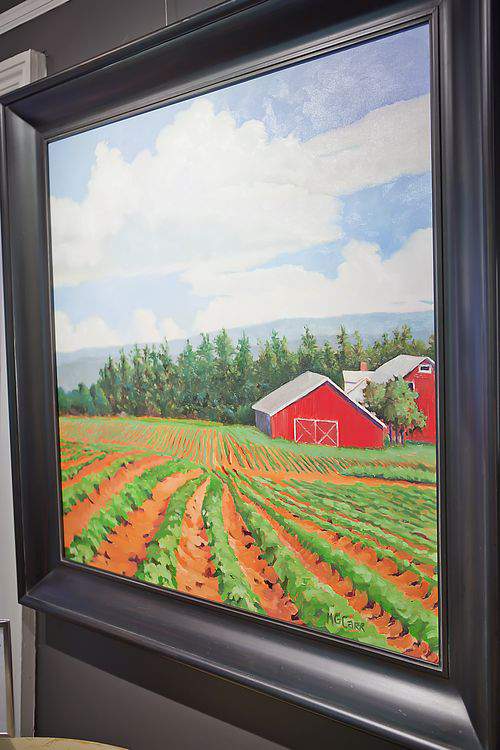 Step upstairs to the second level and you'll not only find more beautiful merchandise but the owner's studio as well.  It's filled with the tools of a painter's trade and a creative life.
I love the wood flooring and the natural light is enviable.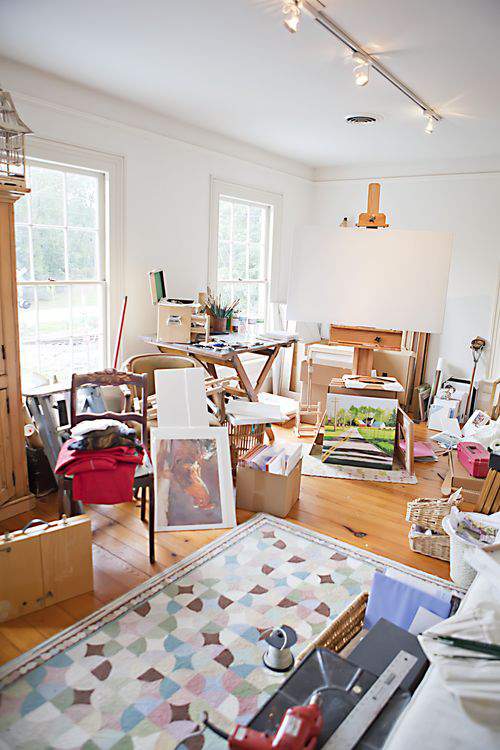 Here's a look at another one of Melissa's beautiful oil paintings.
So much to see, so little time.
Melissa stocks loads of pretty dishes.  Isn't this a lovely collection?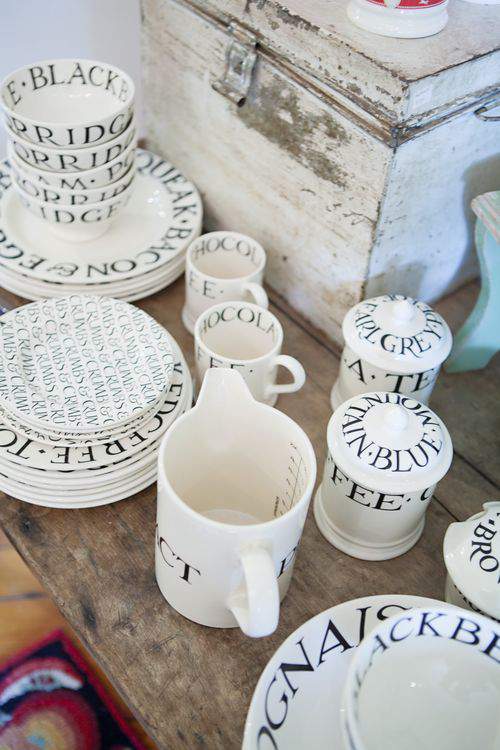 Of course, there are equally lovely kitchen linens.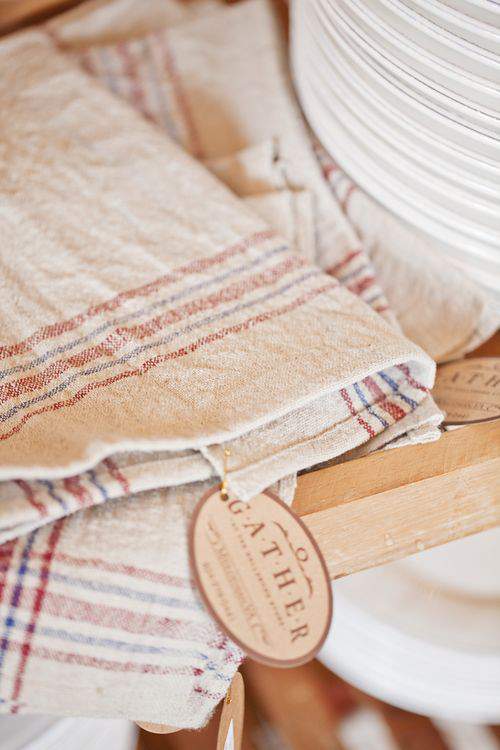 Stocked with a little bit of everything, these sturdy shelves run the entire length of one wall in the store.
You may be tempted to inspect just about every cubby.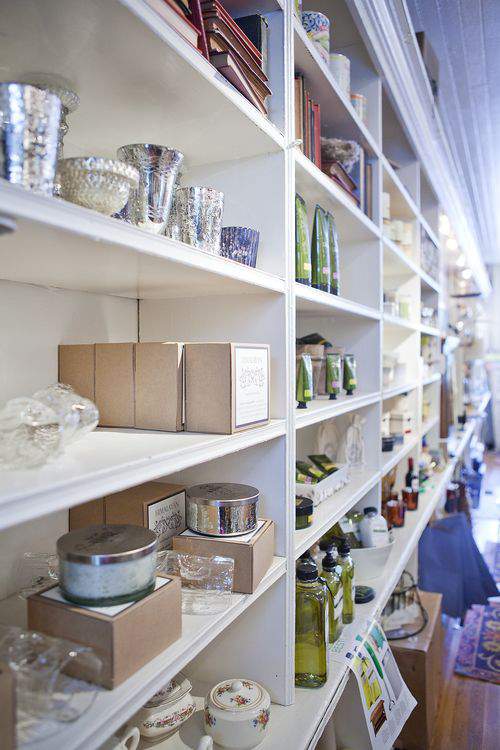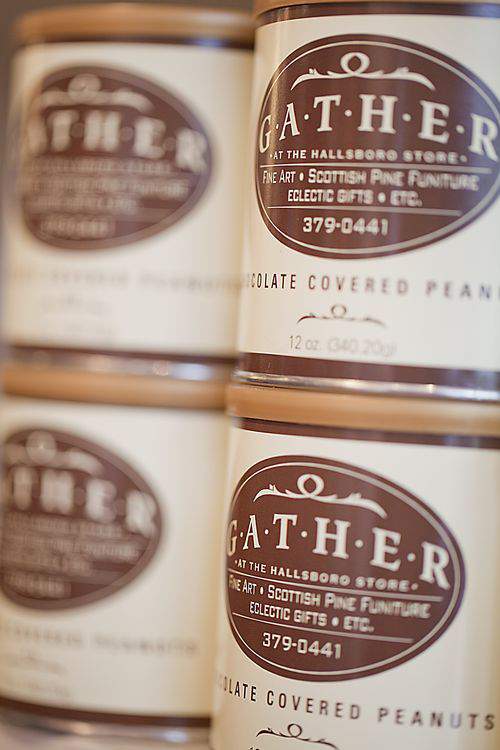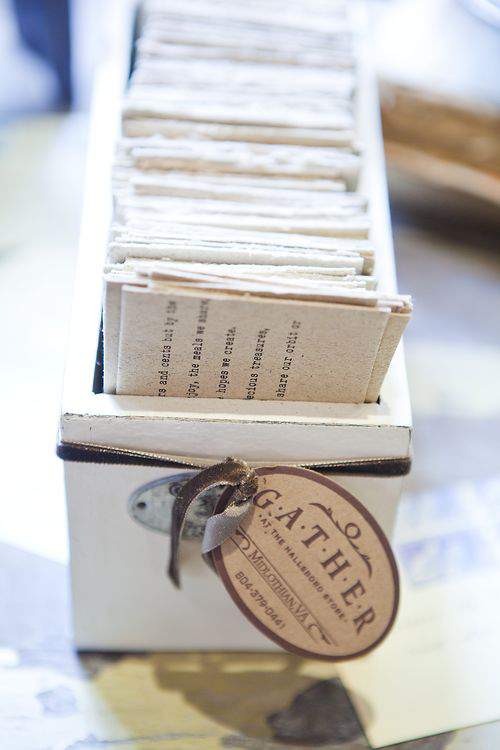 I love everything about his arrangement.  How stunning is this ivory sofa with its wood carved trim?
If you buy these pillows, you may want to consider the area rug too because they couldn't be better coordinated.
I'm also intrigued by those distressed shudders on the back wall which add a shabby-chic touch.  Could that work on a wall at home?  Maybe.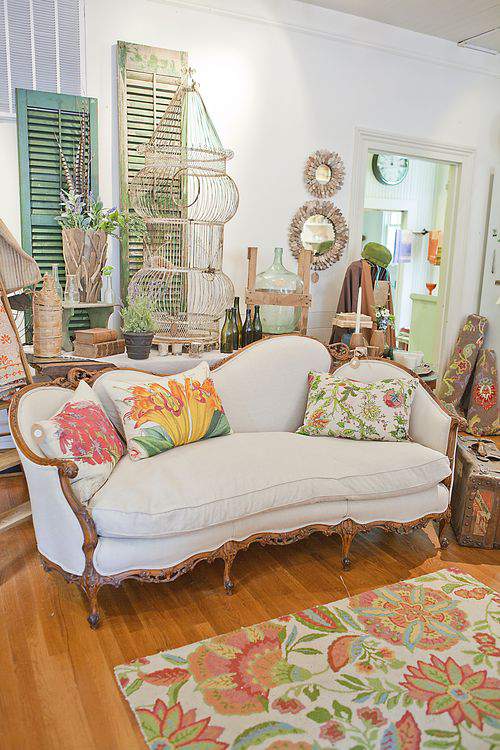 Another interesting and attractive display.
Yes, I definitely like the look of those green shudders.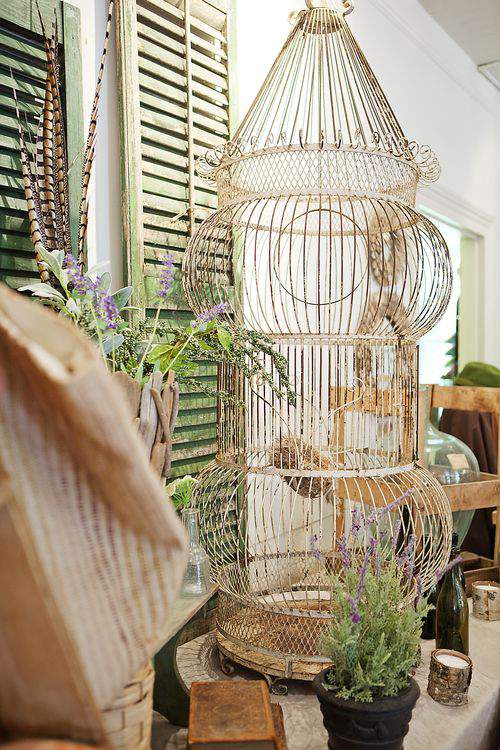 This window also caught my eye because of the way the light poured in through the decorative, grate.
The khaki-colored, linen drapes pulled to the side and topped with a bow have a casual elegance that made me want to snap this photo.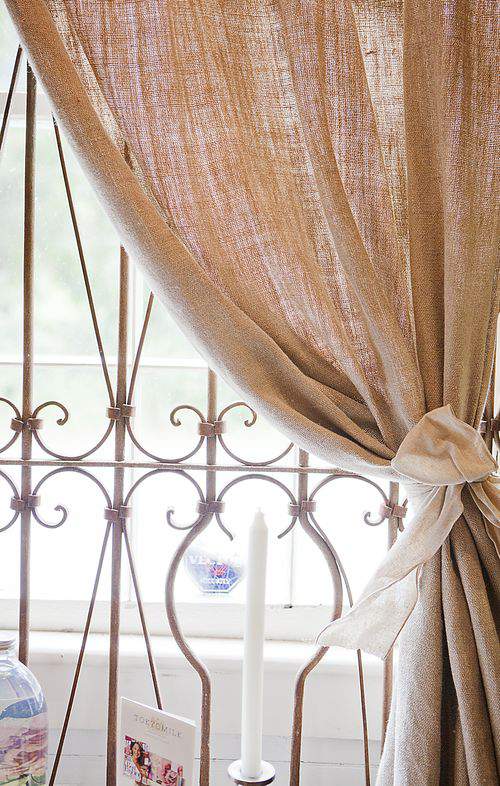 By the way, your shopping at GATHER can include eats and drinks if you like.
Just call 24-hours ahead of your arrival to order a tasty lunch made just for you.
The menu features all homemade choices.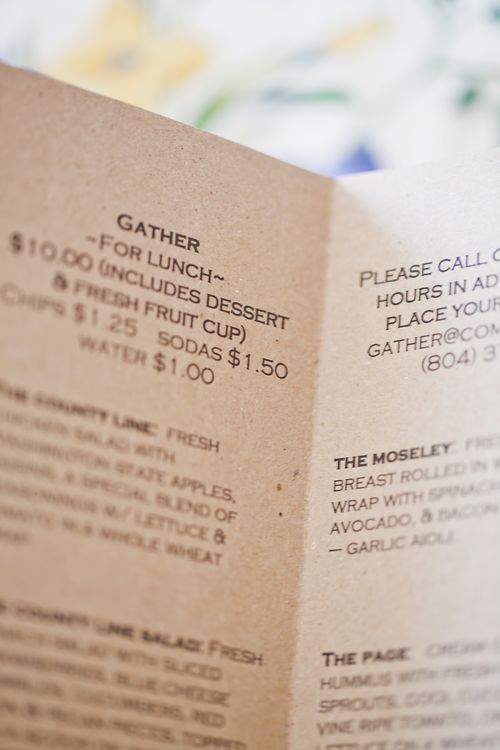 The eating area is on the shady side of this historic building.
Deliberately-tangled branches form of an arbor and make for an inviting entrance to this outdoor dining area.
It's all so pictureque, peaceful and perfect.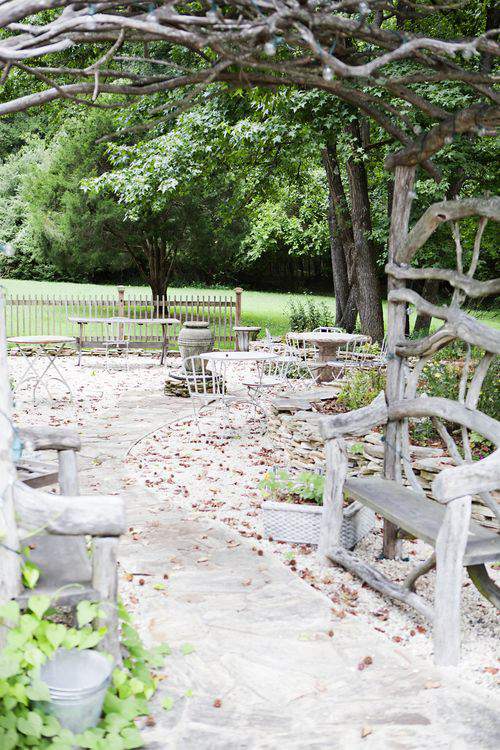 In what is perhaps a nod to its historic origins, this shop does feel like an old-fashioned, country store in many ways.
Even the location of the shop (unexpectedly-situated at a bend in a rural road, adjacent to an old railroad track) suggests a bygone era.
Again, that's part of the charm of this store and I'm so glad I stumbled upon it.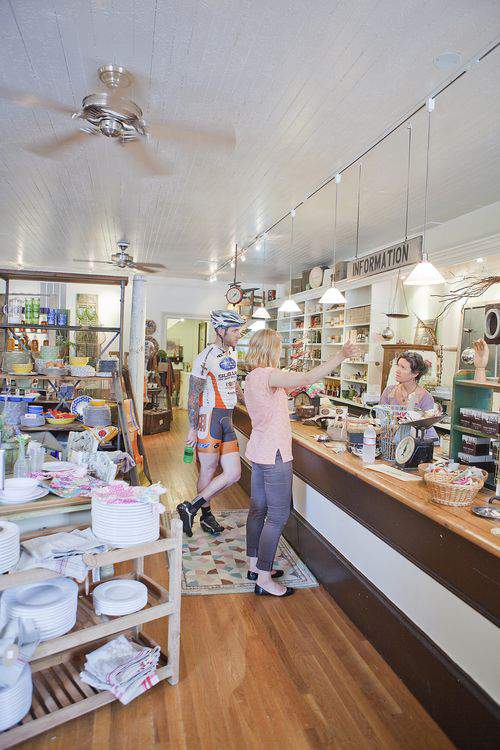 I'd like to thank Melissa Carr from GATHER  for allowing me to spend the morning in her beautiful shop and letting me snap photos galore.  I took tons of photos and it was pretty hard to narrow them down for this post.  I hope I did justice to this lovely little shop and I hope you enjoyed the tour.
Look for more shop tours on this blog in future editions of my new column, SHOP HOP.  
GATHER/proprietor
Q: WHY DID YOU DECIDE TO OPEN A SHOP?
"People ask me if it was a dream of mine but it wasn't at all, it was just kind of a flukey thing.  First and foremost, I'm a painter and I had some artwork left over from a Delaware show that I wanted to sell.  My husband had been cycling by this builidng and saw it was for sale.  He peeked through the keyhole and then came home with the suggestion that the building would be a great place to sell my artwork.  
That's how Gather came to be".
Q:  WHY THE NAME GATHER?
"I was walking my dog and thinking about what to name my new shop and I thought about all the range of goods and things being gathered together and the name sounded right. 
 I also wanted a name that people would not mispronounce.  It's funny though, some people still don't pronounce it correctly, but that's OK".
Q: WHAT DOES IT MEAN TO HAVE YOUR SHOP HOUSED IN AN HISTORIC LANDMARK?
"I love that.  The store was built in 1850 and I think that adds charm and character to Gather.  When I first started out, I was just selling my artwork but because of the historic nature of the building the original shelving couldn't be moved.  That's when I started looking for smaller items to fill the shelves and my inventory grew to include more than just my paintings.
Q.  HOW DO YOU DECIDE WHAT TO CARRY? 
"The barometer I use to decide what to carry is based on whether I would take it home.  I know there are a lot of things that I could carry here that may sell but if it's not something I would be tempted to take home myself, I don't want to carry it in my store. 
That really has been my guiding principle".
Q:  CAN YOU TELL ME ABOUT THE RELATIONSHIP YOU HAVE WITH YOUR CUSTOMERS?
"I have a great relationship with my customers, many of whom are repeat, loyal shoppers.  I've gotten to know many of them quite well and new 'regular' customers arrive every day who really support me and my efforts here.
You know, there are so many small businesses that close and people wonder why.  Well, when you support local, those tax dollars stay in the community and everyone benefits, it's important.  I also have a valuable relationship with local vendors and artisans and that's equally important.  Of course, I also have a fantastic staff.
Q: WHAT DO YOU LOVE ABOUT OWNING YOUR OWN SHOP?
"Wow, owning this shop is definitely a labor of love.  It's a lot of work to run a business from paperwork to various taxes but I love running this store.   The location of the shop itself may be a little off-the-beaten-path but that's also what I love about it. 
I have great employees and the customers are great.  When I have to be a way from the store for a while and I walk back in here, I look around and think this is really nice and different and I love that".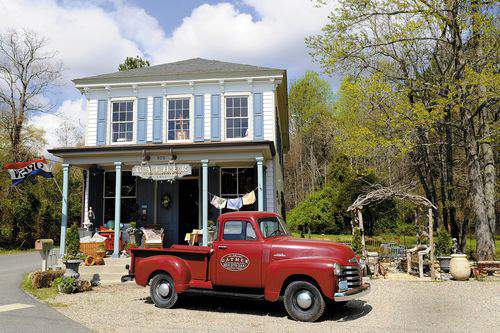 Above photo courtesy: Melissa Carr/GATHER 
GATHER
920 Mt. Hermon Road  Midlothian, Virginia
804-379-0441
♥