W
elcome to Day 1 of of my COUNTDOWN TO CHRISTMAS HOLIDAY SERIES.  I'm so glad you're here and I think when you see what I have in store for you every day over the next 22 days.
Let's dive right into my first holiday project with my Pomegranate Topiary project. 

When you "Deck the Halls" this holiday season, consider replacing the traditional "Boughs of Holly" with "piles of pomegranates".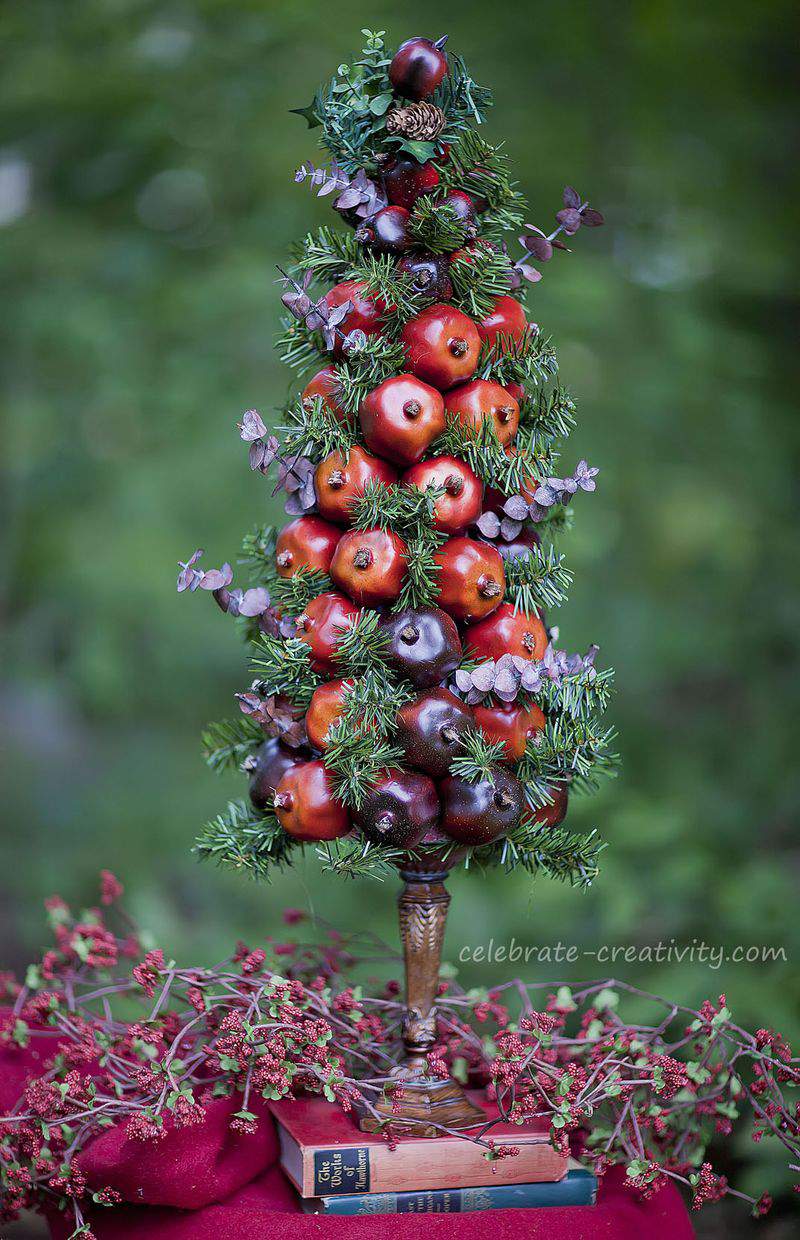 This pomegranate topiary would make a grand addition to any holiday decor and it's oh-so simple to make.
Pomegranates are a festive looking fruit and its vibrant coloring offers the perfect pop of rustic red that works so well this time of year.
The pomegranates used for this project are artificial and can be found at most crafts stores.
In addition to the artificial pomegranates, you'll only need a few other supplies for this project including, red paint, a styrofoam cone, a hot glue gun, a small vase or candlestick.
You'll also need a few sprigs of artificial pine and a few small twigs of eucalyptus branch.
Paint the styrofoam cone red to blend in the with the color of the pomegranates.
Sort the artificial pomegranates by size.  Separate the larger ones from the smaller ones.
Start with the larger artificial fruit along the bottom of the styrofoam cone.
Apply hot glue to the bottom of the pomegranate and attach to the Styrofoam cone around the base.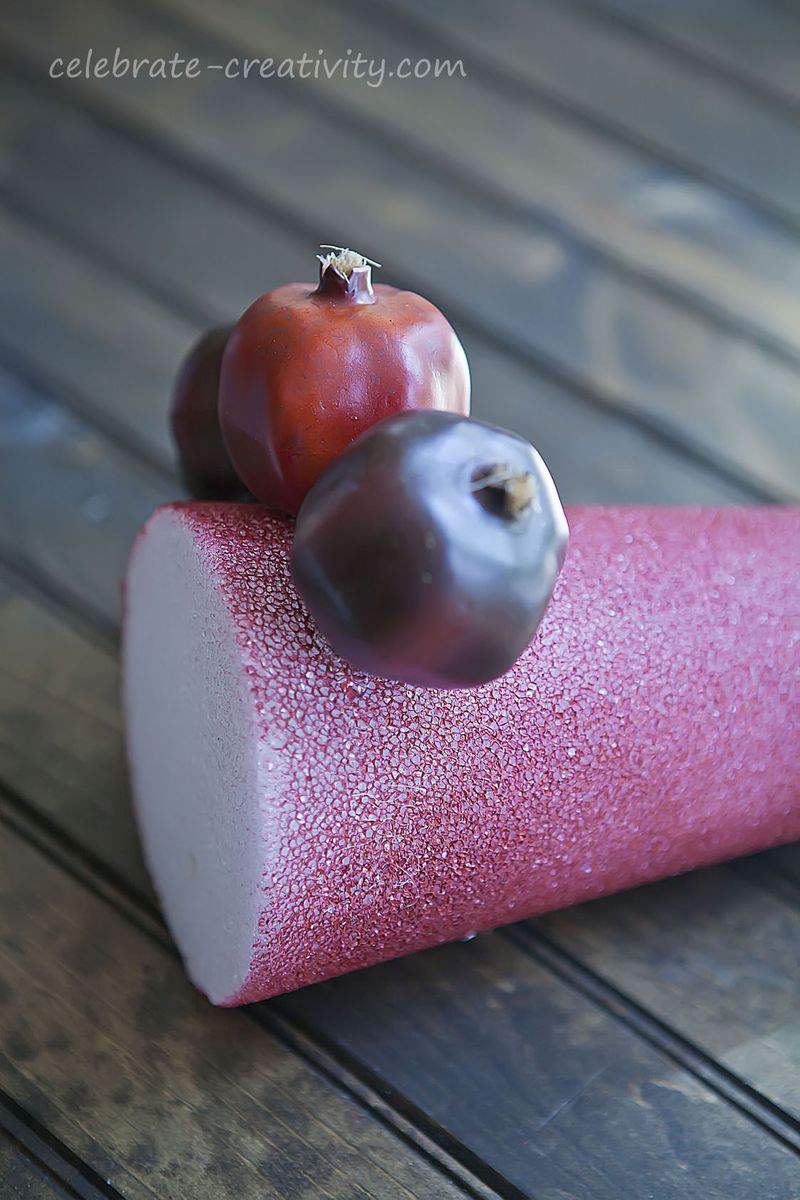 Make sure the stem of the pomegranate is facing outward.
Continue to attach pomegranates side by side along the base of the cone all the way around until pomegranates meet.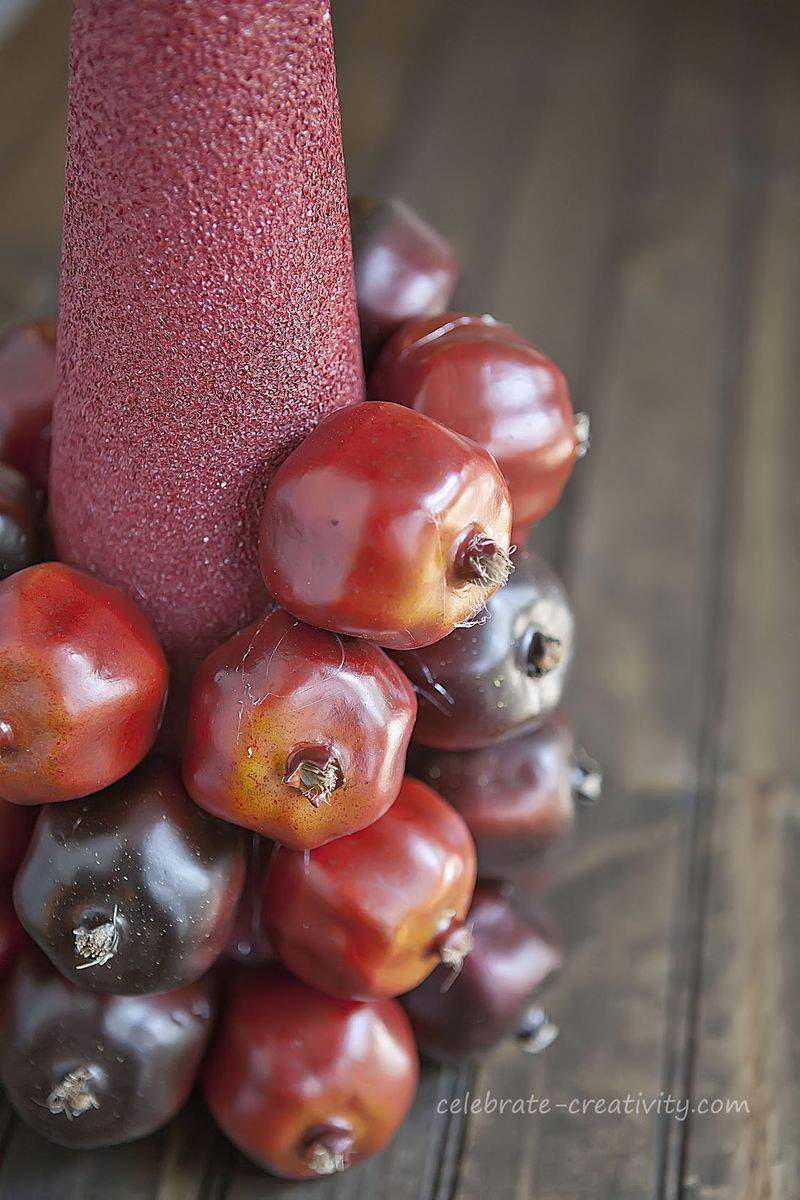 Adhere another row of pomegranates, just above the completed row.
Glue pomegranates to additional rows moving toward the top of the cone with each new row.
Hot glue smaller pomegrantes closer to the top for a more narrow and tapered presenation.
To conceal the red Styrofoam, gently push pine needle springs into the foam between the pomegranates.
The green sprigs are a lovely contrast with the red fruit and they also help to fill out the topiary.
Finally, add a few twigs of eucalyptus branch for a whimsical touch.
Now, this topiary would look great on any holiday table.
If you are serving a pomegranate mixed drink or punch this season, consider how nicely this would compliment the setting.
So, that's a look at Day 1 of my COUNTDOWN TO CHRISTMAS HOLIDAY SERIES.
I have so much more to share over the next few weeks from crafts projects, to home decor ideas, to delicious holiday recipes.
Stay tuned for more inspiration.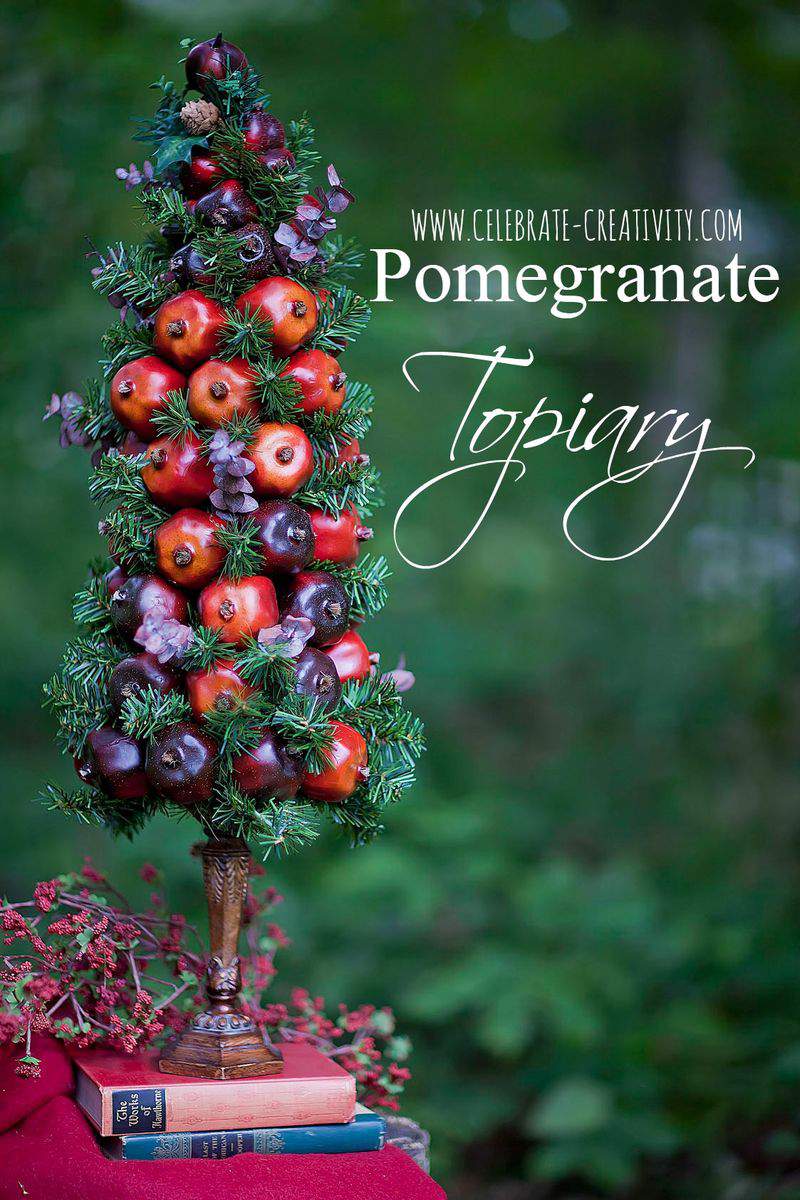 See you right back here tomorrow for Day 2  of my
COUNTDOWN TO CHRISTMAS HOLIDAY SERIES. ♥