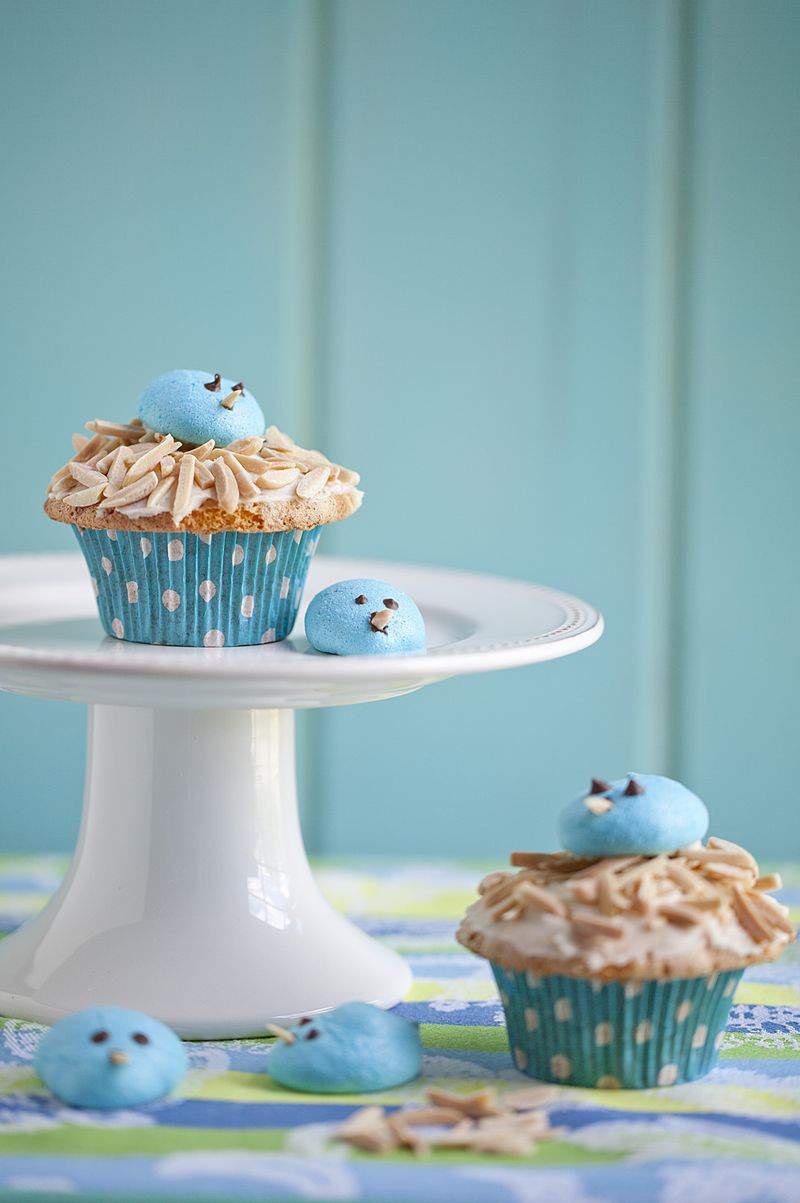 Tweet-Tweet. That's what I feel like saying every time I look at these cute little bird's nest cupcakes.  
I gotta say, they're almost too cute to eat but don't let that stop you from taking a bite out of these bluebirds.
Oh, I just love baby Bluebirds.  Don't you?
Before I walk through how to make these adorable edibles, allow me to share the inspiration behind them.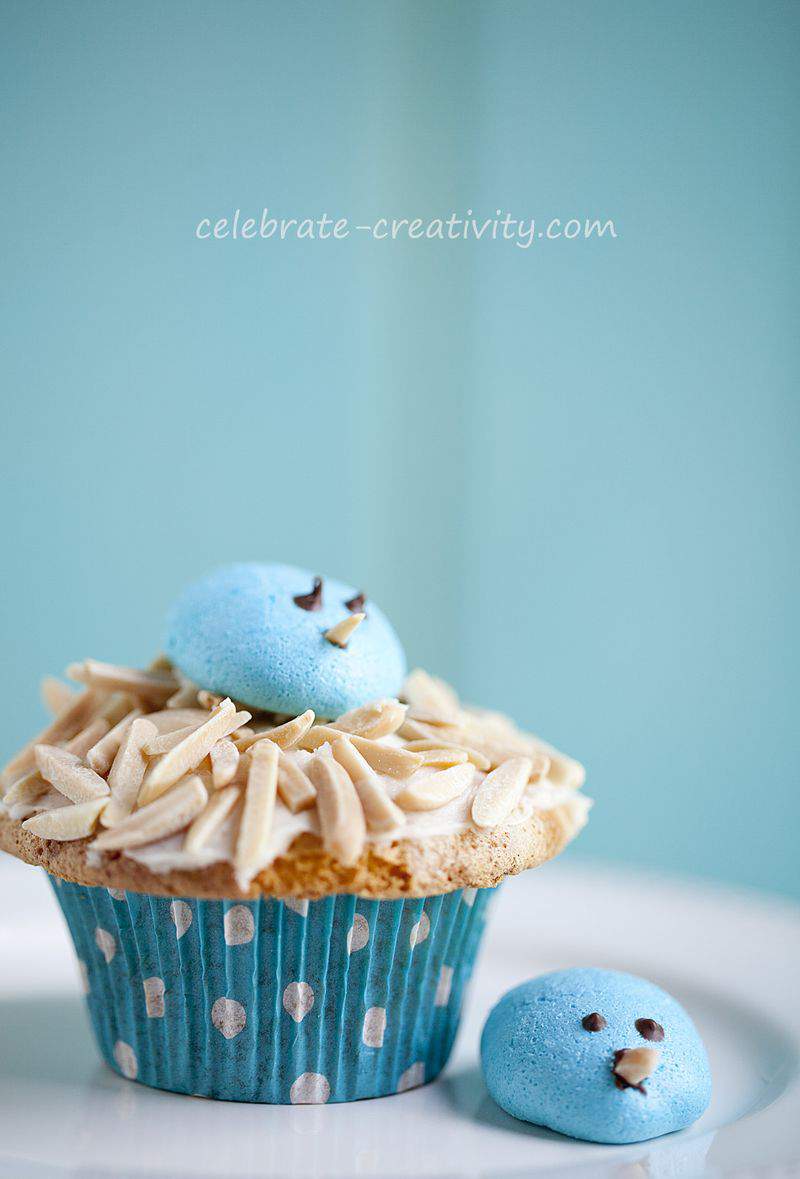 Every year, a mama Bluebird turns my newspaper box (under my mailbox) into her own personal nursery.
She hunts all throughout the day and brings back hefty meals for the little ones hiding deep in the back of the box.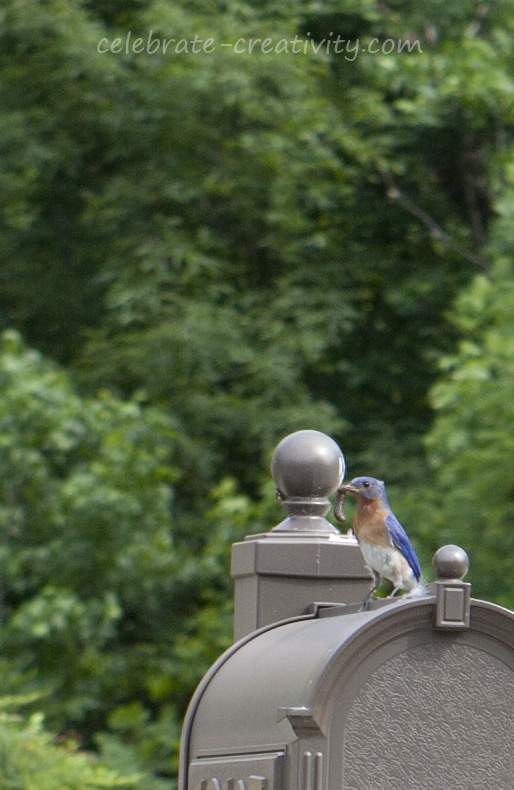 My family watches the hatchlings faithfully, snapping photos of the growth along the way.
If you'd like to see more about our birdwatching efforts along with tips on attracting and observing birds in your own yard, check out my previous post on finding feathered friends HERE.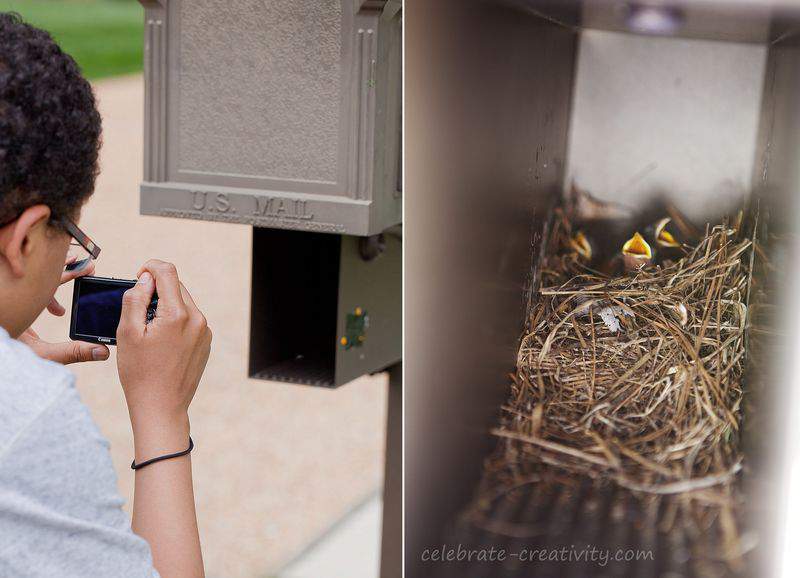 Well, with those sweet baby bluebirds in mind, I was inspired to make my own.
Just like the real ones, these birds love to nest too.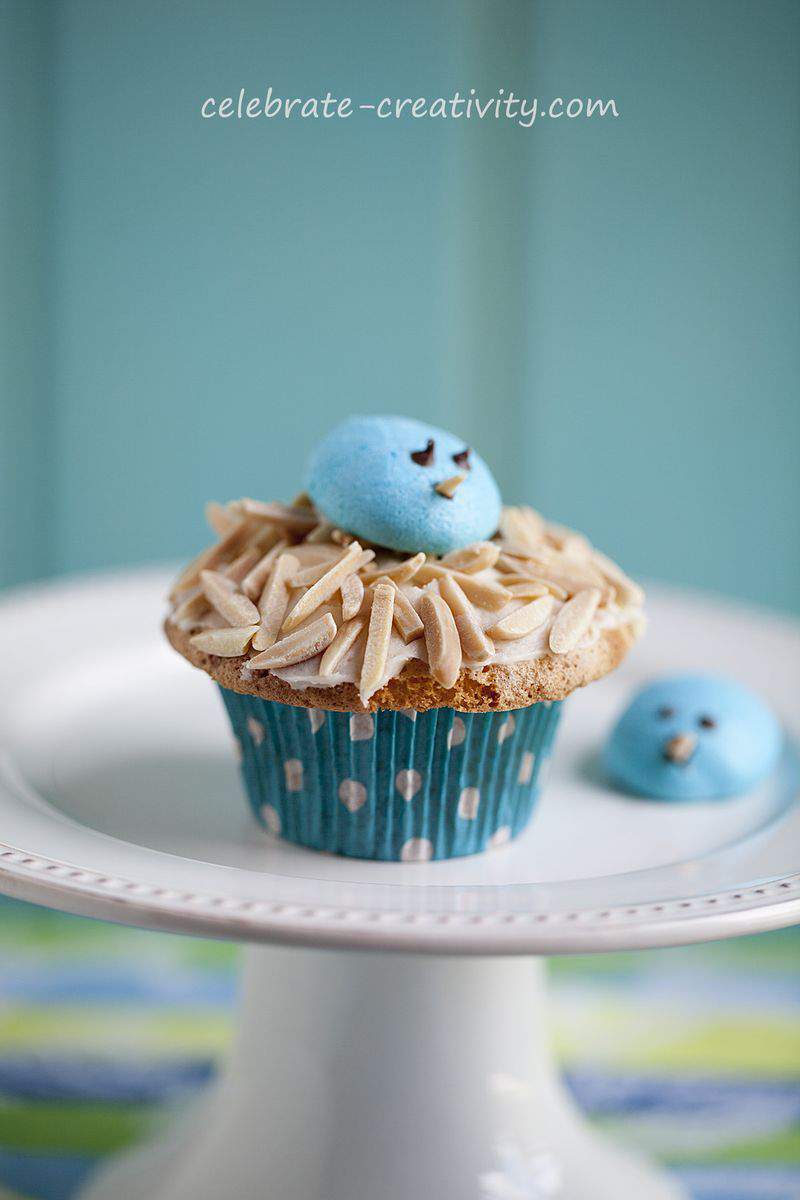 To make these NESTING BLUEBIRD CUPCAKES, start with any simple meringue recipe.
I separated 4 (room temperature) egg whites and whipped them in my stand mixer (using the whisk attachment).  Once the eggs start to foam, add one teaspoon of cream of tarter and 1-cup of sugar.
Continue to whip until mixture is stiff and shiny.
Add food coloring and mix until color is well-incorporated.  This soft blue color took about 8-10 drops of blue gel coloring.
NOTE: Start with a few drops of color and mix to determine shade before adding more gel coloring. You can always add more color but you can't take it away.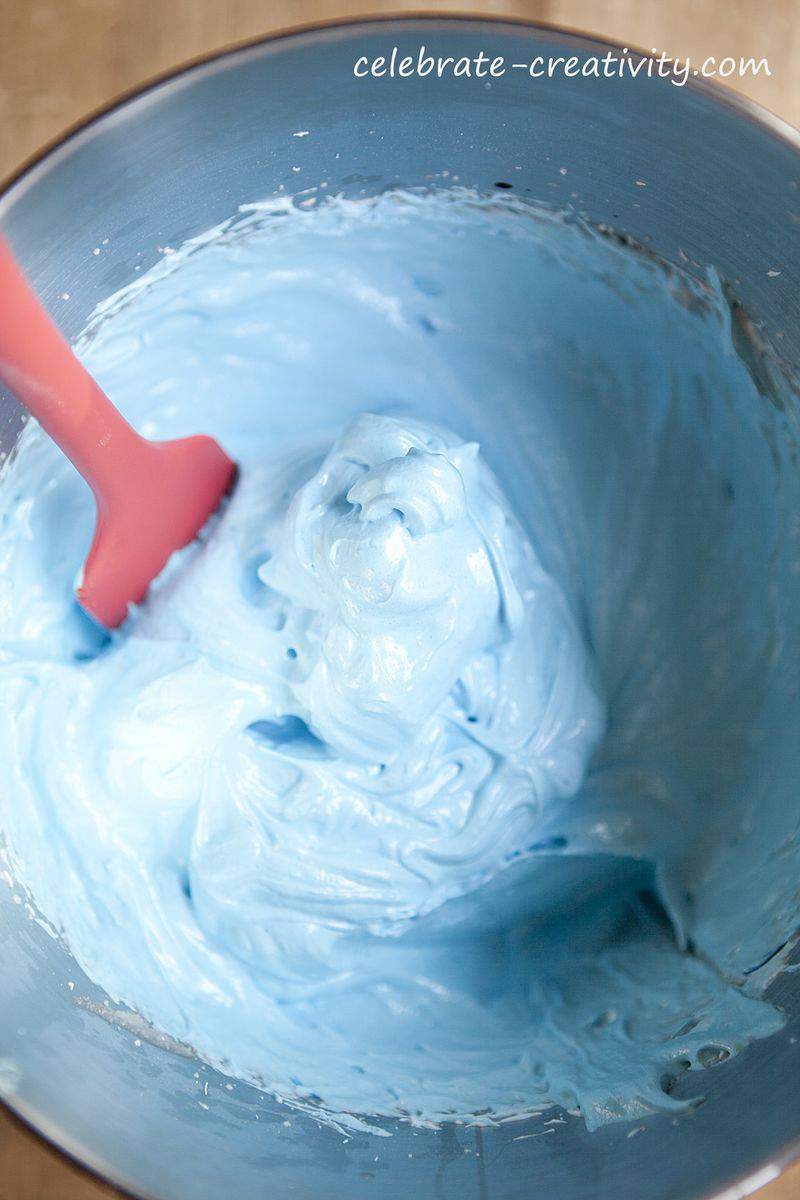 Put the meringue in a piping bag and pipe a slightly elongated dollop onto parchment paper.
I used a Wilton #12 piping tip which has a very large opening.
Bake the dollops for about 40-minutes in a 225-degree oven.  Some of them may crack a bit but that's OK.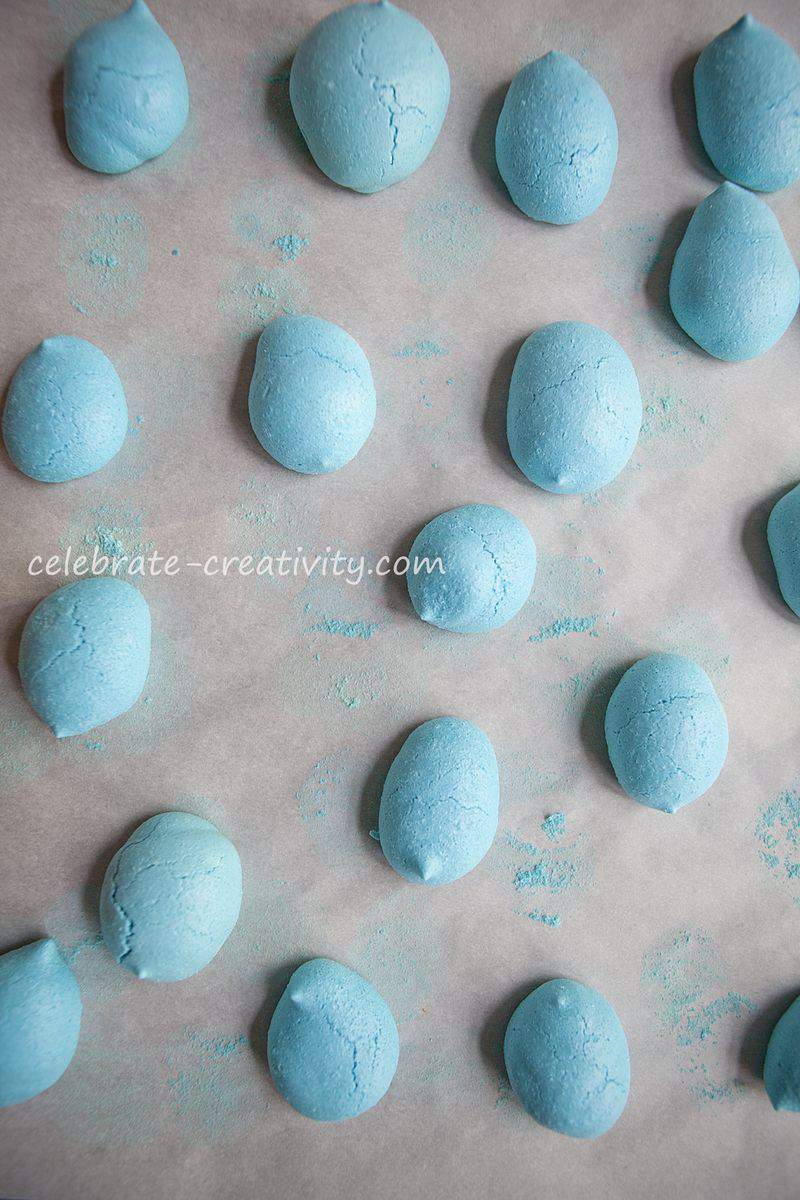 Let's move on to making the edible nest.
Bake a bag of slivered almonds for about 15-minutes in a 350-degree oven or until they are a golden brown.
Remove almonds from oven and allow to cool.
NOTE: You could also bake flaked coconut until golden brown to achieve a similar (and softer looking) nest effect.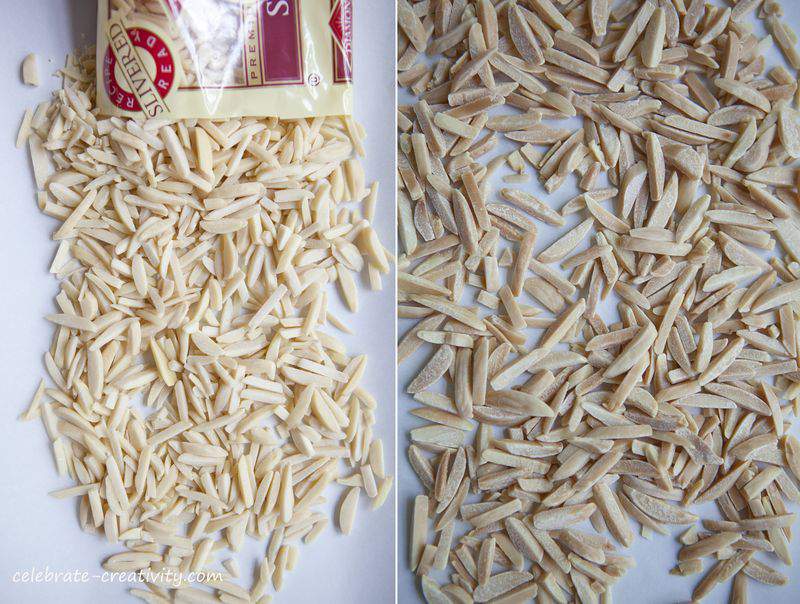 Melt a small amount of dipping chocolate and grab a cake pop stick to use to apply the eyes to the meringue shape.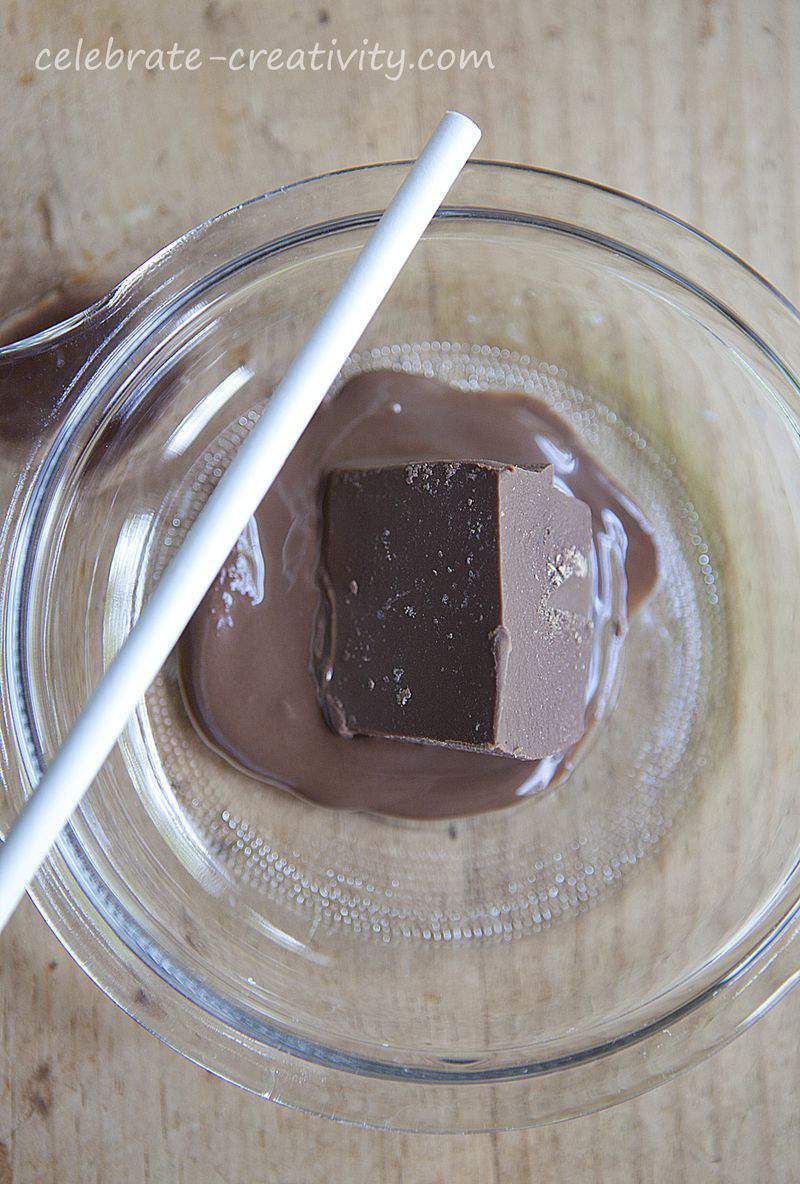 Break a piece of slivered almond and apply a very tiny dot of the melted chocolate to the bottom.
Carefully, push the chocolate-covered end of almond into the meringue.
NOTE: Be very gentle during this step because the meringue will crack quite easily.
Dip the cake pop stick into the melted chocolate and apply two small dots to the meringue to create the eyes.
Set flock aside for the chocolate eyes to fully harden.
Make cupcakes from a favorite recipe.  
I kept it simple and used a store-bought, boxed, yellow cake mix for mine.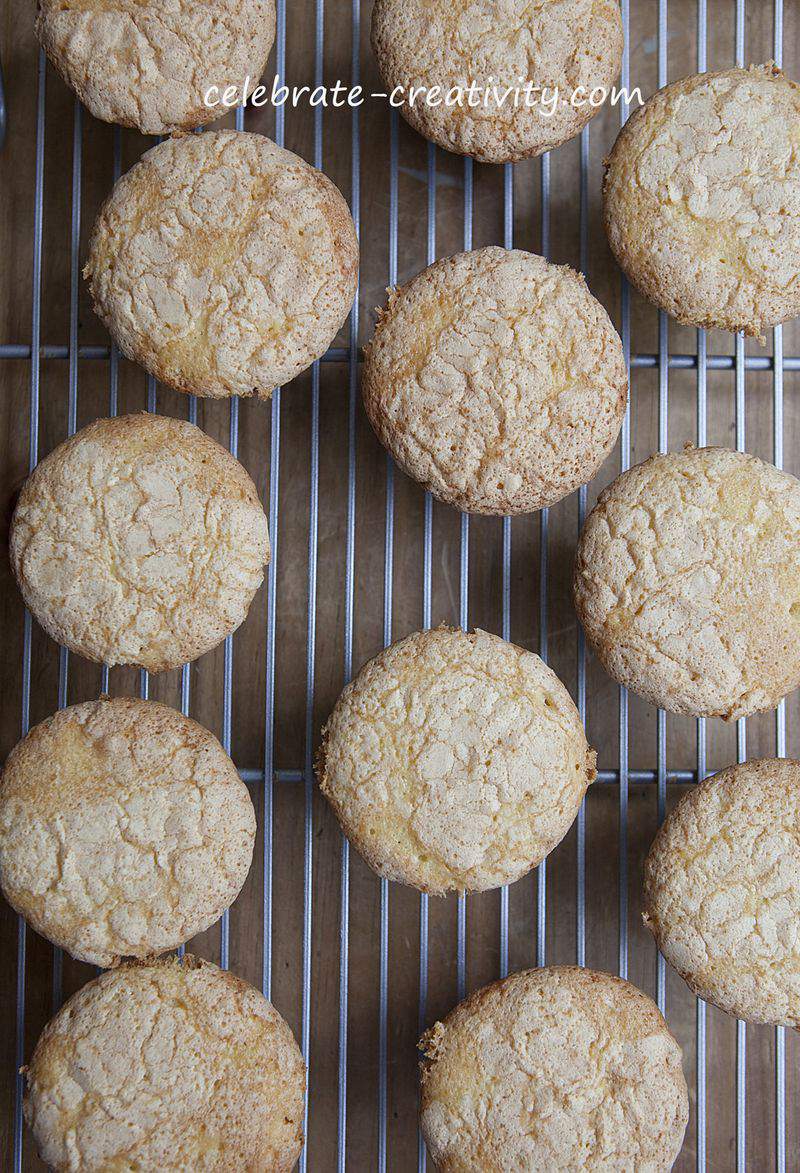 For the icing, you can also use a store-bought variety.
Of course you can also make your own.
For the icing recipe in this post, I mixed 2-1/2 cups of confectioner's sugar, 2-tablespoons of vanilla, 2-tablespoons of butter and 5-ounces of cream cheese.  Whip the ingredients and you'll have a tasty icing to coat your cupcakes.
NOTE: You can also check out one of my favorite (and super easy)  recipe for butter-cream icing here.
Spread a thin coat of icing across the cupcake.
I suggest you spread one at a time to prevent the icing from hardening before you have time to attach them in the almonds.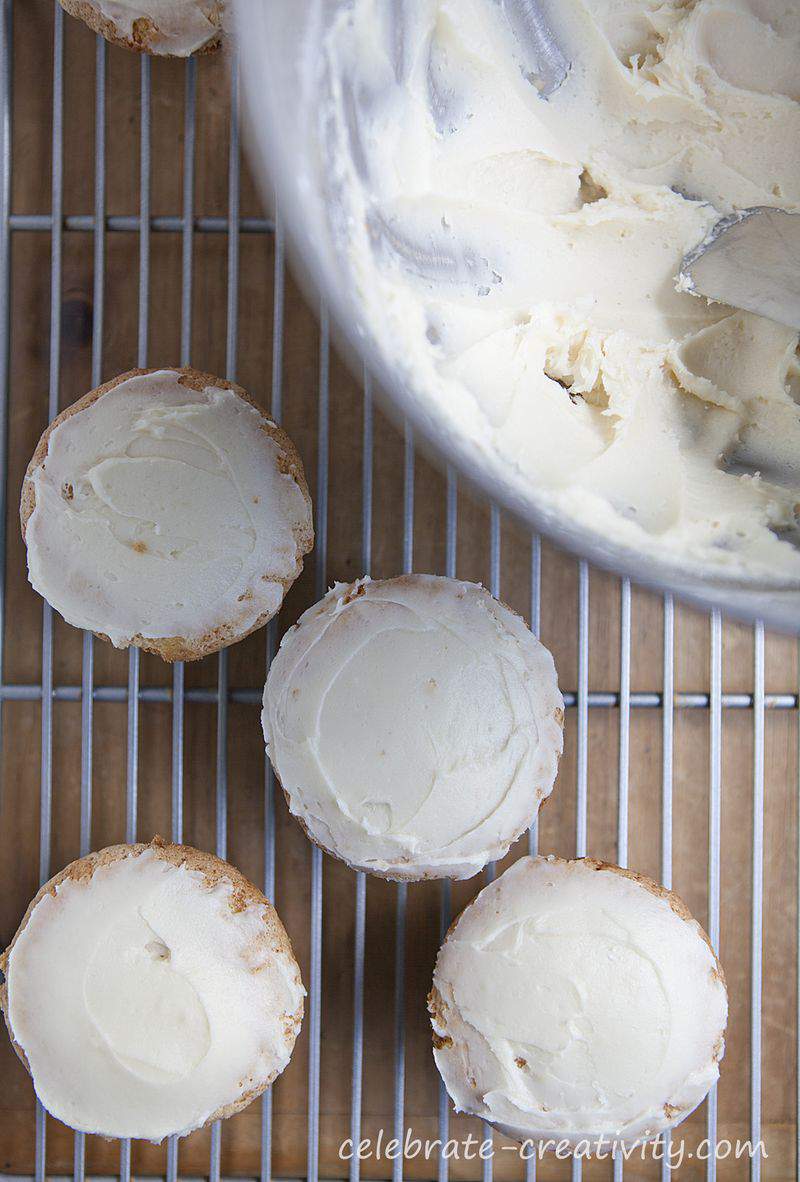 Roll each freshly-iced cupcake in the almond slivers.
Remember, if icing dries before you can get the almonds on, the slivers will not stick.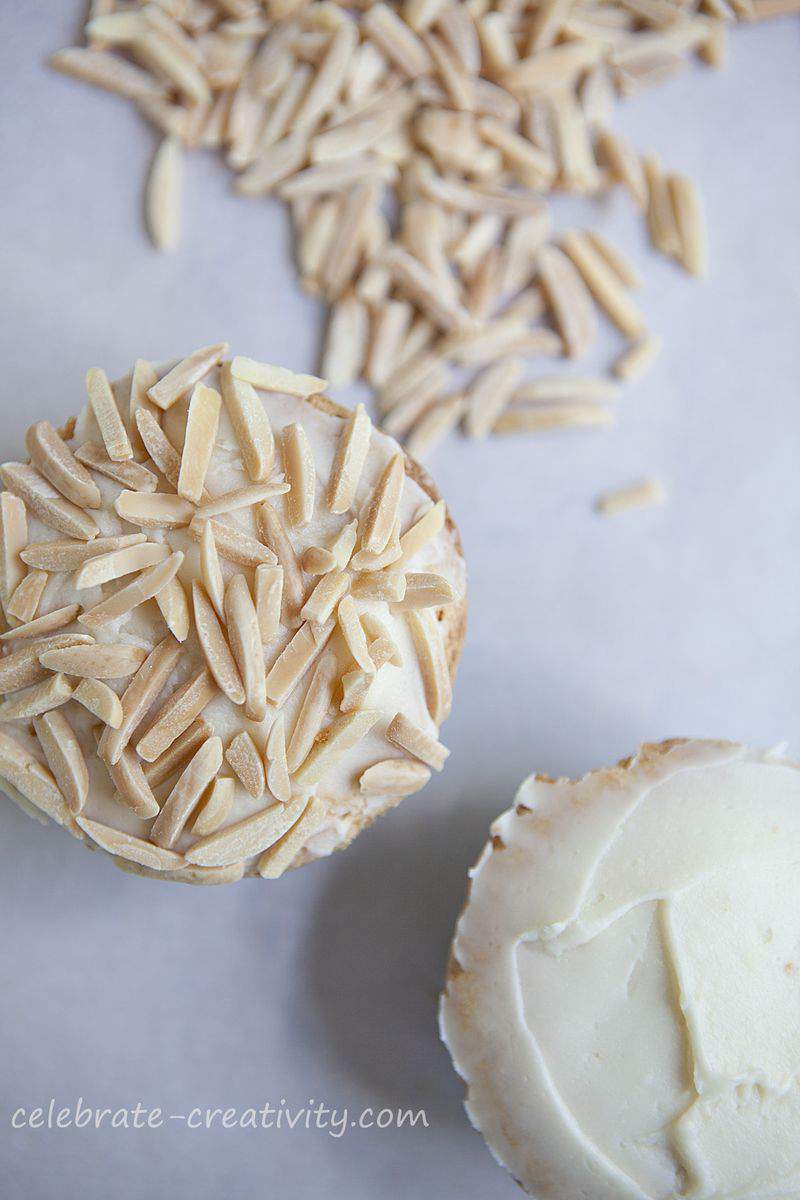 I first spotted a bird and nest cupcake on Pinterest along with dozens of other adorable similarly-themed recipes.
After following the original Pinterest link, I adapted the concept from a Better Homes and Gardens recipe.
NOTE: Be careful not to use too much chocolate to adhere the almond beak to the meringue or you may get a bit of chocolate-overflow (as you can see in the little bird below).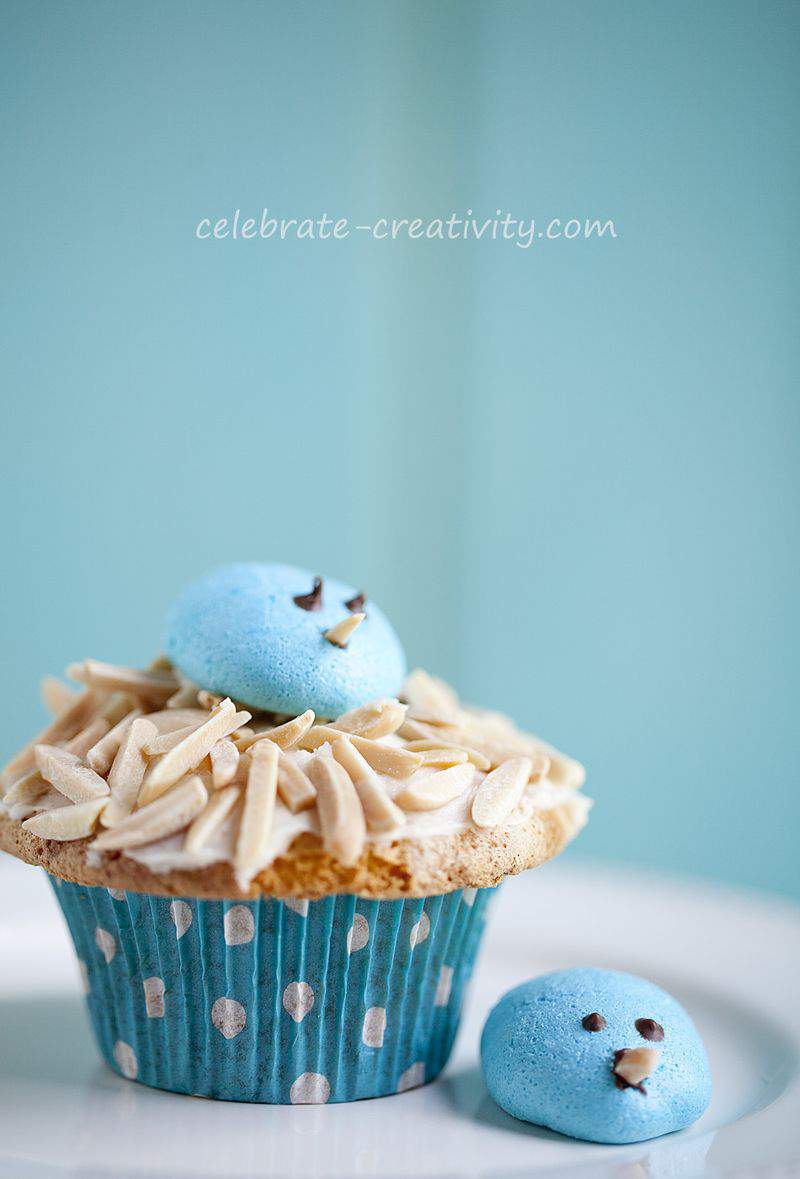 Regular readers of this blog know that I love cute packaging and since I made these to share I thought I'd dress up the baked offering a little.
I printed the lettering and then used a bird's nest rubber stamp image to add some more interest.
Cut each section and then use a tag-shaped punch to create a gift tag.
I found these cute cupcake holders at Michael's in the baking aisle.
The Kraft-colored box has a more natural look and given the contents, I think it's a much better choice than a bright white box.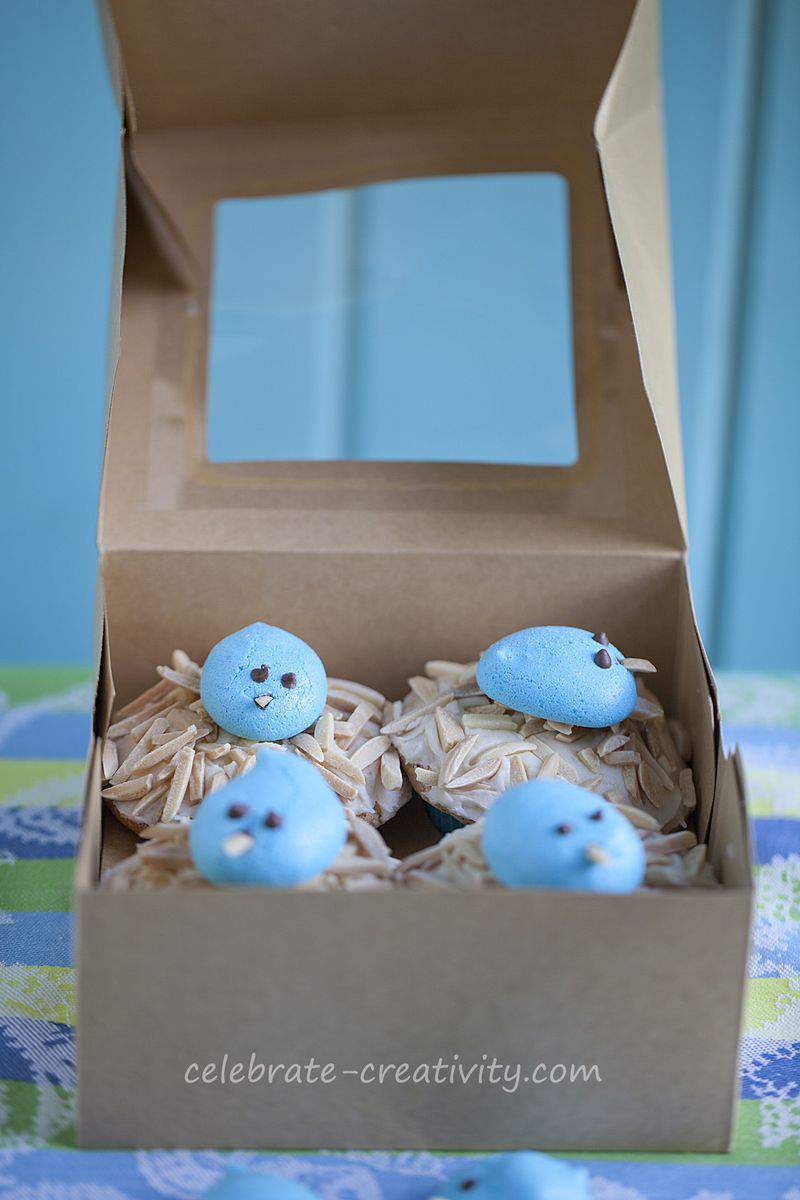 Carefully drop the cupcakes into the box slots so the little birds are comfortably nested.
Ahem, don't forget to position the quartet so all the birds are facing the same direction.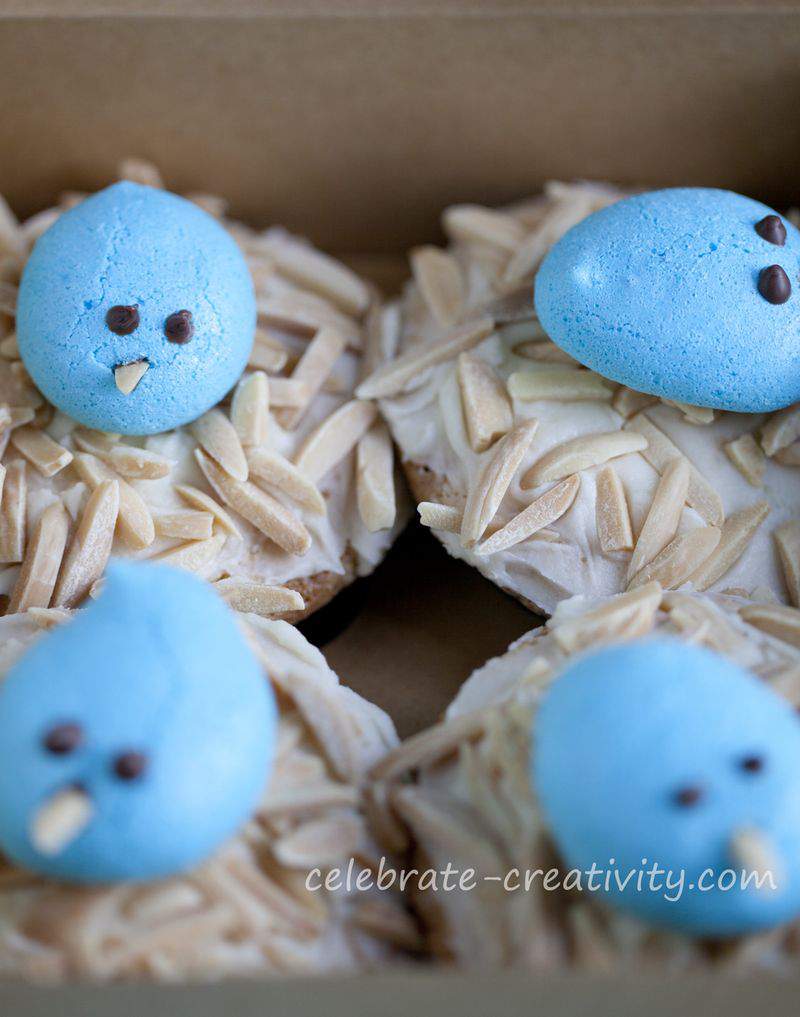 You could tie the box with pretty ribbon or use raffia which is more in-keeping with the au-natural look being presented.
In fact, I think raffia looks like the kind of material you might actually find in a bird's nest.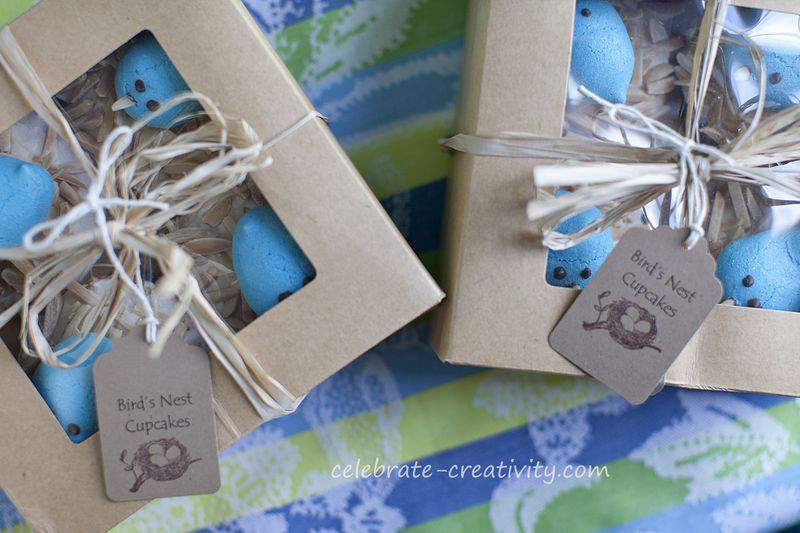 Add the gift tag to top off the tasty offering.
Perfect gift for anyone fond of feathered friends.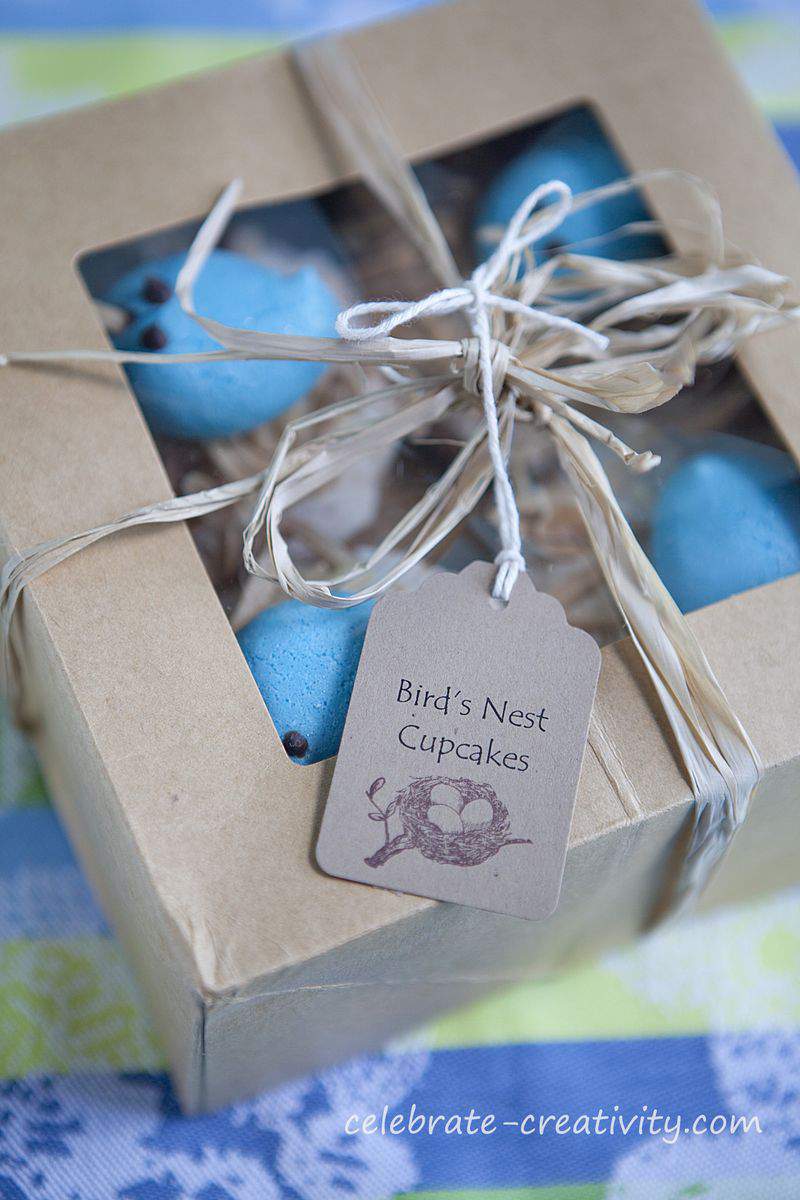 Too cute, right?
Tell your gift recipients to gobble these up quickly or your little birds just might fly away.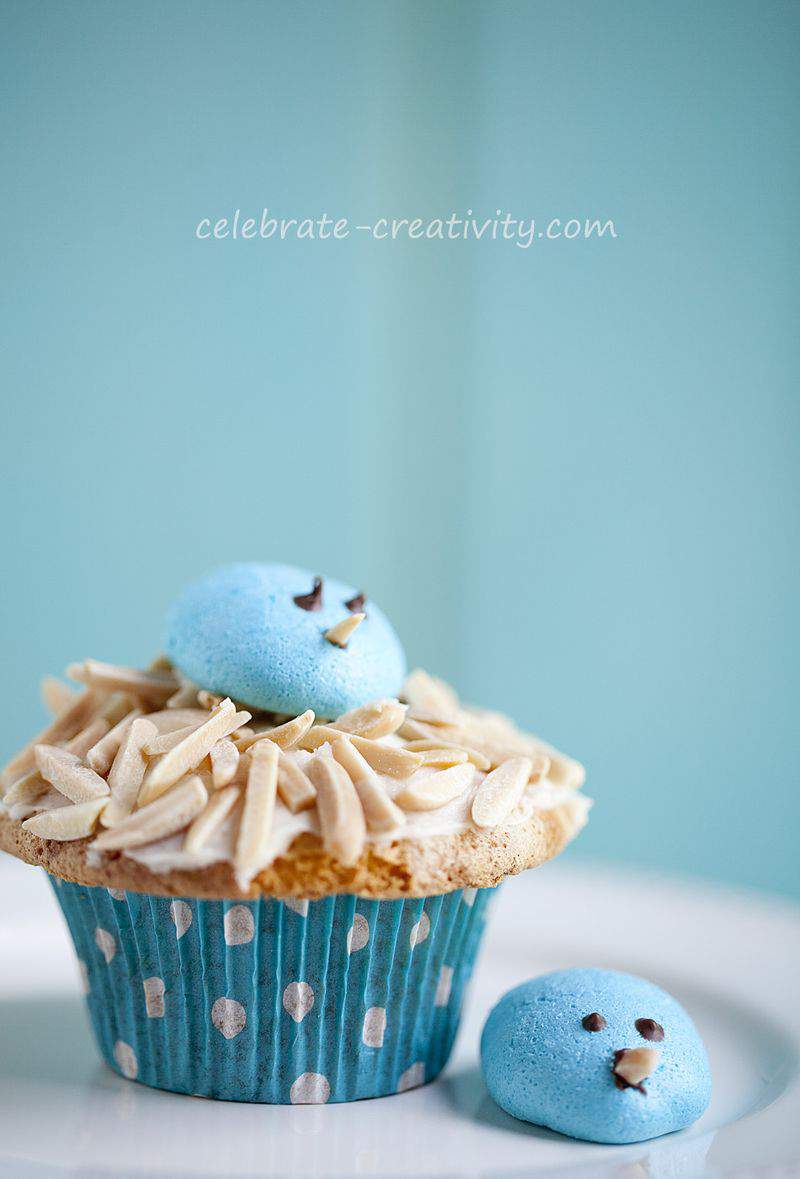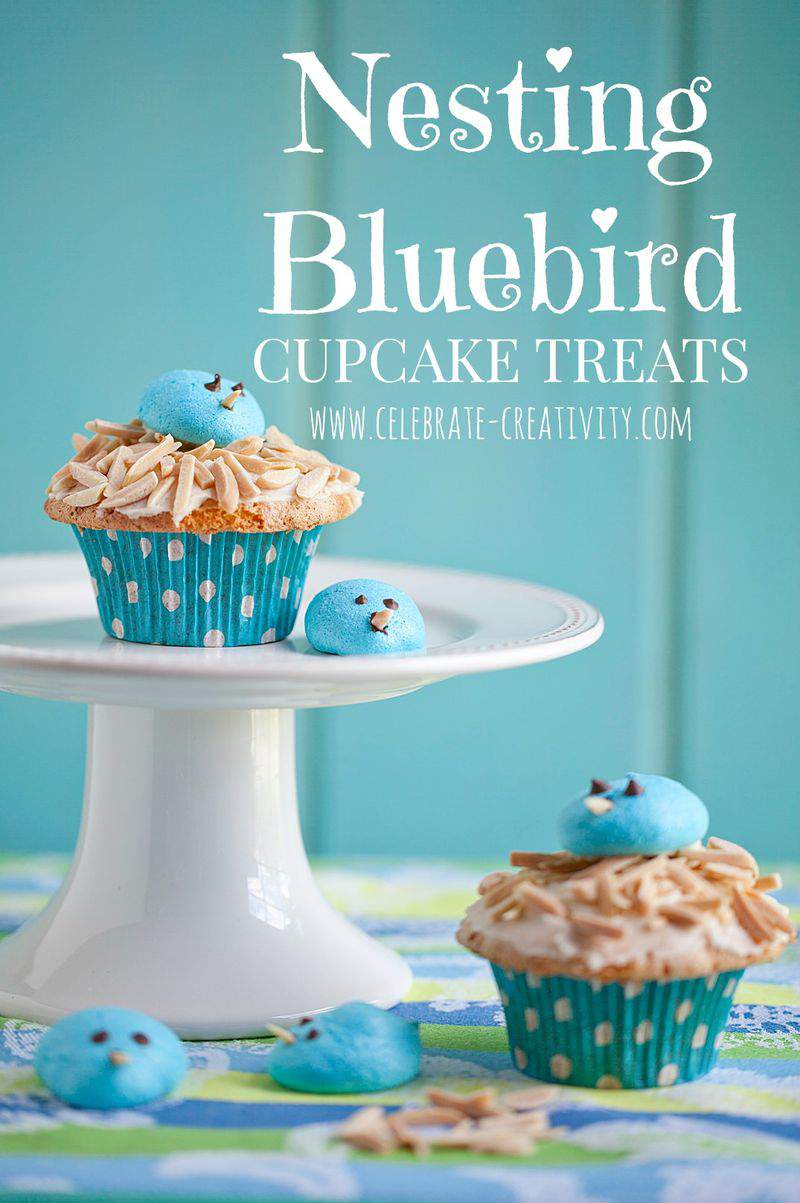 Thanks for stopping by.
See you back here next time. ♥
 WANT MORE DELICIOUS INSPIRATION?
I'm linking this Nesting Bluebird Cupcake recipe to the following:
Bonnie and Trish at Uncommon Designs
Yvonne at Stone Gable
Beth at Home Stories A to Z
Kim at Savvy Southern Style
Taryn at Design-Dining-Diapers