As summer winds down there's nothing like a cool, refreshing dish of vanilla ice cream.
This sweet dessert is made even better when cute homemade animal crackers are added to the mix.
Who doesn't love animal crackers?  When I was little, my brother, sister and I always looked forward to this occasional treat.  My parents would give each of us our own container of animal crackers in that little red box, with the carnival train picture on the front and the small rope-like handle.
These days, you can still buy a box of animal crackers but it's just as easy (and a lot more fun) to make your own.
Before I get to the nuts and bolts of this blog post, allow me to share the inspiration behind it.  My animal cracker baking expedition was inspired by our summer trip to the National Zoo in Washington, D.C.
It was a fun visit for Cameron and Jordy's who really enjoyed this perch outside the zoo's aviary exhibit.
OK, let's get back to the animal crackers.  Throughout this post, I'll not only walk you through how to make these cute cookies but I'll also share a really cute packaging idea that you're going to absolutely flip over.
At the end of this post you can read details about the cookie cutter giveaway.  I'm giving away a brand new box of Williams Sonoma animal cracker cookie cutters.  These are really cute and come in a container that is in the shape of one of those old fashioned circus train cars.
NOTE:  Many Williams-Sonoma stores no longer carry these particular cookie cutters.  If you can't find them at your local WS, you may be able to find a set on-line or at the Williams-Sonoma Outlet in Leesburg VA which is where I ordered the box for this giveaway.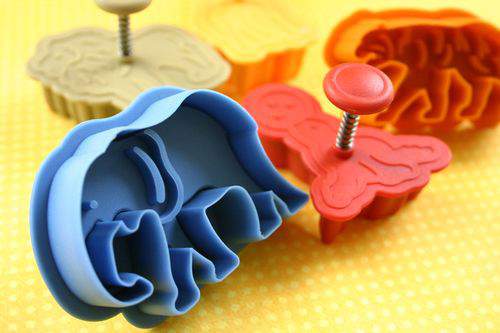 There are 5-cookie cutter shapes including a seal, lion, elephant, giraffe and a lion.
These have a special spring-loaded action which creates the authentic-looking impressions in the cookie dough once the cookie is cut out.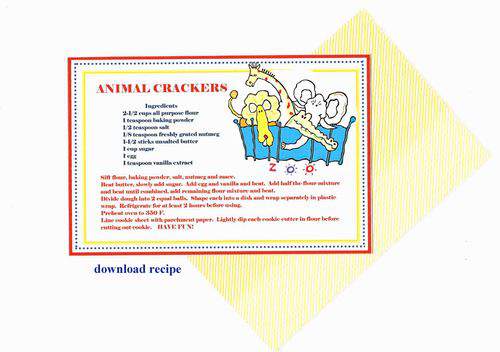 You can use a favorite recipe for your cookies or try this one.  It's delicious.  While it's a tad sweeter than the animal crackers you buy, you'll love the tasty end result.
Download Animal Crackers Recipe here
This PDF (which will create two individual recipe cards) will appear as two pages.  Print Page #1 first onto heavy cardstock.  Reinsert the same page top end first and print Page #2 for a striped backside. 
Trim excess edge and laminate the 4 X 6 cards for durability.
Meanwhile, I drafted Jordy to help in the kitchen.
No problem with that request.  Jordy was perfectly OK with helping out, especially after considering what awaited him on the other side of the oven.
I think these particular cookie cutters work much better if you dip them in a little bit of flour before each use.
Just press down on the spring a bit to get full flour coverage and then proceed to cut out the cookie dough.
After you cut the cookie out, gently push on the spring-loaded lever while the cutter is still flat on the cutting surface.  This will create the authentic impressions in the top of the cookie.  This part of the spring action requires a very light tough so make sure you don't push too hard at this point.
Lift cookie cutter off surface and then push the spring lever all the way down and the cookie shape will pop out of the cutter.
One of the nice things about this particular recipe is that the animal crackers don't expand much during the baking process so you can really load up the baking tray with cutouts.
You'll get about 60-animal cracker cookies using the recipe included in this post.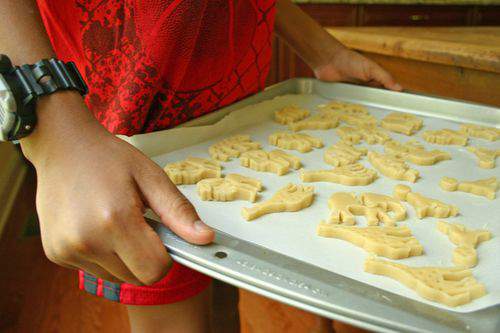 Talk about a circus parade.  How cute are these all lined up as if they're actually marching along?  I want to take a quick bite just looking at this photo.
Trust me when I say, everyone in your household will go crazy for these.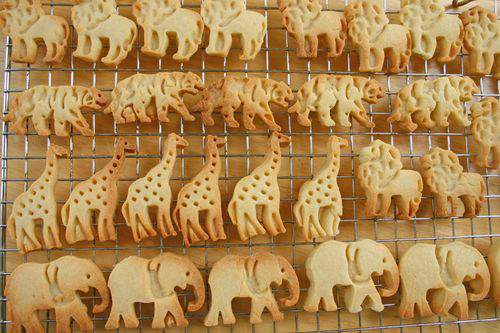 Once all the cookies are baked and cooled they're ready to be devoured by your eager beavers.
I don't have a photo of my kids gobbling up these cute cookies but let's just put it this way… after one bite they looked something like this photo below.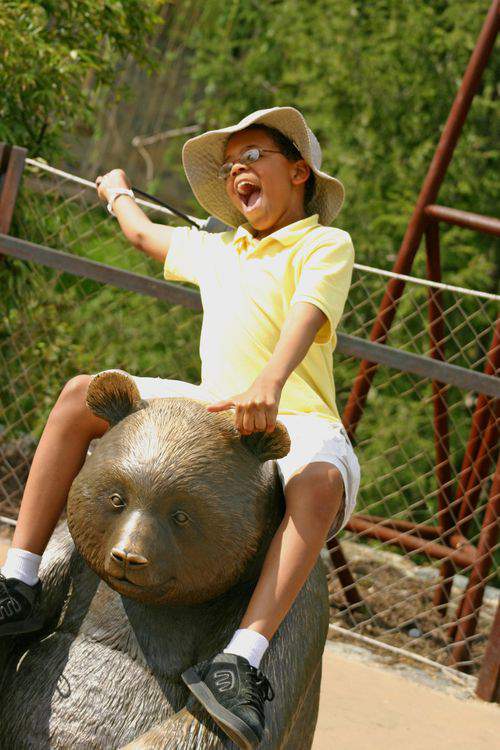 Let's move on to the super-adorable packaging for this that fits in perfectly for our animal theme.
First, bag the cookies up in little plastic baggies and tie them off with a twist tie to keep them nice and fresh. I put 5-6 cookies in each baggie.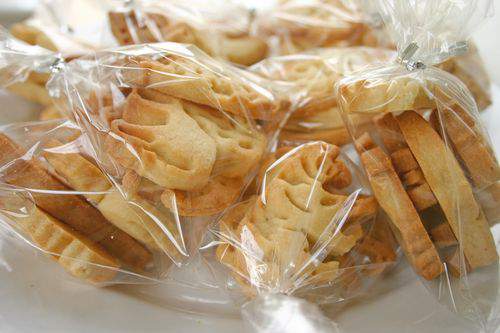 You'll need some ribbon for this.  Plain is OK, but if you can find animal print ribbon that's so much better for this project.
I found this assorted animal print ribbon at my local JoAnn fabric shop.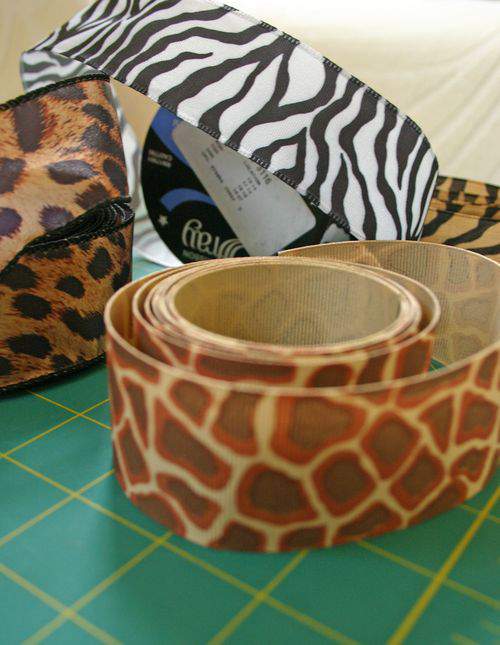 Grab a handful of regular brown paper lunch bags, the ribbon, a pair of scissors and some double-sided tape.
Cut the several strips of the animal print ribbon so that it's long enough to wrap around a folded-down brown lunch bag.
Fill each brown lunch bag with a few of the cookie-filled baggies.
Turn the top down about 1/2 inch and then fold the top of the bag again so that it's the desired size.
Place the ribbon in the front of the bag and then wrap it around the bottom.
Bring both ends of the ribbon  together so they practically meet in the center of the bag.  Carefully press the ribbon so that the double-sided tape adheres to the brown bag as you go.
Leave a 1-inch space between the two ends so that a small area of the brown bag is exposed.
You'll see why this is important in just a bit but we're going to begin with labeling the back of the brown bag first.
It's a good idea to label the contents bag just to make sure recipients know what's actually inside the bag.  This is especially important if you're making these for a bake sale or fund-raiser.
Start by printing out several "animal crackers" titles from your computer onto khaki-colored cardstock.
You can download 4 sheets (16 tags) of my labels here: animal crackers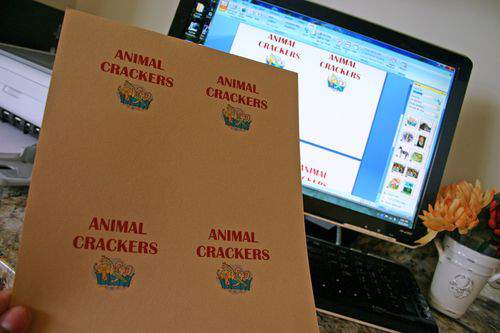 Use a large circle punch to punch out each title.  You can add a little extra touch if you like by adding trim around the circle using a gold leafing pen.
Leafing pens can be found at most craft stores.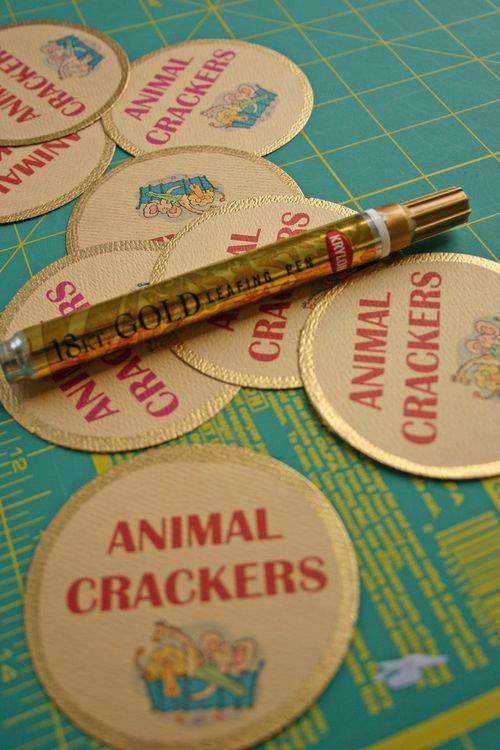 Staple the circle tag to the back of the brown bag making sure the position of the staple falls in that blank area in the front of the bag.  Even though you've taped the ribbon to the bag, this staple also helps hold it firmly in place.
You won't be able to see the staple in the front of the bag because it will be concealed by the die cut that will be added next.
Now let's turn our attention to the front of the bag.  The blank space in the ribbon will be filled with an adorable, raised die-cut image.  There are loads of die cuts on the market and I love to use them for a touch of whimsy.
You'll also need some sticky foam lifts, which you can find at most craft stores.
You can see how I used die cuts on a few other projects I featured on this blog if you click here and here and here.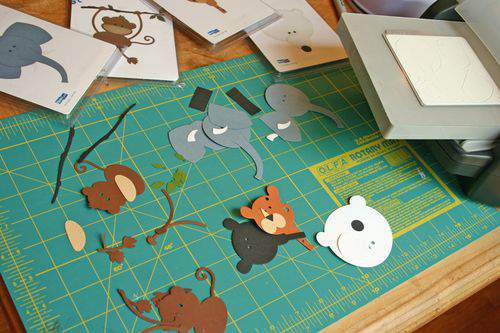 Die cuts are generally pretty flat looking.  However, you can give them more dimension and definition by adding a little bit of chalk around the edges.
Chalk-shading like this really helps bring the die cuts alive.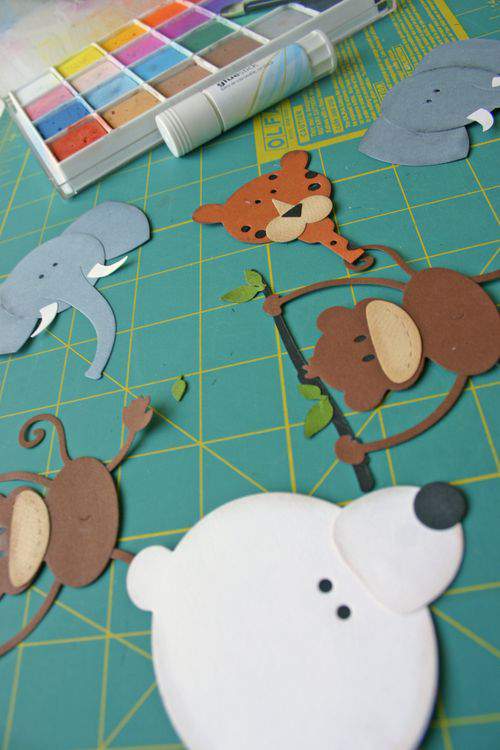 After you've constructed the die cuts (if there are multiple pieces), adhere the sticky foam to the back of the die cut and then push firmly in place in the center of the bag front to conceal that break in the ribbon.
The sticky foam-lifts definitely adhere much better to the brown paper bag than they do the ribbon.
Pretty cool looking tusks on this elephant, don't you think?
I think these completed animal cracker bags are just too adorable for words.
Jordy likes them too.
These animal cracker sacks would make perfect party favors.  Of course, they'd also be great as bake sale items.
Make these for your next school or organization fund-raiser and I think you'll have a big hit on your hands.  Don't forget the circle tag on the back will let bake sale buyers know what goodies are inside the bag.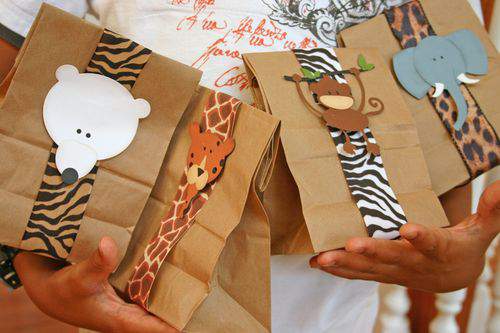 Meanwhile, since I kicked off this animal cracker blog post with a mention about the National Zoo, I thought I'd leave you with one last photo from our trip.
I love this photo of the Cameron and Jordy because it shows how much they really like each other.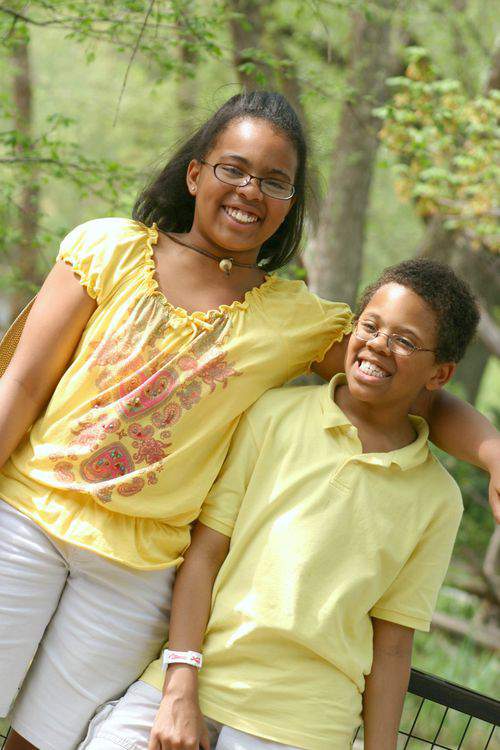 I must say, while I think my animal cracker cookie bags were cute-I think these two kiddos were even more adorable as they wandered around the zoo hand-in-hand, in search of real lions and tigers and bears, oh my. ♥
GIVEAWAY DETAILS
To enter the ANIMAL CRACKER COOKIE CUTTER GIVEAWAY, post a comment here between now and Monday-September 13th, 2010 at midnight EST.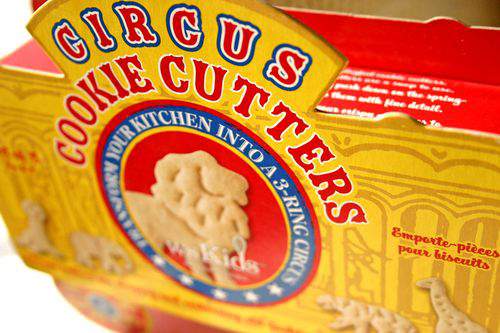 Increase your chances of winning by posting a SEPARATE entry for any of the following: 
1.  Tweet about this contest. 
2.  Post about this contest on your blog. 
3.  Add an I follow celebrate-CREATIVITY button to your blog.