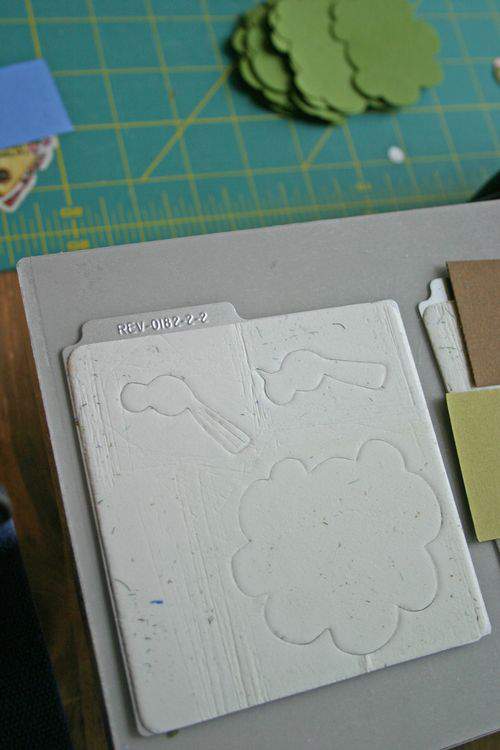 The stage is set.  The lights are dimmed, the instruments are finely tuned, the folding chairs are neatly arranged and the eager performers are standing by. 
It's time for a Spring music recital.
If you scroll down to the end of this post you can see and hear Cameron and Jordy's recent musical performances which also represent my first-ever video uploads to this blog.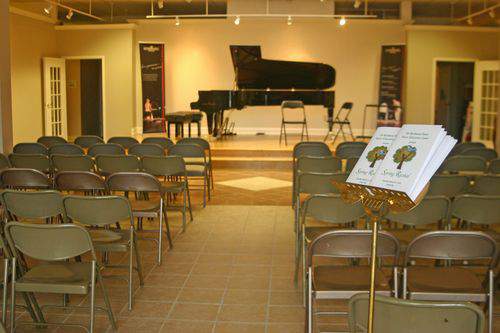 Recitals and other extra-curricular activities present another easy opportunity to interject a little crafting creativity into the picture and at the same time contribute toward the success of the event.
With that in mind, I created these cute music programs for this year's Spring show.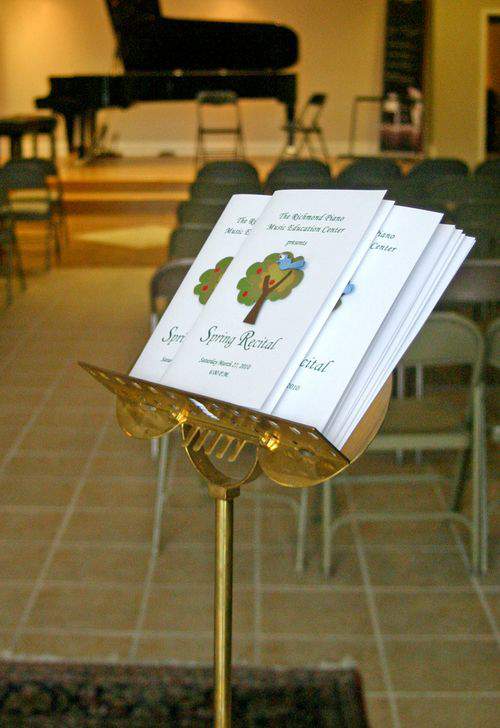 I think you'll enjoy Cameron and Jordy's performances but before we get to SHOW TIME, allow me to walk you through how to make these keepsake recital programs. 
Here's a quick list of the supplies you'll need for this project which includes (1) craft chalk, (2) googly eyes, (3) assorted cardstock, (4) adhesive foam dots, (5) mini, (6) glue.
The standout element in the programs is of course the cute die cut on the front.  This is another fun way to get more use out of a die-cutter, a tool that gets used over and over in my household.
Die cuts are created by passing a metal plate with an embossed image through a vice-liketool which cuts the image into a piece of cardstock.
You can see the outline of the bird and tree images on the metal plate in the photo below. 
I think it's much more efficient to cut out the needed colors of cardstock and place them over each image on the metal plate and run them through the press all at the same time. 
By doing this, multiple elements are created at once and the number of passes needed is significantly decreased.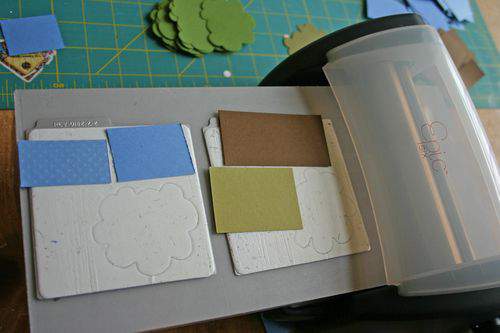 After cranking the image and cardstock through the die-cutter you can see how the images are cut into the paper.
This is a really useful tool and there are endless images available to create die-cuts for any project or theme.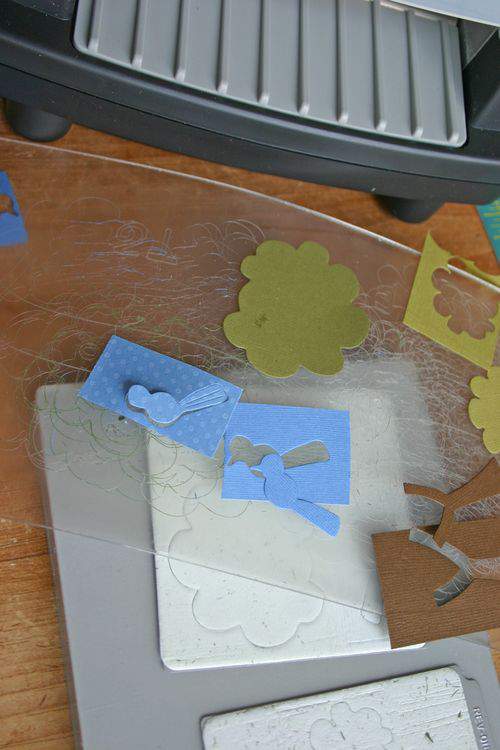 Once all the elements have been cut out, put all the like pieces together.
This particular die cut has a pretty high number of elements so you'll want to stack everything in its own pile for easy access and assembly.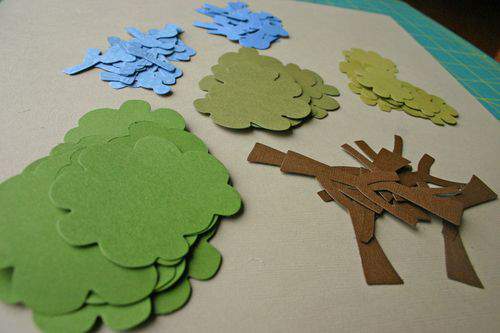 You can also add a bit of dimension to select pieces by lightly shading areas of the die cuts with craft chalk. 
Assorted chalk is a good supply to keep on hand.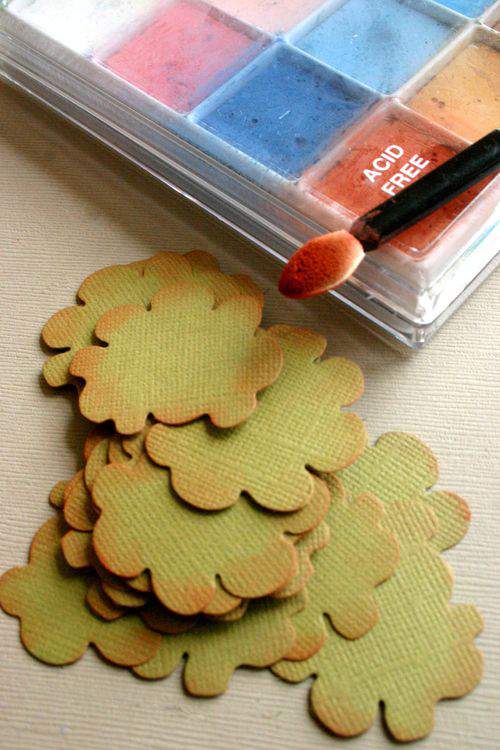 If you have extra little hands available in-house, put them to good use on the die-cut assembly line. 
Cameron is always an eager volunteer.
The sweet bluebird also gets a googly eye for a fun look.
In this case the eye may be a bit too large in scale, but I think that ends up making this feathered, paper friend that much more adorable.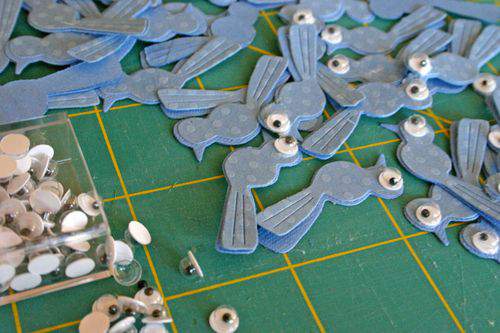 The text portion of the program is created using a program called Microsoft Office Publisher which allows me to drop my info into quadrants that, when printed and folded,  complete the front, inside and back of the recital program. 
Important note: Before final printing of the programs make sure officials with the music school thoroughly proof all selections and check for the accurate spelling of each performer's name.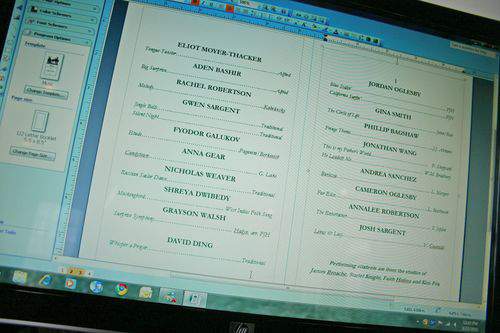 I always print the programs out on very heavy cardstock which in this case is 110-weight paper.  You can find heavy weight cardstock at any office supply store.
Once the programs are printed front and back, simply fold them and give them a good crease using a bone burnisher to prevent finger-oil smudging.
Use small adhesive dots to attach the blue bird to the tree to give the bird the appearance of floating above the branches.  
The dots are made of small pieces of foam which have a sticky top and bottom.  They give die cuts added dimension by lifting them off the page.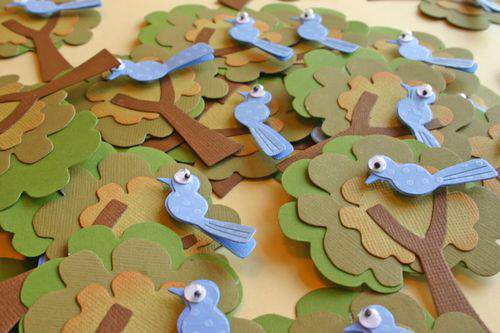 A few hand-punched red flowers add the perfect splash of color before attaching the die cut to the program using another foam dot.
I think these look great and they're now ready to be delivered to the music hall.
I've been creating the musical programs for Cameron and Jordy's music recitals for several years now and the printed programs always go over well with parents and the young performers alike.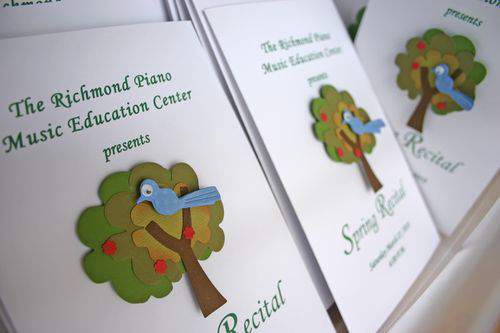 Now, as promised-time for the show.
Jordy has taken piano lessons in the past but this is his first full-year of guitar.  I think he's on to something.
Sit back and enjoy his version of Blue Scalin' and California Surfin'.  Jordy is accompanied here by his awesome instructor, Jimmy Broache.
Meanwhile, Cameron picked Fur Elise by Beethoven for her piano performance and I think you'll agree she nailed her selection.
Wait until the end for her cute thumbs up.
Boris and I are super proud of Cameron and Jordy for all their hard work, concentration and of course their many hours of practice on their respective instruments.
Like most kids they sometimes try to get out of daily practices, but they're learning that in the end diligent practice does indeed pay off.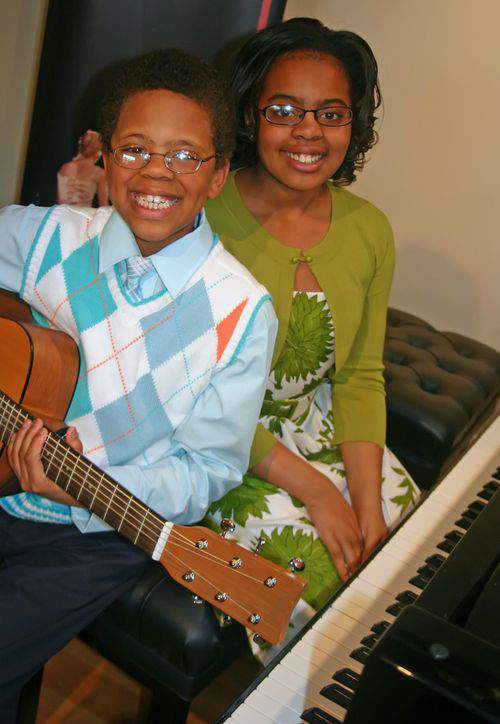 Without a doubt, when these two take to the keyboard and the strings it's definitely music to my ears.♥