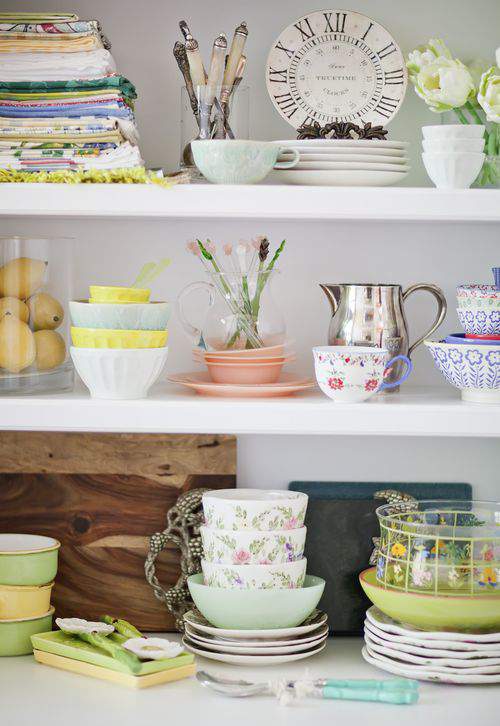 How many times have you looked at picture of food in a magazine or book and just wanted to take a bite right out of the page?  That happens to me all the time.
One of the things I've noticed about many professional images, is the strategic use of ordinary dishes and linens to make the photo really shine.
Sometimes the beauty of a food photo is as simple as the beauty of the dishware in the shot.
Throughout this post, I'll share some of the props for photo styling that I rely upon.
Last week, in Part 1 of my Props for Photography segment, I took a closer look at how to create colorful backdrops to enhance photography.  This week, in Part 2 of Props for Photography, I'm focusing on how I use dishes and other kitchen items to enhance my food photography. 

I'm always on the lookout for pretty disheware that can potentially make my visual look even better.
A glass drink stirrer can potentially add a perfect pop of color.
How about wild flowers?
This hand-painted glass salad bowl and these floral dishes are among my favorite props.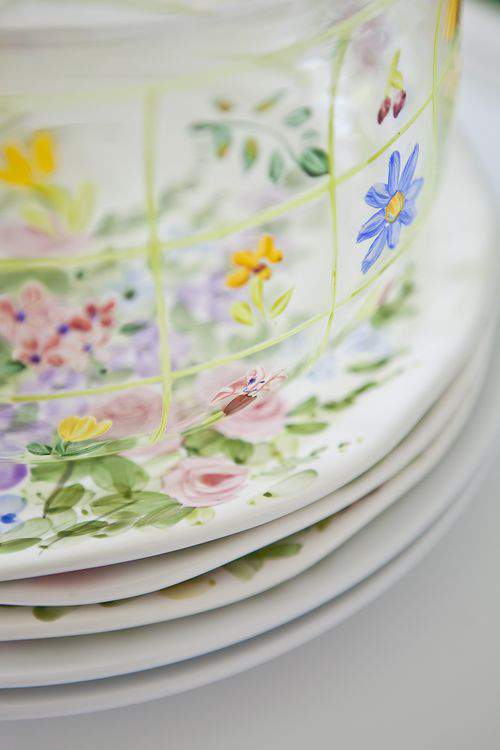 Vibrant or understated color can come from more than just dishes.
I love to use fabrics, patterned napkins and assorted linens when snapping my food photos.
I'll bet if you check in your linen drawer or fabric stash, you'll find a bunch of great pieces that can be used for your shots.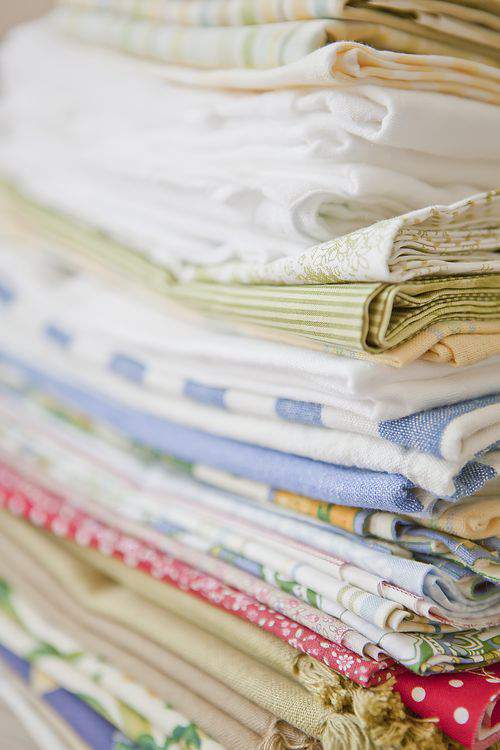 Fabrics can definitely evoke a mood so keep that in mind during your selections.
For example, remember the blackberry cobbler I made a while back?
I think this use of a simple blue and white napkin under the ramekan adds a little touch of "country" personality to this dessert.
Here's another example of how to use fabric to highlight your food presentation.
This pink floral fabric is just a well-ironed fat-quarter that I pulled from my sewing stash and look how nicely it works with these cupcakes.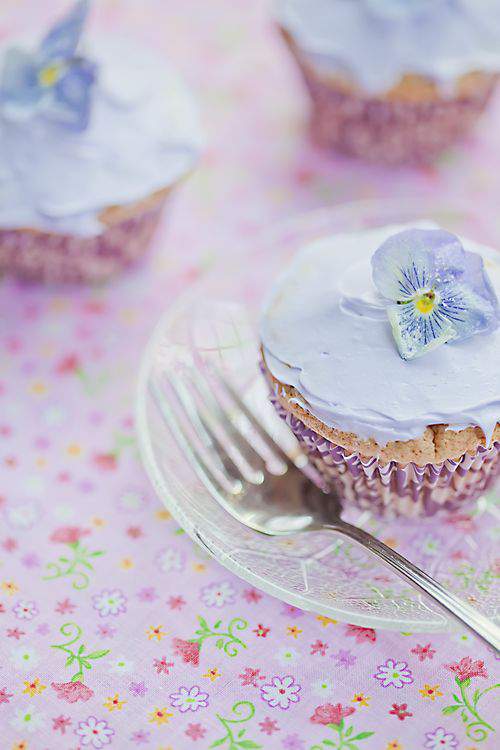 Remember to pull colors and contrasts from the colors in the food when making your fabric/napkin selections.
Often, only a partial view of a napkin or piece fabric will be visible in the shot but sometimes that's all that's needed.
I didn't buy these clock plates with food styling in mind but they look beautiful when used that way.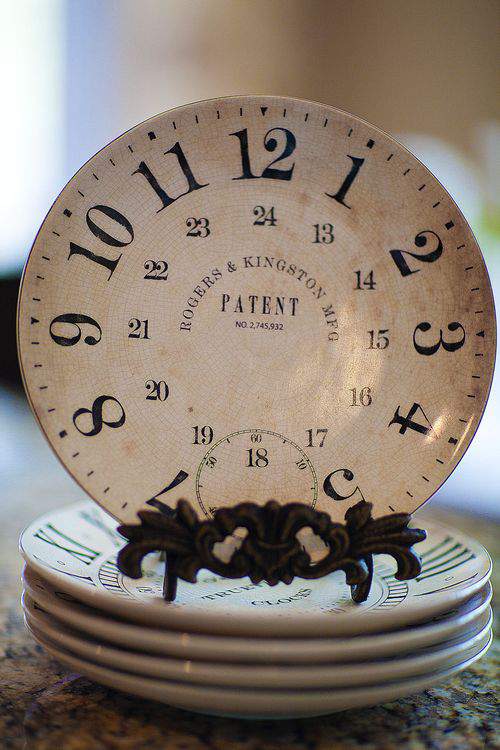 This fruit pastry looks delicious and I think the plate adds even more interest to the shot.
By the way, this is a sneak peek at an upcoming FRIDAY FOODIE on making fruit danish.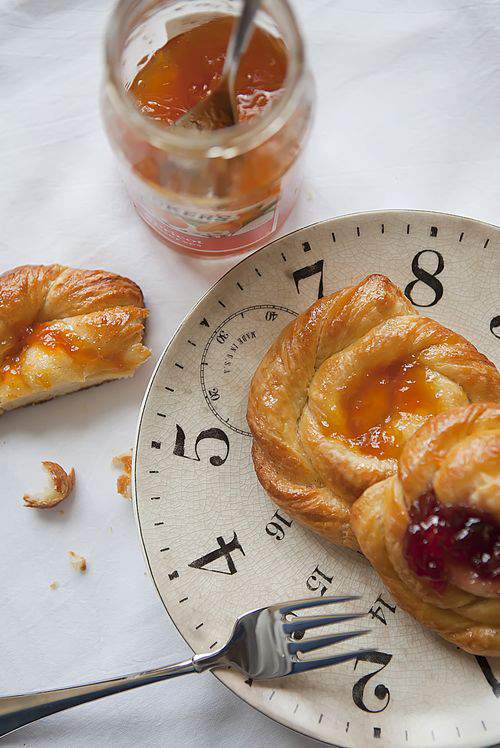 I love the combination of yellow and blue and when I spotted these pieces in the photo below on a store shelf, I knew I wanted to add them to my prop shelf.
As you're shopping, keep an eye out for colorful, unique dishes.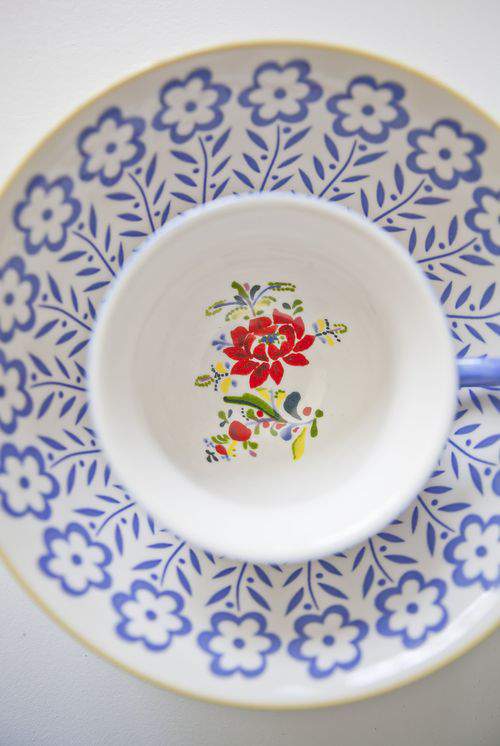 You may recognize the cup in the above photo because I used it for my recent FRIDAY FOODIE segment on making Lemon Sorbet.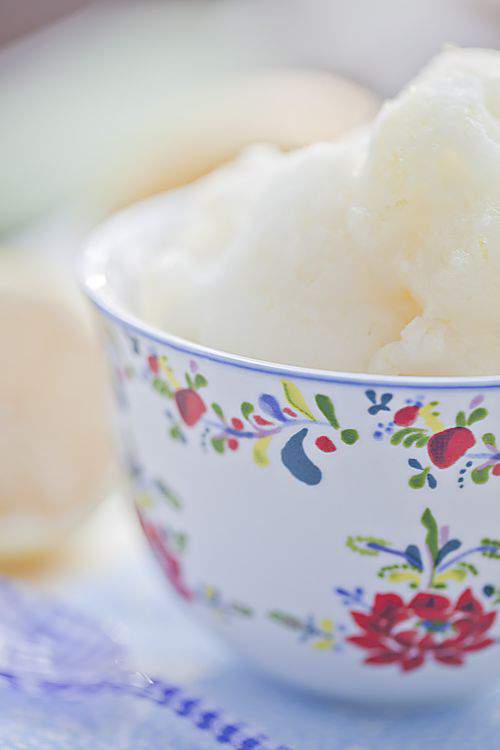 Here's a wider view of the shot and you can see how I used multiple napkins (yellow striped and checked) and blue floral fabric to enhance the frozen treat.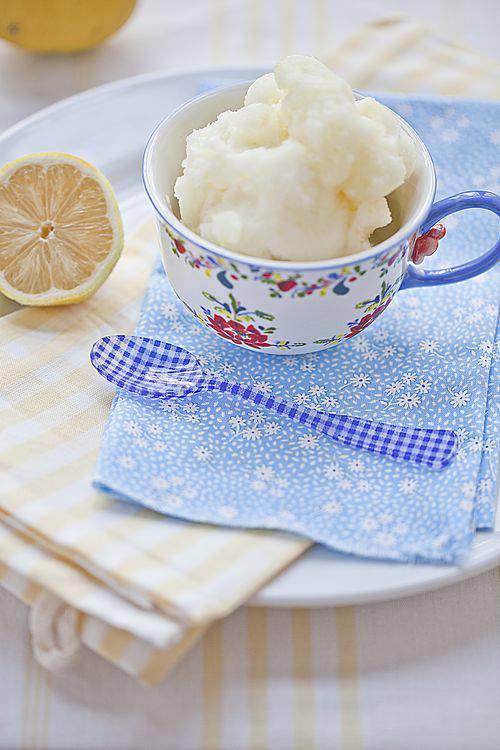 I found these peach dishes at a thrift store and only paid $16 for three bowls, one salad plate and one dinner plate.
Fantastic deals on great props can be found just about anywhere if you keep your eyes peeled for such deals.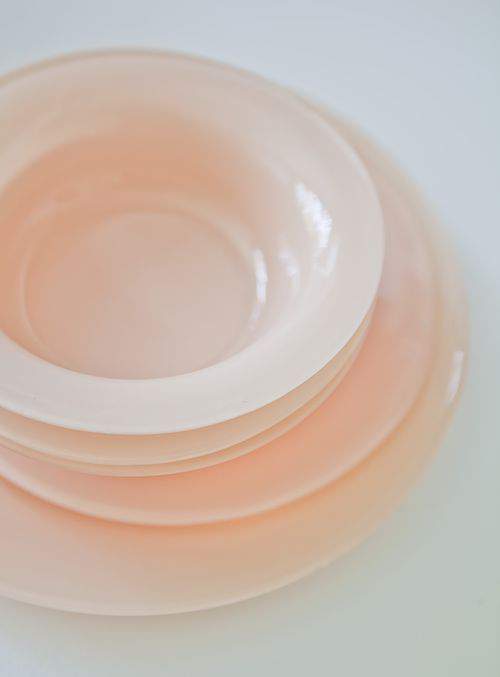 I used a few of these peach colored dishes for my post on Vanilla Bean ice cream.
Seeing this photo again makes me want to make homemade ice cream again.  Maybe this weekend.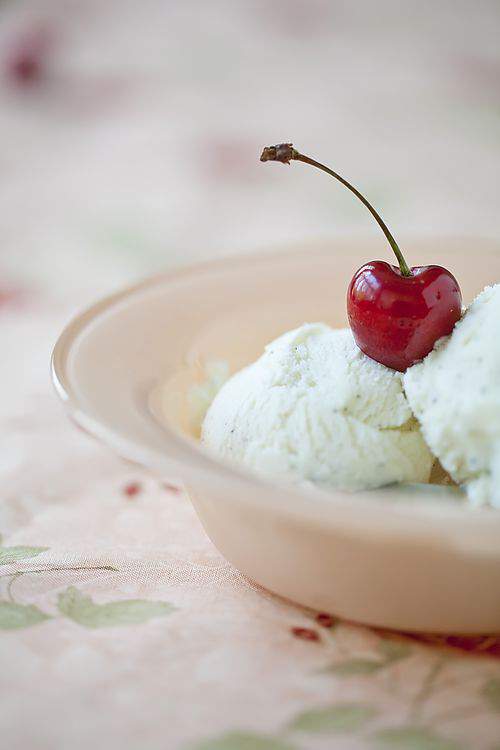 I also like to stack dishes inside of dishes.
Vintage looking, clear plates can be really versatile.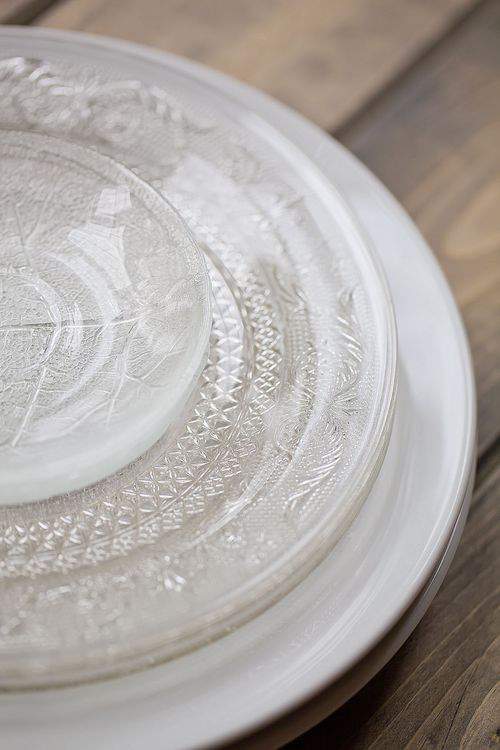 A fork or spoon with an intricate handle can be a lovely way to accessorize a great looking dish.
I found these utensils at a local kitchen ware store for less than $3 each.
Here's how I combined the clear plates and one of the decorative forks for a simple, elegant presentation.
Want to take a bite?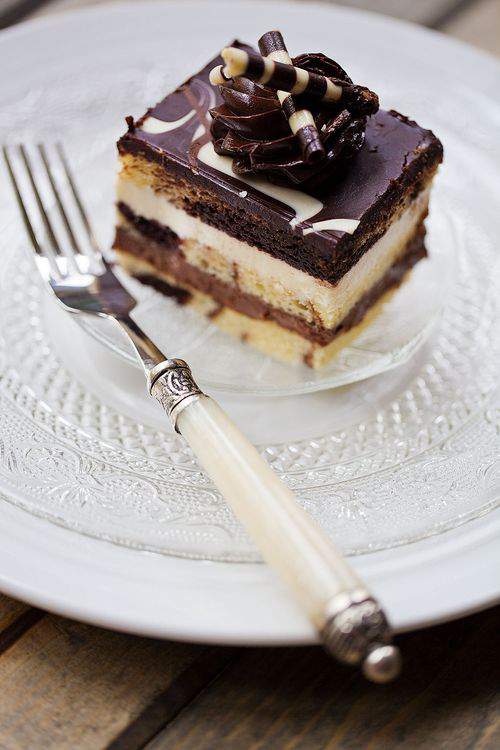 I also love colorful, assorted bowls of all shapes and sizes.
They can really have so many uses when it comes to food styling.
Think outside the box or in this case, outside the bowl when showcasing your ingredients.
Instead of showing bags of flour, sugar and other original containers and packaging, consider putting all the ingredients into assorted bowls.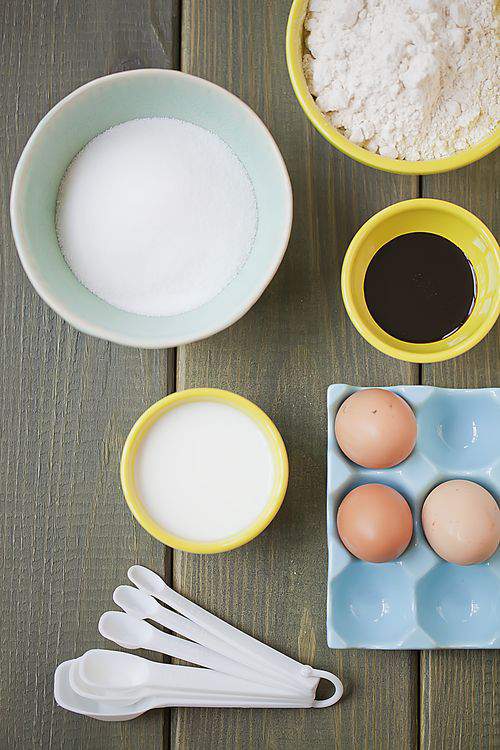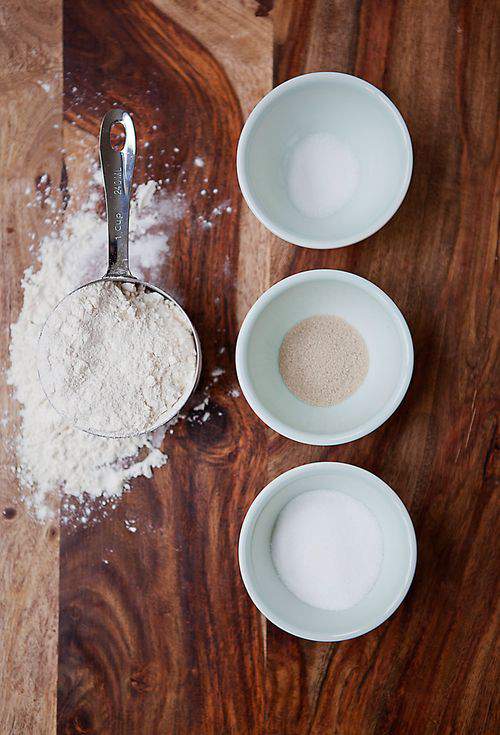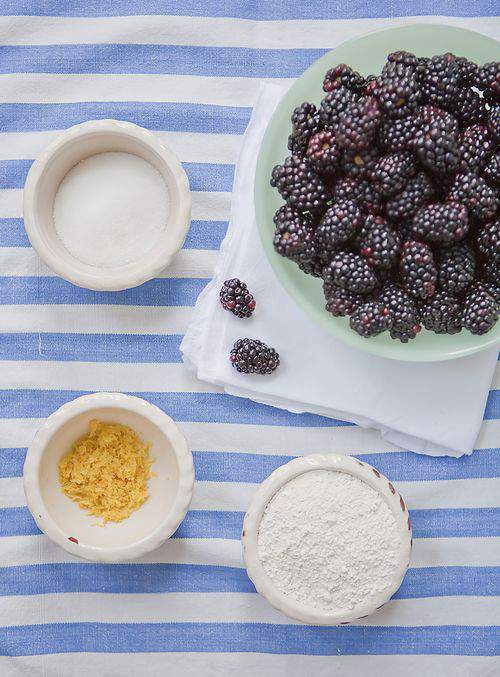 Ceramic egg cartons are availabel in a variety of colors and always look great in shots that display ingredients.
NOTE: These ceramic cartons are also great for storing small jewelry.
If you read my prop board post last week, you'll remember seeing a few of these shots below.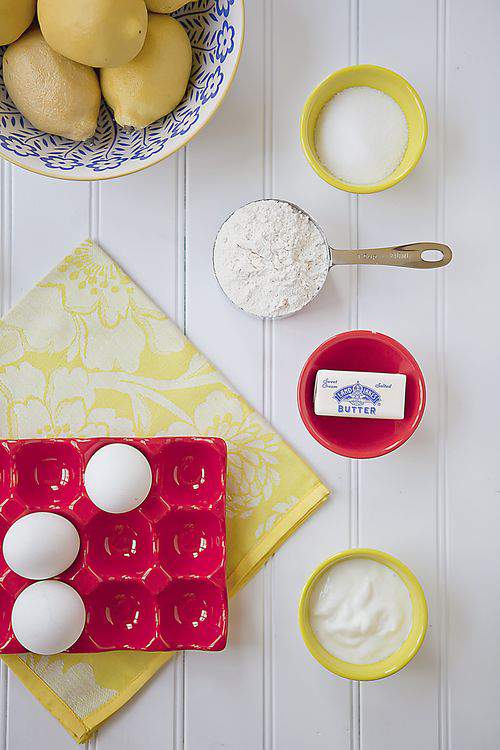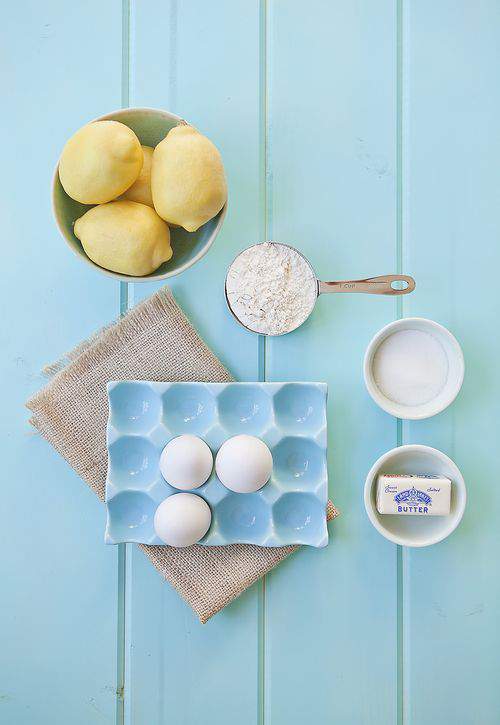 Did it occur to you that kitchen cutting boards can be used for so much more than just cutting food?
They're also good as props and backdrops.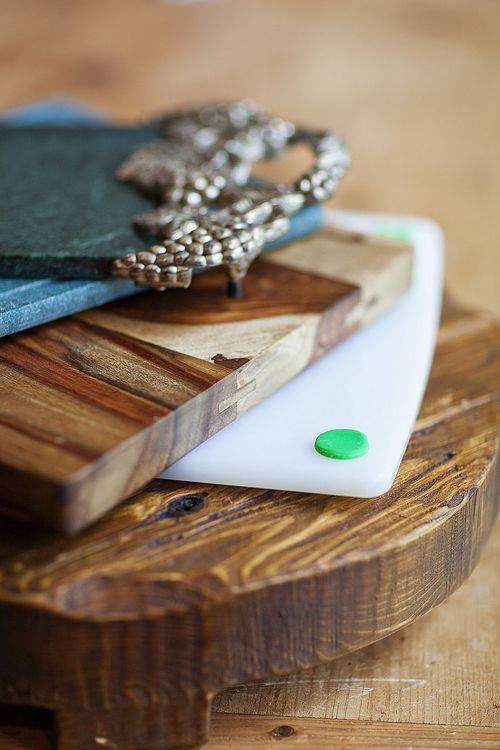 If you're in market for a new cutting board, look for one with lots of great grain and mixed coloring.
Here's a look at how my pizzelles look on one of my favorite cutting boards that I use all the time for my food photography.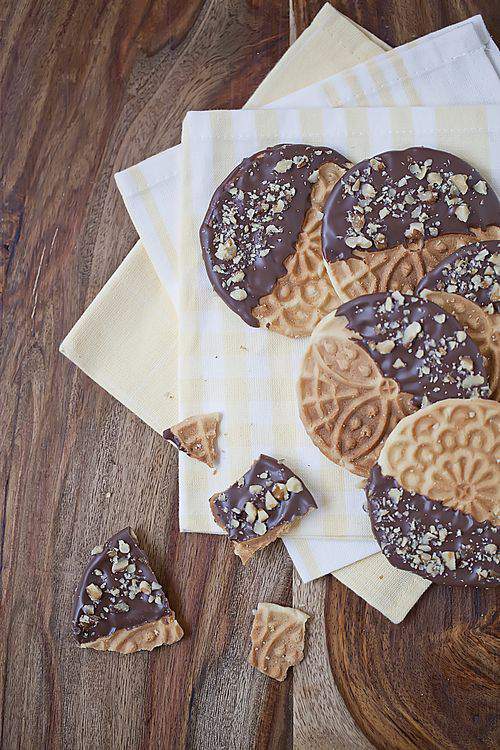 Here's another example of how I used a similar wood grain cutting board.
Look for the recipe for this delicious looking Pesto in an upcoming FRIDAY FOODIE segment.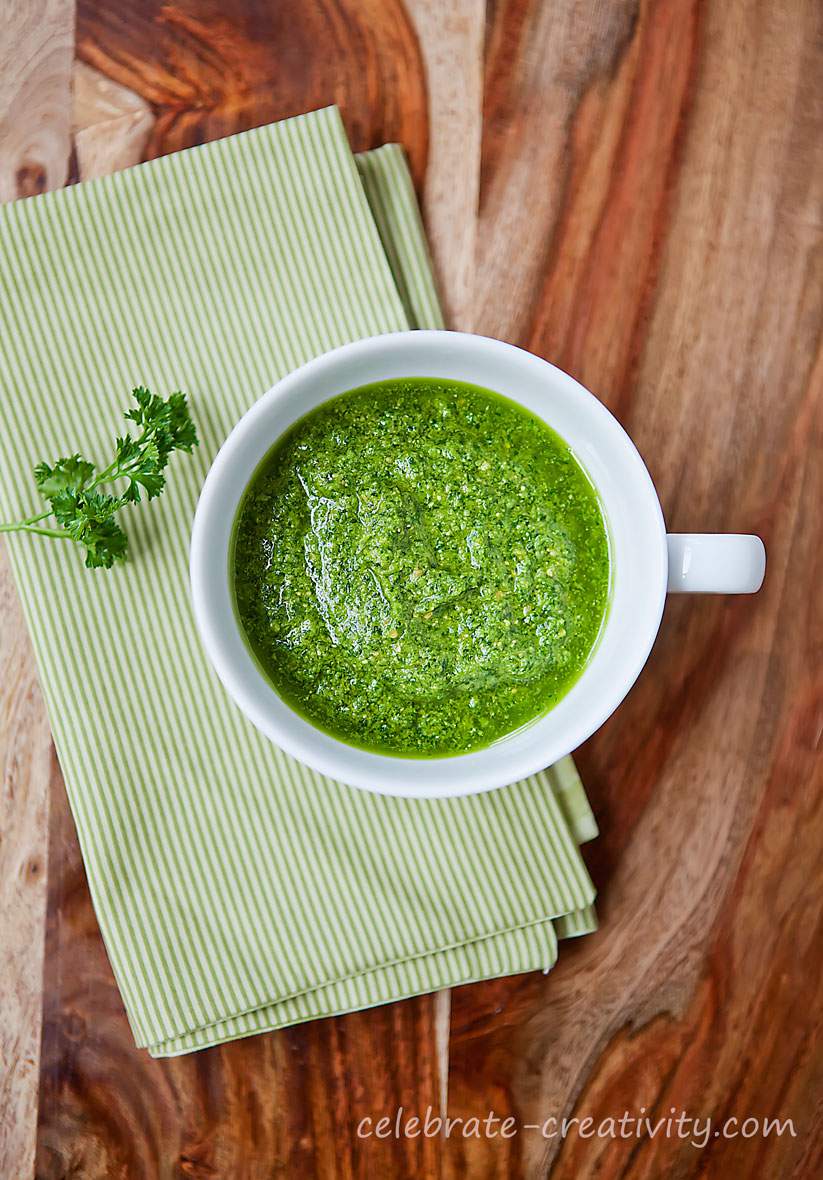 I'm still learning and growing as a photographer every day.
I'm no expert but I'm happy to share my prop styling tips in hopes that my efforts can help yours in some way too.
To me, the fun part of food styling and photography is the practice.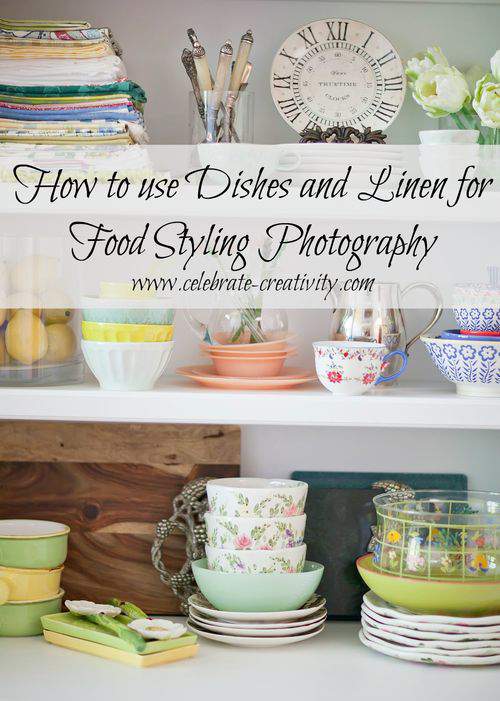 Take a good, long look around your own kitchen cupboards.  You may be surprised to see how many great dishes and linens you already have on hand that would look great in your food styling and photography efforts.
So, grab all the interesting colors, textures sizes and shapes you can find in your cabinets and start building your own top shelf, prop shelf.
Thanks for stopping by.
See you back here next time. ♥