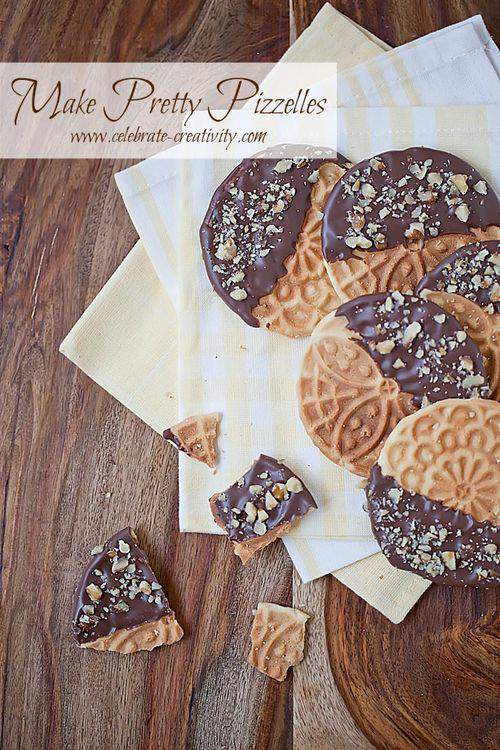 I f you're in the market for an easy Summer-time treat this could very well be the recipe for you. 
Pizzelles are not only pretty, but are also a wonderfully versatile dessert that can be served up any number of ways.
By the time you finish reading this post, you're going to want to make your own pretty pizzelles.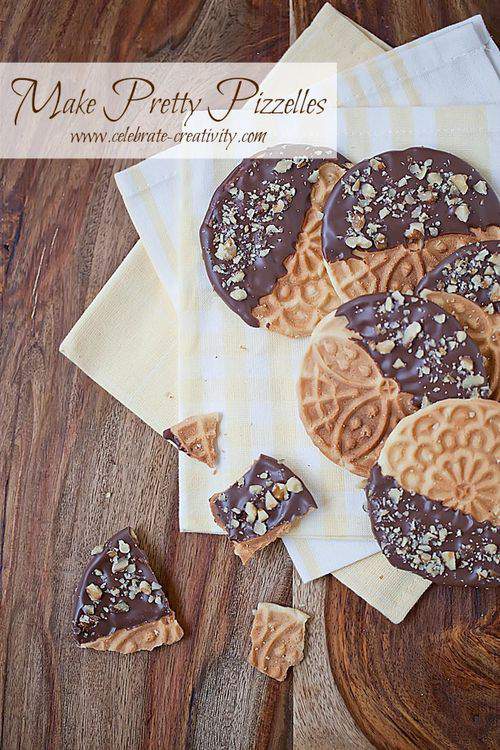 Look at all that goodness.  Pizzelle have a light, crispy texture with a sweet (but not to sweet) taste that makes them good for just about any occasion.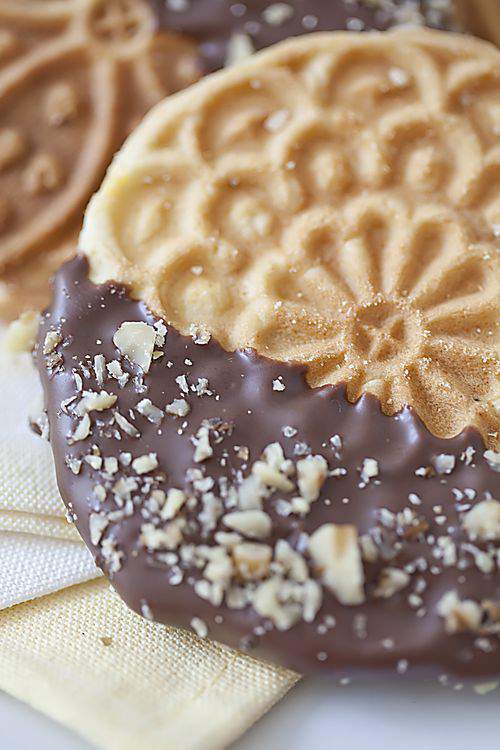 I've had my Pizzelle maker for many years and it's fun to pull it out every now and then and warm it up. 
While I don't use it as often as I use my waffle cone maker, it is a great piece of equipment to have in your kitchen cupboard when you want to whip up a quick, unexpected and attractive.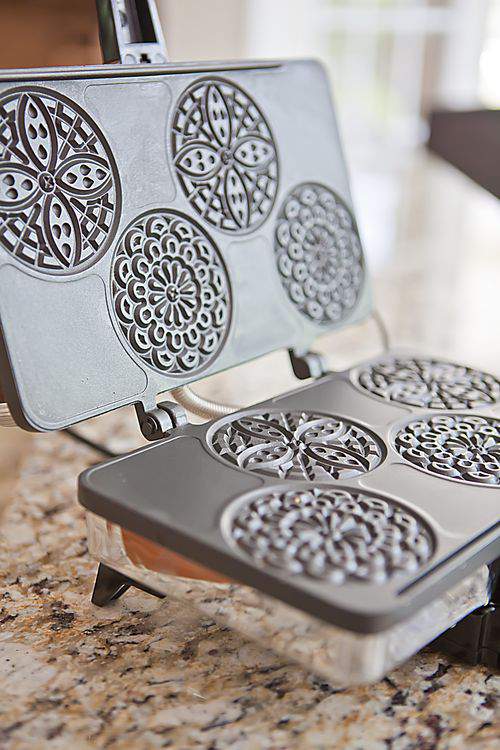 Most pizzelle iron allow you to make multiple pizzelles at a time.  This one will give me four per heating but the batter will yield at least two dozen cookies.
Because the top and bottom of this pizzelle iron has two different patterns, I'll get a different design on either side of the dessert which gives pizzelles that impressive and distinct appearance.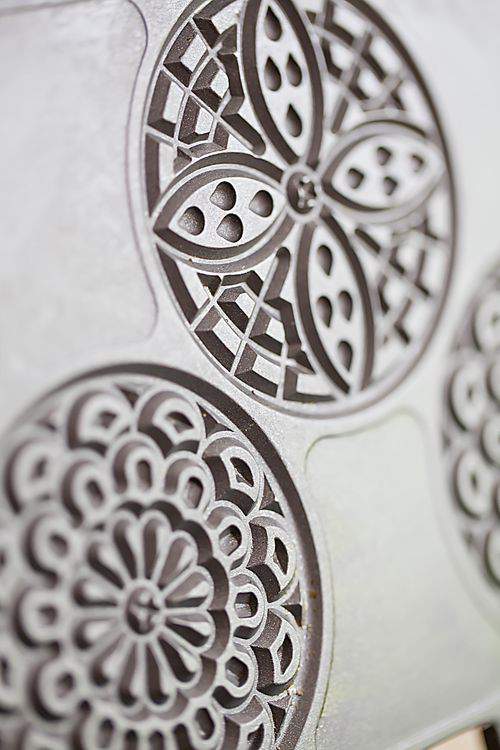 You'll only need a handful of ingredients to make a basic pizzelle batter including: eggs, flour, vanilla extract, baking powder, Anise seeds (optional) and melting chocolate (optional but I highly recommended it).
Click the highlight to the right for a PDF of the full recipe.   Download BASIC PIZZELLES RECIPE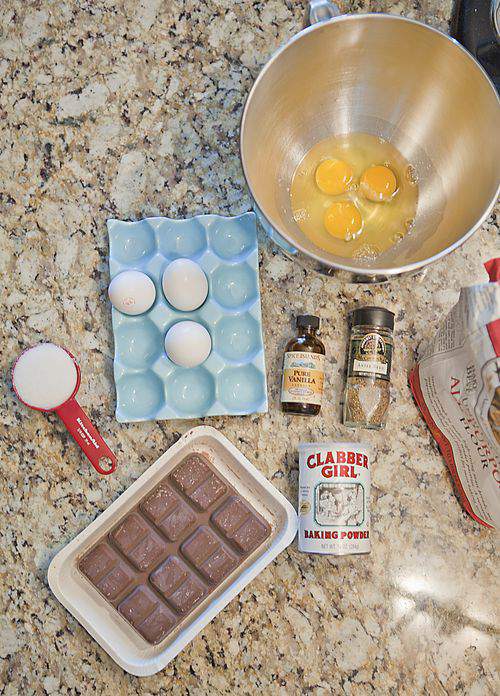 While the Anise seed is optional, it adds that subtle licorice flavor that anise is known for and it really works well with the pizzelle.
Don't worry, the licorice flavor is very faint but it is just enough to give the pizzelle a distinct twist in flavor.
NOTE: There are plenty of pizzelle recipes online for various flavors including citrus.
Put a teaspoon of batter on the grid behind the center of the design. 
The heat and the press will spread the batter across each plate.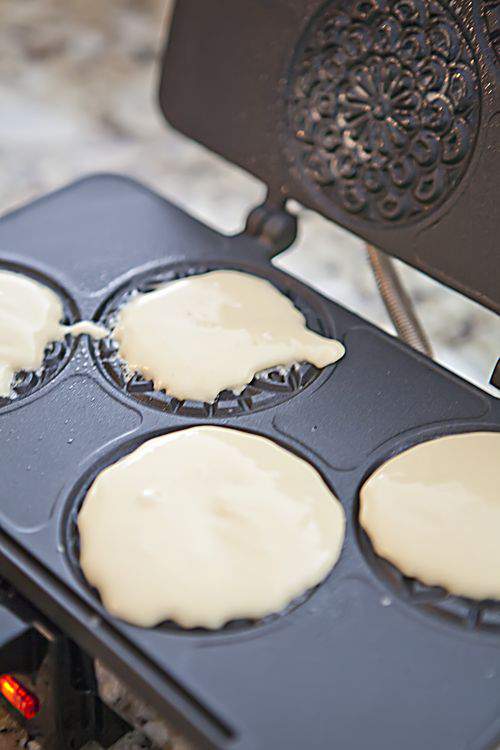 As you can see, sometimes the batter bakes a little too short to cover the mold completely. 
No worries, it just takes a few tries to perfect the batter placement.
Trust me, any kids in your house will be happy to eat the baked pieces that don't form perfectly.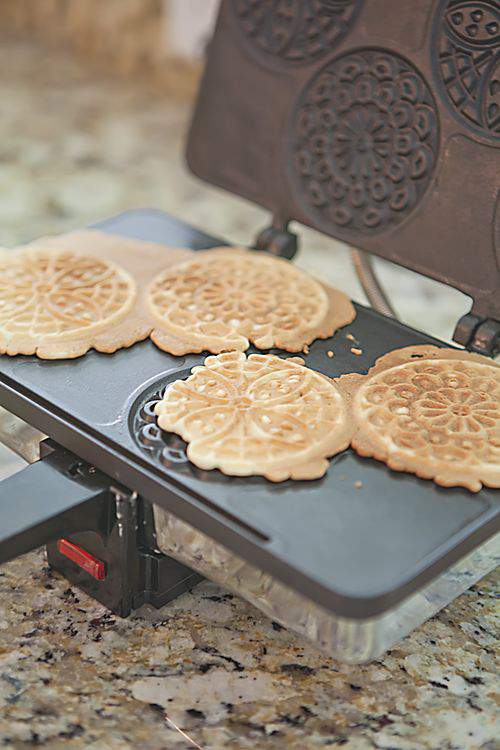 Better to have a bit too much batter than not enough. This is how a perfectly baked pizzelle looks. 
Carefully break off the excess baked edges as close to the circle as possible without breaking into the design.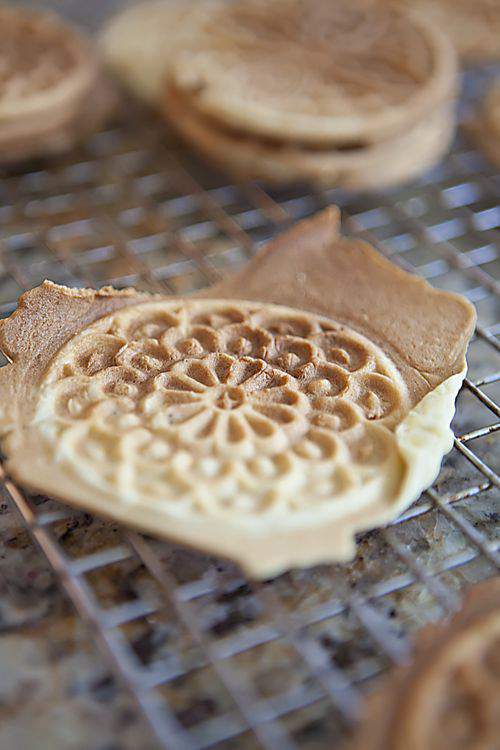 Remember, pizzelles are very fragile-so handle with care.
Here's a good tip to get all your pizzelles to look the same. 
Hold three pizzelles together and gently scrape a butter knife (at an angle) around all three edges at the same time. 
This cleans up the edges and gives the  pizzelle a uniform, circular shape.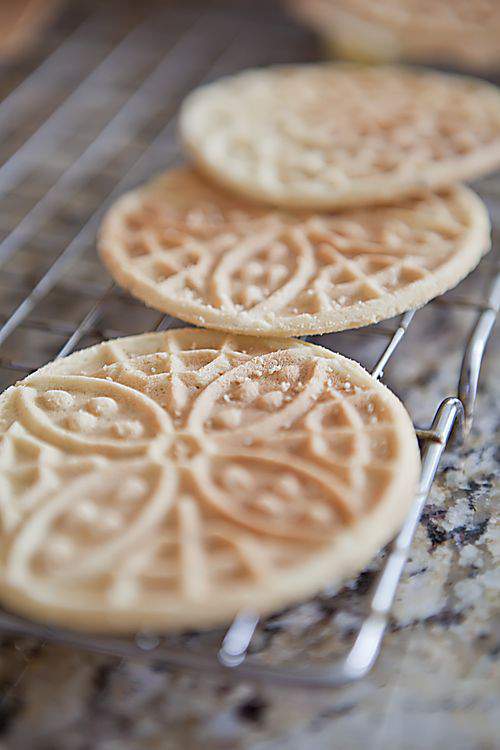 Pizzelles stack quite nicely and can be served plain if you like.
You can also place a stack of pizzelles like this into a baggie and tie with a pretty ribbon for gift giving.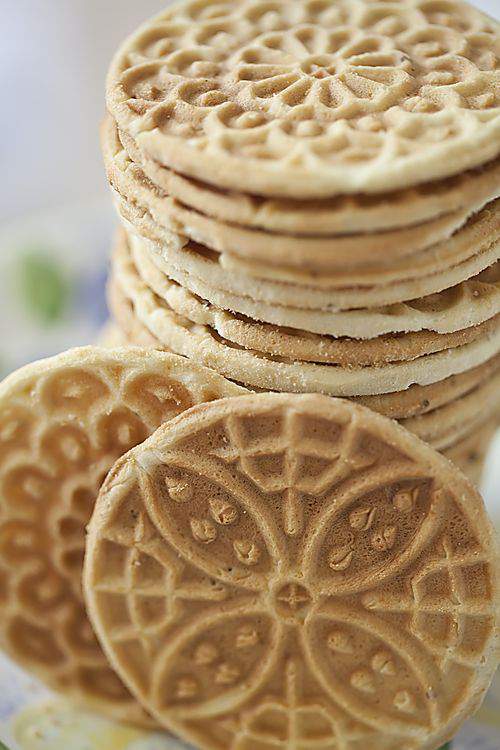 Of course, adding chocolate and nuts to pizzelles are optional but I really like how the extra treatement looks on a finished pizzelle.
If you decide to add nuts, I think smaller nut pieces look the best on the pizzelle.
Chop walnuts or pecans to desired size and set aside.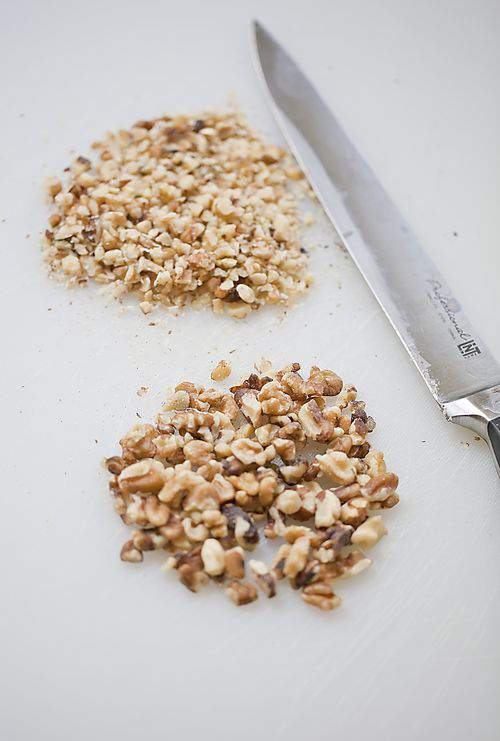 Melt dipping chocolate in a small (cereal size) bowl.
Dip the pizzelle to cover half of the treat with chocolate.
It may help to tilt the bowl forward to help the melted chocolate roll up over the pizzelle evenly on both sides.

Immediately after dipping, sprinkle the chopped nuts onto both sides of the pizzelle.
Of course they also look just as good chocolate-dipped, sans nuts (for those with nut allergy concerns).
Place on wax paper and set the pizzelles aside until the chocolate hardens completely.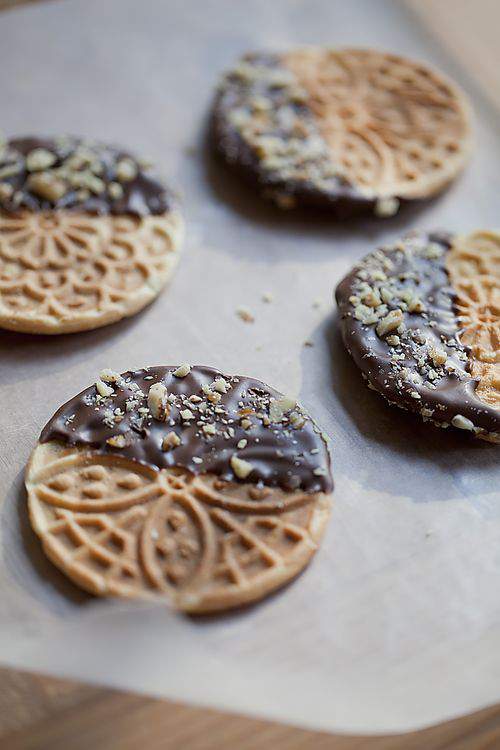 Serve pizzelles along with ice cream, assorted fruit or as a stand-alone dessert. 
While they look quite pretty lined up on a dessert tray, as you can see they make an equally attractive gift when attractively packaged.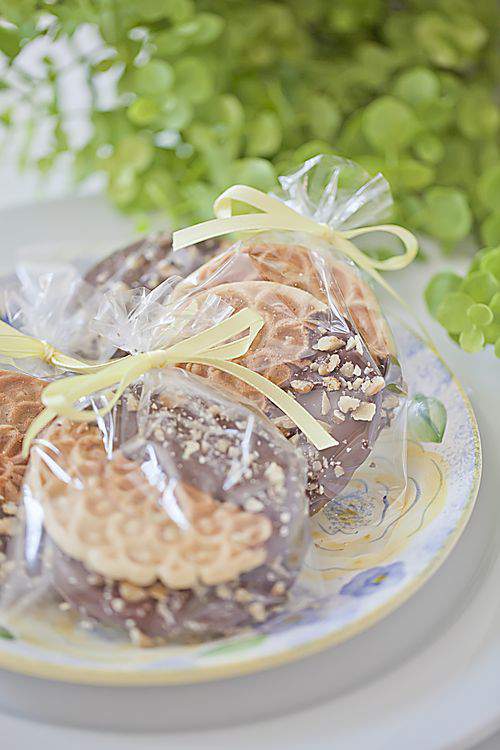 Don't forget to tie off the baggies with a twist before adding the ribbon.  This will help keep the pizzelles perfectly fresh.
Consider offering pizzelles as party favors, a hostess gift, treats for a baby or wedding shower.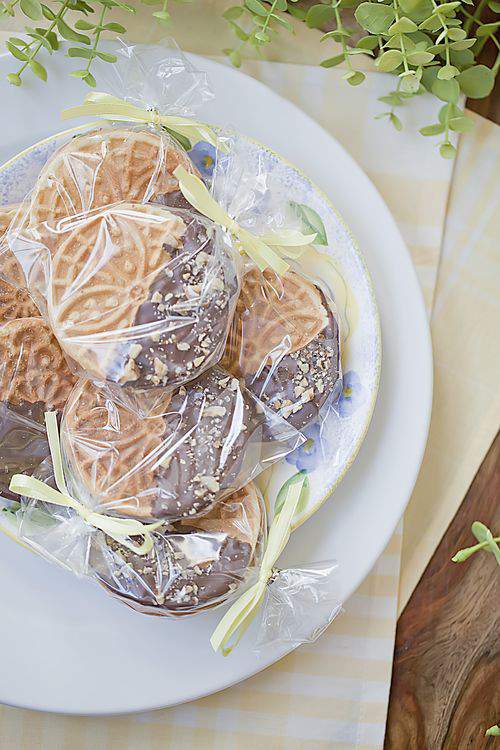 Packaged pizzelles would also be a huge hit at any fundraising event so keep these in mind for that upcoming bake sale.
So, have you ever made Pizzelles before?  If so, do you have a favorite recipe?  
COMING UP ON MONDAY
Coming up next week I'll kick off Part I of a two part series on my recent kitchen area makeover.
You're looking at the great end-of-the-year, school-supply-dump.
It's an all too familiar sight that you may also witness in your own household.
Well, I took the bull by the horns and decided to transform this busy, kitchen eating area into a more civilized-looking space.
Coming up on Monday, check out Part I of my mini-makeover.
See you next week. ♥