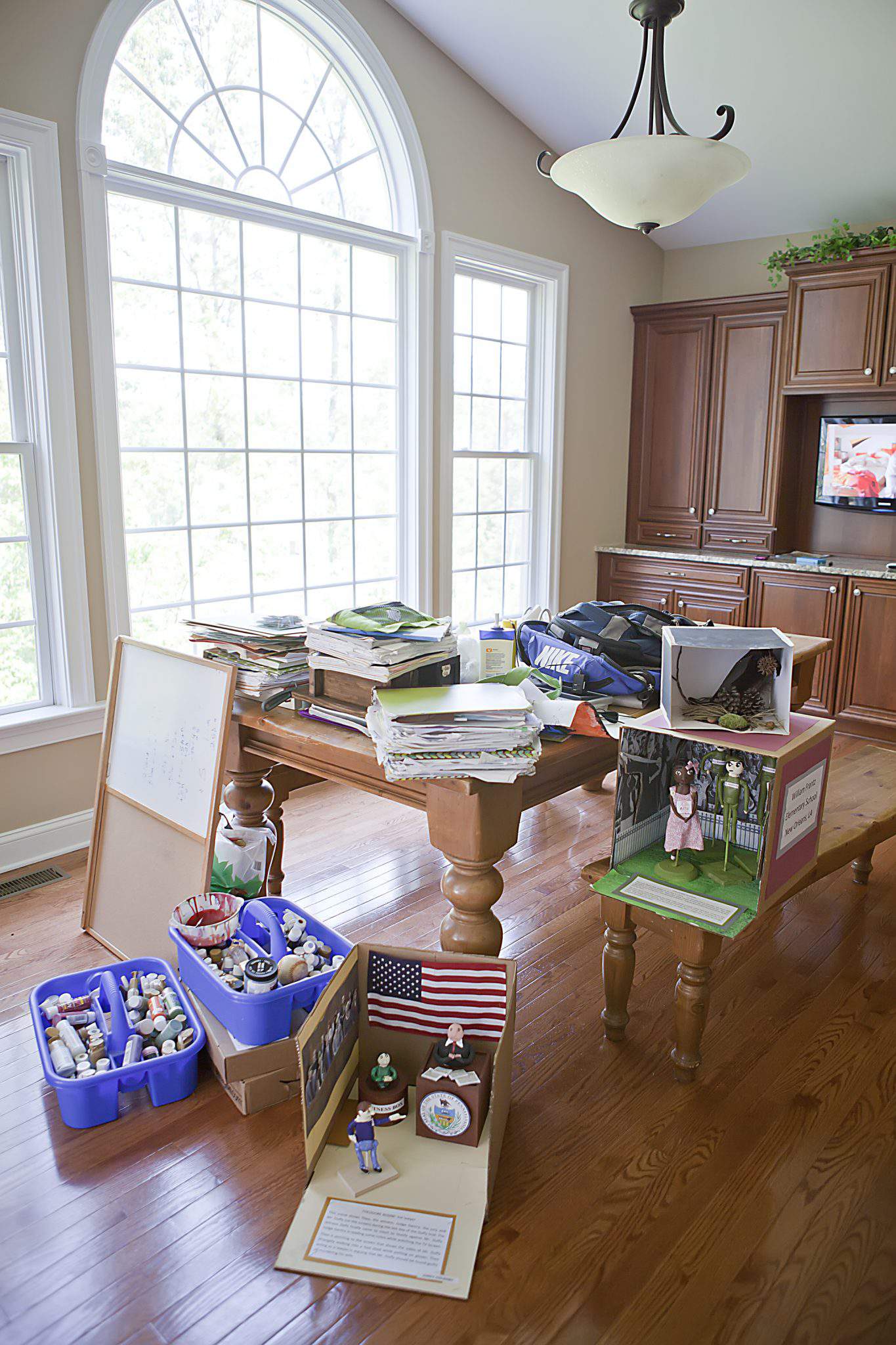 Y ou're looking at the aftermath of a very successful 2011-2012 academic middle school year with assorted books, dioramas, drawings and various school supplies.
Have you ever seen a space in greater need of organizaton and a major transformation?
At the end of every school year, somehow my kitchen eating area becomes the school supply dumping ground.

Now, in the interest of full disclosure, this table is a mess most of the school year because this is where my kids do all of their homework, construct school projects and stage their painting and crafting projects.
However, with school finally out I was ready to transform this well-used table and eating area into a much more civilized looking space.
After spending more than a year trying to find the perfect window treatments for this room, I kept coming back to these gorgeous Pottery Barn panels. (Yes, Pottery Barn is one of my favorite haunts).
I just couldn't find anything I liked better than these and I felt like these panels would help set the mood for the entire space.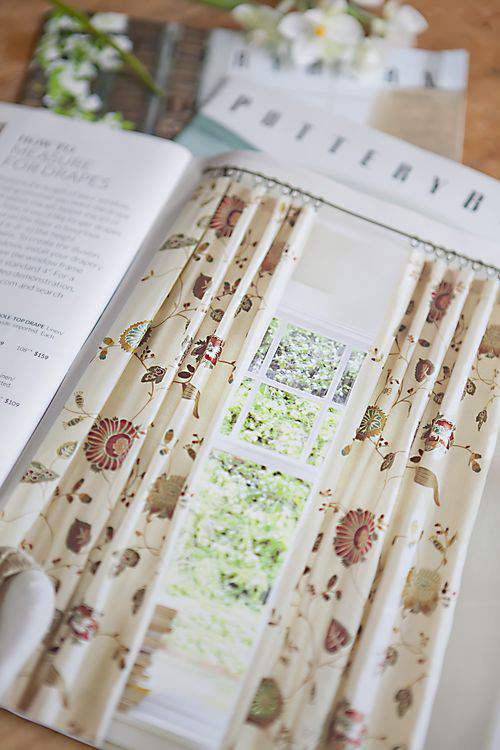 I like the way these panels frame the French doors leading to my porch and I think they also work with my wall color (Lenox Tan/HC-44 by Benjamin Moore).
Sometimes, I tend to over-think home decor decisions because I just don't want to regret a purchase.  Who does?
However, when a particular item (like these panels) stays on your mind for more than a year, I think it's safe to go with it.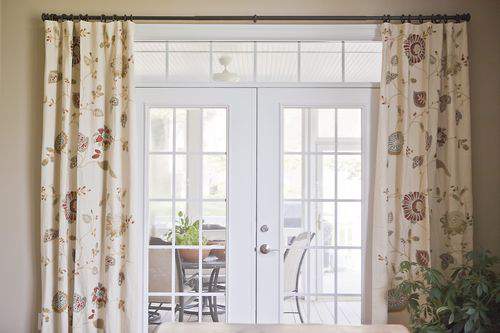 Here's a closer look at the detail in the fabric.  I hope you can make out the raised needlework which may be hard to discern from a photo.
I think this beautiful crewel needlework is what really makes these panels sing.
The floral images are reminiscent of fine, detailed embroidery but crewel-work is actually created with a different technique which produces a distinctly different texture compared to traditional embroidery.
These panels are filled with some of my favorite colors which are also present in other decorative elements throughout my house.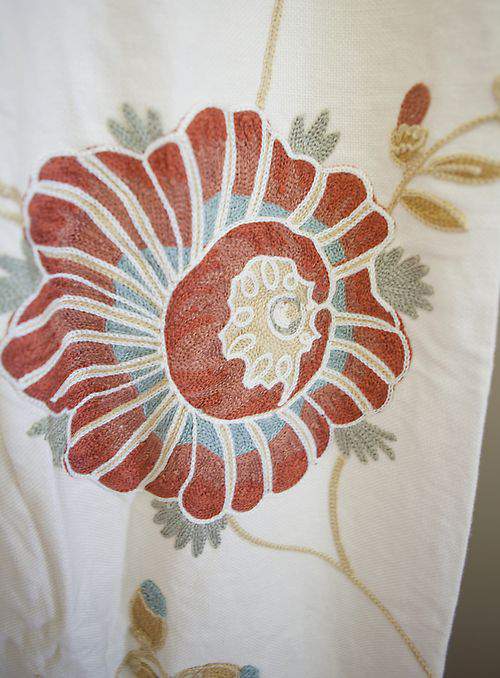 For years, we resisted putting down an area rug in the kitchen eating area because with younger children there always seemed to be more food on the floor than on plates.
Well, everyone is older now so I'm hoping this area rug can stay as lovely as it is now and more importantly, food-free.
NOTE: This rug seems to read a bit burgundy in these photos but it's actually more of a brick red which is the same color as some of the petals in the crewel window panels.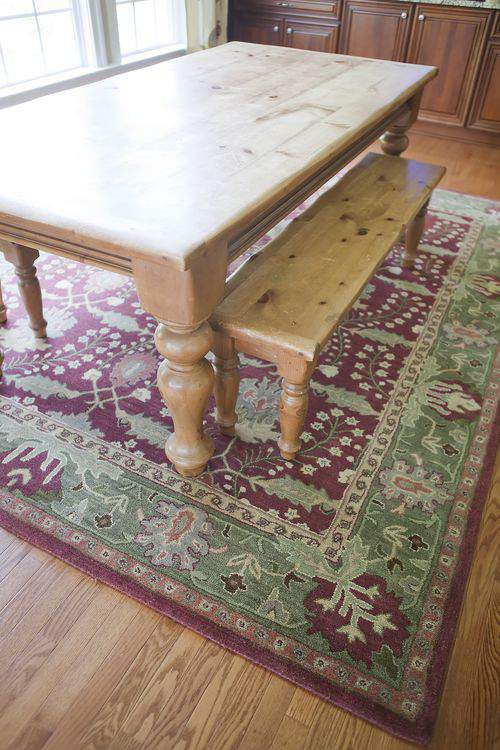 I think it's amazing what a little cleanup and a few decorative elements can do to a room?
While this kitchen area space is finally starting to come together, I'm not done yet.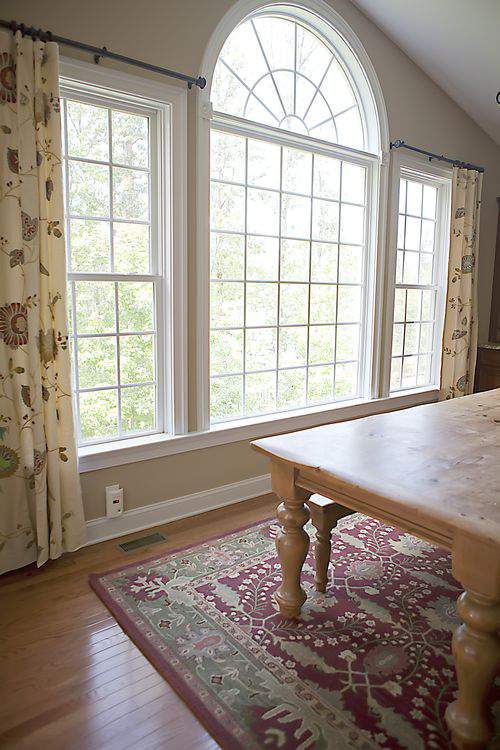 Ideally, I'd love to re-finish this large, farm-style table but I'm still researching the best way to do that.  I've never re-finished anything of this magnitude before, so I need to do a lot more studying before I tackle it.
So, for a more immediate and short-term option I chose to cover the dents and dings from heavy use with a handcrafted, table runner that was as fun to make as it is cute.
I'm going to ask you to wait a wee bit to see the tutorial for the table runner project but you can see the finished runner in a sneak peek in the photo below.
Stay tuned for Part II of my kitchen area makeover next week.
COMING UP NEXT MONDAY
Coming up next week, I'll continue my transformation of this kitchen space with a fun, table runner project.
After spotting an adorable, ruler-inspired, table runner in one of my favorite shelter magazines, I thought it would be fun to make one myself.
This runner is super easy to make too.
Hope you pop by this blog again next week to see how pulled all my new elements together to complete this space.
See you next week for Part II of my kitchen area makeover. ♥