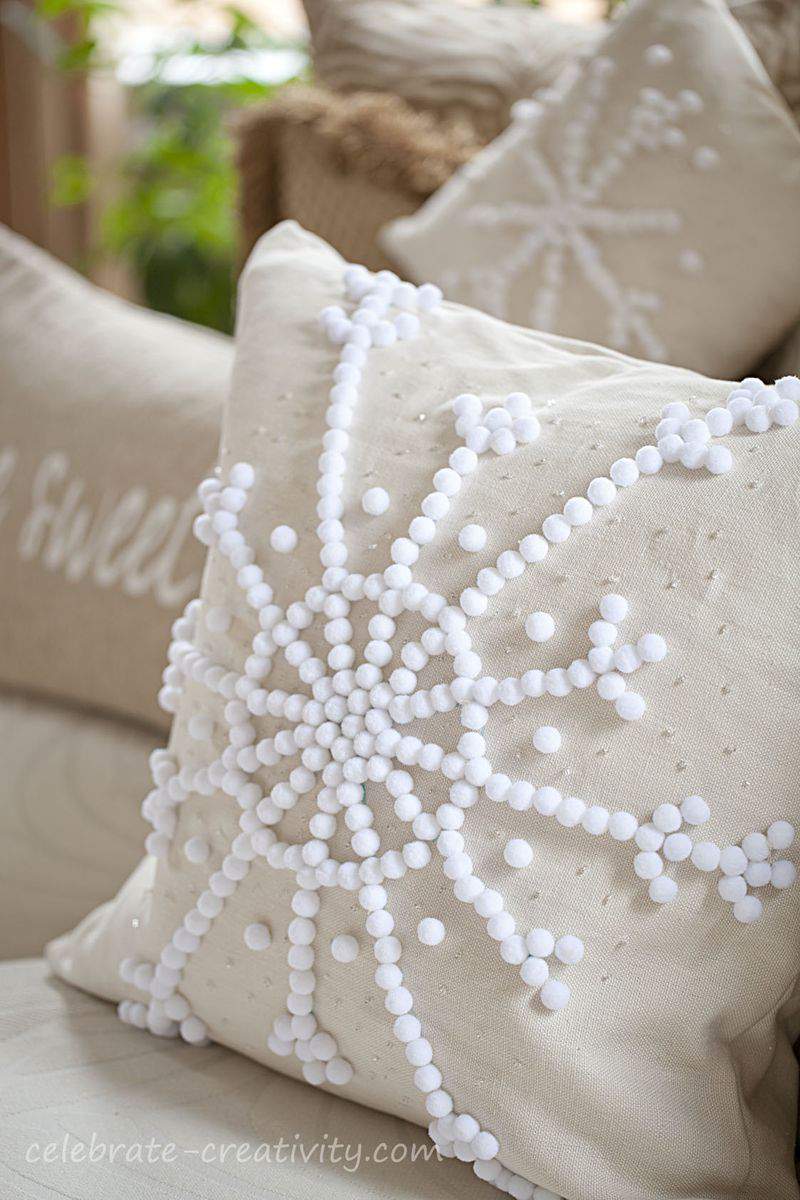 T
he winter snowflakes are already falling in many parts of the country and it's with snowflakes in mind that I share my latest holiday project.
Welcome to Day 8 of my 22-day COUNTDOWN TO CHRISTMAS HOLIDAY SERIES  which features an adorable snowflake pillow that may look chilly but they will definitely warm your heart.
I was inspired by a Pottery Barn snowflake pillow that I recently spotted in the latest holiday catalog. the PB pillow featured a snowflake design with large French knots.
Oh, how I love the look of French Knots but I do struggle to make them.  I can never get the knots to look uniform.  More practice is needed.
Anyway, I settled for the next best thing.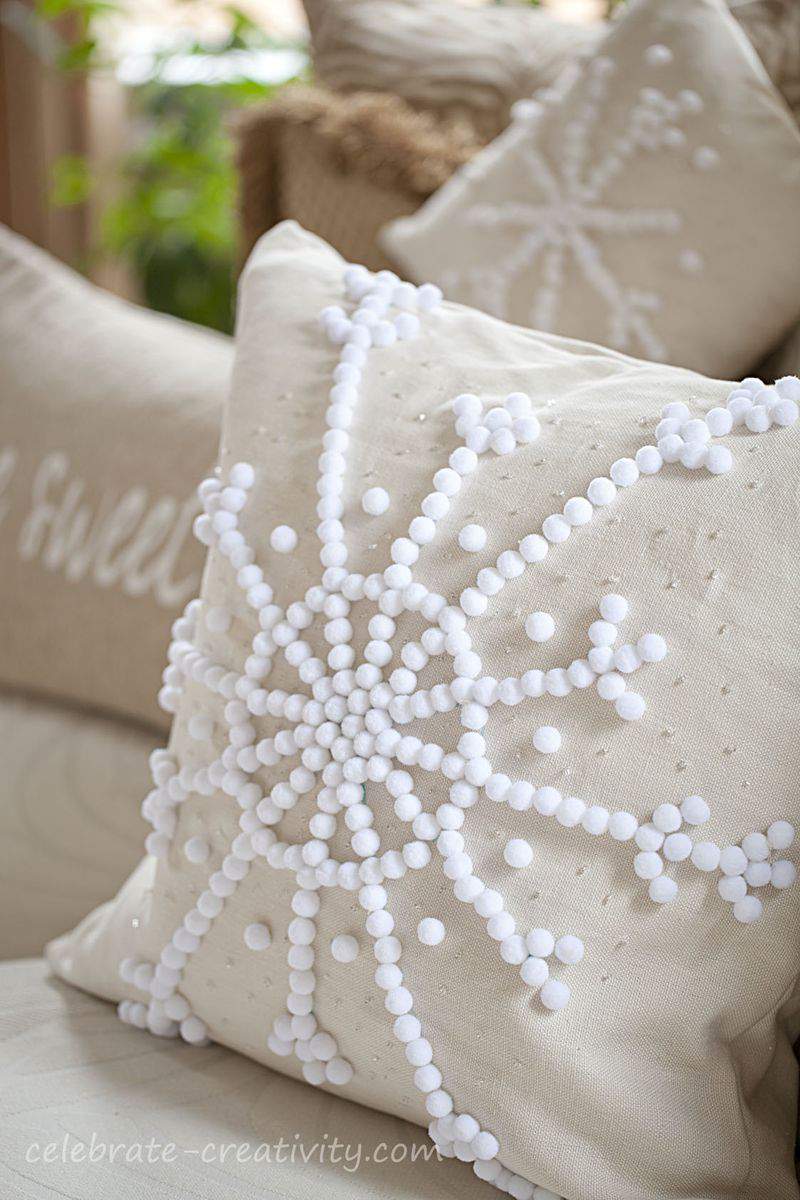 Yes, cotton balls, it turns out… look just as good as French knots.
You'll only need a few supplies for this pillow project including, fabric, silver beading tubes, glue, ruler, needle and thread and a water soluble marking pen.
All supplies are available at your local crafts/fabric store.
NOTE I've provided simple directions in this post for a simple two-piece, front back pillowcase.  If you want to create a pillow with a back flap (as seen in the photo further down in this post), please take a look at my complete pillow-making tutorial here.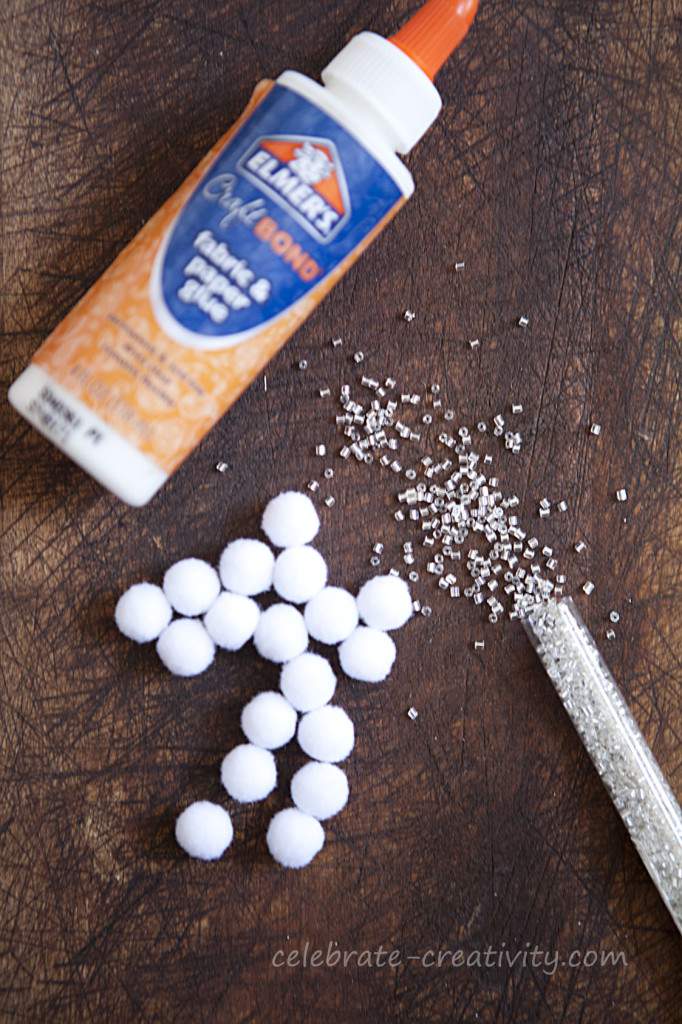 Cut fabric to desired size for front and back pillowcase. Label front=A and back piece=B
Use the water soluble marker and ruler to draw a cross on the front of piece A from one end of the fabric to the other.
Then, draw a a diagonal line through the cross and then another diagonal line through that.
Find a round object to trace a circle in the center of the fabric.
This is what you'll end up with.
Use the lines to guide your cotton ball placement.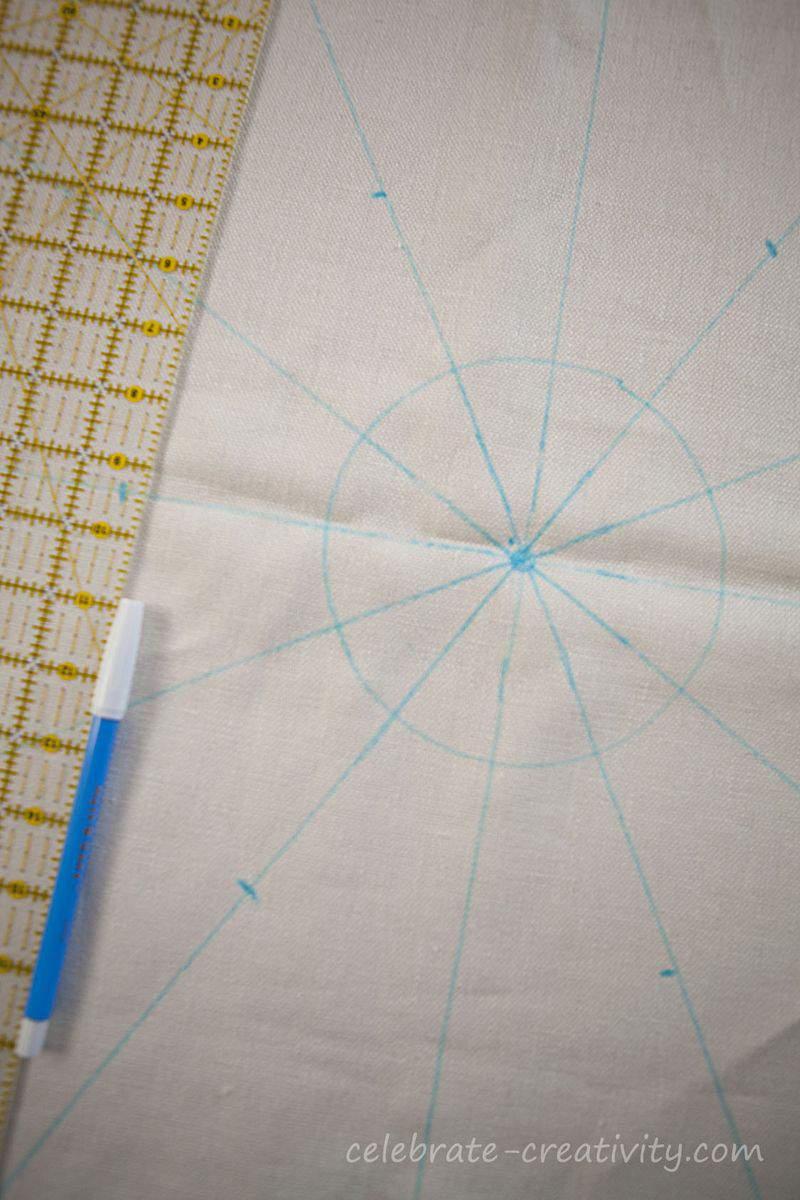 Apply a small amount of glue on the bottom of a cotton ball and adhere to the fabric making sure you stay on the marked lines.
Add a few extra cotton balls at the end of some of the lines to represent the snowflake tail shape.
I wanted to a little bit of sparkle to the project so I used these small beading tubes.
While they are pretty tiny to work with, it actually was not as tedious as I thought it would be to attach them to the fabric.
Use as little or as many as you like.  These beads in these photos aren't attached yet.
I just sprinkled them oover the design to get an idea of how they would look before I stitched them onto the fabric.
Once you've finished gluing all your cotton balls in place, use a damp cloth to blot the fabric to remove the marker lines.
Be careful during this step because if you get too much moisture directly under the cotton ball, you may break down the glue and the cotton ball may pop off.
You'll need a needle and thread for this part.  Double string the thread and simply sew the beads onto the fabric in a scattered manner.
Stitch the front A of the pillow to the back B section to form pillowcase for pillowform.
It's that simple and the end result is lovely.
These pillows would have to be for decorative purposes and I don't recommend you wash them since the cotton balls would probably come off in the wash.
IMPORTANT WARNING With a good tug, these cotton balls can be removed.  Please keep that in mind if you have young children in your home.  The cotton balls and their potential easy access could present a choking hazard to small kids.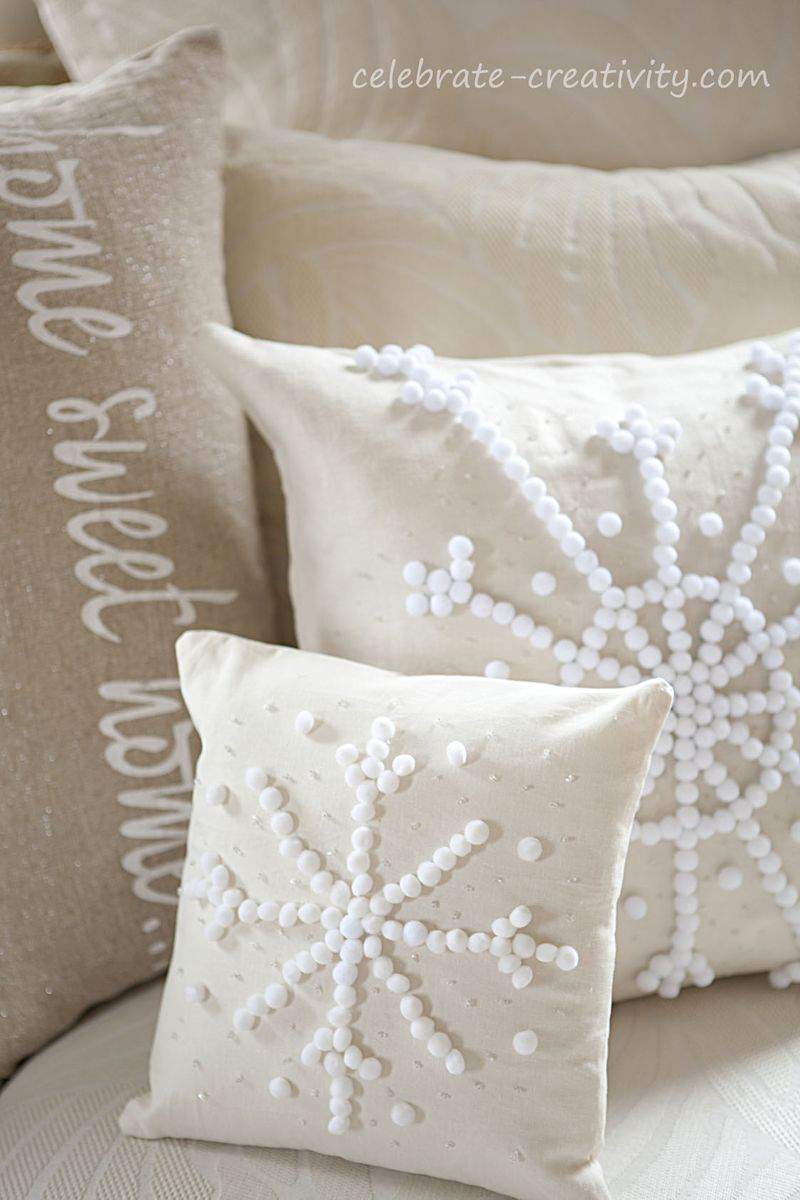 If you want to get a little bit fancy, add a decorative element to the back of the pillow.
I used my embroidery machine to add these little snowflakes.
HINT-HINT This is one example of why you may want to ask Santa for an embroidery machine this year.  I'll share a few more embroidered examples later in this COUNTDOWN TO CHRISTMAS HOLIDAY SERIES.
I'll admit, I wasn't sure how well these pillows were going to turn out when I first thought about it but I'm actually thrilled with how they look.
The almost look store-bought.
Here's a side by side comparison of the Pottery Barn version and mine.
Not bad when you consider the PB version is $59.50 and mine cost me $12 for cotton balls and beads (and zero cost for scrap fabric that I already had on hand).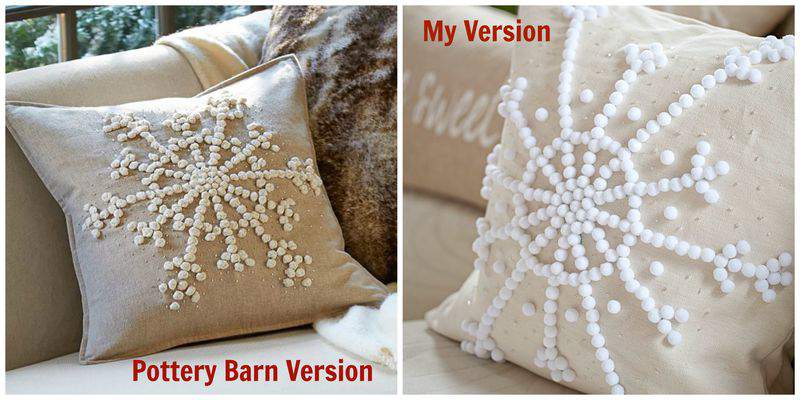 I think I'm going to make a few more smaller snowflake pillow sets to give as Christmas gifts.
If you decide to make a few pillows as gifts, be sure to make a few for yourself to incorporate into your holiday home decor.
Here's a look at how my snowflake pillows look in my music room surrounded by several of my other handcrafted pillows.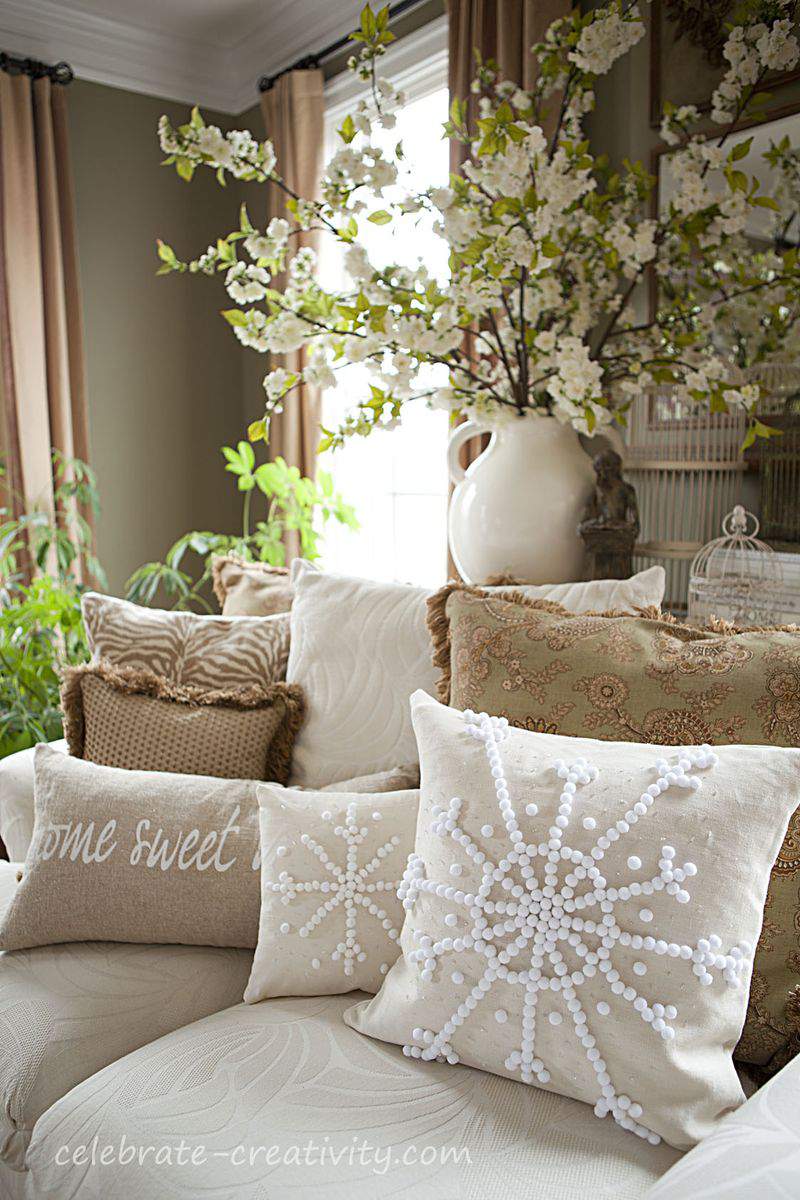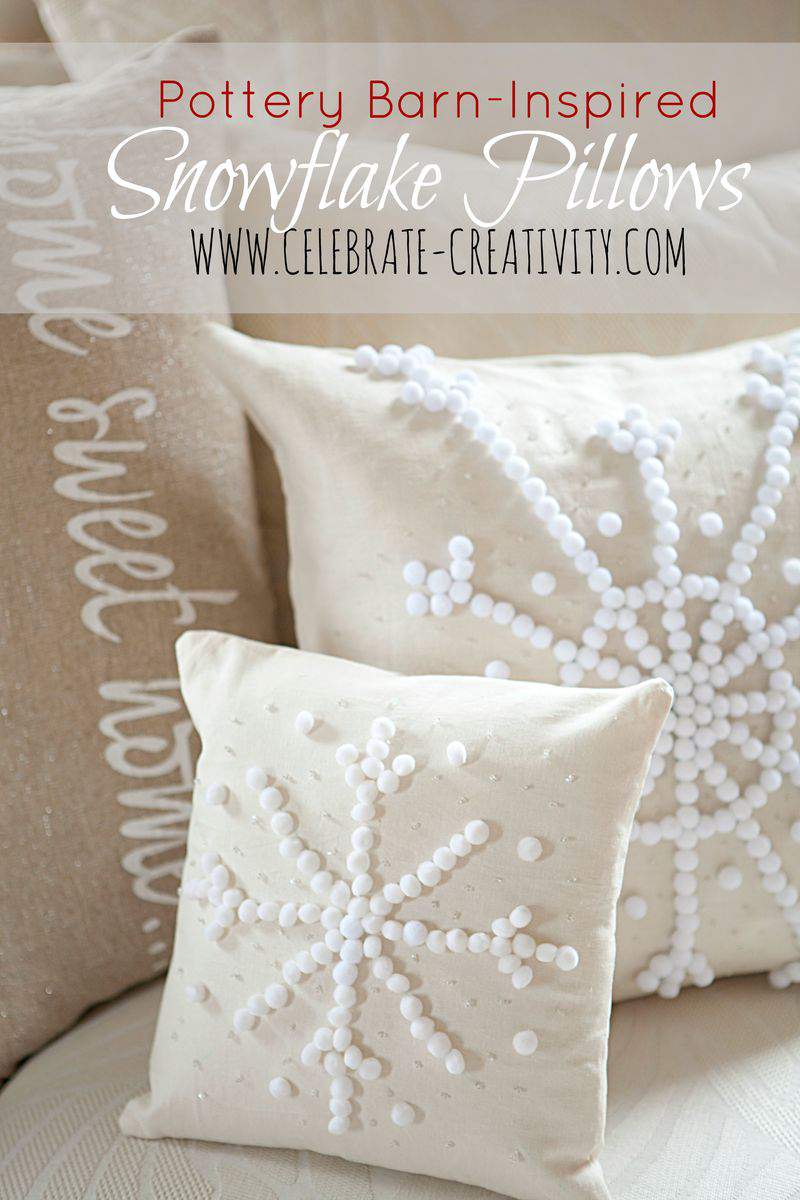 Thanks for popping by.
See you right back here tomorrow for Day 9 of my
COUNTDOWN TO CHRISTMAS HOLIDAY SERIES. ♥
In case you missed any ideas in my series, here's a look at:
Day 1|Day 2|Day 3|Day 4|Day 5|Day 6|Day 7