E arlier this week,  I took you to my local farmer's market for a delicious look at fresh fruits and veggies.   Among my bag of market goodies were four cartons of fresh blackberries which I put to very good use.
There's nothing quite like blackberry cobbler and this edition of the THE FRIDAY FOODIE  is all about making this beautiful and tasty dessert.    
You'll need two sets of ingredients for this blackberry cobbler recipe.
FOR THE TOPPING
1-1/4 cups of all purpose flour, 1/2 cup sugar, 2 teaspoons of baking powder, 1/2 teaspoon of ground cinnamon, 1/2 teapson salt, 1 large egg, 1/2 cup of buttermilk, 6 tablespoons of unsalted butter (melted and cooled), 1/2 teaspoon pure vanilla extract.
FOR THE FILLING
6 cups of blackberrIes, 1/2 cup sugar, 1 tablespoon flour, 1 teaspoon grated lemon zest, pinch of salt.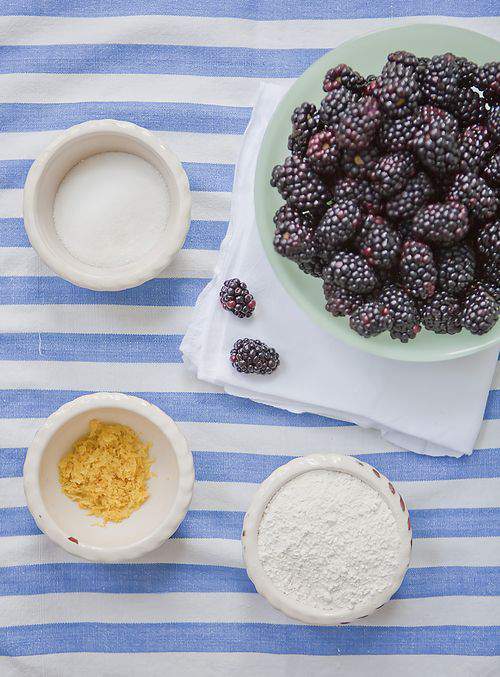 Gently mix blackberries along with the ingredients for the FILLING and set aside.
Ahem, try not to sample too many of the berries before you actually get them into the recipe.  They'll be hard to resist but save them for the cobbler.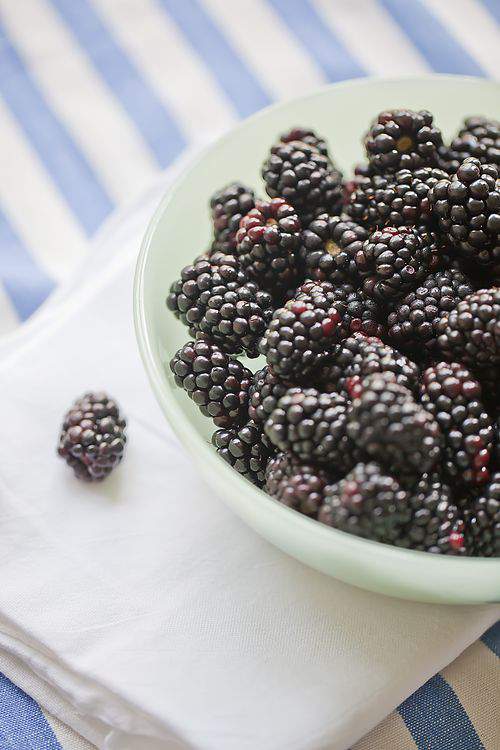 Preheat the oven to 375 degrees.  Lightly coat baking dish or ramikans with cooking spray.
The recipe calls for using a baking dish but I think ramikans look cuter and I like the idea of creating individual serving sizes.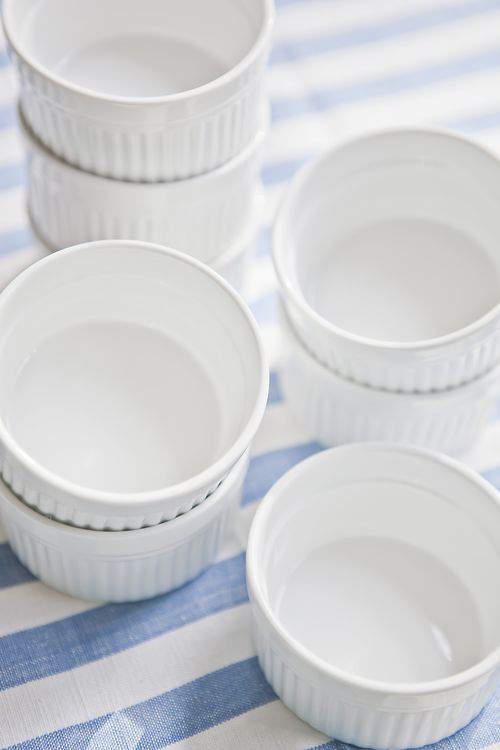 Spoon filling mixture into ramikans filling each one about 3/4 full.
You may end up with quite a bit of sugar left on the bottom of the mixing bowl.  That's OK.
Once berries are in the ramikans, just sprinkle any leftover sugar mixture evenly over the top of each dish.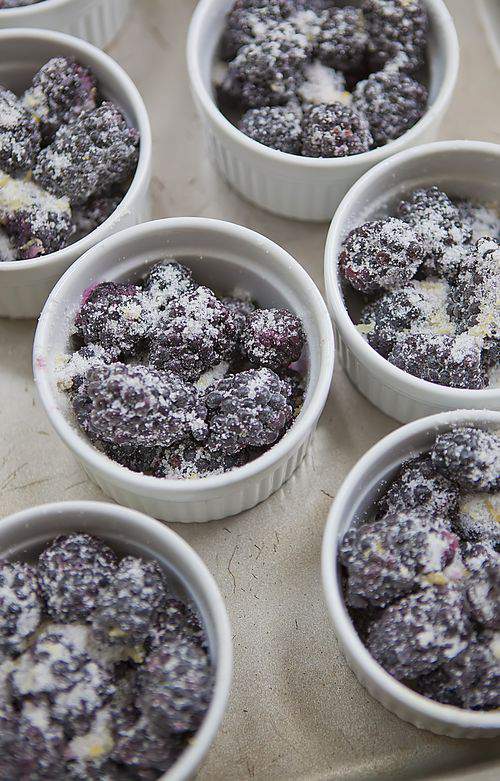 To make the topping, whisk together liquid ingredients.
In a separate bowl, whisk together dry ingredients for the topping.
Combine contents of both bowls, mixing gently until a soft dough is formed.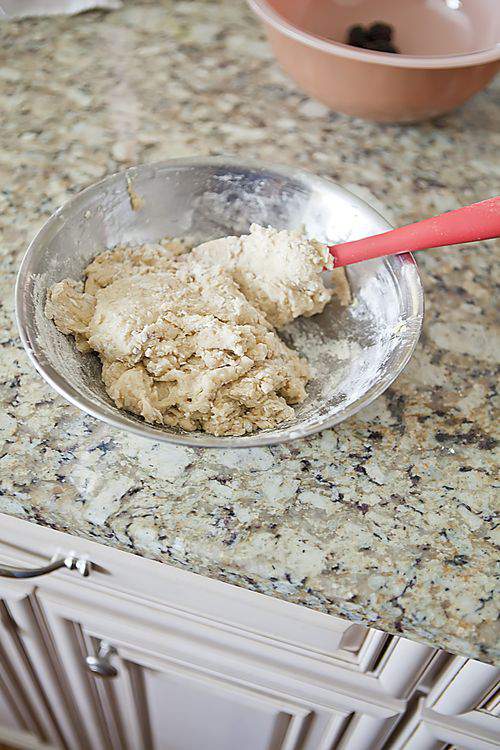 Drop 2-3 spoonfuls of dough onto the blackberries.
Leave open spaces thoughout so the blackberries will bubble up during the baking process for greater visibility when fully baked.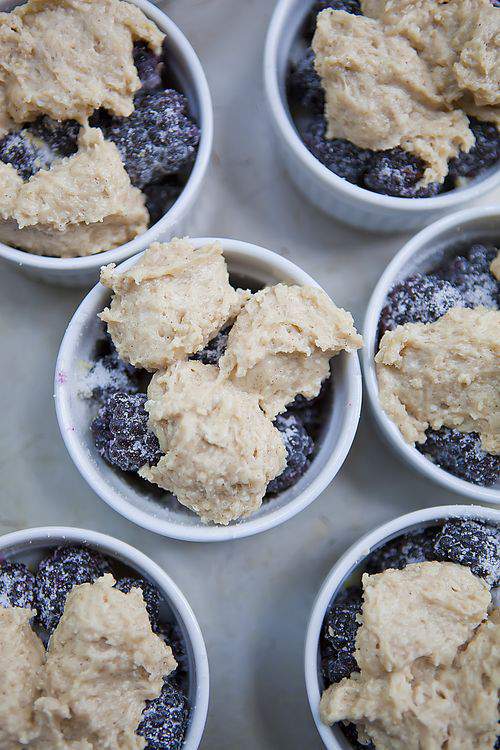 During baking, the berries may bubble over a bit but I think it's just fine if your ramikans runneth over.
It just makes the cobbler look that much more delicious when you see more of that vibrant berry juice (even if it is running down the side of the dish).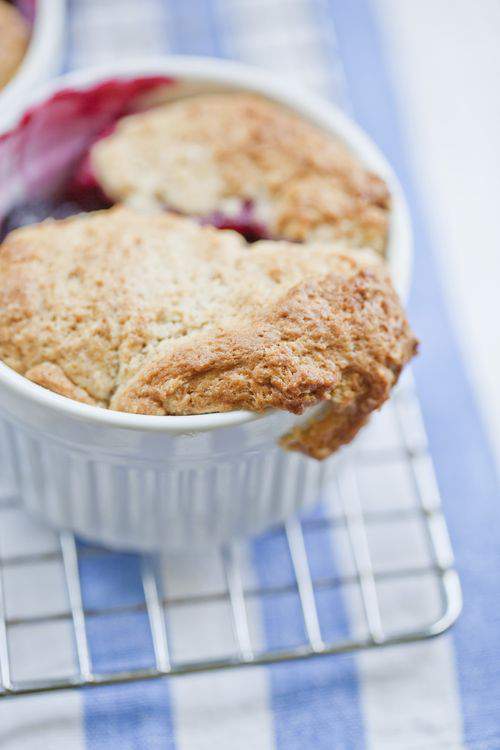 Allow the cobbler to cool slightly (but not too much) before serving.
I think blackberry cobbler is best served when it's warm.
You could also tuck a few cobbler-filled ramikans in the refrigerator and warm them up in the morning for a yummy breakfast treat.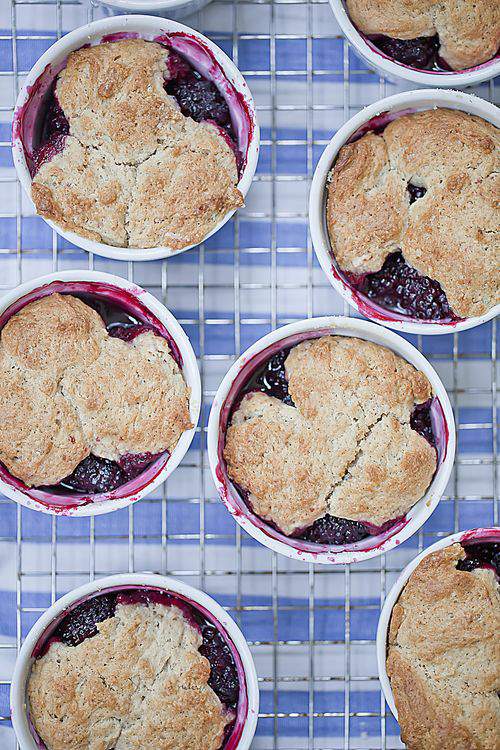 Don't you just want a spoonful?  This is a really tasty cobbler recipe.  It's not too sweet and the berries simply burst with flavor.
My daughter suggested on the next batch, I try adding another small layer of topping between the berries for a little extra crisp.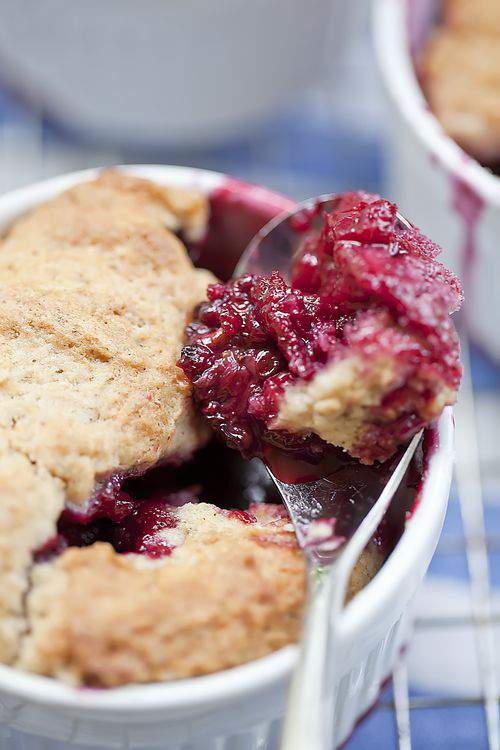 Add a dollup of whipped cream to top off this attractive dessert.
Serve to the delight of your guests.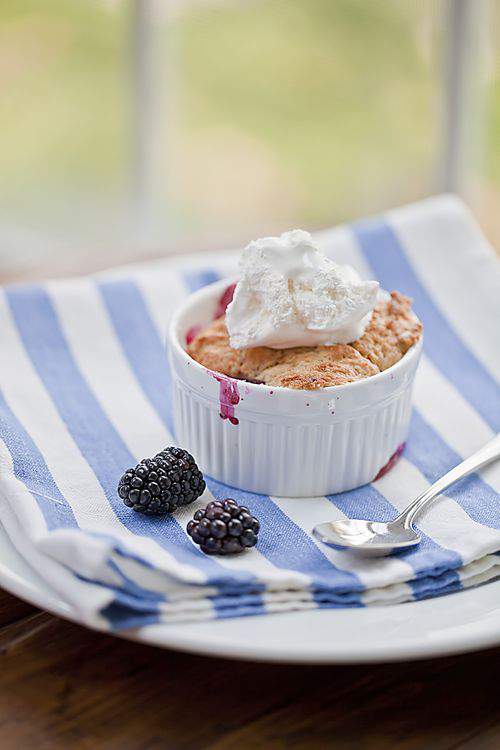 Recipe source: Williams Sonoma
So, do you love cobbler?  If so, what's your favorite?  Are you now ready to make some blackberry cobbler?
That'sTHE FRIDAY FOODIE for this week.  Gotta go, that cobbler-filled ramikan has my name on it.
Have a great weekend and I'll see you back here next week. ♥