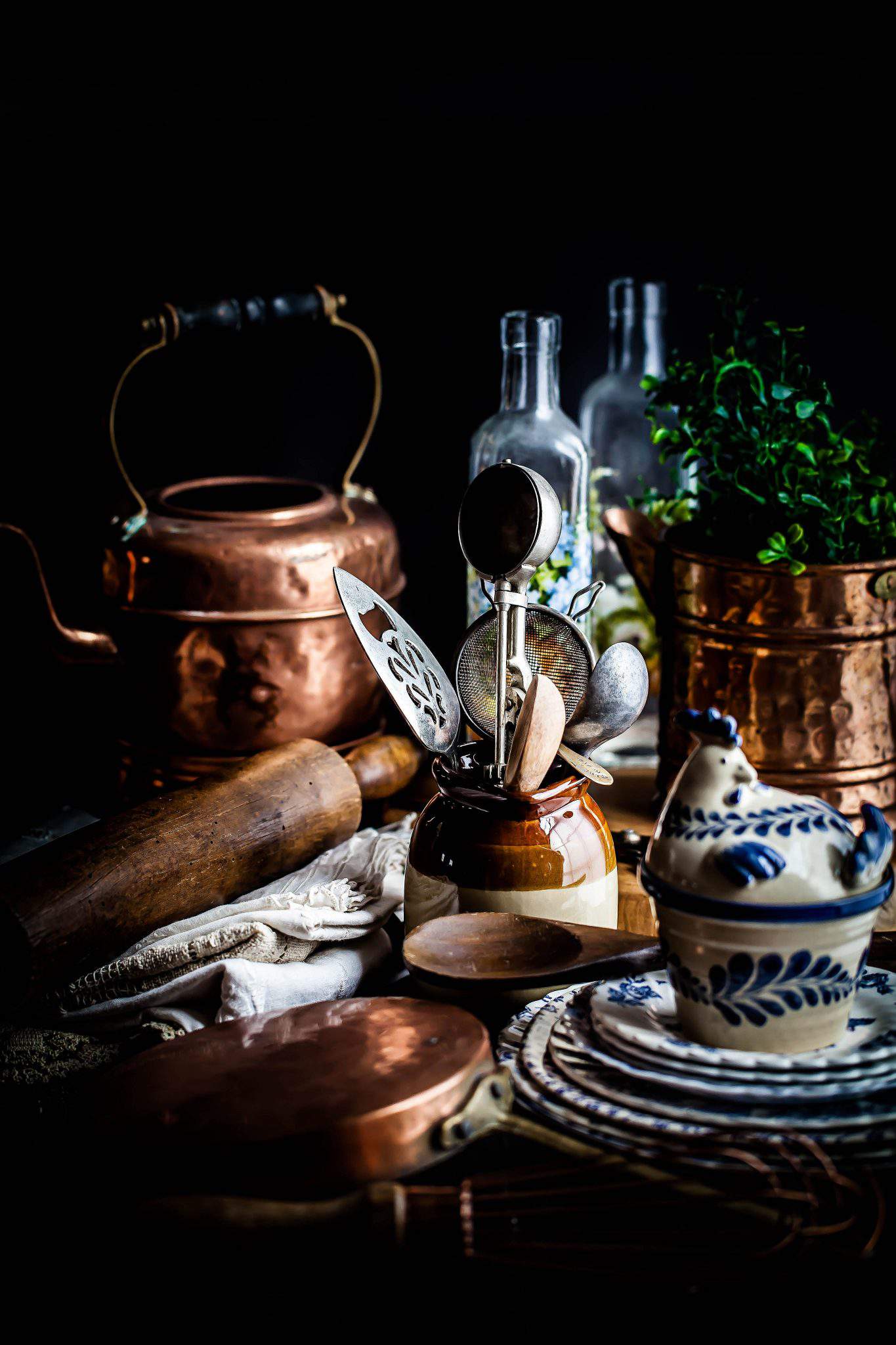 I've got a thing for photography props.
Often, the well-placed prop makes can make all the difference between a plain photo and one that truly evokes a mood or feeling.
In fact, props are such an essential element in most of my styling efforts.
Throughout this post, I'll share a few of my favorite rustic and vintage props and how I put them to good use.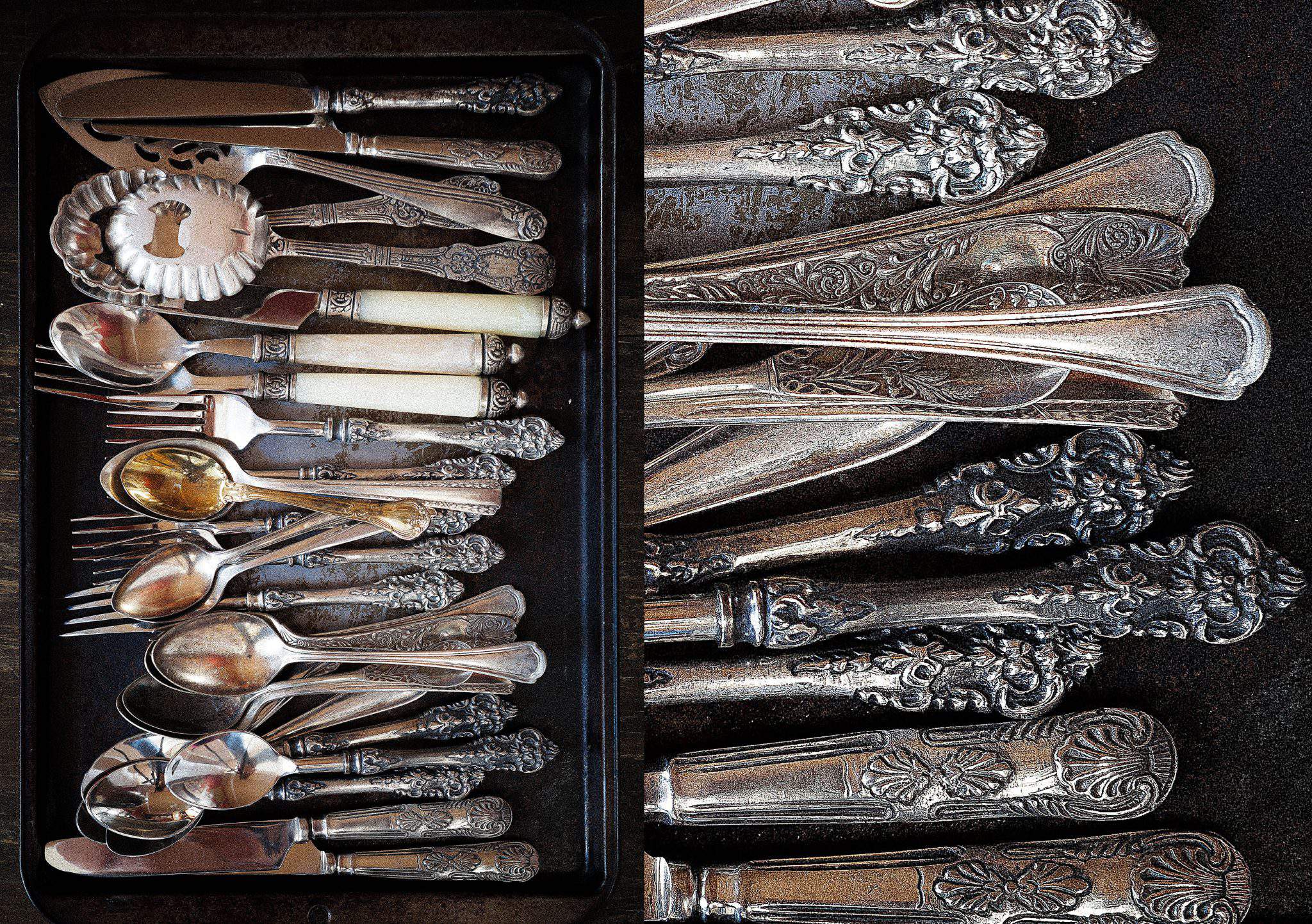 While I do collect a variety of styling props, I'm particularly drawn to using vintage and rustic pieces to enhance my photos.
Even if I'm shooting a contemporary item or food, I love to incorporate an aura of vintage sensibility where I can.
My small collection of old fashioned-inspired flatware are prime examples of how a little element can go a long way.
Most of these knives, forks and spoons only cost me just a few dollars each.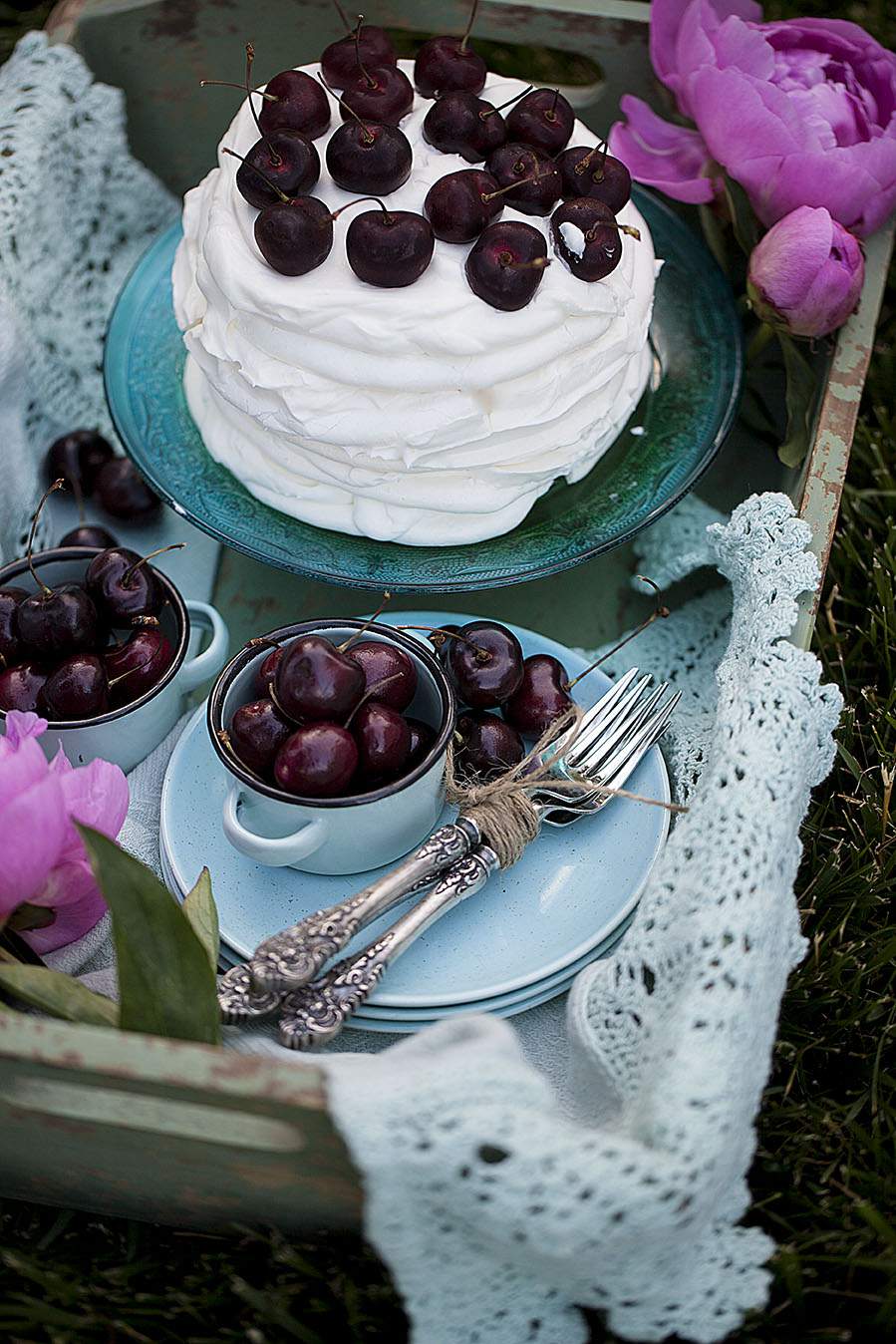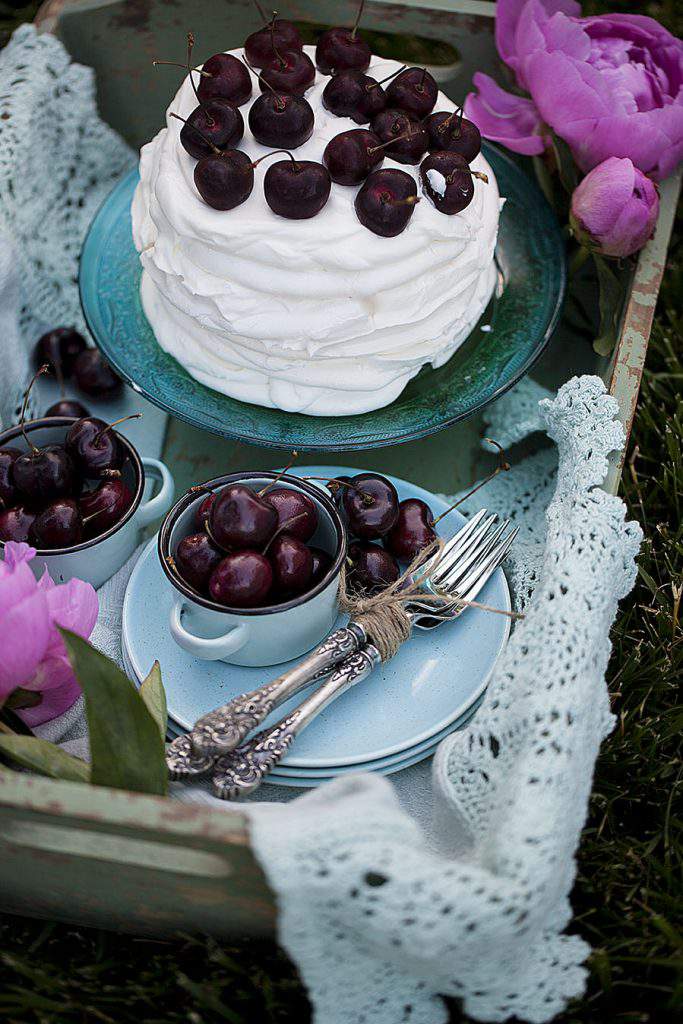 I try to arrange these little extras in such a way that they don't take attention away from the main focus of the photo.
In this case, the cherry pavlova is obviously the star of the show.
But a few vintage forks tied with jute and placed off to the side, add an unexpected element that blends into the overall shot.
The forks compliment the presentation because they're interesting but in a subtle way that doesn't scream, "hey look at me".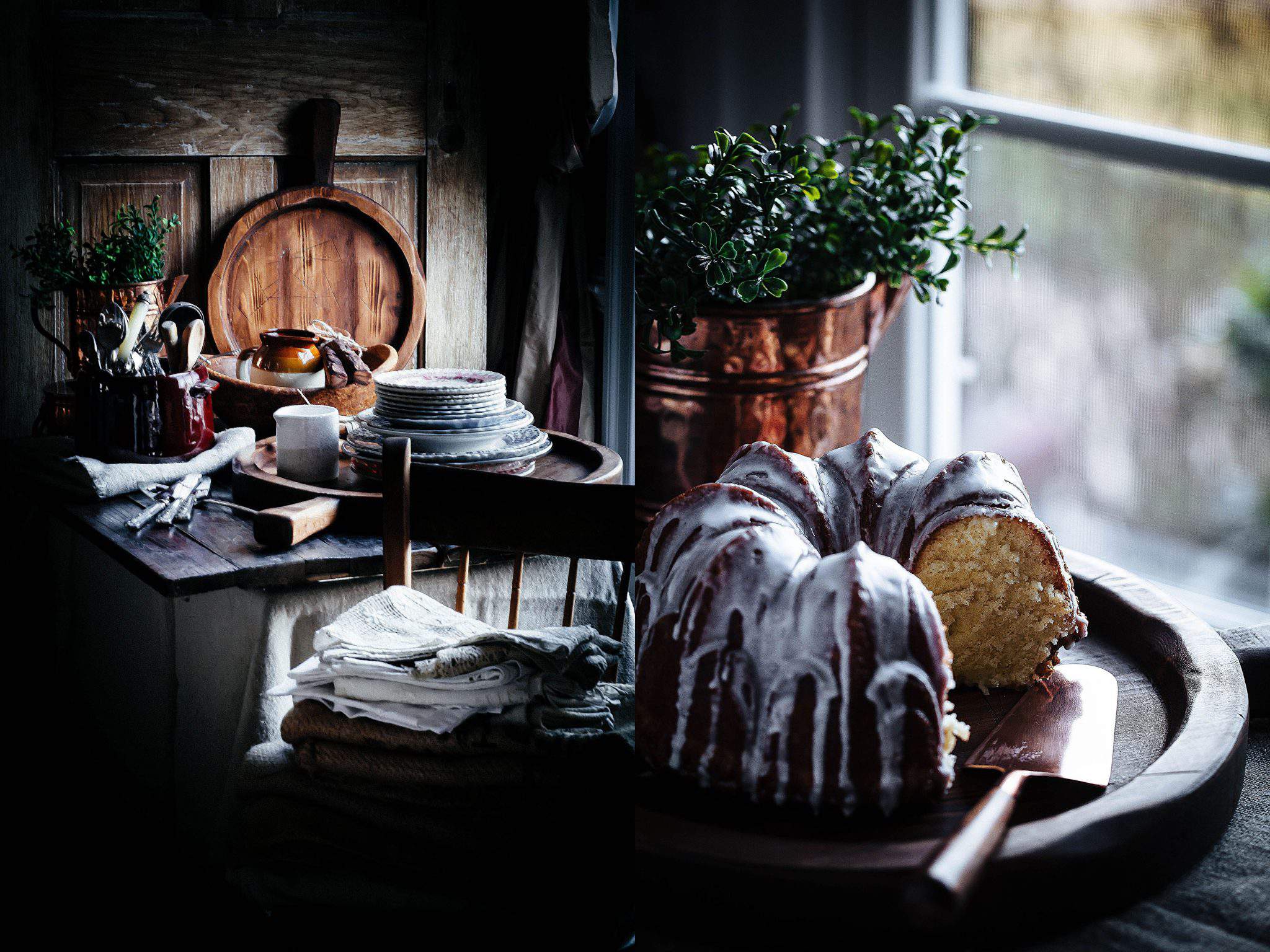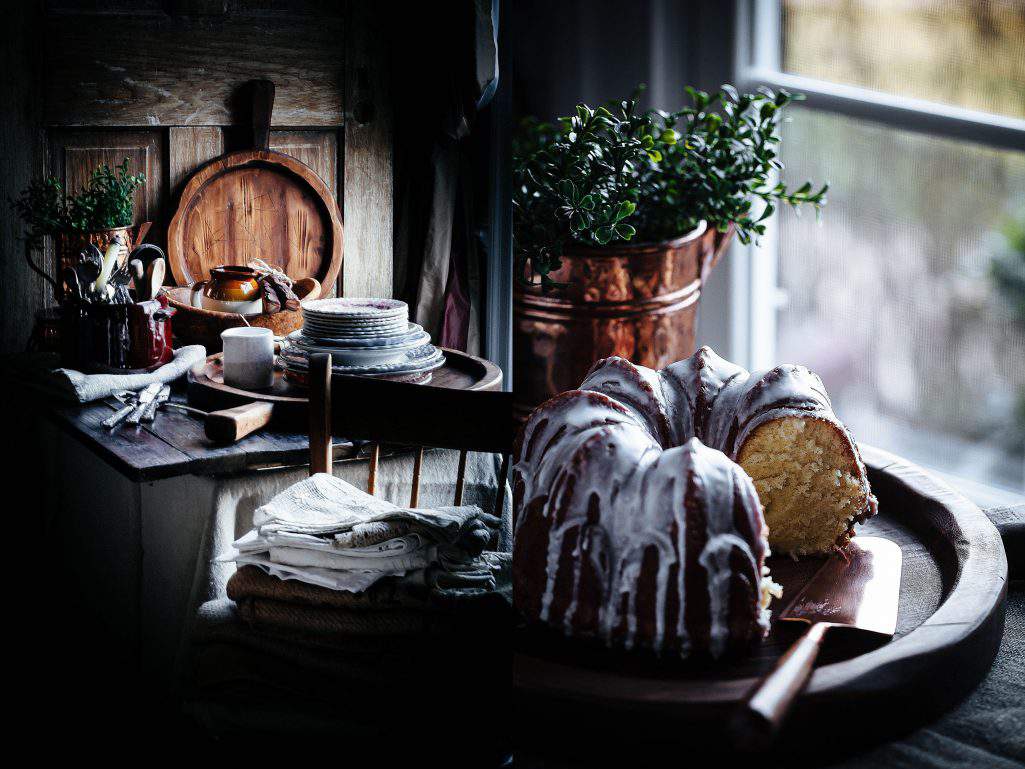 Regular readers may recall that I love collecting wood cutting and serving boards and I use them frequently in my food styling.
I have a couple of large, circular olive serving boards that have the most wonderful chunky handles on them.
In this shot you can see how the combination of an old copper pot and the wood board helps this Bundt cake shine.
Placing everything in front of a window evokes a feeling of comfort and quiet country living.
A few years ago I was rummaging around my mom's basement and came across a stack of old, well-used baking trays.
You know the kind of tray that has evidence of years of burned oil?
When I spotted them sitting up on an equally old cabinet, I couldn't believe my good fortune.
It's almost like they were there waiting for me to find them and I'm so glad my mom never tossed them out.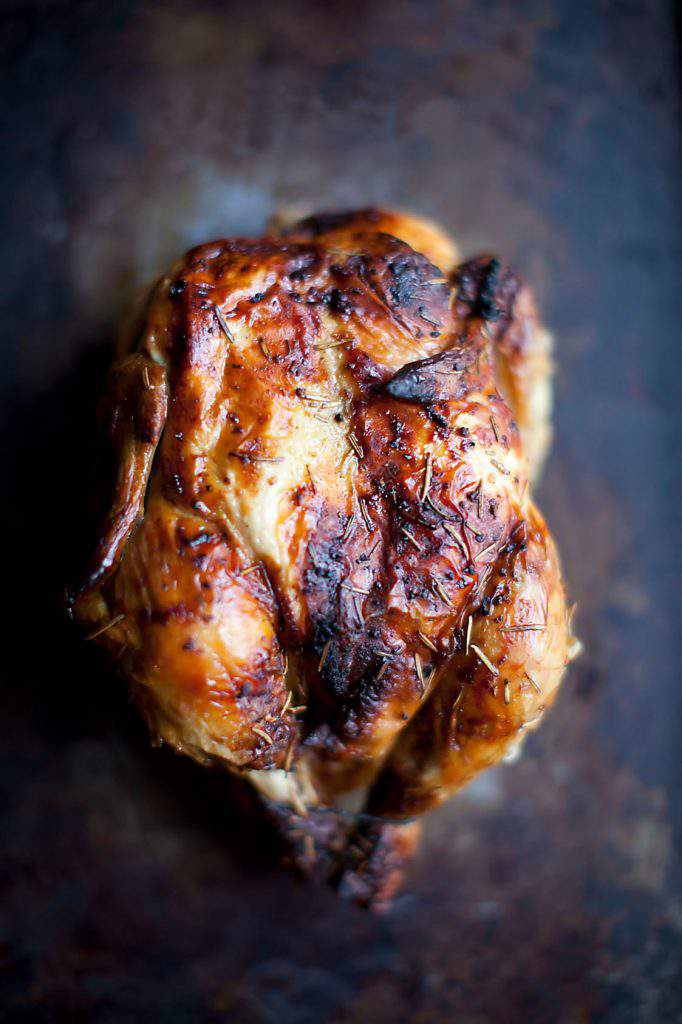 Here's an example of how I used one of the oil-burned baking sheets.
I think this rotisserie chicken has so much more visual interest when photographed sitting on top of the tray.
The oil-burn on the sheet creates a mottled-looking, rustic coloring that adds more character to the overall shot.
I use these lovely baking sheets as backdrops for desserts and cookies too.
Don't let your friends and family toss their burned baking sheets.
Have them save the sheets for you.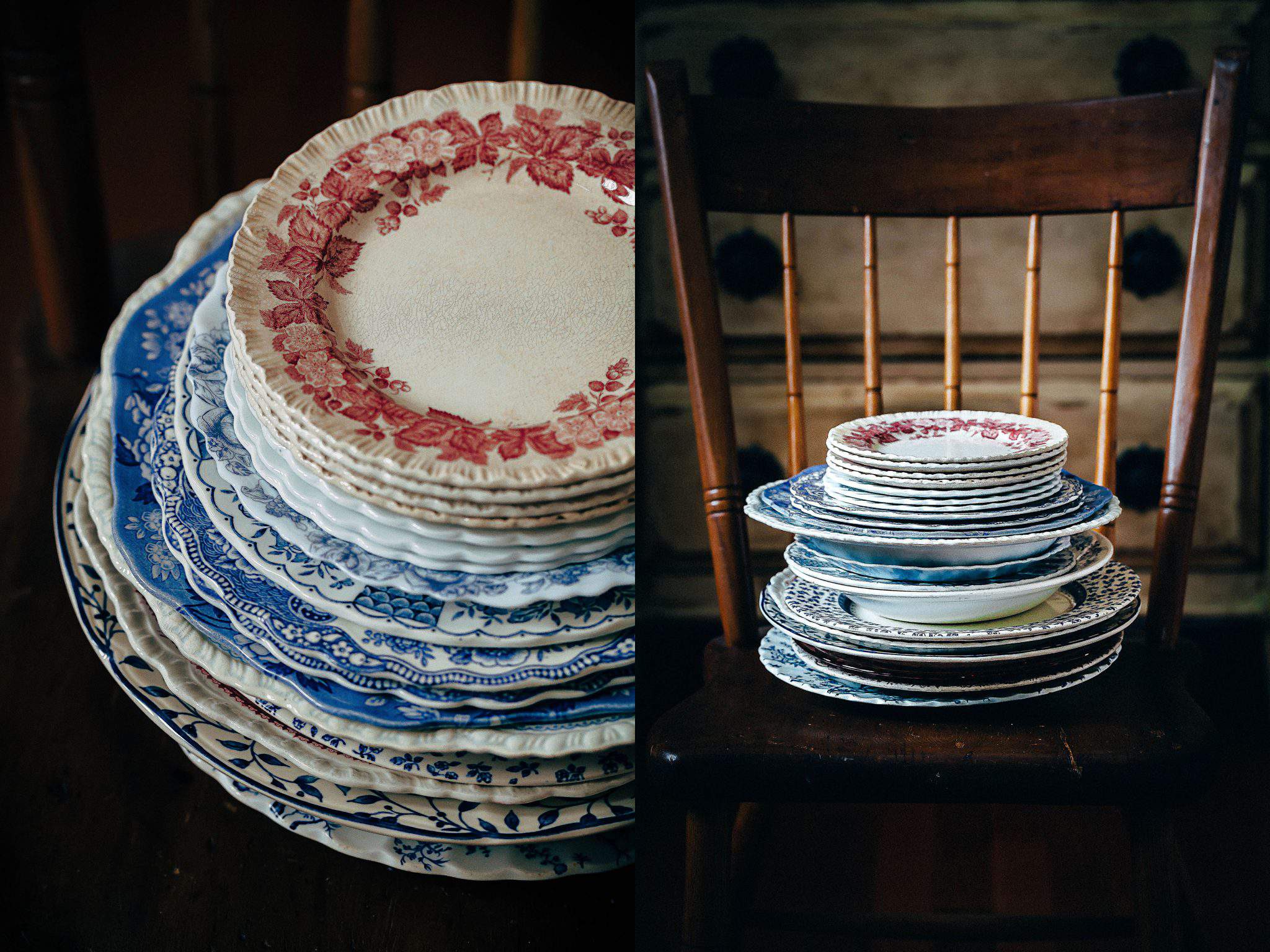 If you ever run into my husband, Boris, don't let him know I've bought another dish.
He thinks I have far too many dishes than I need but you know what I think, right?
I love especially love transferware dishes with their old fashioned patterns.
Also, I typically buy individual plates instead of a set because I like the idea of mixing them up for a more eclectic presentation.
I used this tranferware plate because I thought it really helped bring out the color of the raspberries in these fruit scones.
Building food upward instead of outward is another thing to consider when styling treats.
Even though the plate is in the background, I didn't want to cover up the pretty pattern by covering it with scones.
Simple solution was to stack the scones so, you get the dessert and the benefit of the plate design in the shot.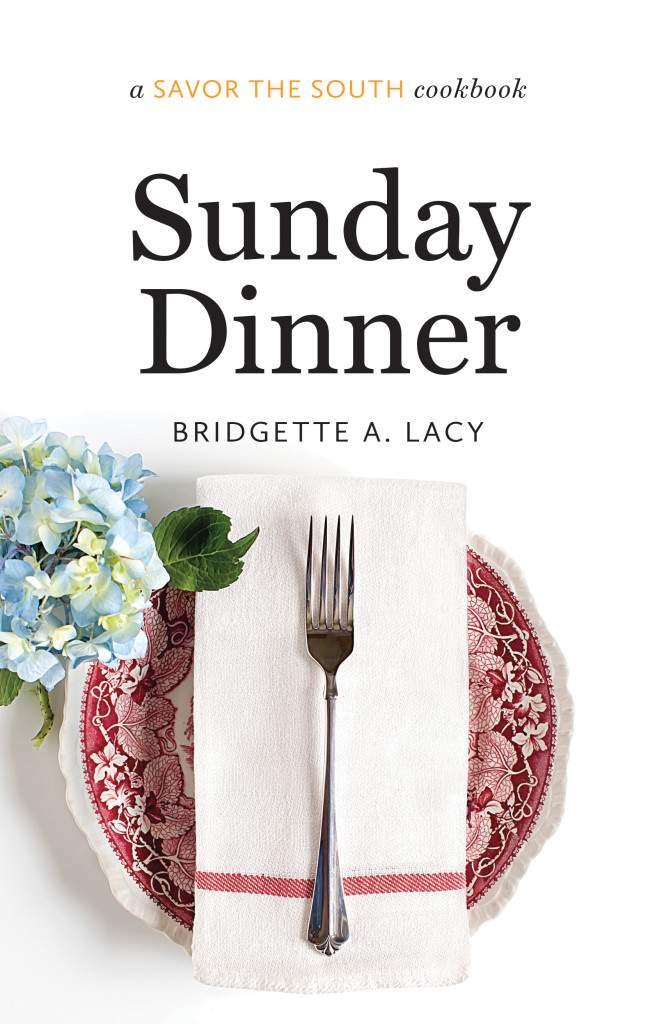 A few years ago, I styled and photographed the cover for the cookbook Sunday Dinner.
I used the same transferware plate even though the color may look a little different in this shot.
By the way, you can read more about my cookbook cover shoot in my earlier post HERE.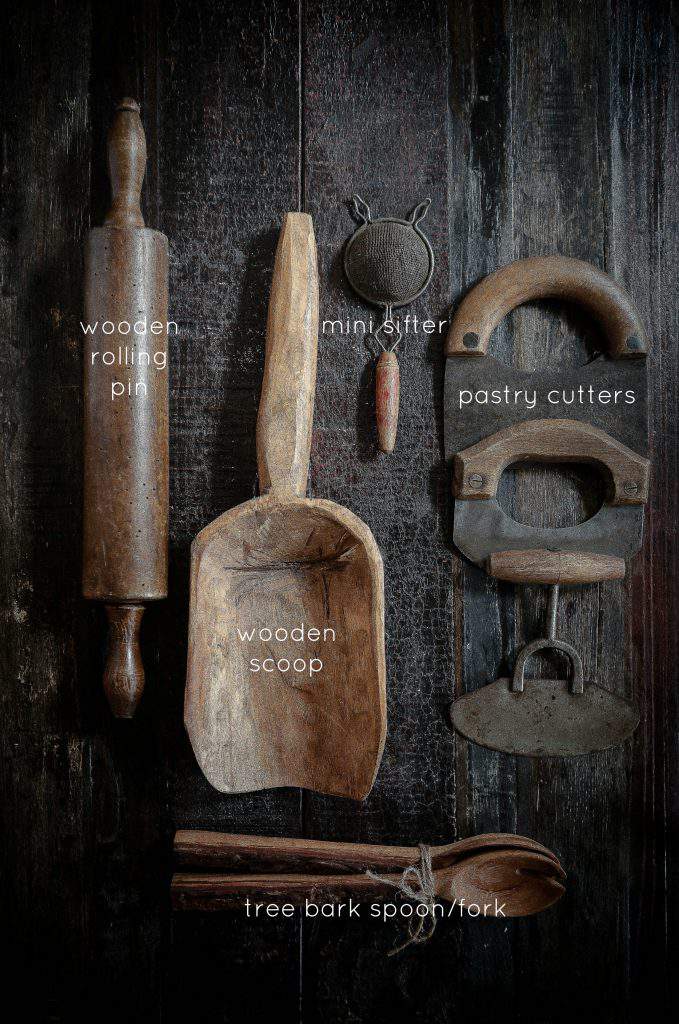 Don't these props look like I picked them up from an old fashioned farm auction?
These kinds of primitive pieces are such a treat to come across. I can't wait to style those fab pastry cutters.
While strolling a local antique shop a few weeks ago, I spotted the large wooden scoop.
It was sitting on a crate at the door, just waiting for me to come upon it.
I love the irregular shape and I think it looks like it was carved by hand out of an old piece of wood.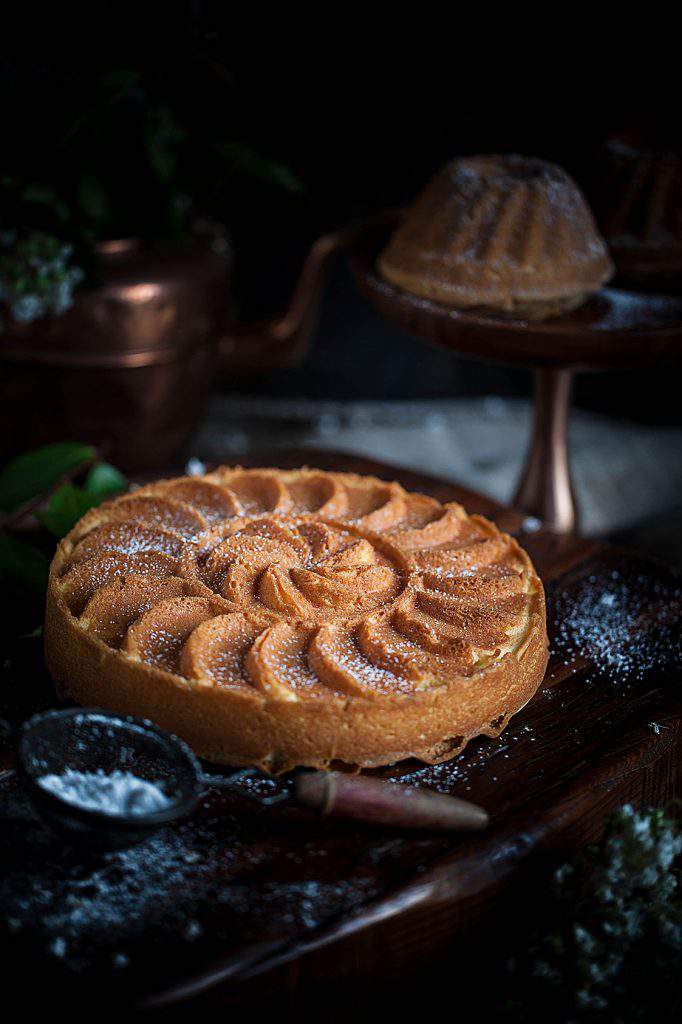 In this shot, the vintage sifter is barely even in focus but it's still there to add visual interest to the shot.
Again, it's a subtle add but to my eye… it's a useful inclusion.
The copper teapot in the background is another inexpensive flea market prop find that I layered into the styling.
Notice both of these props are strategically placed just off to the side or back of the main focal point.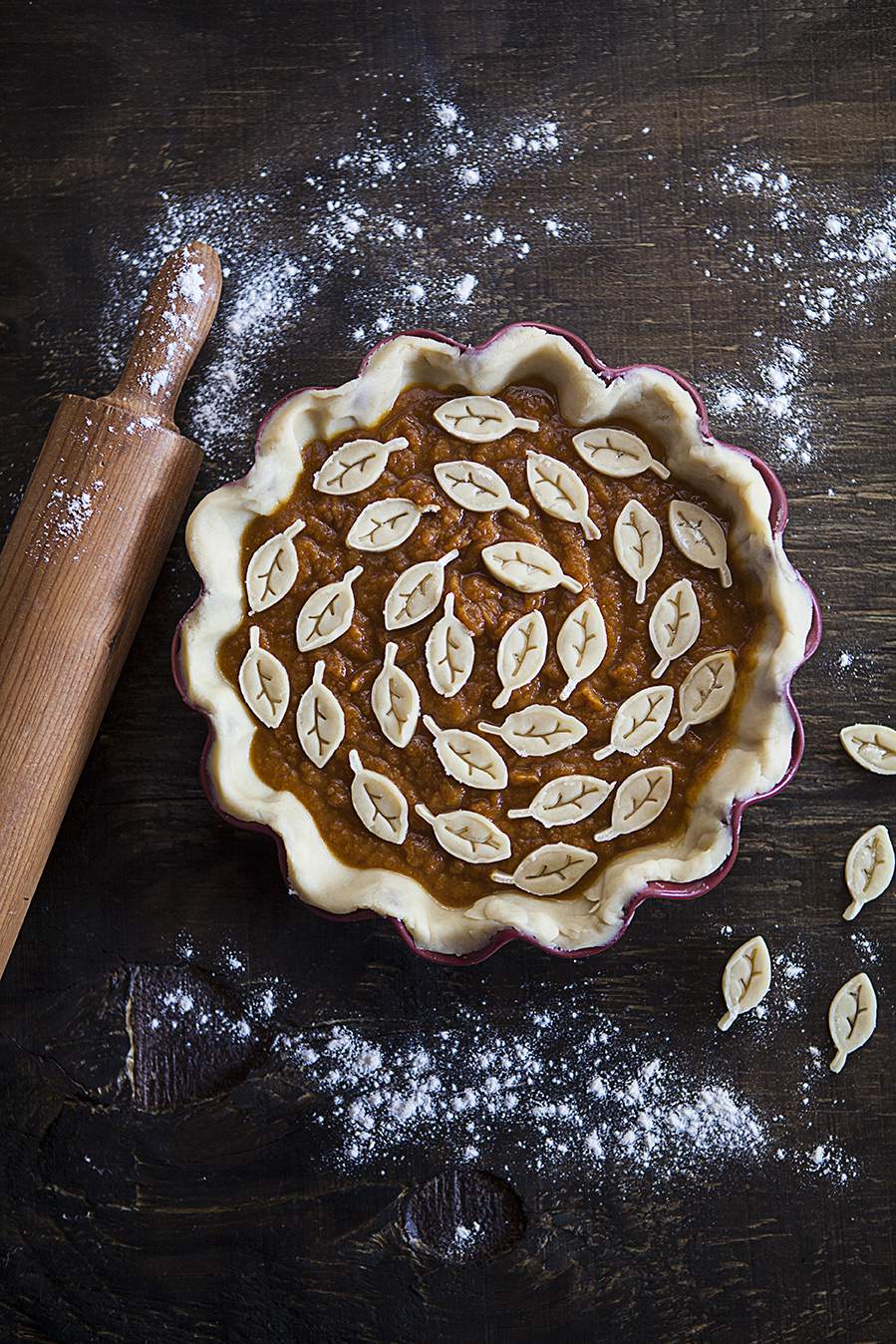 I used this dessert in a post entitled Pumpkin Pie and College Quests a while back about the modern day college application process.
When I first shot this pie, I just had it sitting on a dark board but after looking at through my lens I saw the deficiencies in that approach.
I added the vintage wooden rolling pin on the side and sprinkled the board with a little flour.
With those two simple tweaks, this shot was immediately transformed into one that suggests movement and immediacy.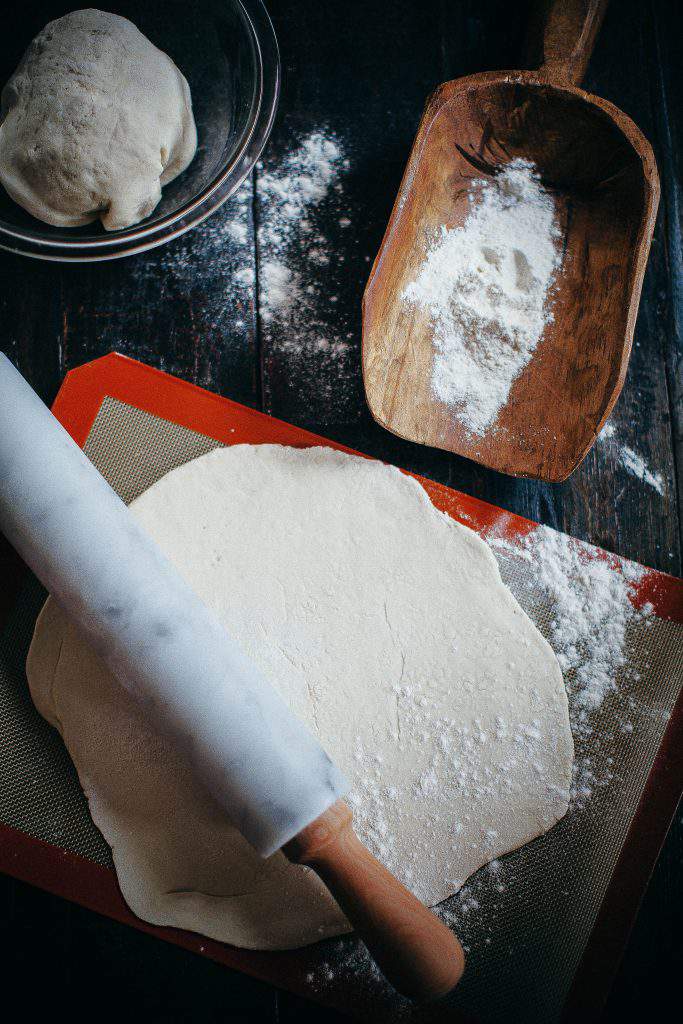 Here's another way I used the wooden scoop.
This is truly a prop because I didn't actually use it to scoop up the flour for this pie crust.
I just liked the way the shot looked with the flour pouring out of the scoop as if I had used it that way.
Even with the modern marble rolling pin, this could have been shot in a country kitchen thanks to the suggestion planted by the placement of the vintage wood scoop.
I enjoy mixing modern and vintage pieces.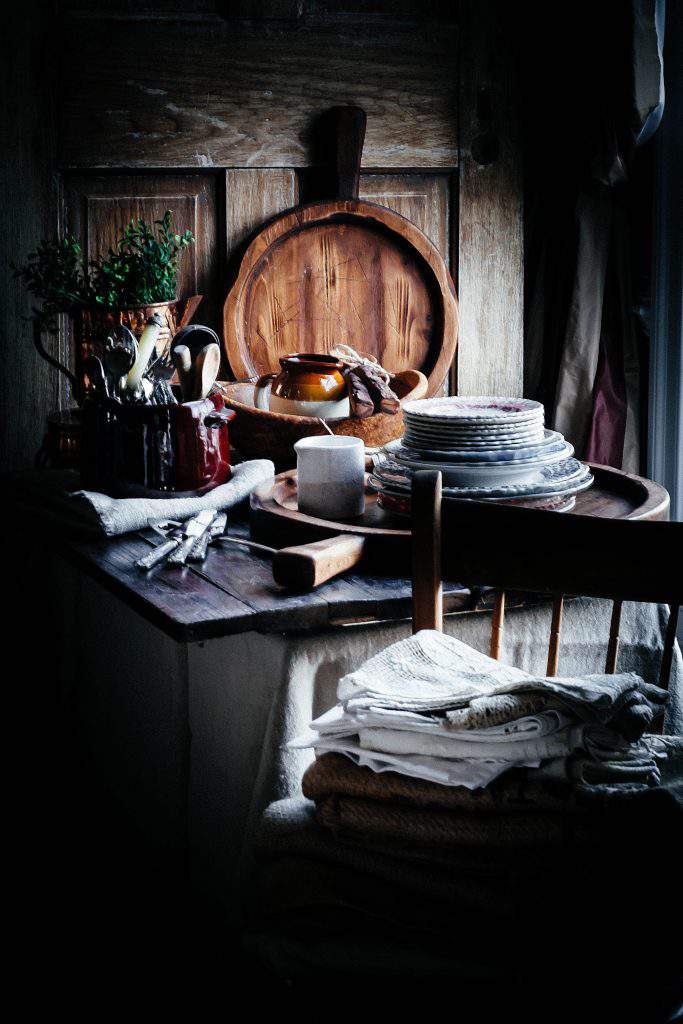 When I spot a prop, I never really know for sure exactly how I'll end up using it.
Part of the fun of photo styling is figuring out how to incorporate the unusual props that I've collected over the years.
So, do keep your eyes peeled because you never know where you'll find the next great prop that will transform your shot into something delightful and most unexpected.
Thanks for stopping by.
See  you back here next time. ♥
I'm linking this Rustic and Vintage Props Galore post to the following: