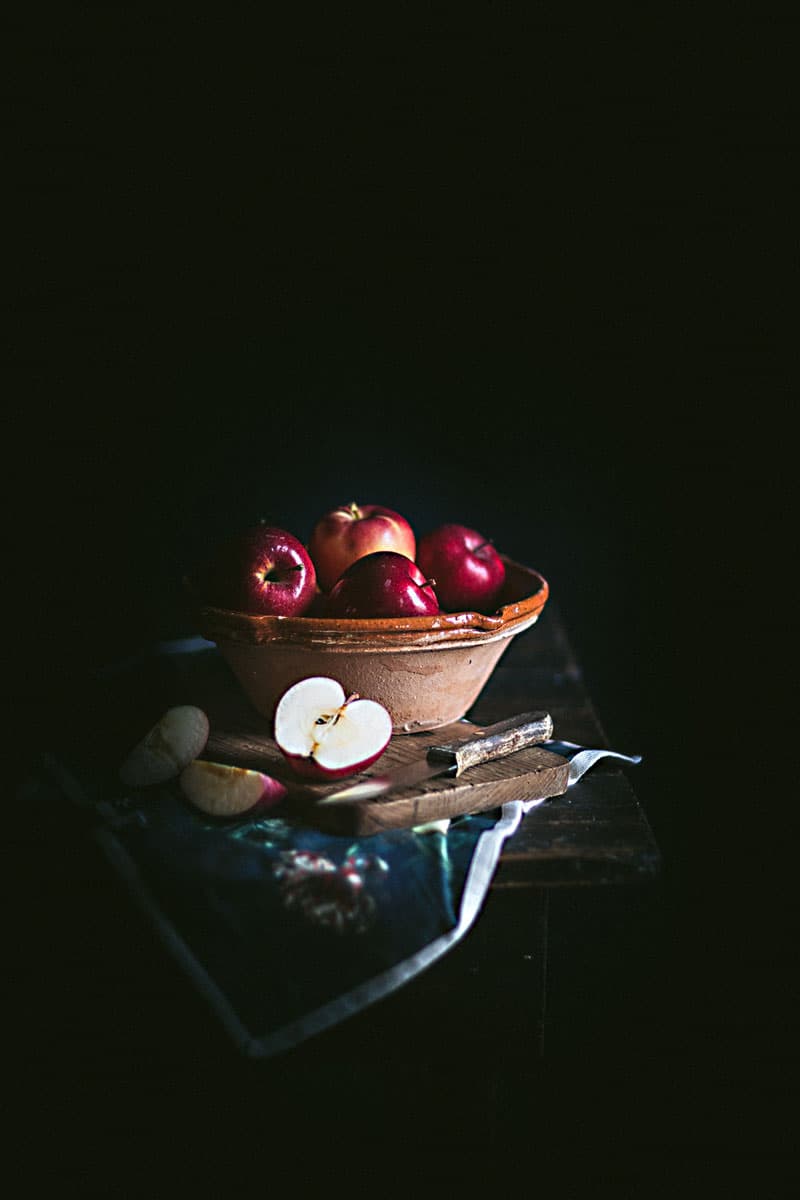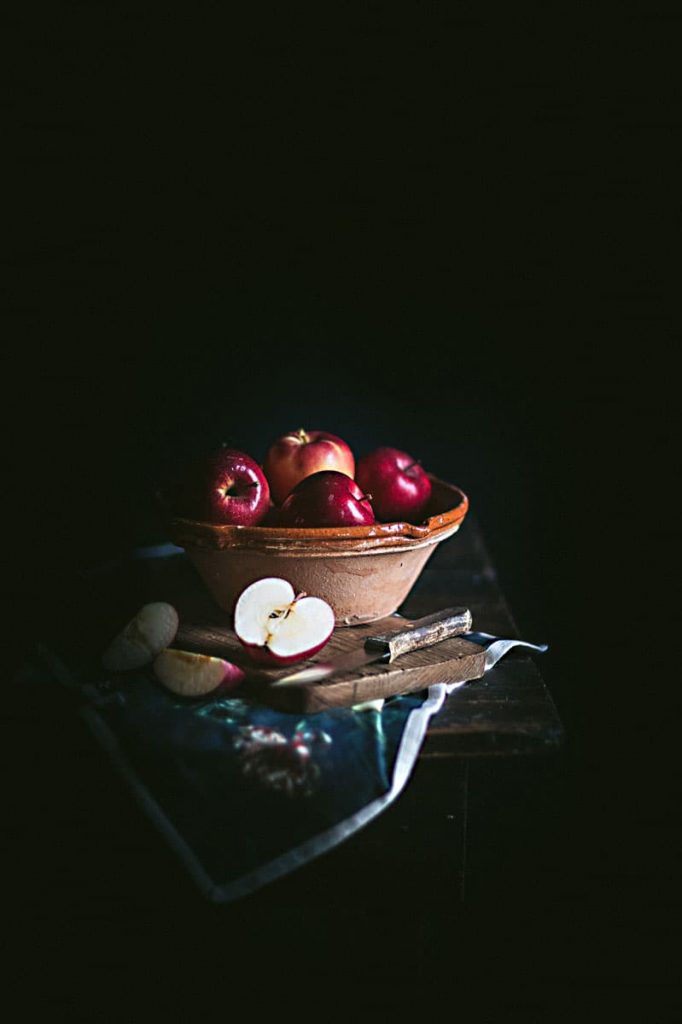 I'm a prop collector, through and through.
Often, when faced with a beautiful, unusual prop, "resistance is futile" (to quote The Bork in Star Trek, Next Generation).
Such is the case with this terra cotta bowl which is now, my new favorite prop.
Throughout this post, I'm sharing more about this vintage French bowl and a bit of styling process too.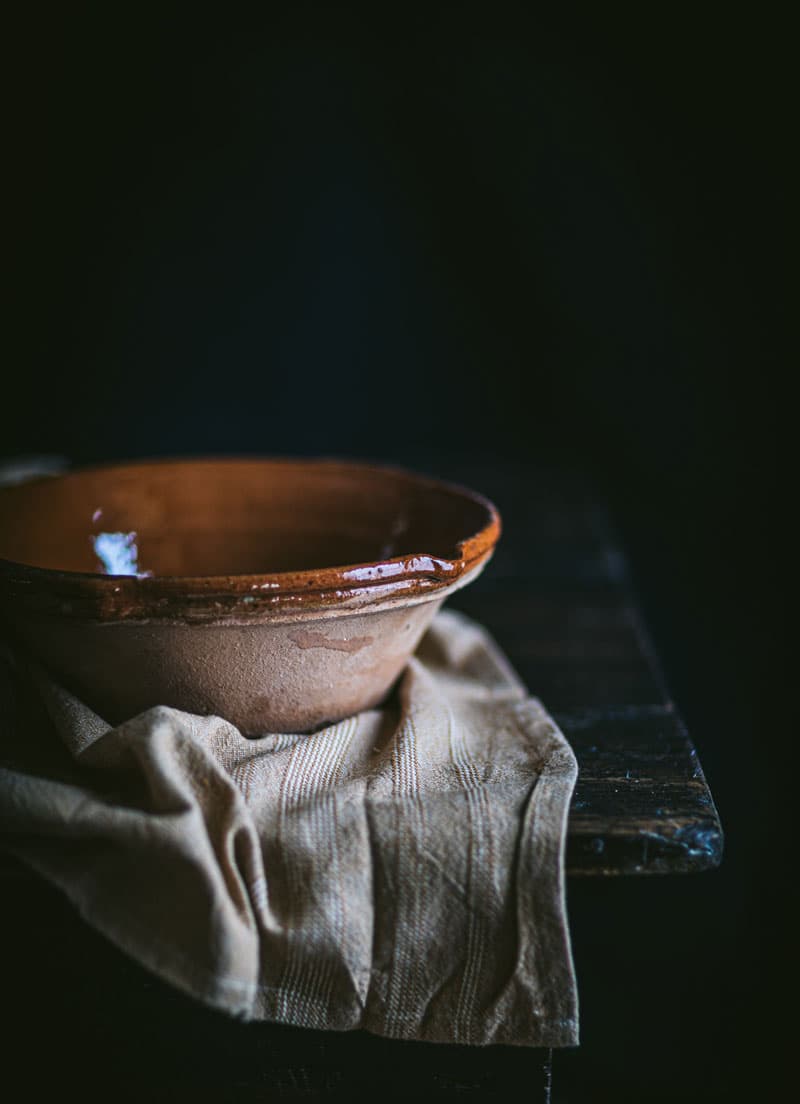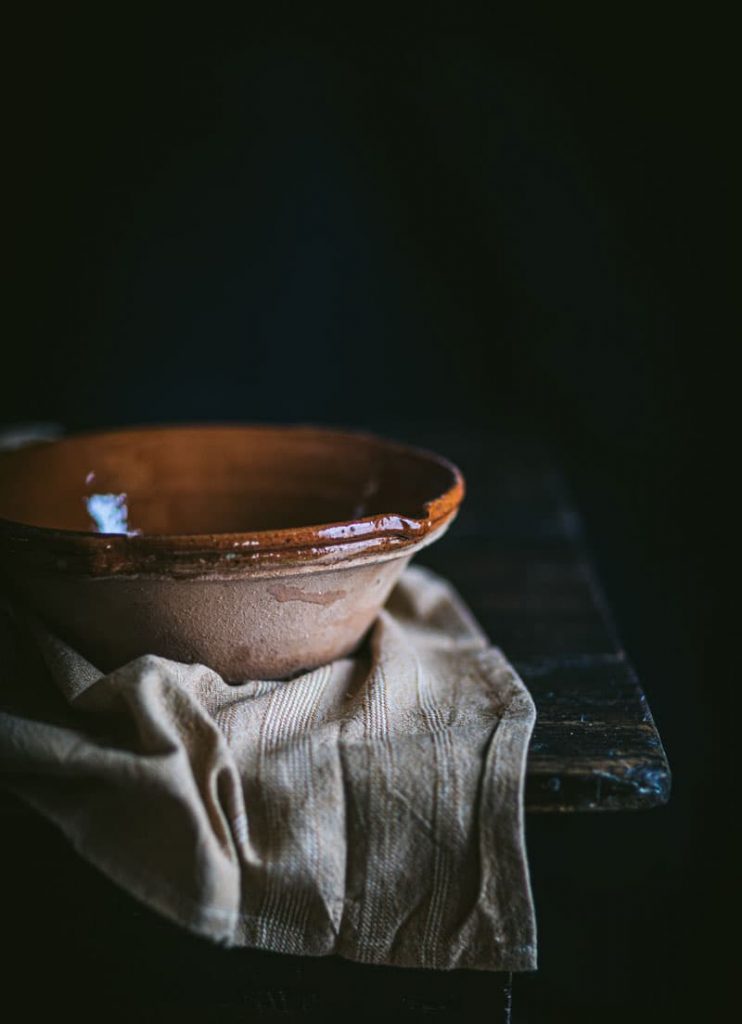 I spotted this rustic bowl back in November (2019) on Etsy, offered by a vendor who lives in the South of France.
I'd say it was love at first site with its glazed interior and rim and gritty, terra cotta exterior and cutest-ever tiny spout (closer look at that further down in this post).
It has such old world charm and suggests well-worn but loving kitchen use a long, long time ago.
After I ordered it, it sadly became the victim of an overwhelmed holiday postal system.
It literally sat, unmoved at a mail sorting facility in New York for almost the entire month of December.
It finally arrived on my doorstop earlier this month.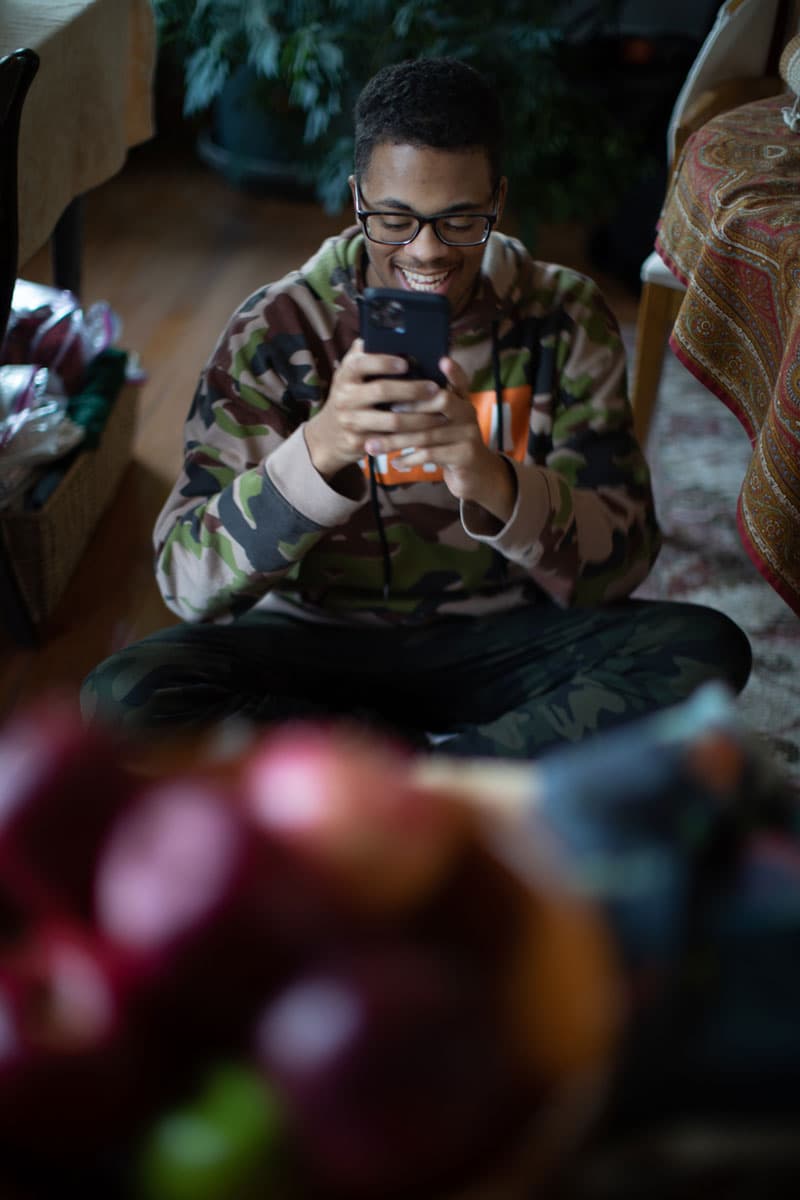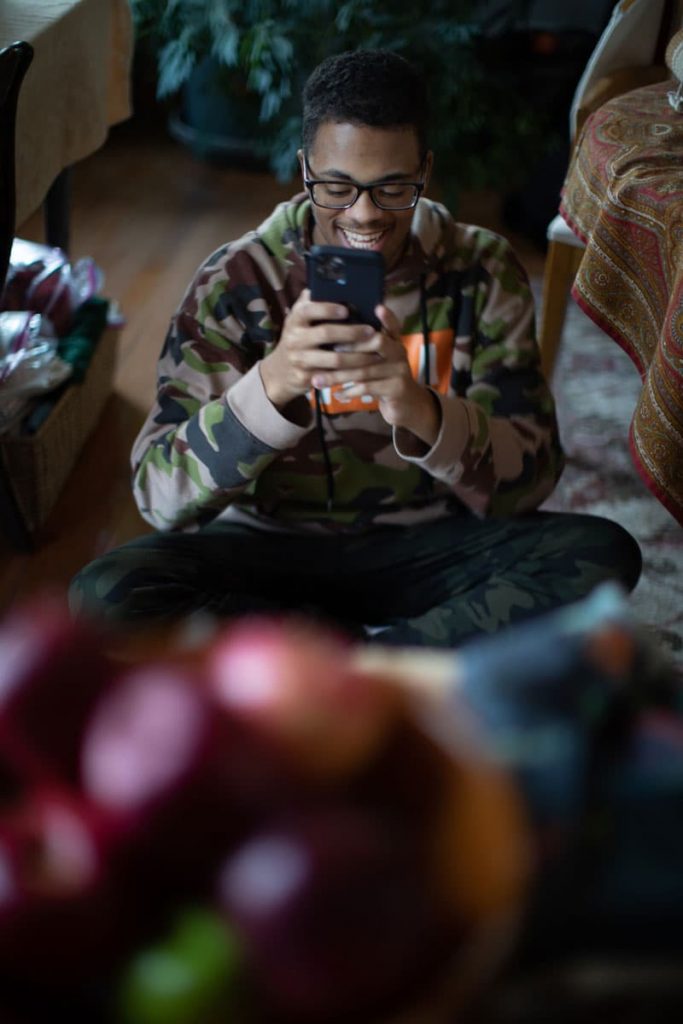 My son, Jordy was at home from college when the bowl arrived and the two of us set about seeing how the bowl would look on camera.
He enjoys photography too and takes advantage of any opportunity to watch over my shoulder and snap his own photos.
(SIDE NOTE: longtime readers may remember Jordy from his many days as my key grip, prop holder and all-around photography helper over the years.
Take a look back HERE and HERE.
He's not so little anymore, is he?
Anyway, I thought you'd enjoying seeing how we slowly built out this scene, starting with a simple, caramel-colored tea towel underneath the bowl, to add more texture to the shot.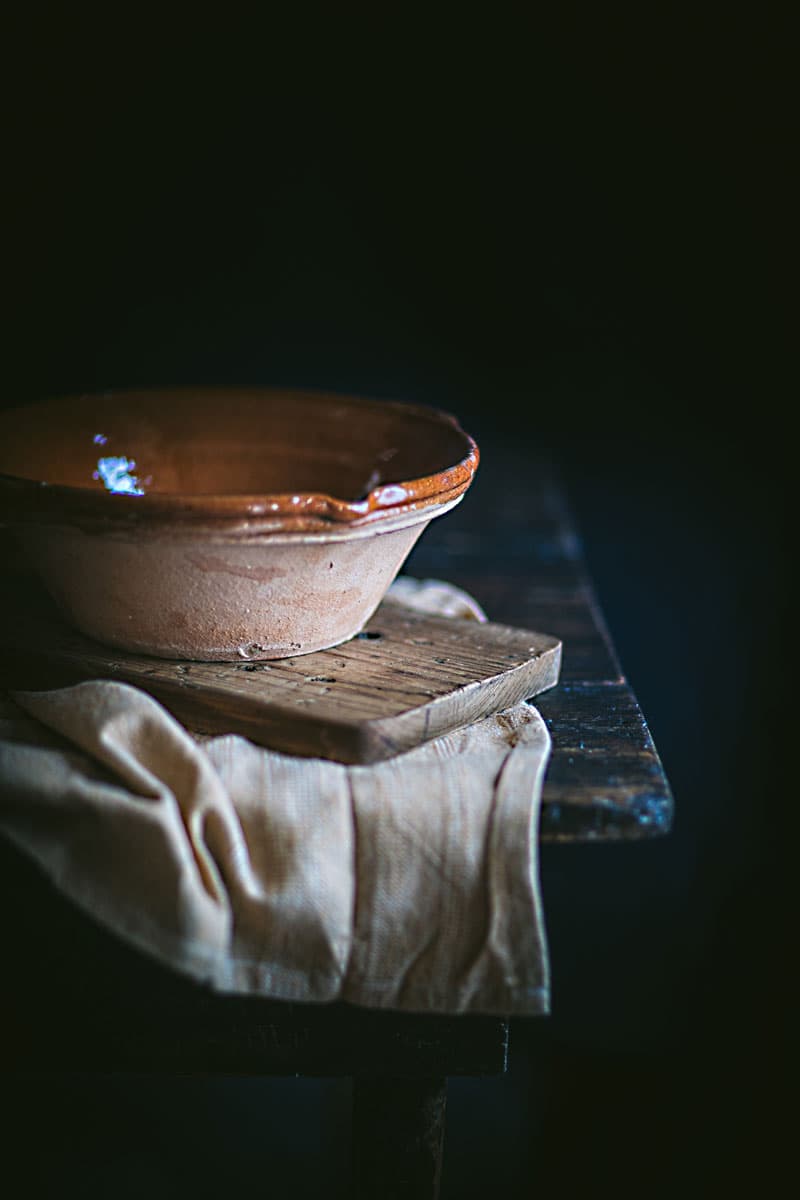 OK, cloth is nice but it still needs more, right?
That's where layering comes in.
Layering helps to add more visual interest and personality and can also help set the tone, vibe or even time period by slowly adding more details and elements to the main subject.
The terra cotta bowl already has a vintage vibe but I wanted to add some more rustic personality.
Take another look at the photo before Jordy.
Now, look how that same combo looks when a wood board is added to the mix.
It's a small add, but it makes a big difference by introducing some separation between the bowl and the fabric.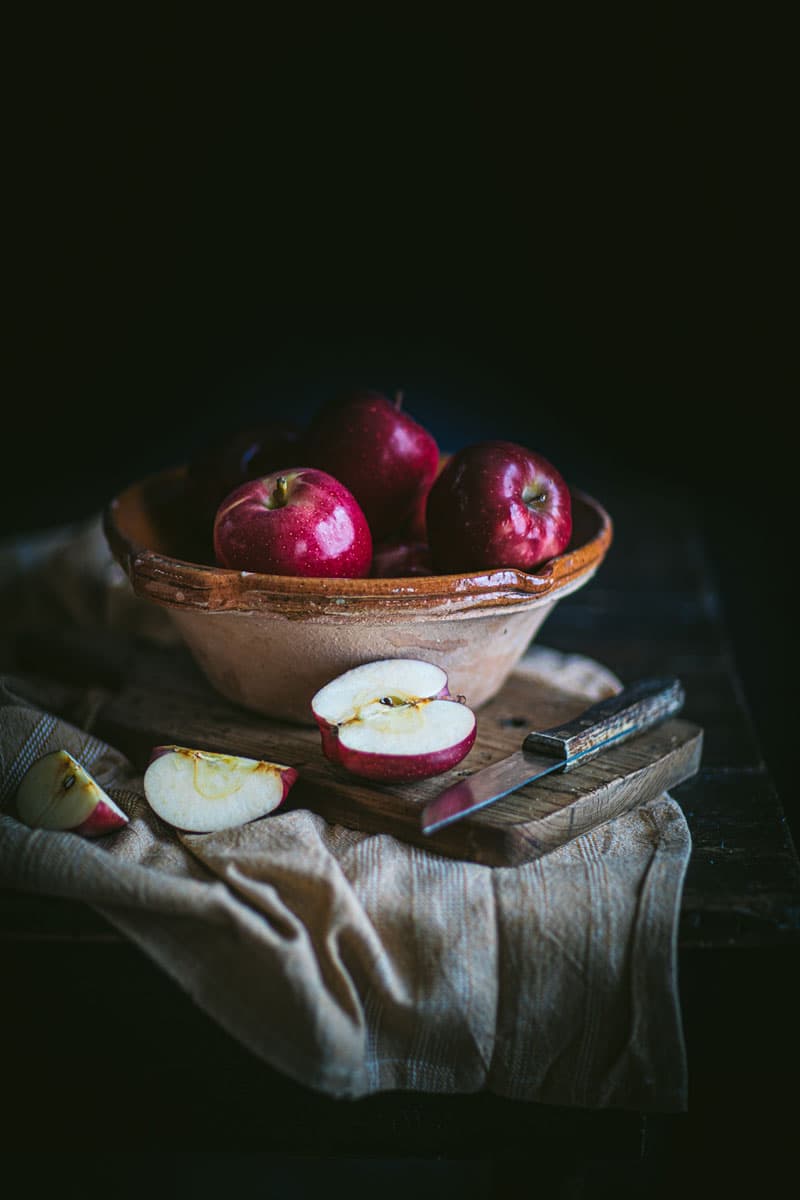 After that, I added the apples (cause you just can't have an empty bowl).
Still, the shot needed more.
At first, I thought about adding a wooden spoon but really, why would a spoon be relevant here?
When adding props, the elements need to make sense and make a logical connection to what else is going on in the shot.
If this was batter or dough being mixed in the bowl, then a spoon would definitely make sense.
So, I used a wood-handled knife.
But the knife also needs to be relevant.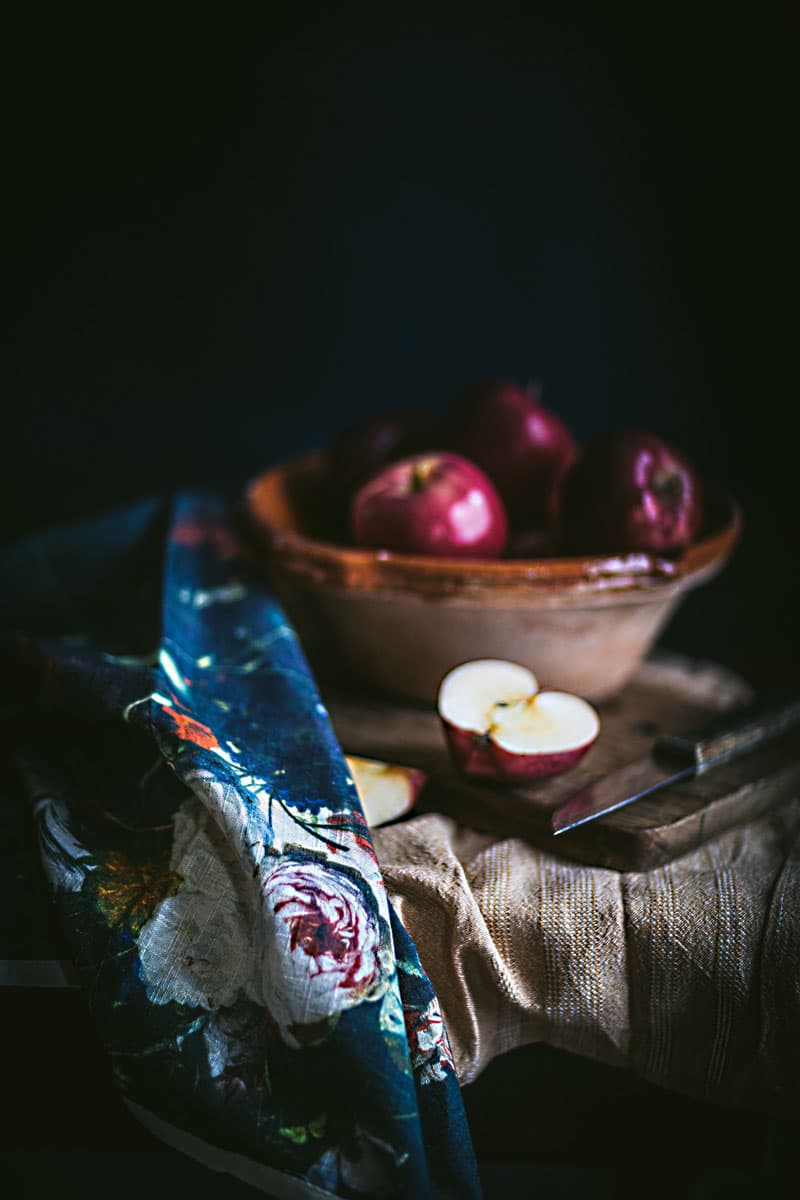 It's easy enough to make the knife very relevant by showing what the knife is used for.
Slicing an apple is all that's needed to make the presence of the knife relevant in this scene.
The apple slice also offers another glimpse of the fruit in a different or transformed state.
Meanwhile, I also decided to change out the fabric because I wanted something darker between the wood board and the wood table.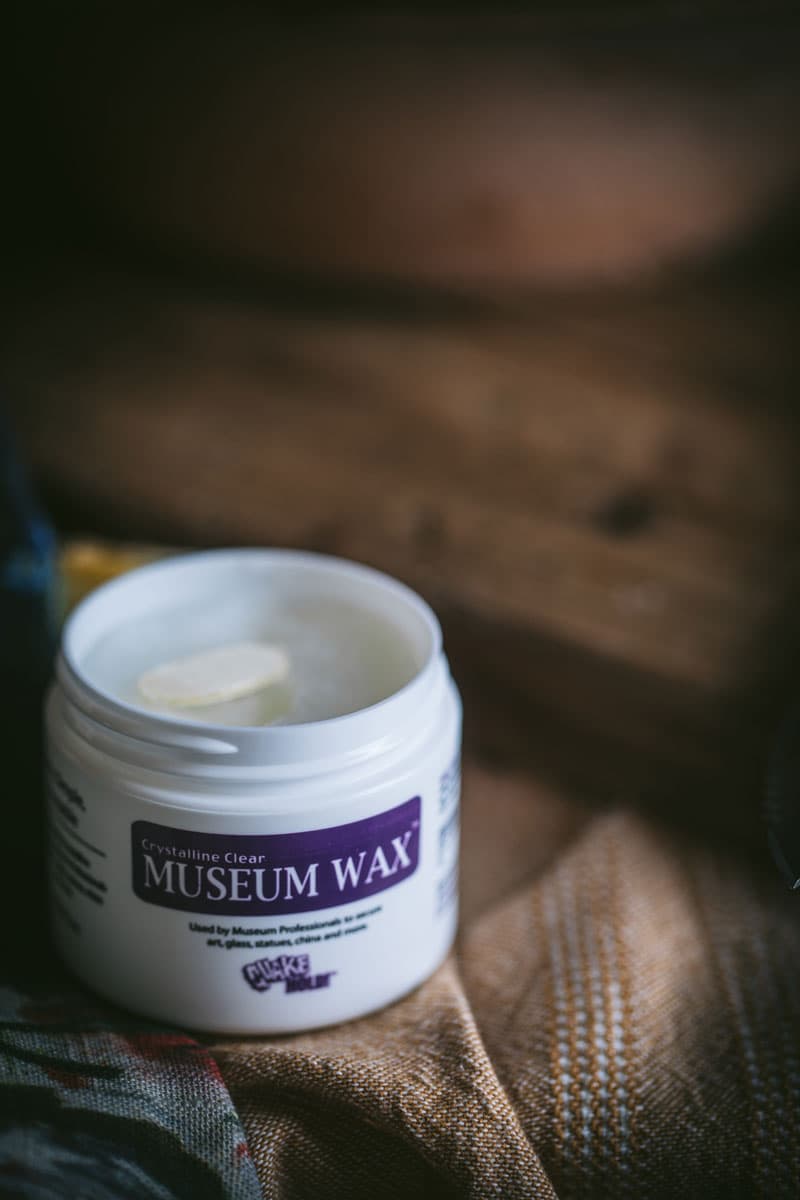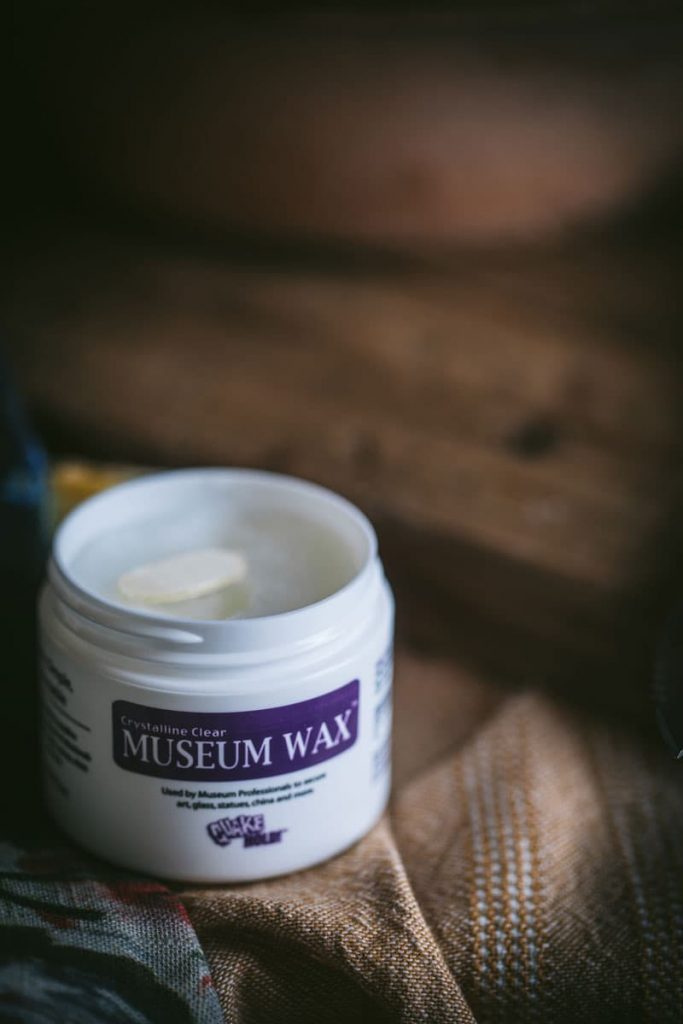 Here's one more really great styling tip for you.
I used a small amount of wax, balled up and placed behind some elements to adjust or anchor their position or tilt in the shot.
For example, the apple slice kept rolling belly-up on the table and I thought it would look better propped up just a bit with the center and seeds facing the camera.
A small piece of wax placed on the back of the apple slice was just enough to prop it up the way I wanted.
It's worth having a jar of museum wax in your photo styling tool box.
Trust me, you will find uses for it.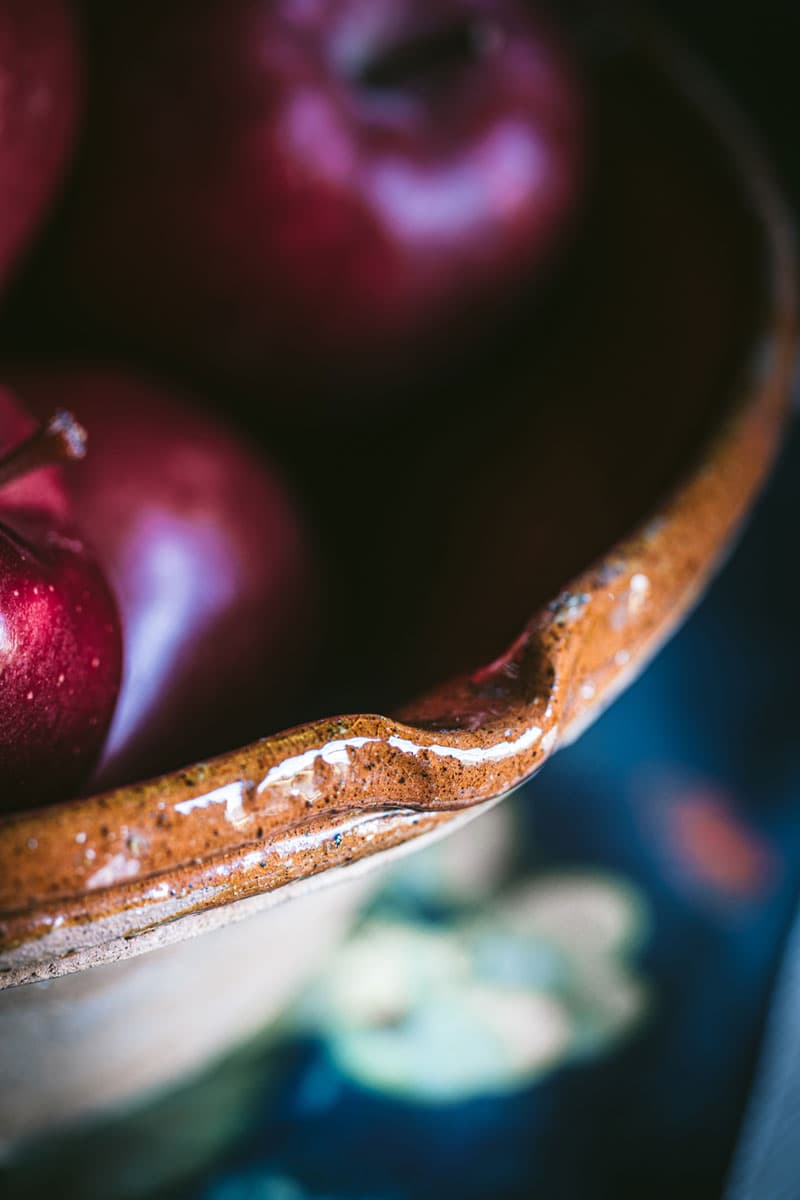 Before I get back to the final image, how adorable is this little spout?
It's barely there but such an integral feature.
Yeah, it's the little details like this that really get me.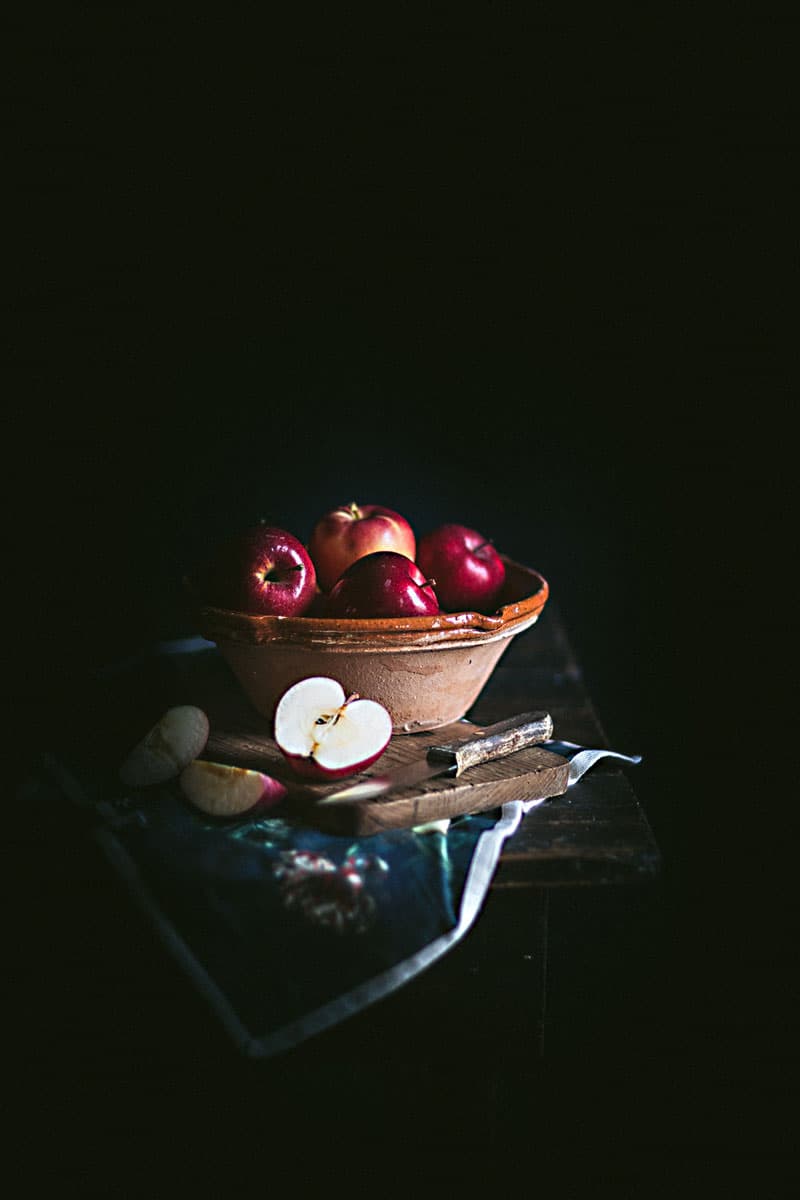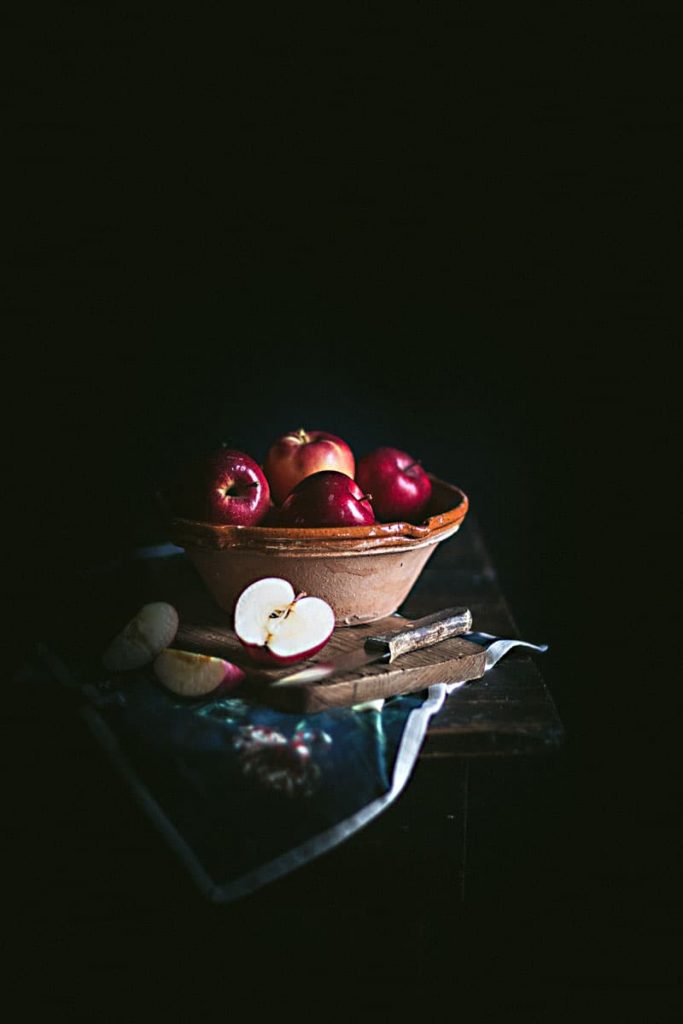 Thanks for popping by for a visit.
I hope you enjoyed look at my French stoneware bowl and a bit of styling process.
See you back here next time.
Happy new year, stay safe and be well.♥