I love crumble. Apple, peach, you name it.
Crumbles are easy, rustic, oh-so delicious and this blueberry crumble is all of that and more.
But this post is about more than this rustic dessert recipe (which I've included below).
Today, I'm mixing blueberry crumble with a few food styling tips and a closer look at my approach and how this image came together.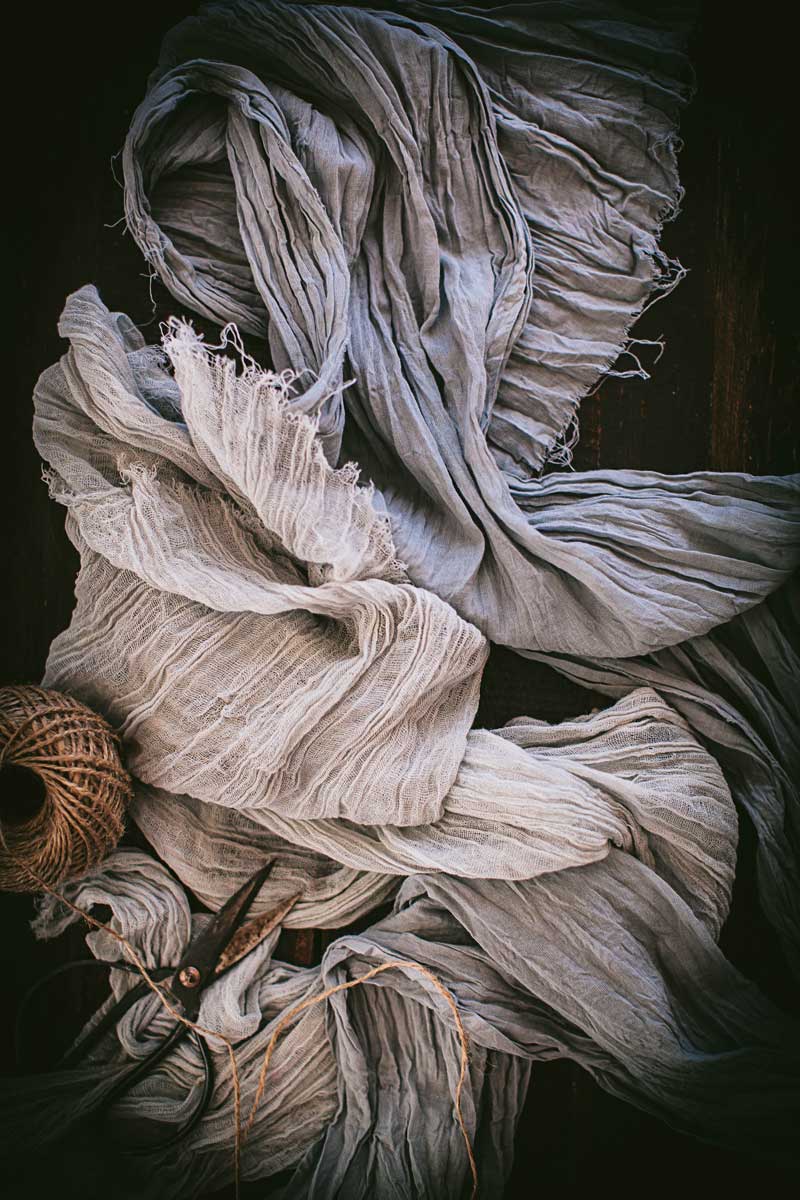 Let's start with fabric. I always try to use some type of fabric in my styling to add color and texture.
In fact, fabric can add important visual interest to any photo layout.
I keep my eyes peeled for interesting, colorful and muted textures but in this case, I hand dyed my own.
Let me warn you, once you start hand dyeing your own fabric, you may get hooked.
It's a fun weekend project and also is an easy way to expand your fabric prop collection.
You can check out my previous post on how to hand dye your own fabric for food styling, HERE.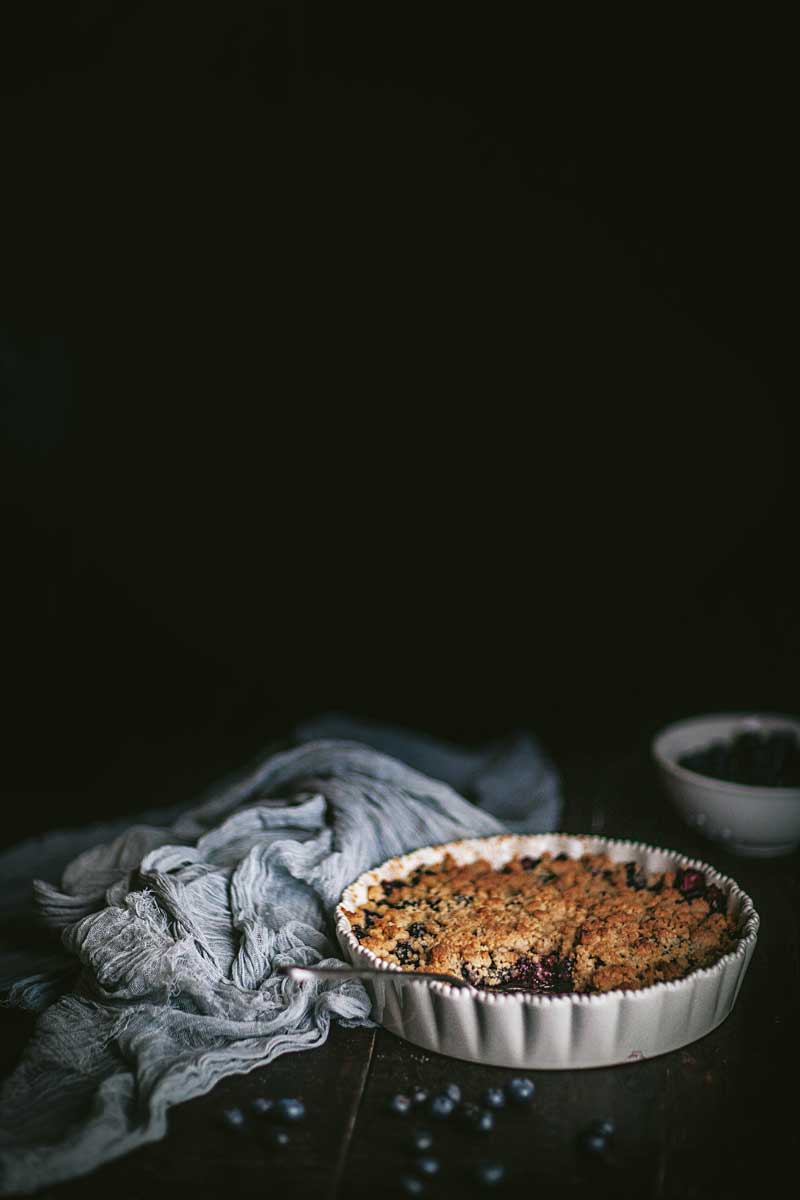 OK, I'm going to unpack what's going on in this photo and how it evolved.
When I first set up the shot, I placed the quiche dish and simply scattered a few blueberries around the plate.
I also like to include a small bowl filled with whatever I've scattered to give the impression of immediacy. It's as if the blueberries were pulled right from the bowl.
When I stood back and looked at the setup, it still felt a little empty.
It's a good idea to try to find elements that seem like they might naturally be in the shot.
In this case, it made sense that a small jug of milk would be in a setting like this.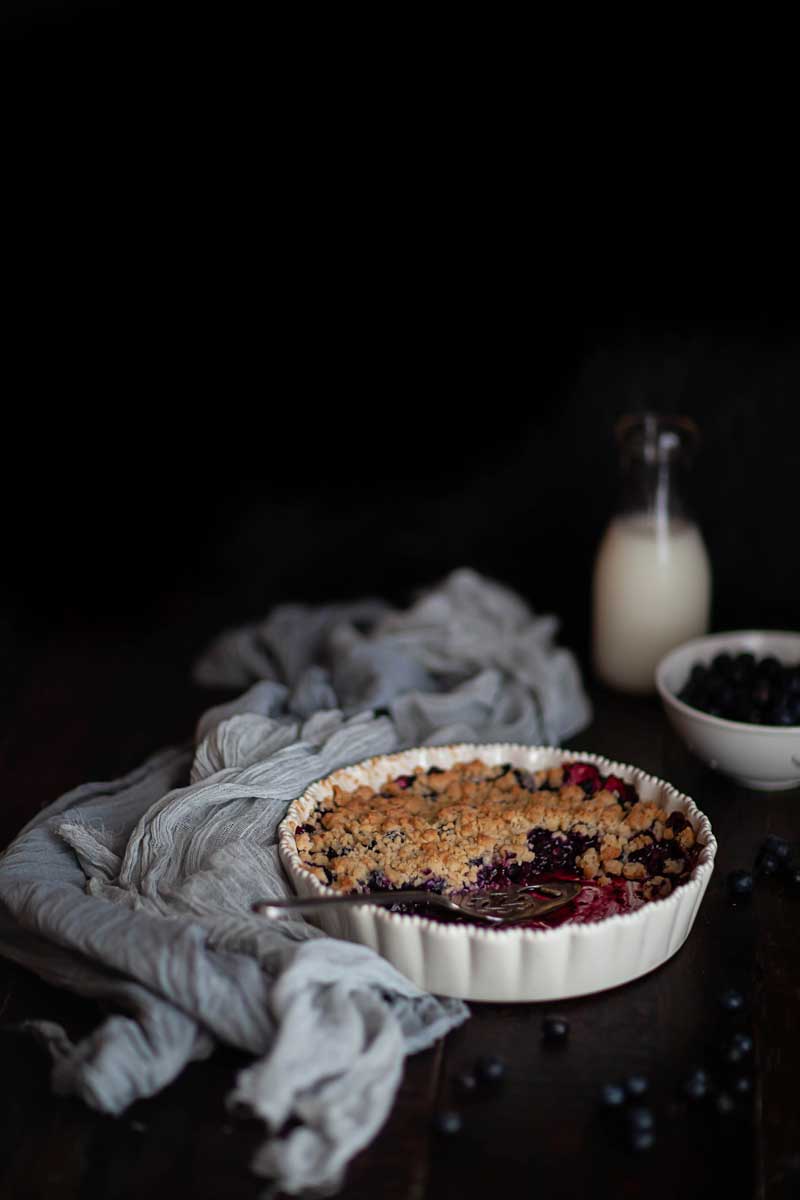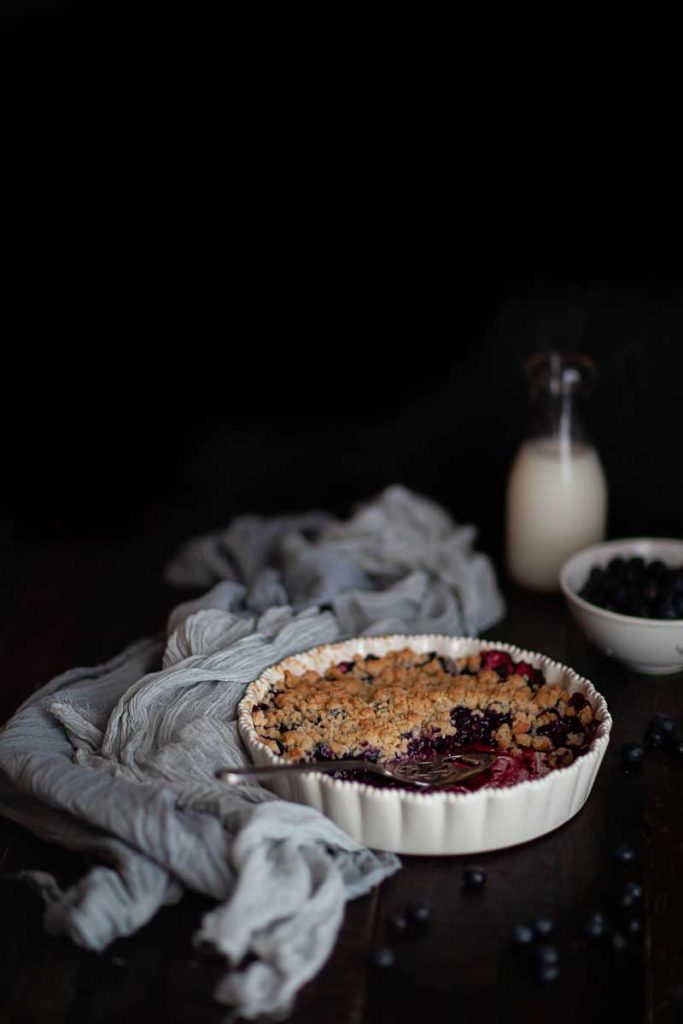 Can you see how the simple act of adding milk to the scene?
The milk jug is a small thing but it adds a much-needed dimension to the story.
While I like to use lots of negative space, and there's a lot of it above the food… I still wanted to fill the background with a little something more.
Don't be afraid of adding more elements.
You can always remove them, if it crowds the main image or feels overwhelming.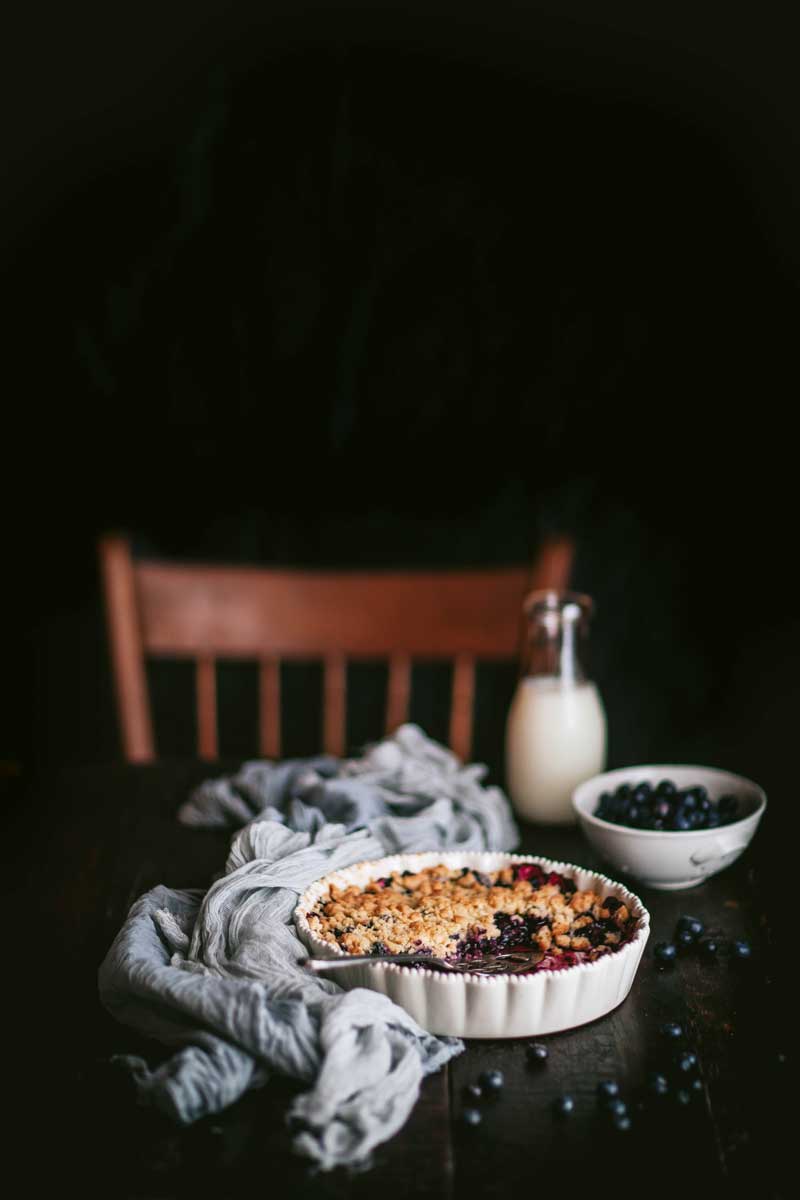 How about a wood chair?
Now, that makes this scene look even more authentic complete.
Styling is about layering elements and adding those elements in a way that makes sense to the overall vision you have.
Here, I was going for a kind of country kitchen feel and adding the chair makes this styling look like the photo certainly could have been snapped in a rustic kitchen corner space.
But wait, check out the photo below to see the real deal.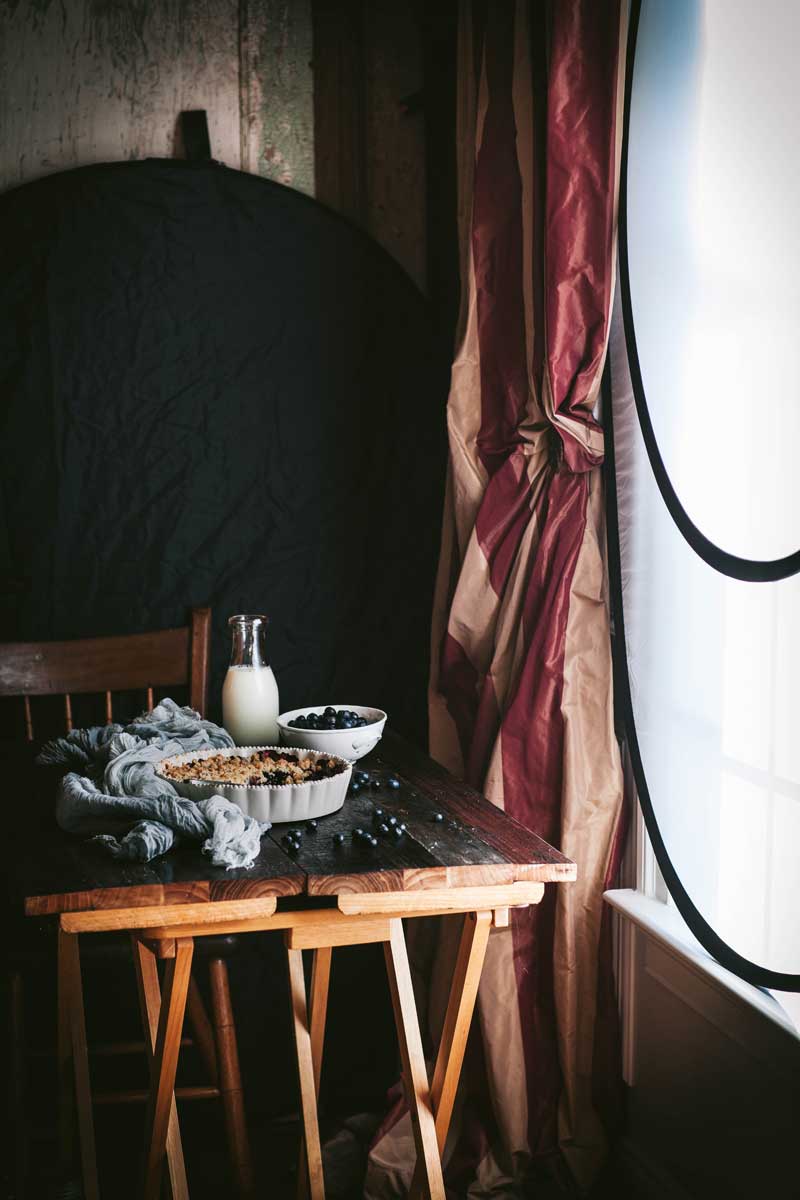 Yup. Here's my country kitchen,
It's actually a small corner in my dining room and it's where I shoot a lot of my styled food and other projects.
The two diffusers in the window help to soften the natural light.
The black background is the diffuser cover that doubles as a backdrop.
The wooden base is an old picnic bench and you can see how I made that from an earlier post, HERE.
Sometimes, a small corner of a room is all you need.
Now, who wants a slice?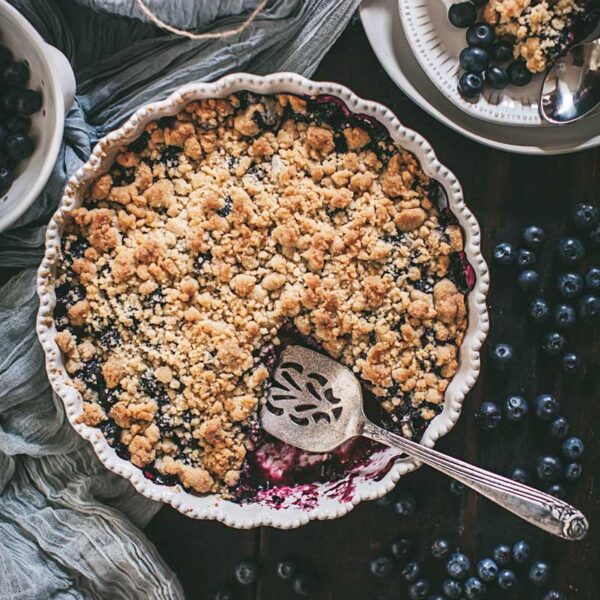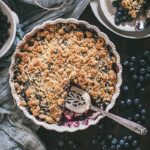 Blueberry Crumble
Course: Dessert
Servings: 8
Ingredients
FOR THE FILLING
1 teaspoon unsalted butter, softened
1/2 cup granulated sugar
1 tablespoon corn starch, as a thickening agent
1/2 cup orange juice
1 teaspoon vanilla
2 pints blueberries
FOR THE TOPPING
1 cup all-purpose flour
1/2 cup brown sugar
1/2 cup granulated sugar
6 tablespoons unsalted butter, cold and cut into cubes
1/2 cup toasted oats
1/2 cup chopped, toasted nuts (optional)
Instructions
Preheat oven to 375 degrees.

Lightly butter square or round baking dish. Approx. 8-inches in width.

Prepare the filling. Gently combine blueberries, sugar, juice, cornstarch, vanilla. Try not to burst the blueberries while mixing.

Add flour, sugars and butter to a stand mixer with a paddle attachment or by hand.

Stir in the oats and optional nuts.

Pour the berry mixture into the baking dish.

Sprinkle the crumble mixture topping evenly over the fruit mixture.

Bake for 30 minutes or until golden brown.

Many of the blueberries will burst in the heat. Don't worry, that's normal.

Serve with a dollop of homemade whipped cream or scoop of vanilla bean ice cream.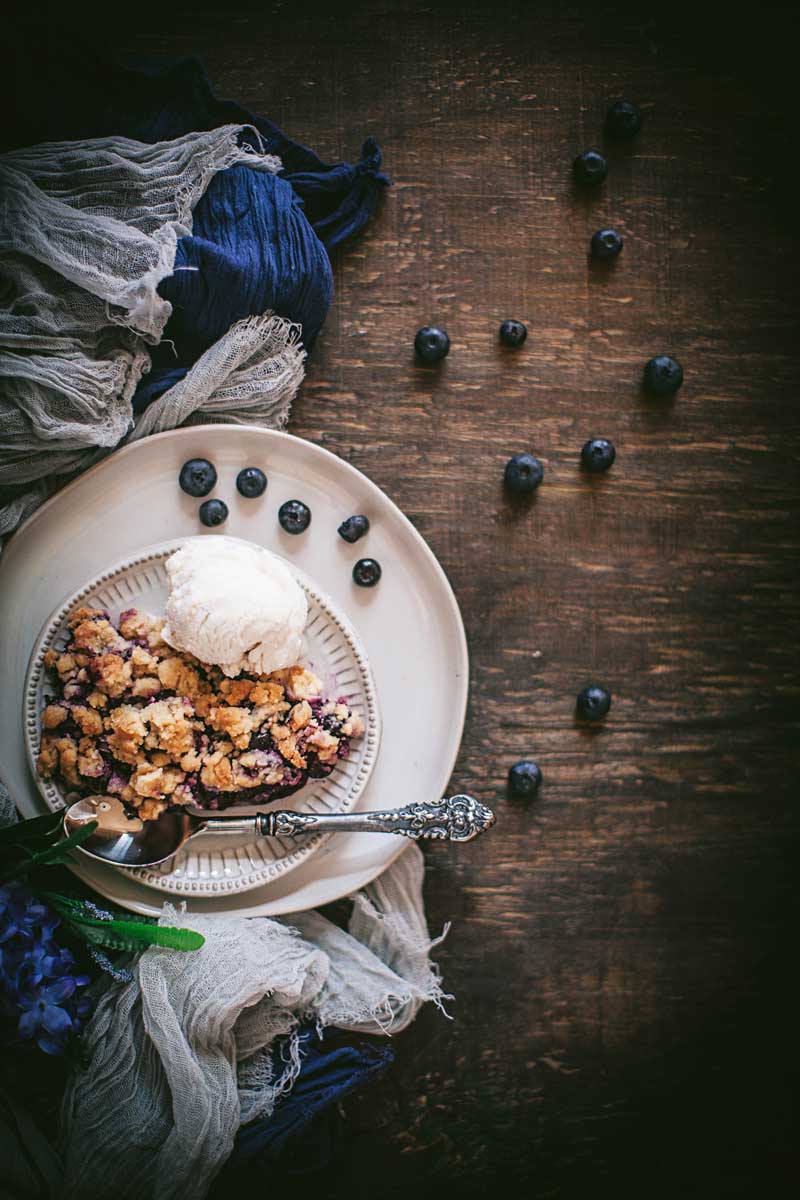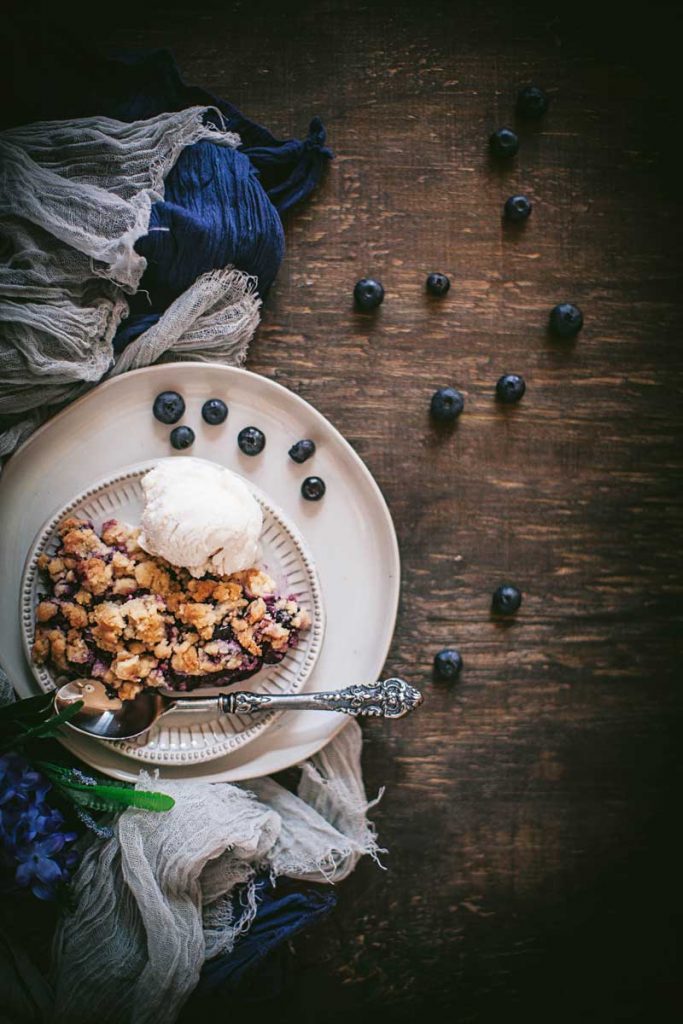 Thanks for stopping by.
See you back here next time. ♥