Right about now, you might be a little fixated on the blueberry crumble at the center of this photo. And that's totally OK.
However, what I really want you to notice is the gray fabric that frames the dessert to the left.
This post is all about fabric to "dye" for… as in fabric that I actually dyed myself.
I'm  a little hooked on hand dying fabric and I when it comes to food styling, this colorful technique will definitely take your food photos to new, beautiful heights.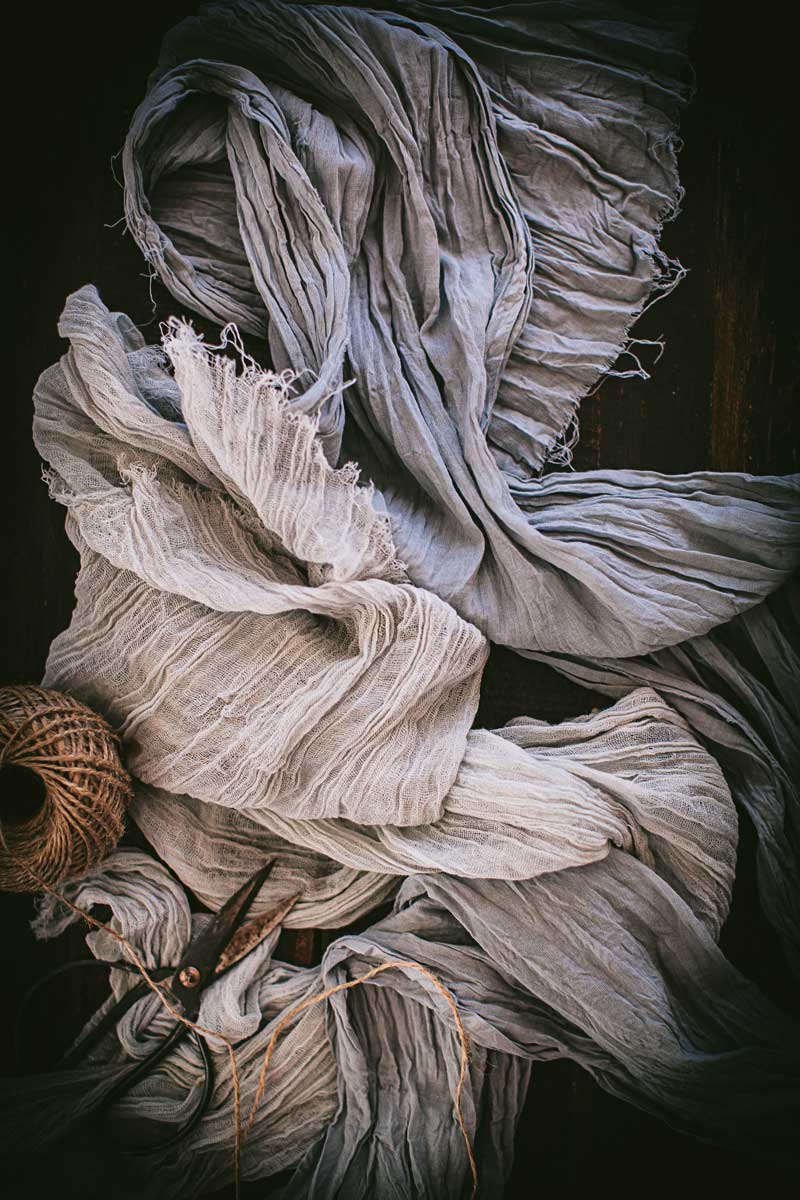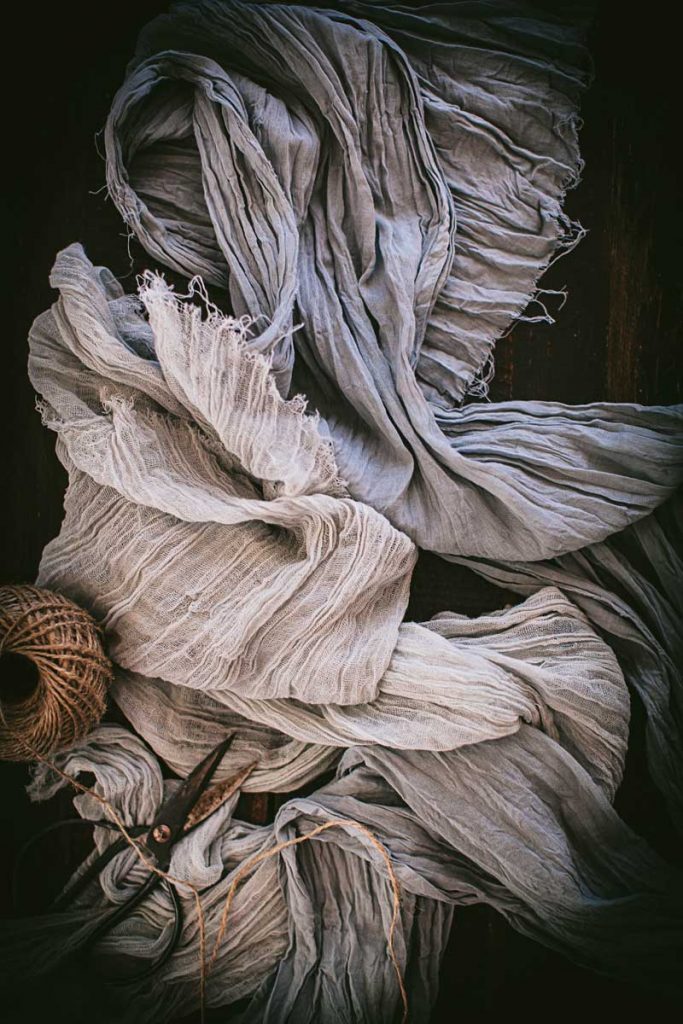 I just love these two (decidedly, not fifty) shades of gray and I'm even more impressed with the hues because I created them myself.
Once you dye a few fabrics yourself, you may just jump on this creative and colorful bandwagon with me.
Hand dyeing fabric is addictive.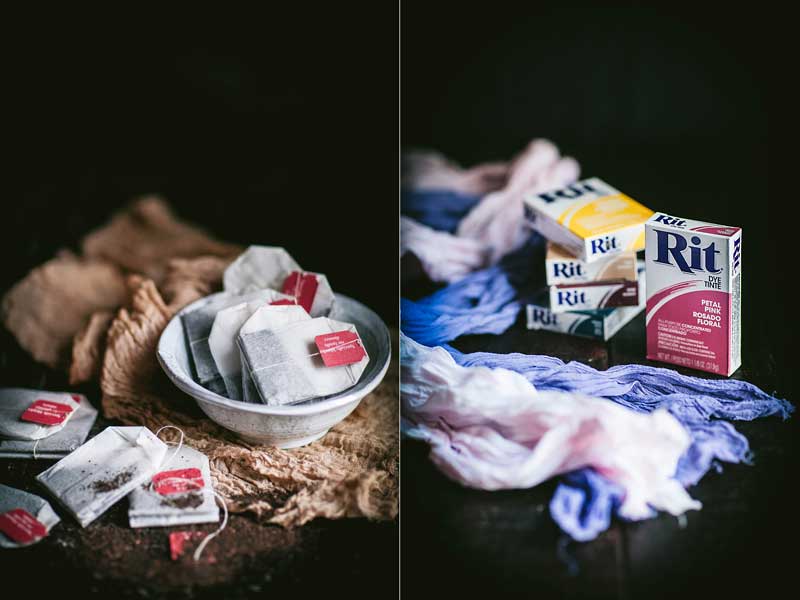 While there is a current trend toward using natural and sustainable products to create color, I used tea bags and a few commercial dyes for the fabrics featured in this post. 
You can find commercial dye in bottles or small boxes at most crafts stores. Of course, you know where to find tea bags.
As for the fabric, you can use whatever fabric you like but I opted for lightweight cotton along with an almost gauze-like fabric (called Witching Hour at Joanne's) for most of the pieces throughout this post.
Since I created these shades to use in my food styling, I knew I wanted the fabric to be flexible and airy and easily manipulated and that means lightweights are best.
Depending on the fabric you use and the type of dye, the instructions may vary.
Be sure to read the back of the box before getting started to ensure you have any necessary additives on hand.
In addition to the dye, I only needed hot water and salt to create all the pretty colors I've shared below.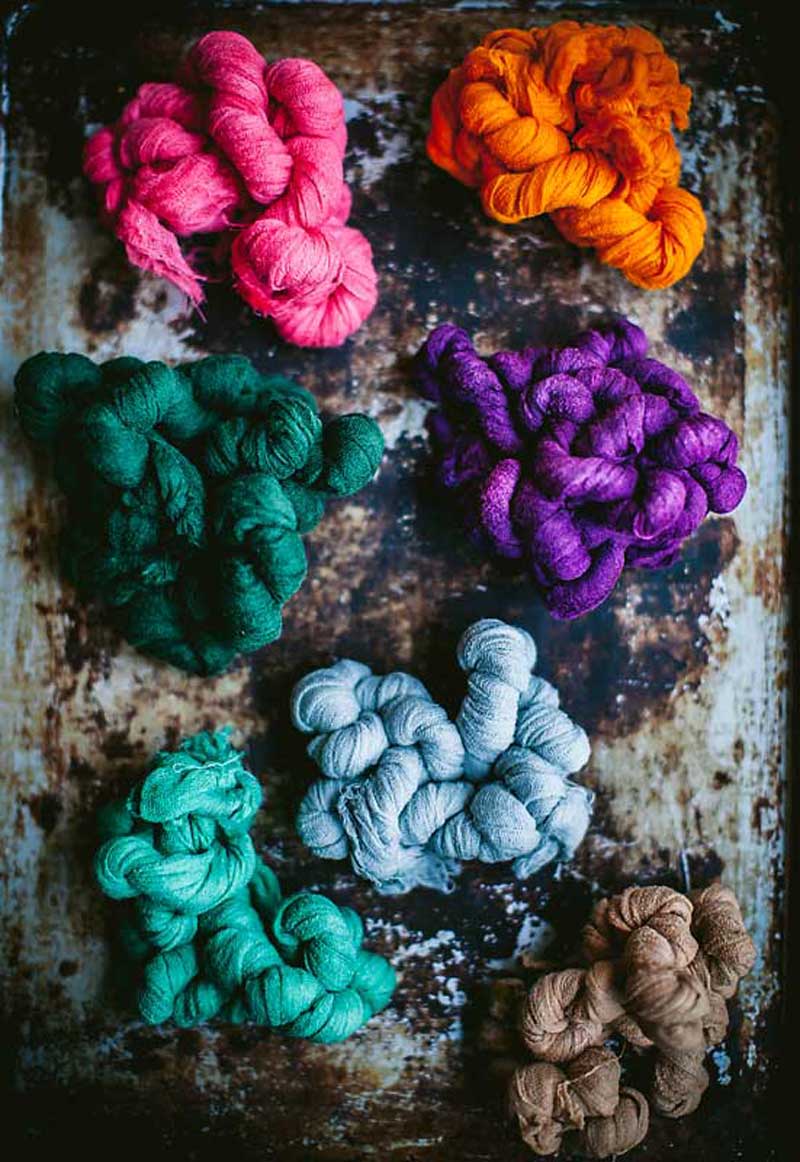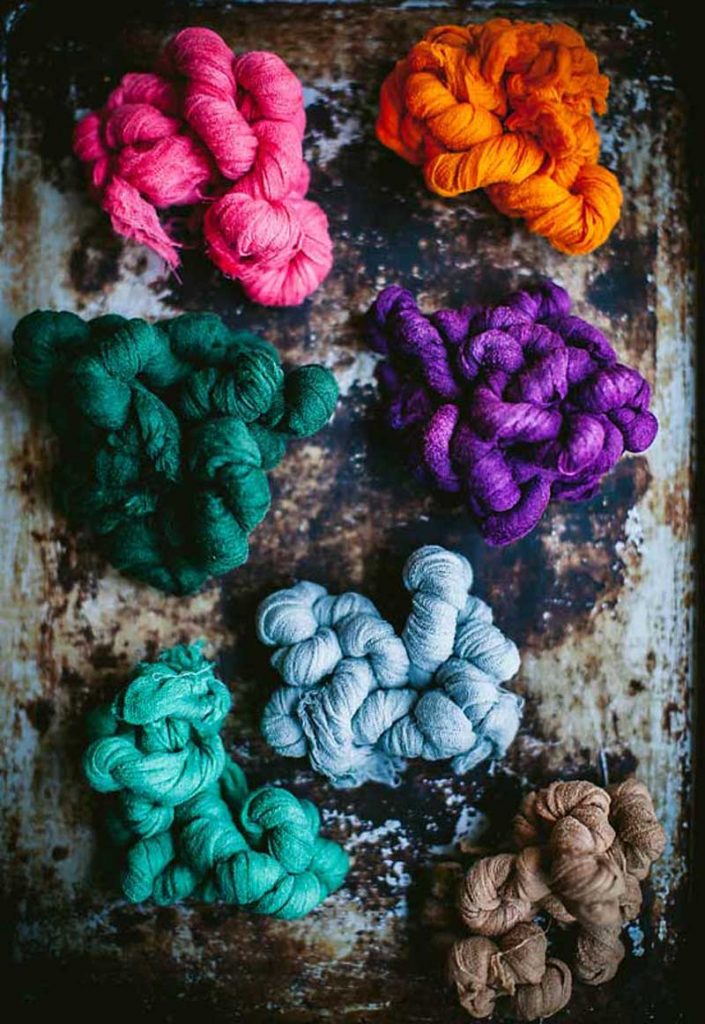 A small amount of dye (whether in liquid or granular form) goes a long way.
I suggest you start with a very small amount of dye in the water first, and then add more dye as needed, to achieve the desired shade.
For my first batch, I was trying to get a very light shade of pink but I poured the whole packet into the water and got fuchsia instead.
That was fine because I like the fuchsia but next time around, I used just a tad of the pink dye and got the much paler shade I was initially going after.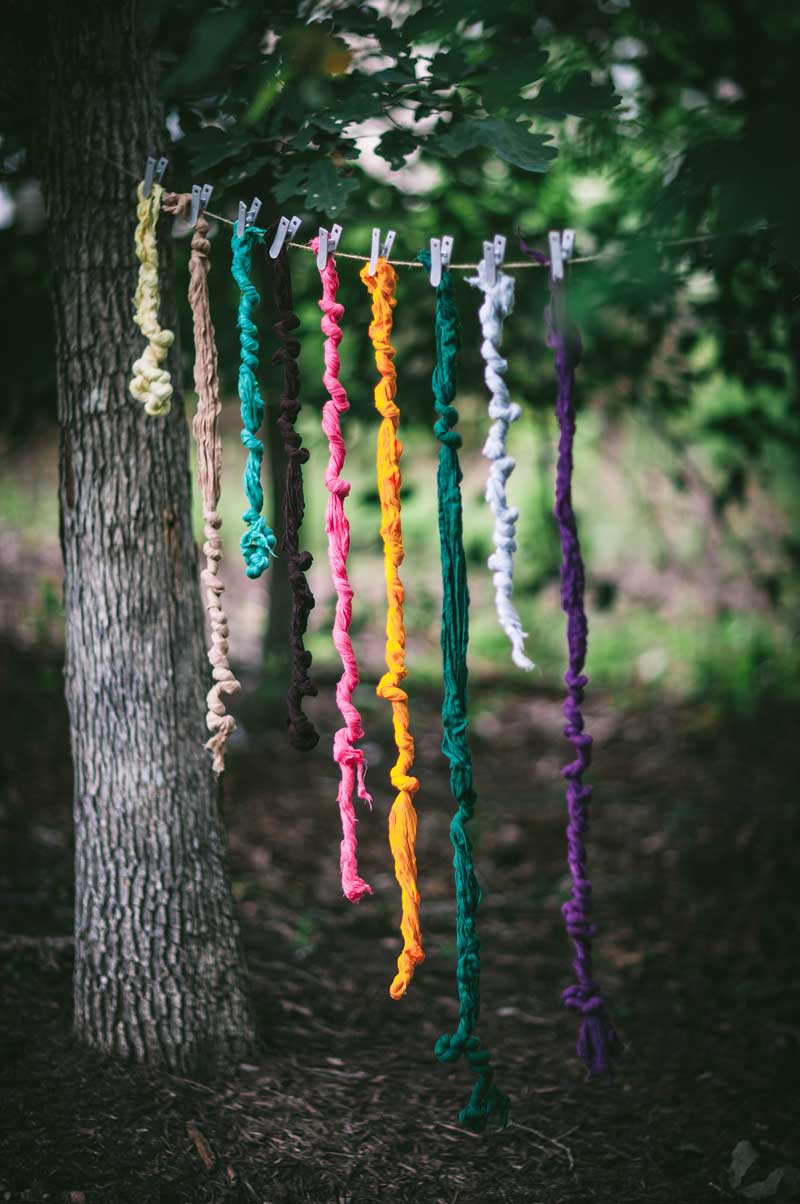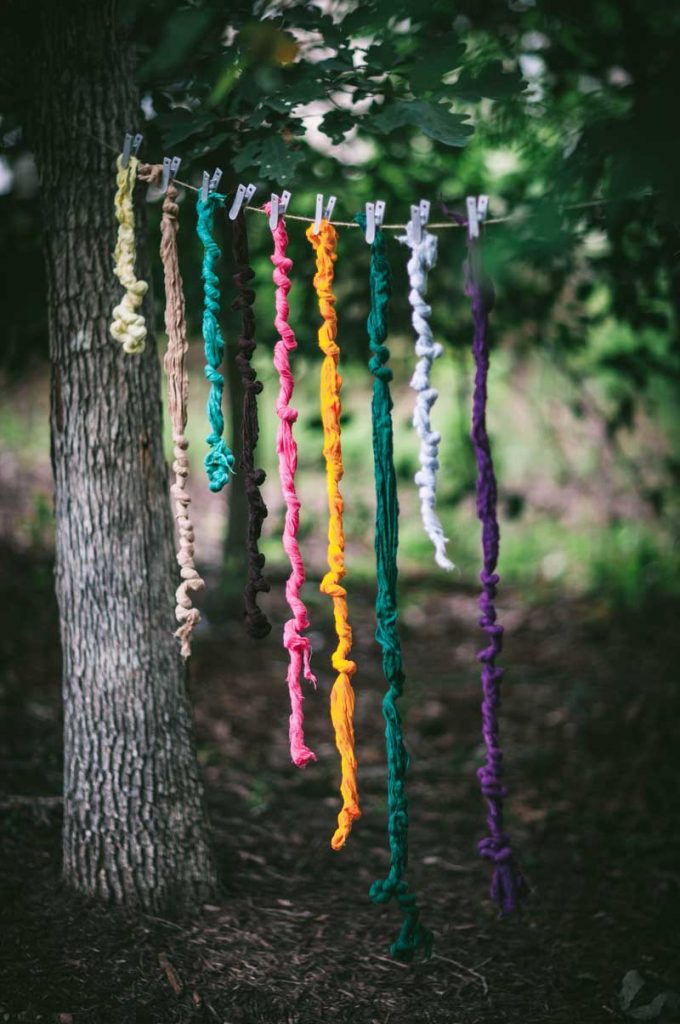 If you twist the fabric into knots after dyeing and allow it to dry that way, you'll end up with a wonderful wrinkled look when you finally unwind the knots.
I think the wrinkles and crinkles add such a lovely texture and create even more interest and shadows to the fabric when it's styled around a food dish.
That makes for a much better prop.
Just take another look at that opening photo of the blackberry crumble and you'll see exactly what I mean about the addition of crinkles to the mix. 
OK, allow me to shift gears just a bit.
Look carefully at this photo above and you'll see subtle movement along with areas that are perfectly still.
This is a cinemagraph and I'm guessing that you've probably seen these popping up all over Instagram and other platforms lately.
Cinemagraphs combine small movement with still images to produce an interesting and unexpected presentation of a photo.
So, part of the image moves while the rest of it remains perfectly still. It's very cool, huh?
I've been studying how to create cinemagraphs for the last several months and I've found many of them quite mesmerizing.
I'm going to keep practicing the technique and include more cinemagraphs on this blog from time to time.
NOTE: If you're reading this from a mobile device, you may need to view your screen horizontally to see the full effect of the cinemagraph. I'm still trying to figure out proper sizing for mobile.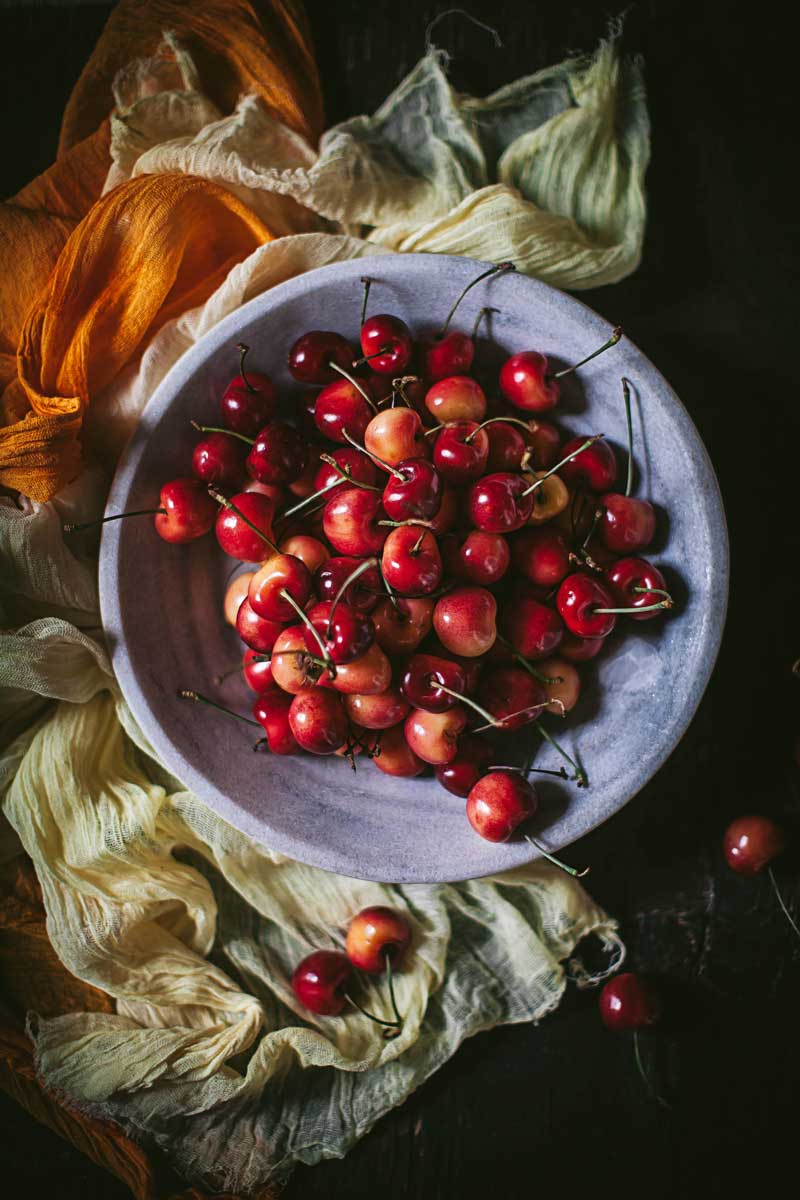 Let's get back to the heart of this story… and my dyed fabric and food styling.
This photo started out as a simple bowl of Ranier cherries in a marble bowl.
While it's still a fairly simple shot, the addition of the orange and yellow fabrics behind the bowl compliments the coloring in the cherries but also helps to add a much more interesting element to the overall photo.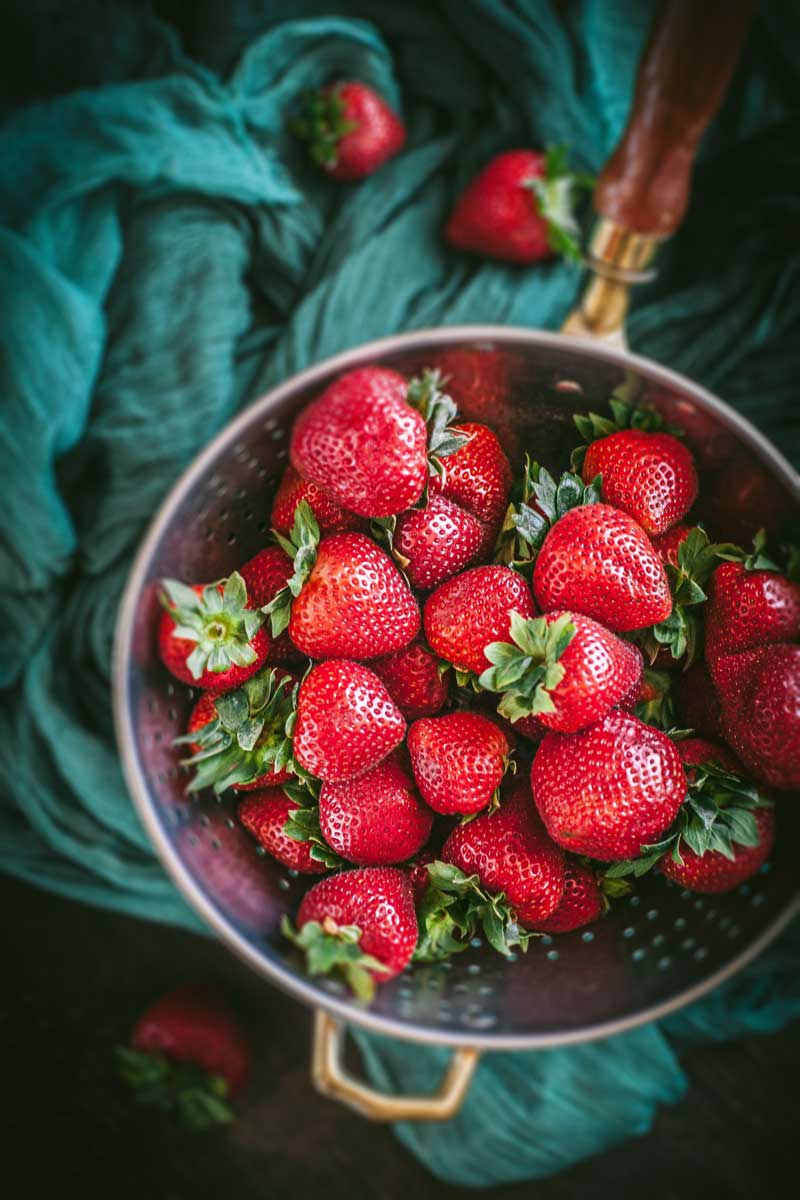 I approached photographing these strawberries in the same way.
The copper colander with wood handle is a great prop to begin with (I found it at a flea market) but the strawberries look so much better when framed with the freshly-dyed green fabric behind it.
When I said I was a little obsessed with hand-dyeing… I wasn't kidding.
Over the last few weeks, I've hand dyed more than a dozen pieces of fabric to use in my food styling.
And hey, I'm not done yet.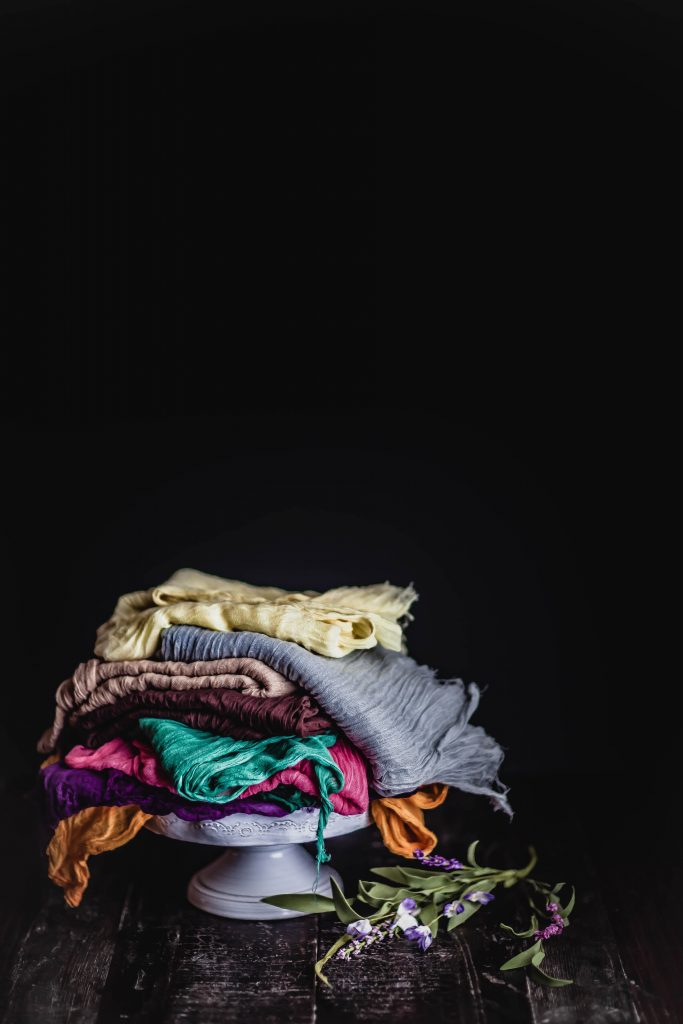 Thanks for stopping by.
See you back here next time. ♥