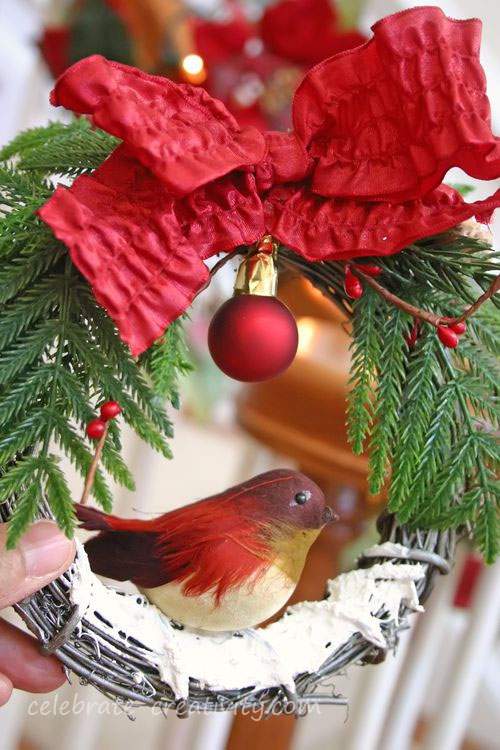 T here's no way around it.  Look around and you can clearly see, the Christmas spirit is already making it's presence known. 
Whether in retail stores or throughout blogland, holiday projects and ideas are on full display.
With that in mind, I thought I'd re-visit a few of my favorite holiday blog projects featured here.
Let's start with my cinnamon sticks and candle wicks project which is super easy to make and requires on a handful of supplies to whip up a great looking centerpiece.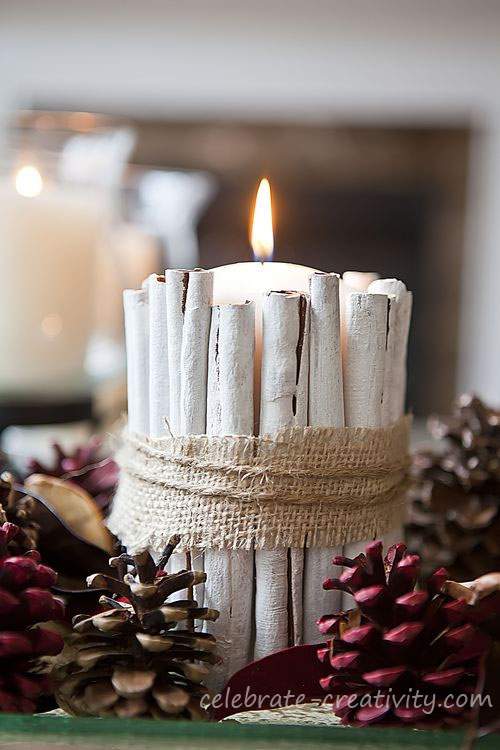 Time to start dusting off all those holiday ornaments in preparation for tree decorating.  
If you like nature-themed, tree adornments as much as I do, you may enjoy my holiday bird wreath project which may be just what your Christmas tree needs this year.  

Who can resist homemade holiday cookies during the holidays?  Certainly not me and probably not you either, right?
This is a beautiful way to package your homemade goodies and you're going to love the cookie press that I used to make these treats.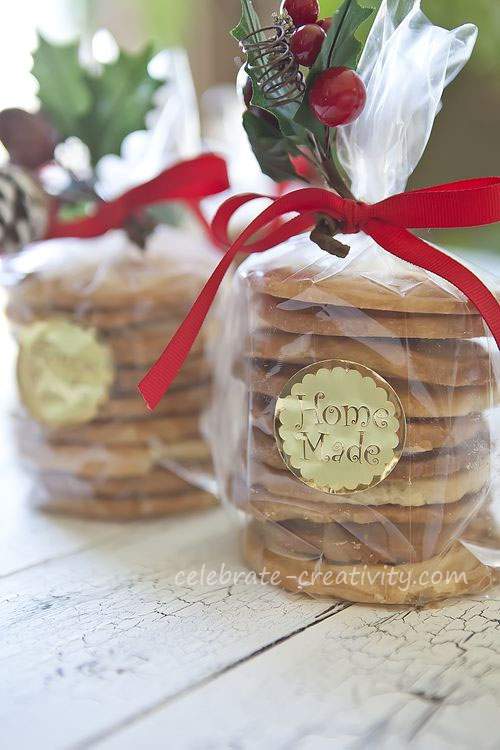 Special gifts often requires special gift wrapping ideas. 
It doesn't take much to dress up a plain gift box with any number of items you may already have on hand.
Take your gift wrapping to the next level with the addition of small details that can make a big impact when it comes to presentation.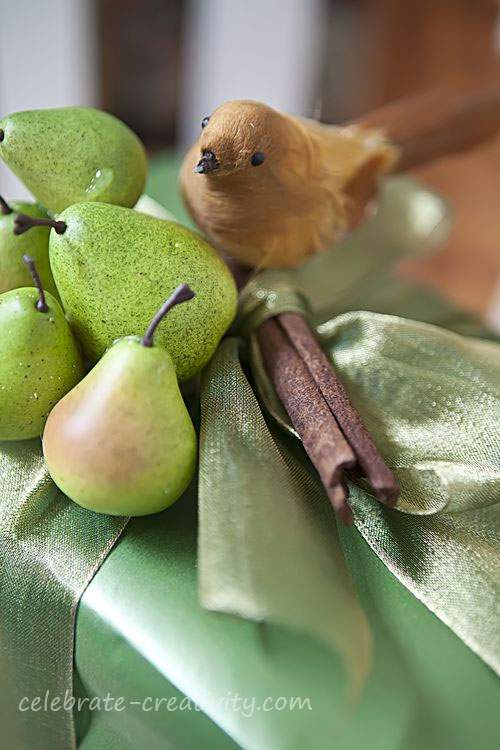 Poinsettias are the flower of the season and this handcrafted, 3-dimensional Poinsettia project can be used to adorn your Christmas tree or holiday card.
If you want to tackle a project that will have your friends asking "now, how did she do that?", then this could be the holiday craft for you.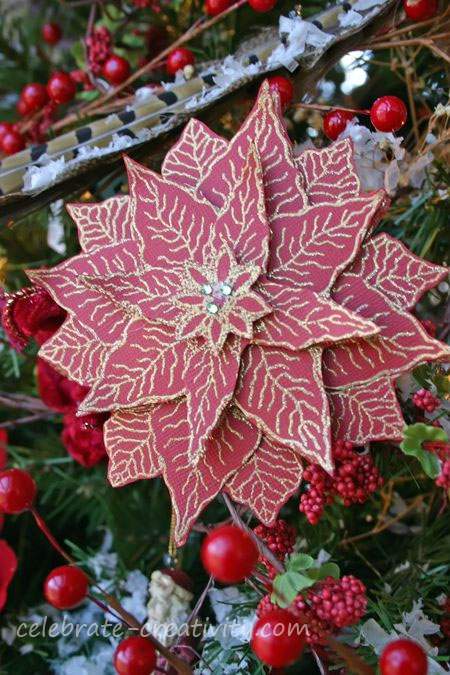 Just like the traditional use of Misletoe, the holiday kissing ball may also get you a smooch this season. 
This is another very simple project that requires only a few supplies to make.
It's practically guaranteed to get you more than a few kisses too.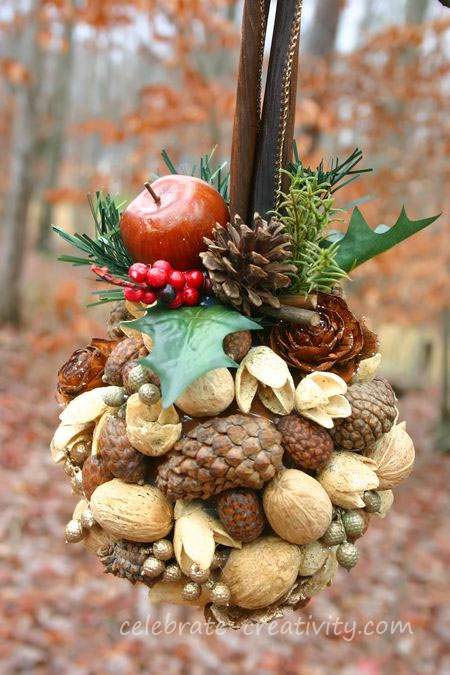 You may be surprised to see how easy it is to create your very own vintage holiday candles. 
I used a copy of old fashioned sheet music to make these music-inspired candles but you can add any image you like for a personalized and very special holiday gift candle.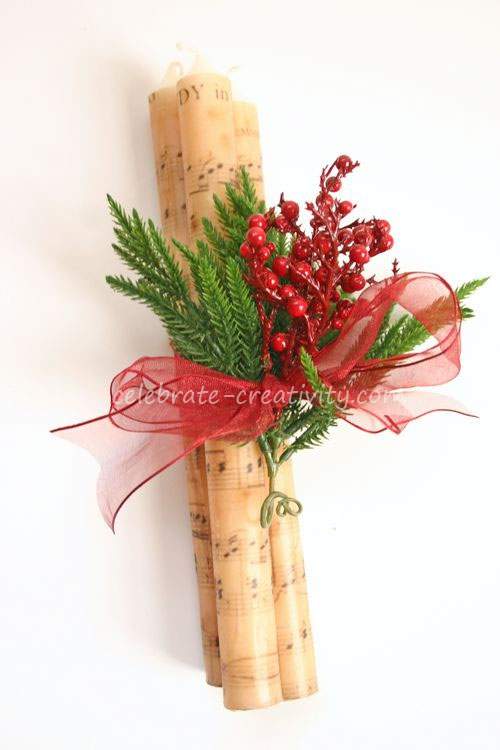 So, that's a quick blast from my holiday past with a few of my favorite projects that I've featured on this blog.
Hope you're inspired.
See you back here next week with more creative ideas as I dive head first into the holiday season.  ♥
(I'm continuing to participate in various linky parties around blogland.  If you want even more inspiration, pop by Lucy's soiree over at Craftberry Bush for tons of ideas and creative projects.)