When it comes to the holiday season, tree trimming is at the top of my fun, to-do list (shopping is at the bottom).
This year, my tree includes a few handmade, bird wreaths which blend in perfectly with my back to nature-themed holiday tree.

My little birdie wreath ornaments are tucked inside the branches along with a ton of other assorted feathered friends that I'll introduce you to a little later.
Throughout this post, I'll show you how to make this fun and festive bird wreath ornament and I'll also give you a closer look at my finished tree.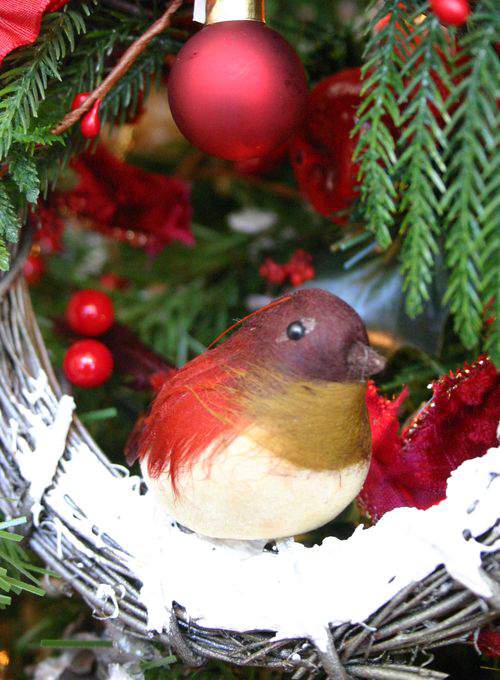 Let's get started making this wreath ornament.
In addition to a hot glue gun, spray paint and spray-on snow, you'll need the following items:
Pine twig
Small, ball ornaments (optional)
Mini wreaths
Decorative berries
Coordinating ribbon
Small artificial birds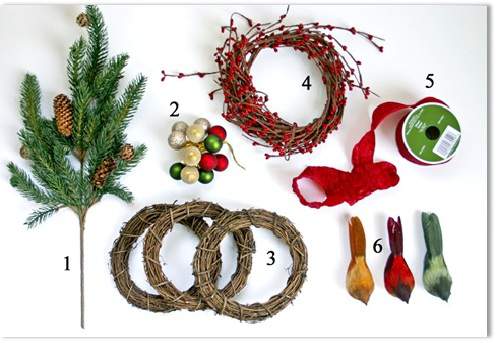 First, lightly spray paint the twig wreaths desired color.  I used a faint-colored silver.
You can choose to paint the entire wreath or just random areas.  I wanted a faint amount of the natural brown, twig color to come through so I didn't spray paint with a heavy hand.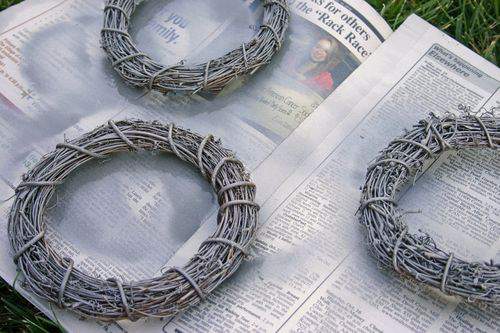 Next add a little bit of snow to the wreath.  You can buy artificial snow in a spray can or in a small container which requires that you paint it on.
I prefer to paint the snow on so that I can be more precise about where it's applied.
I remember seeing a project like this in an old Hallmark magazine several years ago.  Anyone else remember that bimonthy mag?  It folded a while back but I recall it was always a pretty good read.
You can add any kind of embellishment to suit your taste.  I added a few pieces of artifical pine and berries along the top of the wreath to keep everything looking natural.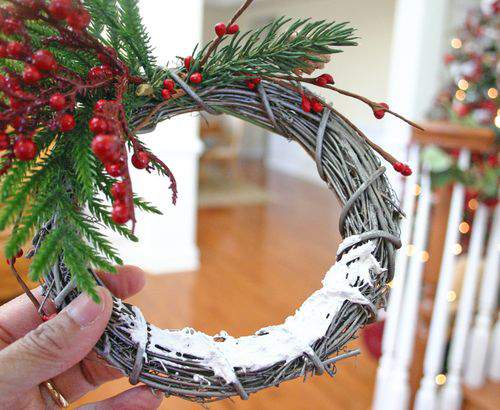 A pretty, red bow tied around the top-center of the wreath adds a splendid splash of color.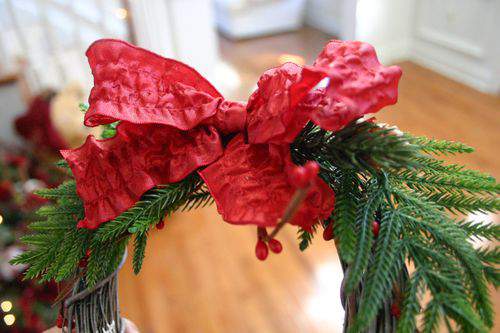 You can also add a small ball ornament or tiny crystal ball for an additional festive touch.
Use a hot glue gun to adhere the little bird to the lower portion of the wreath and your feathered friend has a home.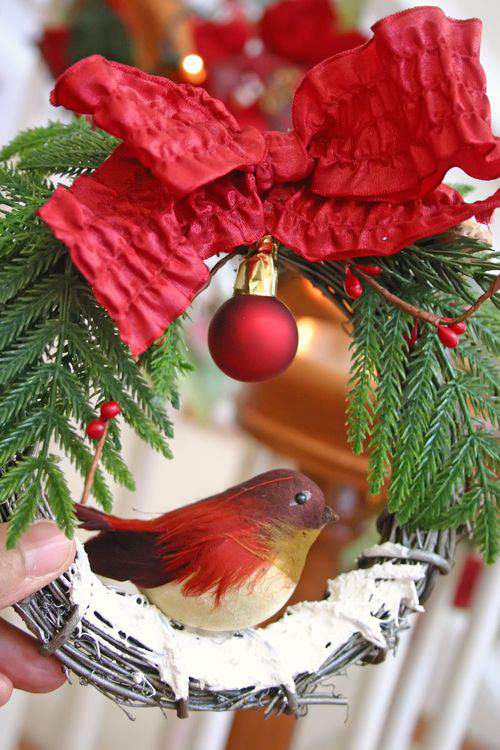 I love the back-to-nature look that you get using birds in a Christmas tree and I always use as many as I can possibly squeeze into my tree.
In addition to my bird friends, I also adorn my tree with berries, birdhouses, dried baby's breath, burgundy bows, wooden Santas and elves, assorted artificial fruit, poinsettias and eucalyptus twigs.
I have a little bit of everything in my tree and that's exactly how I like it.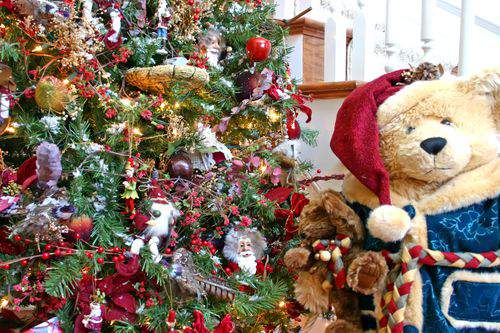 With so much going on in the photo above, my birdies may be tough for you to see right away.
Here's a closer look at some of the birds who have found a home in my Christmas tree.  I love the little nests and eggs and they work well with the all natural theme.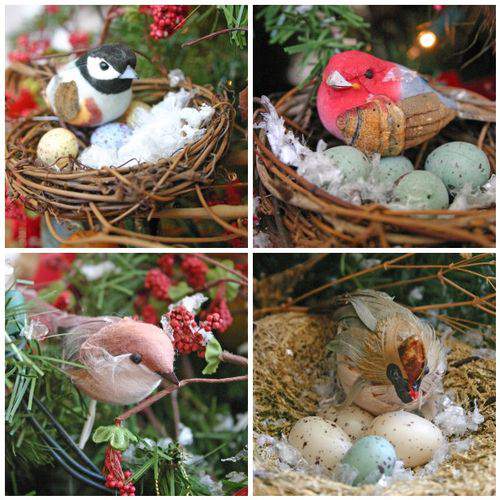 I also have several of these foot-long pheasants that always look like they swooped in for a smooth landing five minutes ago.
They sit on the very tip of the outer branches and their long tail feathers stick out ever so slightly beyond the outline of the tree.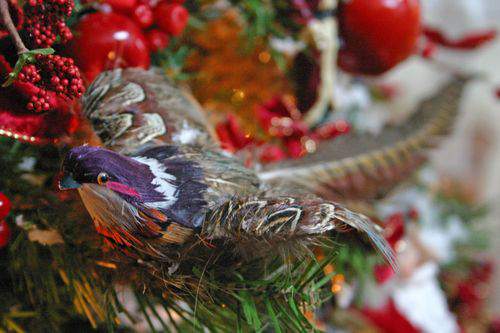 Even the sweet little wooden elves who make an annual appearance in my tree, arrive with bird-in-hand.
Check out this holiday elf's egg-filled basket.  Too cute and perfect for my theme.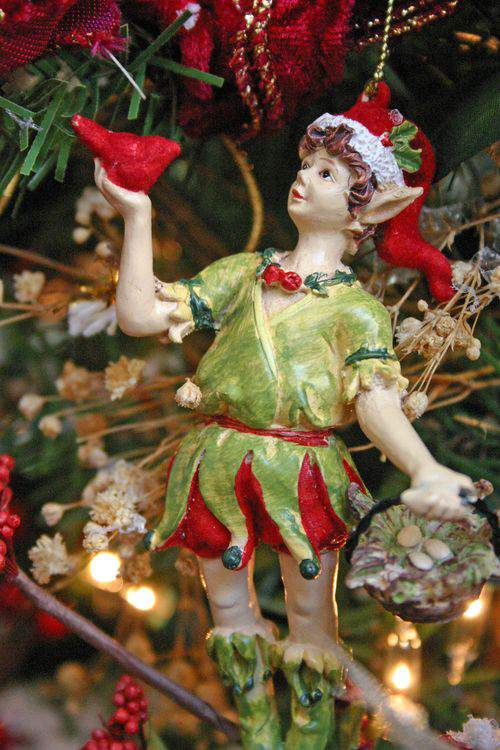 Finally, here's a look at my tree completely decorated.
I always used to set up our Christmas tree in the family room.  Last year I decided to put the tree under the staircase in the foyer and this has turned out to be a much better (and now permanent) tree location.
When guests come through the front door, they're greeted with this colorful and festive holiday decor and I love how it all looks.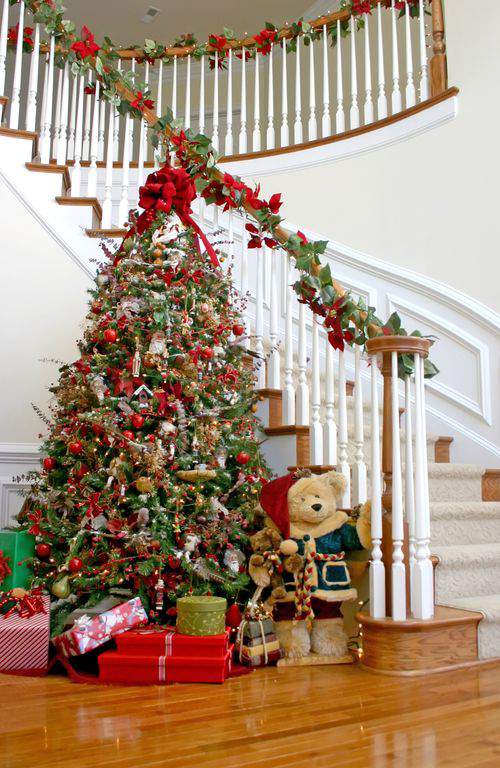 As 2010 winds to a close I want to thank everyone for your visits and support of my blog and creative efforts all year long.
Here's hoping your holidays are fun, happy and safe.  I look forward to kicking off the new year with a brand new series of fun crafts and tutorials and a few surprises along the way.
See you in the new year.  Until then,
SEASONS GREETINGS AND HAPPY HOLIDAYS ♥