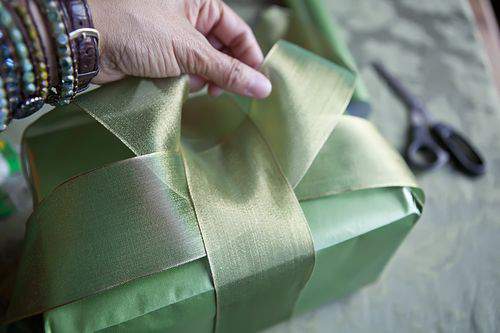 T
he title of this entry has more than one meaning.  First, I'm wrapping up my last blog entry for 2011 and second (and more importantly) this post is all about gift wrapping.
As you'll see, adding a few extra, unexpected touches can help make your gifts shine even more.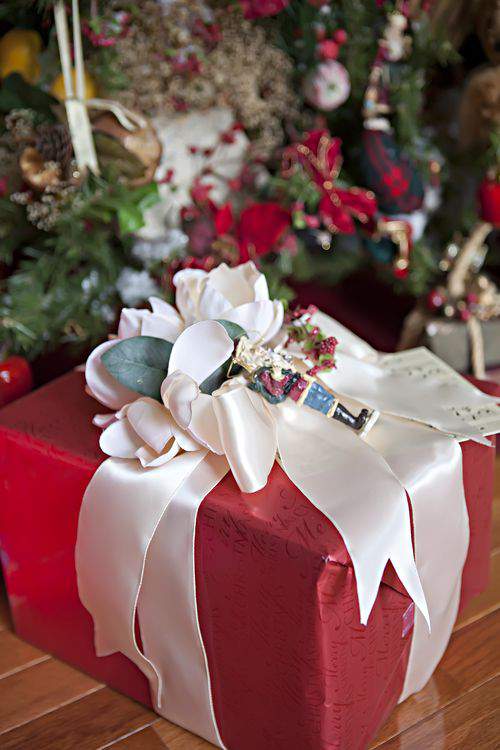 Sometimes it's the introduction of a small unexpected element that can make a difference in the presentation.  When it comes to gift boxes, I love including real ornaments in the packaging. 
In addition to the gift inside the box, this wooden Santa on top of the box can be enjoyed by the recipient long after the box has been opened and the wrapping paper tossed.
Before I walk you through a few gift wrapping tips that have worked well for me, allow me to share my inspiration behind this post.
My friend Cheryl, has the most fabulous gift wrapping space in her home and I recently had the opportunity to snap a few photos of her room to share here.  
NOTE: The pretty silk scarf Cheryl is wearing is hand painted and a one-of-a-kind creation.  I'll introduce you to the talented artist and share more photos of her beautiful handiwork in an upcoming post in the new year.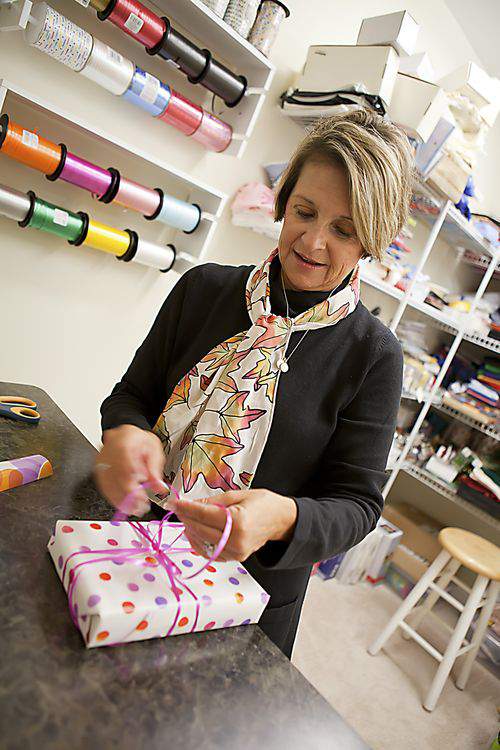 Cheryl calls this gift wrapping space her "little closet".  Some closet, huh?
When I first got a look at Cheryl's gift wrapping closet, the first thing I thought was "WOW, how awesome, is this?"
The second thing I thought was "hmm, now this would make a nice blog post".  Well, that is how bloggers think.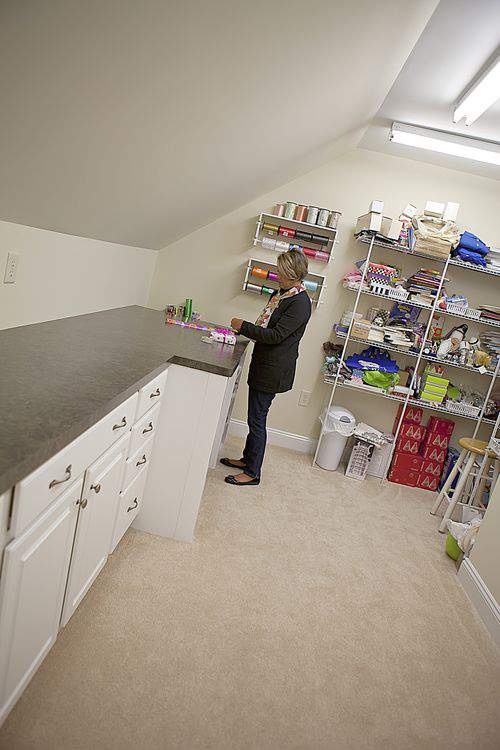 Cheryl has a place for everything and everything has a place in this wrapping room.  I love to see organization like this. 
I've always felt that when supplies are sorted and organized and in designated spots, it makes using them so much easier and a lot more fun.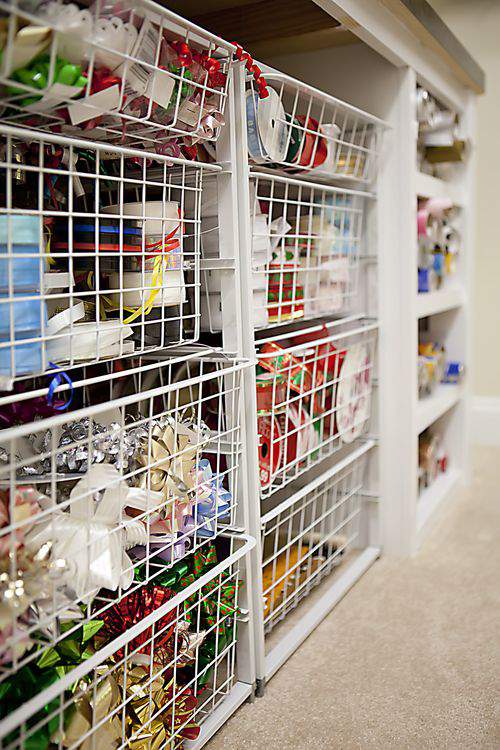 All of her supplies have their own compartments.  Isn't this a wonderful way to store wrapping paper?
Easy access, nothing is crushed and every pattern and design is highly visible.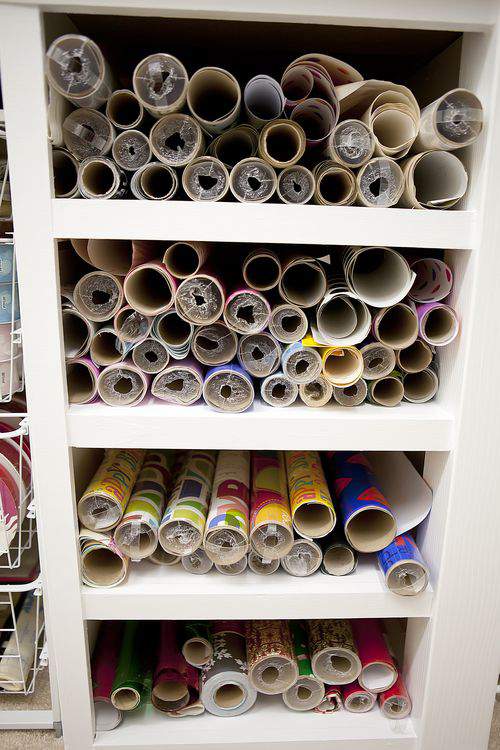 Cheryl also makes great use out of available wall space by employing vertical storage solutions like this ribbon rack.  Her ribbons are organized and within perfect reach of her work table. 
I think this space is really well designed and a big thank you goes to Cheryl for allowing me to snap-and-share these photos.

I never realized how popular gift wrapping rooms were until after I got a look at Cheryl's space and began searching for additional examples of similar areas.
Here are a few photos I found on-line featuring other fabulous gift wrapping rooms. 
Inspired?  I know I am.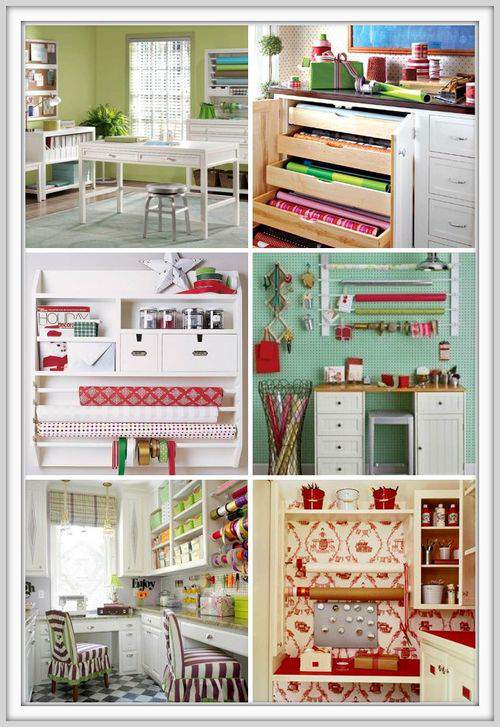 I first got the gift wrapping bug while I was still in college.  During summer and holiday breaks from school I used to work at a high-end, Washington D.C area department store called Garfinkel's (it eventually went out of business and their flagship store became a Borders books).
Anyway, Garfkinkel's had the most fabulous, in-store gift wrapping department with gorgeous papers, huge colorful, extra-wide ribbons and lovely embellishments that were ornate, clever and hardly run-of-the-mill. 
During one holiday break, I got a chance to work in gift wrap.  It was scary at first (I didn't know  how to wrap) but it actually turned out to be a great experience and I learned some valuable tips that I still employ in my gift wrapping efforts today .
I think top-notch gift wrapping is more than just adding a pretty bow. Of course, every gift doesn't have to get the extra treatment but I think some special gifts deserve just a little more.
Any gift wrapping effort begins with the supplies.  Here are just a few items I used throughout this post.
The veteran gift wrapper that I worked with at Garfinkel's would always tell me to "pull the paper tighter, pull the paper tighter".  
Come to think of it,  she would also admonish me for using more than three pieces of tape on any one box but I must admit, I don't always adhere to that frugal rule.
Anyway, tight paper is key to a clean looking wrap.  Pull gently because more fragile papers will tear but try to get the paper is tight around the box as possible which presents a more crisp visual line.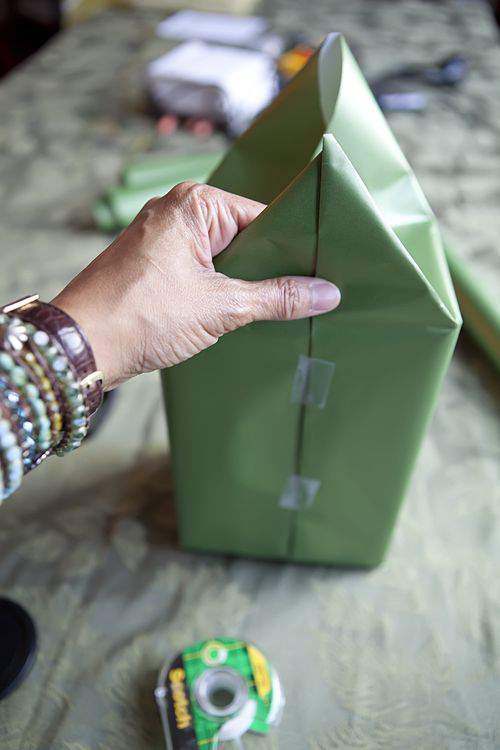 You can add another degree of crispness by carefully creasing the edges of the paper between your thumb and forefinger after it's been wrapped tightly and taped to the box.
Make sure your hands are clean when creasing because dirt and oils can be deposited on the wrapping paper, especially white and other lighter shades of paper.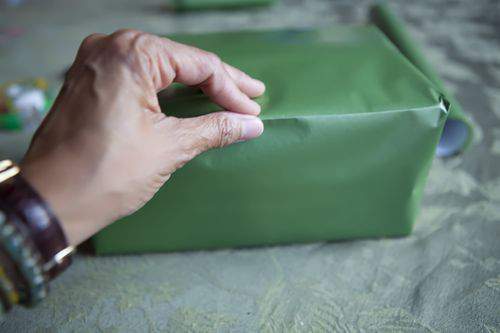 Now let's add some ribbon.  Ribbon not only adds a splash of fun color and texture it also serves to hide (or at least obscure) the paper seam along the back of the box.
Make sure the ribbon lines up with the seam for a cleaner look.  

Wrap the ribbon around the box top first and then around the back (covering the seam), criss-cross the ribbon to switch directions. 
Bring the ribbon up over the sides and loop each end through the top ribbon before tying in a knot.
Wired ribbon is always great to work with because it maintains it's shape when formed into a bow and does not flop around. 
Remember to clip the ends of ribbon on a diagonal for a more finished appearance.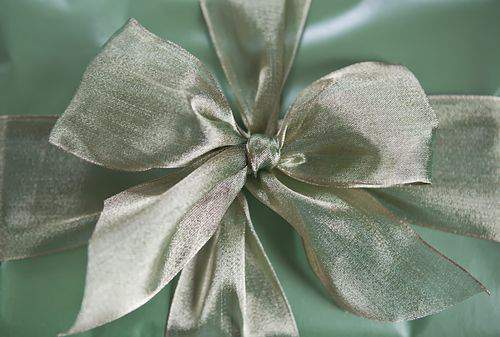 You can also fold the end of the ribbon and cut diagonally (from top to raw bottom) for a pretty, forked finish.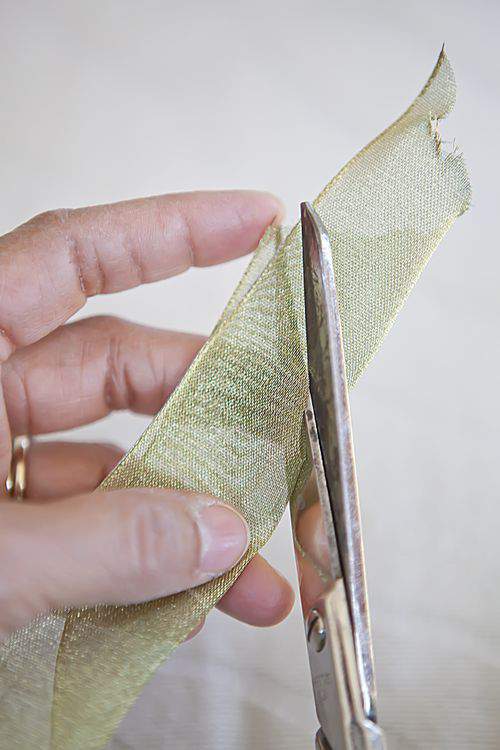 Just about any embellishment can be used as a topper.  That's part of the fun of wrapping.
I decided to add a cinnamon stick to start with.  Just loop it through the top knot and it will stay in place.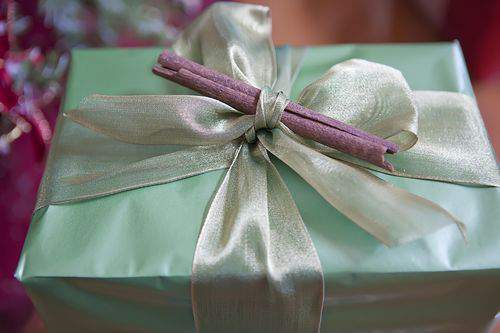 Unexpected elements add a touch of whimsy and interest as well.  These artificial pears come in various sizes and can be picked up in any crafts store.
Use a hot glue gun to adhere a few pears together for a unique arrangement.

A small feathered friend (also available at any crafts store) is a sweet touch of nature that dresses up the box.
NOTE: Make sure you check your artificial elements for errant hot glue and carefully peel it off before gift giving.  Ooops, I missed a glob.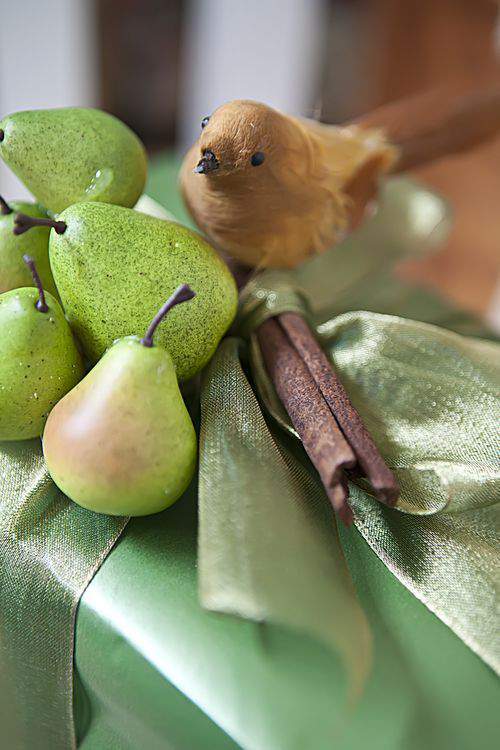 By the way, if you love gift wrapping, you'll love a book called Presentations: A Passion for Gift Wrapping by Carolyn Roehm.   
Roehm is a well-known interior designer and best-selling author.  This book is filled with lovely, stylish ideas on wrapping and pretty packaging.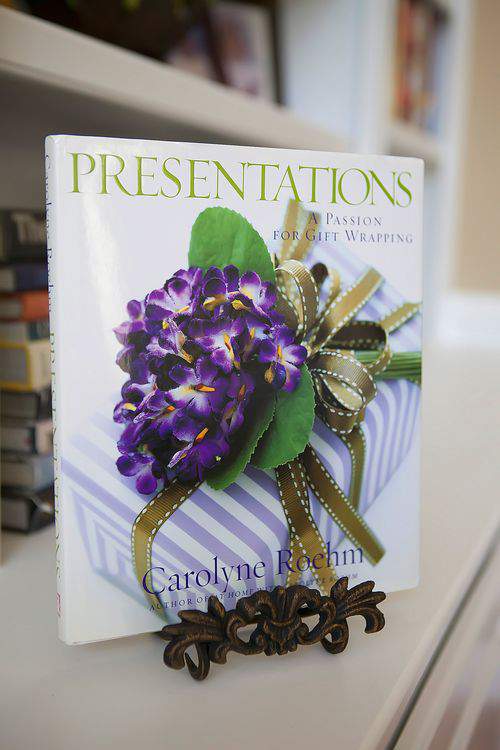 Meanwhile,  as you wrap your holiday gifts this year keep in mind that creativity knows no bounds.  Artificial flowers, fruit, birds, ornaments, small toys, a giant candy cane or cookie are all fun elements that could be added to spruce up a gift box.
When it comes to decorating the top of your gift box… think outside the box.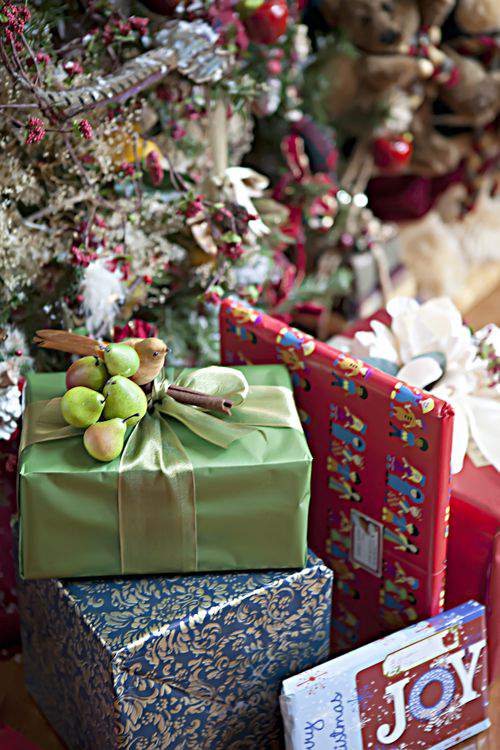 As 2011 comes to a close, let me take the opportunity to thank all of you for your support of my blog and creative efforts throughout this year.  I really appreciate it and it's been great to connect with so many like-minded creatives. 
I look forward to sharing more easy projects and tutorials in the New Year along with a several new blog features including guests posts, fun finds, color inspirations and artist profiles just to name a few.
Happy Holidays to all and for now, that's a wrap. ♥