N
othing tastes as good as homemade and with these imprinted treats, cookie eaters will definitely know you made these goodies yourself.
Cookies have never been so cleverly and adorably self-described.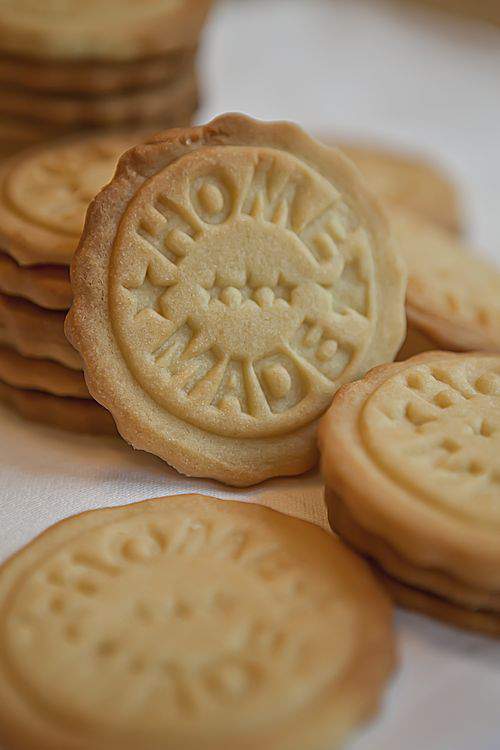 I think this circular cookie stamp is just too cute and must-have in any baker's kitchen.
I first saw a photo of this cookie stamp in the Emporium section of Country Living/British Edition magazine.  When I e-mailed the UK company about purchasing one, reps said they did not ship to the United States. 
Never deterred, I  googled "homemade cookie stamp" and voila, several U.S. based listings for the cookie stamp came up.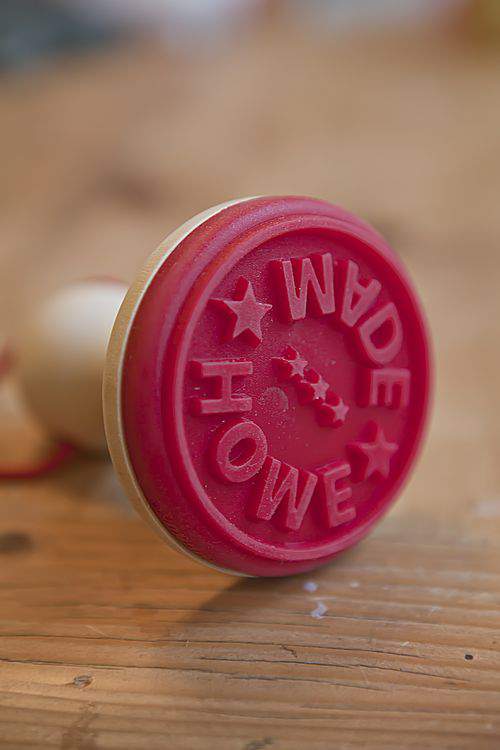 I decided to make a batch for holiday gifts so I enlisted the most enthusiastic cookie maker I know to help prepare the cookie dough. 
Cameron loves to bake (and taste) so she's always a willing helper in the kitchen.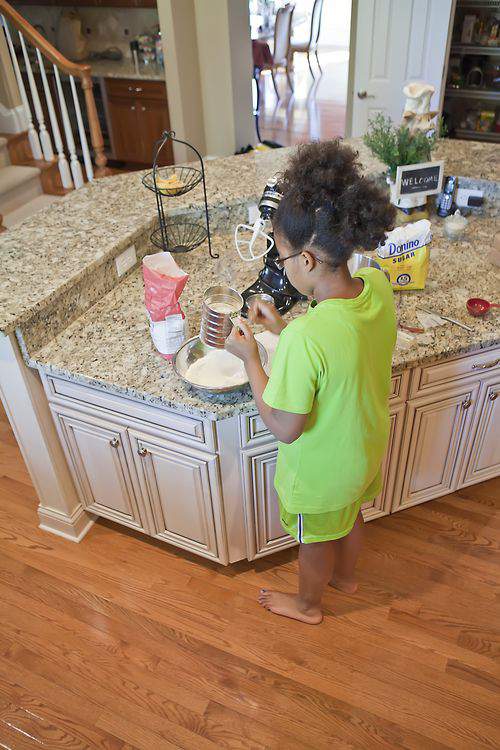 There are loads of rolled cookie recipes out there but if you can't put your hands on one right away, here's one that I've saved as a PDF. 
The PDF will appear as two pages.  First, print page-1 only onto heavy cardstock.  After printing, reinsert the same page backwards (top end first) and print page-2 for a festive striped backside.
Trim excess paper to create two recipe cards and laminate for durability.  Keep one card for yourself and give the other to a friend.

This particular recipe requires that the cookie dough be refrigerated for at least an hour before rolling so keep that in mind as you plan your baking.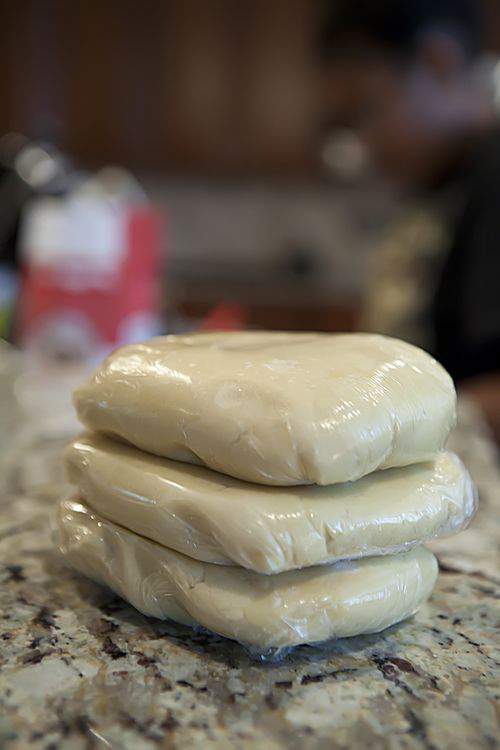 Sprinkle a flat surface with a tiny bit of flour and then roll the dough out to a thickness just under 1/4-inch.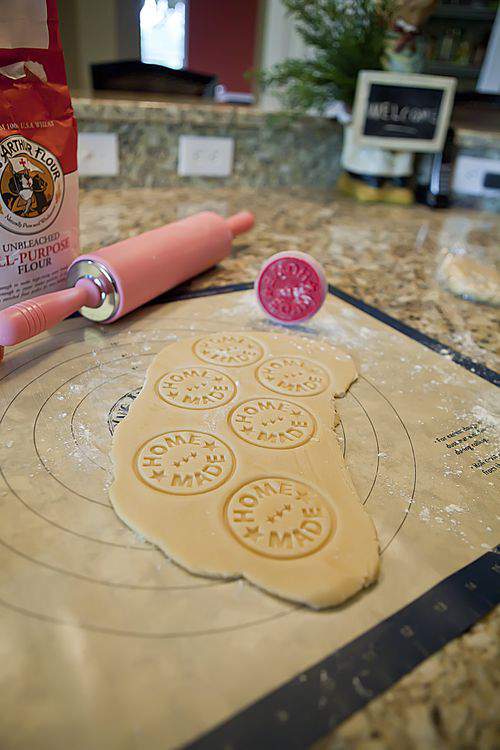 Gently press the cookie mold into the dough to leave the impression. 
Don't press too hard because you don't want the mold to break through the back of the dough.
 
Have a small bowl of flour handy because it's a good idea to dip the stamp into flour before each use.  This will help prevent the dough from sticking to the inside of the letters in the mold.
 
The stamp only leaves an impression which means the cookie still has to be cut out.  Use a circular cookie cutter that is slightly larger than the impression.
You can use a plain circle cutter but I think a cutter with a scalloped edge ads a tad more interest to the baked cookie.
 
Here's a look at our first batch of homemade cookies.
They look delicious, don't they?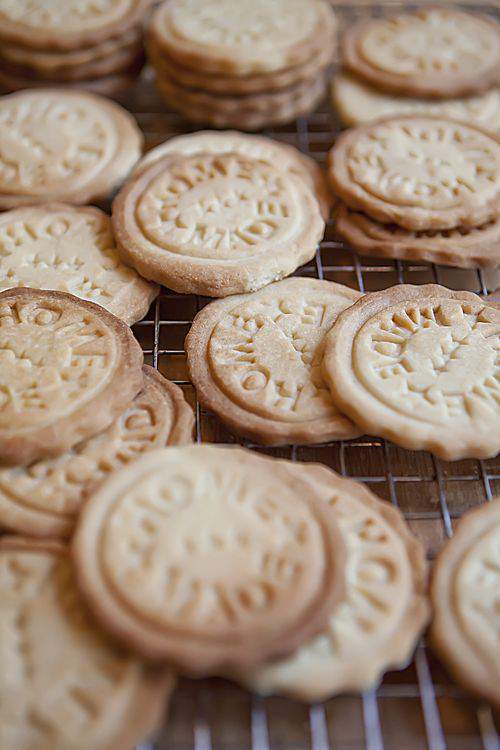 Since the cookies bake perfectly flat, they're good for stacking.
Any cookie that stacks this well is a cookie that will bag up well for gift giving.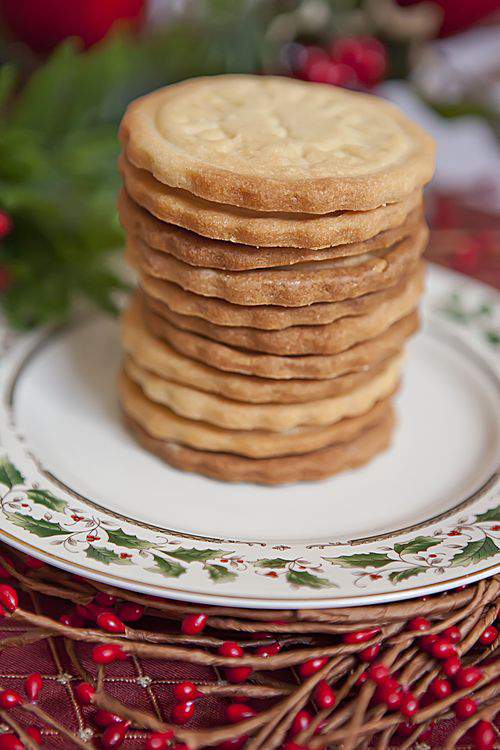 You'll only need a few supplies to package these up beautifully.
Grab some cookie bags, ribbon and a small floral embellishment or holiday ornament.
If you're using an embellishment that has a metal wire, it's a good idea to curl the wire end so that the pointy end is facing inward. 
The wire stem not only looks better curled but also helps prevent anyone from getting accidentally pricked by a sharp wire point.

Because these cookies are so thin (and stackable) you can easily fit quite a few into a medium size plastic cookie bag.
Make sure you use the twist ties to close the bag tightly so the cookies stay nice and fresh.

Add ribbon and then tie the curled floral stem into the ribbon before making a bow.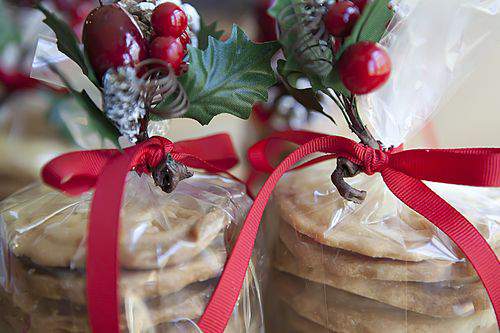 It's optional, but you can also add a little homemade sticker on the bag for one final finishing touch.
I found these stickers at Michael's in the baking section.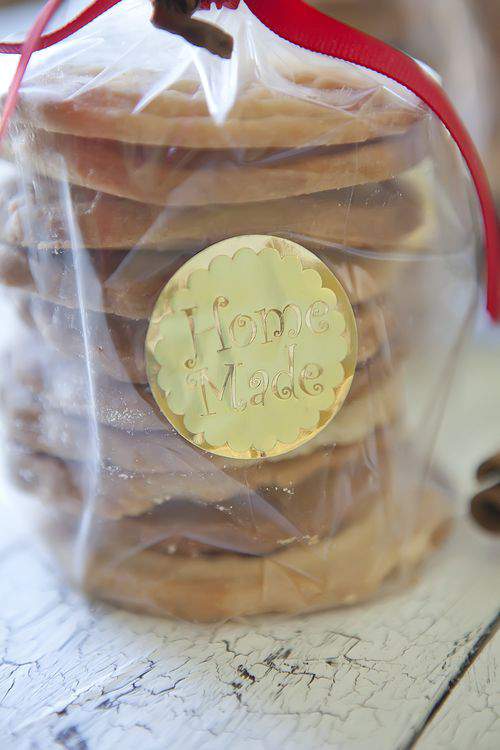 Consider these cookie treats for end-of-year teacher gifts, upcoming fundraisers or even as a hostess gift this holiday season.
Of course, you can change the embellishment and ribbon to suit any occasion or seasonal theme.
I think this is such a pretty presentation that's fun and easy to create.  
This is one bag of homemade holiday treats that would make any recipient merry. ♥