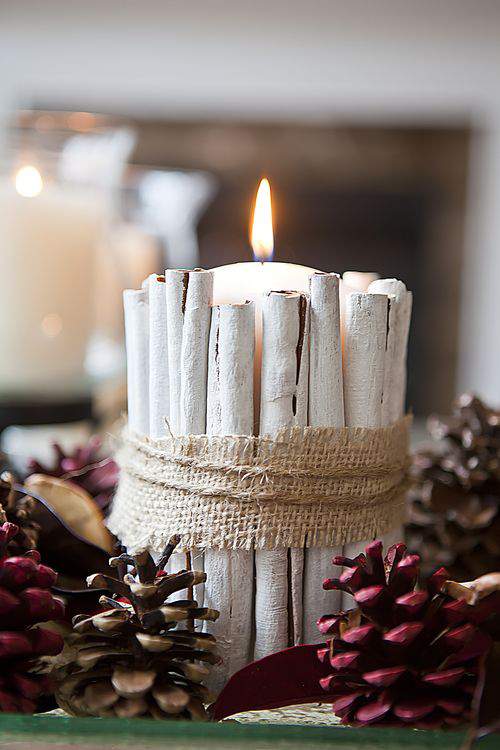 C
an you believe that Thanksgiving is right around the corner?  Time to start thinking about creative holiday decor.
You may recall I featured an easy vintage candle project last year so I thought you'd enjoy another simple candle project which would look great on any holiday table.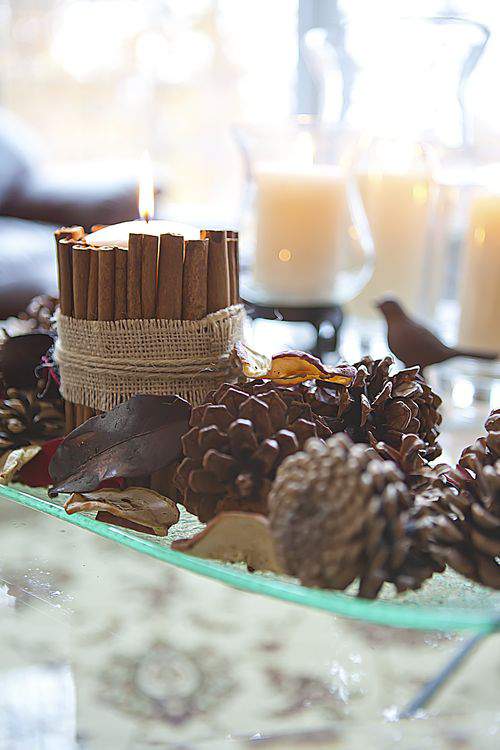 Before I walk you through this easy project, allow me to share the inspiration behind this candle centerpiece.
While browsing the Pottery Barn website recently I found a number of pretty candle displays.
Here's are a few of my favorite sets which really illustrate the impact that can be created when using candles in varying heights, shapes, quantities along with other decorative elements.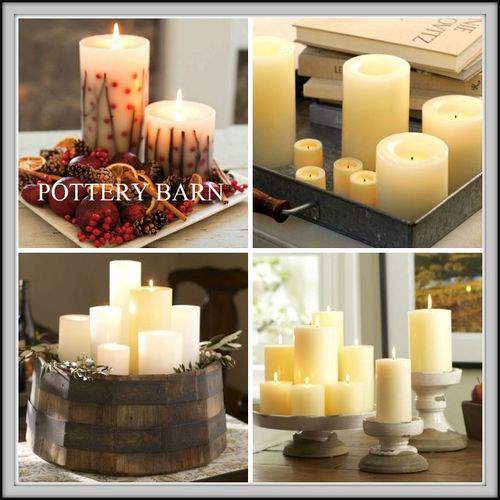 I initially set out to create a similar look with the candles in the photo below.
As it turned out, I ended up with too many extra candles to fit on this base so I decided to try something different with the leftover candles.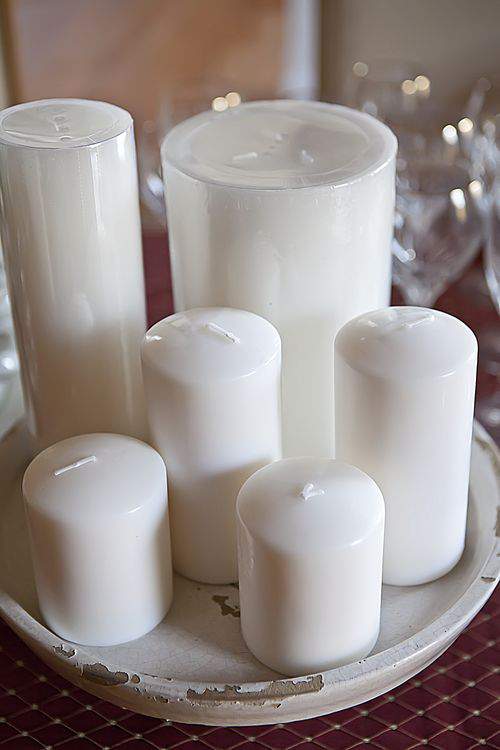 Since I love the smell of cinnamon that fills the air in every craft store and gourmet grocery store this itme of year, I thought it would be fun to feature a cinnamon-scented project.
You'll need cinnamon sticks which come in various sizes at most crafts stores.
You'll also need some white paint (optional) and medium weight jute and a few thick-width rubber bands and a few small strips of burlap.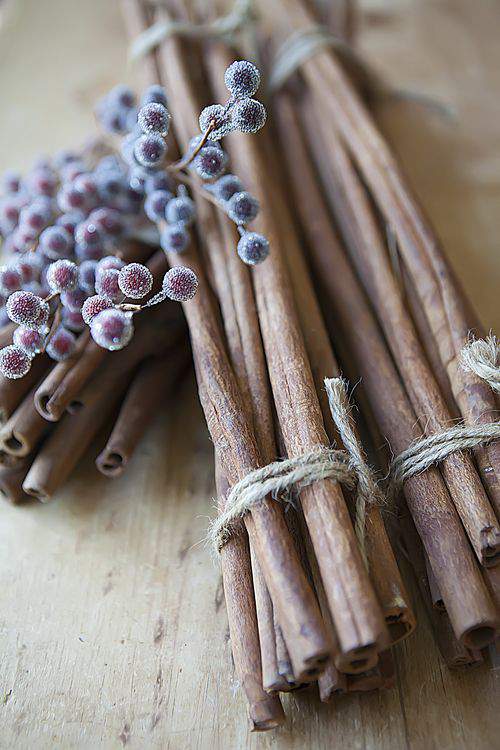 Depending on the length of the cinnamon sticks, you'll most likely have to trim the sticks down to size to fit the length of the candle.
I used a small hack saw which is another useful tool to have in your stash.  You can find these mini saws at most hardware stores for under ten dollars and they really come in handy.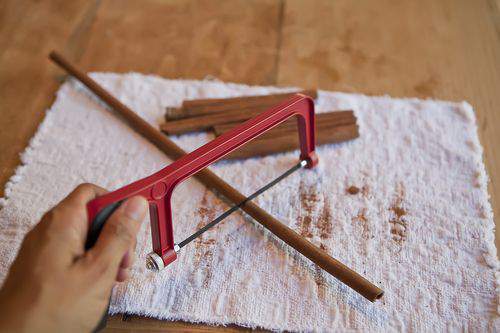 Make sure you measure the length of the candle before cutting so you can get the perfect measurement.
Wrap a rubber band around the width of the candle and slide the cut sticks behind the band.
TIP: For a more secure hold, you can also use a hot glue gun to adhere the cinnamon sticks to the candle.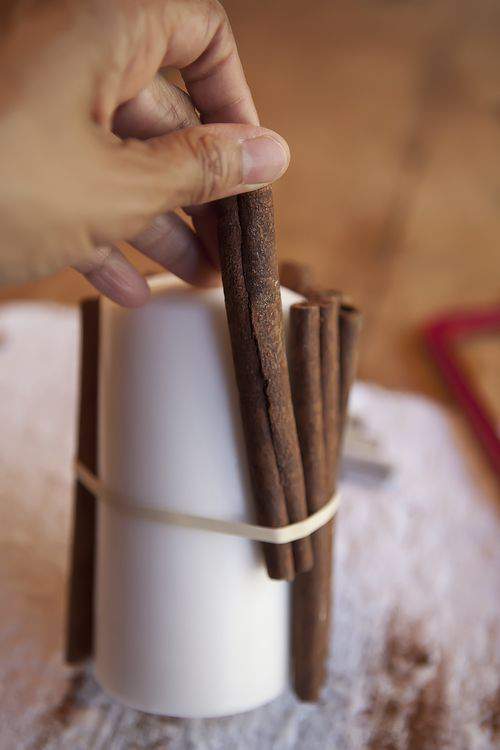 Make sure you use enough sticks to cover the candle completely.
You may have to re-arrange some of the sticks since many of them end up being uneven.  Try to get them as close to lined-up as possible.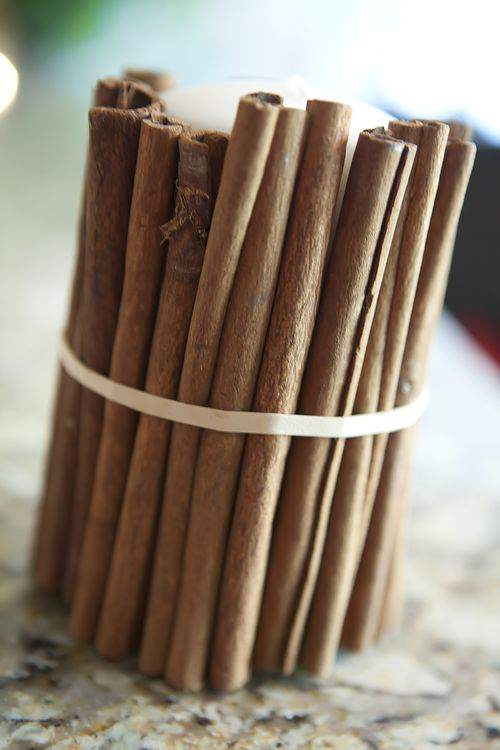 Cut a small strip of burlap and wrap around the candle to conceal the rubber band.
You can also use a dab of hot glue to hold the burlap in place.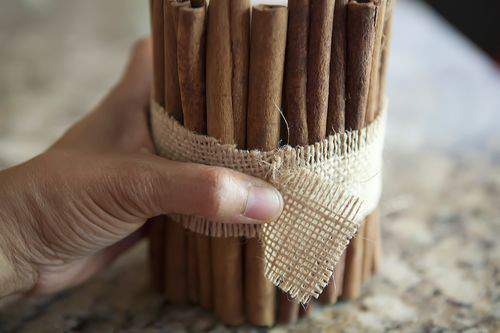 I love jute and I use it all the time in various packaging efforts.
It's a rustic string but it looks great on just about anything you use it on.  Jute comes in various widths and can be found at any hardware store.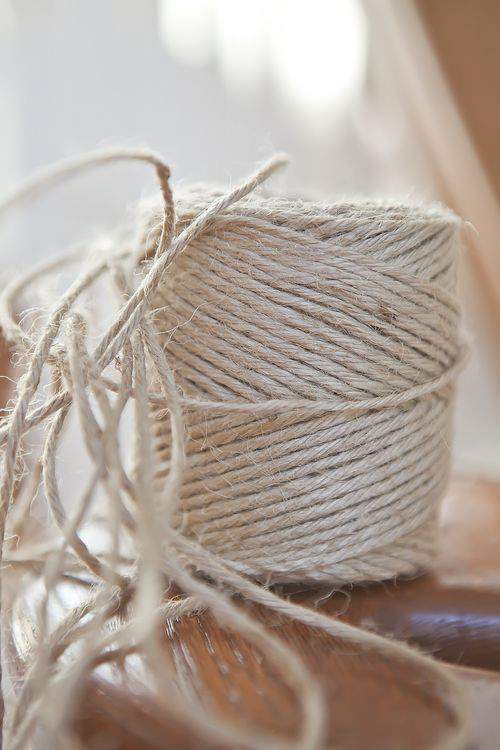 Wrap the jute around the center of the burlap several times and tie in a knot or bow.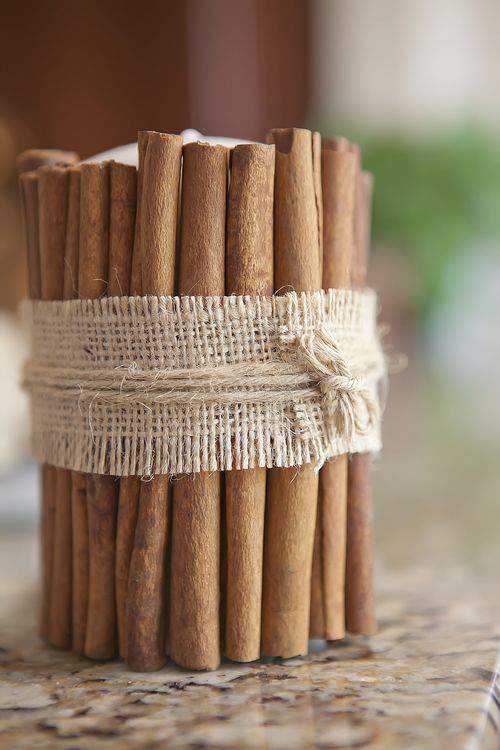 Place the candle on a tray and add potpourri or other seasonal elements for an earthy but festive presentation.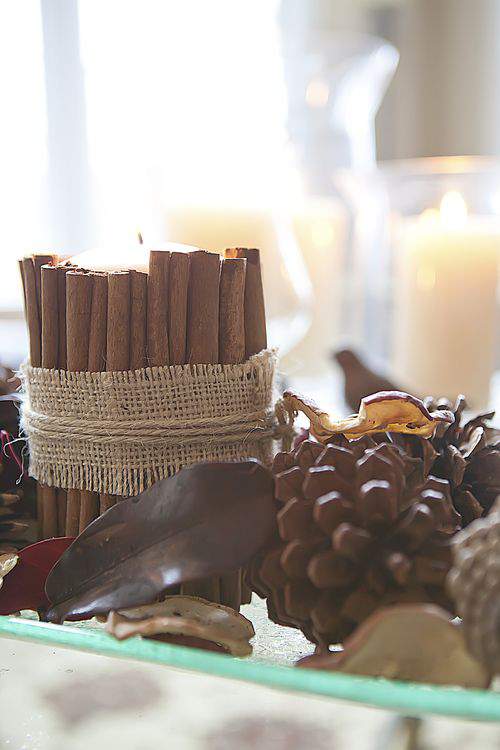 Of course, you can also give this candle a completely different look by changing the look of your cinnamon sticks.
You can leave the cinnamon sticks the natural brown or you can add a bit of white for a more winter-like appearance.
Rather than spray painting, I used a foam brush so it would be easier to deliberately leave some of the natural brown color of the sticks uncovered in some areas.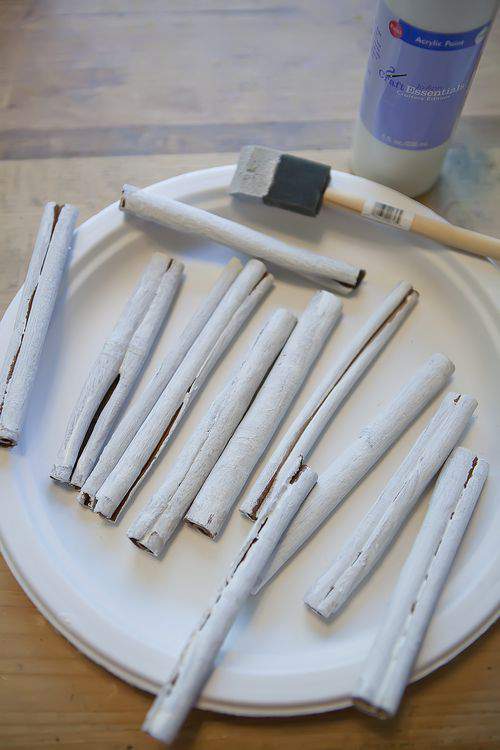 Here's a look at the finished version in white.
Same arrangement, but a completely different look with a more wintery feel.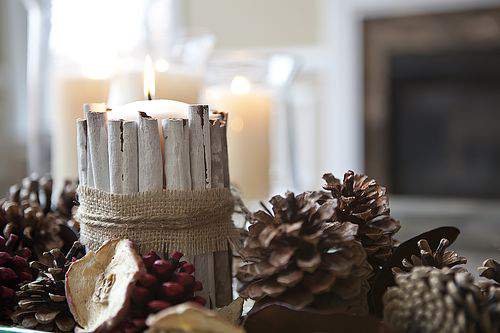 I love the natural brown, but I think the white presentation is just as appealing.
TIP:  Ahem, when tying your jute, double check your strands to make sure they're tied on straight and evenly (especially if you're going to snap a photo).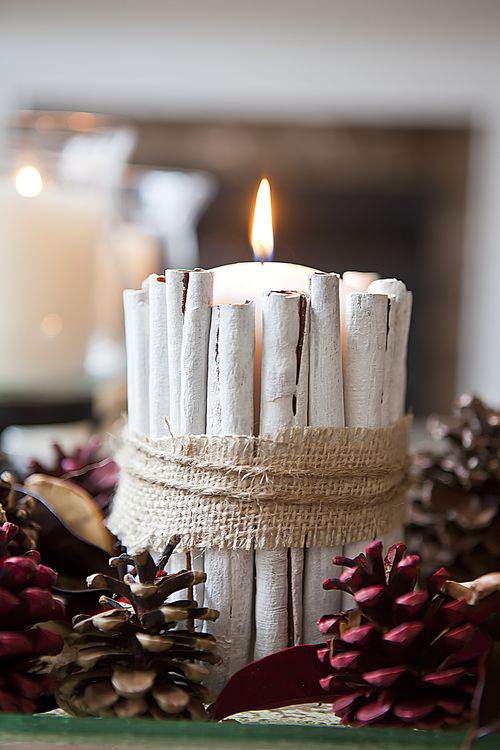 As we head into the holiday season, it's easy to add a touch of creativity to your table decor with candle wicks and cinnamon sticks.  
It's a project that will always smell just as good as it looks. ♥