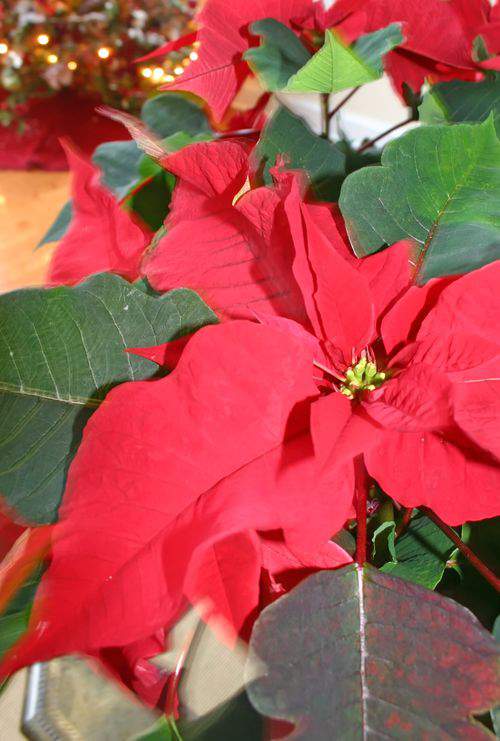 There's no flower that symbolizes the holiday season like the Poinsettia.
This leafy, red and green flower is bright and beautiful and as you'll see in this post, this popular plant is quite visible around my home this time of year.
Poinsettias (and sometimes Jordy) are the first thing you see when you enter our foyer for the holidays.
Every year I wrap my staircase with yards of Poinsettia garlands and then wrap the railing with strands of light.  It's a wonderfully festive look.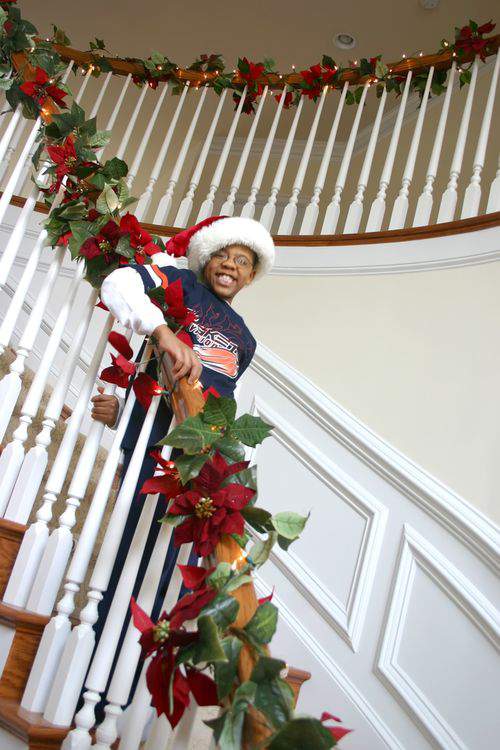 You'll also find loads of Poinsettias adorning my Christmas tree.  When spread out, the artificial Poinsettia leaves help fill in the gaps in the pine needles to help give the tree a more full appearance.
Click
here
 to see more of my nature-themed Christmas tree which includes birds, bows, berries, dried fruit, wooden Santas, woodland elves and one pair of snakeskin baby-booties to name a few of the dozens of enchanting and unexpected tree decorations.
In keeping with the Poinsettia theme this week, I'd like to share how to make this beautiful 3-dimensional card which features, what else?
This Poinsettia card involves a lot of cutting, but if you have a sharp pair of craft scissors designed for intricate cutting, you'll be in good shape.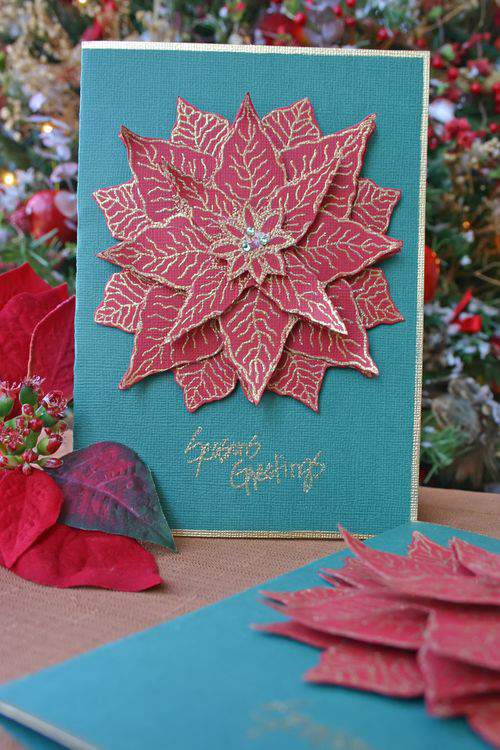 Take a look at the numbered photo below for a list of the supplies needed for this pretty card.  You'll also need a pack of foam dots which are not listed in this photo but their use is explained further down in this post.
(1) Red and green cardstock (2) Heat gun (3) Poinsettia stamp (4) Gold embossing powder (5) Embossing pad (6) Gold leafing pen (7) Lettering stamp (8) Pinpoint scissors.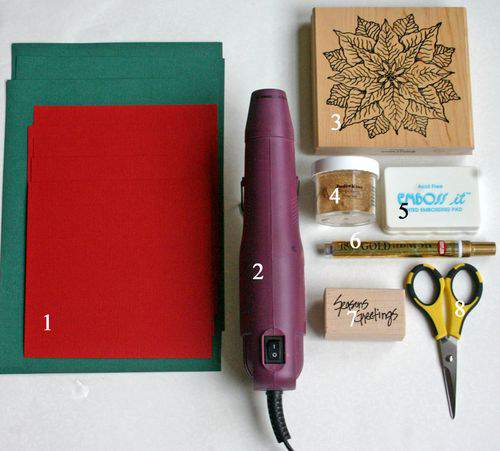 The heart and beauty of this project is created using a Poinsettia medallion rubber stamp.
Medallion stamps are known for their detailed images which can be stamped once and colored as is, or stamped multiple times, trimmed and layered to create a 3-dimensional look.
As you can see this medallion rubber stamp has five layers of Poinsettia leaves.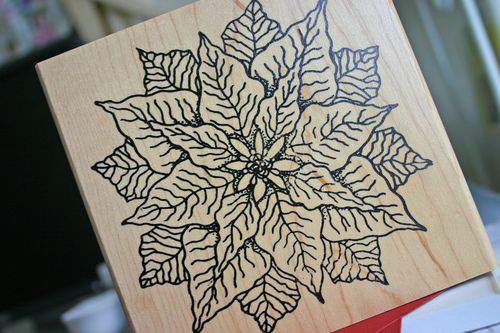 For this project, the image needs to be stamped and embossed five times to create one card.
Cover the rubber stamp generously with rubber stamp embossing ink.  This ink acts as an adhesive to hold the embossing powder in place.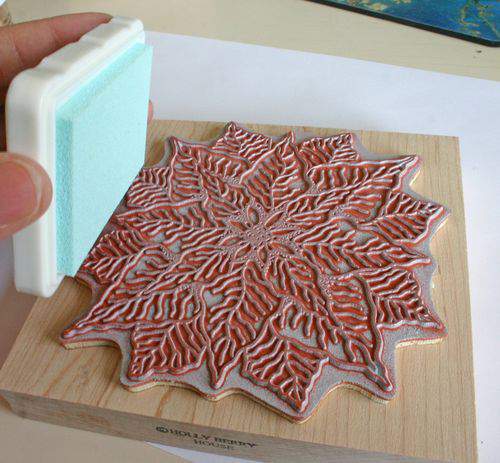 Once the image is inked, stamp the cardstock and then sprinkle embossing powder over the outline in the card.
Make sure you cover the image completely with embossing powder to ensure that all parts of the design appear in the finished project.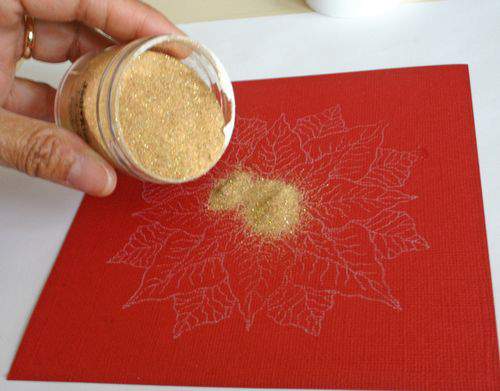 Tap off the excess embossing powder onto a sheet of paper.  Pour the excess powder back into the original container and return the cap.
It's a good idea to keep the container lid on the embossing powder when not in use, in case it's  accidentally tipped over while working.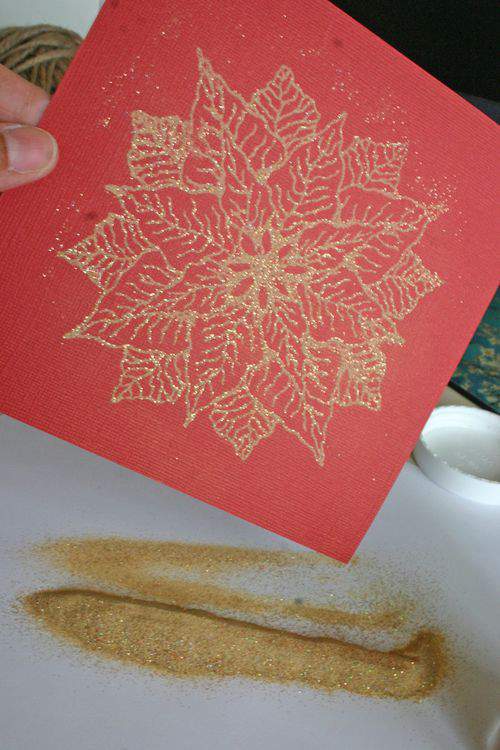 The embossing process involves heating the powder which then melts but quickly hardens.
WARNING: The heat that comes out of a heat gun is extremely hot and can cause injury if exposed to the skin so be careful when using it. 
Heat guns should also be considered a very dangerous tool in the presence of young children.  Because the power switch is generally quite easy for a child to flip, always keep heating guns unplugged when not in use.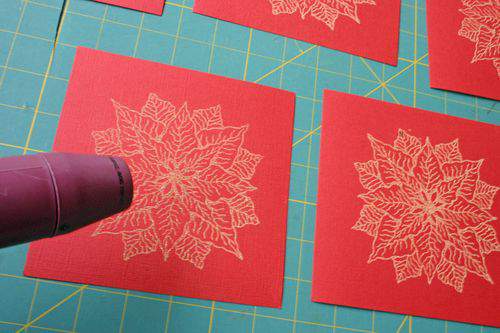 The heat gun melts the embossing powder onto the cardstock.  It dries almost immediately leaving behind a crisp, raised impression of the image.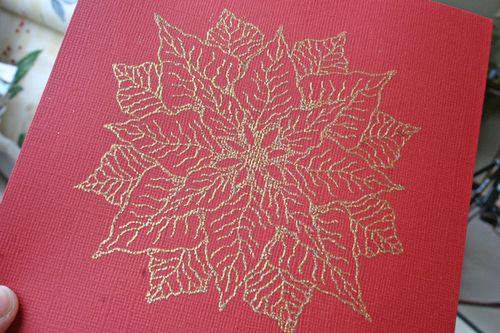 After embossing the cards, identify the various layers in the image and then cut each layer out in the order in which it is stacked in the image.
Take  a look at the cut pieces in the photo below and you can see that each cut piece gets smaller and smaller as each subsequent layer is defined and cut.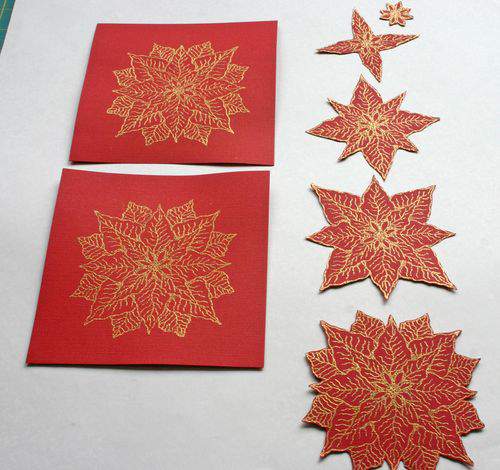 You'll need a few foam dots to stack the cutouts.  Foam dots have an adhesive on the top and bottom and are used to give an element lift.
Foam dots are available at most crafts stores.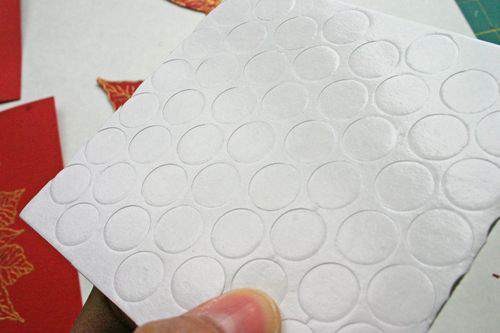 Place the foam dot at the center of each cutout and then begin to build the layers upward.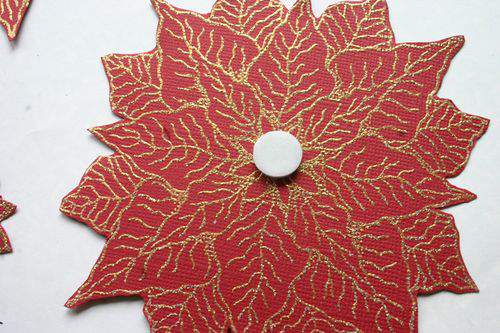 You can see how the dots give the layers lift in the photo below. Foam dots are really versatile and help add 3-dimensional effect and interest to scrapbook pages, cards and loads of other projects.
Once the layers have been created, slightly bend the points of each leaf to add more interest.  The addition of a few rhinestones to the center add a nice finishing touch.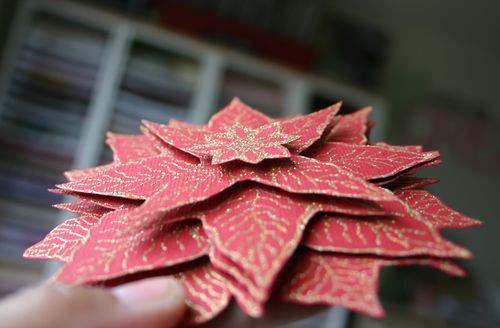 You can always use pre-made cards for this project.  However, I couldn't find the shade of green I wanted so I just cut 8 /12 X 11 green cardstock down to size to create my own card.
I used a Krylon gold leafing pen to add an attractive edge to the card.  These leafing pens are also available at most crafts stores and at many major hardware stores in the paint section.
QUICK TIP: You can also use a gold leafing pen to add a dazzling edge to those giveaway, holiday family photos.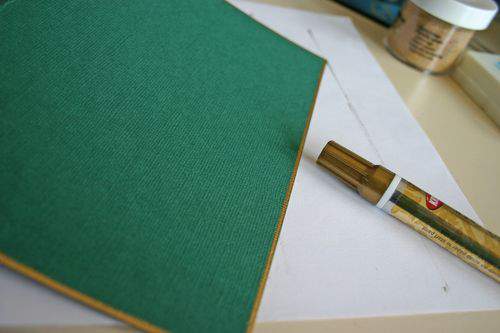 Decide where the medallion will be placed on the card and then add an embossed greeting just below the paper craft.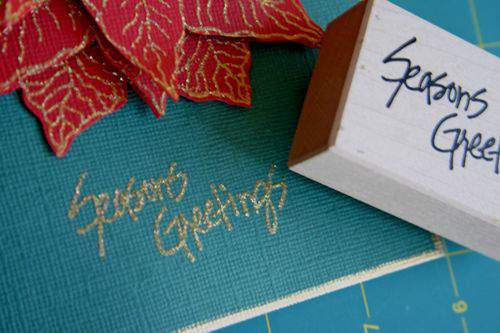 A pretty card like this deserves a pretty envelope too.  Here's a way to not only dress up your envelope but make good use out of wrapping paper scraps you have on hand.
Cut scrap wrapping paper down to size to fit inside the envelope just under the glue line.  Fold the wrap to match the fold in the top of the envelope and use a think strip of glue or double sided tape to adhere.
QUICK TIP-Adhere the wrap just above the crease line in the envelope. No need to glue or tape the entire sheet because it's hidden down inside the envelope and the crease will also help hold it in place.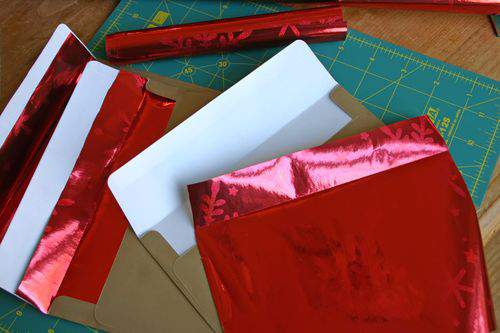 By the way, you can also use medallions for more than just cards.
Consider creating a handful of these 3-dimensional, paper-crafted Poinsettias as tree ornaments.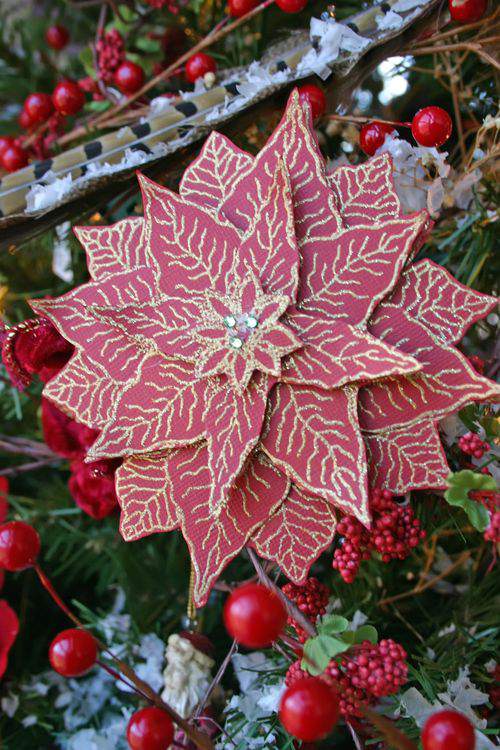 Need to spruce up a holiday gift bag?
This checkered bag is OK, but add a Poinsettia medallion to the front and give it a beautiful holiday makeover.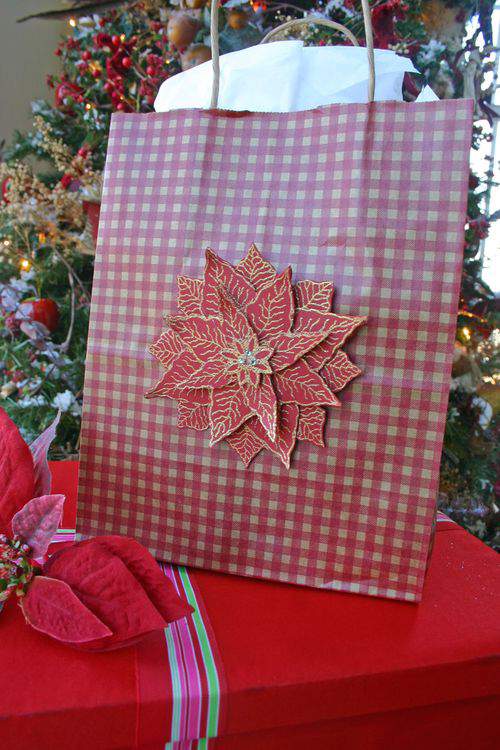 I'm sure you could think of loads of other ways to incorporate these fun-to-make medallions into your next paper crafting project.
Of course you still have a little more time to get those holiday cards made too.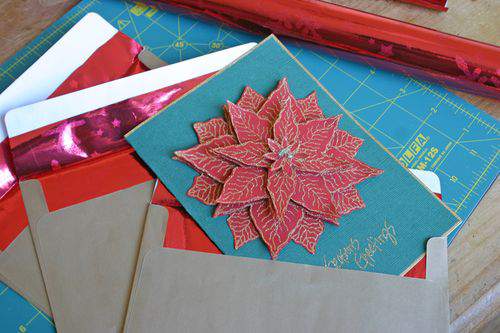 Meanwhile, I thought you'd enjoy seeing a holiday photo I snapped of my family this week.
Many thanks to Cameron, Jordy and Boris for helping me with all my various projects this year and tolerating my gazillion "just one more shot" demands.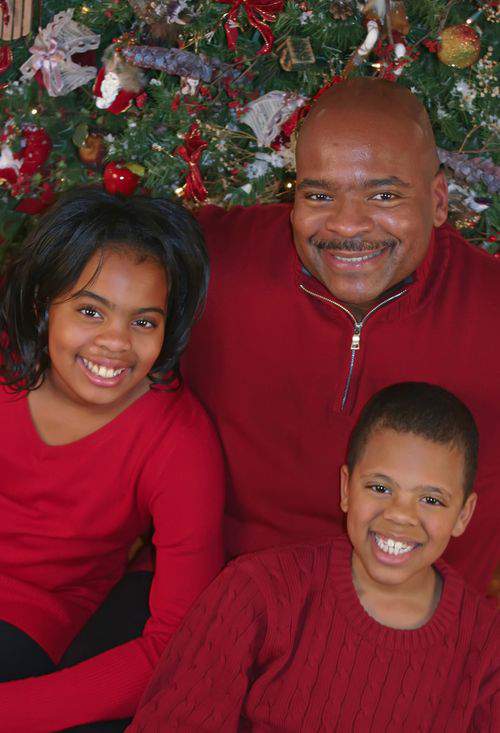 Also, a huge thanks to all of you who have supported my blog with your visits and kind words throughout this year.
I love knowing that you've been inspired to try a few of my projects here and there and I really appreciate all of your interest and enthusiasm for my handiwork.  I'll have lots more to share in 2010.
Happy Holidays and all the best for a crafts-y and creative New Year!