T
here's nothing like an ice cold root beer on a warm day.  Actually, I think root beer is tasty on any day, regardless of the temps outside.
Whatever your favorite drink and whatever the season, your drink of choice will definitely taste better when plucked from a hand-beaded bucket like this.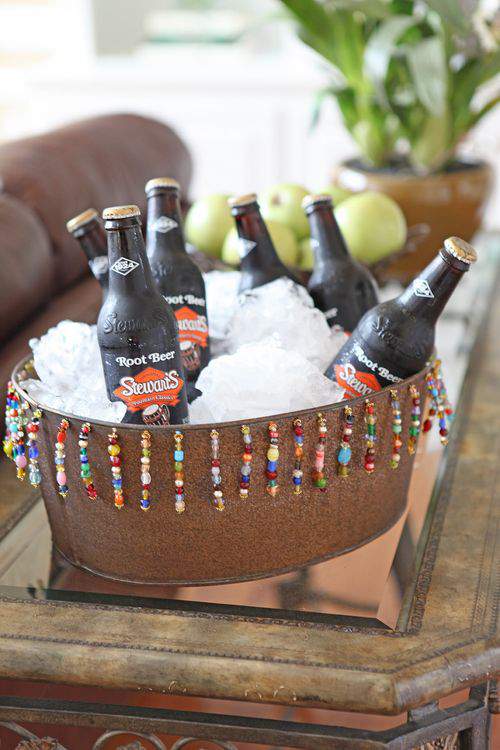 The hanging beads add a festive and fun dash of color to an otherwise plain galvanized bucket.
Wouldn't this beverage bucket look great at your next party?
This is a simple project that starts with a galvanized bucket.  You can find these buckets at any craft store and they come in all shapes, sizes and prices.
By the way, you can check out my fabric-covered, galvanized bucket project from a previous post if you click here.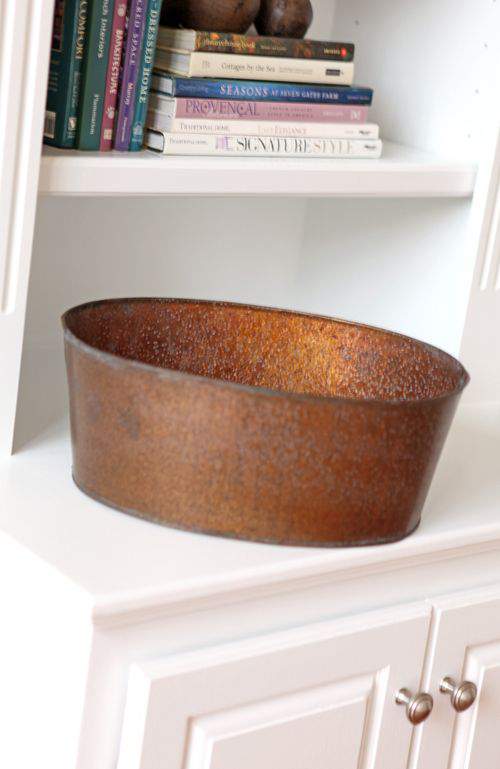 Beads are everywhere these days so you'll have no problem at all find glass beads for this project. 
I think the more colorful and varied in size the beads the better.
 
Many of you may already be familiar with this next tool.  It's called a Crop-A-Dile and it's a versatile tool that allows you to cut through metal like butter. 
It has other uses including eyelet setting, but up until now I've only used it for metal work.
I briefly mentioned this handy, all-around piercer in an earlier post about Cool Tools .  Click the aforementioned link and get a closer look at some of my other favorite crafting tools.
 
Most galvanized buckets have a thick rim.  You'll need to make sure your rim is not too thick to accommodate the opening slot of the Crop-A-Dile which measures about a quarter of an inch.
 
 You'll need a few other supplies including a marker, tape measure, a few jewelry-making tools as well as some waterproof, clear silicone sealer.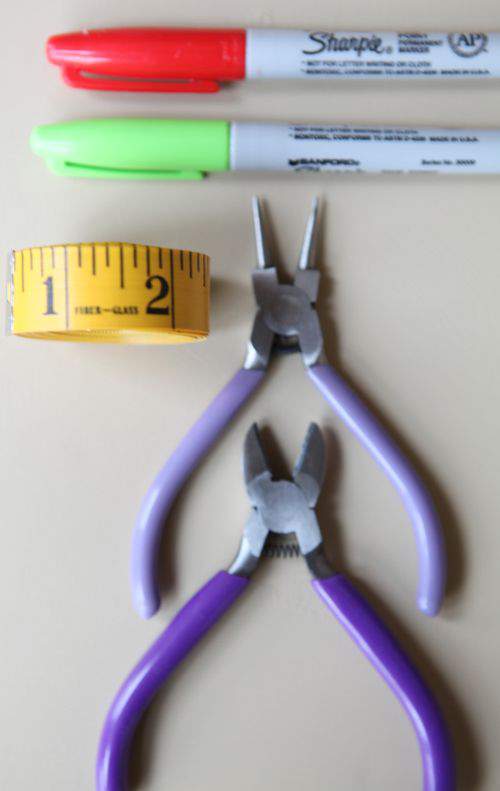 Wire pins can be found right next to the assorted beads in most craft stores. 
These 3-inch pins look like elongated straight pins.  The pins have a small flathead which holds the beads in place on the wire after they're stung.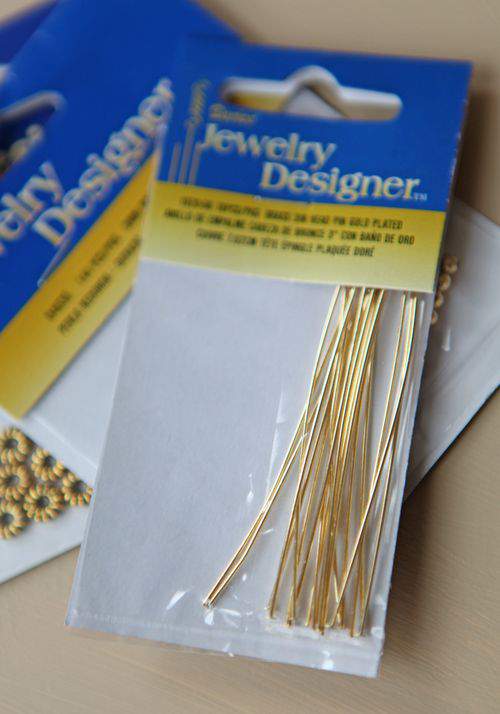 Use the tape measure to mark where the holes will go on your bucket.  Make sure you space them evenly all the way around the bucket. 
I found that a 1-inch space is a good distance between each point.
 
You'll be able to easily puncture the metal with the Crop-a-Dile tool.
When you pull the handles together, a sharp spoke is revealed.  There is a small opening in the front which helps you position the tool directly over your dot marking. 
You'll be able to pierce the metal exactly where you want to.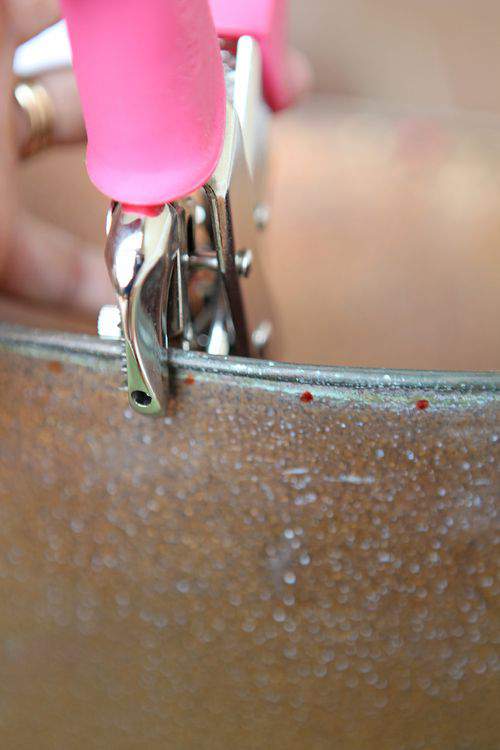 Count the number of holes all the way around the bucket.
Whatever the number of holes, you'll need an equal number of bead strands to fill each one.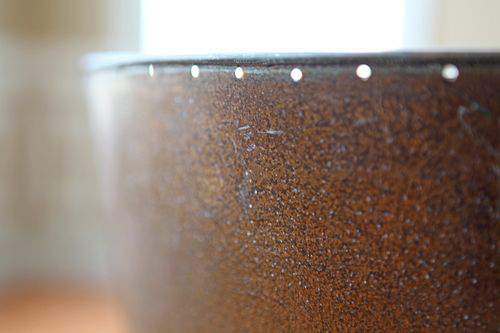 Bead selection is the next order of business. This is fun.
If you opt for this multi-color look as I did, make sure you pay close attention to the general color order of the beads on each wire to avoid ending up with too many of the same color bead on each wire stem.
It's surprisingly easy to pick up the same color bead over and over, even from a large assortment like this.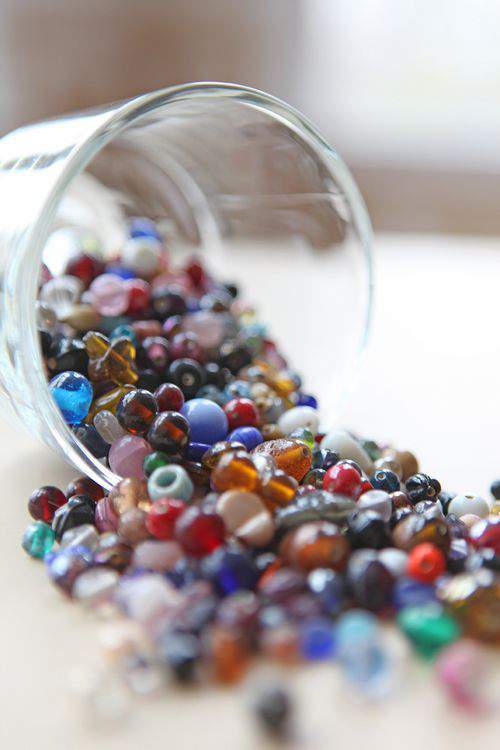 String the beads onto your wire pin.
I wanted each strand to tie together in some way, so I decided to give each strand the same small gold bead at the bottom, followed by a decorative spacer before stringing the remaining beads. 
The same flat spacer is used at the top of the stem too.
 
 
Leave about a half of an inch space at the top of each wire strand. 
This extra wire will be needed to loop through the bucket and curl to secure it.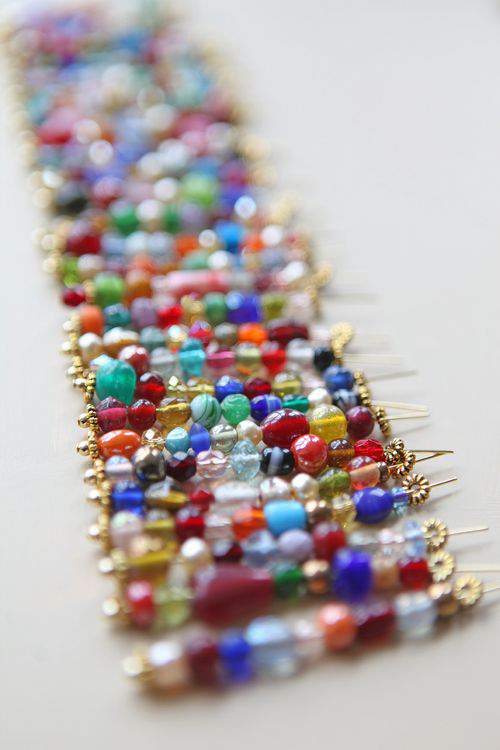 The hole punch makes a hole that is just approximately 3-millimeters. 
After stringing the wire through the hole in the bucket, use a bead on the inside that is larger than 3-millimeters to help secure the wire to the bucket.
Use the beading pliers to carefully twist the end of the wire into a loop and thread the end back into the bead opening to secure it.
Here's what the inside of the bucket looks like.  I think it's almost as colorful as the exterior.
TIP: It's a good idea to add an application of clear, silicone caulking around the seams of the bucket to ensure no leaks occur from melted ice.
You can create a ton of different looks with this technique depending on the color of the bucket and your bead selection.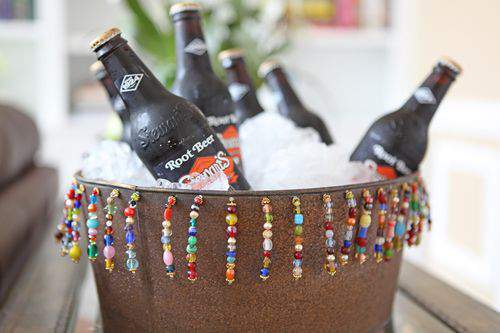 You can adorn your bucket to fit your party theme.  Consider using shades of turquoise and green to decorate a silver galvanized bucket for your pool or beach party to match the water.
Perhaps you could adorn a bucket with pink or blue beads for a baby shower.  I think you can see there are loads of possibilities here.
You can even add  beads to small galvanized tins to hold candles.
By the way, this bucket would also make a great hostess or housewarming gift, filled with the recipients favorite beverages.
Whatever the theme or gift idea this beaded (root) beer bucket is fun to make and even more fun to display, adding a festive touch of color and whimsy to any event. ♥