Calling all tree trimmers.  Every year my kids decorate their own tree and I get to trim my very own as well.  I call this my "back to nature" tree. 
I like to imagine you'd find this kind of tree in an enchanted forest with it's mix of pleasant creatures, natural elements, old fashioned ornaments and friendly feathered friends.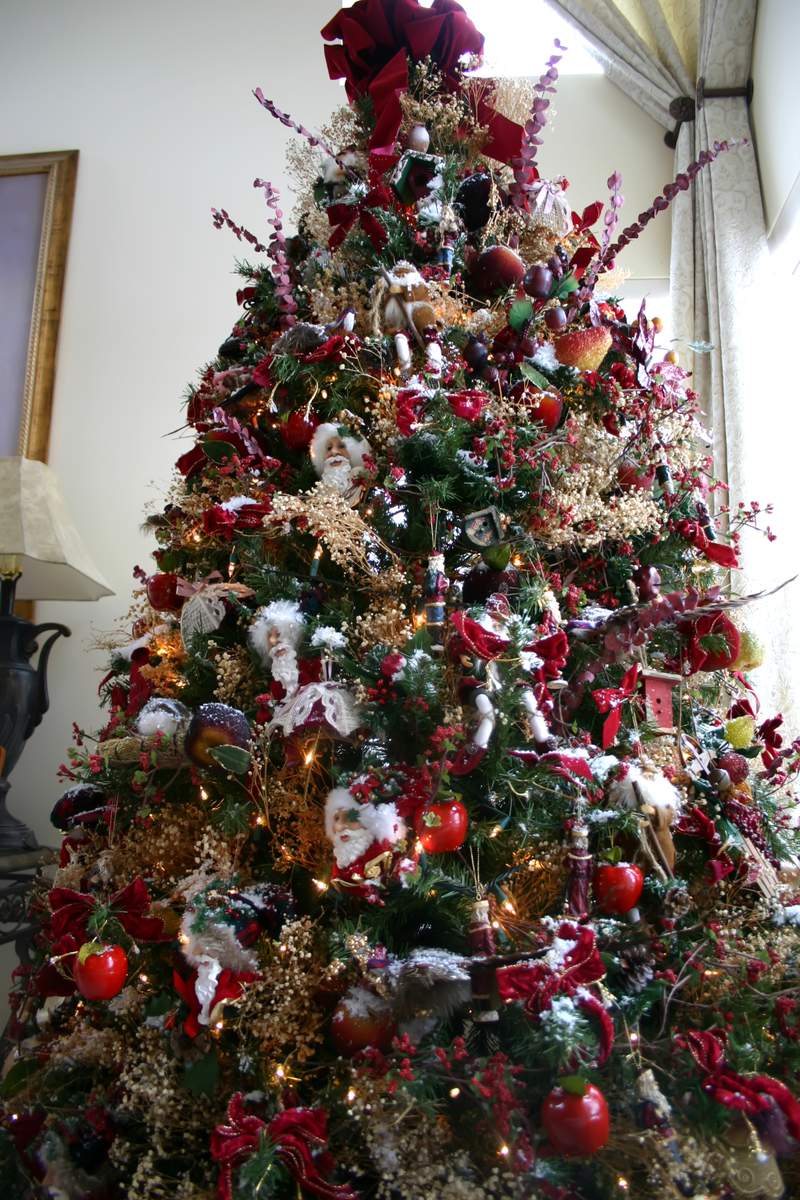 I love the idea of mixing old decorations that have been collected for years and years, with fairly new ornaments that just look like I've had them forever. 
As you can see, there's a little bit of everything hanging on this tree. 
While I love the smell of fresh pine this time of year, I've always used this 7ft artificial tree because it's just easier to work with than a real one. 
I think it's less mess to clean up after the season, so I'm OK with the trade off.  I always put the stands of lights on first and twist each strand once around each branch for a secure hold.
Instead of traditional garland, I wrap the tree in these burgundy berry vines that you see in the picture below.  I love this colorful alternative and it's really works with the more nature-inspired theme I try to maintain in all the little details. 
No need to wrap or twist these vines.  Just lay them on top of the branches horizontally and they will stay put.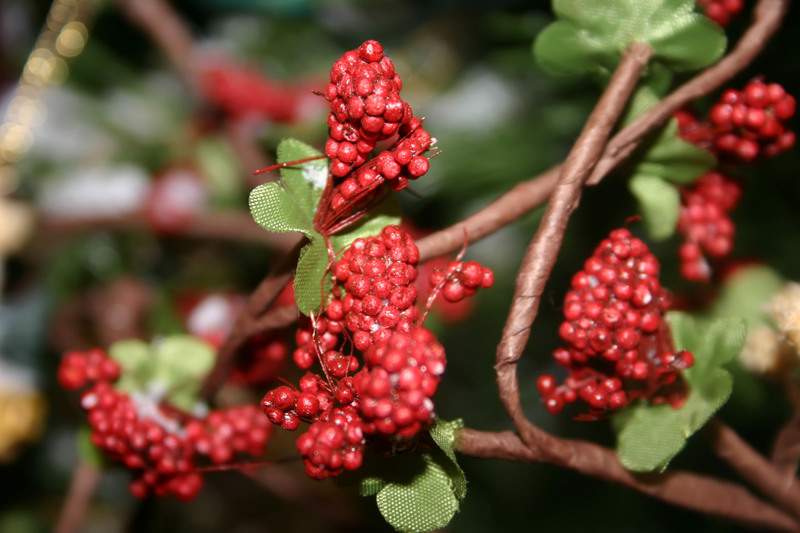 I also use lots and lots of dried baby's breath which is available at most craft stores.  While some of the baby's breath can be reused year after year, I typically end up having to buy more. 
I try to pick it up throughout the year, as I spot it on sale.  I've found that the baby's breath helps to fill in the gaps in the branches and it really adds a lot more weight and girth to the tree.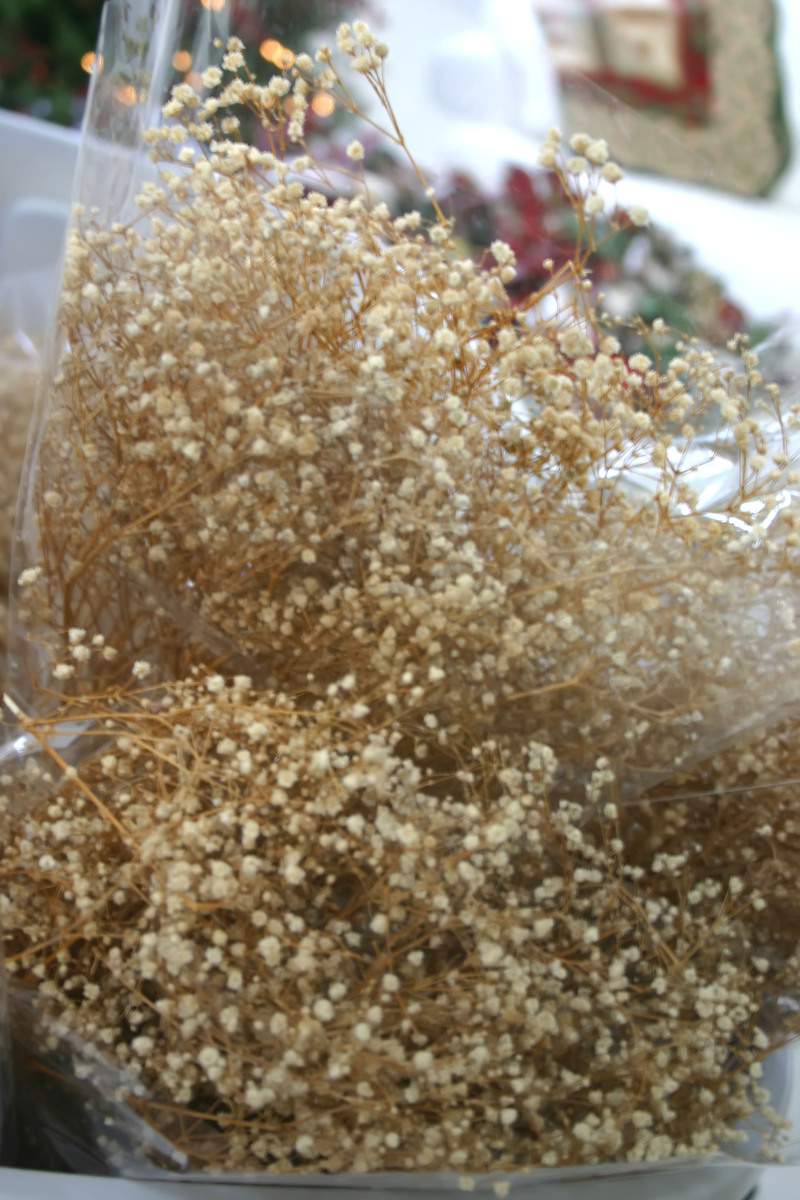 I usually just take all my decorations out of their respective boxes and pile them up like this.  This way I can see everything all at once rather than digging through individual boxes looking for particular items.  Of course, the real headache comes when it's time to pack everything back up after the holiday.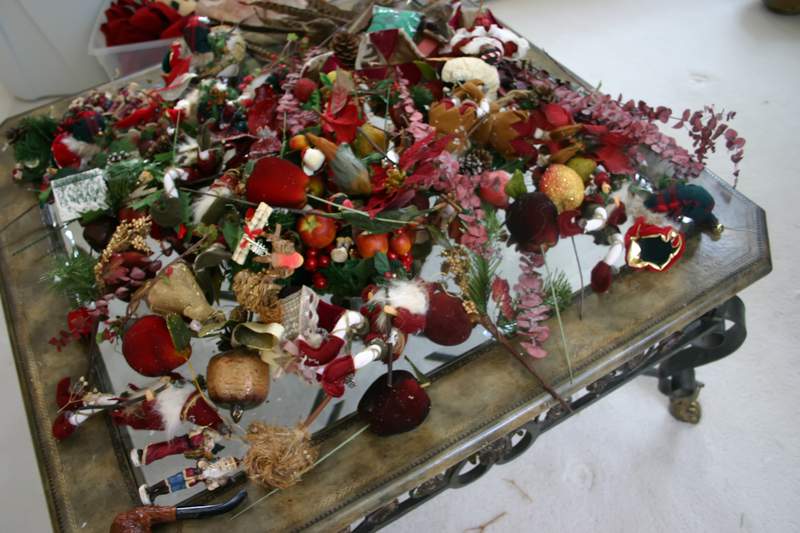 If you look closely, you'll see my tree is actually alive with inhabitants.  You'll find lots of little birds in all colors and species feeling right at home here. The beautiful bluebird in the photo below returns every year to stake out her nest. 
She constantly guards her dotted eggs, although year after year, I have yet to see any eggs actually hatch.  Maybe one day.
This is the perfect kind of tree theme that allows me to include lots of little personal keepsakes too.  These little brown snakeskin infant booties were a gift from a co-worker right after my son was born.  I've always thought they were so adorable and they work perfectly as a holiday ornament. 
Of course, when I look at my son today at 7-years old, these little booties also remind me how fast time is flying.
About a dozen of these Old St. Nicks in the photo below, also adorn my tree.  I love these particular ornaments because they look so life-like and old fashioned.  These appear to have wood-carved facial features, but these Santas are actually ceramic. 
The detail is beautifully molded and the eyes are inset with green marble.  Now, the eyes do seem to follow you as you walk around the tree and that can be a little weird sometimes.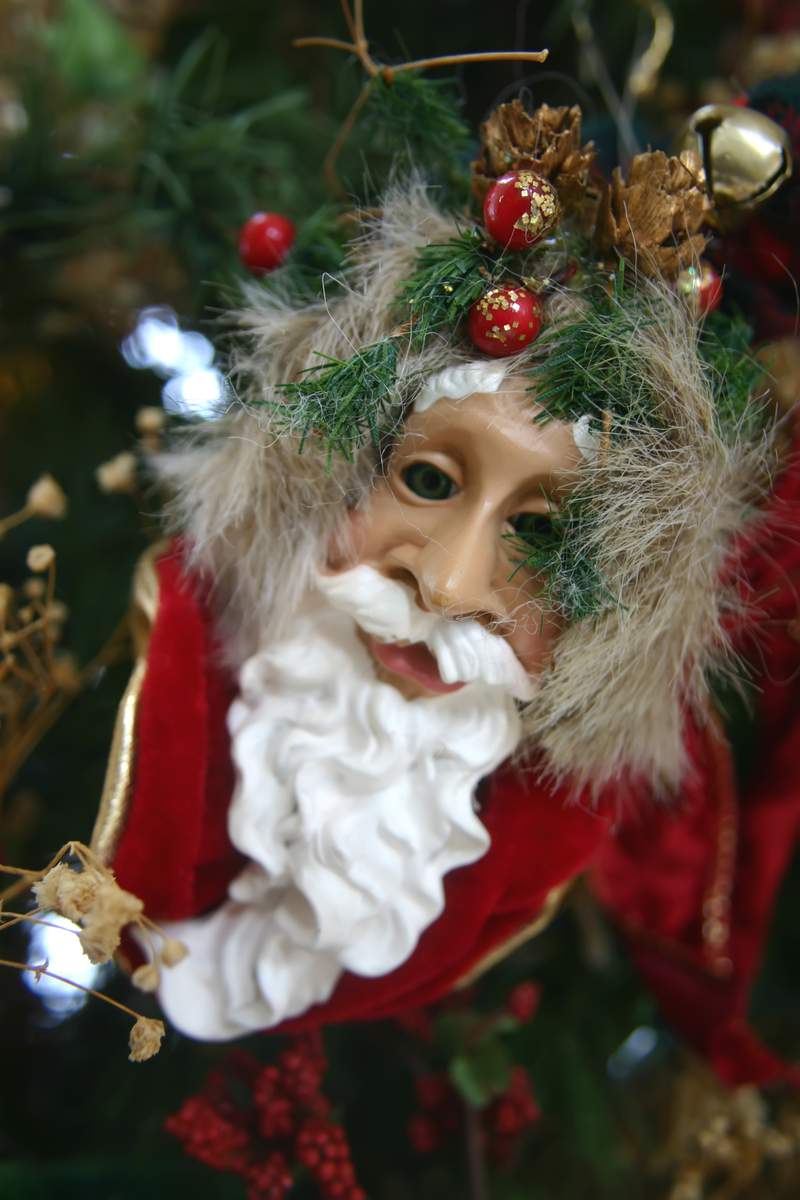 Here's another one of my favorite little feathered friends, who never gets lost in the shuffle of assorted ornaments.  She's so pretty and I always make sure she's prominently displayed right out front so she's easily visible.  She likes that special treatment too, and never fails to return every year.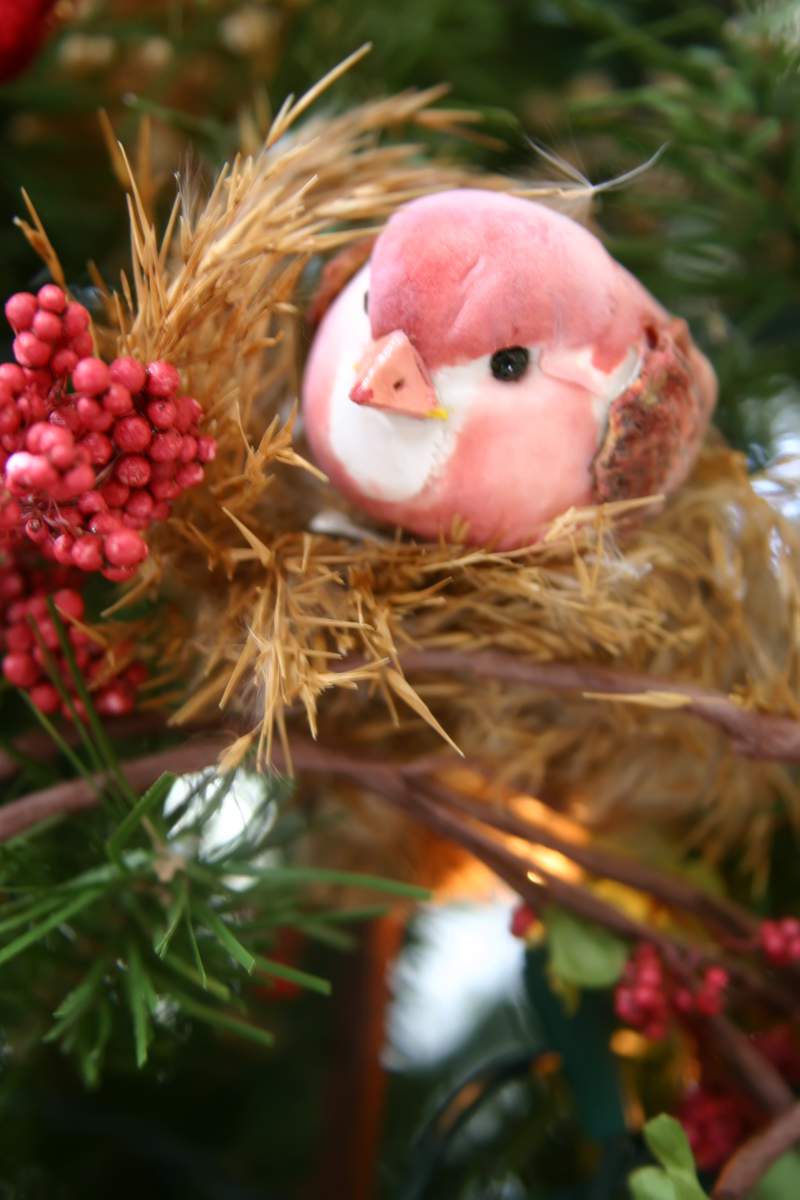 I also use a lot of decorations that are typically used in wreath making.  They already have the wire points on them that helps secure them nicely within the branches.  You know what they say about an apple a day?  Well, apples work well as Christmas ornaments too, and I use plenty of them. 
Add some beaded berries and the tree becomes all the more delicious.  Just don't take a bite.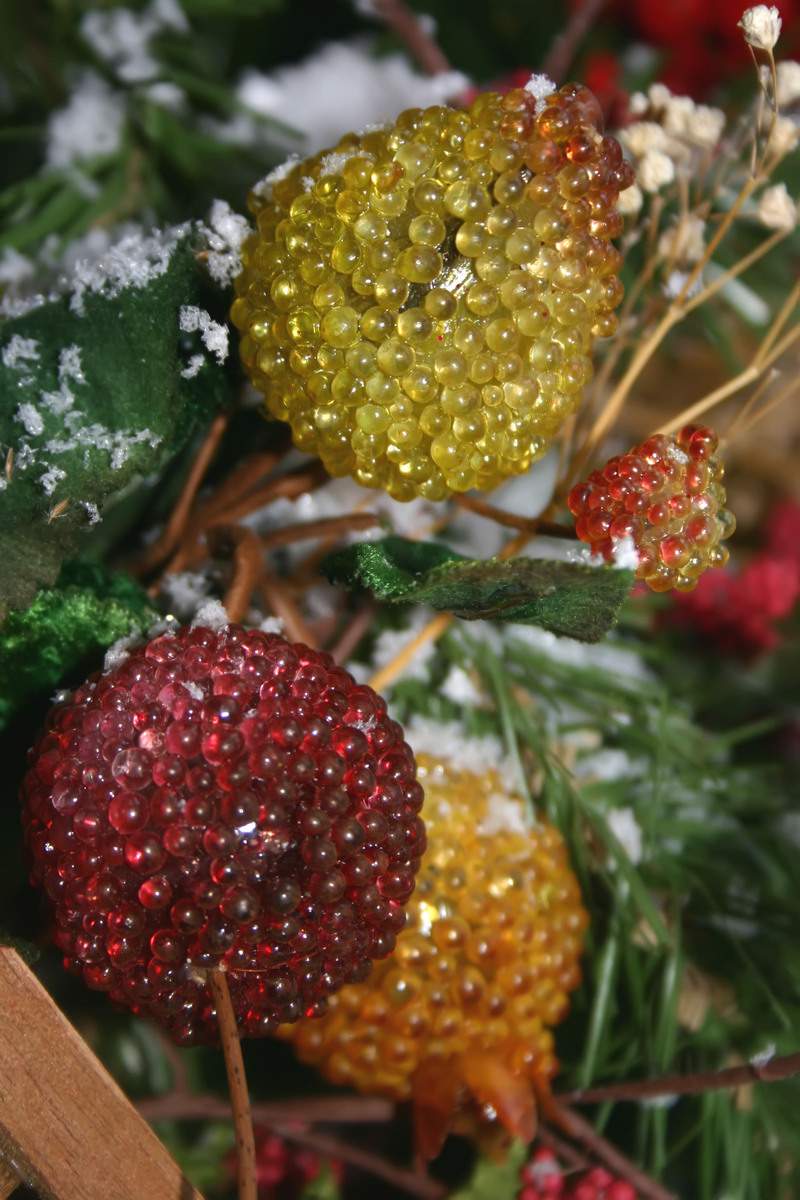 A good friend gave me this little angel a long time ago.  This sweet-faced ornament is now a permanent fixture on the tree.  I always give her a tiny bunch of berries to hold, and I think she fits in perfectly.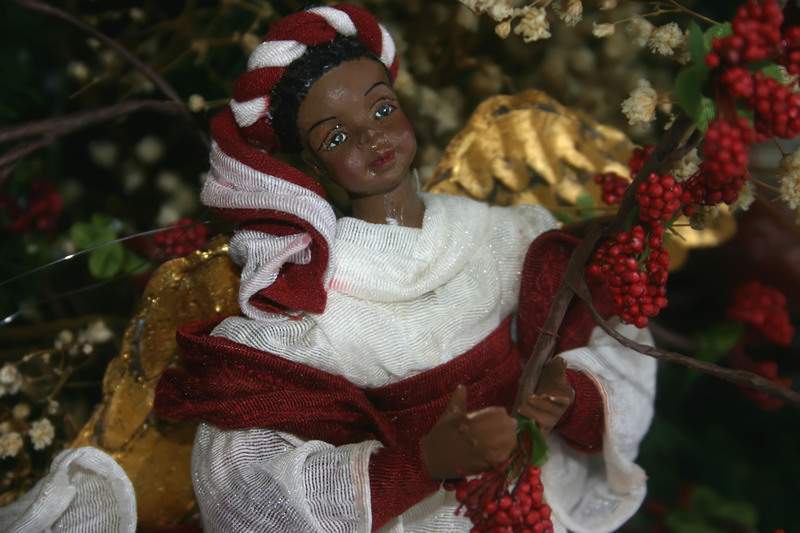 I love using unusual items that you wouldn't typically see on a Christmas tree.  My sister told me once it was so much fun to walk into the room throughout the day because every time she did, she saw something different and delightful in the tree. 
I like that there are so many hidden elements that reveal themselves which each new look.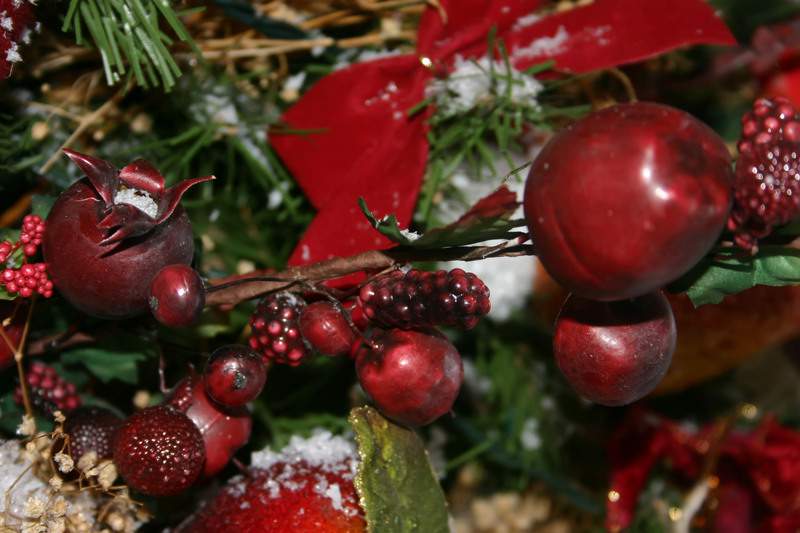 Because I have so many tiny little velvet bows all over the tree, I decided to use a large bow as my tree topper. 
My kids are always after me every year to replace it with a star, but I'm not ready to give up my pretty burgundy bow just yet.
In addition to the bird theme, you can see there's also a pretty heavy Santa influence too.  Sprinkled throughout the tree, you'll find about forty of these little ceramic Santas.   
I bought these during an after holiday sale about 14-years ago for about fifty cents a piece.  
Hmm, I don't remember where I found this ornament but I really love this little little old fashioned wire dress.  The tiny lace ribbon, rose and burgundy feather are a perfectly beautiful detail.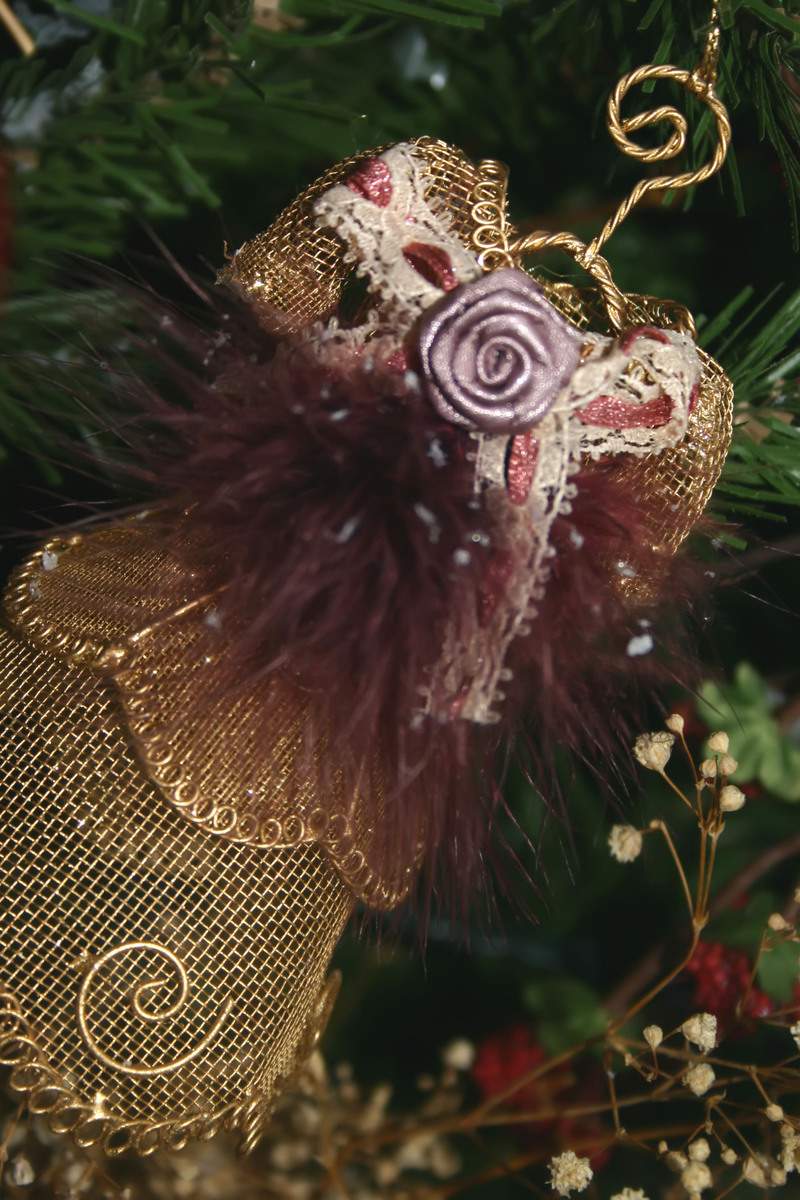 Did any of you used to have a real sled like this one in the picture below?  When I was little, we had a similar wooden one. 
This ornament reminded me of that old sleigh with the blades on the bottom.  Do they even make sleds like this anymore?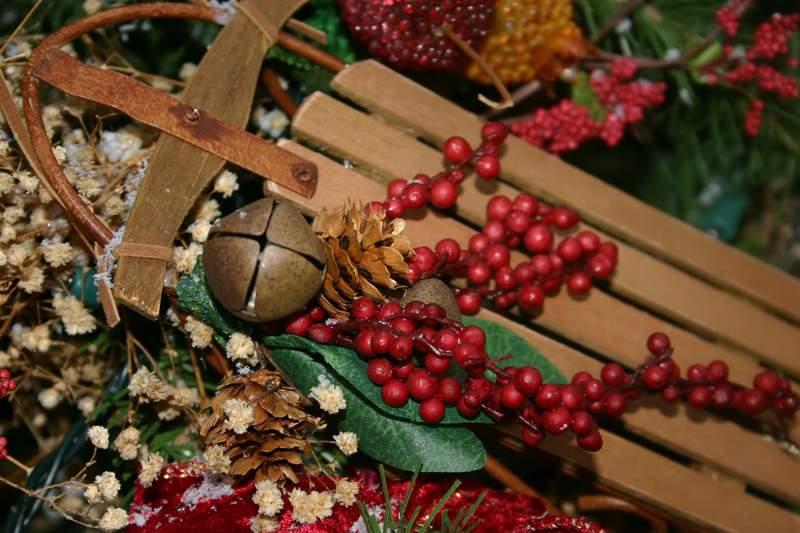 Say hello to a few more of my feathered friends.  My little sparrow loves her perch on top of this birdhouse.  It gives her a perfect view of everything and this tiny red bird with the black breast is another regular guest. 
I think they both add such sweet character to the tree. 
Here's another decoration that you may have seen in a wreath.  Again, these work very well as tree fillers and they really help close up the gaps in the tree. 
I love this pinecone and musical note adornment.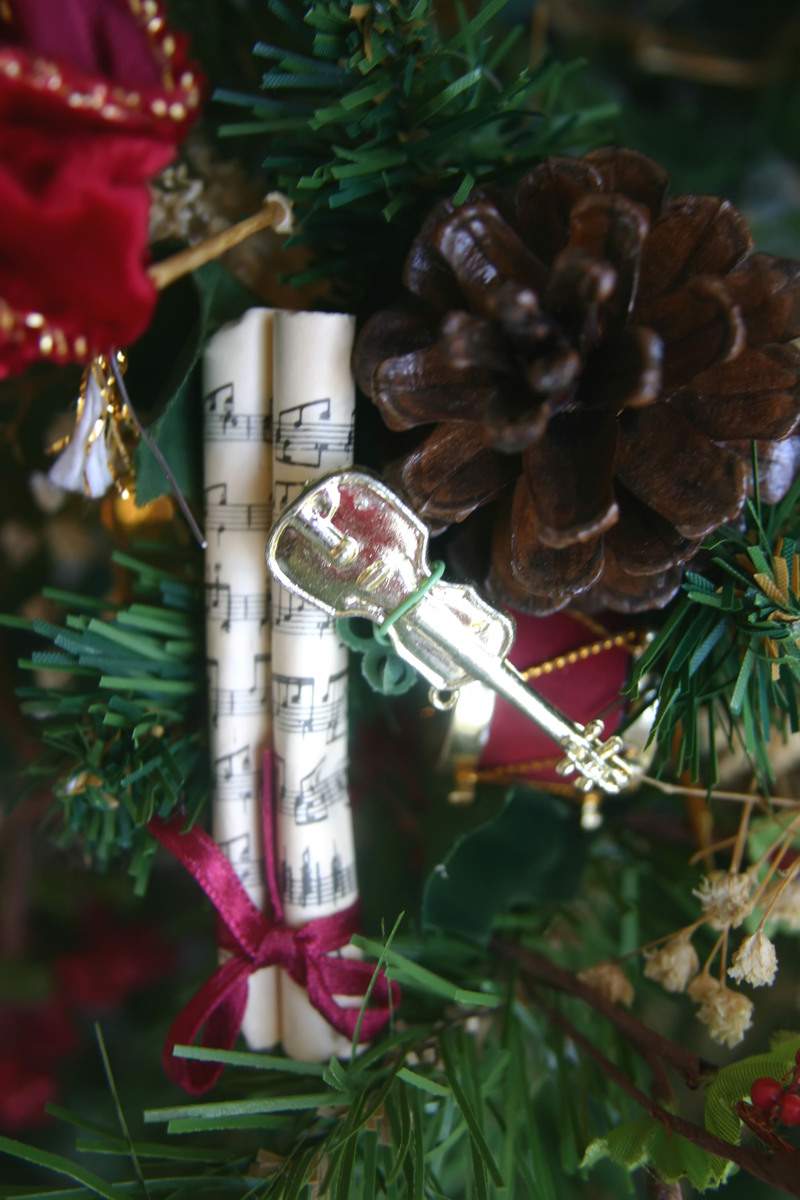 Well, a bitty bird has to have a place to rest its head right?   Since I never know when a feathered friend is likely to visit, I always make sure several accommodations are available for unexpected winged guests.
These little woodland elves are among my favorite of all the decorations.  I have nine of them, that I picked up during an after Christmas store sale about a dozen years ago. 
These little guys have flexible legs and arms, so I can position each one either sitting or standing within the branches.  I think they're so cute.
Several of these long-tailed pheasants are placed right on the edge of the branches.  I think they're so elegant.  They look like they just swooped into the tree and stopped for a rest. 
The pheasants have long feathered tails that have a similar enlongated line as the eucalyptus branches that I also use.  I like the smell of the eucalyptus and in a way it helps make up for not having the natural pine scent.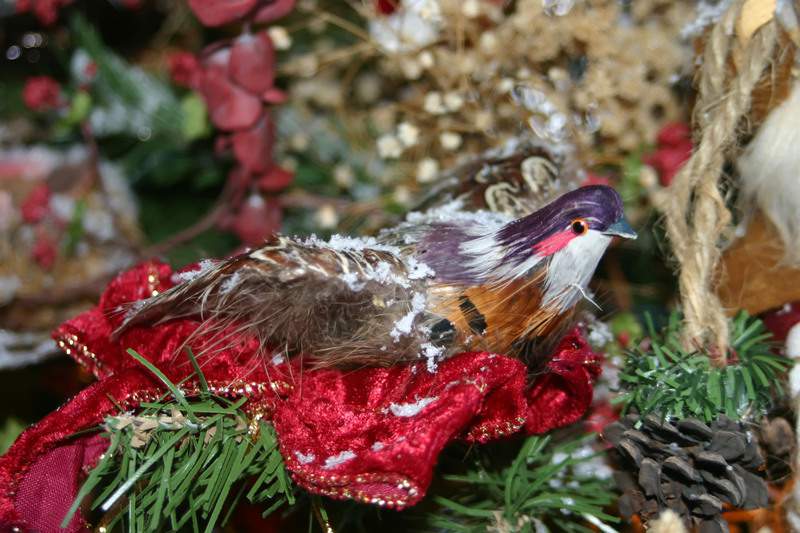 When I look at my tree sometimes, I actually feel like it really is enchanted.  The details and ornaments have such personality, they all seem to be alive. 
Trust me, that sentiment sparks quite a run in the imagination department.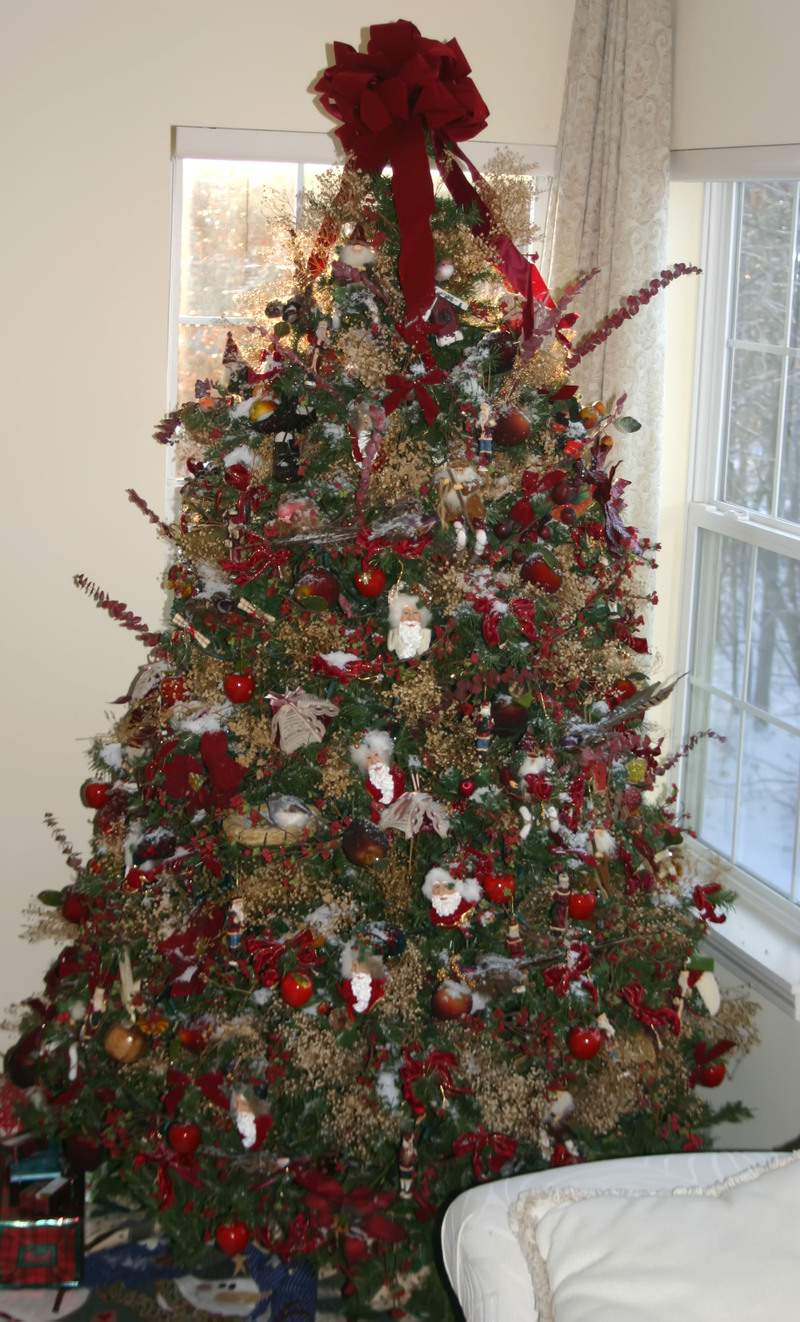 Perhaps all the wonderful little creatures who inhabit my sweet tree really do come to life when everything is still and quiet. 
When the lights are low, maybe the birds chirp and the elves and others who live within the branches whisper to each other, while the friendly homeowners are fast asleep upstairs.
I imagine this enchanted tree brings good luck to my home and family during the holiday season.  By taking such care with every detail, I like to think these enchanted visitors who visit return the favor with wonderful goodwill and good spirit for the holiday season.  I know, call me crazy. 
Still it's a pleasant thought, wouldn't you say?