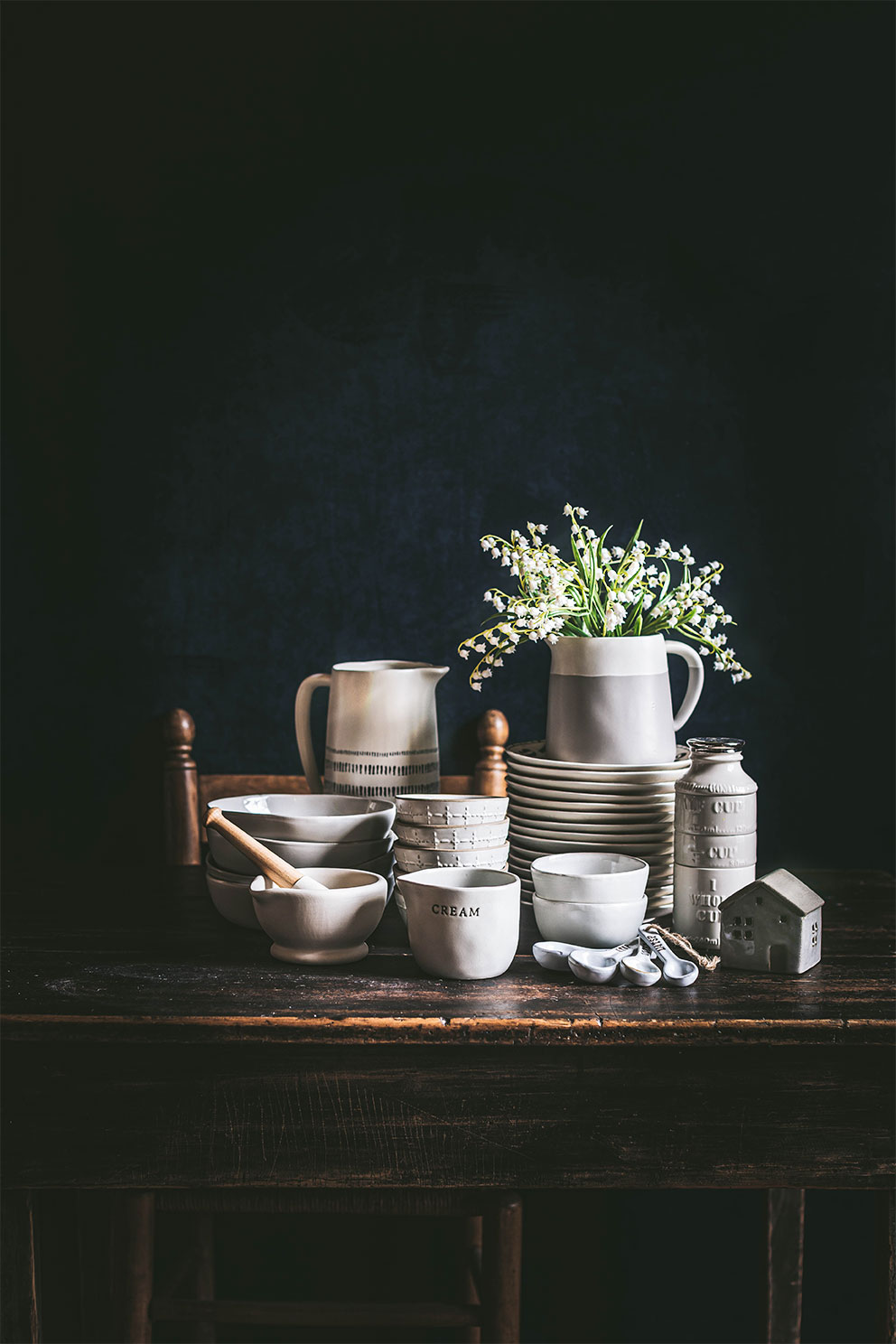 When I sat down to initially write this post, I thought I should say something about the current crisis in this country (and the world).
Honestly, I'm not sure I could say anything that you haven't already thought about, worried about, stressed-out about or panic-shopped about.
But instead of me waxing poetic about Coronavirus, just let me just wish everyone reading this, wonderfully good health and safety for you and your loved ones.
Now, allow me to turn my attention to something far more pleasant.
PROPS. Photo props.
Today, I'm sharing my top ten props that I'm using right now.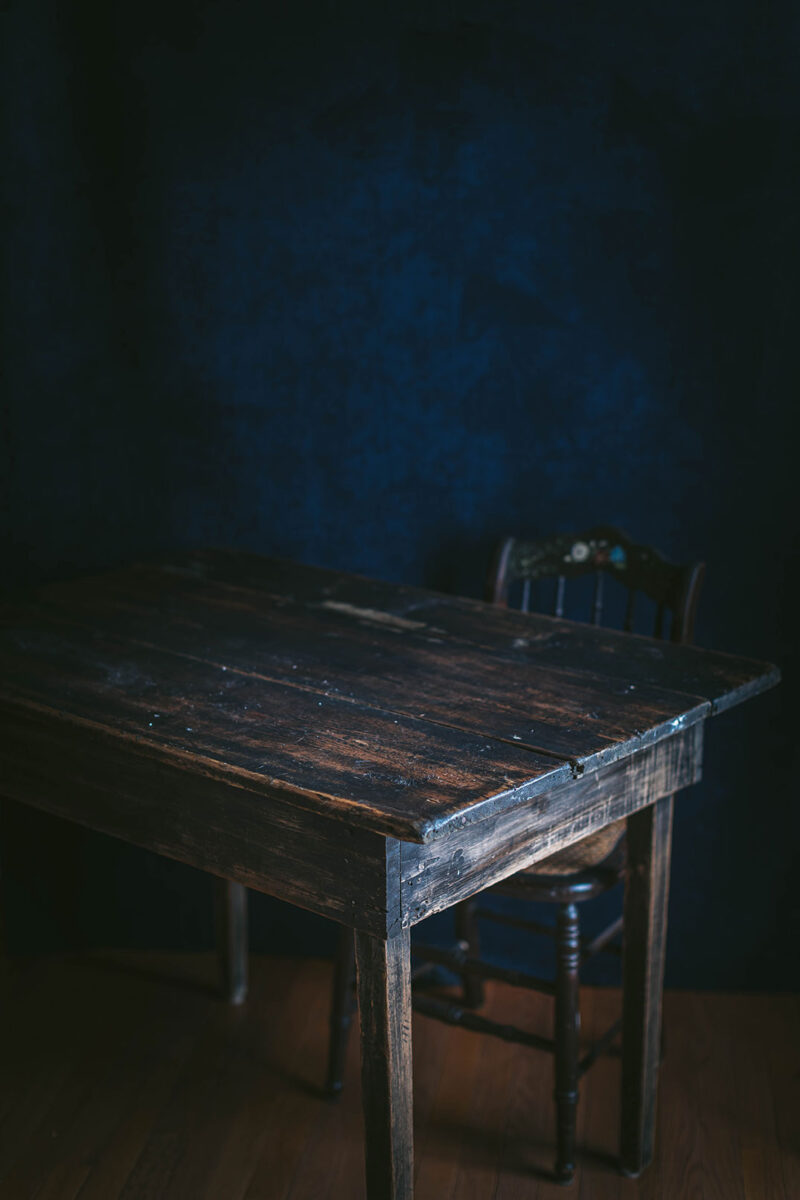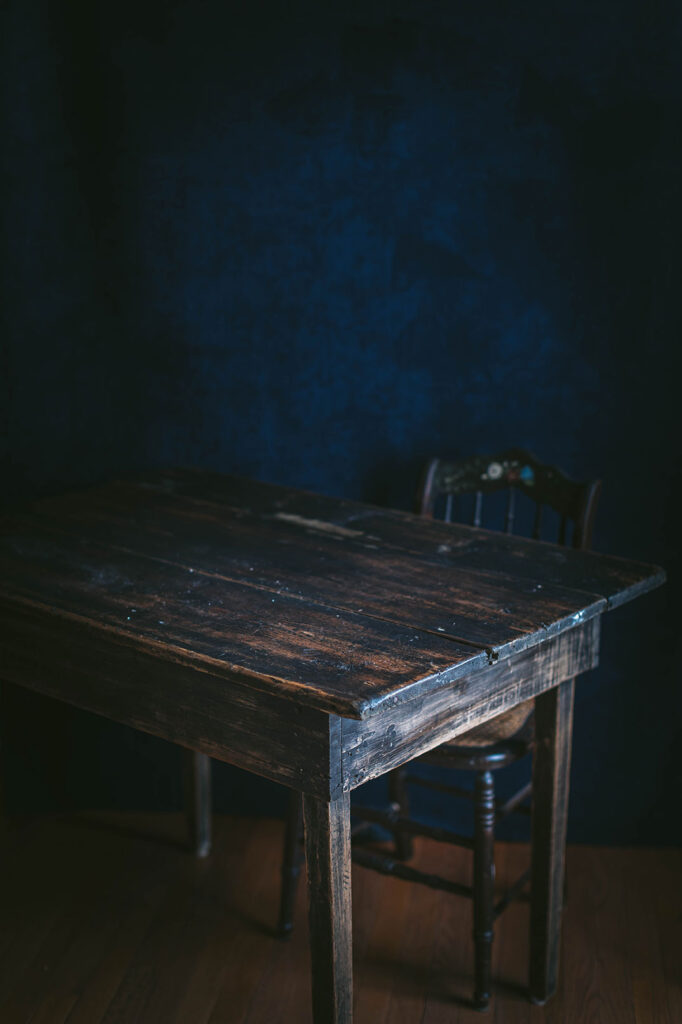 I consider this farmhouse table one of my foundation props because it sits at the heart of so many of my photos.
You probably recognize it, don't you?
As you can see from the first photo, this is the kind of table that makes anything shine, including white dishes (another go-to prop).
My actual kitchen is hardly farmhouse style but this table (set up in a dining room corner) helps me create that country kitchen look that I really love.
It's so versatile and if you ever spot one at an off-the-beaten-trail shop or flea market, consider grabbing one… (or two if you have the space).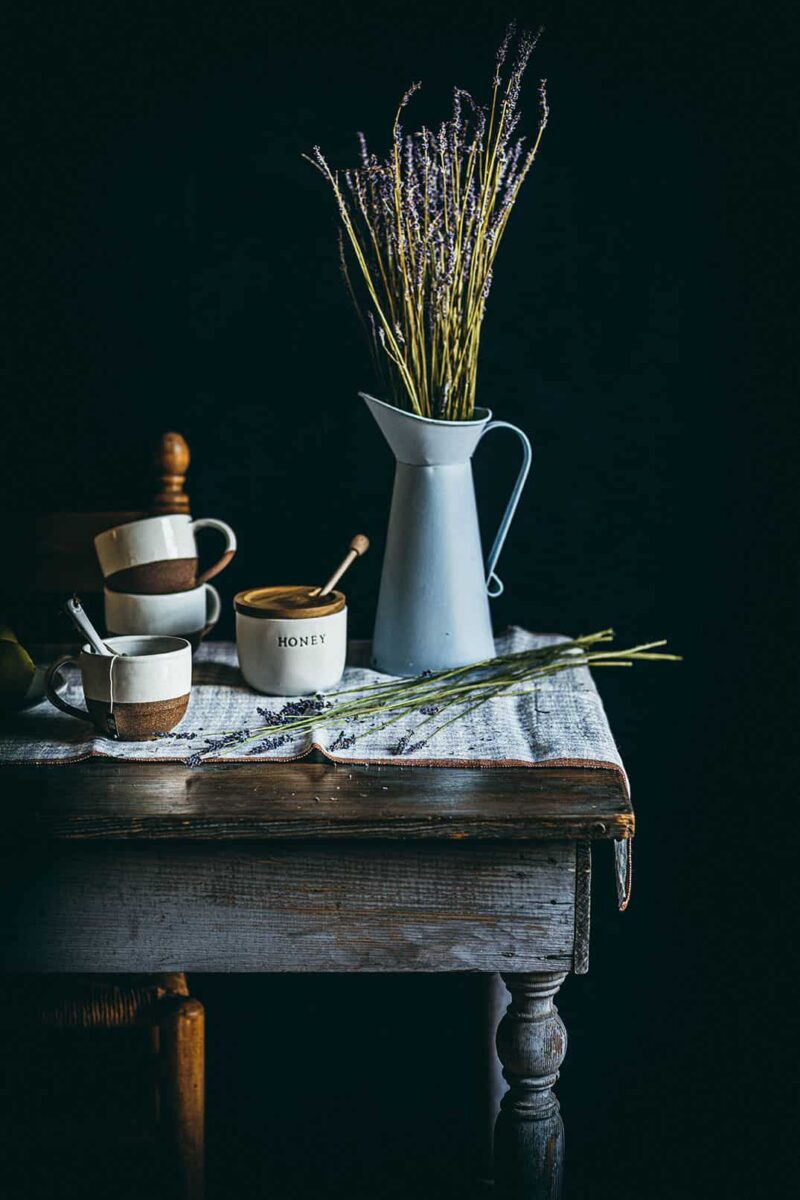 Now, I don't really have the room for this second farmhouse table… but I grabbed it anyway.
I'm sure you've done something like that too, right?
Anyway, my husband thinks I'm a little nutty bringing this into our house, but I'm sure you understand the beauty in this baby.
I just fell in love with the brown top and blue-gray swipes of color on the distressed peg-legs and underside.
When I first saw it, all I could do is imagine how beautifully it would look under a chocolate cake with a copper cake stand.
That's how my mind's eye works.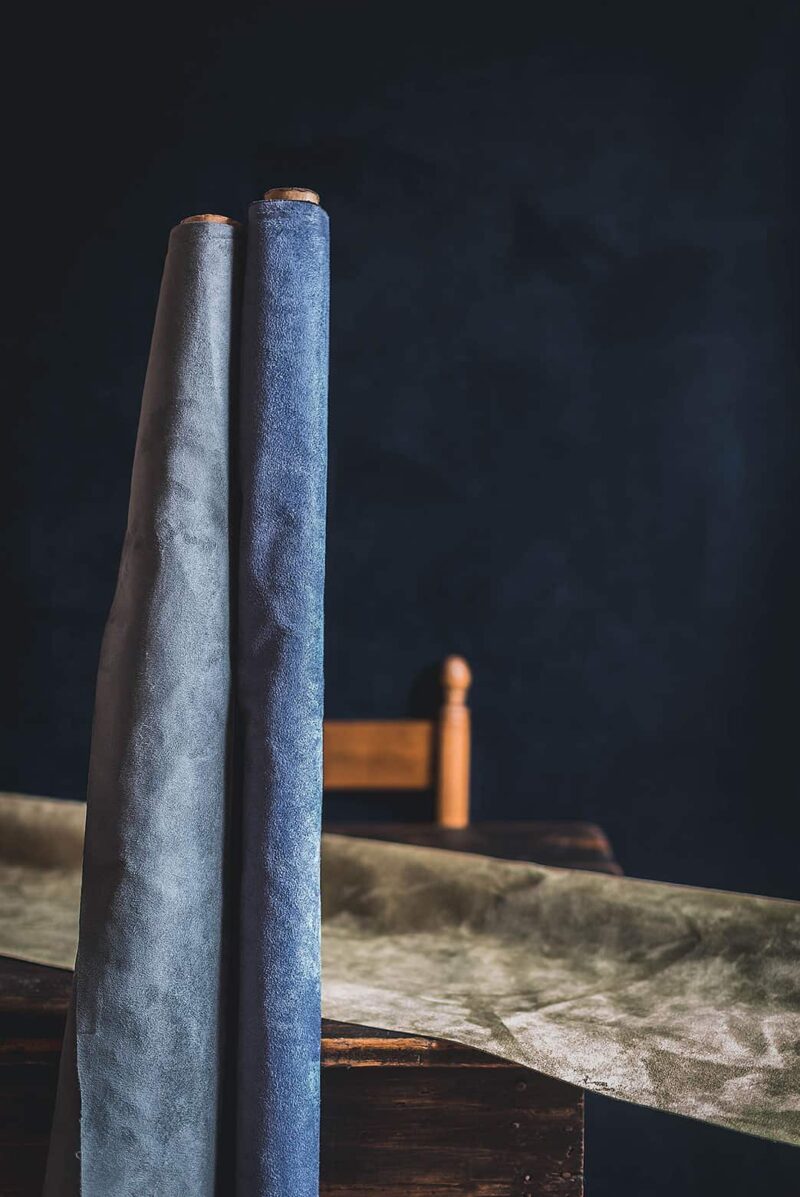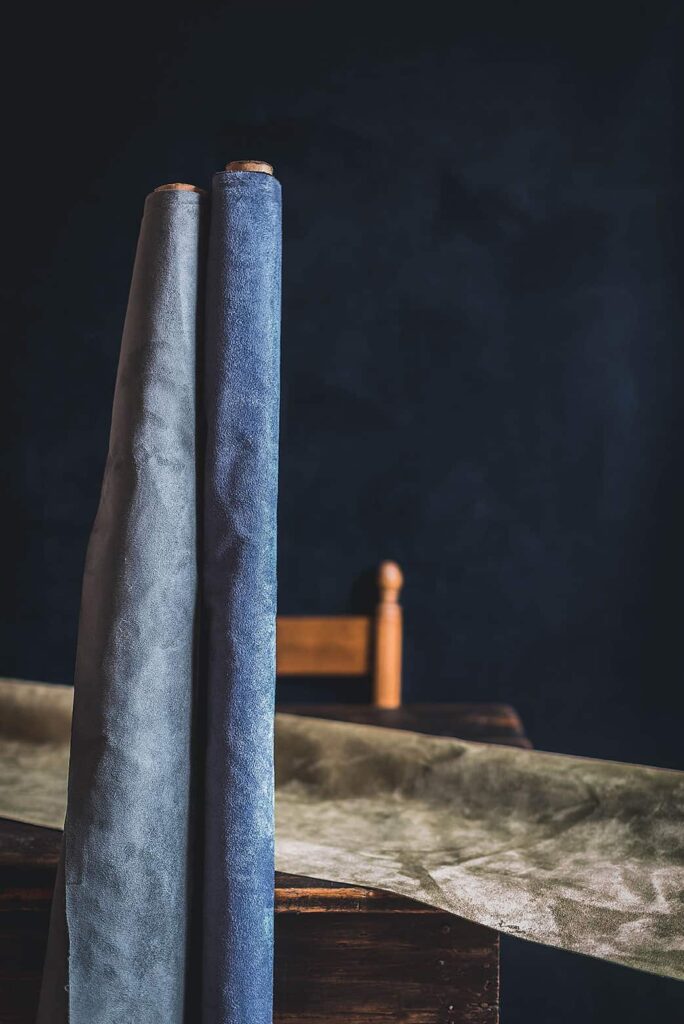 Some of my prettiest props are in the form of backdrops and are nothing more than suede fabric.
In fact, you'll see the navy suede in the background all throughout this post.
You can purchase suede (or faux suede) by-the-yard at many home decorating stores that sell fabric.
It typically comes at least 58-60-inches wide and just three yards will go a very long way.
The lush texture and brush of suede create a rich and wonderful background for any photo.
Just scroll through my blueberry muffin post to see my full photoshoot setups using suede fabric, HERE.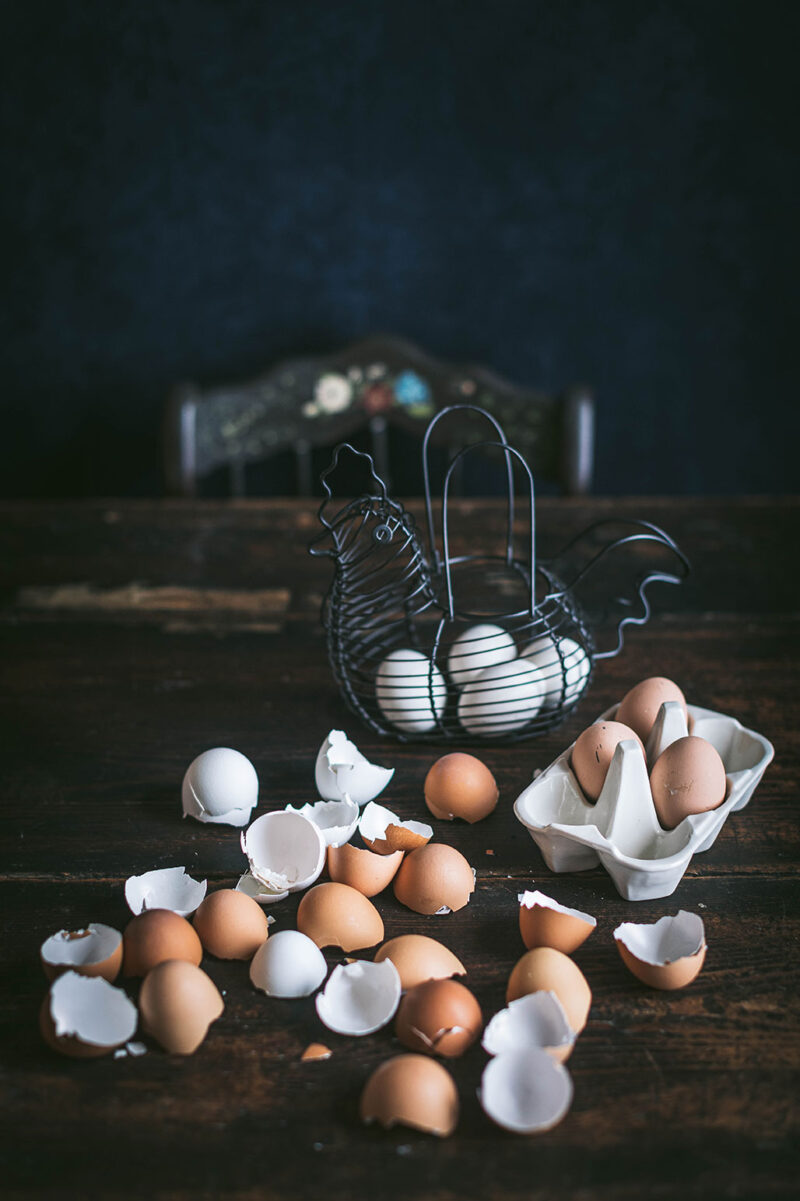 Next time you crack an egg, hold onto the shells.
In fact, hold on to lots of shells.
I keep a small Tupperware container filled with cleaned, egg shells that I scatter around for styling effect.
Take a look at how I used my egg shell stash for food styling in my Linzer Cookie post, HERE.
And here's another little egg secret. The gems in the hen basket and in the ceramic tray are actually wooden dummy eggs.
Fooled ya, didn't they? I found them at a flea market and it's fun to be able to use them like this.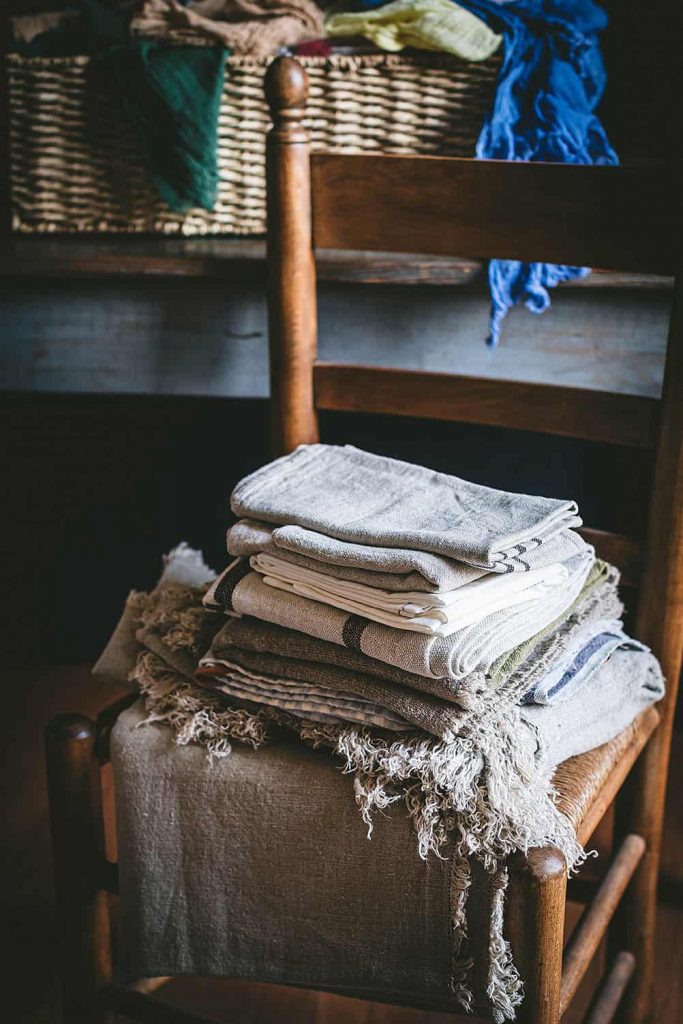 You can't go wrong with fabrics when it comes to food styling.
I have a particular penchant for old-fashioned, natural linens and grain cloths.
I'm big on texture and these fabrics have plenty of it.
But any type of fabric will enhance your stying whether you drape them under a plate or gently snake them around your main subject.
You can also dye your own fabric to give yourself a rainbow of shades to choose from.
Check out my previous post on hand-dyeing your own fabrics, HERE.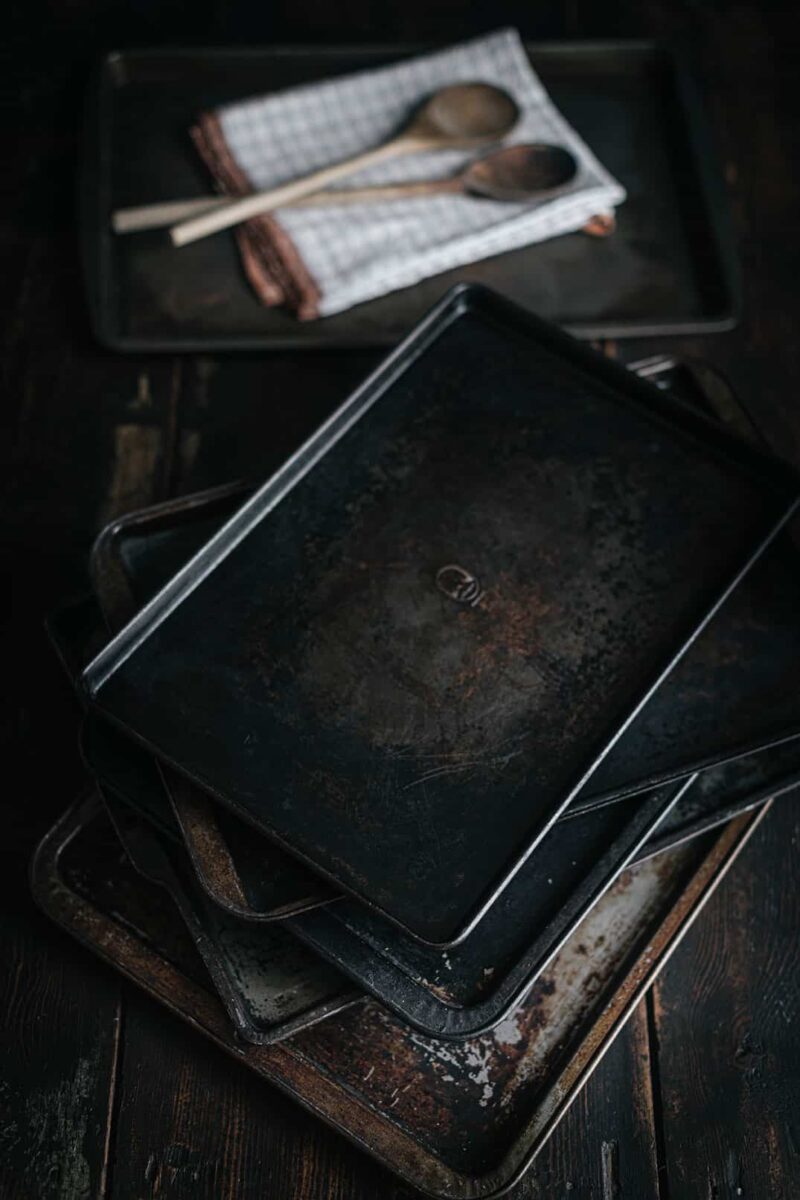 If you use sheet pans long enough, they're going to get a little oil-burned.
That's actually a good thing.
Don't toss those baking trays because actually, they're loaded with great color and rustic patina.
I found these years ago, in my mom's basement and I'm so glad she held on to them so that I could eventually stumble upon them and claim them.
Take a closer look at how to use oil-burned baking trays in my previous post on that subject HERE.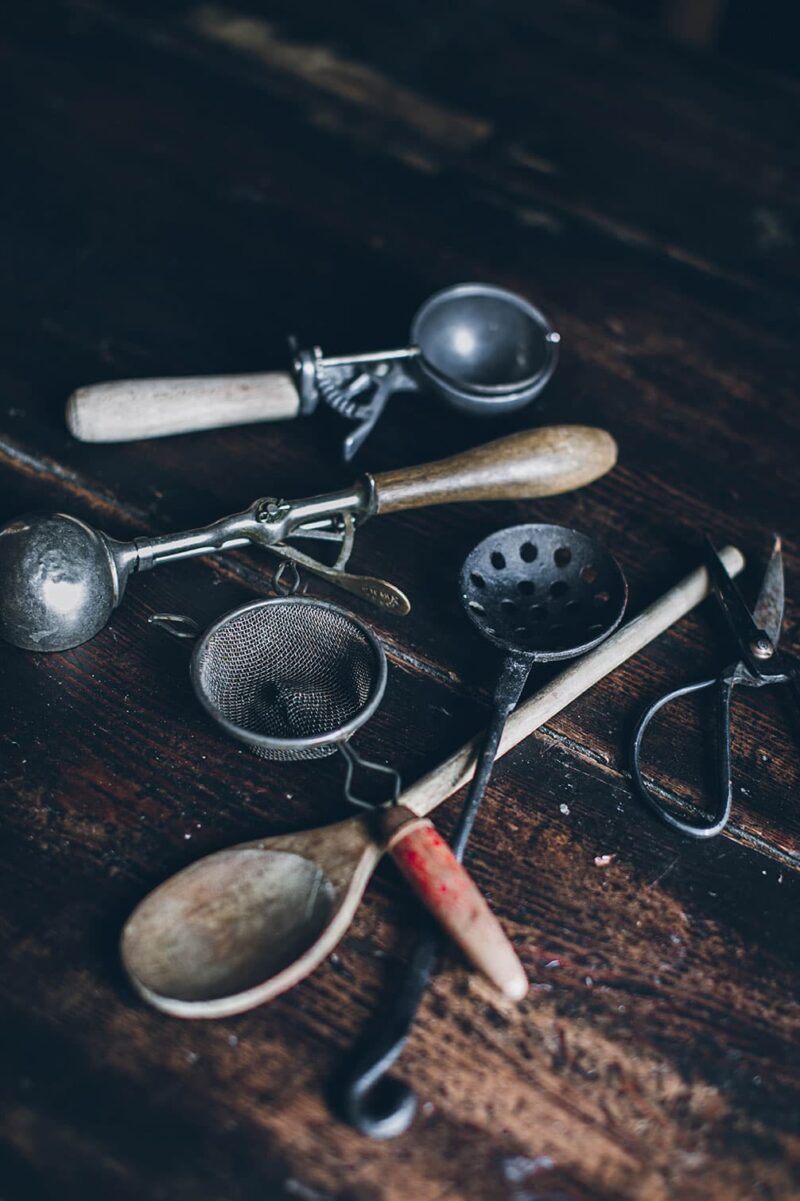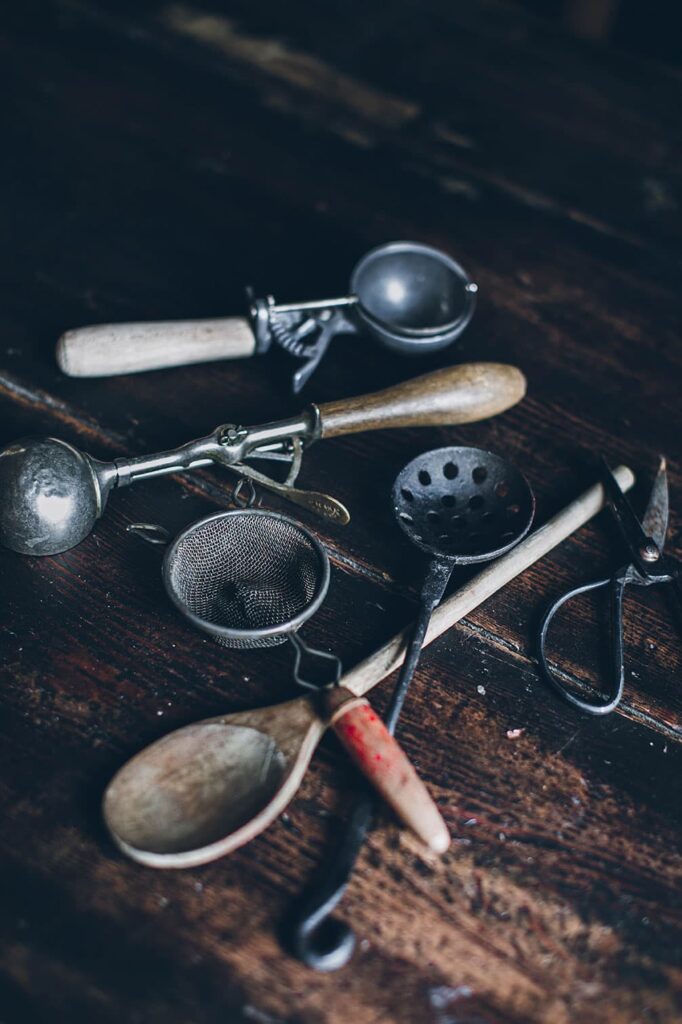 Assorted, vintage kitchen utensils are fun to find and great to use too.
When you use vintage pieces like this, I think it really helps create a more "authentic-looking" old-fashioned vibe to the overall shot.
These elements add interest, curiously and even personality to photos.
You can see how I used the rustic ice cream scoop for Apple Hand Pies, HERE and how I used the distressed powdered sugar sifter for a Fresh Pear and Pecan Cake, HERE.
When you look at those example, you can easily see how these primitive treasures can really impact a photo.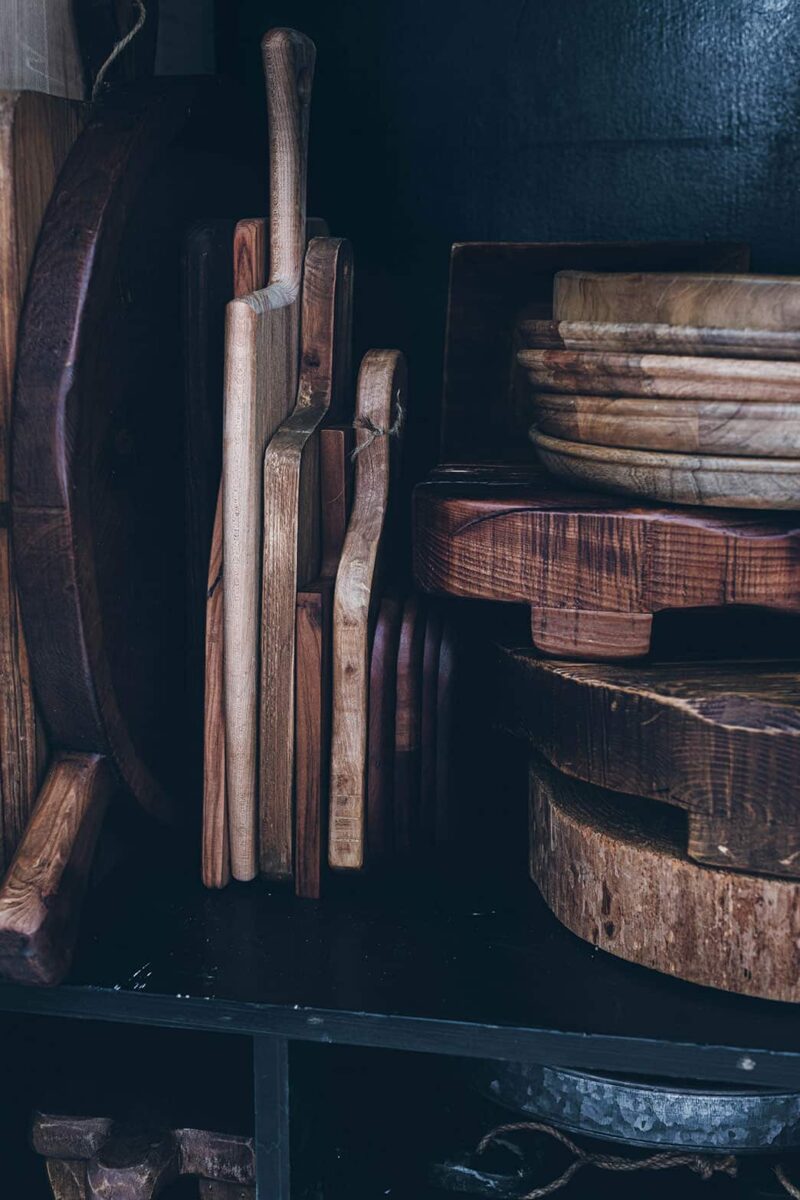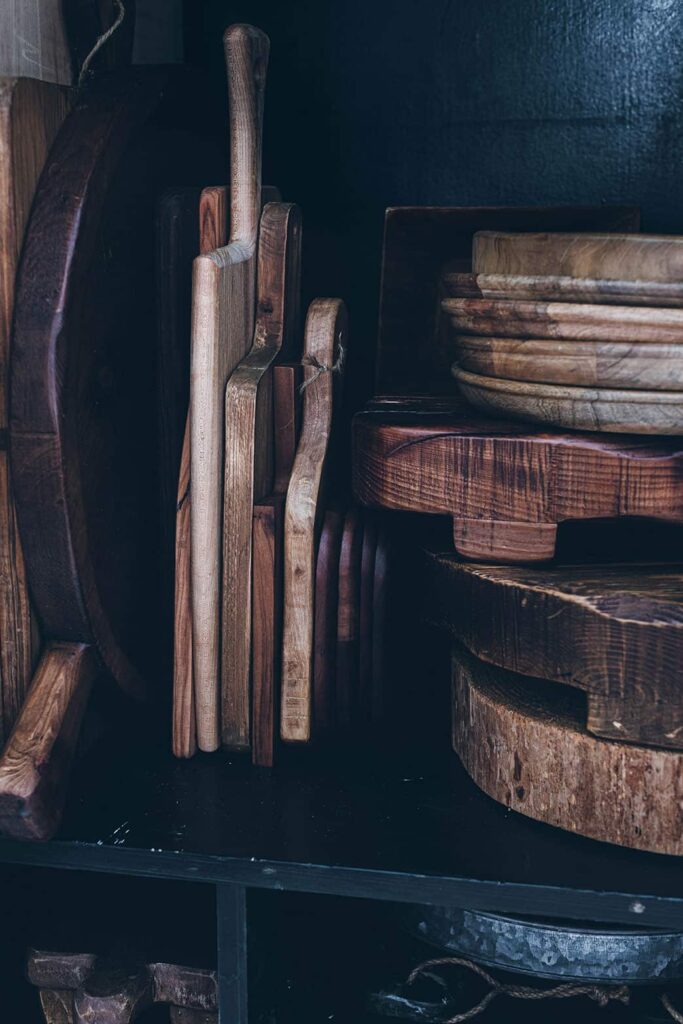 Here's another prop weakness of mine.
Wood boards, and I've been collecting them for more than 15 years.
Wood grain has so many patterns and colors, each of these boards brings its own personality to my photos and styling efforts.
By the way, if you already have a collection of wood boards, did you know that you need to keep them regularly conditioned?
Whether you use wood boards for cutting food or for photo styling, you can read all about how to care for your wood boards in my previous post, HERE.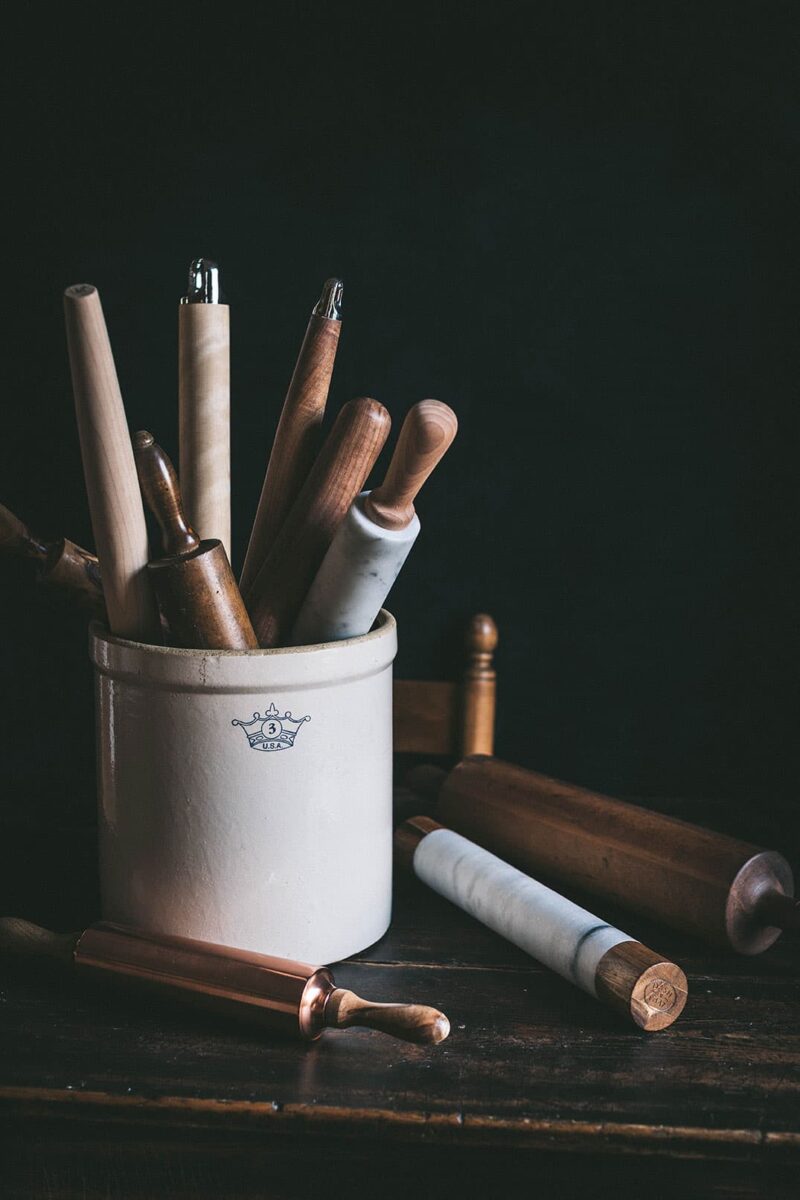 You don't have to be obsessed with rolling pins (like I am), to have a few good pins in your kitchen and photo prop stash.
I love rolling pins. Can you tell?
Next time you take a picture of cookie making or pastry creation, add a rolling pin to add a bit of realism to the shot.
Rolling pins add a sense of immediacy to a shot especially when dusted with flour.
You can see one of my favorite rolling pin photos featuring the prettiest apple pie you may see all day, right HERE.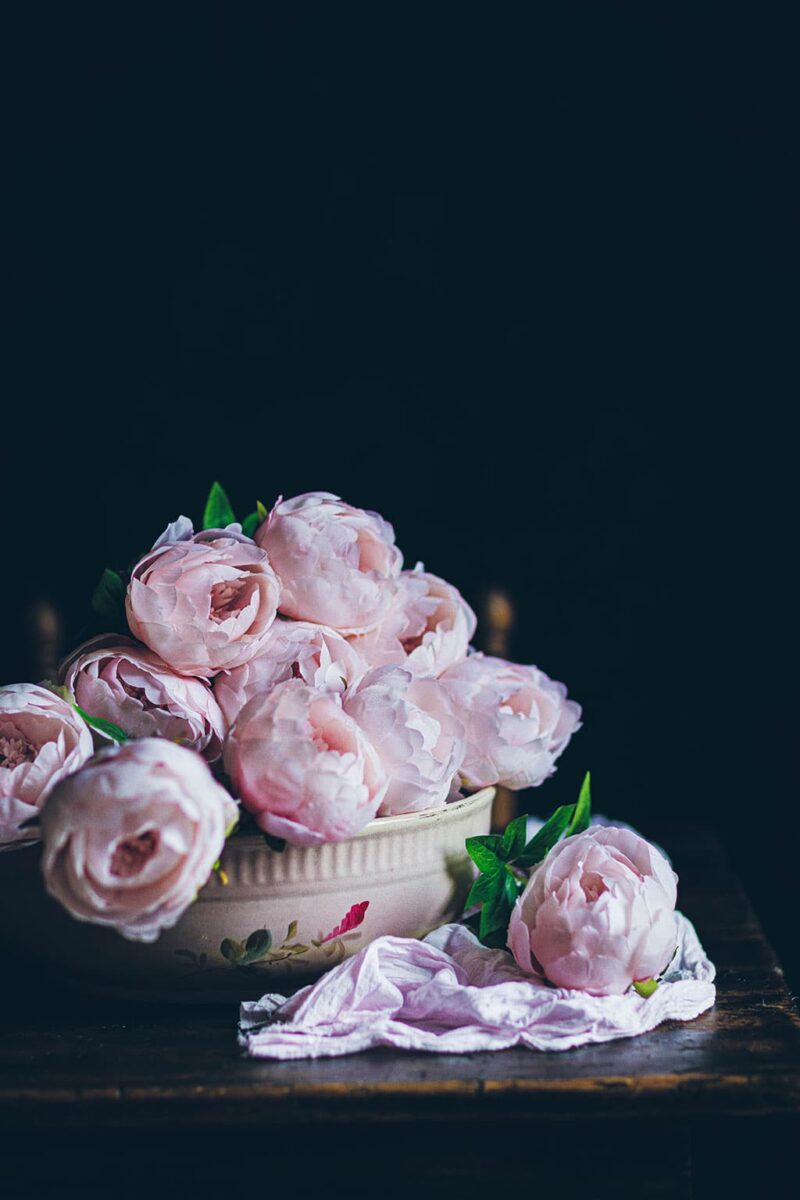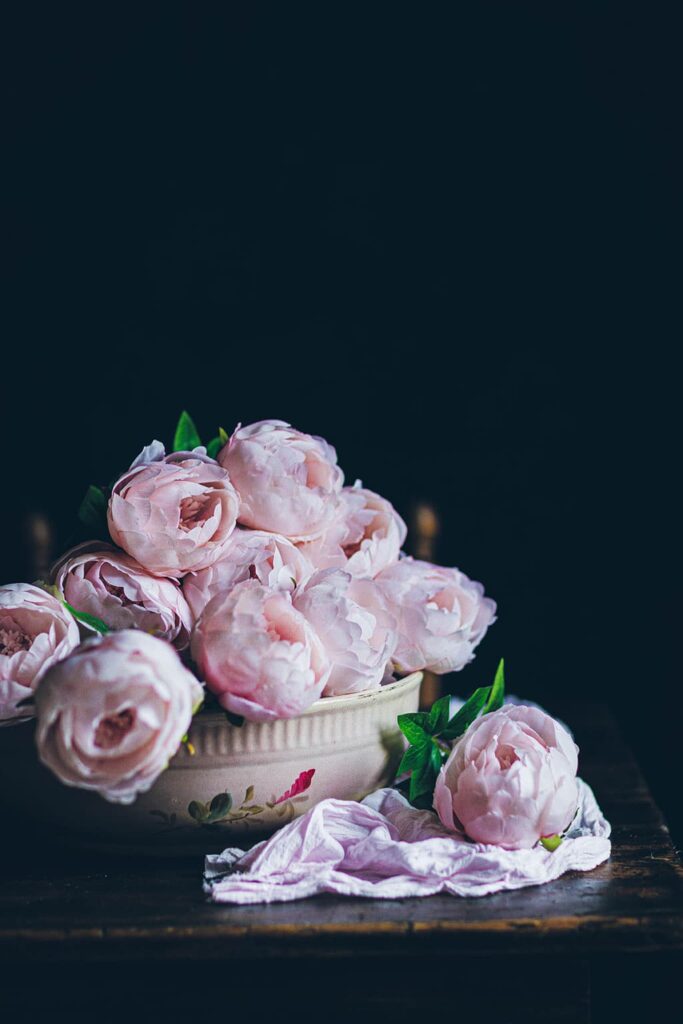 Finally, whenever I can, I do try to include real and natural flowers of the season.
However, when I don't have access to the real deal, faux florals do the trick.
You can see how I used faux flowers in both crafts and food styling HERE, HERE and HERE.
I hope my top ten props have inspired you to be on the lookout for your own white dishes, farmhouse tables, suede fabric, egg shells, assorted linens, oil-burned baking trays, assorted linens, wood board, rolling pins and faux flowers.
Thanks for popping by.
Stay safe and be well.
See you back here next time.♥