We are mere weeks away from the first official start of a new season.
Raise your hand if you're ready for Spring?
Just so you know my hand (both hands) are up high.
There are already a few signs of Spring emerging in my neck of the woods with tiny leaf buds on my Maple trees and a wee bit of green peeking out from my Knock-Out roses.
It all makes me even more eager for warmer temps and vibrant, colorful blooms.
If you need a bridge to get you from now until the real thing, consider fab faux flowers.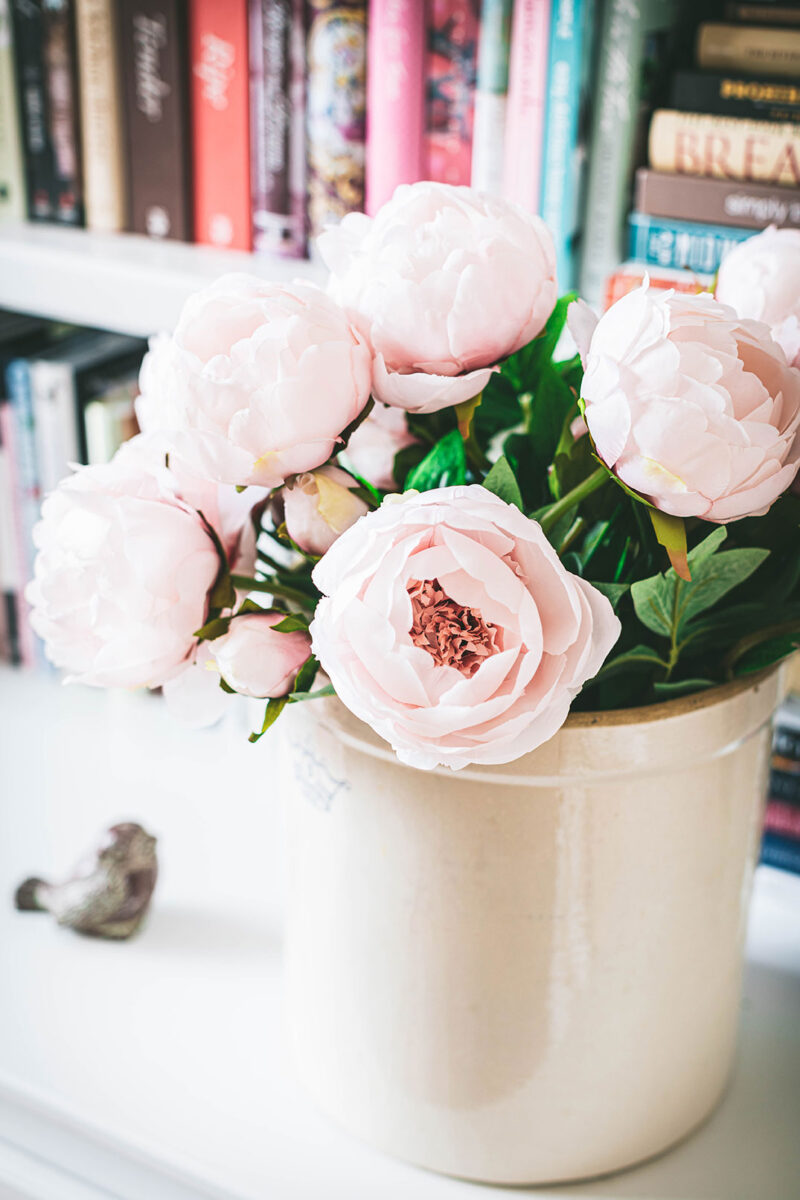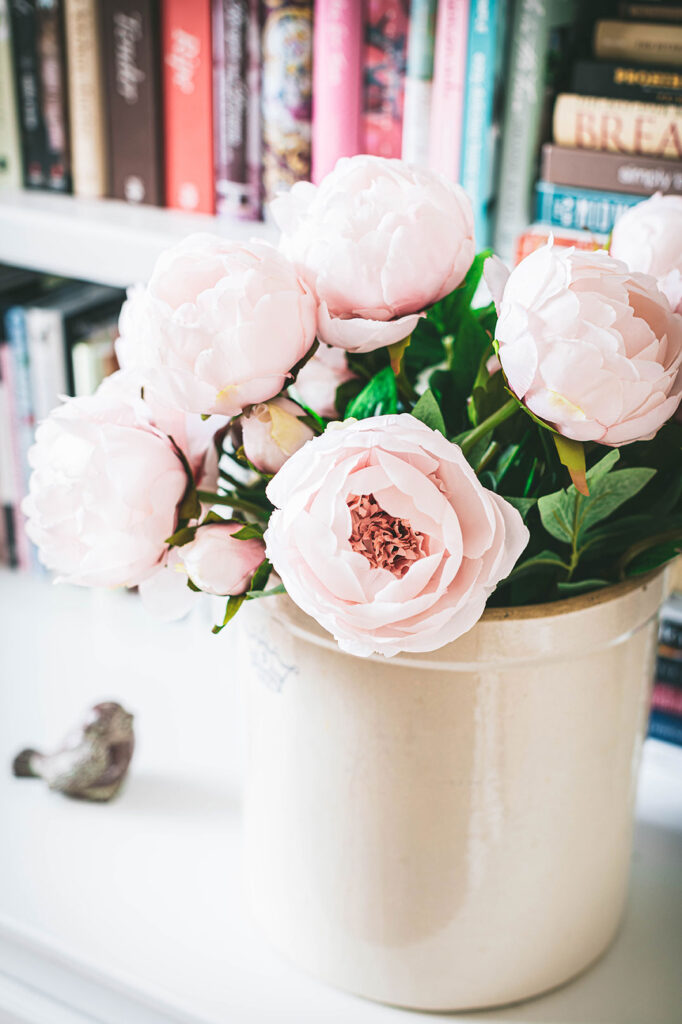 I never realized until recently how much I actually depend on faux flowers.
But they are actually all over my house.
Since we're all longing for the real thing outside, I thought it would be fun to share how faux flowers help to bring a touch of colorful nature, indoors.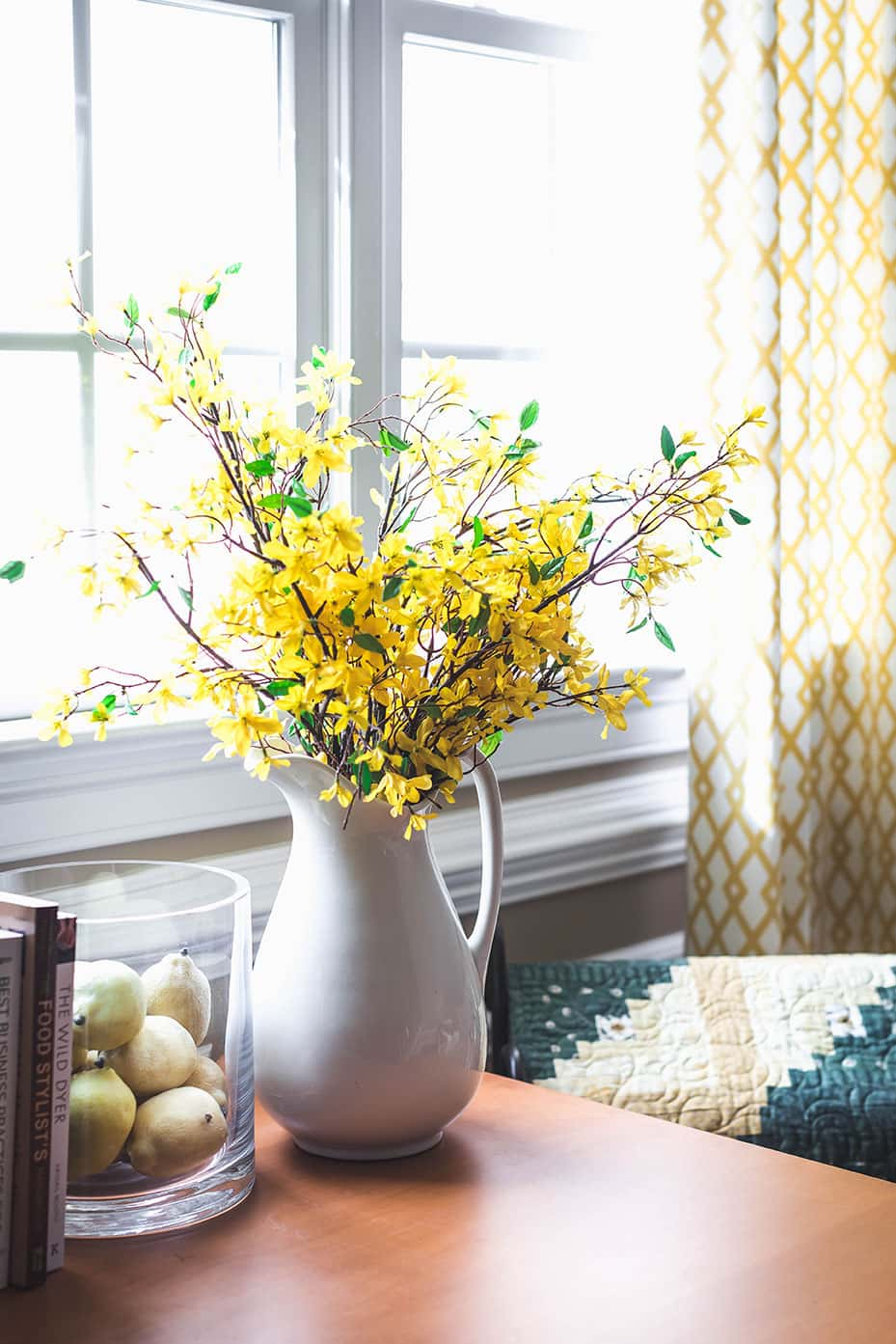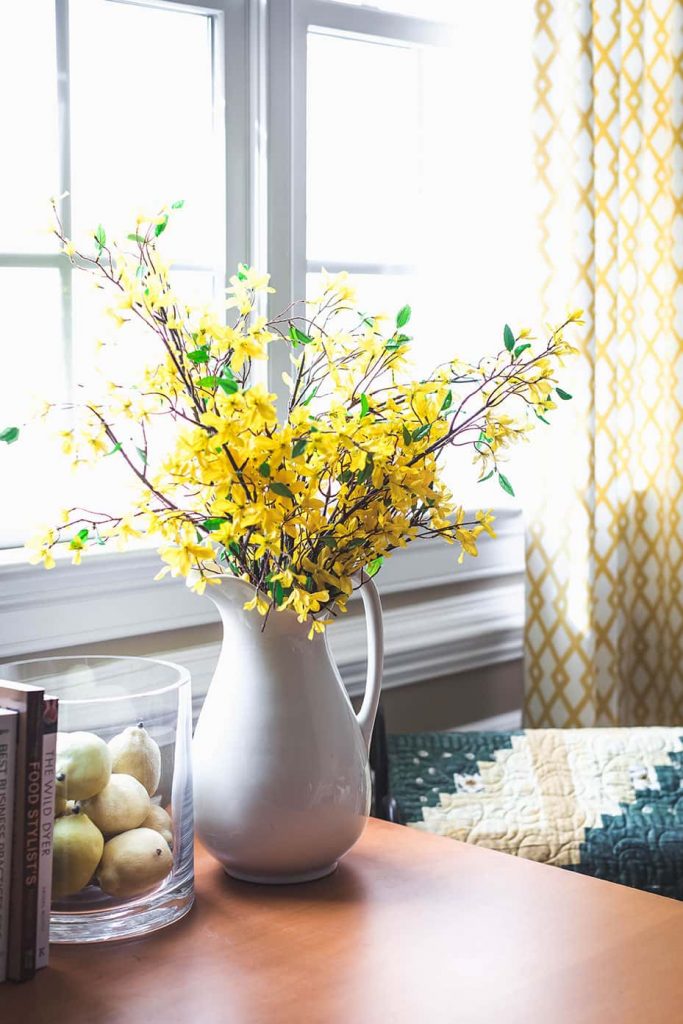 I just love forsythias and not just because yellow is one of my favorite colors (brown and green are the other two).
Forsythias are so fresh and bright and scream sunny… even on a cloudy day.
If you spot a patch of forsythia in your neck of the woods, grab some clippers and save a few branches for your home display.
Oh, if you want to get a better look at this entire room, check out the post on Making Over a Small Space, HERE.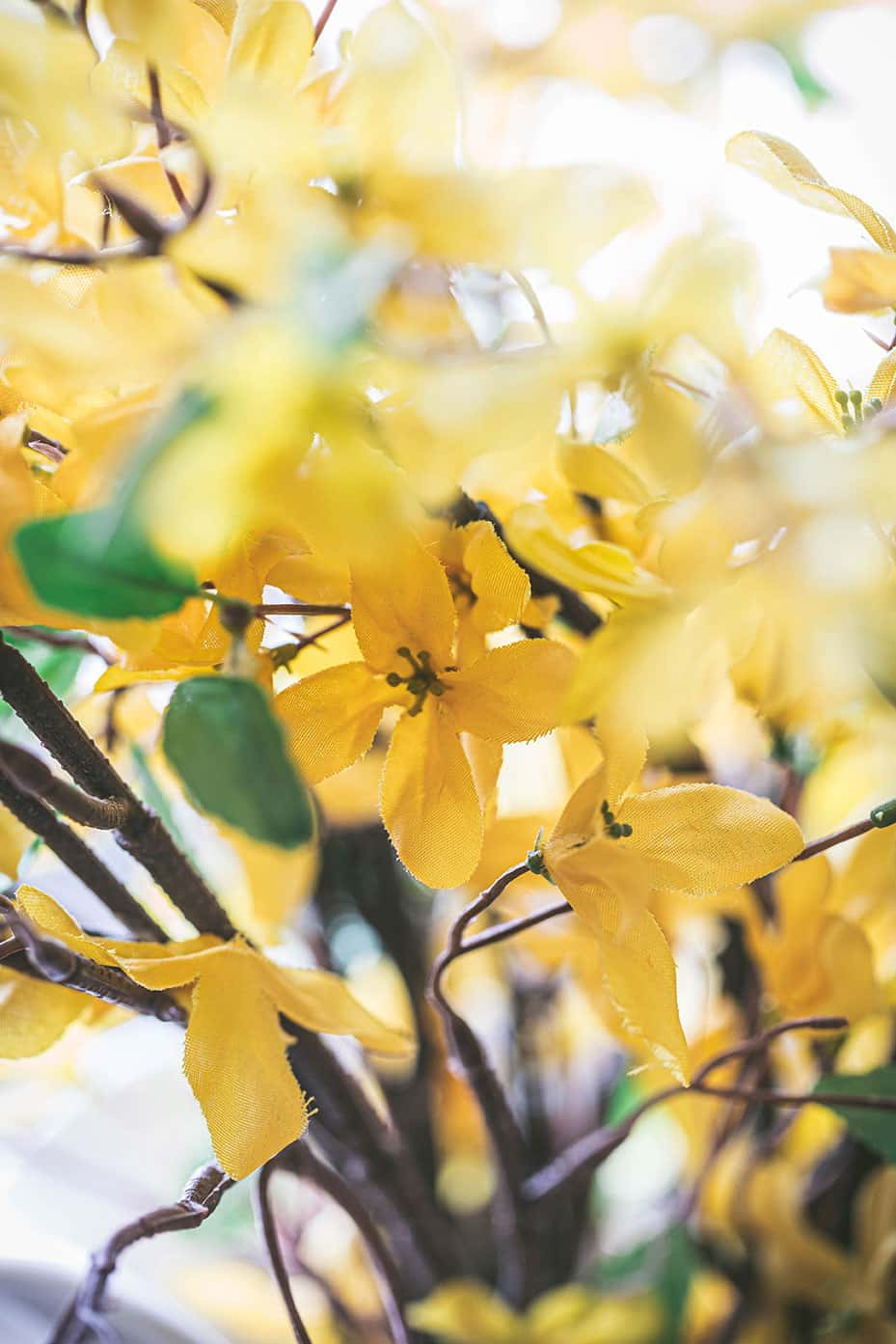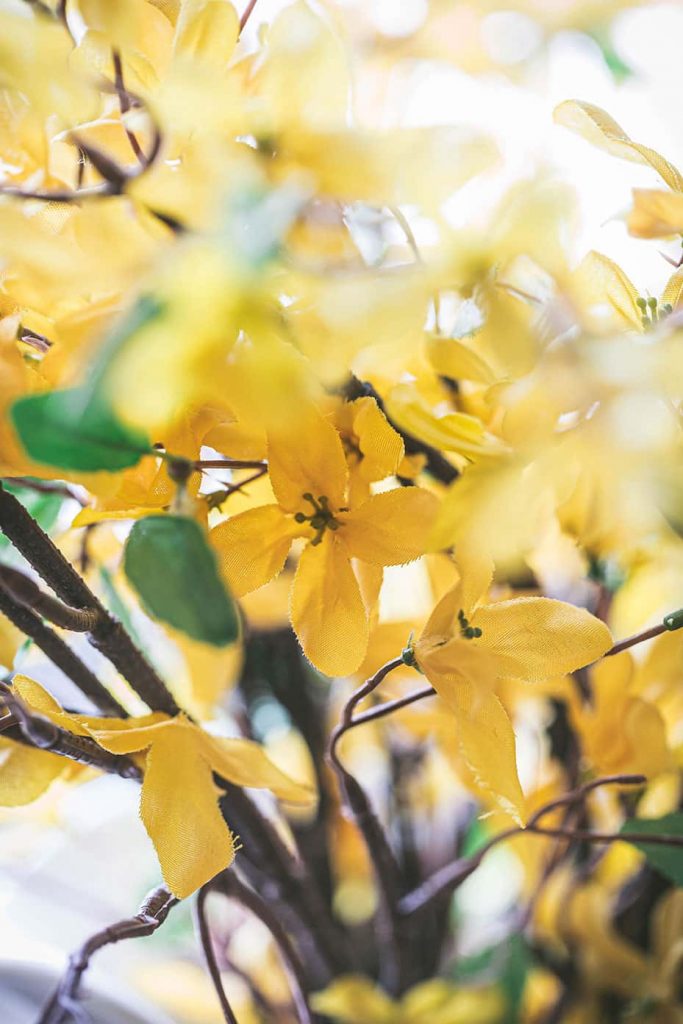 When I was a young girl, one of the first things that always marked impending Spring for me was the sight of forsythias along the edge of my grandmother's front yard.
She had a whole, glorious bank of them.
Even to this day, I can't look at forsythias without thinking about my dearly-departed grandmother.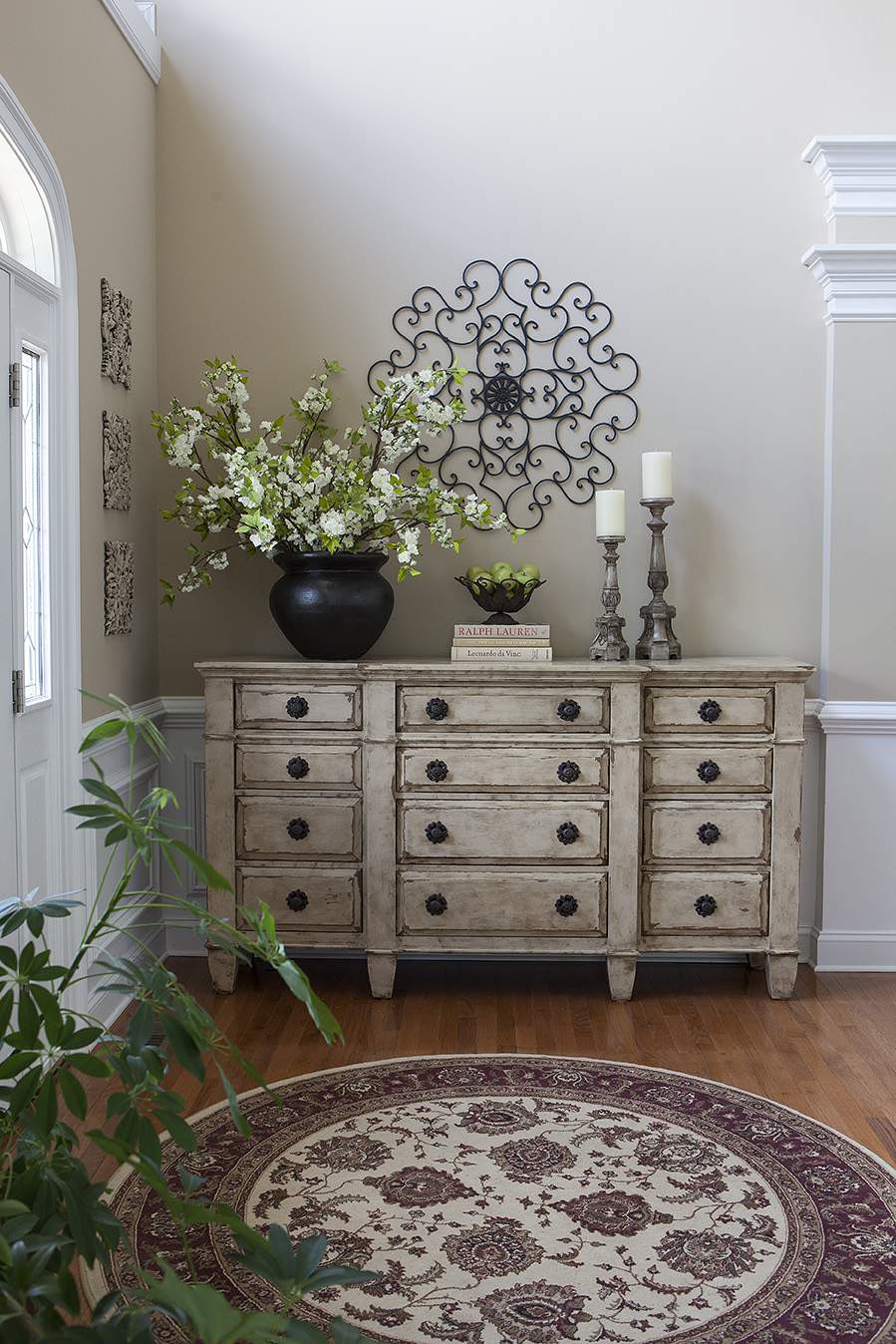 These cherry blossom branches in the photo below are among my favorite faux flowers and go a long way toward eating up the space on this oversize wall.
Oh, while on this photo, allow me to get off topic for a second and direct your attention to the distressed cabinet.
This was my first ever major furniture makeover paint project and I think you'll love seeing the amazing transformation.
Check out the super-duper makeover in my previous post HERE.
Here's an example of how I used the same type of branches in a different room.
I think something as simple as a lighter vase actually changes the entire vibe of the branches.
The blooms and super long branches really help uplift the room and are a real focal point in the space.
This particular room underwent a drastic makeover and you can see how it all came together HERE.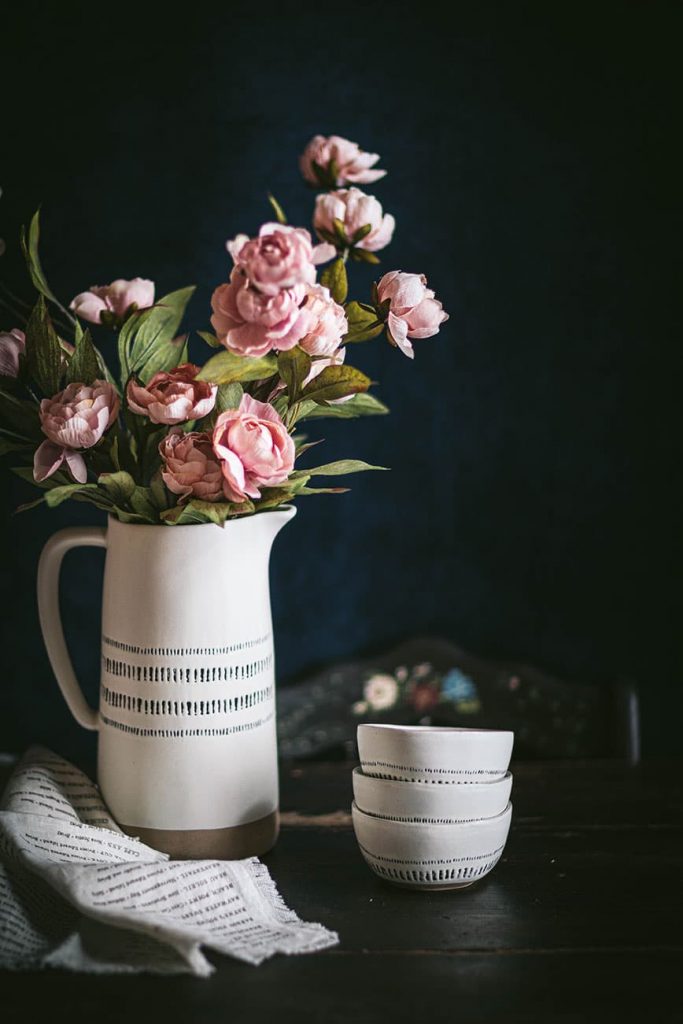 Of course, I also use faux flowers in my photography and food styling efforts too.
Florals often help me establish the mood surrounding the food and also plays a huge roll in the overall shot in so many ways.
Sometimes, just the tip of a lovely bud or small handful (or pitcher) of faux florals add just the touch of color a photo needs.
I have a nice stash of faux florals that I keep in a box and use exclusively for photography props.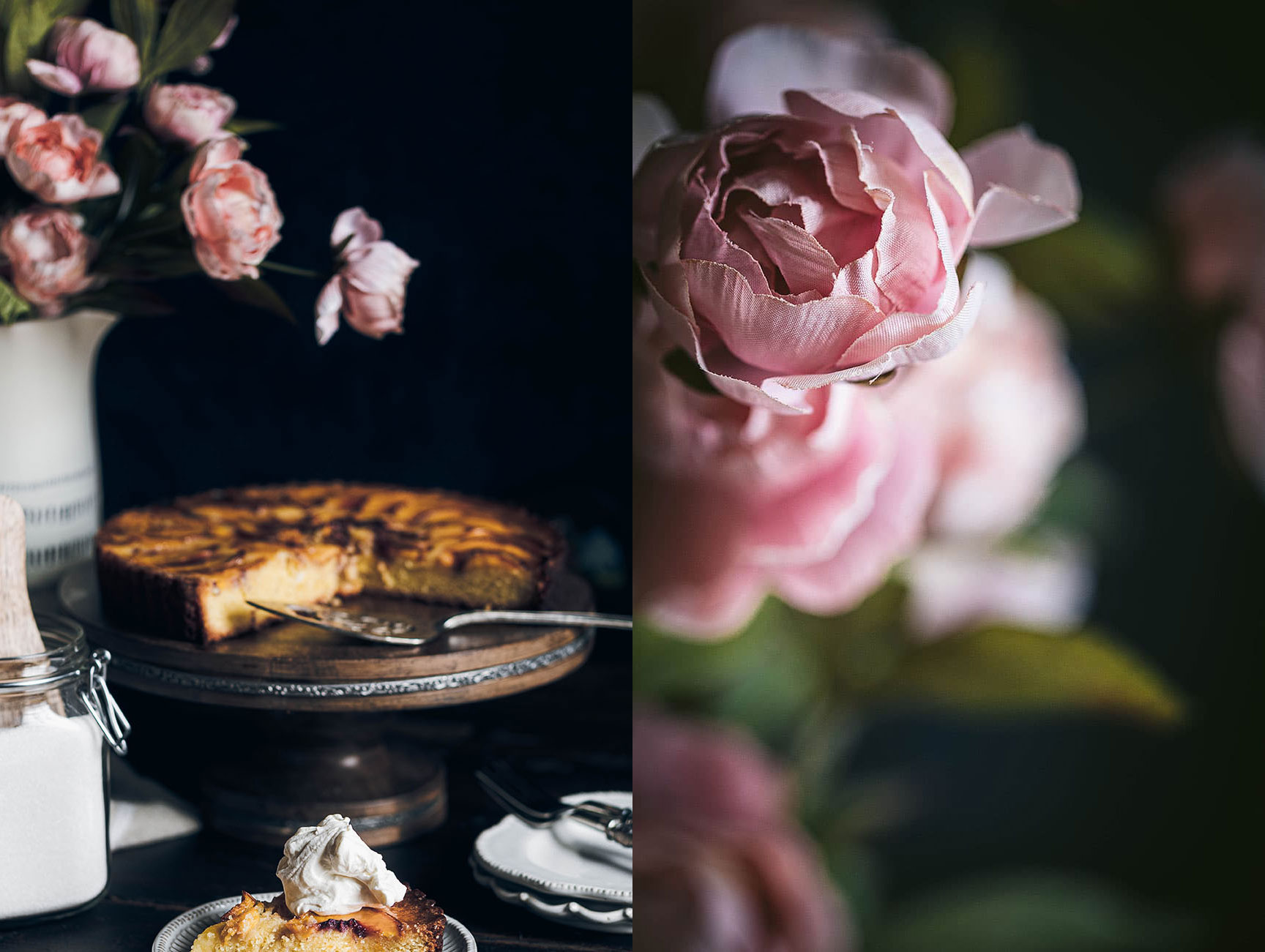 While, faux flowers definitely help me get through the winter doldrums, they do make me long for Spring and Summer that much more.
Being around artificial varieties throughout the cold season also makes me want to grow my real ones.
This year, I'm going to try (again) to grow some pretty peonies.
I've actually tried to grow them every year for many years, to no avail.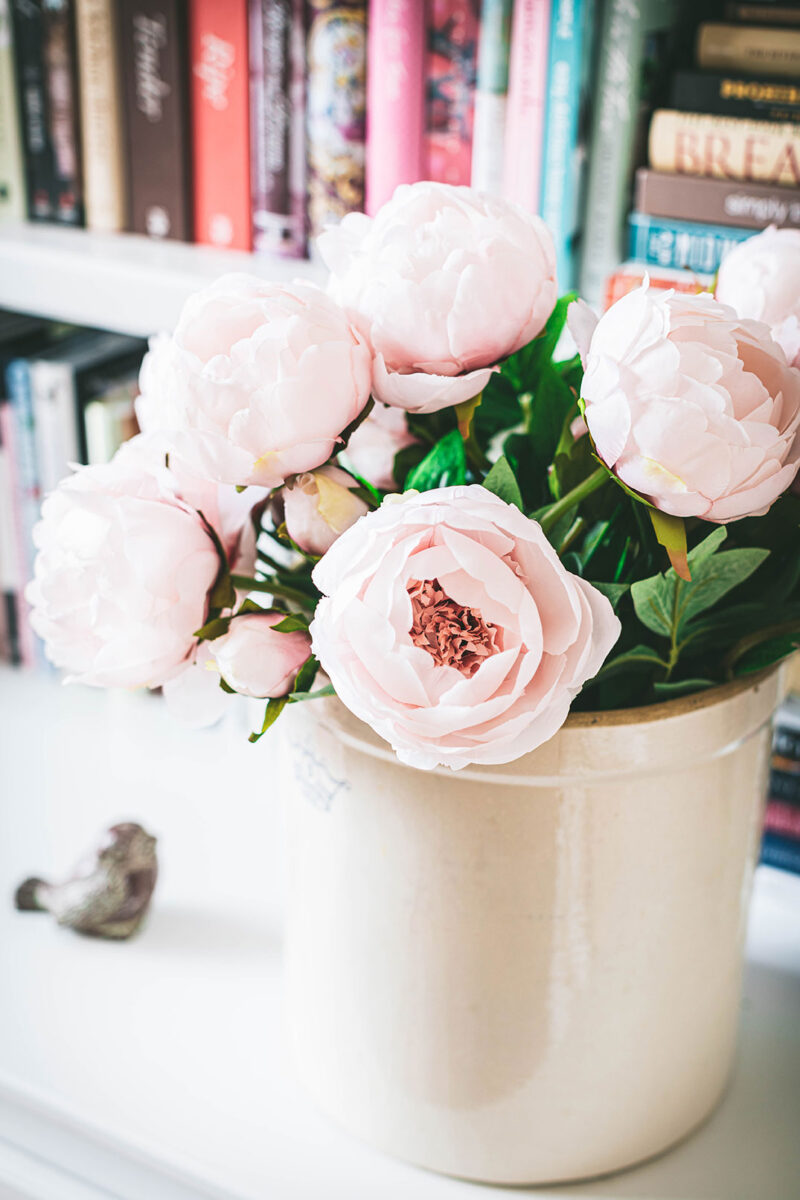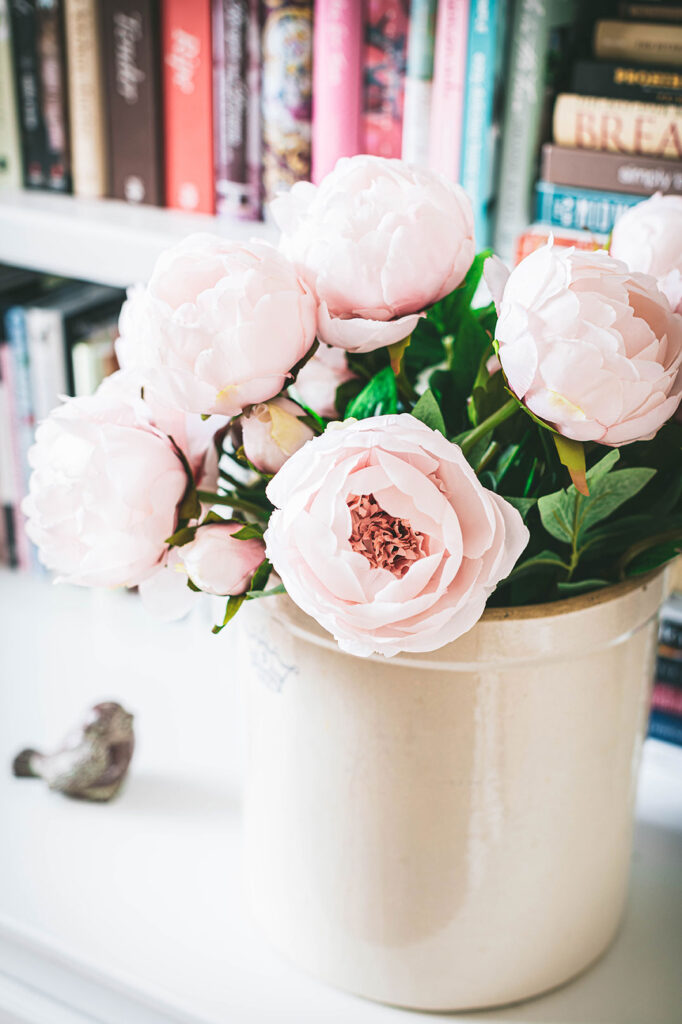 Oh, if I could only grow real peonies just like the faux ones in these few photos.
If anyone reading this has any tips for successfully growing peonies… I'm all ears.
I've always tried to grow them from bulbs but this year, I'm going to try a few potted plants and keep my green thumb crossed for a beautiful bounty.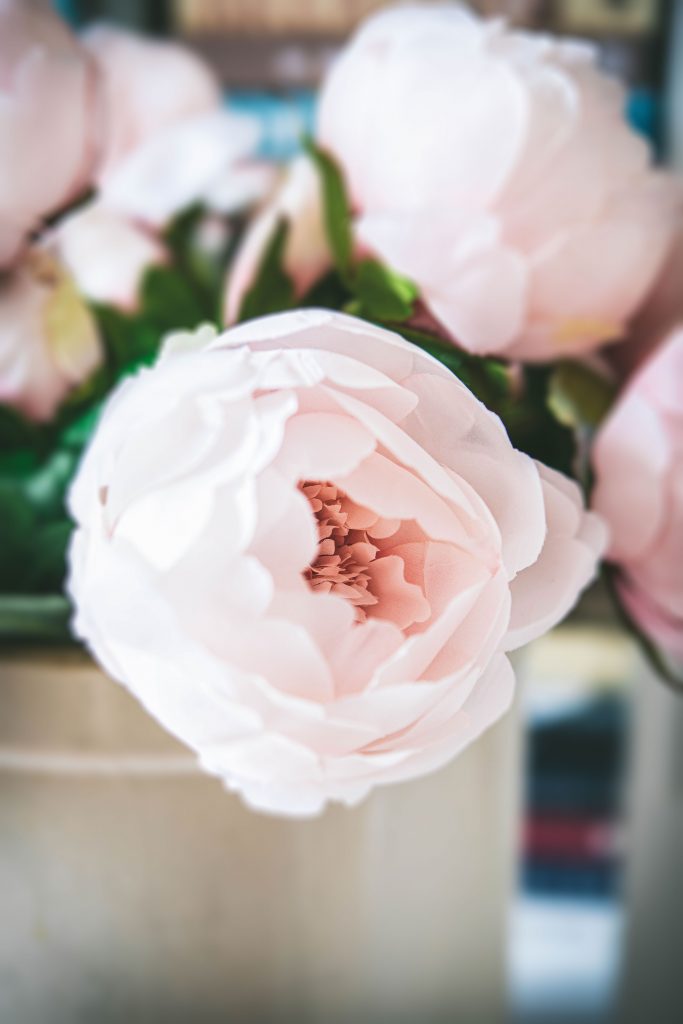 I'll keep you posted on my homegrown peony progress.
In the meantime, I'll have to wait a little longer and sniff my artificial varieties.
I'm counting down the days until real buds bloom big.
Happy (almost) Spring to you.
Thanks so much for stopping by.
Here's to warmer days and fabulous pink blooms all around.
See you back here next time.♥