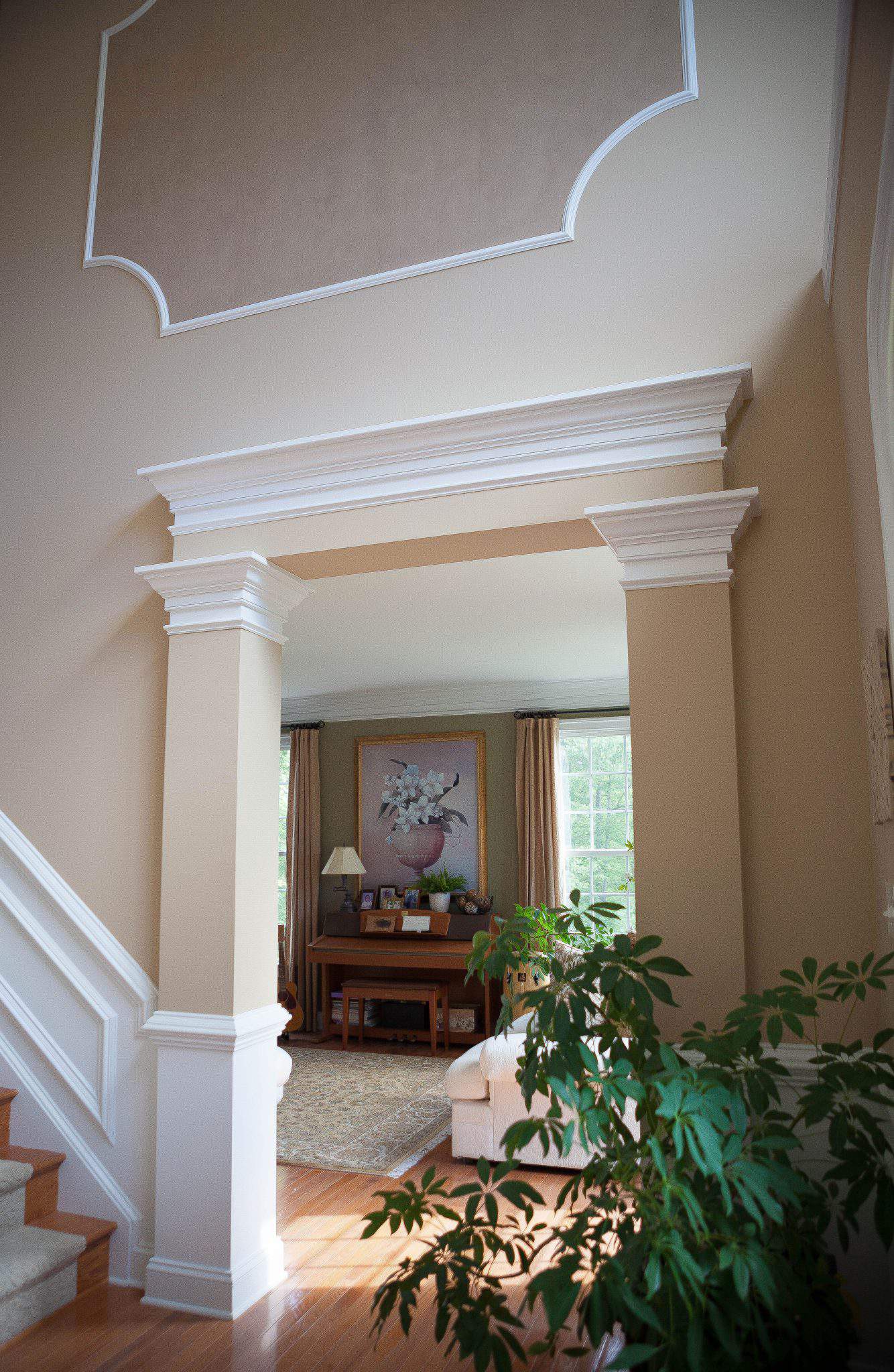 Do you have a favorite room in your home?
I do-and it's one of the first things visible when anyone walks through my front door and looks to the right.
This space could also be considered a "formal living room" but we've never used it that way.
Instead, it's a casual, comfortable combination music room and small library.
Throughout this post, I'll share why this is my favorite room.
Ahem, yes… I've got a little bit of everything crowded onto this sofa chest-but it works for me.
I've got a thing for small bird cages and I enjoy incorporating books into home decor too.
The mirror was a flea market find that I re-finished and you can see that transformation from a previous post HERE.
The floral stems, stone love birds and vintage garden girl all give this vignette a whimsical, nature-inspired sensibility that just puts a smile on my face whenever I see it.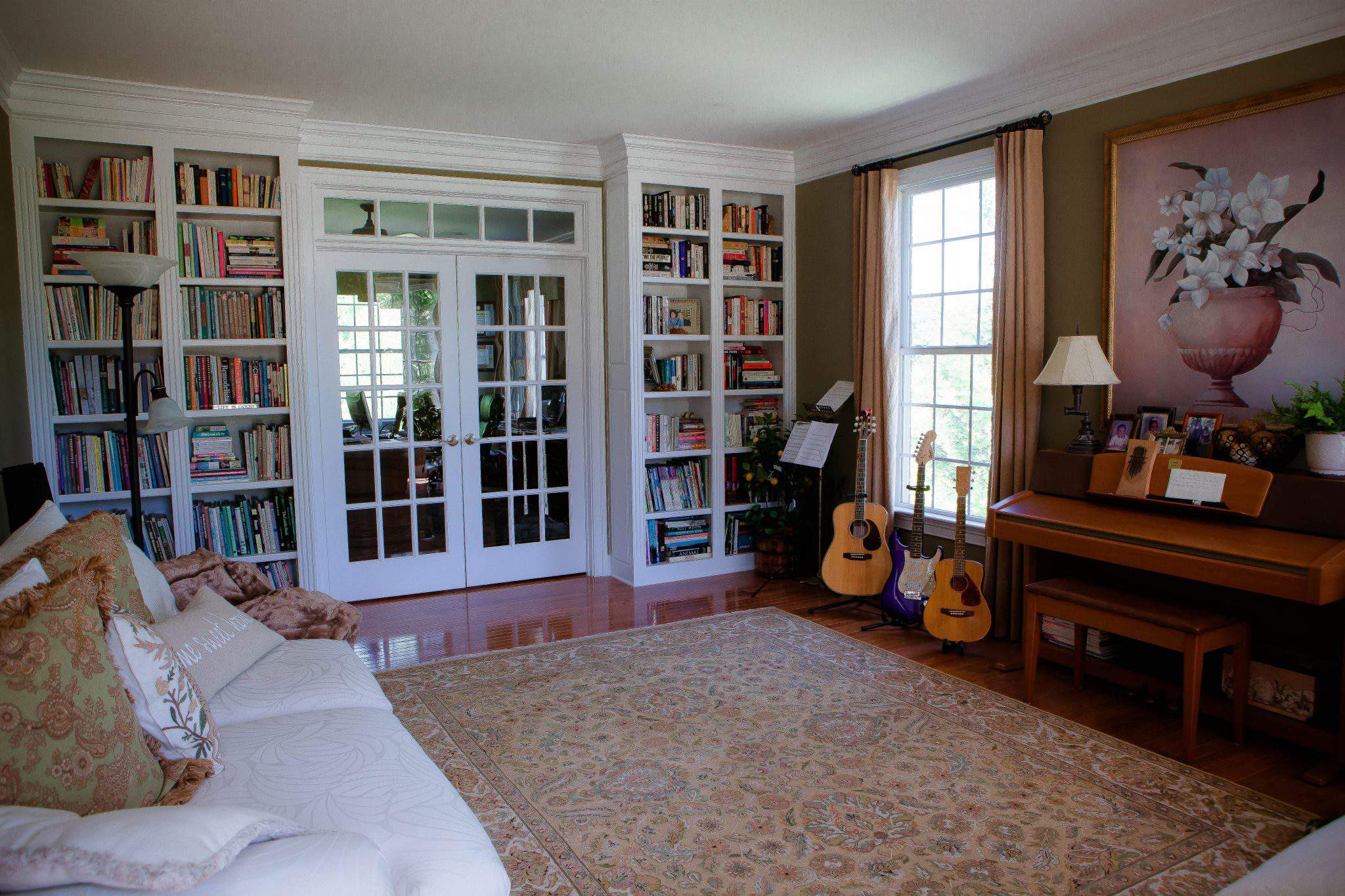 Let me tell you, this room underwent quite a makeover.
When I look back at what this room used to look like, I can hardly believe it's the same space.
At the heart of this room transformation were two key elements… paint and built-in bookcases.
Those two things made all the difference in the world.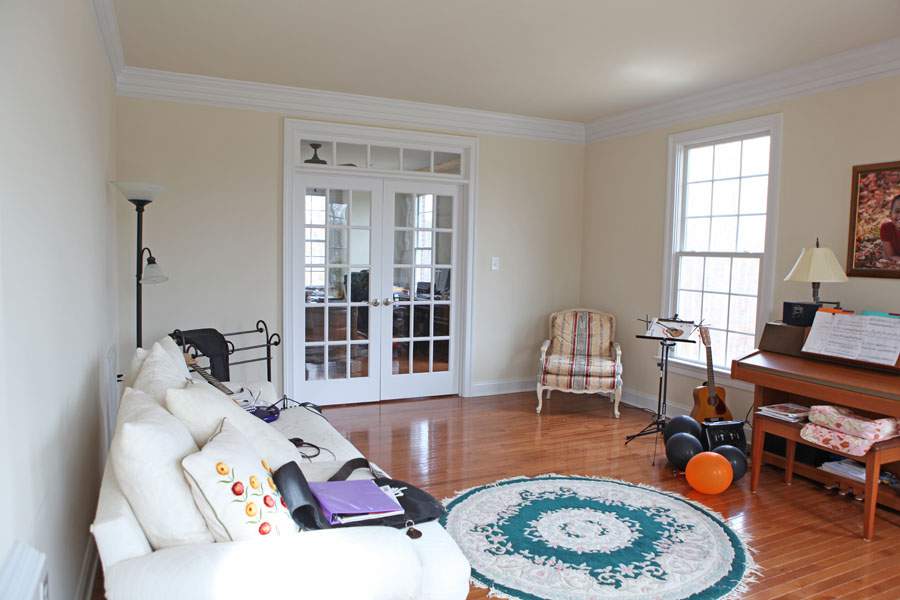 Let me take you back several years.
This is what the room looked like right after we first moved into the house.
Initially, we didn't really assign a purpose to the room and despite it's prominent location near the foyer, it ended up getting neglected and serving as a bit of a catch-all for all things bare and mis-matched.
Needless to say, this room needed a little love and attention.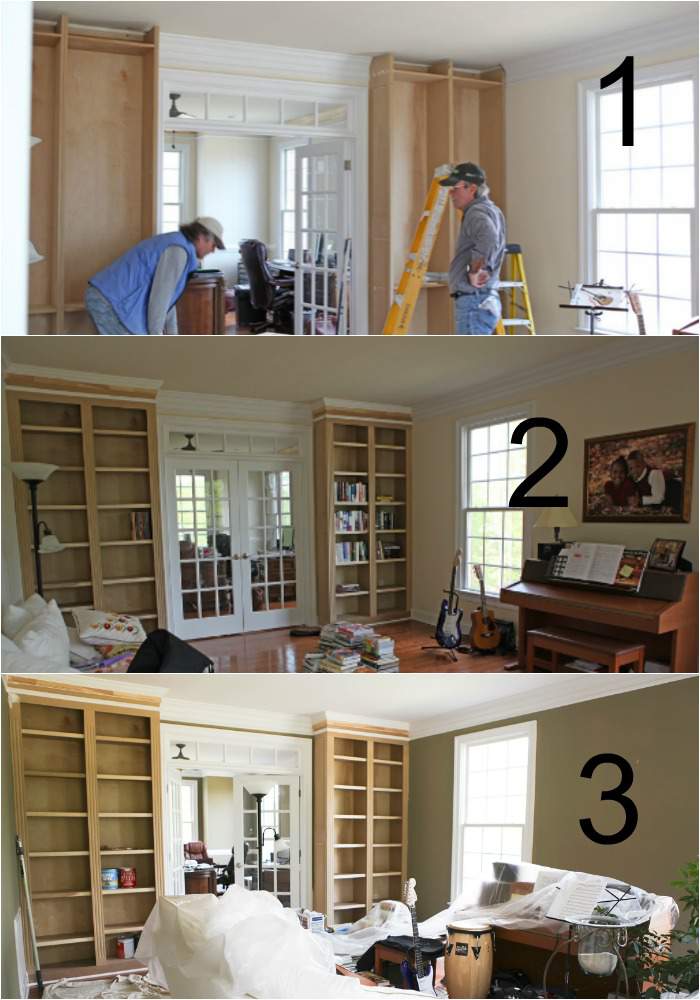 You can see from these three photos how the makeover came together.
I decided to make good use of the empty wall space on either side of the French doors. It was fun to watch the new bookcases take shape.
The built-ins really started to come alive after shelves were installed and the crown molding was added so that it tied-in seamlessly with the existing ceiling molding.
Fresh paint on the walls made the room transformation even more dramatic.  Book cases and shelves were painted glossy white after the room was painted.
The wall color looks like a muted, understated olive green even though it's called Hancock Gray (Benjamin Moore HC-97).
Big difference, huh?
It's like these bookcases were always there and if I didn't have that "before" photo, I don't think I would even remember what the room used to look like.
Look around your own home and I'll bet you'll spot a few blank wall spaces that could use a good built-in.
My husband, Boris' home office is on the other side of the French doors and this is the view he gets when he sits at his desk.
The office is painted the same Hancock Gray with white trim and I added the same khaki-colored, linen window panels so that both rooms flow easily from one to the other.
The white sofa and love seat used to be Boris' bachelor furniture… more than 20 years ago-and it's held up really well.
As his girlfriend at the time, I was able to successfully influence his furniture choices and sway him into my way of thinking (I'm sure Boris would not have gravitated toward all-white furniture… without some romantic prodding).
Over the years, the addition of colorful and varied throw pillows has helped keep the white sofas modern and fresh.
Speaking of throw pillows, I love incorporating them into home decor.
When I couldn't find the precise throw pillows I wanted, what do you think I did?
Oh, you know me so well.
Of course, I made them myself from zebra-striped fabric and a paisley print fabric I found on sale on a clearance table.
You can see how I made my "cheap" paisley, fringed pillows with an embroidered twist from my previous post HERE.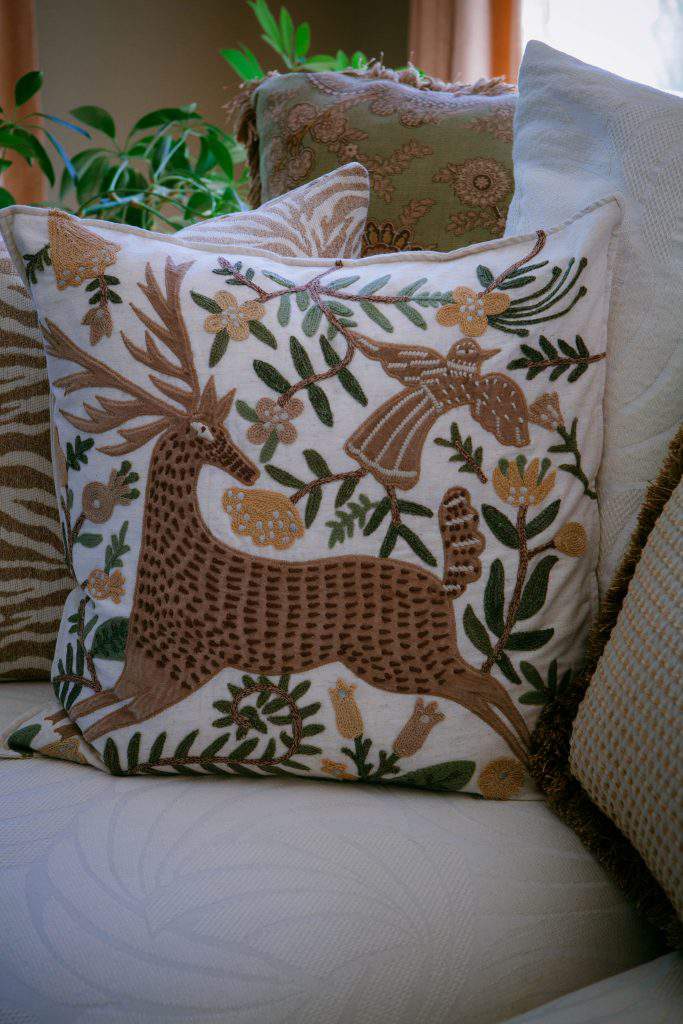 I picked up a set of these velvet applique pillows after spotting the same gorgeous pillow on my friend Shirley's blog over at Housepitality Designs.
With its perfect blend of all my favorite colors, I had to have them.
Even though I picked up the two pillow inserts around the Christmas holidays, I think this deer and dove pattern is quite timeless so, I'll be keeping them on these sofas year-round.
Plus, they match the room colors perfectly.
Here's a view from the music room looking out into the foyer.
I tried to use the same color palate so that these two areas flowed from one to the other in the same way as the home office.
The foyer wall color is a rich, neutral color called Lenox Tan (Benjamin Moore, HC-44).
Natural light streaming in makes it look like the two columns are different shades but they're actually the same color on this side of the room.
Since you can see the distressed credenza in this shot, allow me a quick diversion from talk of my favorite room so I can tell you more about this piece of furniture.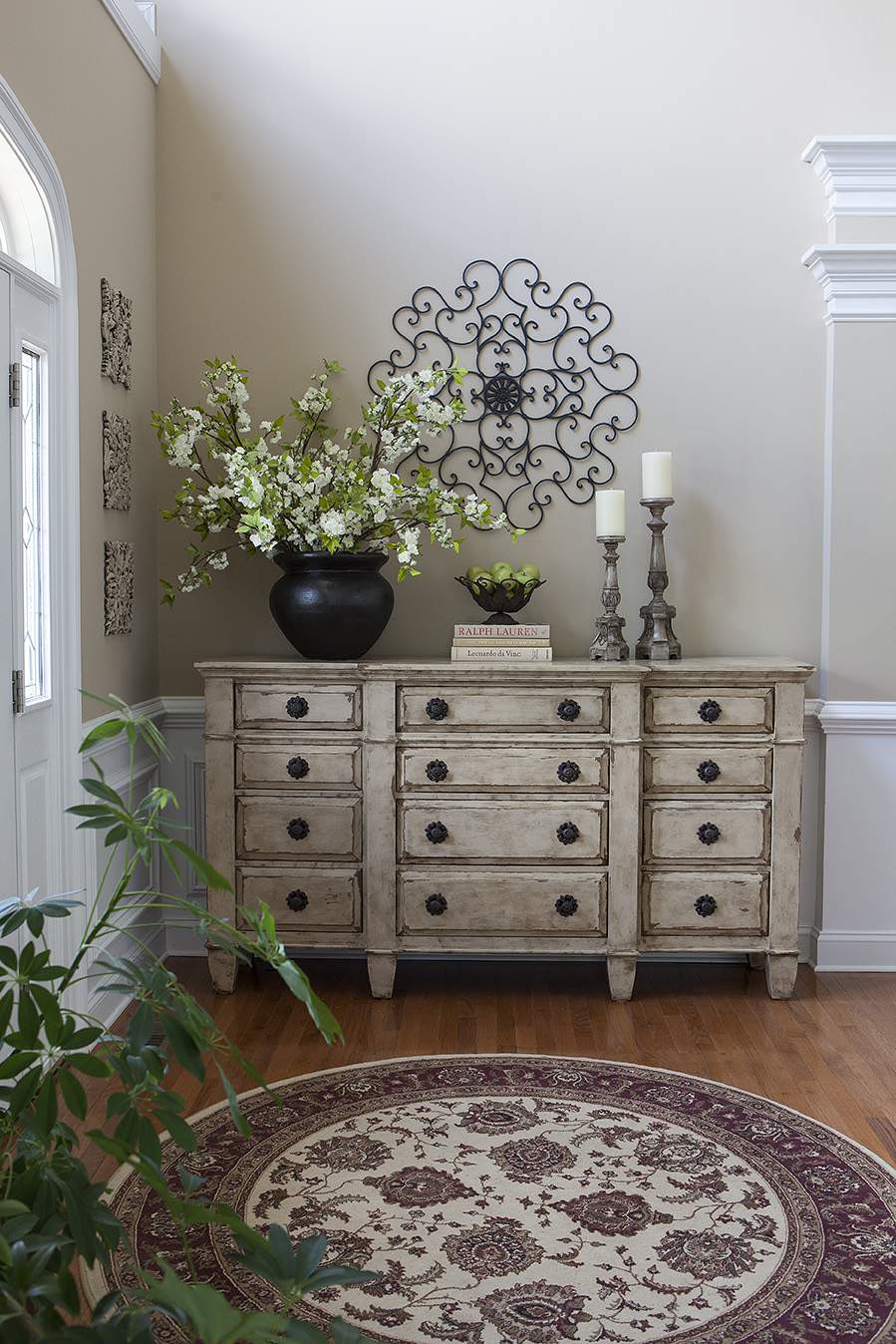 This was the first major furniture makeover I ever completed and it made me think I could paint just about anything.
I'm already looking for a new, similar (albeit, smaller), paint project to take on.
I found the cabinet at a thrift store for a bargain basement price and knew right away I wanted to change the existing dark burgundy wood color.
This color is the same Lenox Tan I used on the foyer walls but I topped the paint job with dark wax.
You can read more about this furniture makeover HERE.
 As pretty as this room is, it's a space that actually gets used.
The kids practice piano and guitar and sometimes, they study in here too when they want to get away from noise in the rest of the house.
I make use of the large area rug to spread-out magazine clippings when searching for inspiration.
Often, I just kick up my feet and relax in this space with a good book, magazine or sit in here when I'm chatting up a storm on the phone.
I think it's important that the function of a room be on par with its fabulousness…. and this space delivers both.
So, that's a look at my favorite room.
What's yours?
Thanks for stopping by.
See  you back here next time. ♥