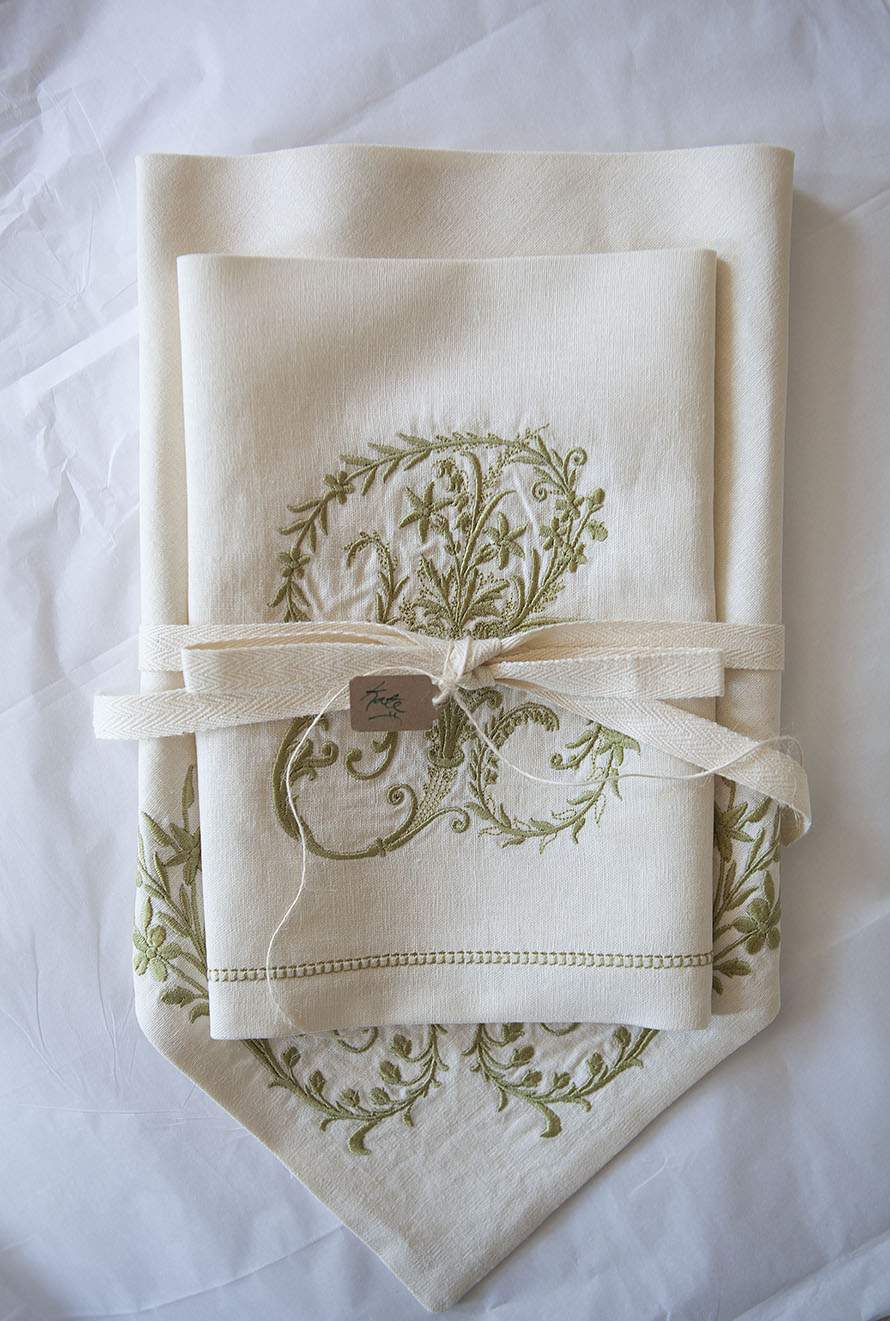 When I first bought my home embroidery machine more than a decade ago, I remember my husband suggesting I would never get much use out of it.
Boy, was he ever wrong.
After all this time, I'm still amazed at the beautiful stitches and projects that can be created.
In fact, you can see more of my embroidery projects HERE.
While I've embroidered dozens of items over the years, my latest embroidered wedding hankie set is among my favorite.
These pretty hankies also have something my other embroidery projects do not… a Martha Stewart magazine backstory.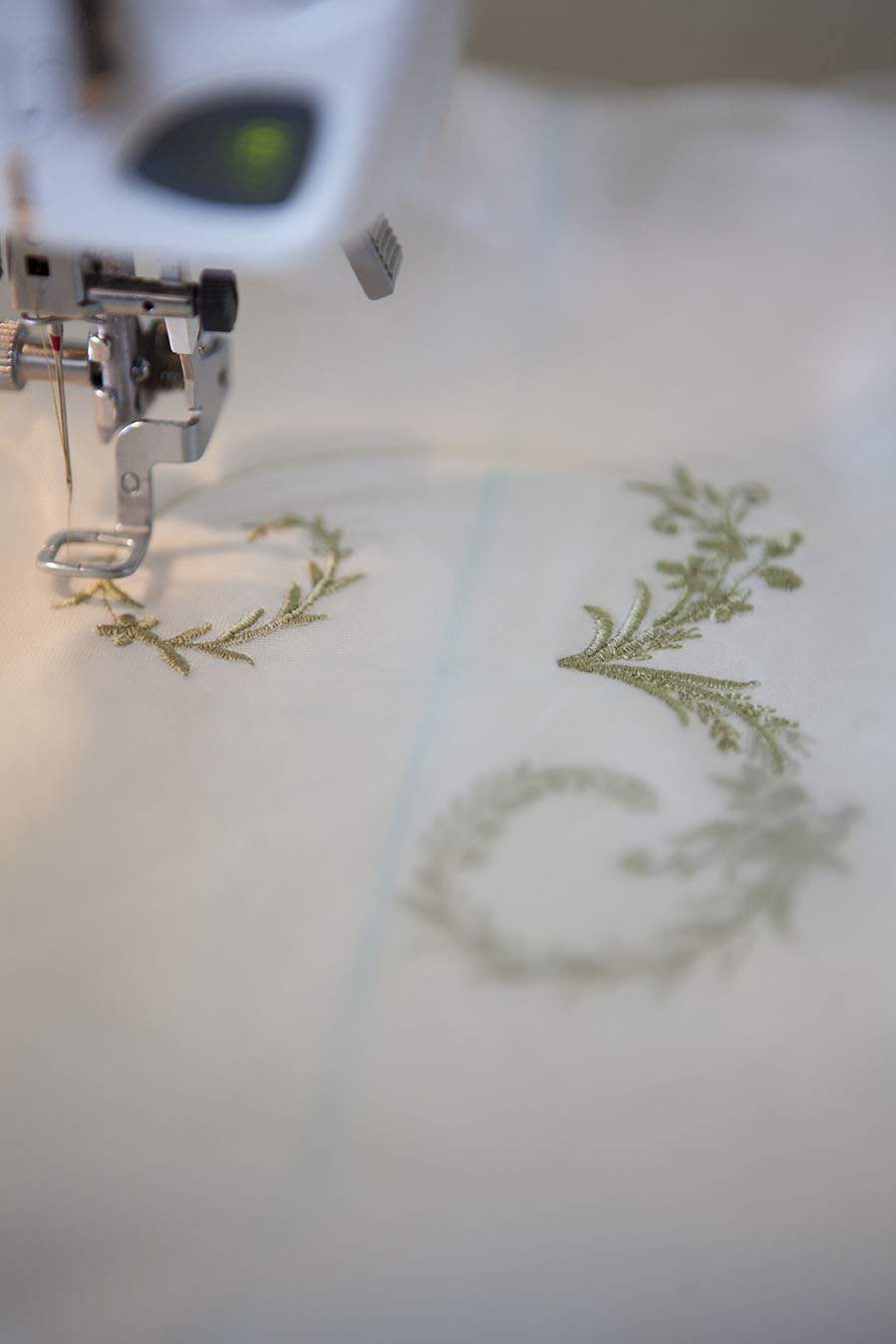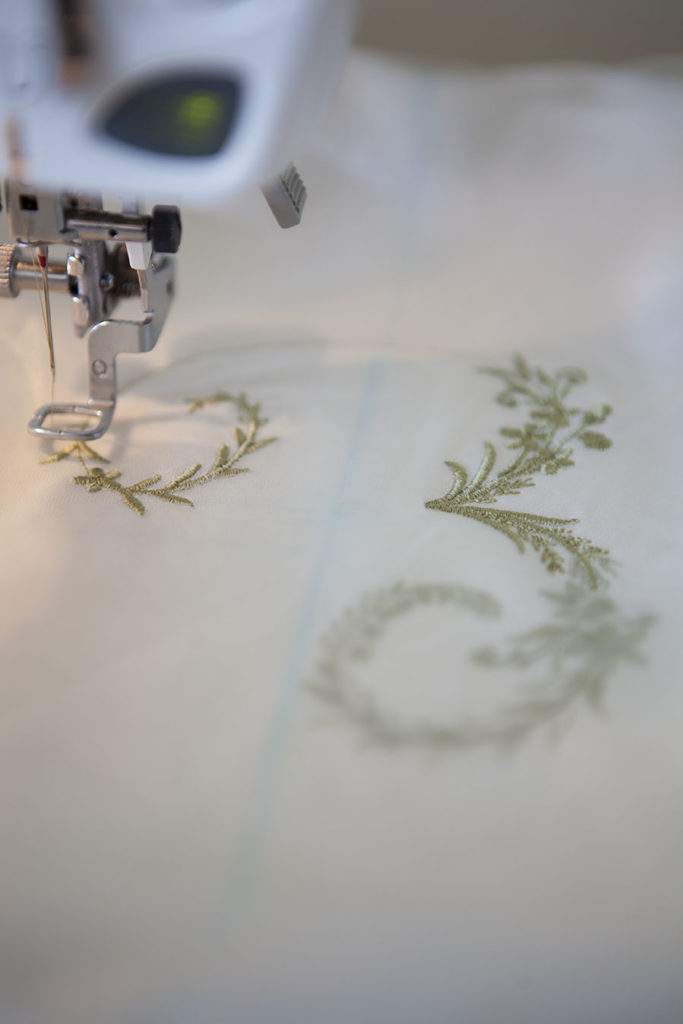 Last year, one of my readers contacted me to see if I would be willing to create an embroidered wedding hankie for her big day.
The bride-to-be used to be an assistant to Martha Stewart and she mentioned that she expected pictures from her wedding to appear in a wedding issue of Martha Stewart magazine.
I thought the hankie project would be fun but I was also excited about the possibility that my embroidery work might appear in the pages of Martha Stewart Weddings.
Very cool, right?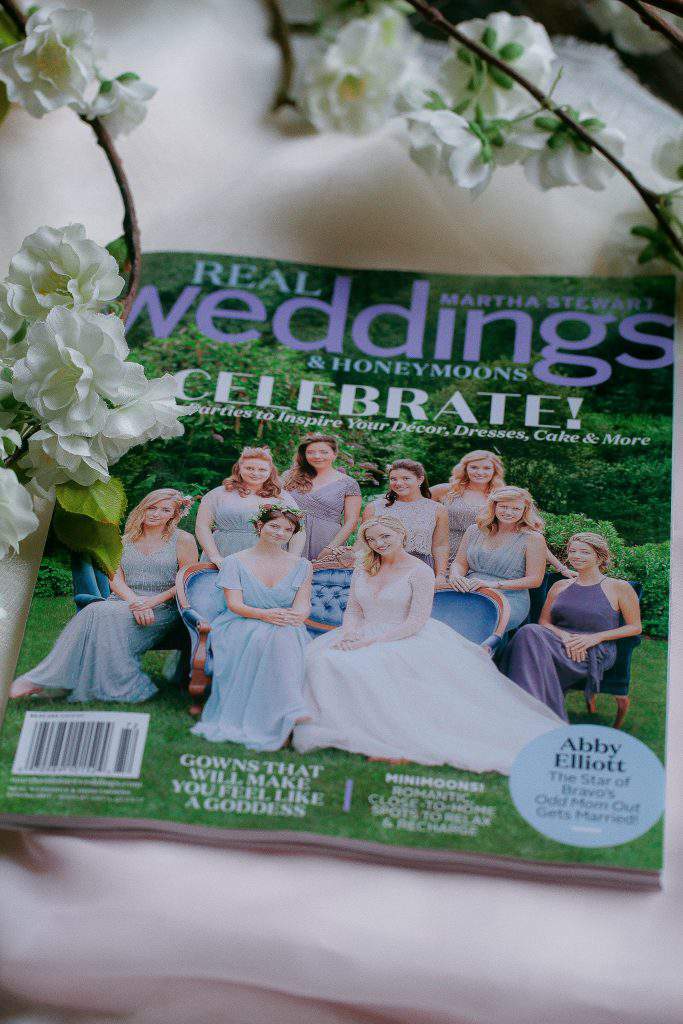 The special Martha Stewart Real Weddings issue finally hit newsstands last week.
I knew ahead of time what day it was going to be available and I darted over to Barnes and Noble to pick up a copy.
Look at all the pretty dress shades on the cover.
This is such a great look with the bridesmaids wearing different dress styles but all staying within the same color palette.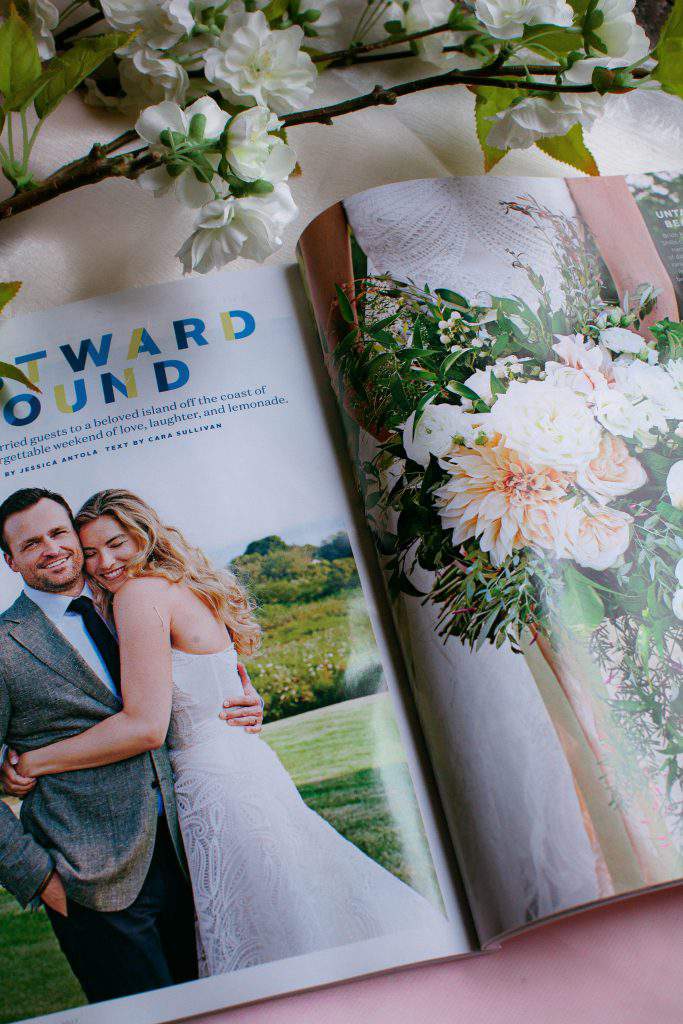 Anyway, I raced to the magazine pages that featured Kate and her new husband, Nick.
The pictures were lovely and really captured the beauty of their outdoor ceremony.
I turned to the last page in the spread and then I saw it…
Oh, before I finish this story, allow me to give you a closer look at the detail in the embroidered hankies.
I snapped these pictures before I shipped them off to Kate.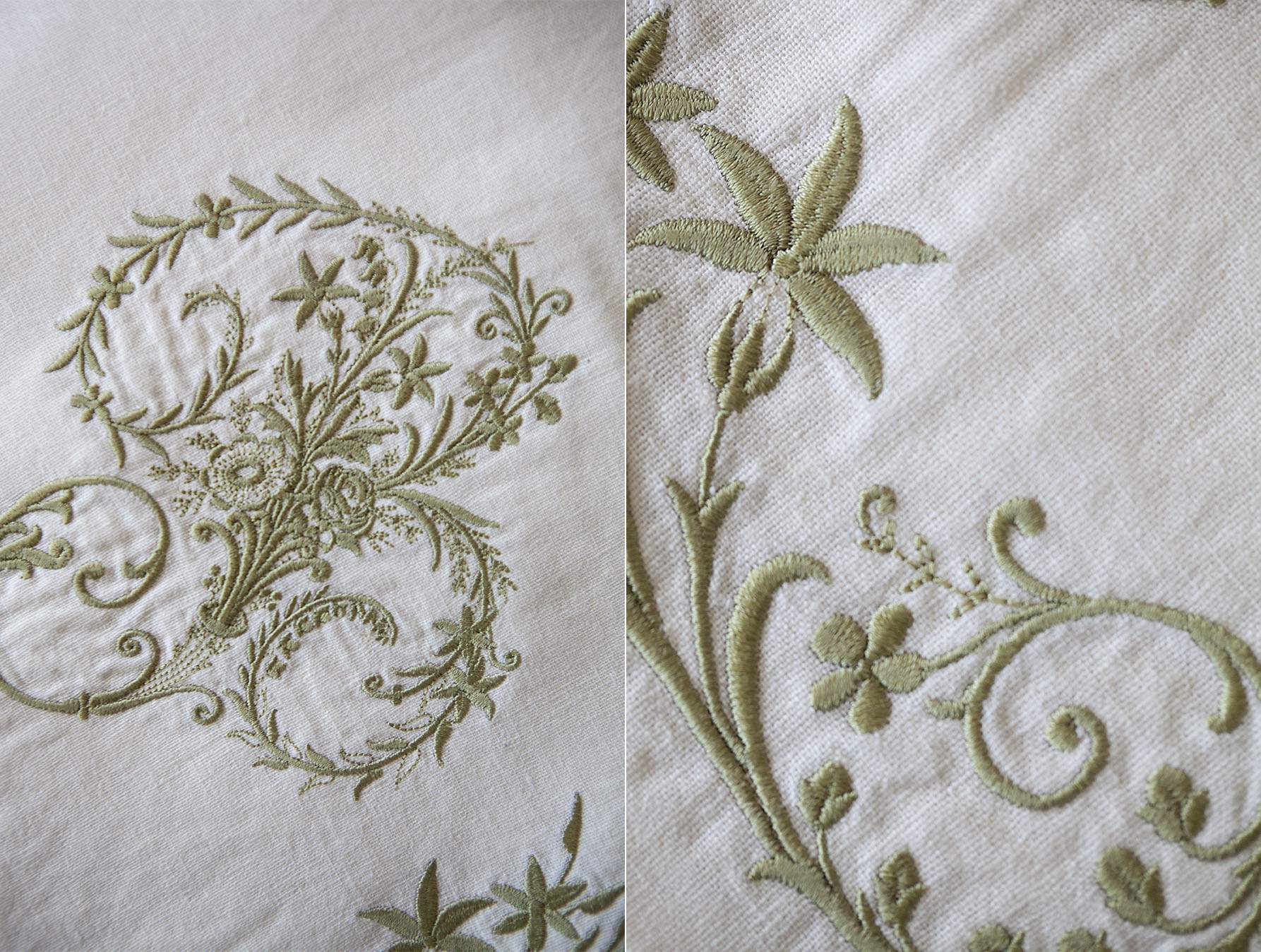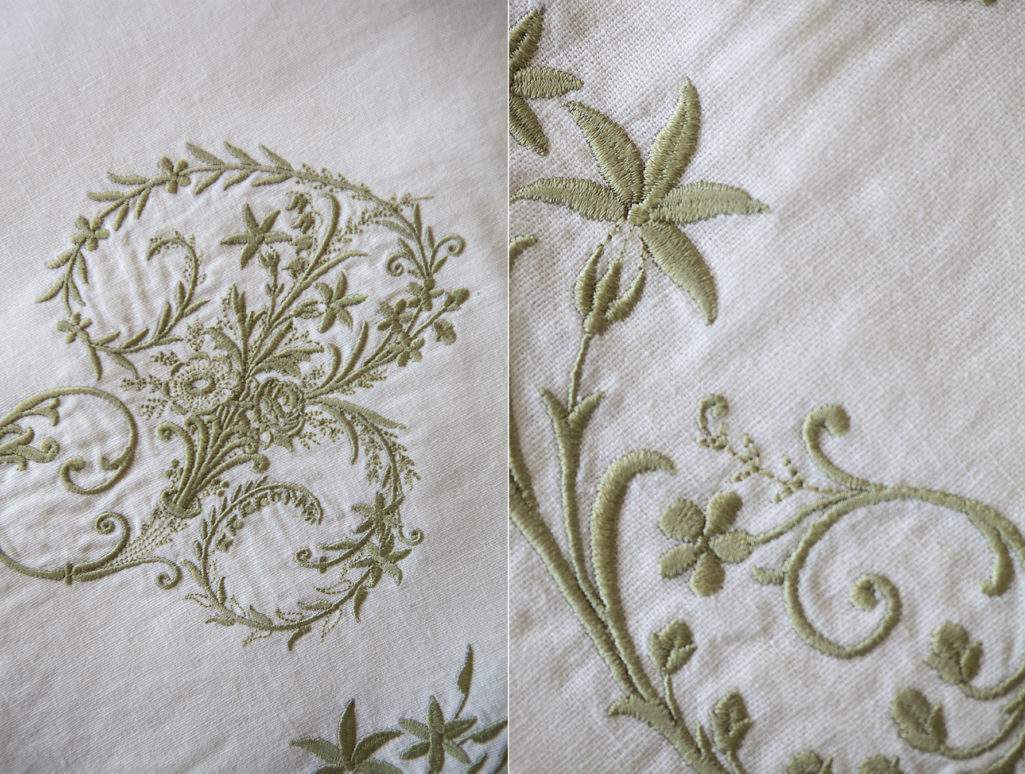 My bouquet wraps were stitched onto 100% linen, which is among my favorite fabrics to work with.
I added a full backing to each one so that when either is flipped over, the "unsightly" backside stitching would not be visible.
That always makes for a much cleaner and elegant finish and allows the detailed embroidery shine even more.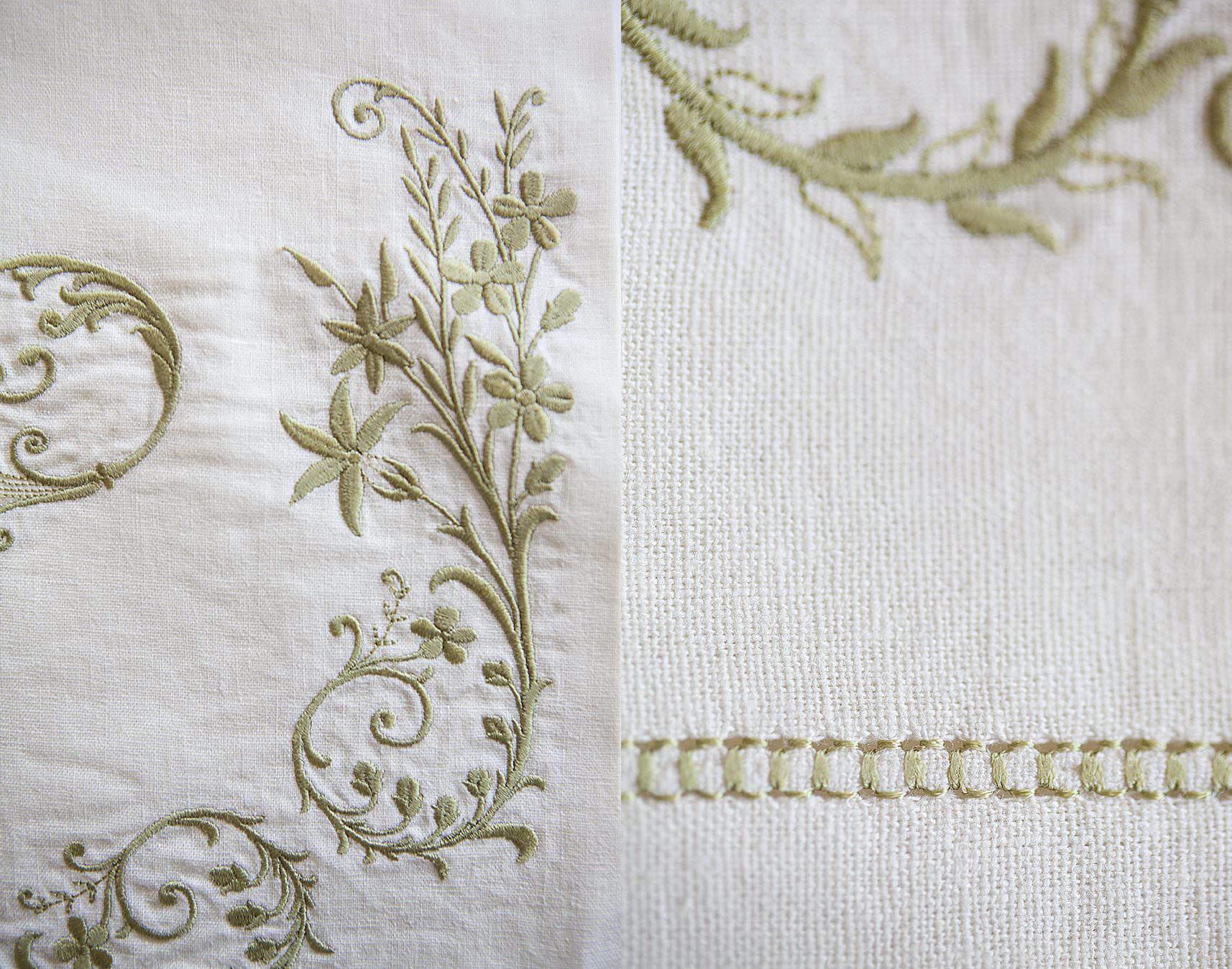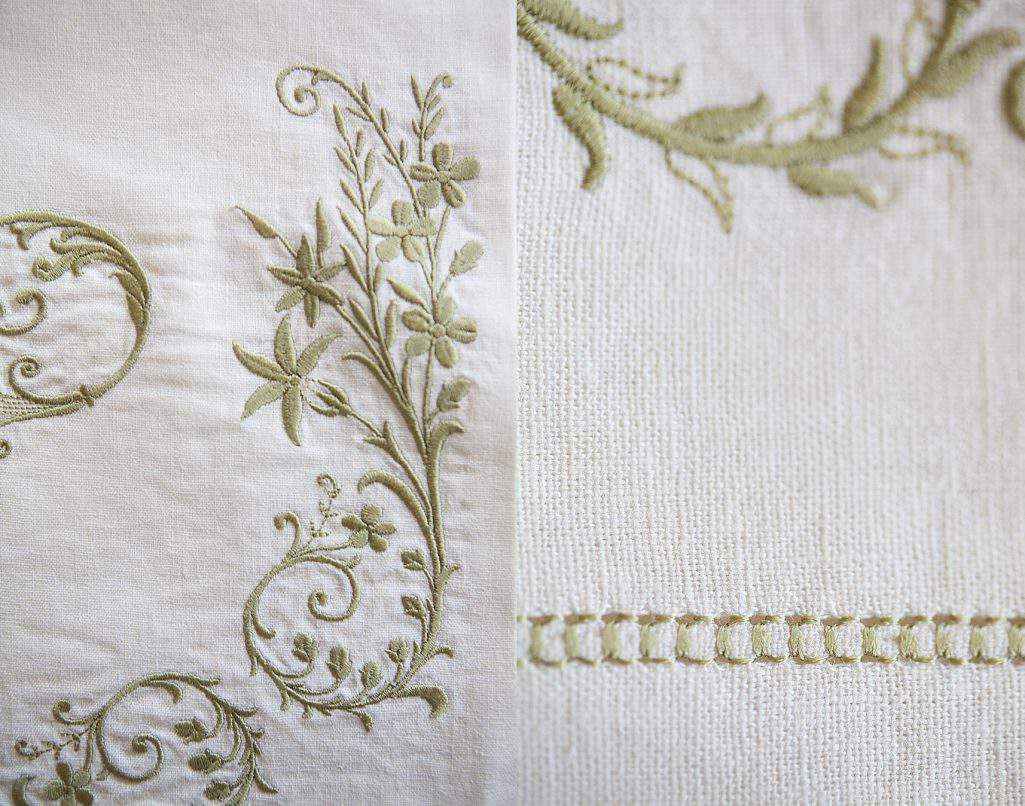 For added effect on the smaller hankie, I also included a box stitch border just under the main embroidery.
This delicate, heirloom stitch is actually quite easy to create using a wing needle.
I wrote a post on heirloom stitching and I think you'll be surprised at how simple it is to create (even if you're a novice in front of the sewing machine).
You can read that previous post HERE.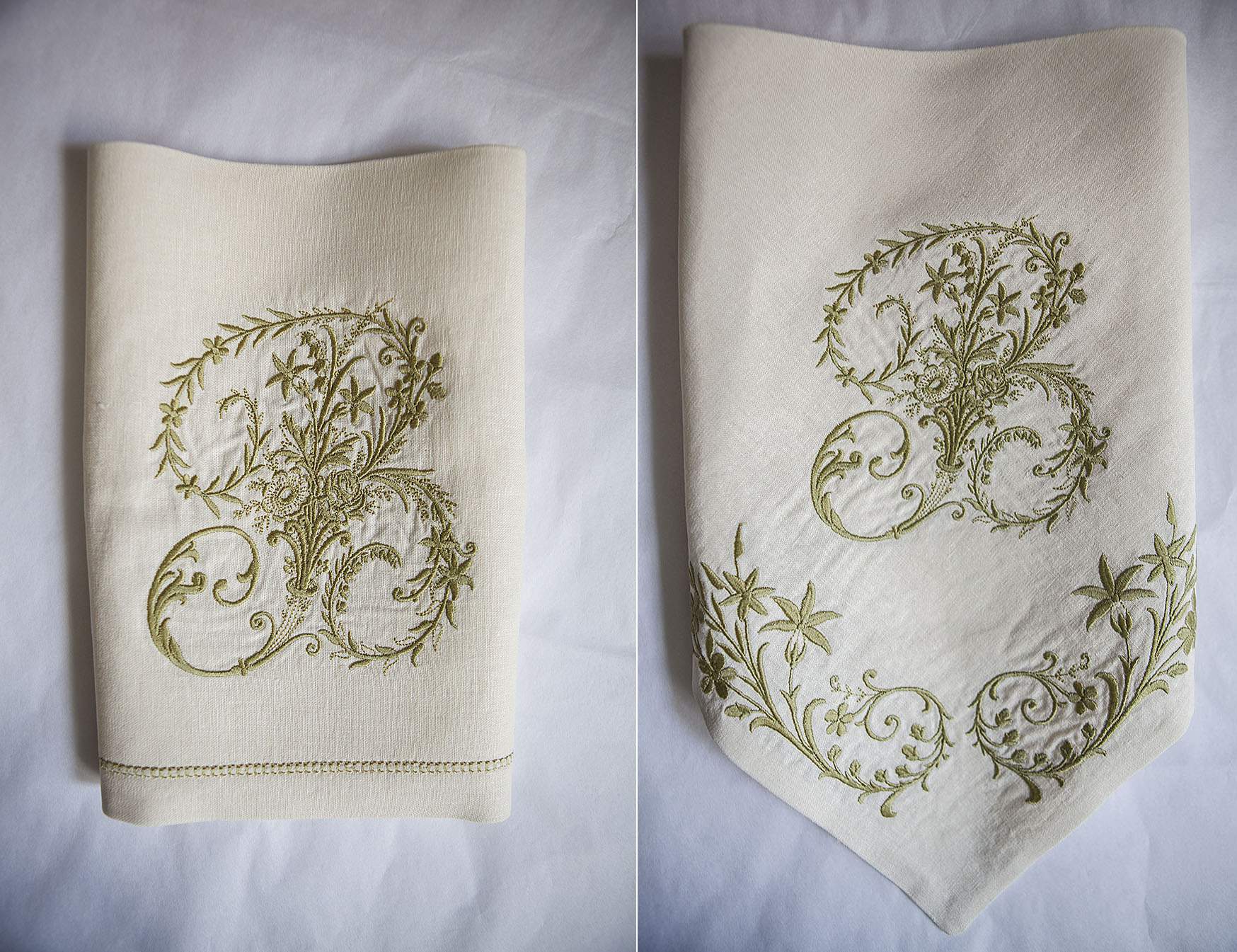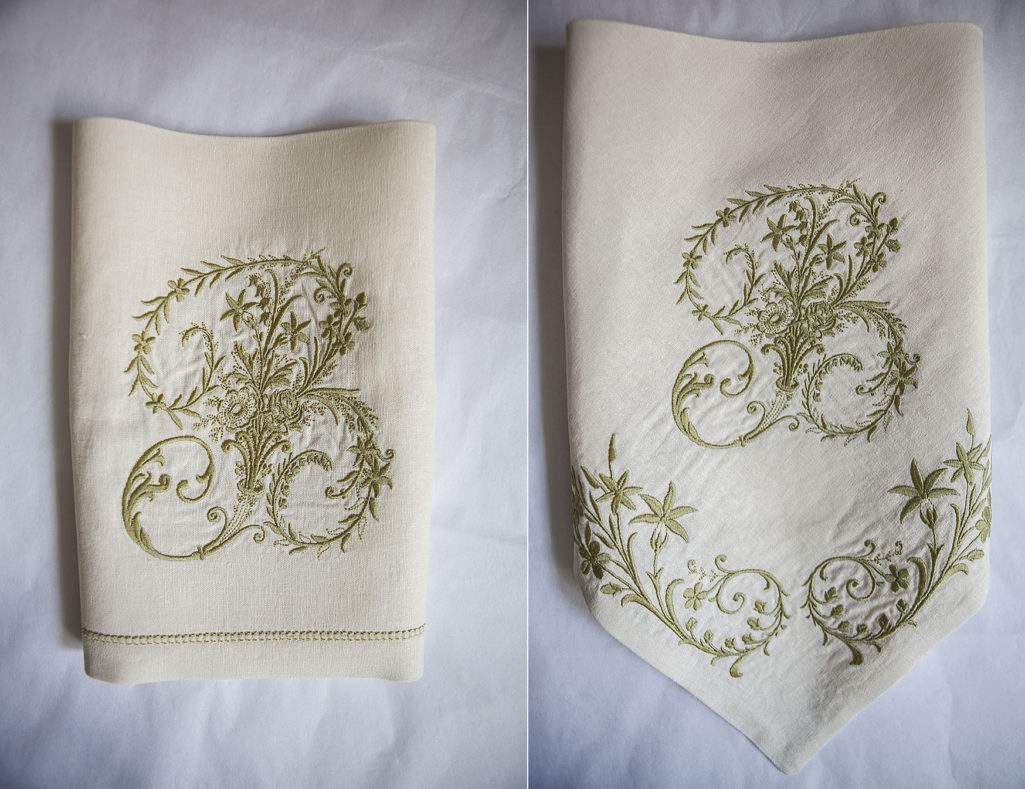 Here's a look at both finished hankies.
I wasn't sure about the grip of the bouquet stems so, that's why I ended up making two hankies so, Kate could choose which one worked best.
Heavy spray starch helped to ensure the hankies were nice and crisp before I tied them together with ivory, twill ribbon and a small name tag.
I also wrapped the hankies in white tissue paper to add to the elegant presentation.
My goal was to create and package-up everything so it looked as if it had come from an upscale boutique.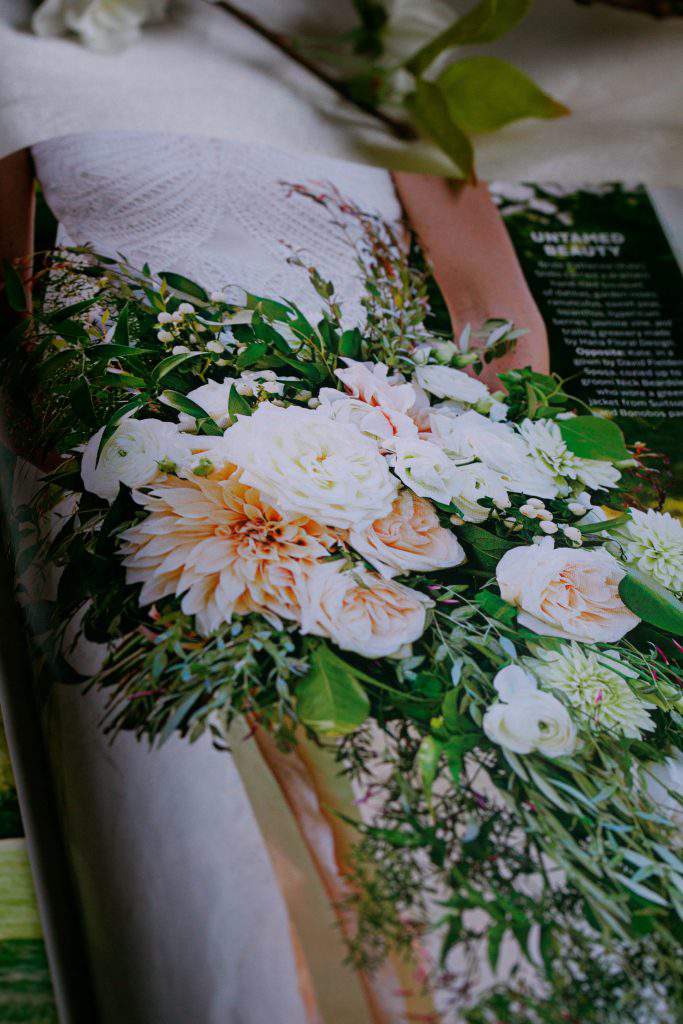 OK, getting back to Martha Stewart magazine.
I had already grabbed a seat in Barnes and Noble bookstore so that I could comfortably savor the big reveal.
I spotted the full page featuring the wedding bouquet which was wildly-styled but still stunning with its variety of flowers.
Oh, I thought to myself… "one of my embroidered hankies is wrapped around that bouquet".  I couldn't wait to see it.
Then… I saw it. No not my hankies… but the last page in the spread with no embroidered hankies in sight.
Oh, no. Did I miss the picture?
I thumbed through the article again, scrutinizing every photo to be sure I eyed everything on the page.
Nope. No hankies. Gorgeous wedding photos… but no embroidered hankies.
Somehow they ended up on the cutting room floor. Oh, well. It happens.
I'm certainly not taking it personally because I totally understand the editing process.
It's all good.
Meanwhile, all the best to the newlyweds, Kate and Nick.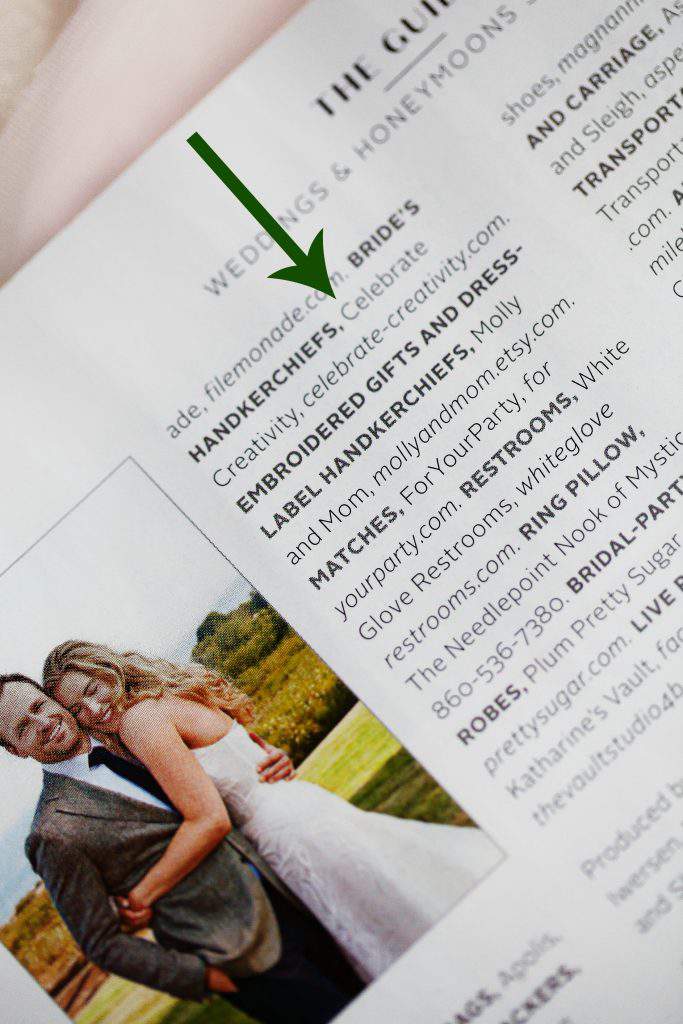 Hey, I did get a shout-out in The Guide section in the back of this wedding issue as the source of the hankies (that's very cool).
So, even though Martha Stewart wedding magazine readers may not get a glimpse of my embroidered handiwork, I'm still happy that I can share it with you here.
It was a fun prospect while it lasted but as the French say, "C'est la vie".
Maybe next time, Martha.
Maybe next time.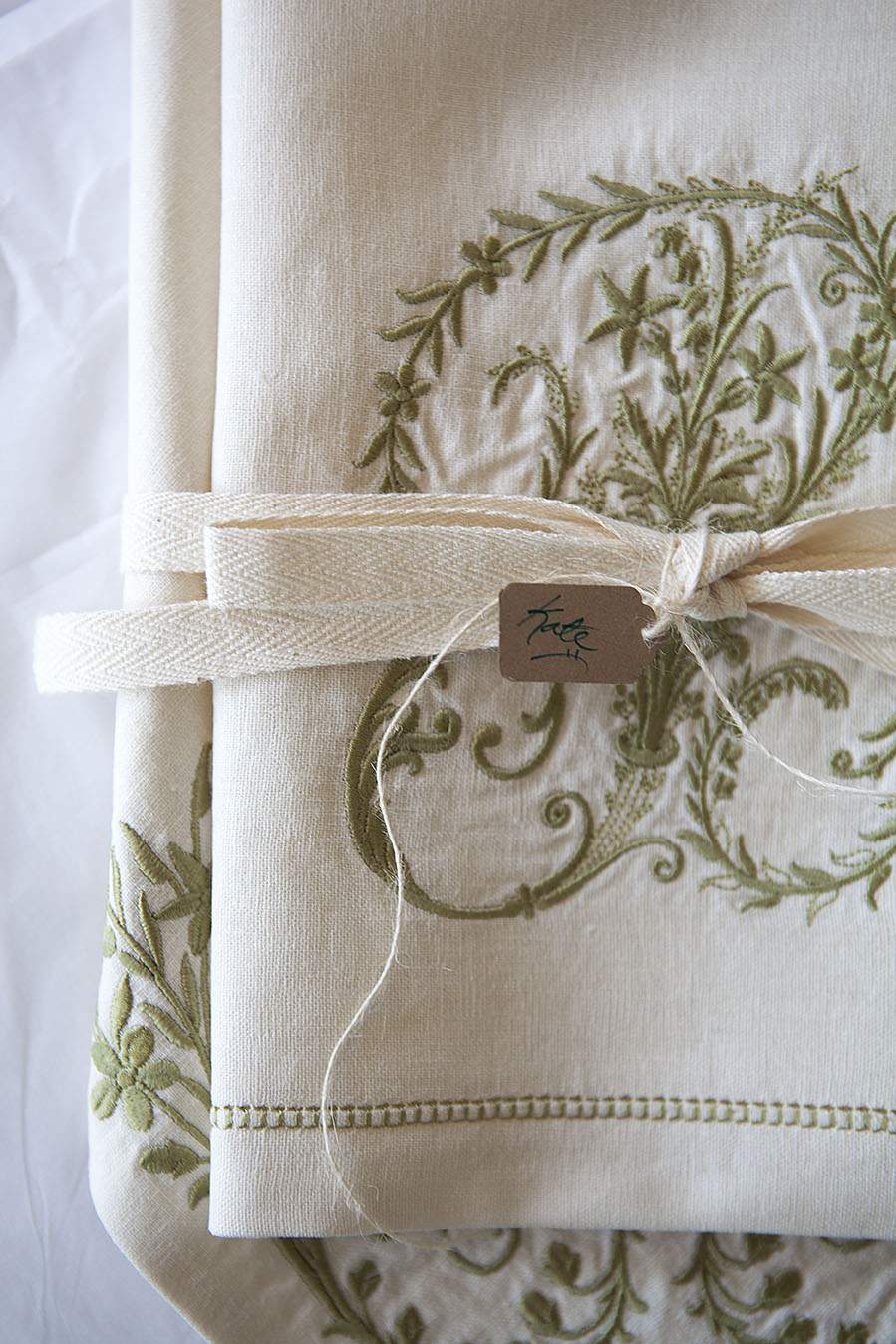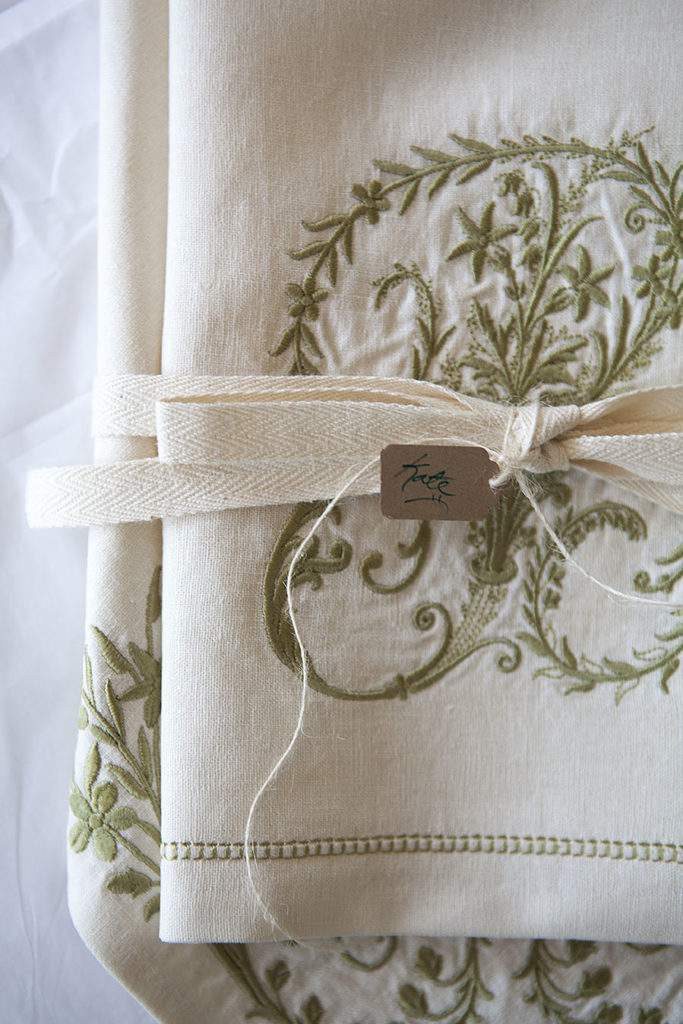 Thanks for stopping by.
See  you back here next time. ♥