I
t's May already and with the new month, comes the benefit of all of those Spring showers.
Thanks to Mother Nature, pretty flowers are now popping up all over.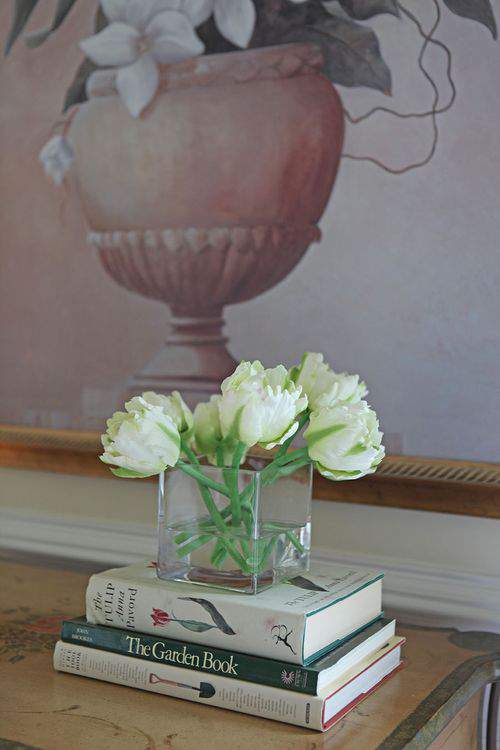 It's a good time to bring some of that outdoor color indoors and tulips are a good choice.
I love the simplicity of this easy tulip arrangement and an added benefit is that these particular flowers will never wilt. 
The tulips are artificial and actually, so is the water.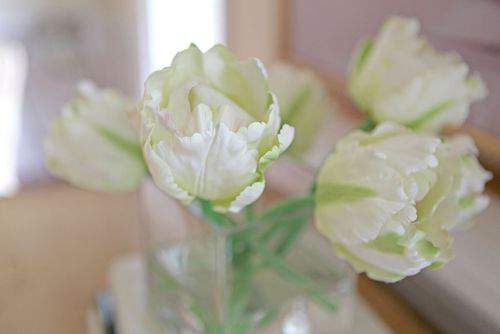 If you love projects that require very few supplies, then this activity is for you. 
You only need three essential ingredients, including a glass container, flowers and floral setting resin.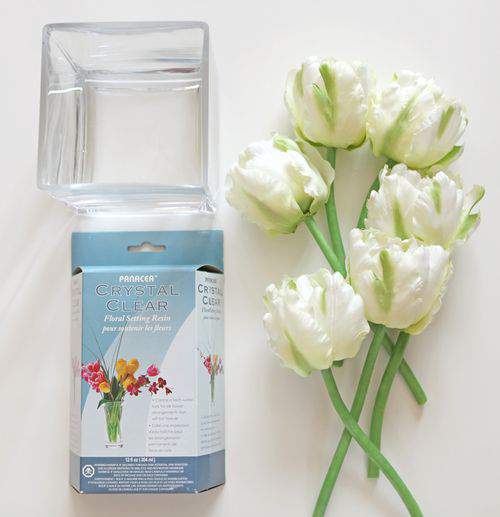 The true beauty of any arrangement lies in the floral selection.  Try to find high quality artificial flowers for the best result. 
Silk flowers are available at most crafts stores but many specialty shops generally carry higher quality options.
 
There are several brands of floral setting resin on the market which you can find at most crafts stores in the floral section.
Depending on the size of the vase and the amount of faux water you want to create, you may need to pick up more than one box of solution.
 
I used a 12-oz box of acrylic solution and to get an idea of how that would look in my vase, I poured 12-oz of real water into the vase to see the water level.
Make sure your glass container is perfectly clean and free of dust, dirt, lint or any amount of debris because it will show up in your finished setting.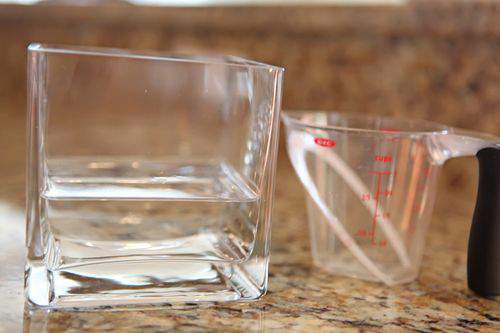 There are two solutions that create the acrylic water.
If you decide not to use the entire amount, just make sure you mix equal parts of the hardener and the resin.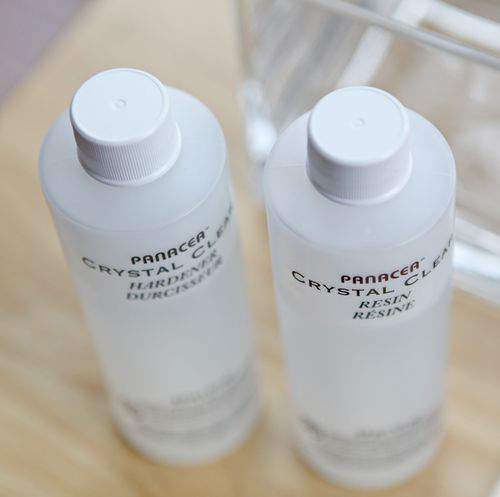 Slowly mix the solution, first clockwise and then counterclockwise. 
The instructions call for constant stirring for 3-minutes.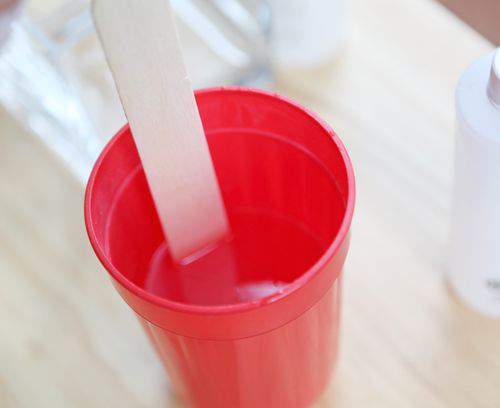 Carefully pour the solution into the vase.  A few tiny bubbles may appear during this process. 
I gently stirred the solution just a tad to eliminate the few excess bubbles.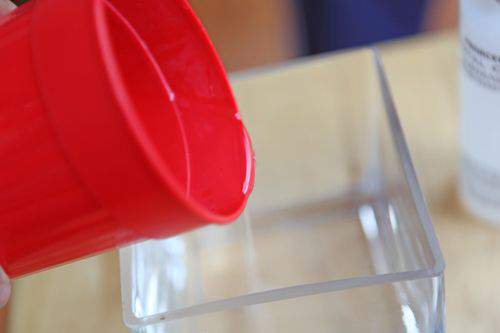 Once the solution is in place, carefully  arrange your stems.  Don't worry, you'll have plenty of time to arrange your stems before the solution starts to gel.
Since the arrangement is supposed to look real, it's important to try to arrange the stems in a way that represents how the flowers would look if dropped into a vase.
(My daughter, Cameron snapped this photo of me working)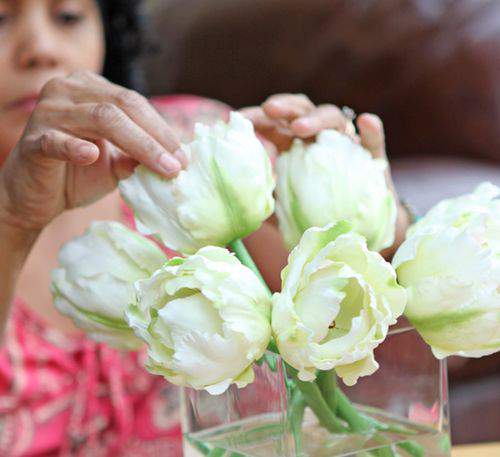 I used a few large plastic cups to hold the stems in place during the first half of the curing process.  It generally takes about 12-hours for the solution to become firm enough to relocate and another 36-hours to completely harden.
Make sure you leave your arrangement in an undisturbed area throughout the hardening process.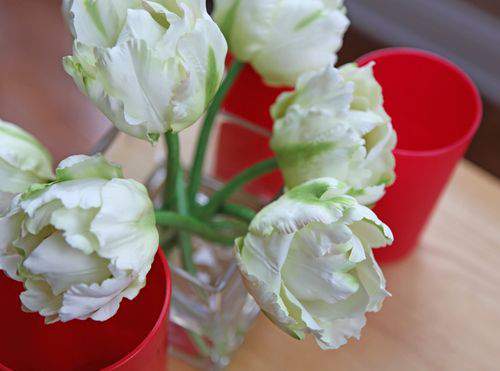 I made my first floral setting in resin ages ago and forgot about this easy technique until recently when I spotted a similar but few very expensive ($165) resin settings at a local home decor boutique.
While floral setting resin has been around for many years, there does seem to be a recent resurgence of its use with more realistic-looking silk flowers and stems.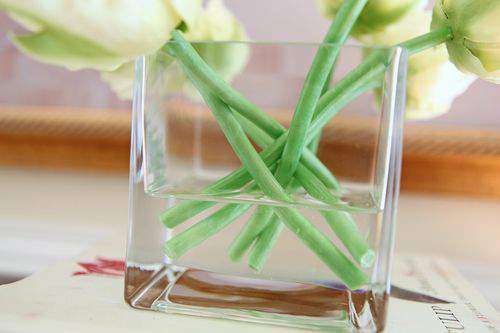 Wouldn't this make a great Mother's Day gift?  Your Mom will get to enjoy her flowers for more than just one special weekend this month of May. 
I think a floral arrangement in resin would also make a beautiful housewarming gift that you can customize using the recipients favorite flowers.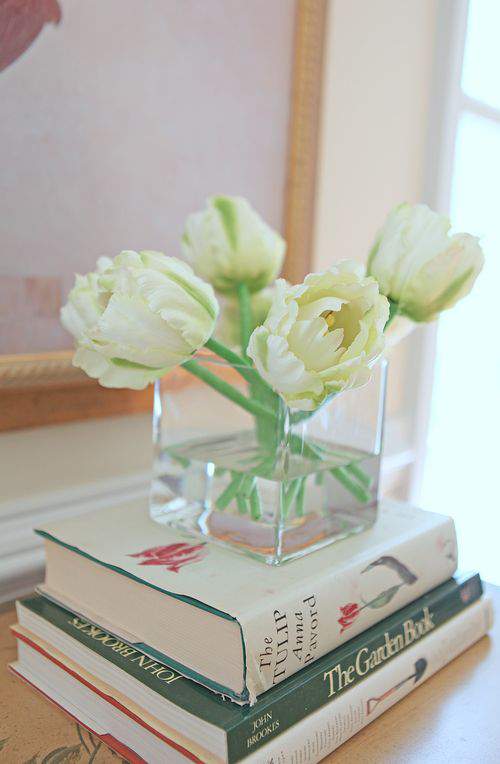 Making your own permanent floral arrangement not only saves you in the pocketbook, but also provides the satisfaction and pleasure of creating another thing of beauty to enjoy, share and gift.
April showers bring May flowers, but creating your own setting will ensure you have the pretty blooms every month of the year. ♥