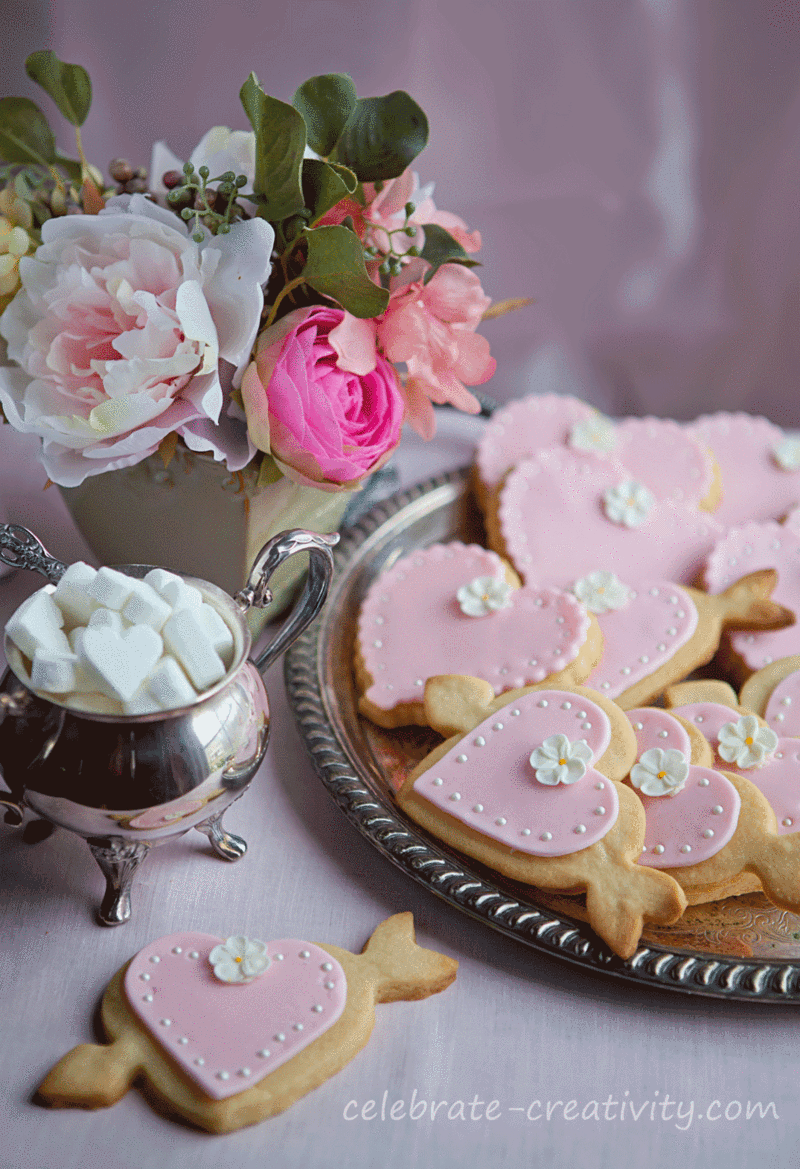 With Valentine's Day around the corner, it's definitely the season of love and I think this pretty cookie is enough to make any heart skip a beat.
These sweet looking, pearl-encrusted, heart-shaped cookies are not only easy to make but will also be the hit of any dessert table.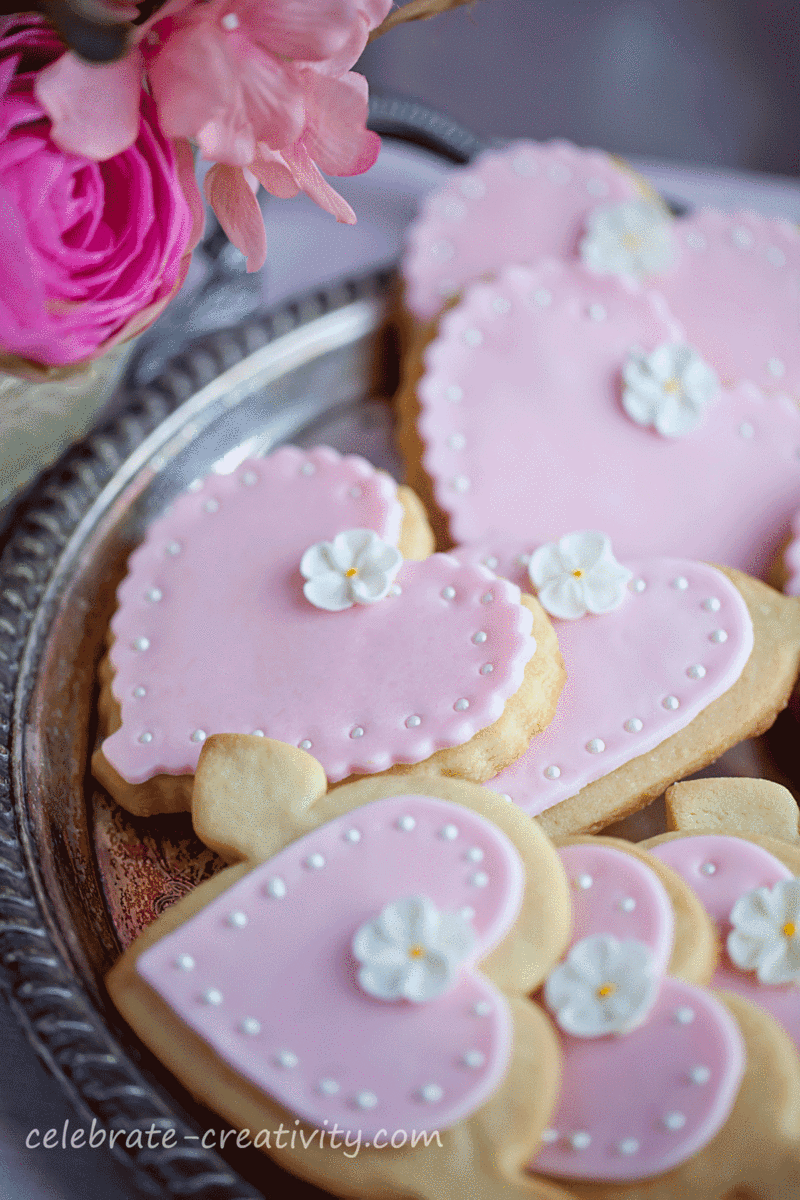 I made a batch of these pearl-encrusted, heart-shaped cookies several years ago and this is such a gorgeous cookie, I think they're worth sharing here again with a fresh tutorial.
You can revisit my earlier cookies along with other heart-shaped yummy eats in my previous post here.
What do you think your guests would say if you served these?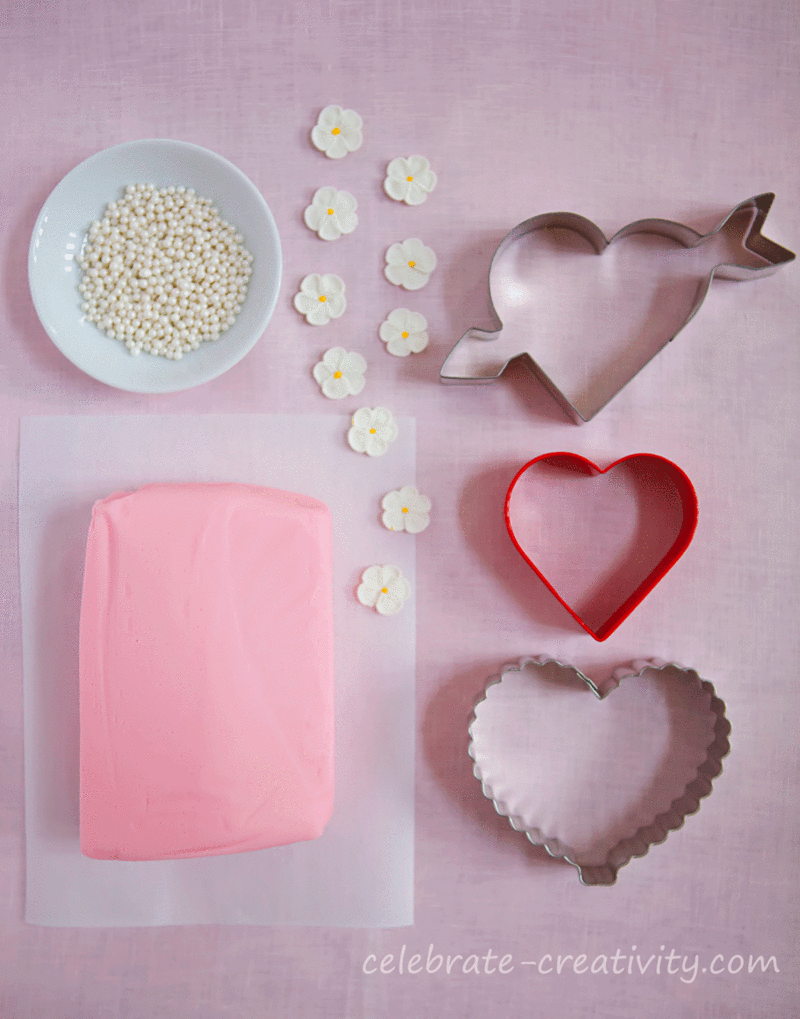 The dainty embellishments used to decorate these cookies is what sets them apart from typical Valentine's cookies.
You'll need pink-tinted fondant (available at most crafts stores in the baking section), assorted heart-shaped cookie cutters, 3-mm sugar pearls and small sugar flowers (I bought these flowers from a local baker's supply store) and some plain, ready-made icing from a container.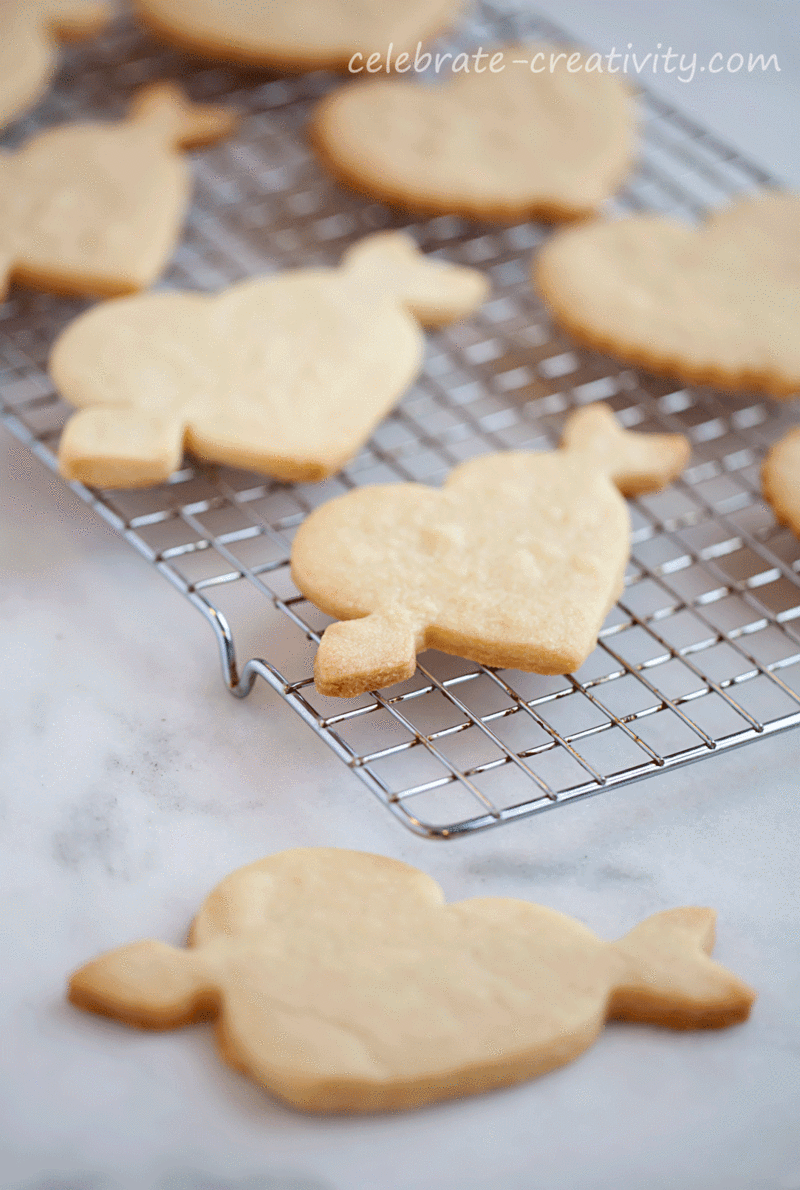 Use your favorite sugar cookie recipe, to make a batch of cookies.
Cut out the cookies in the shape of assorted hearts.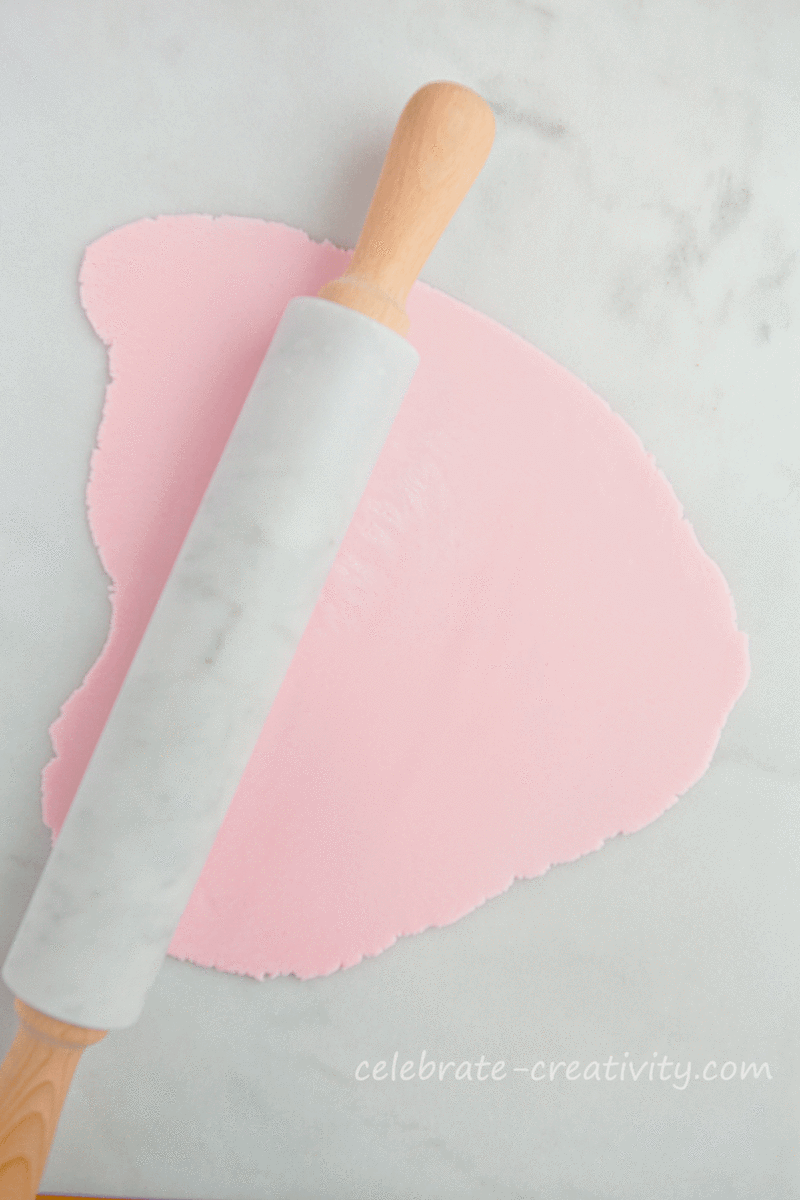 Let's turn our attention to the fondant which is used as a cookie topper.
Now, if you've ever tasted fondant, you know it's not very tasty.  You'll need to add a liquid flavoring before rolling it out.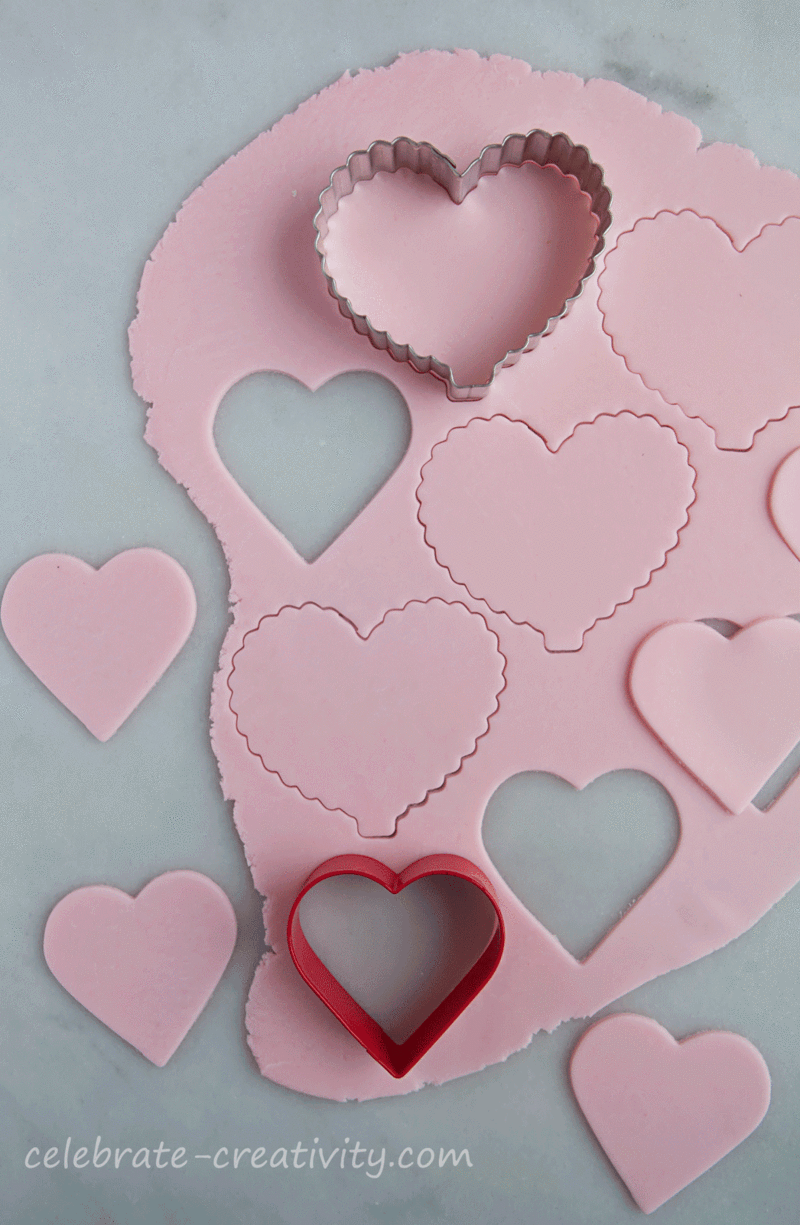 Assorted flavors are available and typically sold in small bottles right next to the fondant.
Use the heart-shaped cutters to cut out the fondant topping for the cookie.
The fondant heart should not be larger than they size of the cookie it will top.
Fondant begins to dry hard after about an hour after it's exposed to air, so the sugar pearls need to be embedded in the fondant heart shapes right after they're cut.
If you wait until the fondant is hard to try to embed the pearls, you risk cracking the fondant heart.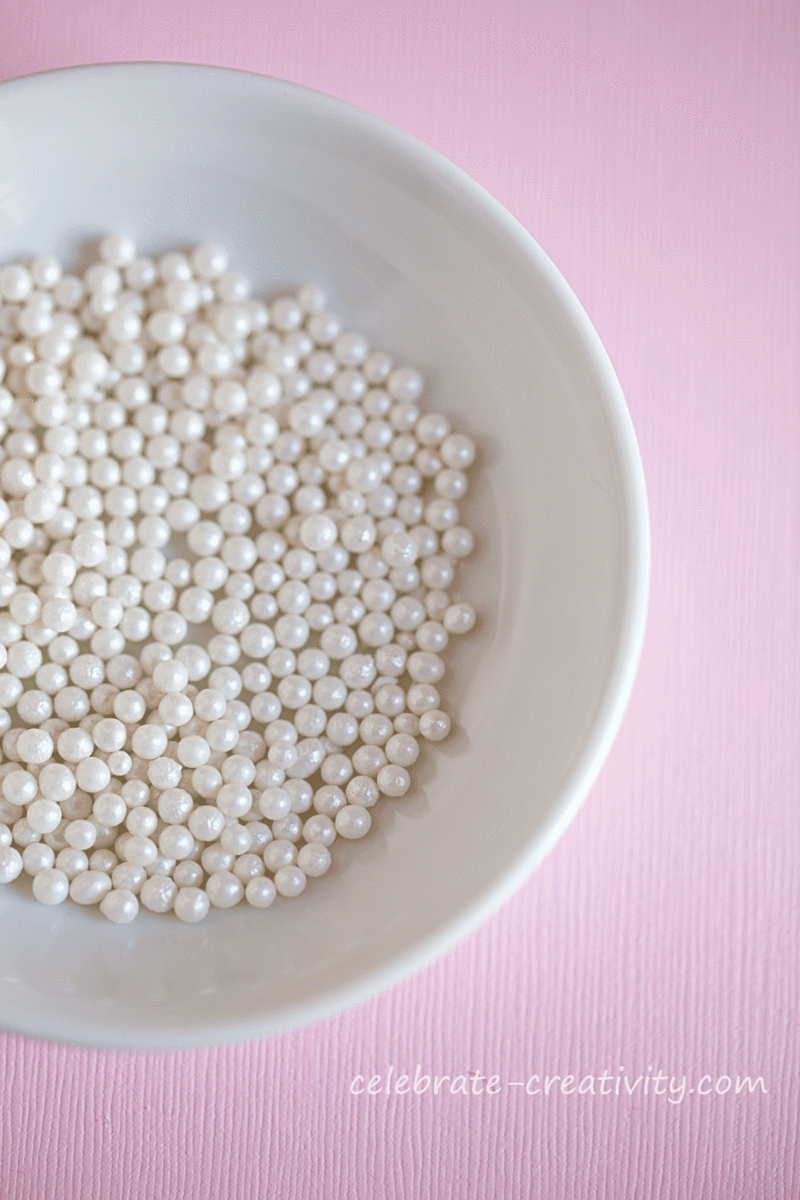 Use a lollipop stick to gently push the sugar pearls down inside the heart-shaped fondant.
Push the pearls into the fondant just below the surface.
Once the fondant dries completely, the pearls will be embedded and safely secured.
The small sugar flowers can be attached to the fondant heart shape using a small dab of ready-made icing.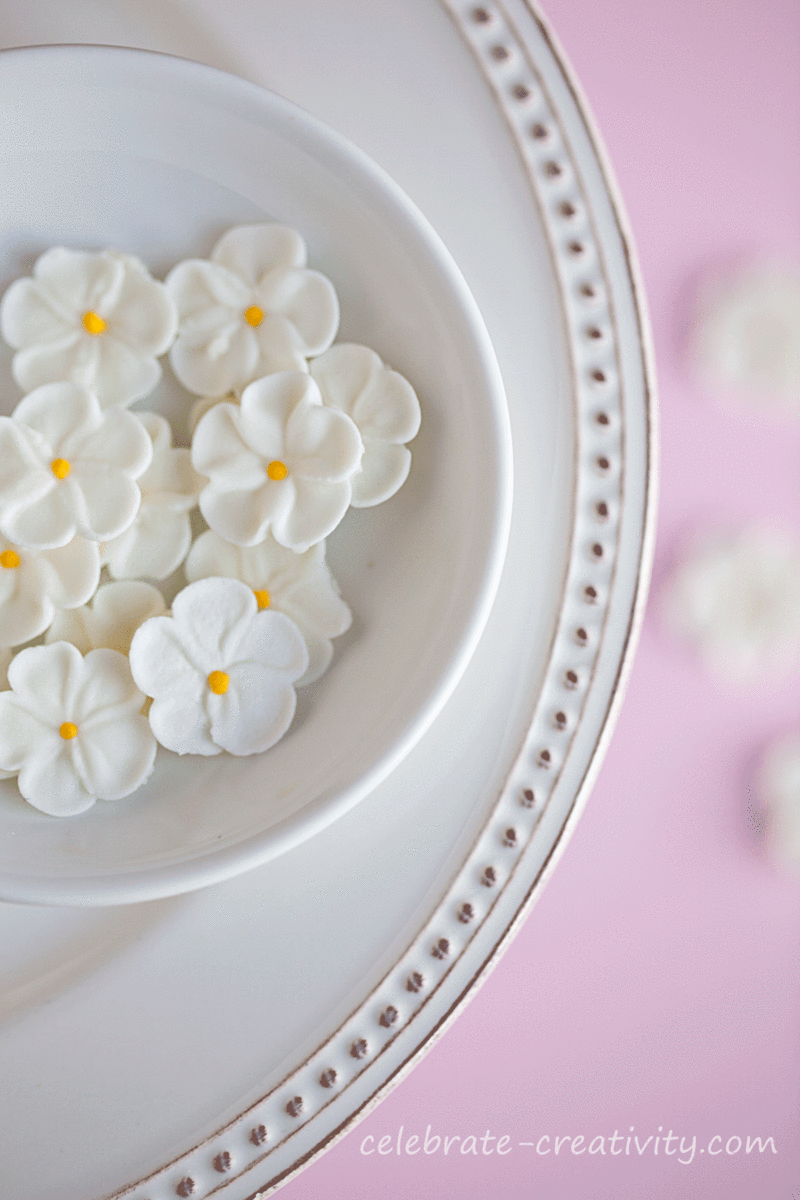 Handle these delicate sugar petals with care because they're very fragile.
Now it's time to attach the fondant heart shape to the heart-shaped cookie.
Using the same ready-made icing, spread a small thin layer of icing across the entire back of the fondant heart.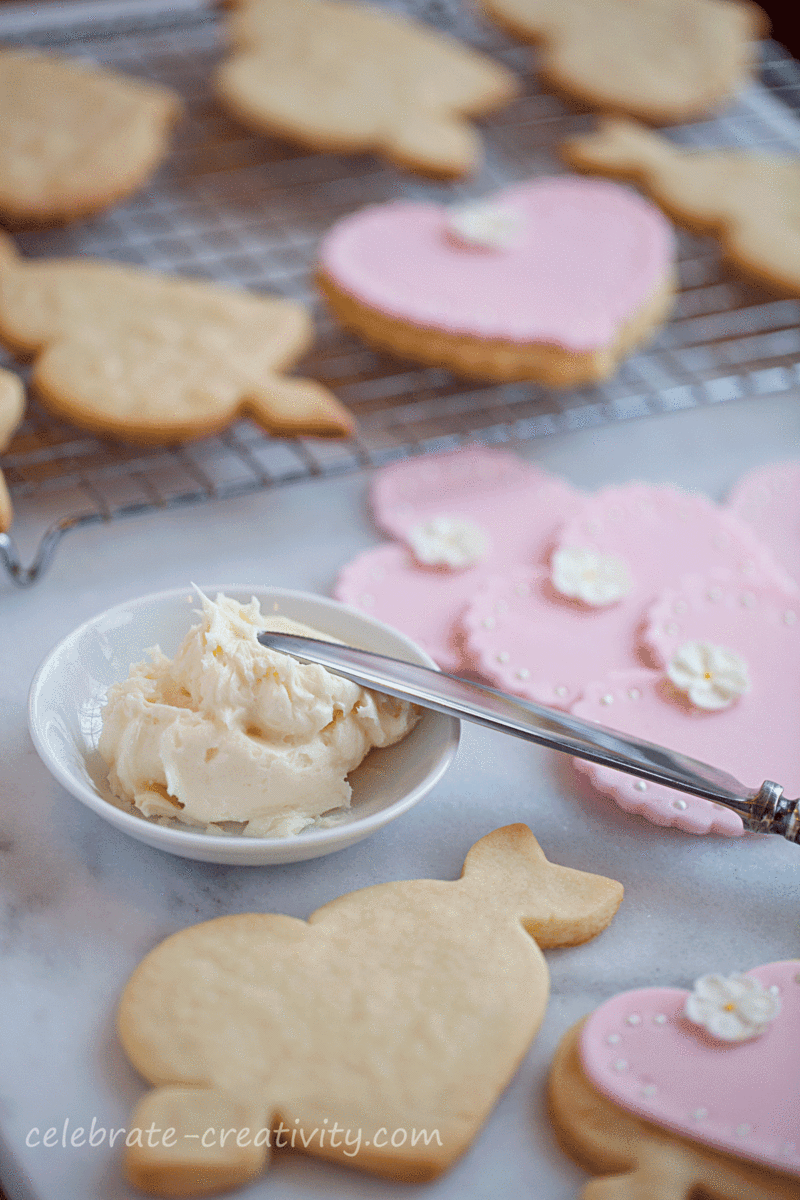 Gently press the fondant heart down on top of the sugar cookie.
Don't press to hard or you may risk cracking the cookie.
Apply the icing to all the hearts and adhere them to the cookies and set aside to dry.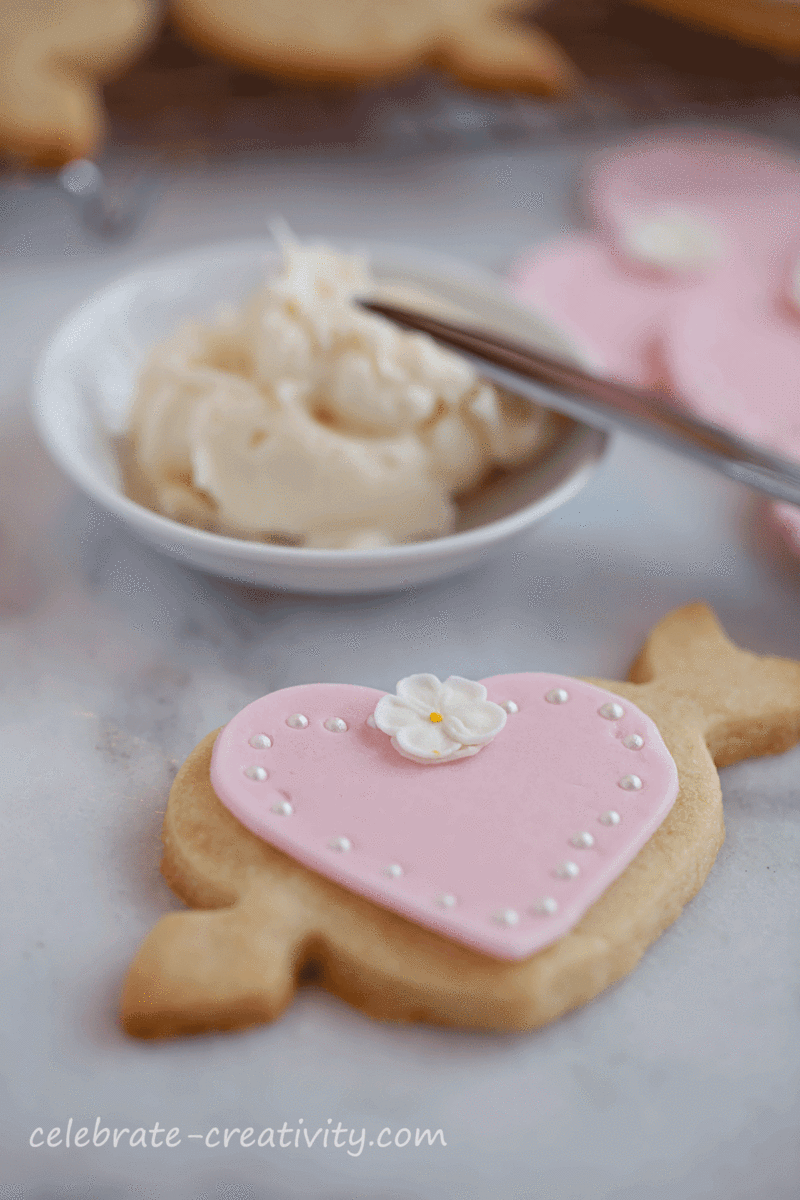 I suggest allowing the cookies to set overnight to make sure the icing has sufficiently dried and has totally adhered to the cookie securely before serving.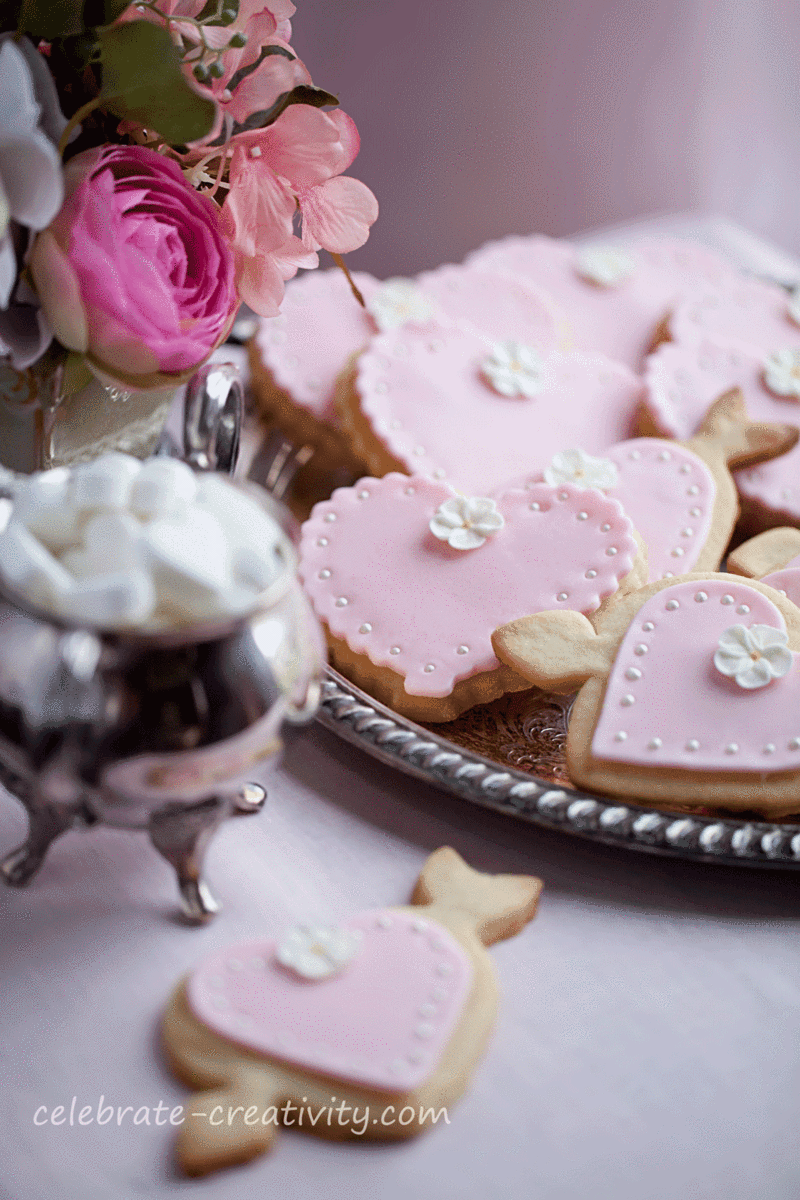 I think these cookies look like they could have come from a fancy bakery-boutique and they could certainly help set the stage for any elegant affair.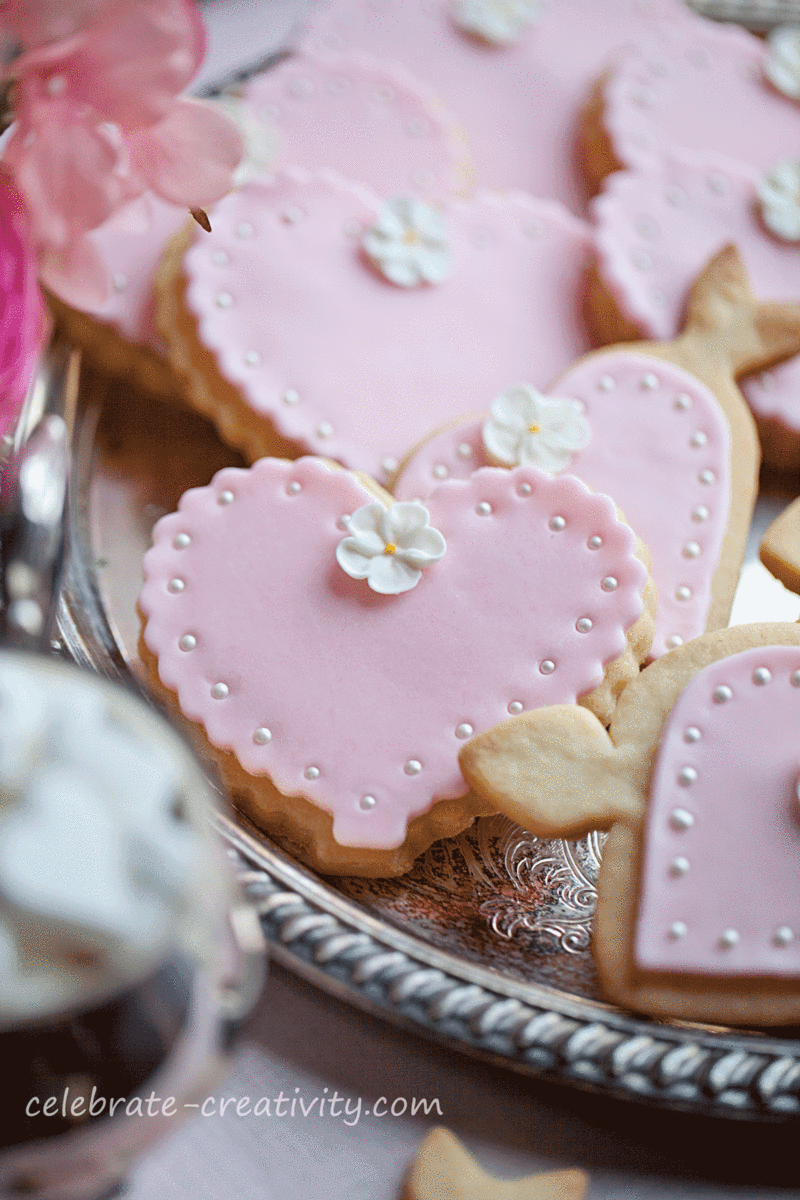 Consider making and serving these at a baby or wedding shower, a special afternoon tea or even a Sweet 16 party for the teen in your life.
You could also package them with a small baggie tied with a pretty ribbon and gift as party favors.
Just think of the possibilities.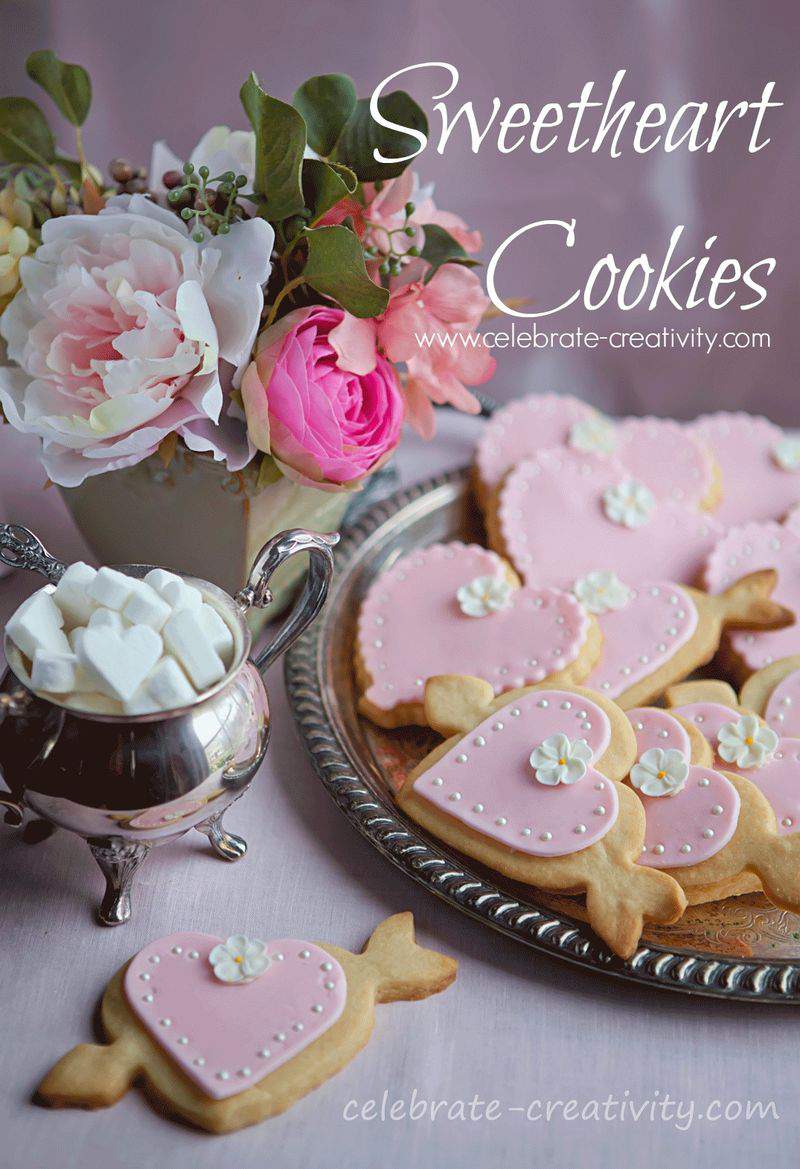 Thanks for stopping by.
See you back here next time. ♥
I'm linking this Sweetheart cookie post to the following: