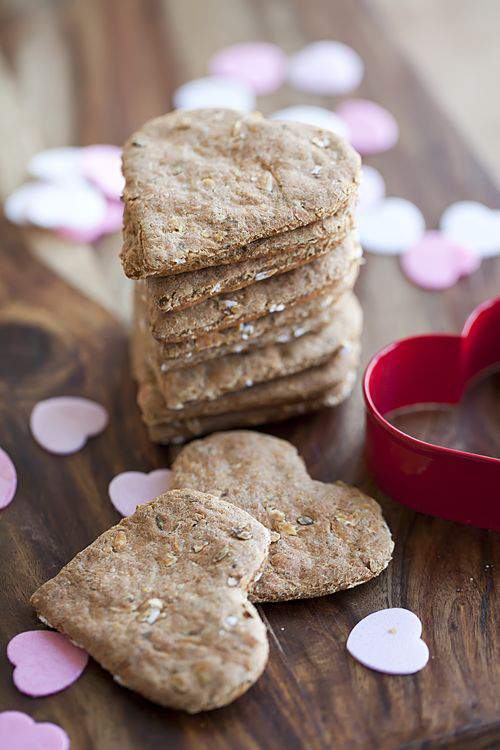 Valentine's Day is right around the corner and that means thoughts of romance, hearts and special gifts for loved ones.
Well, if you ask me Valentine's Day is for the dogs.
Wait, before you yell at me through your computer, read further to see how Valentine's Day can be for canine loved ones as much as the human ones.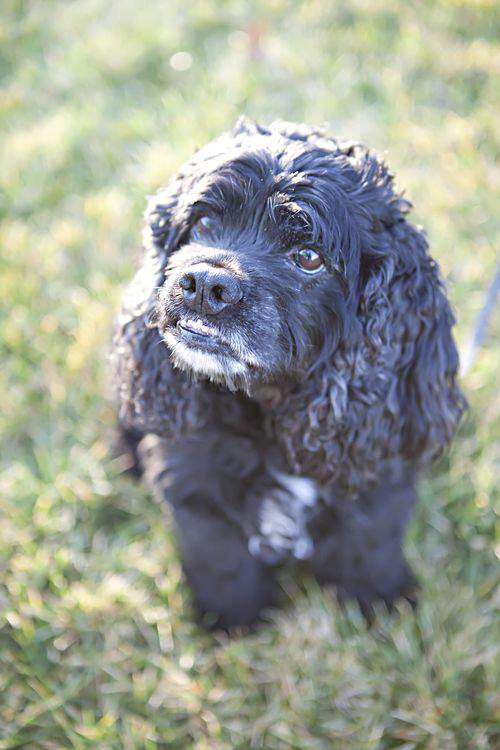 First, allow me to walk you through the inspiration behind this post.
Lately, my kids have been begging for a pet dog.  Since I strongly suspect that after a few months their dog would likely become my dog, I've put my foot down on the subject with a "when you start to make your beds every day, I'll consider it".
For now, Cameron and Jordy will have to be satisfied with occasionally walking and pet sitting our neighbor's dog, Chelsea.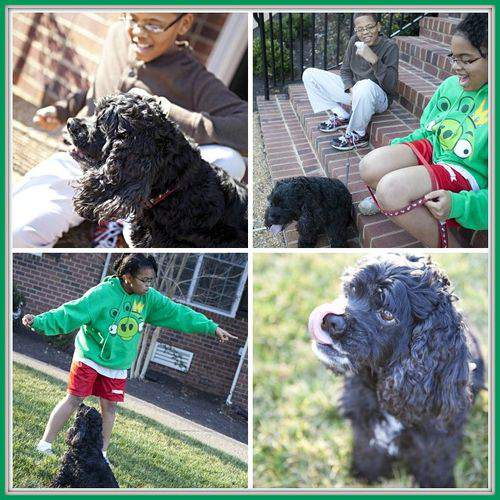 With Valentine's Day approaching, we thought Chelsea would enjoy getting a special gift too.
These heart-shaped treats in the photo below are made especially for dogs.  This Valentine's Day, consider giving the special pooches in your life tasty, sweetheart biscuits.
NOTE: Click here to see my heart-shaped goodies for HUMANS from an earlier post.
Even though we don't have a dog, we've made plenty of dog biscuits in our house for friends and school volunteer assignments.
While there are a number of dog biscuit recipes on-line, we decided to try out a boxed mix.
You can use your choice of cutters but with Valentine's Day in mind, a heart-shaped cookie cutter was too irresistible.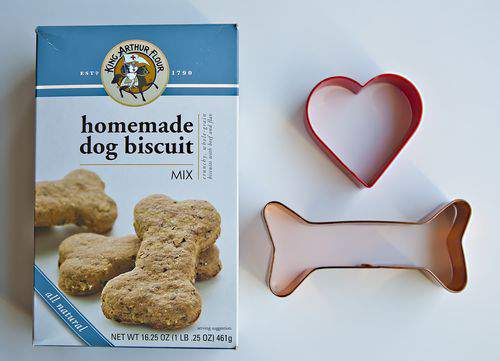 Because this particular boxed recipe includes a pack of yeast, the dough is going to have to sit in a covered bowl for about an hour before you can start to cut out the cookies.
By the way, this mix includes whole wheat, whole oats, beef stock, malted barley flour, cornmeal and wheat germ just to name a few ingredients.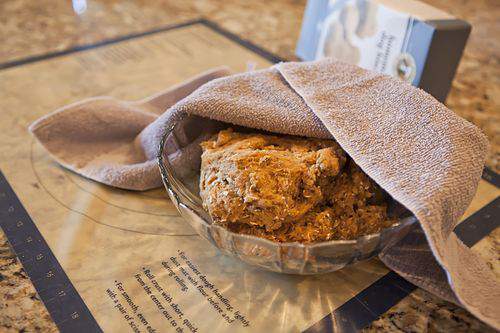 Jordy was happy to pitch in with the cookie cutting.
This boxed recipe will yield about 2 dozen cookies depending of the size cut out.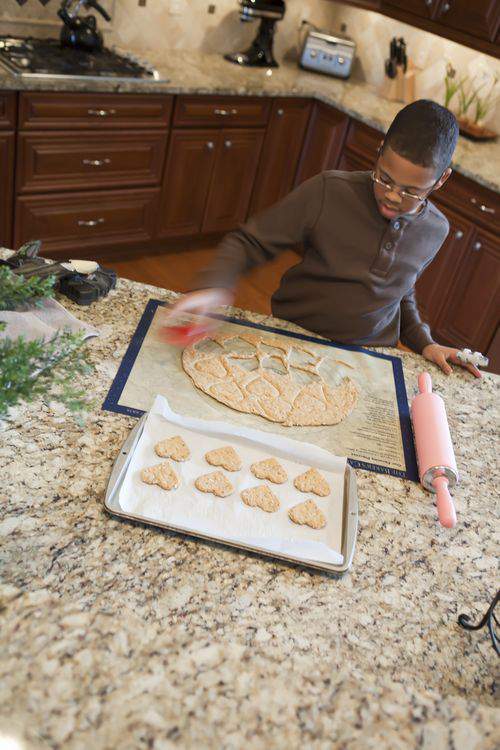 The cookie will rise a bit in the oven so keep that in mind when you roll out your dough to determine how thick you want your dog biscuits.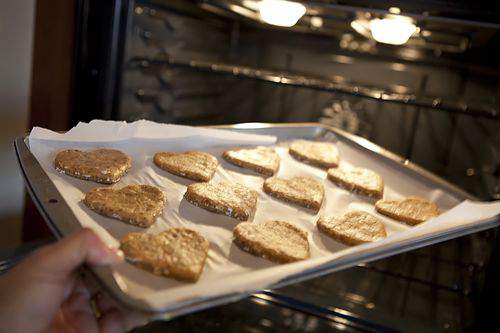 This is how the treats baked up with dough that was cut at just over 1/4-inch.  As you can see they're quite fat and puffy.  Perfect for big dogs.
Leave the cookies in the oven longer for a browner appearance.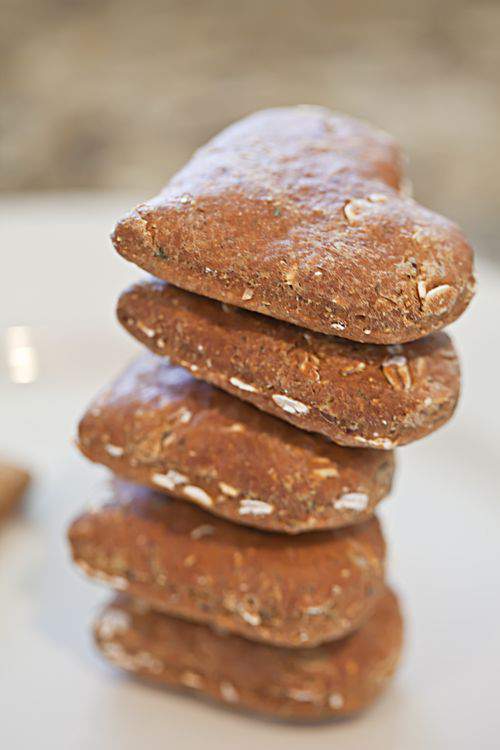 For our second batch we rolled the dough much thinner, close to the thickness of cardboard from a cereal box (for lack of a better reference).  We also decreased the baking time for a lighter-colored biscuit.
As you can see, these baked up much flatter, more easily stackable and almost cracker-thin.
I think the thickness and shade preferences are definitely a human consideration.
Chelsea devoured both versions of the dog treat without any hesitation at all.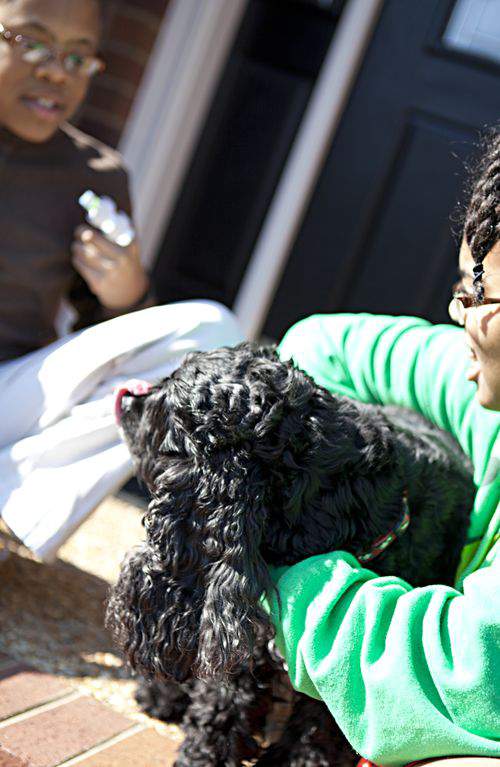 Even though these treats are for four-legged friends, there's no reason not to dress up the packaging if you plan to use the treats for gift-giving.
You can embellish the bags with a few simple supplies including alphabet rubber stamps, a heart-shaped punch and dog-shaped die cuts along with some pretty ribbon.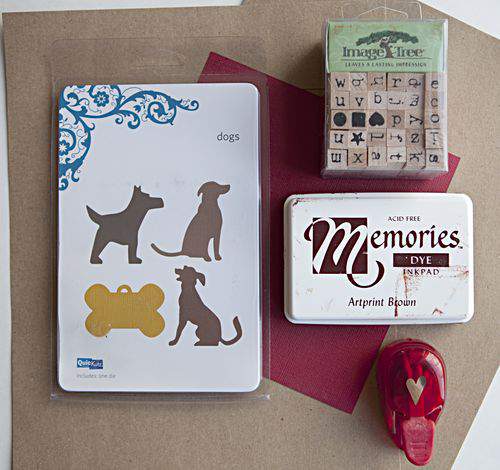 You'll also need a tag punch.  You can purchase pre-cut tags but I think a punch is one of those "must-have" tools to have in your stash.
You can pick up a tag punch at any crafts store and you'll use it a million times.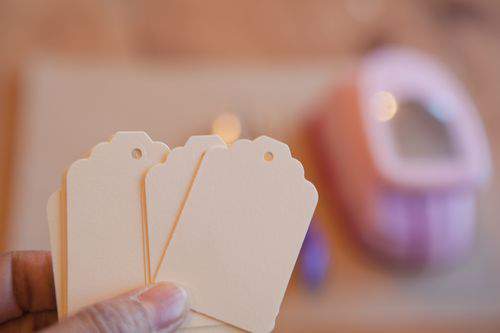 I typically use this candy cane-colored, baker's string around the holidays but it works during any season for just about any baked good packaging effort.
It's perfect for the small hole in the top of the tag.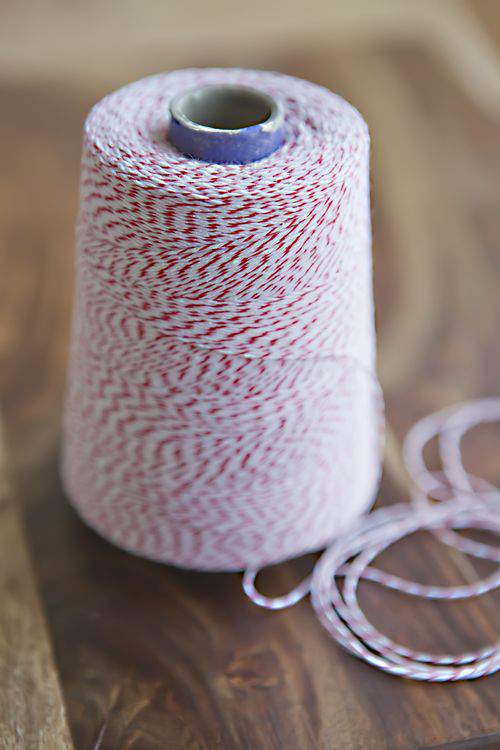 Here's a look at the finished tags.
Adhering a heart to each pup will up the love factor and makes for a really cute Valentine's Day offering.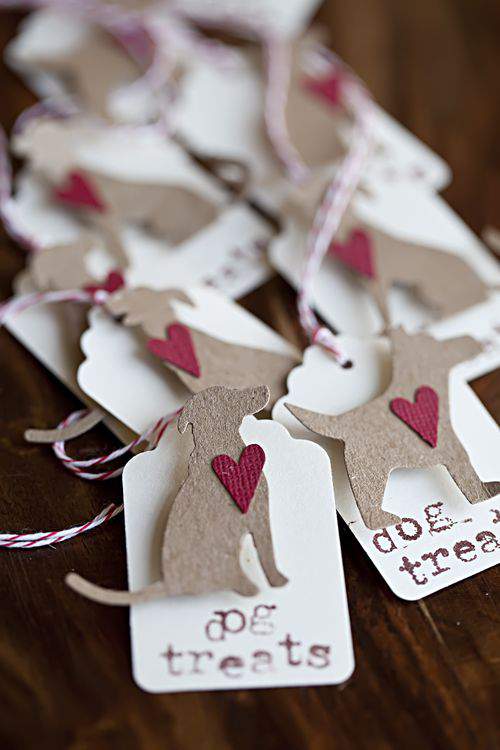 I also used a small foam, sticky-lift under each doggie die cut to give it a little height and dimension.
You can find sticky, foam dots in the scrapbook supply section of most crafts stores.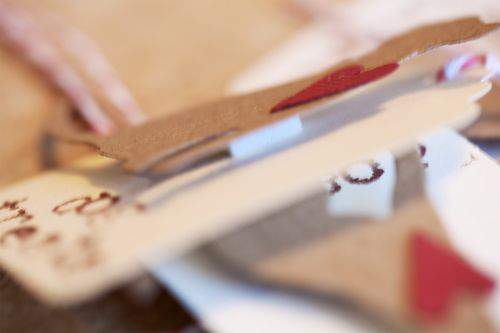 If you're a regular reader of this blog, you know that I'm a big fan of fun and attractive gift packaging and I think this is such an adorable way to embellish these treats.
While the canine recipient will love the contents, the dog owner will be the one who truly appreciates the extra effort put into the presentation.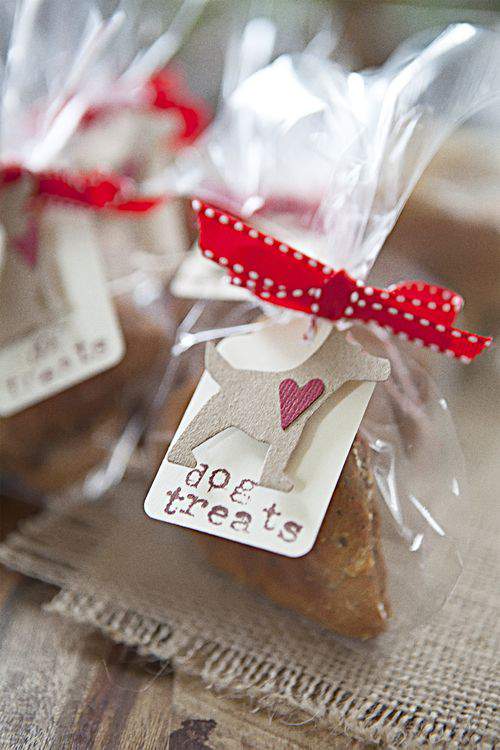 Oh, this photo is so adorable.  Pictures like this (almost) melt my heart but I'm determined to stand my ground on the pet dog issue.
Well, that's my plan.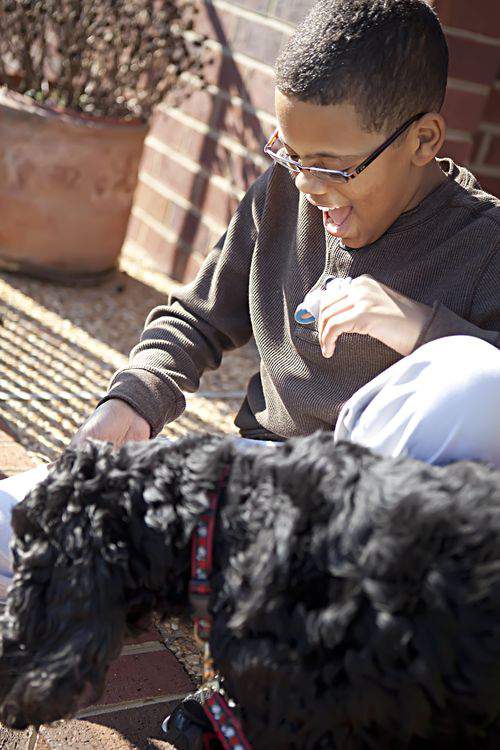 Sorry Cameron and Jordy, as cute as the three of you look together, your on-going plea to add a dog to our household is still falling on deaf ears… (pretty much).
OK, OK I'll think about changing my "no" to a maybe.
In the meantime, whenever Chelsea visits we'll be sure to have some doggie treats waiting for her.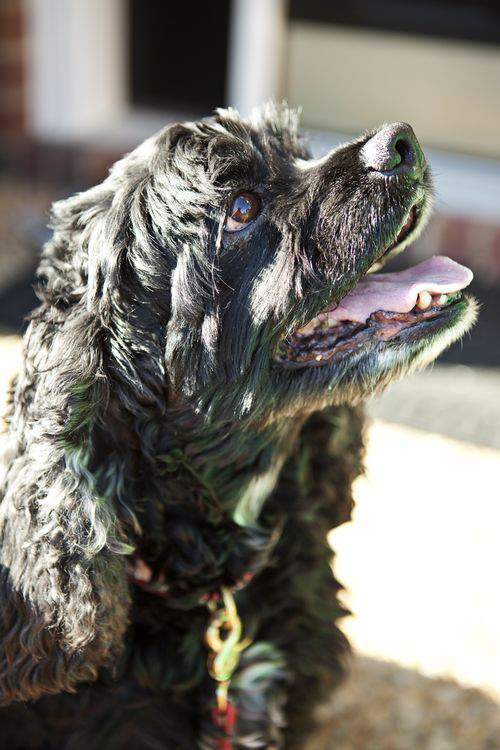 These treat-filled bags would make a great doggie birthday present or even as goodie bags at a pooch party.  Now, wouldn't that be cute?
Also, imagine how unique and attractive these bags would look at your next cookie exchange or school fundraising event.
There's no reason why you can't sell homemade doggie treats at a bake sale.  I think customers would love it.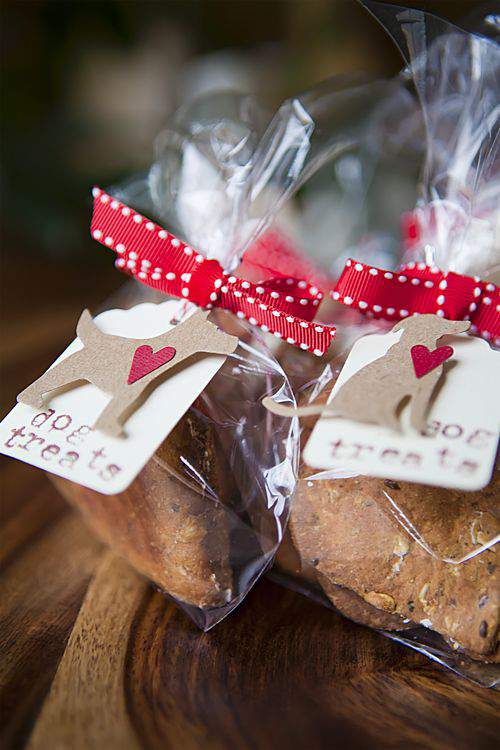 Thanks for stopping by.
See you back here next time. ♥