H
ave any of you ever made your own butter?  Butter is (of course) a kitchen staple and just about everyone probably uses it often but how many of you have ever actually made your very own butter.
Well, if you've never made homemade butter before I'm pretty sure you're going to give it a try after you read this post.
I think you'll be pleasantly surprised to see how easy it is to make yourself and it only takes a few ingredients.
Oh, you'll also need a stand mixer.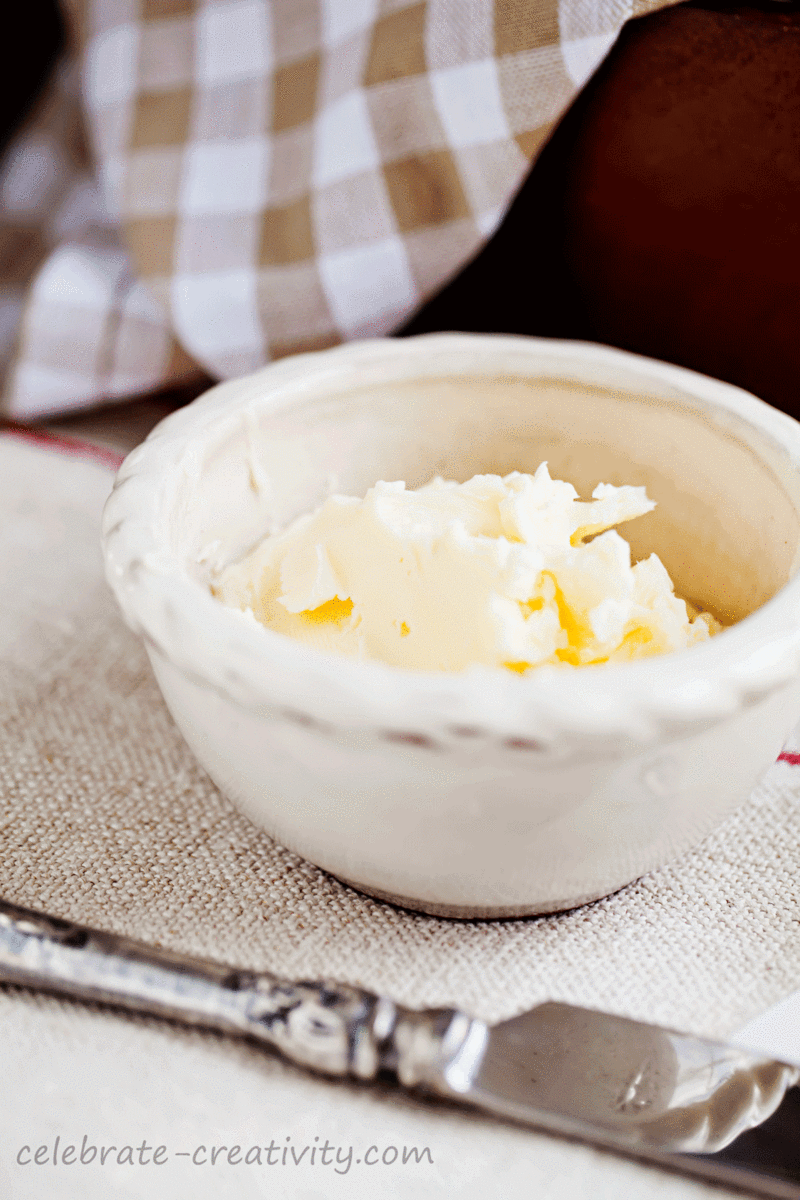 Here's a blast from the past.
Can you imagine using large, wood churns like this to make your homemade butter varieties?
Hmm, it's easy to see why stand mixers were invented.
Anyway, to make your own butter you'll only need two ingredients for plain, homemade butter… 5 cups of heavy cream (room temperature) and 1/4-teaspoon of salt (which is optional but I suggest you include it).
If you use 5-cups of heavy cream you'll end up with about 2-1/2-cups of butter and 2-1/2-cups of buttermilk.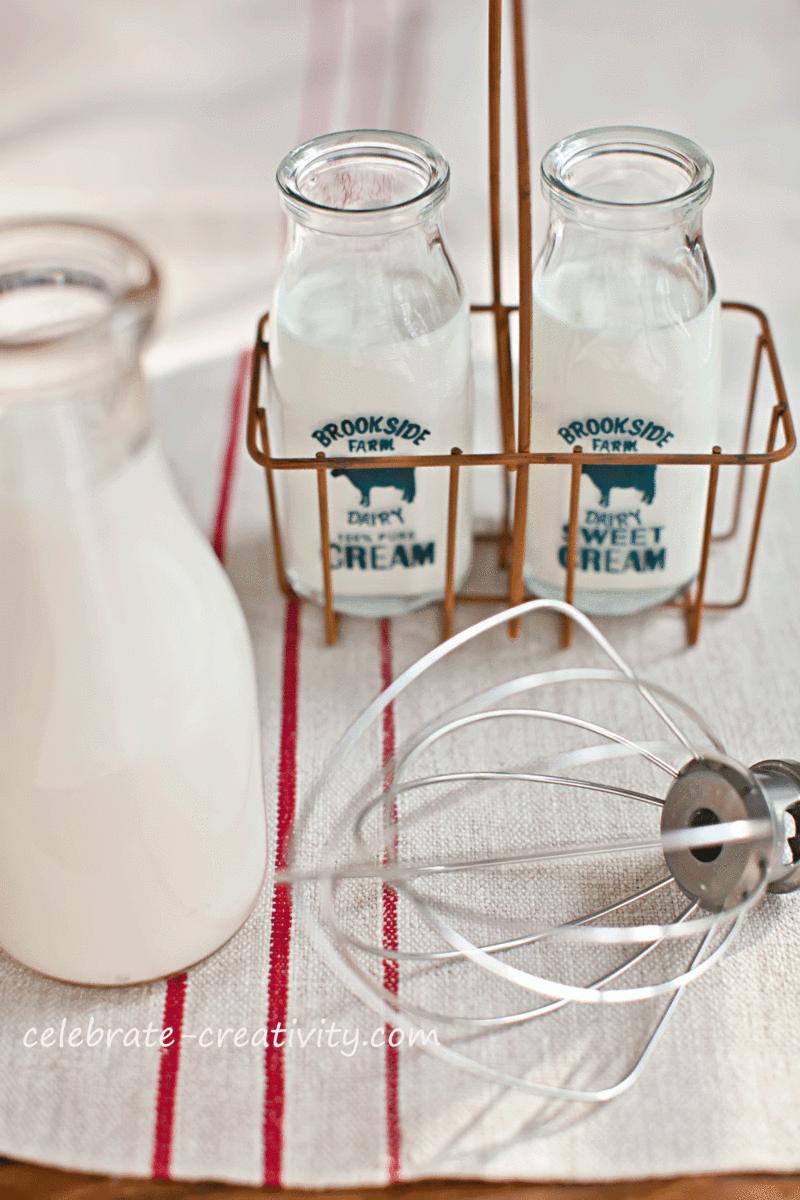 When you make butter from heavy cream, what you're essentially doing is just separating buttermilk from the butterfat.
So, pull out the stand mixer.
Use the whisk attachment on the mixer to whip the heavy cream and beat it on medium speed.
It won't take long before the liquid cream is transformed into whipped cream.
How cool is that?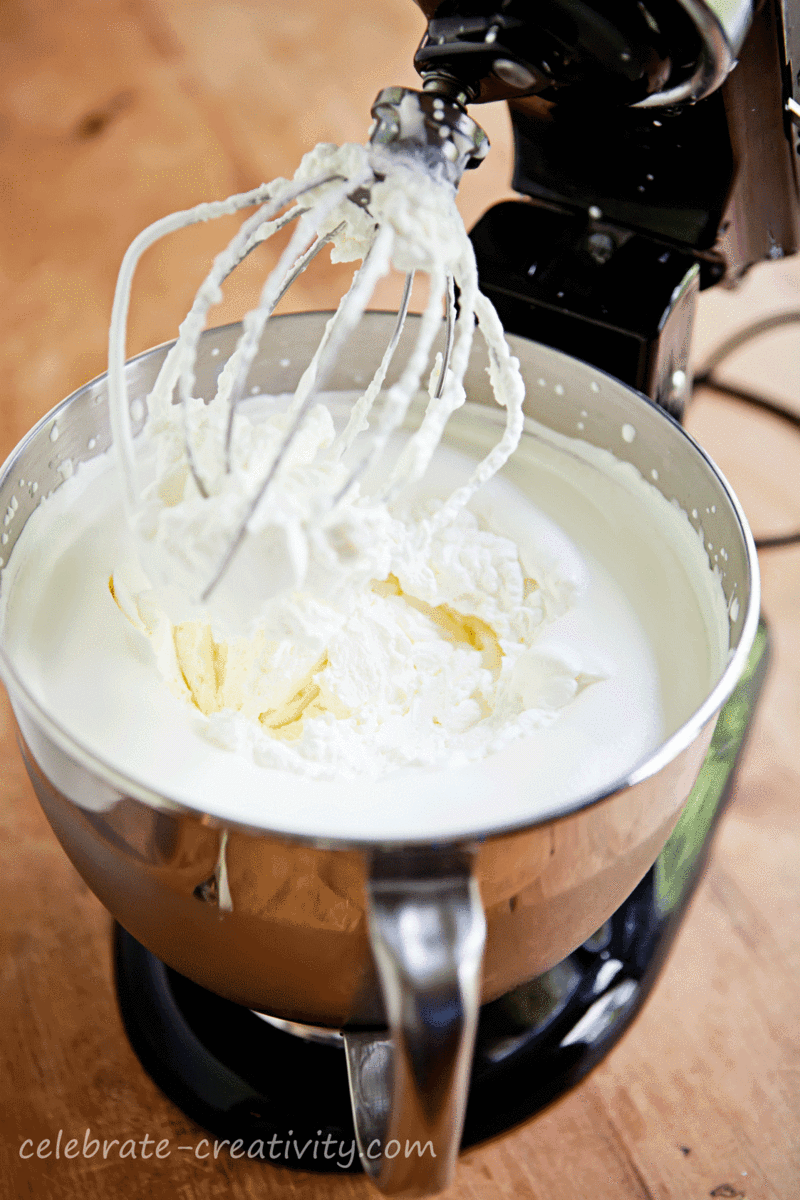 IF YOU'D RATHER MAKE WHIPPED CREAM, DO THIS
At this point, if you change your mind about the butter and would rather make whipped cream… just add 2-tablespoons of confectioner's sugar and 1-teaspoon of vanilla for every 1-cup of heavy cream and whip until fluffy.
Try it, homemade whipped cream is pretty tasty.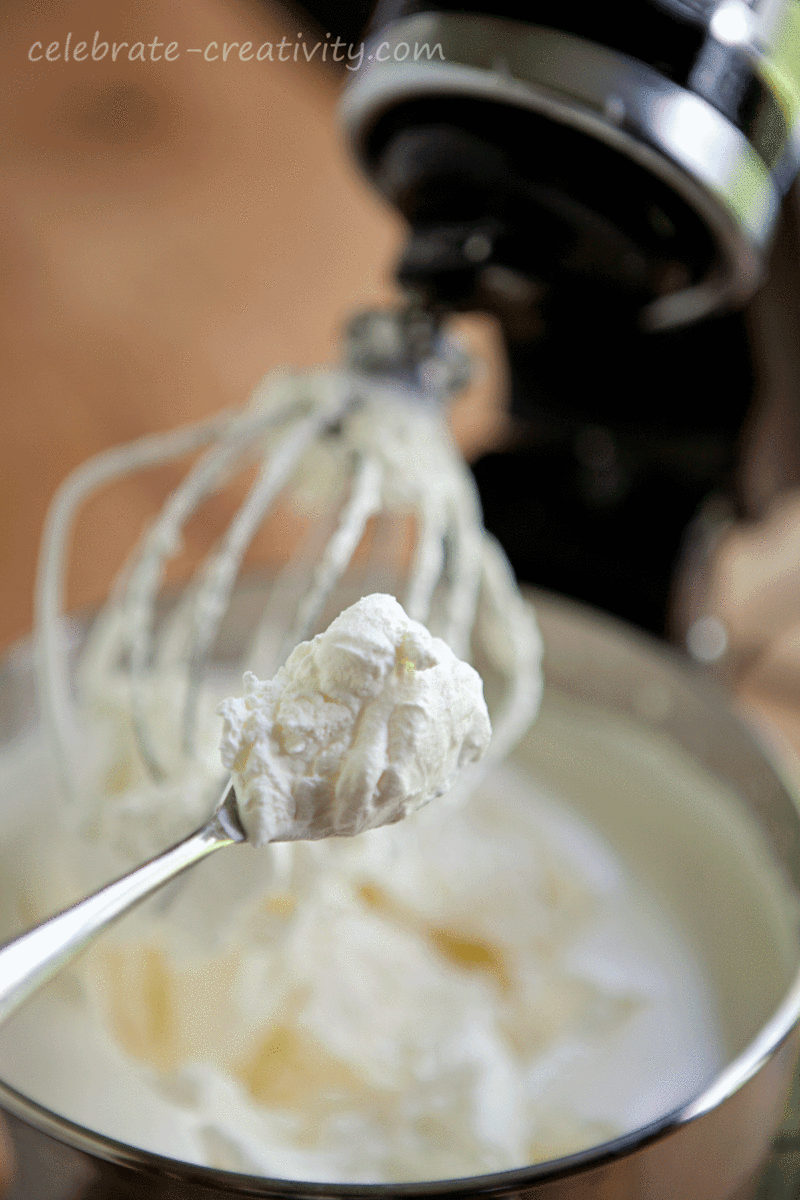 OK, BACK TO BUTTER MAKING
If you're still with me to make the butter…. just keep whipping the cream in the stand mixer.
Now this is an important step… it's a good idea to stay in close proximity to the mixer because the buttermilk and butterfat will almost certainly separate when you least suspect it.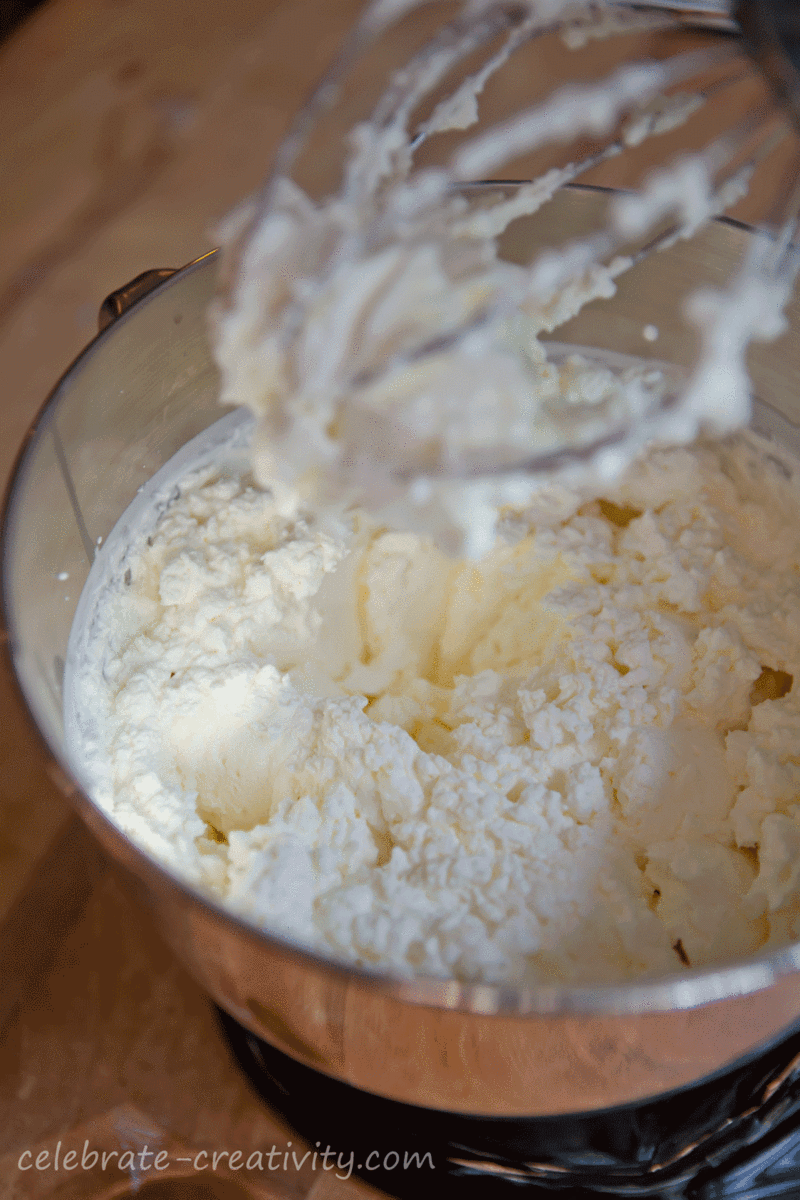 When that separation happens, it's going to happen in a huge clump and a thump and if you're not close by to turn off the mixer quickly, you're going to end up with buttermilk all over your counter (and maybe even your walls).
As soon as the butterfat separates, it will slosh around the buttermilk and you need to be standing right there to stop the mixer. Don't forget.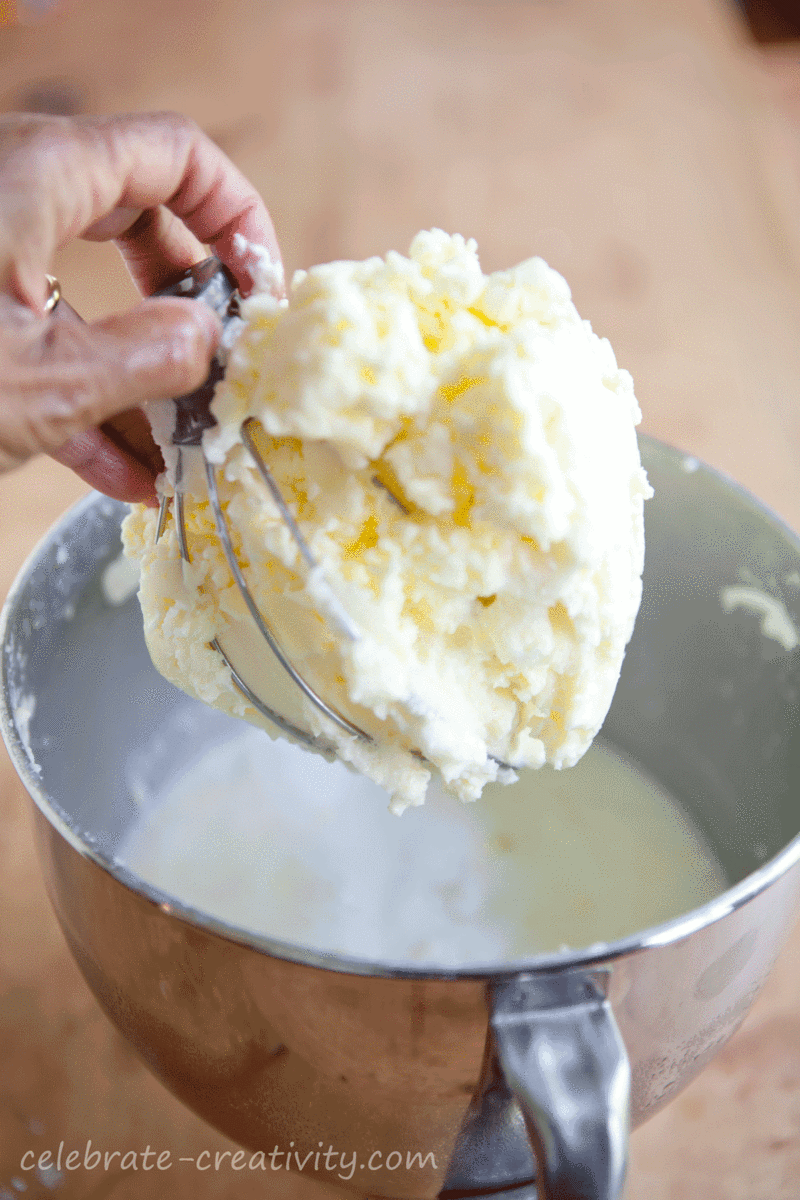 After you turn off the mixer, you'll see that the butterfat will be clumped around the whisk attachment.
Remove the butterfat and strain tit in a colander.  You're also going to need to press any extra liquid out of the butterfat too.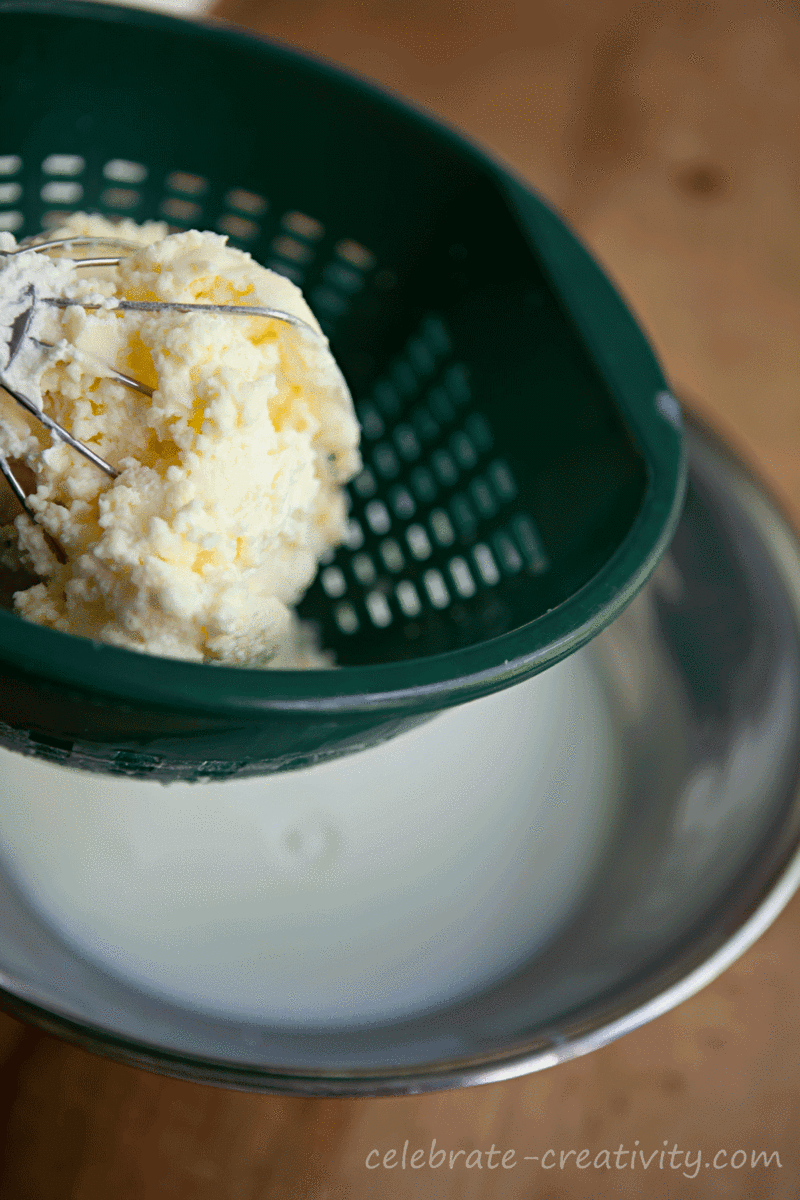 This process also yields about 2-1/2-cups of buttermilk but don't toss it.
Put it in a container and refrigerate and I'll show you how to put it to good use coming up.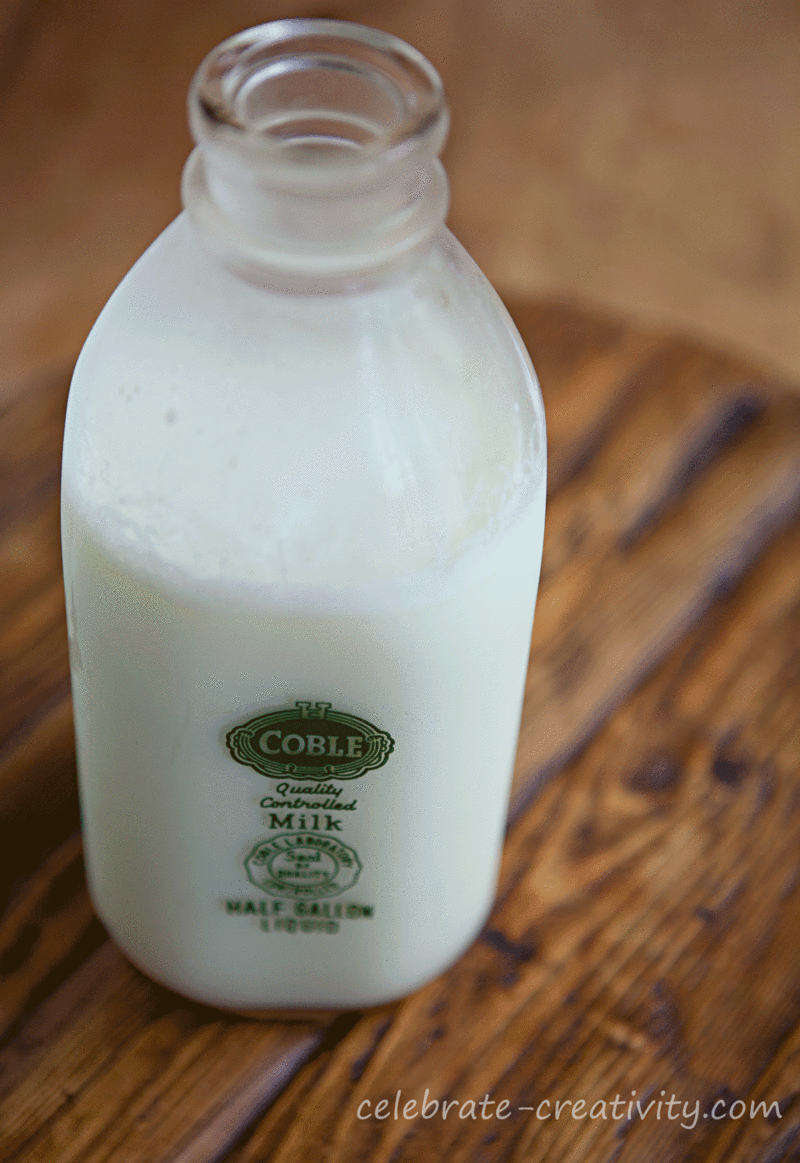 Ordinarily, you'd want to use butter pats to remove the excess milk from the fat but at the time I made this butter, I didn't have any.  Hands are the next best tool.
Butter pats are small wooden paddles with ridges and can buy them easily on-line.
I'm going with hands here.  Just squeeze the excess liquid from the butterfat while under cold tap water until the water is clear.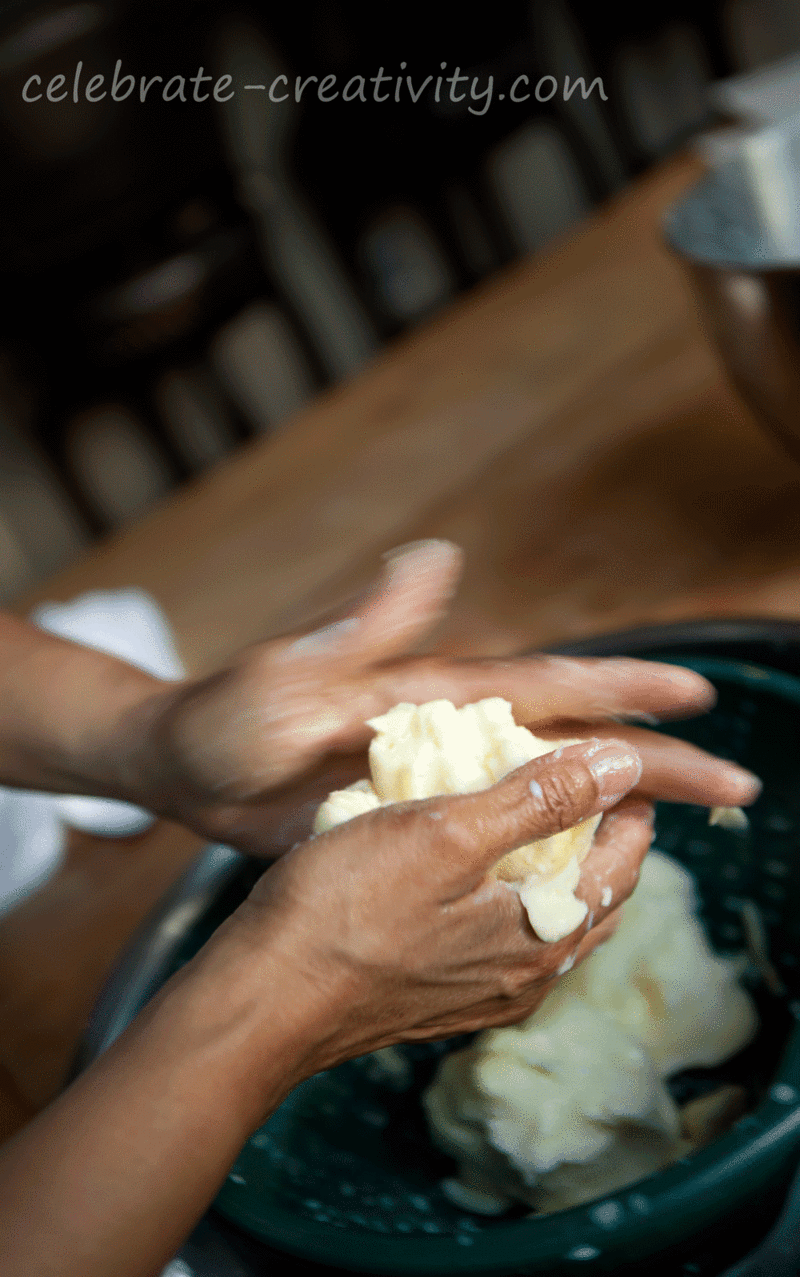 Once all the liquid is squeezed out, add the salt and mix well.
This is also the stage where you could add other spices or herbs to create additional flavors you wanted to.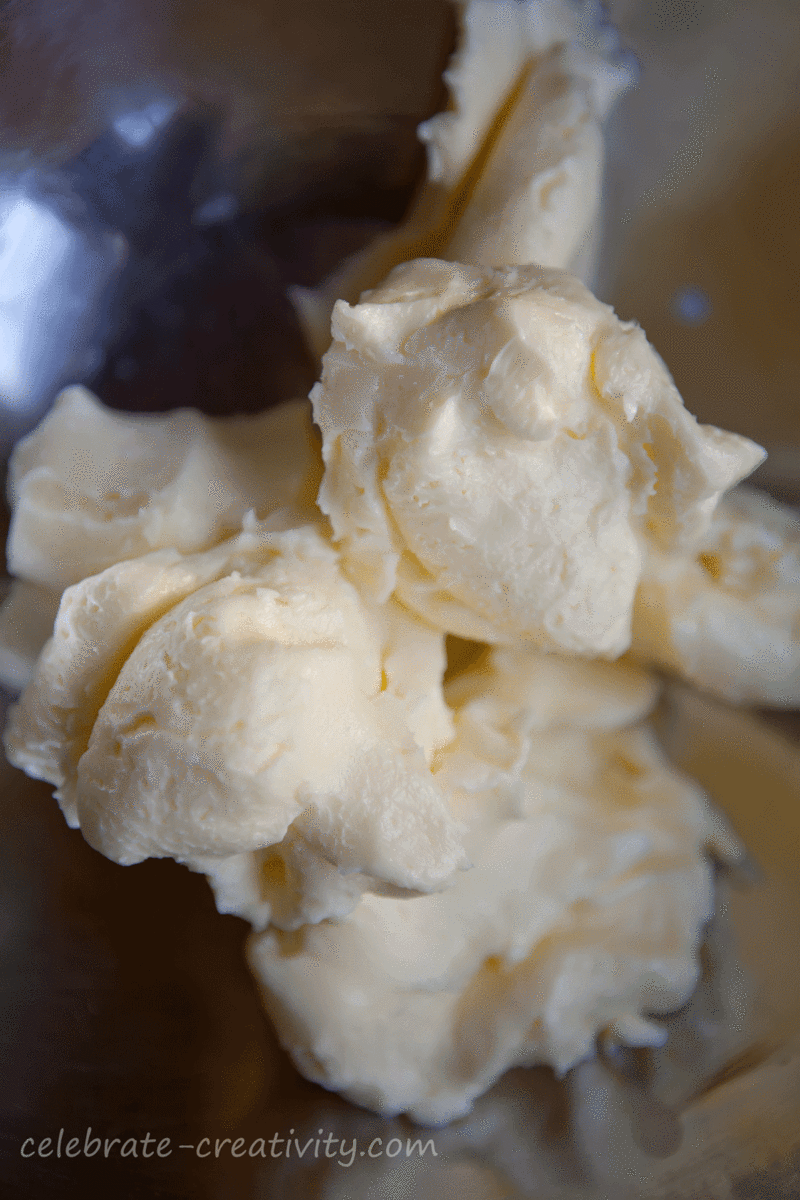 Scoop dollops of the butter and press down onto wax paper and refrigerate.
Allow the butter to harden in the fridge a bit and if you have butter molds, you could also imprint an image or monogram into the cold, flattened butter.
I also decided to also make a batch of cinnamon butter.
Just add 2-tablespoons of cinnamon and 2-tablespoons of brown sugar to the 2-1/2-cups of butter that I produced to make cinnamon butter.
Fill a ramekin, wrap tightly in plastic wrap and add a tag to gift to friends and loved ones.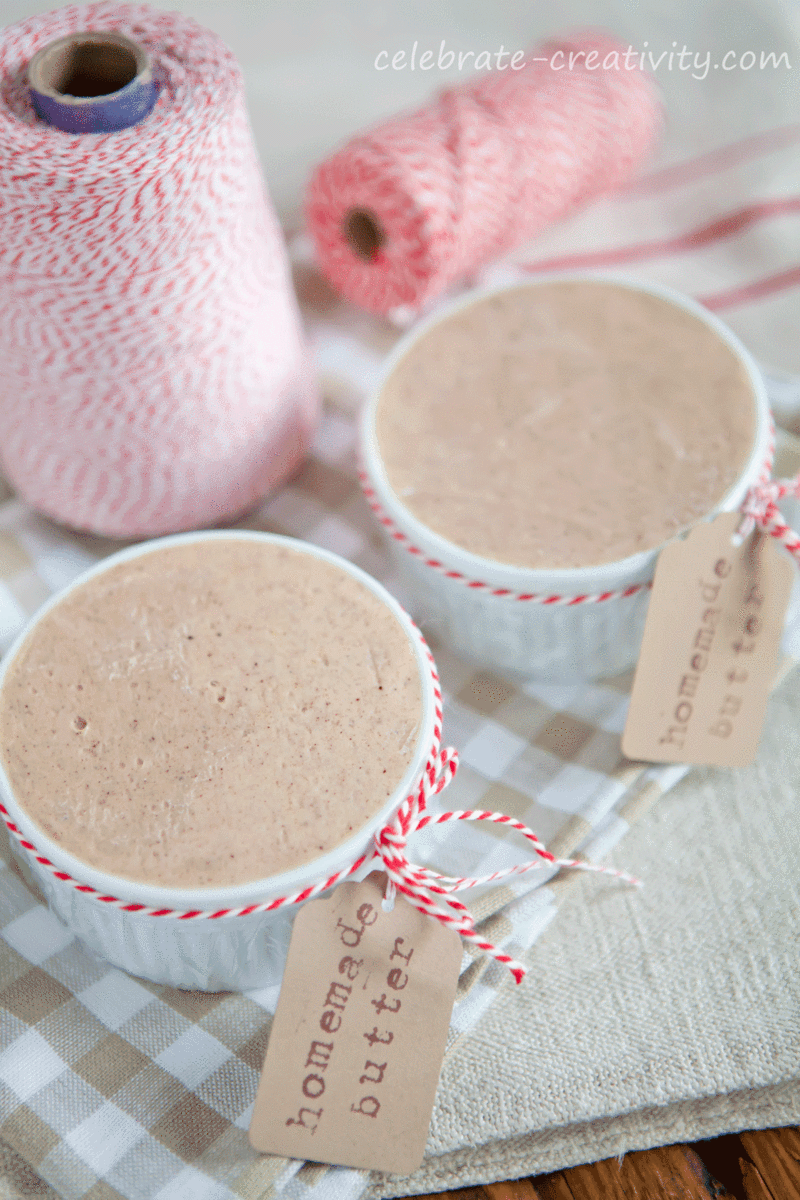 Whether you make flavored butter or just plain butter to serve with breakfast biscuits, your friends and loved ones will delight in your homemade efforts.
Don't forget to keep the gifting idea in mind too. ♥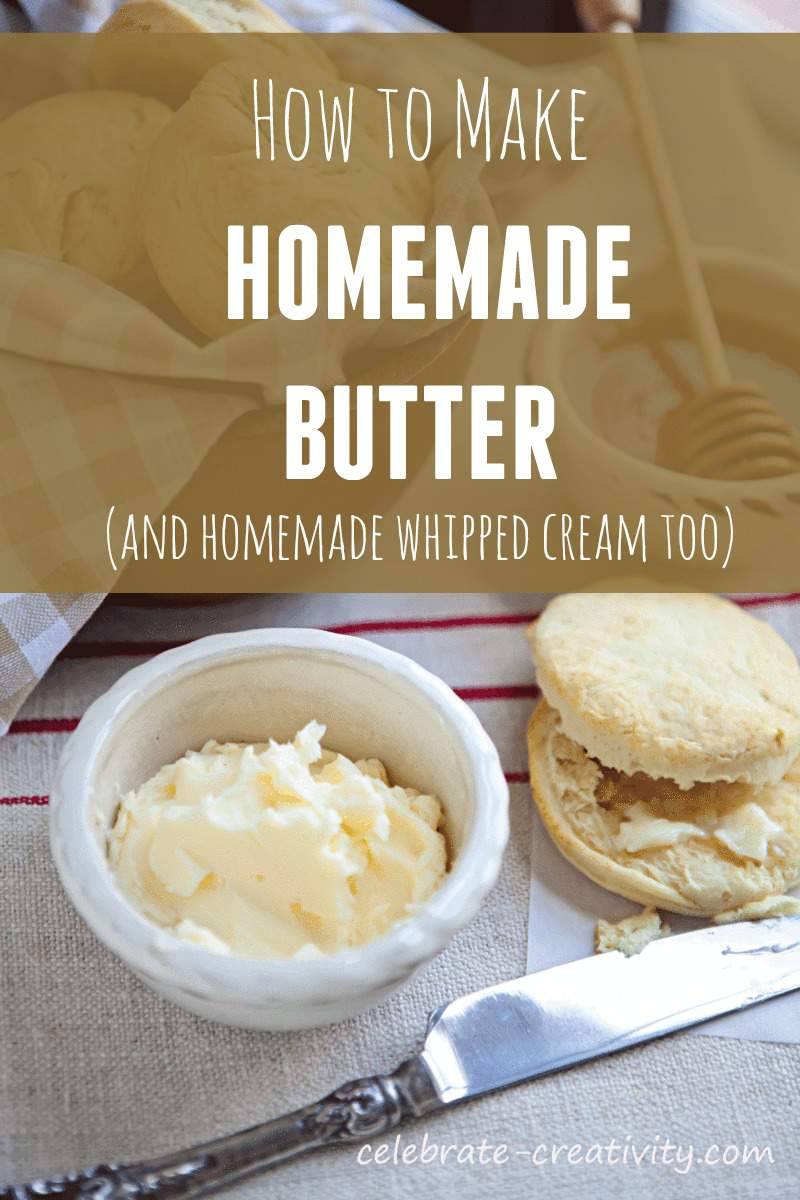 Thanks for stopping by.
I'll see you back here next time.

WANT MORE DELICIOUS INSPIRATION?
I'm linking this homemade butter (and whipped cream) post to the following:
Trish and Bonnie at UNCOMMON DESIGNS
Beth atHOME STORIES AT TO Z